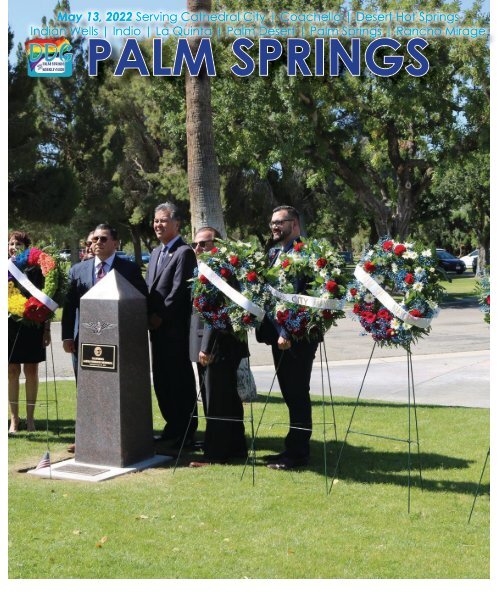 The DDG May 13, 2022
Street artists protest Russian invasion revisited, Will California have the last and only LGBT veterans memorial? Two men, one creates a Revolution while the other cause the Revolution.
Street artists protest Russian invasion revisited, Will California have the last and only LGBT veterans memorial? Two men, one creates a Revolution while the other cause the Revolution.
SHOW MORE
SHOW LESS
Create successful ePaper yourself
Turn your PDF publications into a flip-book with our unique Google optimized e-Paper software.
May 13, 2022 Serving Cathedral City | Coachella | Desert Hot Springs

Indian Wells | Indio | La Quinta | Palm Desert | Palm Springs | Rancho Mirage

PALM SPRINGS
---
2 Never miss a DDG we are always FREE only at ddg.gay
---
3
---
4 Never miss a DDG we are always FREE only at ddg.gay
---
5
---
6 Never miss a DDG we are always FREE only at ddg.gay
---
SINGLET

SATURDAY

8pm - 2am

Sexy Bartenders

Heavy Cruising

DJ Corey D

Happy Hour

Prices For

Wearing A

Singlet

Drink

Specials

600 E. Sunny Dunes Rd

7
---
REPORTER: Adam

ADAMSARTEXPOSE'

EMAIL: adamsart@desertdailyguide.com

STREET ARTISTS PROTEST RUSSIAN

INVASION REVISITED

Spring is here and working outside

is more comfortable. In Russia, they

hold a victory parade to celebrate

defeating the Nazies at the end of WWII

while at the same time Putin's army is

committing the same atrocities that the

Nazies perpetrated on Russia in Ukraine.

insert russian parade

During the past weeks, the muralist

and street artists who oppose the

Russian invasion of Ukraine have been

celebrating spring by working with new

ideas and more direct protests against

the vicious unprovoked war that Putin

has imposed on Ukraine.

resistance of the Ukrainians continues

their resilience is apparent as they repel

the Russian bombings and persistent war

crimes against innocent civilians. This

is dramatically demonstrated visually

in the mural painted on a brick wall

showing hands sewing the Ukrainian flag

together by Ukrainian artist street artist

Sasha Korbin.

Artists continue to promote peace and

illuminate the evil of tyranny.

European artists have been the most

prominent in their work some of which

are shown in this article. While the

8 Never miss a DDG we are always FREE only at ddg.gay
---
9
---
Queer Serial History Podcast

Profiles

Supervisors Harvey Milk &

Harry Britt

Supervisor Harvey Milk anticipated his assassination.

In his audio will, he left a plan for

us. Now, in never-before-heard

interviews with Milk's chosen successor Harry

Britt, people everywhere can hear the rest

of the story.

Critically acclaimed podcast Queer Serial:

LGBTQ+ Liberation Before Stonewall is moving

forward, into the 1970s and

beyond, to tell the story of gay liberation

in the wake of Milk's assassination in a new

"sister series" podcast called

"Give 'Em Hell, Harry! Keeping Harvey Milk's

Dream Alive."

In Queer Serial's radio drama style, NLG-

JA award-winning producer Devlyn Camp

brings the story to life with news

& gay radio shows from the archives, unheard

interviews between historian Will

Roscoe & Supervisor Harry Britt,

and Harvey Milk's unedited audio will.

Over 7 weekly episodes beginning May 7

and running through Pride month, Will and

Devlyn will take listeners

through the political rise of a person not

many people knew, but trusted because

Harvey did.

How did a former minister from Texas carry

on Harvey Milk's political plan for radical

gay liberation?

Preview the series here: https://apple.

co/3y2RqZ3

And listen to the first episode now! https://

apple.co/3waEiP0

Give 'Em Hell begins in the politically heated

late 1970s during Harvey's death. Harry

Britt took on the job as the only openly gay

elected official in the country during some

of

the most violent years for American queer

communities. He was a powerful and effective

gay leader, even as his district became the

epicenter of the AIDS crisis, and all while

battling his own inner demons, compulsions,

and confusion about his gender.

Before Harry Britt's death in 2020, Will Roscoe

recorded 20 hours of interviews with

Britt

about his time in office—and why Milk

chose him. Roscoe himself was present for

this

story. He was an activist, petitioned for

Anne Kronenberg to take Harvey's seat,

and was

a participant the White Night Riots after the

Dan White verdict in 1979—an event

which will be detailed in episode 3, released

on the 43rd anniversary of

this legendary gay riot on May 21, 2022.

10 Never miss a DDG we are always FREE only at ddg.gay continued on page 31
---
On the cover!

Will California have the last and only

LGBT veterans memorial?

The LGBTQ veterans memorial is

designated a State memorial in 2008.

Our memorial and its hallowed grounds

are located at the Desert Memorial Park

in Cathedral City. YOU own it! And some

of us celebrate it each and every year.

Free! Please join us!

Veterans Memorial as the official state

Vietnam veterans war memorial and

the California State Military Museum and

Resource Center as the official state

military museum.

This bill would recognize the LGBTQ

Veterans Memorial at the Desert

Memorial Park in Cathedral City as the

official state LGBTQ veterans memorial.

THE PEOPLE OF THE STATE OF CALIFORNIA

DO ENACT AS FOLLOWS:

LGBT VET MEMORIAL GETS FIRST IN

NATION STATE DESIGNATION!!!

Assembly Bill No. 2439

CHAPTER 172

An act to add Section 429.4 to the

Government Code, relating to state

memorials.

[Approved by Governor August 20,

2018. Filed with Secretary of State

August 20, 2018. ]

LEGISLATIVE COUNSEL'S DIGEST

AB 2439, Eduardo Garcia. Official state

LGBTQ Veterans Memorial. Existing law

recognizes certain animals, plants,

towns, museums, and memorials as

official state emblems, including,

among others, the California Vietnam

continued on page 12

SECTION 1. The Legislature finds and

declares that while this act recognizes

the LGBTQ Veterans Memorial at the

Desert Memorial Park in Cathedral City

as the state's official LGBTQ veterans

memorial, the memorial and the

ground around it will continue to be

maintained by the Desert Memorial Park

in Cathedral City.

SEC. 2. Section 429.4 is added to the

Government Code, to read:

429.4. The LGBTQ Veterans Memorial at

the Desert Memorial Park in Cathedral

City is the official state LGBTQ veterans

memorial.

Other Noted California LGBT Memorials.

Pink Triangle Park, San Francisco

California LGBTQ Veterans Memorial,

Desert Memorial Park, Cathedral City

Harvey Milk Plaza, San Francisco

Mattachine Steps, Los Angeles, United

States;[1] dedicated on April 7, 2012[2]

11
---
12 Never miss a DDG we are always FREE only at ddg.gay continued on page 13
---
Matthew Shepard Human Rights Triangle,

Crescent Heights Boulevard and Santa

Monica Boulevard, West Hollywood;

named for Matthew Shepard, and

dedicated in April 1999[3]

National AIDS Memorial Grove, San

Francisco

NEWS

FRANK MOULTON

AMVETS POST 66

PALM SPRINGS CA.

REVEILLE

"Reveille is a bugle call, trumpet call or

pipes call most often associated with the

military.

TOM RE-ELECTED

POST COMMANDER

Post 66 elected officers for the 2022-23

fiscal year on Saturday May 7.

Commander: Tom Swann Hernandez

1st Vice Commander / Service Officer:

Chad L. Shipley

2nd Vice Commander: Bob Calvert

3rd Vice Commander: Michael Pulgini

Adjutant: Randy Schecher

Finance Officer: Randy Schecher

Judge Advocate: Will Paige

Provost Marshal and Chaplain: Bill

Rupracht

MEMORIAL DAY AWARDS LUNCHEON

VETERANS FOR PEACE /AMVETS POST 66

15th 16th Annual

MEMORIAL DAY AWARDS LUNCHEON

When: Monday May 30, 2022

12:00 Noon to 2:00 PM

Where: Nicolino's Italian Restaurant

continued on page 35

13
---
LGBT ,Memorial!

Image by Adrian

14 Never miss a DDG we are always FREE only at ddg.gay
---
15
---
11

Vol 26 Issue 33 05.13.22

08 ADAMSARTEXPOSE'

18 BAR|FOOD

22 COMMUNITY LIST

14 FEATURED BUSINESS

20 MASSAGE

17 ON THE COVER

Team DDG

08

PUBLISHER: Will Paige

will@desertdailyguide.com

EDITOR IN CHIEF: A, A,

AA@desertdailyguide.com

Contributing Photographers: Marko Russell,

David Stanfield

National Ad Representatives

Rivendell Media

(212) 242-6863

Contributing Writers

Vic Gerami

TheBluntPostWithVic.com

Art: Adams's Art

adamsart@desertdailyguide.com

32

Advertising

Digital or printed media packs available on

request.

SALES: Will Paige

will@desertdailyguide.com

Magazine is hand delivered every week

to select locations. Updated weekly ,

Currently under minimal COVID restrictions

Available

Online 2-4-7

AT DDG.GAY

DDG Media Group creates and prints Desert Daily Guide. Opinions expressed in the DDG columns do not necessarily reflect the

opinion of the DDG, its staff, or its advertisers. DDG is not responsible for claims made by its advertisers, or the products or services

they offer. Listings, pictures, or advertisements in the DDG should not be construed to represent or reflect the sexual orientation of

any business, its owners, or staff. All events are subject to change without notice. Any omissions of events are not intentional. ©

2021 DDG Media Group , All Rights Reserved.

16 Never miss a DDG we are always FREE only at ddg.gay
---
training information once you officially

sign up to volunteer HERE.

We are now less than one month out

from the primary election on June 7th

and ballots have already started arriving

to voters in the mail! But it's not too

late to take action and do your part to

protect the vote in California by signing

up as an Election Protection volunteer

today.

Here's what being a poll monitor looks

like:

- You'll be deployed to voting locations

on Election Day, June 7th, and/or during

the early voting period on June 4th and

June 6th in Los Angeles, Riverside, or San

Diego counties (depending on where

you live).

- For each 3-hour shift you sign up

for, you will be assigned three voting

locations to monitor. You will spend 45-

50 minutes at each voting location and

will complete your poll monitor checklist

that is pre-prepared by Common Cause

staff.

- We provide all the training that you

will need! We are hosting 1.5 - 2 hour

poll monitor trainings on May 21st, 24th,

and 26th. You only need to attend

the training once and you will receive

next page 20

As a trained, nonpartisan volunteer, you

will serve as voters' first line of defense

against confusing voting rules, outdated

infrastructure, rampant misinformation,

and needless obstacles to the ballot

box.

We hope you'll join us to protect the

vote in Los Angeles, San Diego, and

Riverside counties!

Best,

Alesandra and the California Common

Cause Team commoncause.org

ABOUT CALIFORNIA COMMON CAUSE

CALIFORNIA COMMON CAUSE IS

DEDICATED TO BUILDING A DEMOCRACY

THAT INCLUDES EVERYONE. WE WORK

ON VOTING RIGHTS, REDISTRICTING

REFORM, GOVERNMENT TRANSPARENCY,

AND MONEY IN POLITICS TO END

STRUCTURAL INEQUITIES IN OUR STATE

AND LOCAL DEMOCRACIES AND

TO CREATE GOVERNMENTS AT ALL

LEVELS THAT ARE ACCOUNTABLE TO

AND REFLECTIVE OF CALIFORNIA'S

COMMUNITIES.

REMEMBER ONLY IDIOTS REVOLT

BUT ONE CAN ALWAYS RE-VOTE

DISPLAYING YOUR GOVERNMENT

OFFICIALS FOR: PALM SPRINGS, CA 92262

17
---
18 Never miss a DDG we are always FREE only at ddg.gay
---
BUSINESS

DIRECTORY

FEATURED

BARS/DINING

AMP Sports Lounge Everyone is

welcome here at this local friendly bar

in the heart of Cathedral City plaza,

A sports bar with a twist featuring your

favorite sports and daily happy hour. All

the big sports games will be shown on

seven huge TV screens.

68-718 E Palm Canyon Dr #201,

Cathedral City, CA 92234

FEATURED RESORTS

CCBC RESORT 18+ 760 324-1350

68-300 Gay Resort Drive

CCBC is the largest clothing optional

Gay men's resort in Southern California.

Located just a few minutes from

downtown Palm Springs, Our 3.5 acre

fantasy playground is perfect for

weekend get-aways and extended

stays.ccbcresorthotel.com

RIO AZUL MEXICAN Style Rest. & Bar

Best authentic Mexican style restaurant

in the valley. With patio and Bar. Home

of an original and distinct interpretation

of Mexican food & Longest running

Sunday Drag Brunch.(760) 992-5641 350

South Indian Cyn. PS

SUNSHINE CAFE Nearly as perfect as it

gets! Known as a local hole in the wall

with a funky vibe and fantastic food,

frequented by celebrities, politicians

36815 Cathedral Canyon CC

RUNWAY RESTAURANT & BAR

The valleys premier arts and

entertainment. Featuring American

Casual Dining Drinks & Drag at CCBC

Resort Hotel.68300 Gay Resort Drive, CC

TRIANGLE INN 760-322-7993

555 E. San Lorenzo Rd Palm Springs CA

Romantic and relaxing or fun and frisky.

At the Triangle Inn Palm Springs, the

choice is yours. Historic Palm Springs

Resort is a feast for all your senses, with

a special flair for Southern (California)

hospitality. triangle-inn.com

Your Ad Here?

ads@desertdailyguide.com

New Online Only RATES!

Full Page Ads starting at

$25 per Issue

TOOL SHED LEVI/LEATHER In the Warm

Sands District in central Palm Springs.

600 E Sunny Dunes Rd , PS

bussiness directory next page 21

19
---
GAVIN NEWSOM (D)

GOVERNOR OF CALIFORNIA

(916) 445-2841

ELENI KOUNALAKIS

ELENI KOUNALAKIS (D)

LIEUTENANT GOVERNOR OF CALIFORNIA

(916) 445-8994

SHIRLEY N. WEBER

SHIRLEY N. WEBER (D)

CA SECRETARY OF STATE

(916) 653-6814

FIONA MA (D)

CA STATE TREASURER

(916) 653-2995

BETTY T. YEE (D)

CA STATE CONTROLLER

(916) 445-2636

TONY THURMOND

CA STATE SUPERINTENDENT OF PUBLIC

INSTRUCTION

(916) 319-0800

ROB BONTA (D)

CA ATTORNEY GENERAL

(916) 445-9555

RICARDO LARA (D)

CA INSURANCE COMMISSIONER

(800) 927-4357

CA SUPREME COURT JUSTICE

(415) 865-7000

JOSHUA P. GROBAN

CA SUPREME COURT JUSTICE

(415) 865-7000

LEONDRA R. KRUGER

CA SUPREME COURT JUSTICE

(415) 865-7000

MARTIN J. JENKINS

CA SUPREME COURT JUSTICE

(415) 865-7000

PATRICIA GUERRERO

CA SUPREME COURT JUSTICE

(415) 865-7000

TANI G. CANTIL-SAKAUYE

CA SUPREME COURT JUSTICE

(415) 865-7000

THIS TOOL IS MADE POSSIBLE WITH DATA

FROM THE GOOGLE CIVIC API, OPEN

STATES, PROPUBLICA, AND THE CENTER

FOR RESPONSIVE POLITICS.

CAROL A. CORRIGAN

CA SUPREME COURT JUSTICE

(415) 865-7000

GOODWIN H. LIU

20 Never miss a DDG we are always FREE only at ddg.gay
---
BUSINESS Directory

BAR| FOOD | RESORTS

Cathedral City

BARS|FOOD

The Barracks

Runway

Sunshine Cafe

AMP Sports

Lounge

Roost

Trunks

Studio One 11

Desert Hot Springs

BARS|FOOD

Playoffs Sports Bar

Palm Springs

BARS|FOOD

Eagle 501 Bar

Rio Azul

Tool Shed

Toucan's

Streetbar

Oscar's

Chill bar

Hunters

Stacy's

BlackBook

QUADZ

RetroRoom

Resorts

CCBC

Triangle Inn

Descanso

All Worlds Resort

Desert Paradise

Resort

LA DOLCE VITA

RESORT & SPA

THE HACIENDA AT

WARM SANDS

Shopping

Q trading

Gear

Off Ramp Leathers

Gay Mart

Did We Miss

You?

Let us know

FREE

LISTING!

For all Gay and Gay

friendly Bars Resorts

and Lodging

SHOPPING

Gear Leather and Fetish 760-322-3363

We carry only the finest quality leather

and fetish goods, gym wear, toys and

furnishings, all designed to get you off

and make you look good while you're

doing it. gearleather.com 650 E. Sunny

Dunes

Off Ramp Leathers 760-778-2798

offrampleathers.com New and used

leather and fetish/BSDM gear.

Alterations and repairs handmade

item by Paul. Great selection of

consignment items. 650 E. Sunny Dunes

Rd., Unit 3,Palm Springs, CA

DAVE MAY CONCRETE

PATIOS | SIDEWALKS | DRIVEWAYS |KOOL DECKS

760-327-4849

LIC. #441265

bussiness directory from page 19 next page 24

21
---
I grew up

in Taunton,

Mass, a

perfect

child having

an idyllic

childhood.

As a boy, my home was like a sports

complex and included a large lawn for

the hosting of sports contests, football,

croquet, and badminton. The games

often included the entire neighborhood.

We had a swimming pool and pond

for fishing in the summer and playing

hockey in the winter. My yard faded into

a wood that was a swarth of wilderness

that stretched from Boston to Cape

Cod. The actual Tesla was building a

new electric grid but was bought before

he sold it.

I loved history and often correctly

corrected the librarian and sat there

looking like I hoped to catch them

making a mistake. She told me that the

historical society loves endless questions

and I should talk to them. I agreed and

reminded her that words like unnerving

and weird also seemed unnecessary.

22 Never miss a DDG we are always FREE only at ddg.gay

These people changed my life. I had

endless conversations on musket balls

and muzzle velocity.

My distant relative Ralph Davol, was a

revolutionary war expert. Long before I

was born, he was a state legislator. He

was also a printer, artist, and sculptor

who wrote one of the most important

books of his time. Named Two men

of Taunton, often called the most

important book of his time.

On occasion, we would visit with him

and play in his carriage house, and

he would show me each carriage. He

would tell me which was owned by a

man who helped write the Declaration

of Independence. The smell of leather

was intoxicating.

This is Taunton! We were the first to join

the Rebellion. We sent lawyer Robert

Treat Paine to the First Continental

Congress representing Massachusetts.

In 1774, Taunton's Sons of Liberty ran

Loyalists out of town. We created and

flew the first flag! The entire story is

detailed in his book.

The book is a great read about patriots

and natives and battle strategy,

consistent with a legitimate Rebellion. It

is now in the public domain, and I have

a rare signed copy and will reprint some

excerpts that give an intimate look at

the foundation of our nation.

Let us know if you enjoy it and would like

to see more.

next page 23
---
from page 22 next page 24

23
---
24 Never miss a DDG we are always FREE only at ddg.gay from page 23 next page 25
---
from page 24 next page 26

25
---
26 Never miss a DDG we are always FREE only at ddg.gay from page 25 next page 27
---
from page 26 next page 28

27
---
28 Never miss a DDG we are always FREE only at ddg.gay from page 27 next page 29
---
from page 28

29
---
EVERY DAY

7AM-7PM

Welcome!

WORSHIP WITH US IN PERSON

SUNDAYS AT 10 AM

3601 E. Mesquite Ave, Palm Springs

Demuth Community Center

God's Love &

Good Works.

760.327.3802

www.bloominthedesert.org

WORSHIP WITH US ONLINE

SUNDAYS AT 10 AM

Facebook

Bloom in the Desert Ministries UCC

REPLAY ANYTIME

YouTube

Bloom in the Desert Ministries UCC

30 Never miss a DDG we are always FREE only at ddg.gay
---
31
---
BUSINESS Directory

MASSAGE

MALE KNEADS Exceptional, Sensual,

Soothing, body work for men of all

ages. Outcalls only. Call Adam for an

extraordinary experience in innovative

erotic relaxation. 760-835-0727

HEY GUYS...take a break from life and

come relax with a great massage

by trained hands. I am a Professional

Massage Therapist here offering

something therapeutic, restorative and

sensually tailored to your needs. I am

well trained and provide a session that

is unparalleled. Say hi and tell me how I

can make your body feel awesome! The

massage is done on a table. I see

people at my location.

I am off Ramon by Sunrise.

845-866-0498 Mark

GENERAL SERVICES

Red's Hauling. We remove trash and

unwanted items. Garage clean outs.

Red 760-288-6956

Your Ad here

ads@desertdailyguide.com

NATURIST DAY PASSES

Gay Men CCBC Resort

Family DeAnza Desert Sun Resort

Starland Community Desert retreat

Sea Mountain Luxury Nude Resort and

Spa Hotel DHS

SOCAL Nude beaches which are also

called "free beach", or "clothingoptional".

Blacks Beach Nude Beach in San Diego

is located just north of La Jolla Shores

and beneath the Torrey Pines bluffs.

Pirate's Cove, Avila Beach

Corona Del Mar is one of California's

best nude beaches.

CALENDAR

-Memorial Day is 41 days away and will

be observed on Monday, May 30, 2022.

-Sunday, June 19, 2022 Father's Day

32 Never miss a DDG we are always FREE only at ddg.gay

bussiness directory from 21 next page 25
---
Palm Springs International Jazz festival

Sat, May 14 – Sun, May 15

Plaza Theatre, 128 S Palm Canyon Dr

Palm Springs, CA

Promoting Independent Cinema in the

Coachella Valley Palm Springs Cultural

Center's Historic Camelot Theatre,

Historic Camelot Theatre @ the Palm

Springs Cultural Center, 2300 E Baristo Rd

Palm Springs, CA 92262 United States

psculturalcenter.org

desertfilmsociety.org

Upcoming Screenings

May 21, 2022 - NIGHT DOCTOR - Mikaël

is a doctor on night call. He looks

after patients from underprivileged

neighborhoods, as well as those

whom no one else wants to see: drug

addicts, homeless people, those living

in challenging areas, Tonight, he has to

reclaim control over his life.

LOCAL ATTRACTIONS

Thursday nights VILLAGEFEST takes place

in downtown Palm Springs on Palm

Canyon Drive every. villagefest.org

Cabot's Pueblo Museum

760-329-7610

McCallum Adobe 760-323-8297

Indian Canyons 760-323-6018

Palm Springs Aerial Tram

760-325-1449

Palm Springs Air Museum

760-778-6262

Palm Springs Art Museum

760-325-7186

Sunnylands

760-328-2829

Patton Memorial Museum 760-227-3483

Joshua Tree National park 760-367-5500

Guided Nature Walks

Palm Springs Aerial Tramway

Check schedule. pstramway.com

FRIENDS OF THE DESERT

MOUNTAINS celebrate Friends'

champions and accomplishments

November 10th services hikes various

events check schedule

desertmountains.org

bussiness directory from 32 next page 34

33
---
FREE COMMUNITY LISTINGS

AAP - Food Samaritans (760) 325-8481

Eisenhower HIV Clinic (760) 834-7930

DAP/ DOCK Clinic (760) 992-0492

Borrego Health (Stonewall Medical

Center) Cathedral City 760-507-3310

Veterans Records https://vetrecs.

archives.gov/VeteranRequest/home.

html for vet or family or with written

authorization.

Lgbt community center

760-416-7790 thecenterps.org

VETERANS. MEMORIAL DAY

AWARDS LUNCHEON

SET FOR MAY 30!!!!!

NICOLINO'S ITALIAN RESTAURANT

35-325 DATE PALM DRIVE SUITE 111

CATHEDRAL CITY CA $25 ITALIAN BUFFET

INCLUDES TAX AND TIP DESSERT AND

BEVERAGE

SLIDING SCALE FOR LOW-INCOME

MAKE CHECKS PAYABLE TO "VFP".

CALL TOM SWANN HERNANDEZ

(760) 324-5670

FOR RESERVATIONS. SPACE IS LIMITED.

American cancer society

800-227-2345

Coachella Valley sexual assault

(760) 568-9071

Desert Legal aid: 760-832-9770

Stonewall democrats:

desert-stonewall.Org

Desert winds freedom band

760 776-2700Gay artists -760 835 0727

Transgender Community

Transcc.Org

Palm Springs Gay

Men's Chorus 760-219-2077

Prime Timers of the Desert

760-424-8014.

FOOD DISTRIBUTION

Every THURSDAY

5pm - 7pm

610 Belardo Rd.

Vesak May 16, celebrates Buddha's

birth, along with his enlightenment and

death in some traditions.

International Day for Biological Diversity

– May 22, 2022 This is a day dedicated

to making sure that Earth remains a

place to not only survive, but also thrive.

Towel Day on May 25 is an annual

holiday created to celebrate author

Palm Springs Leather Order of the Desert Douglas Adams by his fans. Adams

760 272-5553

wrote the classic sci-fi novel, "The

Hitchhiker's Guide to the Galaxy."

Palm Springs Pride

On this day, fans carry towels around

Pspride.Org

everywhere they go.

34 Never miss a DDG we are always FREE only at ddg.gay

bussiness directory from 33
---
35-325 Date Palm Drive Suite 111

Cathedral City CA

$25 Italian Buffet includes tax and tip

Dessert and beverage

Sliding Scale for Low-Income

Make checks payable to "VFP".

AMVETS Awards to:

RITA LAMB

Mayor Pro Tem Cathedral City

Friend of the Veteran Award

Wendy Allaire Daughter of Medal of

Honor Winner

Colonel Mitchell Paige

LITA BOWMAN

World War II Army Veteran

Silver Helmet Award

VFP Awards to:

HOLOCAUST SURVIVORS

IRIS SMOTRICH

Rancho Mirage City Council Member

Elected Official of the Year

CINDY UKEN

Writer, Journalist

Special Achievement Award

Contact Tom Swann Hernandez

(760) 324-5670 for reservations. Space is

limited. Music by Steve Petersen

SPONSORS

Bob Calver Rita Lamb Thank you.

We need financial assistance to hold our

luncheon on Memorial Day. We need to

pay for the awards, meals of our speci.al

guests, All donations are tax deductible

and all sponsors will receive a certificate.

Please make checks payable to

Veterans For Peace and mail to:

Tom Hernandez

151 Lincoln Downs Street

Ranch o. Mirage CA 92270

Thank You!

35
---
36 Never miss a DDG we are always FREE only at ddg.gay

continued on page 39
---
Grab a coffee,

take the survey,

make a difference.

Take the 16th Annual

LGBTQ Community Survey ®

LGBTQsurvey.com

LGBTQ research helps non-profits, universities

and businesses better understand and

serve our community.

Download survey results free of charge

HTTPS://SURVEY.CMI.INFO/SE/359D342B06DB7B00?CMID=22043

at cmi.info.

CLICK

Proudly LGBTQ-Owned and -Operated. A pioneer in LGBTQ

research since 1992.

Your information is confidential, used for research purposes only.

You will not be contacted for marketing purposes.

37
---
Listeners can subscribe to Queer Serial's

new season

"Give 'Em Hell, Harry!" free on Spotify, Apple

Podcasts, or anywhere they listen to podcasts.

A bonus series on Queer Serial's Patreon will

feature Devlyn Camp interviewing several

more participants in the infamous White

Night Riots on May 21, 1979.

"Infamous Crimes: White Night Riot Interviews"

explores several points-of-view from

that night when 14 police cars burned outside

San Francisco City Hall. Listeners can

subscribe at Patreon.com/QueerSerial for

that bonus series and much more queer

history content.

"Give 'Em Hell, Harry!" is sponsored by the

Harvey Milk LGBTQ Democratic Club, ONE

Archives Foundation, GLBT Historical Society

Museum & Archives, James C. Hormel

LGBTQIA Center San Francisco Public Library,

The Sisters of Perpetual Indulgence

San

Francisco, the Making Gay History podcast,

Calamus, Shaping San Francisco, and the

Hong-Murray Family Trust.

More info at queerserial.com/harrybritt

GIVE 'EM HELL, HARRY! KEEPING HARVEY

MILK'S DREAM ALIVE

2022 / 7 EPISODES

Co-creators of the series Devlyn Camp &

38 Never miss a DDG we are always FREE only at ddg.gay
---
continued from page 28

39
---
Zoom Mass every Saturday at 430.

Call or 442-282-8389 or visit stgilesaltadena.org for more details.

40 Never miss a DDG we are always FREE only at ddg.gay
---
HARD WEAR

CELLBLOCK13

L E AT H E R & F E T I S H

G E A R L E AT H E R C O

G E A R L E AT H E R

6 5 0 E S U N N Y D U N E S PA L M S P R I N G S 7 6 0 3 2 2 3 3 6 3 G E A R L E AT H E R .C O M

41
---
42 Never miss a DDG we are always FREE only at ddg.gay