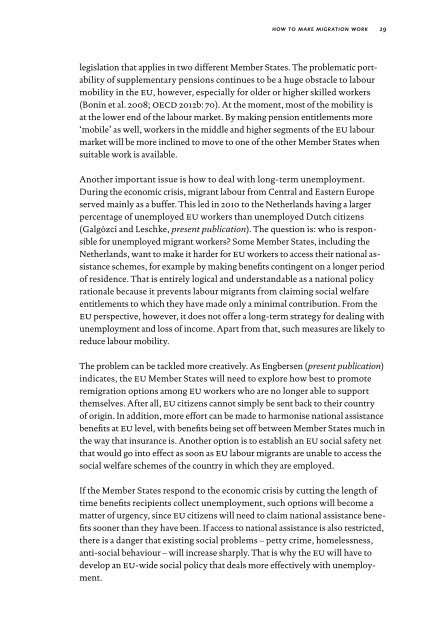 Making Migration Work - Wetenschappelijke Raad voor het ... Making Migration Work - Wetenschappelijke Raad voor het ...
how to make migration work29legislation that applies in two different Member States. The problematic portabilityof supplementary pensions continues to be a huge obstacle to labourmobility in the eu, however, especially for older or higher skilled workers(Bonin et al. 2008; oecd 2012b: 70). At the moment, most of the mobility isat the lower end of the labour market. By making pension entitlements more'mobile' as well, workers in the middle and higher segments of the eu labourmarket will be more inclined to move to one of the other Member States whensuitable work is available.Another important issue is how to deal with long-term unemployment.During the economic crisis, migrant labour from Central and Eastern Europeserved mainly as a buffer. This led in 2010 to the Netherlands having a largerpercentage of unemployed eu workers than unemployed Dutch citizens(Galgózci and Leschke, present publication). The question is: who is responsiblefor unemployed migrant workers? Some Member States, including theNetherlands, want to make it harder for eu workers to access their national assistanceschemes, for example by making benefits contingent on a longer periodof residence. That is entirely logical and understandable as a national policyrationale because it prevents labour migrants from claiming social welfareentitlements to which they have made only a minimal contribution. From theeu perspective, however, it does not offer a long-term strategy for dealing withunemployment and loss of income. Apart from that, such measures are likely toreduce labour mobility.The problem can be tackled more creatively. As Engbersen (present publication)indicates, the eu Member States will need to explore how best to promoteremigration options among eu workers who are no longer able to supportthemselves. After all, eu citizens cannot simply be sent back to their countryof origin. In addition, more effort can be made to harmonise national assistancebenefits at eu level, with benefits being set off between Member States much inthe way that insurance is. Another option is to establish an eu social safety netthat would go into effect as soon as eu labour migrants are unable to access thesocial welfare schemes of the country in which they are employed.If the Member States respond to the economic crisis by cutting the length oftime benefits recipients collect unemployment, such options will become amatter of urgency, since eu citizens will need to claim national assistance benefitssooner than they have been. If access to national assistance is also restricted,there is a danger that existing social problems – petty crime, homelessness,anti-social behaviour – will increase sharply. That is why the eu will have todevelop an eu-wide social policy that deals more effectively with unemployment.
More magazines by this user