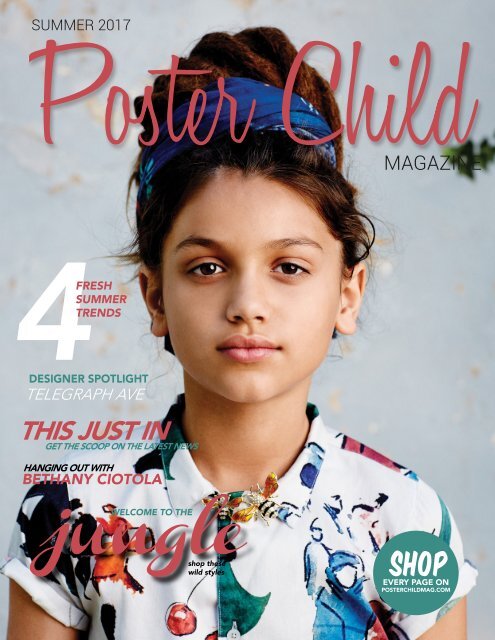 Poster Child Magazine, Summer 2017
Our brand new issue of Poster Child Magazine for Summer 2017.
Our brand new issue of Poster Child Magazine for Summer 2017.
SHOW MORE
SHOW LESS
You also want an ePaper? Increase the reach of your titles
YUMPU automatically turns print PDFs into web optimized ePapers that Google loves.
SUMMER 2017

Poster Child

MAGAZINE

4FRESH

SUMMER

TRENDS

DESIGNER SPOTLIGHT

TELEGRAPH AVE

THIS JUST IN

GET THE SCOOP ON THE LATEST NEWS

HANGING OUT WITH

BETHANY CIOTOLA

jungle

WELCOME TO THE

shop these

wild styles

SHOP

EVERY PAGE ON

POSTERCHILDMAG.COM
---
36

cover story

This is: William, Zeke & Jolie

4

THE CONTRIBUTORS

Get to know a few of the

talented individuals who

made this issue happen!

6

ONLINE EXCLUSIVE

A preview of our newest

Online Exclusive editorial by

Felicia McGowan.

7

EDITOR'S NOTE

9

ON LOCATION

Learn more about this issue's

cover story!

FASHION

11

WHAT WE'RE LOVING

Welcome to the Jungle!

These styles are wild.

12

FRESH RIGHT NOW

Get e-shopping! These

4 trends are perfect for summer

and easy to shop from

your digital magazine copy.

NEWS

20

THIS JUST IN

We're dishing on the coolest

new collaborations, and

product offerings available

this summer!

LIFESTYLE

24

HANGING OUT

Get to know mom blogger

Bethany Ciotola of the blog

Bethany and Her Boys in our

exclusive interview!

28

KIDE Q&A

We introduce you to KIDE,

the new shopping app that

just made stocking your kid's

wardobe so much easier!

Summer /17
---
FEATURES

32

SPOTLIGHT

California kidswear label Telegraph

Ave takes us to Tulum

in their latest collection for

Spring and Summer 2017.

EDITORIALS

36

THIS IS: WILLIAM, ZEKE

& JOLIE

Photographer Sara Pine celebrates

expressing individuality

through fashion without labels

in this issue's cover story.

50

THE DREAMERS AND

THE STAR DANCER

Exploring fashion, movement

and dance, photographer

Candice Cohen engages our

imagination in this dreamy

fashion story.

60

FLASHBACK

Model Brookelin sports retro

inspired fashions and channels

California cool vibes in

photos by Megan Dendinger.

72

TROPICAL HEAT

Photographer Amber

Eggleden brings a taste of the

tropics to her studio in this

fashion story.

84

RAINY SUMMER

Photographer Paulina Kania

doesn't let a surprise

summer thunder shower

rain on her parade!

94

IMAGINARY FRIEND

Summer vacation is for

hours of imaginative play

dates. Photographer

Jacob McFadden follows

a boy and his imaginary

friend.

104

SHOPPING FOR LOVE

Stylist Nini.E and

photographer Tjitske

Agricola bring us to the

super market in search of

one thing: love! What do

these little shoppers find?

114

RHAPSODY

Emma and Lina enjoy a

lazy summer day, captured

in photographs by

Evgenia Karica. Find more

of this editorial on our

website.

Tropical

Heat

72
---
the

contributors

megan dendinger

Photographer

(pg.60)

On the perfect summer day where

would we find you?

I would be somewhere beautiful

with a slight breeze, laughing and

having a good time with friends

and family. I don't have a particular

place in mind, as I'm always

open to going to new places. As

long as it's fun, I'm down.

Somewhere you'd love to travel to

this summer…

I would love to go to Scotland!

What is on your summer menu?

Mostly entertaining children, driving

children and working. Things

don't really change that much for

me, summer or no. LOL

Your perfect summer outfit includes…

A beautiful maxi dress, light cute

cardigan and cute sandals.

What is your best childhood summer

memory?

Spending my time at a day camp

for the summer and going to a

bunch of fun places with them.

4

Nastasia Delmedico

staff writer

On the perfect summer day where

would we find you?

I'm either taking full advantage

of patio season in the city with

friends, or lounging in my backyard,

soaking up the sun, wearing

earbuds and reading a good

book.

Somewhere you'd love to travel to

this summer…

I've had Barcelona on my mind

ever since I travelled there two

summers ago. The fashion, the

restaurants, the architecture—a

place I'd love to experience

again. I've also had the itch to

experience Central Park in the

summer that I have yet to scratch.

What is on your summer menu?

Tacos, tacos, and more tacos—especially

fish tacos. I'm also looking

forward to drinking ice coffees

and stopping by ice cream shops.

Did I mention tacos?

Your perfect summer outfit includes…

A relaxed t-shirt dress is my summer

go-to item, it's comfortable

and transitions from day to night

when you swap your espadrilles

for a pair of strappy heels. It also

wouldn't be summer without my

floral scrunchie, an accessory I

always wear to save me from the

seasonal and longhair-induced

heat.

What is your best childhood summer

memory?

I grew up playing competitive

soccer with a team I played with

for almost 10 years. Nothing said

summer like the beginning of our

outdoor season, which almost

always featured a rewarding barbecue

after an exciting game.

María Montané

Stylist

(pg.114)

On the perfect summer day where

would we find you?

I love picnics with a nice view, a

good book. Probably Mc Carren

Park in Brooklyn or DUMBO.

Drinking cucumber water with

lime and chia seeds and Murakami´s

book. That´s my perfect

combo.

Somewhere you'd love to travel to

this summer…

I really want to visit Cuba, probably

I´ll do it for my birthday ( Aug

29th). The whole experience of

music, amazing vintage cars and

hidden streets, combined with

charismatic people with great

style. Also I think it´s a very inspiring

place to visit to take ideas for

future fashion editorials.

What is on your summer menu? Tropical

cocktail fruits! I´m always eating

or snacking fruits, and during

this season it´s a MUST! I´m also

learning interesting recipes to mix

and match ingredients to make

healthy smoothies that taste like

ice cream and sorbets.

Your perfect summer outfit includes…

Accessories! Hats, bandanas and

of course sunglasses. That´s the

key for a cool look. Extra accents

with simple elements like a cute

bandana around your wrist or vintage

jewelry... Always, no matter

what, take risks and trust your

DNA style!

What is your best childhood summer

memory? Spending aaaall day

wearing swimsuits. Since day one

of the school year ending, I used

to wear my bathing suit no matter

where we were : City, beach,

hotel pool, supermarket or my

home, that was my definition of

vacation... definitely lots of sun

screen and ice cream!

evgenia Karica

Photographer

(pg.114)

On the perfect summer day where

would we find you?

I'll be definitely outside! I would

either be shooting cute kids

somewhere in the city, chilling on

one of beautiful beaches in New

Jersey, or getting away from it all

on Fire Island. But ideally, I would

have the best of both worlds, with

a beach photo shoot and then

relaxing there afterwards.

Somewhere you'd love to travel to

this summer…

Travel is my other passion, after

photography. I'm planning to see

few places in the States: Los Angeles,

Las Vegas, maybe Niagara.

I would love to go back to San

Francisco as well. I've absolutely

fallen in love with that amazing

place!

What is on your summer menu?

I'm a veggies-lover. I love salads,

and I eat even more greens and

berries during the summertime.

And of course I can't forget the

fresh seafood and ice cream.

Your perfect summer outfit includes…

I can't imagine a hot summer

without colorful linen shirts,

sandals, tunics and shorts. But

to be honest,I also love beautiful

dresses with heels, though at

times they can seem impractical.

What is your best childhood summer

memory?

Running away from grandma's

house with my little brother and

cousins to a nearby lake where

we swam and played all day, until

someone said that our grandma

had come looking for us. Of

course, we were scolded when

we returned (but not for real, you

know how grandma's are). Then

eating fresh berries and peaches

from the garden for dinner.. It was

always so much fun.. And now

when I look back, I realize how

wonderful of a childhood we had!
---
on the go?

TAKE US WITH YOU

Read Poster Child Magazine on the App. Download today!

posterchildmag.com
---
the

online exculsive

6

www.posterchildmag.com
---
the

editor's note

Do you have a favourite summer memory? My

fondest memories of summer revolve around

camping: hours spent braiding each other's hair,

crafting friendship bracelets and trekking to the

campground pool, towel in hand. Though we

may have only spent a few weekends camping

each summer, the memories stand out over

the presumable countless hours of lying on the

couch complaining, "I'm bored." My daughter

will turn one this summer, and so I'm excited

to start making summer memories and creating

family traditions that leave her with the same

warm recollections of her summer vacations!

You may have already planned your summer

trips and travels, but you probably still need to

restock your kiddos summer closet. Good thing

you are flipping through our latest issue; we've

packed it full of summer style inspiration and

easy e-shopping links. My favourite new feature

you'll find within this issue is the ability to shop

our editorial looks. When viewing this issue on

any digital platform just click a look to see similar

items for sale online.

What memory do you want to

make with your kids this summer?

Tag @posterchildmag

in your Instagram pictures or

comments!

Can't wait to hear from you!

So go ahead focus on making new summer

memories, we've got your kid's wardrobe

covered.

xo Rebecca Poier

Poster Child Magazine

Editor-in-Chief
---
the

poster child Team

EDITOR-IN-CHIEF:

REBECCA POIER

DIRECTOR OF PUBLIC RELATIONS:

ERICA STEVENSON

PHOTOGRAPHER:

FELICIA MCGOWAN

ADVERTISING:

TRACEY LUTH

INTERNS:

NASTASIA DELMEDICO

EVGENIA BRYZGALOVA

CONTRIBUTERS

SARA PINE, JESSIE JAMZ, JAVON RHONE, SAMAN-

THA FRYLING ART-DEPT.COM, WILLIAM, ZEKE, JOLIE,

PRODUCTION ON 5TH, WET NOODLES, JOEL GEIST,

LIZ, JORDAN, SHADES, BANJO, BETHANY CIOTO-

LA, EVGENICA KARICA, MARÍA MONTANÉ, CANDICE

COHEN, KATRIN BENTO CONNAULT, OLIVIA GALLONI

D'ISTRIA, MAYA CHANCELADE, MEGAN DENDINGER,

HEATHER ROME, BROOKELIN, FUTURE FACES NY, AM-

BER EGGLEDEN, DOMINIC PAUL, ALICIA APARICIO, SET

STYLIST: KATE SUTTON, ANYA & INDIA, GRACE & GALOR

MODELS, PAULINA KANIA, DARIA SOLAK, HIHELLO, JO-

ANNA KUCHTA, JOANNA MURAWSKA, ASIA NEJFELD

JACOB MCFADDEN, IDA SYLSJÖ, MAKOTO HAYASHI,

COHEN AND ZACH, BONNIE & BETTY AGENCY

THE INDIAN GREEDY COW, TJISKE AGRICOLA, NINA

ELENBAAS, GLAMDAMN, HIP 4 KIDZ, EMMA & LINA,

TOMOMI SANO

SPONSORS & AFFILIATES

PLAYTIME NEW YORK, MINI BODEN, ALEX & ALEXA,

MAMAS & PAPPAS, SMALLABLE, STRIDE RITE, MAYORAL,

OH...MY! KIDSWEAR

ADVERTISING POLICY

POSTER CHILD MAGAZINE INC. ACCEPTS ADVERTISING BASED ON SPACE

AVAILABILITY AND CONSISTENCY WITH ITS MISSION TO INSPIRE A STYLISH

CHILDHOOD. POSTER CHILD MAGAZINE INC. IS NOT RESPONSIBLE FOR

THE CONTENT OF THE ADVERTISEMENT, THE PRODUCTS OFFERED OR THE

VIEWPOINTS EXPRESSED THEREIN.

EDITORIAL NOTE

NO PORTION OF THIS MAGAZINE MAY BE REPRINTED, DUPLICATED OR TRANSMITTED WITHOUT THE WRITTEN

PERMISSION OF THE PUBLISHER. PHOTO OR ARTWORK SUBMISSIONS ARE MADE AT THE RISK OF THE SENDER;

POSTER CHILD MAGAZINE WILL ASSUME NO LIABILITY FOR LOSS OR DAMAGE. OPINIONS EXPRESSED IN POSTER

CHILD MAGAZINE ARE THOSE OF THE AUTHORS AND DO NOT NECESSARILY REFLECT THE VIEWS OF THE

PUBLISHER. POSTER CHILD MAGAZINE DOES NOT ASSUME LIABILITY FOR CONTENT.

8
---
ehind the

on

location

scenes

Exploring stylish unisex

dressing with Sara Pine

For this issue's cover story, we

teamed up with photographer Sara

Pine to bring to life a concept we

had both been dying to create –

an editorial focused on celebrating

creativity in dressing with an

emphasize on the importance of

expressing identity through fashion!

Rather than assigning labels,

our focus was on playful dressing

concepts that allow kids to be kids,

embrace who they are and let their

imaginations run wild!

The editorial feature THIS IS:

Willam, Zeke & Jolie, highlights

unisex dressing by mixing and

matching traditionally feminine or

masculine pieces for unique and

stylish looks that both boys and

girls will love. Flip to page 36 to be

inspired.

on the cover

William is

wearing: Shirt by

Wolf & Rita, Pants

by Boy + Girl, Shoes

by Dr. Martens, Scarf

by Chipie

Photograph:

Sara Pine

Styling:

Jessie Jamz

Wardrobe Assistant

Javon Rhone

Hair& Makeup:

Samantha Fryling

Production On 5th

Retouching:

Wet Noodles

get the cover look!

$54, Blune

$60, Wolf & Rita

$297, Sessun
---
1

FASHION

#nowtrending

7

2

What we're loving

Welcome to the Jungle! Wild prints and

patterns, toucans and tigers will all be

favourites of your adventurous little monkeys!

6

4

3

5

1. Swim Shirt by Molo 2. Top by H&M 3. Sweater by Wildfox 4. Dress by Diesel

5. Dress by Catimini 6. Bag by Des Petits Hauts 7. Sweater by Little Marc Jacobs. Image courtesy Billieblush
---
e-Shopping

Fresh right now!

1

2

POM POM everything

This fun and colourful accent is perfect

for the season, not to mention it looks

cute on everything from dresses

to accessories.

5

3

4

Wear

it with

1. Jumper by Melissa Obabash, 2. Swimsuit

by Sunuva, 3. Sweater by Louise Misha,

4. Sandals by Il Gufo, 5. Bag by Rose in April,

6. Shorts by Scotch & Soda.

Cute accessories!

Scarf by Le Petit Lucas Du Tertre

6

Model wears: Piccola Ludo

Sandals by joe fresh

sunglasses by Sons + Daughters

Hat by H&M

12
---
e-Shopping

1

all ruffled up

Dramatic yet danity, our selection of

ruffled up pieces are sure to bring out

her inner duchess.

5

2

4

3

6

Wear

it with

Model wears: stella jean

Shiny Metallic kicks

1. Jumper by Louis Louise 2. Top by H&M

3. Dress by Chloé, 4. Skirt by Little Creative

Factory, 5. Swimsuit by Oeuf

6. Infant Romper by Ketiketa.

Sneakers by Pom D'api

Sneakers by billieblush

Sandals by H&M

Sandals by Nina Shoes
---
e-Shopping

Bright + Brighter

Colour, colour and more colour. Brighter is

better this summer. Pick a vibrant shade and

don't be afraid to pair it with something even

more bold! Stand out; we double dare you.

1

4

6

7

2

5

Wear

it with

3

even brighter

Accessories

1. Noe & Zoe Berlin, 2. Top by Holly Hastie

3. Swimsuit by H&M, 4. Shorts by Petit

Bateau, 5. Dress by Charabia, 6. Dress by

No Sugar Added, 7. Shirt by Stella

McCartney, 8. Sunglasses by H&M.

Bag by ykra

8

sandals by Tommy Hilfiger

hat by hummel

Sandals by DOLCE & GABBANA

18 16
---
e-Shopping

1

2

check yourself

Fun for boys and girls, gingham is

making a huge comeback this Summer

and while you may not know how to

rock the style, kids always wear it best!

7

3

4

6

Model wears: she-ver

1. Shorts by Il Gufo, 2. Top by Pepe Jeans,

3. Dress by Oaks of Acorn, 4. Dress by

H&M, 5. Shorts by Marni, 6. Romper by

De Cavana, 7. Top by Babe & Tess.

Wear

it with

5

These cool pieces

Sandals by tucker & tate

Bag by SALVATORE FERRAGAMO

Sunglasses by Izipizi

jacket by ikks
---
News

this just in

this just in

Discover the season's coolest collaborations,

brand new product offerings and more.

Read on for all the juicy details!

by Nastasia Delmedico

Athleisure by Stokke

Made for parents with on-the-go life-styles,

Stokke's new Athleisure collection adopts the

versatility, mobility, and style of athletic wear

into their Xplory strollers, carriers, and carry cot

models for family exploration made comfortable.

The Athleisure collection features oversized canopies

with mesh finishes for ventilation, extended

footrests, quick-dry materials, and the practicality of

Stokke's signature height-adjustable feature to manage

parent-child interaction while strolling. stokke.com

Stokke®Xplory® stroller and Stokke®MyCarrier pictured.

20
---
The Wouwermanstraat Residence, Amsterdam via Kid & Coe pictured.

Kid & Coe's New Home Exchange

Program Offers An Exciting Way to

Explore The World With the Family.

Kid & Coe is an online travel and accommodation

website for families in search of

child-friendly vacation spots around the globe.

Founded by Zoie Kingsbery Coe in 2013, Kid

& Coe has curated 1,000 properties worldwide

that check off child-centred specifications on

any parent's checklist, like play rooms, fireplace

guards, and babysitting services.

Along with a pre-approved selection of luxury

hotels, homes, and family safaris, Kid & Coe

now offers a home swapping exchange program

for like-minded family travellers.

Made available through monthly or yearly

payments, homeowners have the opportunity

to list their property and request an exchange

with another member's accommodations. This

allows for families who share similar travelling

criteria to connect, coordinate, and explore

new destinations comfortably.

"We developed this feature due to customer

demand," said Kingsbery Coe. "We think it's

a great option for families wishing to explore

destinations from a comfortable new home

base while allowing their own home to be put

to good use."

The addition

of Exchange to

the Kid & Coe

portfolio makes

it the first truly

complete travel

website for family

accommodation!

kidandcoe.com
---
News

this just in

FRESH NEW SWIMWEAR

With the warmer months ahead, Rockets of Awesome is now offering

their brand new line of swimwear—all UPF 50—to include

in their Summer 2017 delivery. Available in sizes 2-14 for boys and

girls, all pieces are priced under $40 and you'll only be charged for

the swim pieces that fit your little ones best!

rocketsofawesome.com

Vogue Alumni Launch

Maisonette: A New

Online Shop For Children

Maisonette is a one-stop online shop for parents who

wish to simplify their shopping experience, enabling

access to children's clothing and accessories, furniture,

bedding, decor, toys, and gifts under the convenient,

virtual roof of one domain.

Founded by former Vogue executives Sylvana Ward

Maisonette co-founders Sylvana Ward Durrett and Luisana Medonza Rocci pictured above with their children

Durrett and Luisana Medonza Roccia, Maisonette carries

both luxury and independent children's brands

from around the world to perform as an accessible online

marketplace, while providing exclusive, blog-like

edits and style interviews to inspire their customers

with creative how-to-style looks in fashion and children's

decor.

Look no further and explore the online shop for a variety

of curated boutiques and features for children

ages 0-12, including most popular products, access to

new brands, giveaways, and Editor's picks at

maisonette.com

22
---
Gilt x Sherpapa Supply Company:

Gear For Cool, Fashion-Forward Fathers

Launching just in time for Father's Day, Gilt is now carrying a

unique selection of men's apparel and accessories by Sherpapa

Supply Co., a menswear

line co-founded by

Matthew Morrison and

Zach McDuffie.

From causal baseball tees

and embroidered snapbacks,

to functional and

fashionable diaper bags

for new dads, Sherpapa

Supply Co. designs

products

for adventurous,

fashion conscious

fathers who lead

and support their

families in stylish

and practical

ways. gilt.com

Sherpapa Supply Co. Co-founders Matthew Morrison and Zach McDuffie pictured above.

Mini Couture:

The Debut Of Givenchy Kids

In July, the house of Givenchy will be releasing their much-anticipated

designs for a new market, debuting their first children's wear

line—Givenchy Kids—for the upcoming AW 17/18 season.

Carrying designs for babies and children aged 0-12 years, Givenchy

Kids will release a collection twice a year, with looks that include mini

versions of signature pieces reminiscent of their men's and women's

collections, an array of sweaters, hoodies, jeans, and youthful athleisure

with street-style edge, along with sleek dresses and trousers for

fancier occasions. The debut AW 17/18 collection features pieces

printed with Givenchy's distinctive star print and uplifting messages,

in the selection of both a soft and bold, cool tone colour palette.

The Parisian line will be distributed to 150 select stores worldwide,

while exclusive looks will be showcased on givenchy.com
---
Lifestyle

24
---
HANGING

AROUND

with Bethany and her boys

When Bethany Ciotola isn't chasing after her

two boys, the New York mom finds time to

blog about her kids, motherhood and style.

Though she only started blogging last year,

the Instagram influencer has long been building

an attentive following with her winning

combination of charming photos and clever

captions. We chatted with Bethany about

maintaining balance and life with her boys.

photography by Evgenia Karica
---
Lifestyle

"When I find

something I love, I

buy it for both boys

in several colours."

Tell us a bit about yourself and your blog! What

inspired you to launch, Bethany and Her Boys?

I became a stay at home mom when I had my first son

Kai and when I had my second son in what seemed to

be 16 VERY short months later, I wanted (and needed)

a creative outlet to share our experiences as a family,

along with my passion for fashion and beauty. I also

shamelessly wanted an excuse to take and share an

endless number of photos of the boys.

Where do you live and what do you love to do in

your neighbourhood?

We live in the Upper West Side of Manhattan and I love

that we are surrounded by two big, amazingly beautiful

parks with SO many different playground options that

have provided countless hours of entertainment for the

boys. We have Central Park to the east and Riverside

Park to the west.

What does an ideal day with Kai & Rowan look like?

My ideal day starts with the boys sleeping in until 8 am,

with me getting a jumpstart by waking up at 7 am and

actually showering before I start hearing "Mommy!

Mama! MOMMMYYYYY!!" from the boy's room. We

take our time eating breakfast and I enjoy a cup of coffee

while it's actually still warm. It's a beautiful sunny day

without being too hot because when I babywear Rowan,

it feels like it's 10 more degrees than it actually is since

26

he's a hot little potato. We go to the park followed by

lunch at my favourite local restaurant which is empty and

I don't have to feel bad when one of the boys inevitably

has a mini meltdown. We go home and the boys have a

nice long nap and by the time they awake my husband

has come home early from work and we spend the rest

of the night with some solid family bonding.

That sounds like the best day ever! What is the

biggest challenge of balancing motherhood and

business?

Never having enough hours in the day. I spend my days

with the boys, and my nights working. It's also very important

for both Chris and I to get in some quality time

with each other after the boys go to bed so we have

movie nights each week. We pick out a film or tv show,

throw some popcorn in the microwave and pour a big

glass of red wine to unwind and relax with each other.

Any advice to kicking your week off right?

Getting a solid night of sleep on Sunday. My Monday

mornings are 100x better when I get a full night's sleep

the night before.
---
What is your best anti-stress remedy?

A long, hot shower.

Where would we find you if you weren't busy blogging

or writing charming Instagram posts?

With my boys exploring the city on a nice day, or at

home building castles with blocks or having races with

cars on my living room floor. On the rare occasion that

we have a babysitter, my husband and I are either at the

movies or catching up at our favourite bar with a glass

of wine or a cocktail.

What is your favourite thing to do in the city as a

family?

We are huge playground fans, and love to take long

walks along the Hudson counting boats, birds and airplanes.

Kai and Rowan are always dressed so well! What is

your advice for dressing boys?

I love neutral colours, without crazy prints/logos. Simple,

simple, simple. Unfortunately, that's hard to find,

so when I find something I love I buy it for both boys in

several colours.

What are you top 5 must have items for Summer

2017?

A scooter for Kai: He has a recent obsession with scooters.

A big, classy summer hat for the days I'm out at the

playground for hours with the boys. Mini hand sanitizer

bottles in my purse because the boys get so dirty out

and about in the summer. A big glass of ice cold beer

for the extra hot summer days. Sunscreen and Water: I

never leave the house without sunscreen and water for

both me and the boys.

Visit Bethany online: bethanyandherboys.com

Join her adventures on social media:

@bethanyciotola
---
Q&A

INtroDUciNg: KIDE

Father and entrepreneur, Nuno Pinto introduces us to his revolutionary new

shopping app that might just save you hours when buying online for your kids!

28

Kide Fashion is an online marketplace

based in Portugal that brings children's

fashion brands together for parents to

conveniently seek out stylish finds for

their kids.

As parents search for the perfect ensemble, Kide

offers their fashion expertise with an easy, personal

stylist tool that recommends pieces based on your

likes and accumulated favourites! All you have to

do is create an account and tell Kide who you're

buying for to get started. In clicking their "like"

button, Kide makes shopping simpler by providing

their customers with pieces that match their likes,

favourites, and wish-lists.

We had the chance to ask Kide's founder, Nuno Pinto,

about the online marketplace in this Q&A.

Tell us a bit about yourself and your interests in

exploring a baby and kids fashion market.

I am Nuno, a 37-year-old entrepreneur based in

Portugal with two lovely kids. After a highly successful

career as an insurance broker, I made a masters

programme in Spain, worked with Sport Lisboa

Benfica in their internationalization process in Asia

and the Middle East, and then started my PhD in

Marketing and Strategy.

When my first child was born, I thought about another

professional challenge. After I became a dad,

I understood a great problem that parents have:

lack of time. It's really hard to do everything in our

lives, so buying fashion, discovering new brands,

and following all the new trends can seem like an

impossible task. With a very busy family life, I understood

how difficult it can be to find the best

fashion in a short amount of time and at the right

price point.

I also really love babies and kids, so to be involved

in such a passionate area was a positive thing and a

reason to start Kide.

How and why did you start Kide Fashion?

When I created Kide, I wanted to develop the

most personalized, mobile-first, globally-focused

shopping experience for parents who are short on

time, but at the same time want the best fashion

for their kids. I partnered with Nuno Ferreira—an-
---
other founder and a highly experienced tech guy—and

we've made the perfect partnership.

I started Kide at the end of 2015 as an iPhone app, with

the swipe mechanism, to understand the engagement

versus the normal e-commerce experience. As the response

was amazing, we realized that we could have

something big on our hands.

How do you and your creative team curate the

brands you feature on Kide?

The Kide team is extremely selective on the brands

joining our portfolio. Only the highest quality, exclusive

and emerging brands in baby and kid's fashion are

invited. We prefer to search for brands through small

and independent worldwide markets, fairs, big fashion

events like Playtime and Bubble, and online but mainly

through social media like Instagram and Facebook.

Then we have a selection process in order to scan all

the manufacturing processes, quality of the materials

used and originality of the design, and only after that

do we decide if they are selected.

What makes your online marketplace stand out in

the industry?

One big difference from our competitors is the Kide

Stylist 'swipe' approach that chooses clothing in the

marketplace and acts as the most natural selection process

for the consumer, allowing the machine learning

algorithm to provide recommendations as any person-
---
Q&A

Tell us about the inspiration behind the Kide

stylist's algorithm.

Our true inspiration comes from our customers, and

everything we do is focused on them. Before we developed

the catalogue system of all articles, we asked for

customer feedback to understand what kind of things

and features a customer looks for in a fashion item, and

what makes them like or dislike certain items.

So, our inspiration was from several interviews with

customers and brands from our portfolio to understand

what is important when it comes to deciding if

a customer likes a particular item or not, and also to

understand the outfits that could be created by our

mechanism.

What is your company's mission statement or goal?

Our mission is to make a parent's life easier and stylish

when it comes to dressing their kids, and in the long

term, we want to be the reference for unique and exclusive

kid's fashion, not only on the e-commerce side

but also as an offline brand with presence in retail and

other places.

al shopper would.

Many high street brands know that they must embrace

technology and are attempting to tackle personalization.

Their success is limited mainly to the fact that their

technology cannot successfully understand the consumer's

likes and dislikes within their data. Kide is able

to do this in part because of the incredible amount of

data from consumers already collected by the machine

learning algorithm.

Another huge difference is the fact that we only look

for independent and small-mid sized labels rather than

high-end, luxury fashion brands like other marketplaces.

We understand that design and high-quality fashion

should be affordable and shoppable so we look

for those really unique and exclusive brands, and not

necessarily the most expensive ones.

What is the most purchased trend for kids this

summer?

One of the most purchased and searched trends for

kids this summer are the items with pale colours and

stripes. Colours like soft grey, light pink, or light yellow

with very discrete prints, especially stripes, are clearly

some of the inspirations for the 2017 Summer collection.

What is the perfect outfit for the summer season?

I would say that any outfit bought on Kide is the perfect

one, one that combines the

versatility of the daily activities

of a child with the

state of mind of the

same child!

Learn more at

kidefashion.com

30
---
32

Telegraph Ave

Take Me to Tulum
---
and Spotlight

by Nastasia Delmedico

I

t's the time of year when the air

is sticky, the school year comes

to a closing, and parents prepare

for a family vacation to a

sandy destination. With a colour story

inspired by a photograph of palm trees

leaning against a dusty rose wall, the

latest Spring / Summer 2017 collection

by Telegraph Ave titled TAKE ME

TO TULUM, carries travel-ready pieces

for children who are excited to explore

the tropics and happy to unwind during

pink and orange sunsets.

Designed by Aman, a fashion entrepreneur

with over 15 years of experience

working for recognized brands such as

Stella McCartney and Saks Fifth Avenue,

Telegraph Ave is a hybrid of worldly

inspiration taken from Aman's experiences

and design versatility to fit the

free-thinking spirit of every child.

This season's

collection stays

true to Aman's

style inspirations—particularly

the muted

colour palette,

the minimal

design of the

60s and 70s

and the seaside

lifestyle—

with functional,

comfortable

and adaptable

pieces that
---
don't limit a child's mood, but rather transition

with their free-spirited character. From rompers,

linen vests and shorts, to tunics, leggings and fit

and flares, the California

brand channels the essence

of relaxation with

their SS17 collection for

the perfect trip along a

sandy boardwalk.

Made from ethically

sourced material and local

producers, Telegraph

Ave aspires to be as much

as a lifestyle brand as it is

a fashion source, embracing

progressive initiatives

and including a diverse

community of local artisans

into the development

of their designs.

Telegraph Ave designs

clothing for conscious,

fashion-forward boys and

girls ages 1 to 10 years

old.

Are you ready to find solace

in the sun and dig

your toes a little deeper

into the sand? Grab your

passports, make room in

your luggage and shop

the resort-inspired looks!

telegraphaveshop.com

@telegraphave

34
---
and spotlight
---
THIS IS:

Photographer:

Sara Pine

Styling:

Jessie Jamz

Wardrobe Assistant:

Javon Rhone

Hair& Makeup:

Samantha Fryling

Production On 5th

Models:

William, Zeke, Jolie of Zuri Model + Talent

Retouching:

Wet Noodles

Special Thanks:

Liz, Jordan, Shades & Banjo

46 36
---
38

Zeke wearing Shirt by MSGM, Shorts by Anthem of the Ants, Hat by MiniMeParis,

Socks by Pair of Thieves, Shoes by Dr. Martens. Jolie wearing Dress by Boy + Girl,

Shoes by Vans. William wearing Jumpsuit by Ace & Jig, Shoes by Dr. Martens.
---
40
---
Clockwise: Jolie wearing Shirt and Shorts by Nico Nico, Socks by Pair of Thieves, Shoes

by Vans. William wearing Coverall by The Animals Observatory. Zeke wearing Shirt

Coverall by The Animals Observatory.
---
42
---
44
---
Zeke wearing Tank and Shirt by The Animals Observatory, Hat by

Public School. William wearing Hat, Tank Top and Shorts by The

Animals Observatory, Socks by Pair of Thieves, Shoes by Dr. Martens
---
46
---
William wearing Shirt by Wolf & Rita, Pants by Boy + Girl,

Shoes by Dr. Martens, Scarf by Chipie, Brooch: Stylist's Own
---
Jolie wearing Shirt by Lucky Jade, Skirt by The Animals

Observatory, Socks by Pair of Thieves, Shoes by Vans

42
---
50

Rima wearing T-shirt by PAPU and Skirt by iglo+indi.
---
the dreamers & the star dancer

Photographer: Candice Cohen

Stylist: Katrin Bento Connault & Olivia Galloni d'Istria

Makeup and Hair: Maya Chancelade
---
Elina wearing Bodysuit by iglo+indi, Sweat Jacket by Mainio.

From left: Lyah wearing T-shirt by Koolabah, Leggings by Mini Rodini, Belt by Bonpoint. Emylie wearing T-shirt and Leggings by PAPU, Shorts by Koolabah, Jacket by Petitbo. Nils

wearing Cap and Jacket by Mini Rodini, T-shirt and Shorts by Koolabah. Rima wearing Jacket by Petitbo, T-shirt by PAPU and Pants by Koolabah.

52
---
From left : Emylie wearing Jacket by Koolabah, T-shirt and Pants by Someday Soon, Shoes by Six Pieds Trois Pouces.

Nils wearing Sweatshirt by Someday Soon, T-shirt by Koolabah, Jeans by Molo, Shoes by Nike.
---
54
---
On left : Lilou wearing T-shirt by Mainio, Leggings by Mainio,

Dress by Bonpoint, Shoes by Six Pieds Trois Pouces.

Above: Rima wearing Bodysuit by iglo+indi, Cardigan by Petitbo,

Skirt by Molo, Leggings by Gardner And The Gang. Lyah

wearing Jacket and Leggings by iglo+indi, Dress by Gardner

And The Gang, Shoes by Six Pieds Trois Pouces.
---
From left : Emylie wearing Swimsuit by Petitbo, Skirt by PAPU and Belt

by Bonpoint. Nils wearing Jacket by Bonpoint, Jeans by I Dig Denim

Top by PAPU. Rima wearing Cardigan by PAPU, Leggings by iglo+indi.

56
---
Left: Emylie wearing Top by Petitbo, Sweatshirt by

Mainio, Leggings and Shorts by iglo+indi.

Centre: From left: Rima wearing Jacket by Molo, Top by

Petitbo, Leggings by Aarrekid, Shoes by Six Pieds Trois

Pouces. Lyah wearing Jacket by Petitbo, Top by Petitbo,

Pants by Aarrekid, Shoes by Six Pieds Trois Pouces. Nils

wearing T-shirt by Aarrekid, Sweatshirt by Aarrekid, Cap

by Someday Soon, Jeans by Molo, Shoes by Nike.

Right: Nils wearinger T-shirt by Mainio, leggings by

Petite.

58
---
Lilou wearing T-shirt by PAPU,

Socks and Skirt by iglo+indi
---
60
---
flash back

Creative Direction and Photography: Megan Dendinger

Styling: Heather Rome & Megan Dendinger

Hair & Makeup: Heather Rome & Megan Dendinger

Model: Brookelin of Future Faces NYC
---
62

Brookelin wearing Vintage Dress,

Scarf by H&M, Sunglasses by Pared
---
Brookelin wearing Shirt by BON BON via

ladida. Vintage hand embroidered jeans,

Hat by Forever 21

108
---
64

Brookelin wearing Vintage Vest,

Dress by Chloé
---
Brookelin wearing Vintage Jacket, Tank by

The Animals Observatory via ladida. Skirt

by Ava & Lu via ladida, Socks by Forever 21
---
Brookelin wearing Dress by Tuchinda via

ladida, Socks by Tiny Cottons

66
---
68

Brookelin wearing Dress by Hello Simone

via ladida, Vintage Belt, Vintage Scarf
---
Brookelin wearing Vintage Shirt,

Skirt byTuchinda via Ladida
---
70

Brookelin wearing Jumper by Bobo

Choses via ladida, Jacket by bandybutton

via Thumbeline Kids, Vintage Belt
---
Brookelin wearing Shorts by Chloé, Top by

Caroline Bosmans via ladida
---
Tropical

Heat

photographer: Amber Eggleden

makeup: Dominic Paul

fashion Stylist: Alicia Aparicio

set Stylist: Kate Sutton

models: Anya & India

of Grace & Galor Models

68 74 72
---
Anya: ZADIC AND VOLTAIRE jumper, MAINIO shorts

India: JESSIE AND JAMES dress
---
66 74
---
Anya: KAISEL dress

India: ZARA top, NOE AND ZOE BERLIN

bomber, H&M trousers, LUMBERJACK trainers
---
76

Anya: CHLOE LOUISE

dress, NINE WEST shoes

India: NEXT top, KINGDOM OF

ORIGIN dungaree, VANS shoes
---
Anya: ZARA t-shirt, MINI BODEN

dungaree, FRENCH SOLE shoes

India: NOE AND ZOE BERLIN

t-shirt and shorts, VANS shoes
---
Anya: KAISEL dress

72 78
---
Anya: GILLIAN'S CLOSET dress, NINE WEST shoes

India: ZARA shorts, ZARA top,

NOE AND ZOE BERLIN jacket, VANS shoes
---
80
---
India: EMOI dress
---
76 82
---
Anya: H&M KATIE SCOTT jumpsuit, XTI sandals
---
ainy

Summer

Photography: Paulina Kania

Illustrations: Daria Solak

Production: HiHELLO

Styling: Joanna Kuchta

Stylist Assistant: Joanna Murawska

Makeup: Asia Nejfeld

78 84

Jackets and shorts: Bobo Choses

Tops: Karolina Scipniak

Sunglasses CISZAK.COM
---
Jackets: Bobo Choses

Glasses: CISZAK.COM

Shoes: APIA

Socks: MANY MORNINGS

80 86
---
Jacket: Bobo Choses

Glasses: CISZAK.COM

Scarf: Yellow Yarny Yak
---
82 88
---
Swimsuits: Mini Rodini

Coats: Karolina Scipniak

Knit hats and necklaces: Yellow Yarny Yak

Glasses: CISZAK.COM

Shoes: APIA
---
84 90
---
Coats: Karolina Scipniak

T-shirts and trousers: Bananaz

Shoes: APIA

Glasses: CISZAK.COM
---
86 92
---
Opposite Page: Top and hat: H&M

Blouses: Bananaz

Skirts: Karolina Scipniak

Glasses: CISZAK.COM
---
94

Cohen wearing T-shirt by Kenzo

Zach wearing Top by Kenzo, Shorts by Kenzo
---
Photographer: Jacob McFadden
---
90 96
---
On Left: Cohen wearing, Shirt by Paul and Shark, Jeans

by Stone Island. Zach wearing Shirt by Pepe Jeans,

Jeans by Little ElevenParis

On Right: Jeans by Diesel, Jacket

and Shoes by Pepe Jeans
---
98
---
Cohen wearing Shirt by Kenzo,

Jeans by Stone Island, Jacket by Paul

and Shark. Zach wearing T-Shirt by Petit

Bateau, Jacket by Pepe Jeans
---
100

Cohen wearing T-Shirt by Someday

Soon, Shirt by Guess, Jeans by Diesel.

Zach wearing T- Shirt by Diesel, Jeans

by Little Eleven Paris, Jacket by Diesel.
---
Cohen wearing Shirt by Little Eleven Paris, Jeans by Diesel,

Zach wearing Shirt by Pepe Jeans

Opposite Page: Socks by Someday Soon

102
---
Stylist: Ida Sylsjö

Hair Stylist: Makoto Hayashi

Models: Cohen and Zach

of Bonnie & Betty Agency

Location: The Indian Greedy Cow
---
104 98
---
SHOPPING FOR LOVE

Tracksuit Jacket: Finger in the Nose * Watermelon Tee : Stella

McCartney Kids * Planet Smile Mesh Skirt & Eat Dessert First

Hero Bag: Caroline Bosmans
---
The Legends Wind Stopper:

Bobo Choses Rock Dress:

Cavalier Vault Fluffy

cap: Caroline Bosmans

D-Lu

Bomber

Cavalier

Koala K

The An

observ

106
---
sion

Jacket:

Vault

ids Suit:

imals

atory

Lobster Bag: ASOS * Round Sunglasses: Mini Rodini
---
108

Planet Smile Mesh Superman Skirt & Hope T-Shirt Love Spray:

Caroline Bosmans * Basket Heart Sneaker - Puma
---
110

Pasche Dress: Cavalier

Vault Basket Heart

Sneaker: Puma

Padded Jacket: Bobo

Choses Glendale Cap

Youth: Herschel
---
112 64
---
終 わり

To be continued…

Photography * Tjiske agricola Styling, concept & Design * Nina Elenbaas

Muah * Glamdamn Models by * Hip 4 kidz
---
Rhapshody

photography by Evgenia Karica

creative direction & wardrobe styling by Maria Montane

makeup & hair by Tomomi Sano

114
---
116 24
---
118
---
120
---
Apparel: Tuchinda, Caramel, Coco Au Lait & Tia Cibani

Accessories: Tia Cibani, Clara Colour. Shoes: River Island
---
Enter to

Win

The ROSE GOLD JEWELL TRIM DRESS

by OH... MY! Kidswear

This elegant dress in a rose gold embossed jacquard is perfect for that special

occasion on the calendar this summer! The dress has a gathered skirt, a jewel

stone trim at the neckline and an exposed back pink zip. Designed in London,

the dress is cut stylishly above the knee with a mesh underskirt and

a layer of soft mesh to show at the skirt hem and sleeve.

Visit: PosterChildmag.com/contest

122
---
August 6-8, 2017

Metropolitan Pavilion

& Altman Building

200 collections

Fashion & Lifestyle

picaflor inc. 2017 illustration Anna Kövecses

CHILDREN'S & MATERNITY TRADE SHOWS WORLDWIDE!

520 collections

July 1 - 3

Parc Floral

de Paris

100 collections 200 collections 200 collections

July 5 - 6

Palazzo

Italia

August 6 - 8

Metropolitan Pavilion

& Altman Building

August 22 - 24

Belle Salle

Shibuya Garden

FOR PROFESSIONALS ONLY

GET YOUR PERSONAL PASS ON:

www.iloveplaytime.com