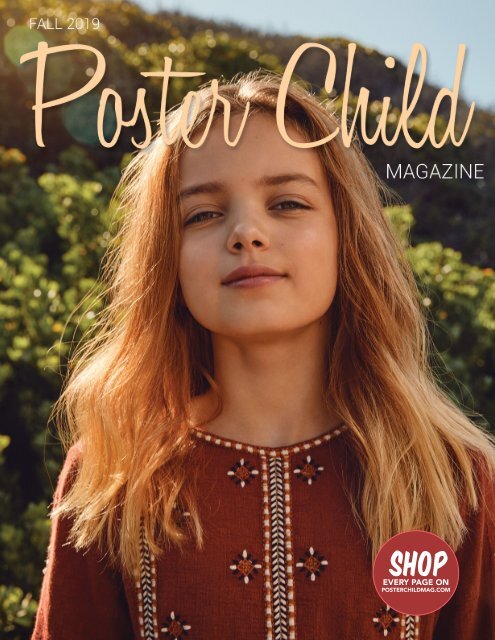 Fall 2019
The brand new issue of Poster Child Magazine for Fall 2019! - Visit Pitti Bimbo 89 - Discover our Playtime Trends - Gorgeous falls style inspiration - Fall fashion editorials
The brand new issue of Poster Child Magazine for Fall 2019!
- Visit Pitti Bimbo 89
- Discover our Playtime Trends
- Gorgeous falls style inspiration
- Fall fashion editorials
SHOW MORE
SHOW LESS
You also want an ePaper? Increase the reach of your titles
YUMPU automatically turns print PDFs into web optimized ePapers that Google loves.
SHOP

EVERY PAGE ON

POSTERCHILDMAG.COM
---
48

cover story:

oh the places you'll go

7

EDITOR'S NOTE

9

ON LOCATION

Learn more about this

issue's cover story!

FASHION

10

FRESH RIGHT NOW

Get e-shopping. From

glorious green to preppy

chic, we are exploring

the top trends of the fall

season.

16

PLAYTIME STYLE

We styled 9 looks your

kiddos will go crazy for with

a selection of our top styles

found at Playtime in New

York earlier this year. Photographed

by Melanee Kate

Thomas.

26

BRAND SPOTLIGHT:

NADADELAZOS

A neighbourhood comes to

life on playful garments by

nadadelazos! Learn more in

our brand spotlight.

28

BRAND SPOTLIGHT: LOUD

Ready for BOWLARAMA? The

new LOUD collection for fall

has arrived; learn more about

the inspiration behind the line,

captured in images by Melissa

Coulier.

38

THIS JUST IN

Extra, extra read all about the

new brands, campaigns and

product offerings making their

debut this season!

40

RUNWAY REPORT

Kids on the catwalk at Pitti

Bimbo 89 steal the show. Take

a look at the top styles you'll be

swooning for Spring 2020!

42

VISIT PITTI BIMBO 89:

THE KID'S LAB

Join us to discover The Kids

Lab at Pitti Bimbo 89. We take

you on a tour of the new fair

space and highlight our favourite

brands from each of the 5

unique zones.

FALL 2019
---
LIFESTYLE

44

RIDING WITH LIL' LINUS

We think you'll want to ride

into fall with LINUS! We test

rode the ultra-stylish LIL' LINUS

and are sharing our honest

feedback in this brand review.

EDITORIALS

48

OH THE PLACES

YOU'LL GO

Shot by photographer Dave

Kennedy in beautiful Cape

Town, this feature takes us on

an adventure from the beach

to the hillside. These pages

will be your go-to for autumn

dressing inspiration.

60

BOY FROM THE SEA

Photographer Michal Zawer

and art director Ania Waluda

of LoLove Studio capture the

sweet innocence of childhood

make-belief and adventure of

the seaside. Walk along the

shoreline, climb aboard a ship,

capture it all on film and in

memory.

72

RAGAZZA DELLA

VIA GLUCK

Join photographer Emily Kornya

on the streets of Florence,

Italy, as children scamper about

the old cobblestone streets.

Shot for Pitti Bimbo 88.

84

DRESS CODE: ALL THE

BRIGHT STUFF

Nothing is boring about

dressing for class when

everything bold and bright

is the dress code —

captured by photographer

Alyssa Justice.

94

BACK TO GARDEN

When the weather gets

chilly, tired from exploring

kiddos retreat to camp

out in the garden shed

embracing the warmth

and good company.

Photographer Andrè

Glukhov captures these lazy

autumn moments.

106

SKY GIRLS

Enter the hanger and

get ready to take flight

with glamour and grace.

Photographer Olesja

Mueller captures stunning

formalwear looks with

majestic aircraft as her

backdrop.

boy from

the sea

60
---
Online

Exclusive

www.posterchildmag.com
---
on the go?

TAKE US WITH YOU

Read Poster Child Magazine on the App. Download today!

posterchildmag.com
---
the

poster child Team

EDITOR-IN-CHIEF:

REBECCA POIER

SENIOR FASHION EDITOR:

ERICA STEVENSON

ADVERTISING:

TRACEY LUTH

MARKETING & ADVERTISING ASSOCIATE:

GINNY BRYZGALOVA

CONTRIBUTERS

MELANEE KATE THOMAS, TANYA MARQUES LANIYA,

CARTER, IZZY OF OHLSSON MODELS, GIOVANNI OF

GENERATION MODEL MANAGEMENT, SAWYER OF TAKE

3 TALENT, MELISSA COULIER, ERIN NOEL, BRITTNEY

REED, BROOKE ELIZABETH, MACKENZIE MORRIS,THE

REC BOWL; JORDAN WALSH; DAVE KENNEDY, MARICA

SMIT, CHANTELLE BROWN, TAMZEN APPUNN, HALEY-

RAE + ISABELLE OF TOPCO KIDS; MICHAL ZAWER

AND ANNA WALUDA OF LOLOVE STUDIO, ANTEK

GLOWCZEWSKI; PHOTOGRAPHY & STYLING: EMILY

KORNYA, AURORA OF HANSEL & GRETEL, FEDERICA,

VALERY OF MODA MODA KIDS, CARLA & CAROLAY

OF PEPPER KIDS; ALYSSA JUSTICE, RANDY JUSTICE,

ANDERSON DIGITAL, TIA CARTWRIGHT , EMILY BAYNARD

@WATTSECONDSTUDIOS, RYAN MCMILLAN & KEIRA

FAVRE OF WEHMANN MODELS & TALENT, LEA ARIS OF

MOORE CREATIVE TALENT; ANDRÈ GLUKHOV, LARISA

POLIVANOVA, OLESYA PEREVOZNIKOVA, ALEX , GLEB,

POLINA, ILIYA, MAIYA MA , ARSLAN SITDIKOV; OLESJA

MUELLER, COURTNEY MARTIN, SHERRI DVORKIN,

NICOLE, AUBREY, MADISON, SAVANNAH, KAYLEIGH,

BROOKE, LOLA, GABRIELA

MIDLAND AIR MUSEUM.

SPONSORS & AFFILIATES

INFANTIUM VICTORIA, EDEN & ZOE, RASPBERRY

REPUBLIC, HOUSE OF JRS, PLAYTIME, PITTI BIMBO

ADVERTISING POLICY

POSTER CHILD MAGAZINE INC. ACCEPTS ADVERTISING BASED ON SPACE

AVAILABILITY AND CONSISTENCY WITH ITS MISSION TO INSPIRE A STYLISH

CHILDHOOD. POSTER CHILD MAGAZINE INC. IS NOT RESPONSIBLE FOR

THE CONTENT OF THE ADVERTISEMENT, THE PRODUCTS OFFERED OR THE

VIEWPOINTS EXPRESSED THEREIN.

EDITORIAL NOTE

NO PORTION OF THIS MAGAZINE MAY BE REPRINTED, DUPLICATED OR TRANSMITTED WITHOUT THE WRITTEN

PERMISSION OF THE PUBLISHER. PHOTO OR ARTWORK SUBMISSIONS ARE MADE AT THE RISK OF THE SENDER;

POSTER CHILD MAGAZINE WILL ASSUME NO LIABILITY FOR LOSS OR DAMAGE. OPINIONS EXPRESSED IN POSTER

CHILD MAGAZINE ARE THOSE OF THE AUTHORS AND DO NOT NECESSARILY REFLECT THE VIEWS OF THE

PUBLISHER. POSTER CHILD MAGAZINE DOES NOT ASSUME LIABILITY FOR CONTENT.

6
---
the

editor's note

Around this time of year, there is one play on words ad

writers can't shy away from. The digital banners and paper

flyers read the same as they did the year before: Fall into

Style; Fall into Savings; Fall into Fitness!

Something about this simple phrase continues to draw your

attention, maybe even enough to click on that ad? I think

advertising departments have caught on; this overused

wordplay makes that habit, activity, or purchase you are

considering seem simple, as easy as falling. And we all want

easy right? For the first time, this fall, I haven't been falling

easily into anything besides my bed at the end of the day.

I came upon a line in F. Scott Fitzgerald's The Great Gatsby

that resonated; "Life starts all over again when it gets crisp

in the fall." It's a bit funny and ironic that while autumn's

crispness causes nature's death, it's also the season that can

feel the most lively.

After a long and lazy summer, life does feel like it is starting

up again! We're balancing school drop-offs and pickups,

swimming lessons and dance classes while filling our

weekends with all the fun autumn activities we love before

it gets too cold to enjoy spending time outdoors.

We want to see your best fall style! As

always, tag @posterchildmag in your

Instagram pictures or comments!

We will be featuring our fave fall look

submissions on Instagram Stories!

I don't know about you, but it hasn't been simple for me to

fall into this season's schedule with ease. But, one thing we

are making simple is finding autumn fashion inspiration.

We've added more pages than ever dedicated to helping

you find the best kid's fashion out there; plus, advice on

how to recreate our looks and style your favourite fall

pieces! I hope you enjoy falling into your most comfy chair

to discover our new Fall 2019 issue!

xo Rebecca Poier

Poster Child Magazine

Editor-in-Chief
---
ehind the

on

location

scenes

From the sandy beach to

the rolling hills - Oh, the

places you'll go with our

fall cover editorial!

Join photographer Dave Kennedy

exploring the beautiful landscape

of South Africa's capital, Cape

Town, while highlighting fall style

you won't be able to resist.

You can replicate our Fall 2019

cover story look for your little one

by combining your favourite fall

staples; checked and plaid patterns

with cozy knits in autumnal shades

of red, mustard yellow, burnt

orange and hunter green.

Flip to page 48 to view the entire

cover editorial!

on the cover

Photography:

Dave Kennedy

@DaveKennedy_Photo

get the Story style!

Styling:

Marica Smit

@Marica_Smit

Romper by Louis Louise

Hair & Makeup:

Chantelle Brown

@Chantellecandicebrown

Retoucher:

Tamzen Appunn

@tamzenaretouch

Blouse by Simple Kids

Models:

Haley-Rae + Isabelle

@Topcokids

Sundress by Bobo Choses
---
e-Shopping

Fresh right now!

Green goodness 4

Since you aren't telling your kids to eat them,

these are greens that they will simply love! And,

just like veggies, the more vibrant the colour, the

better.

CLICK TO SHOP!

1

2

5

3

Wear

it with

1. Sweater by H&M, 2. Cardigan by Petit Bateau,

3. Coat by The Animals Observatory, 4. Overall

dress by Hust & Claire 5. T-Shirt by Bobo Choses,

6. Blouse by Hello Simone

Runway look: Le Mu

6

bag by bakker made with love

Sunglasses by izipizi

hat by Wander & Wonder

sneakers by reebok

10
---
R A S P B E R R Y

R E P U B L I C

www.raspberryrepublic.com

SS19: VIVA

BRASIL
---
1

2

4

e-Shopping

prep school cool

Prep school uniforms are the inspiration

behind this trend. Polo shirts, sweater

vests, and three-piece sets are all fair

game and plaid is by far our favourite

preppy pattern!

CLICK TO SHOP!

3

6

5

7

1. Vest by Burberry, 2. Skirt by Little Remix,

3. Blazer by Scotch & Soda, 4. Dress by

Mayoral 5. Blouse by Bleu Comme Gris

Looks: (Left) Stefania, (Right) Il Gufo

Wear

it with

mary janes by Bonton

Mary Jane by Young soles

Boots by lelli kelly

boots by Tommy Hilfiger
---
e-Shopping

FLEECE frenzy

Move over puffer coat there is a new

performance fabric in town: fleece!

From ultra-soft micro fleece to fluffy

teddy fleece this is a trend to embrace

for the extra-cold days ahead.

1

2

CLICK TO SHOP!

4

3

5

5

6

Wear

it with

1. Jacket by Zara, 2. Cap by Losan

3. Coat by Stella McCartney, 4. Jumpsuit by Bobo Choses

5. Coat by Molo, 5. Bodysuit by Moschino

Runway looks: Carbon Solider (Left) and Unlabel Kids (Right)

Mini Glitter Backpack by Mi-Pac

bag by Sacus

Waterproof high tops by H&M

boots by Pèpè

14
---
playtimeStyle

Playtime trade show in New York

is one of the best places to get

inspired for the upcoming season. Each show, the Poster Child team scours

the Playtime floors looking for our very favourite new brands and their top

styles. We sorted through over 200 autumn collections and styled a few

looks we think you'll love to try out this fall!

PHOTOGRAPHY: MELANEE KATE THOMAS

HAIR & MAKEUP: TANYA MARQUES

MODELS: LANIYA, CARTER, IZZY, GIOVANNI & SAWYER

16
---
Puffer Jacket by Finger in the nose

Proving that metallics aren't

just for girls, we paired this

shiny silver puffer with a roomy

pant and a bugged-out tee.

The result: a look that any boy

would love! The outfit is

complete with comfortable

converse sneakers.

Graphic Tee by No x Sugar

Pants by Infantium Victoria

Sneakers by COnverse
---
Winter coat by Tia Cibani Kids

Temperamental autumn

weather calls for outfits

that can easily adapt to

temperatures that are cold

in the mornings and evenings,

but warmer midday. Both

these looks are great options!

Embroidered sweater by Kalinka Kids

culottes by H&M

A beautifully detailed sweater

paired with shimmery culottes

is a lovely fall look; toss on a

quilted coat for extra warmth

and texture.

18

MODEL WEARS: CULOTTES BY UJALA

Bunny Bag by Donsje
---
MODEL WEARS: BLOUSE BY LEOCA PARIS

Puffer vest by Andorine

A vest is a seasonal

must-have that does the

trick! We styled this one

with a cute denim dress

and versatile boots.

Denim dress by Hundred pieces

Socks by Collegien

Boots by Dr. Marten
---
Hat by Tartine et Chocolat

For a kid who craves the ultimate

comfort, it couldn't get better

than a sweatsuit. We matched

these sweatpants and

coordinating sweatshirt with

a bright puffer jacket and

lined leather boots for a

look that is both incredibly

warm and stylish!

Coat by FLuff

Sweatshirt & Sweatpants by barn of monkeys

Boots by angulus

20
---
Soft, velvet is a lovely texture for fall

dressing, and these sweet overalls

are irresistible! Royal blue, rust orange

and mustard yellow make for the

perfect fall colour palette.

Bow by Lali kids

Overall & Blouse by Coco Au Lait

Socks by Collegien

look-a-like sweater by Louis Louise

MODEL WEARS: CARDIGAN BY KALINKA KIDS
---
fur Coat by Imoimo kids

Cap by Scotch & Soda

belt bag by Paade mOde

Pants by No x Sugar

look-a-like top: Emile et Ida

A faux-fur coat is no fall faux pas. The

popular style is still going strong, and

our preference is for a fun colour - like

this ultra-soft mint green piece. Mix

texture, prints and patterns to recreate

this genuinely standout look.

22

MODEL WEARS: TURTLENECK BY NOON BY NOOR
---
If a sweatshirt and jeans are your go-to

style, this look is for you! We paired a

cute graphic sweater with a fur-lined

jacket in gorgeous green. Merely

adding a unique coat takes this

everyday style up a notch!

Winter Coat by Tia Cibani Kids

Sweater by wander & wonder

Denim jeans by louis louise

Sneakers by Vans
---
MODEL WEARS: BLOUSE BY AIRFISH

Cap by Repose ams

Jacket by Wynken

Look-a-like top by Jacadi

A plaid pant is a bold choice!

Pairing them with a simple turtleneck

and soft teddy jacket creates a balanced

look. We added a corduroy hat for a

little something extra.

24

Pants by Barn of Monkeys
---
Nothing says fall style like a quilted

style, especially in an autumnal burnt

orange shade. We styled this piece with

a simple black turtleneck and shearling

-lined denim jacket. A graphic print belt

bag is an accessory she will be excited

to show off.

Jacket by Zadig & Voltaire

Belt bag by no x Sugar

Overall skirt by KIPP Collection

Boots by Gucci
---
and spotlight

my neighbourhood

nadadelazos

C

reated in 2010 by German-born designer,

Kristina Laux the Spanish brand nadadeazos

approaches dressing children authentically. The

brand crafts their garments with distinctive, spacious

designs and comfortable patterns that allow for free

movement. Each collection boasts colours and motifs

that help children live out their worlds of fantasy, colour,

and adventure. In the spirit of leaving a better world

for our children to inherit, the garments are produced

using eco-friendly fabrics and organic cotton.

Childhood is the happiest time of life - a world of fun,

joy, and smiles and also of childish tantrums, sulking

and anger. nadadelazos embraces all these realities

with clothing that lets kids explore and imagine!

What better way to explore the realities of childhood

than through the eyes of kids themselves! This autumn

nadadelazos launches their Fall/Winter 2019 collection

"My Neighbourhood," which shares the story of Sue,

a young girl who loves to explore her neighbourhood.

Sue tells us about her neighbourhood. She describes

the little shops, playgrounds, the local pets, street

signs, and even mentions the friendly police officers;

all these details appear in bright colour throughout

the collection! Perhaps our favourite pieces in the

collection are inspired by Sue's trip to the supermarket

with her little sister and father. We love the graphics of

cheerful oranges and smiling broccoli that appears on

cozy sweatshirts and dresses.

The FW19 collection includes a selection of outerwear -

jackets and accessories - perfect for the colder months,

warm sweaters, comfortable pants, overalls, skirts,

dresses, colourful tights and more, for kids ages three

months up to ten years.

Discover nadadelazos by visiting them online:

www.nadadelazos.com

26
---
BOWLING ALLEY HANGS WITH

LOUD

BOWLARAMA, the new Autumn/Winter 2019 collection by LOUD Apparel pays homage

to the golden age of bowling in America. The line takes inspiration from the 70s and

early 80s, creating nostalgia for these progressive times - before the internet - when the

trend of the bowling league soared across the country.

With bold graphics, bowling shoe prints, fun images of rolling balls and pins, quirky elements

of the game are at the core of the collection. This season's offerings follows the

brand's iconic monochrome black and white signature colours with accents of mustard

yellow, green storm and racing red, seen on comfortable French Terry, soft cotton jersey

and washed denim.

Join the BOWLARAMA kids for a day of bowling fun hanging out at the local alley while

showing off the latest collection!

28

PHOTOGRAPHER: Melissa Coulier STYLIST: Erin Noel

HAIR/MAKE UP: Brittney Reed STYLING ASSISTANT: Brooke Elizabeth

PHOTO ASSISTANT: Mackenzie Morris LOCATION: The Rec Bowl
---
and spotlight
---
30
---
32
---
46 34
---
36
---
NEWS

this just in

Discover our favourite new product offerings and cool

campaigns coming this autumn. Read on for all the details!

1Cowboy Boots for Kids

One line from the RAINBOW collection

by Spanish footwear brand Maison

Mangostan is a fun interpretation of

cowboy boots for kids. Mangostan

collection tells a story that will

transport children all around the globe

to new, extraordinary worlds, and

this line gives us a hint of nostalgia

for the 70s. In a pair of glitter, gold,

silver, rainbow or metallic pink boots,

kiddos will be sure to turn heads on

the street this autumn.

2

Eco-Friendly Outerwear

'It's time for the tiny explorer to conquer

the world' – that is the ethos of Töastie, a

new, eco-conscious kids brand. The new

British label offers premium outerwear to

suit the needs of adventurous little people.

Current offerings include a pack-a-way

puffer coat made with ethically sourced

down and a waterproof raincoat made from

recycled plastic bottles. Both styles are

super-lightweight and machine washable -

perfect for school and exploring the great

outdoors.

38
---
3

#pikkindness Campaign with kidpik

Just in time for fall and the back-to-school

season, kidpik announced the launch of their

#pikkindness campaign, which aims to celebrate

and promote kindness in the classroom and

beyond, and help to put a stop to bullying!

Parents are encouraged to submit a child's

random act of kindness by filling out a

simple online form. Each submission will be

automatically entered to win a free girl's kidpik

fashion box, available in sizes 4-16!

Join kidpik in promoting kindness among

all students this back-to-school season!

visit kidpik.com/kindness.

Product

lineup

4

Shop for Kids @ Nordstrom's NYC Flagship

Coming to Columbus Circle this October is

Nordstrom's new 320,000 square-foot flagship

location, boasting an entire floor dedicated to the

best in children's fashion! Located on lower level two,

Nordstrom's offerings will be curated to serve it's New

Yorkers. Shoppers will appreciate a variety of price

points and awesome exclusive collections, such as a

Harry Potter Capsule Collection by Mini Boden! Kids

will be delighted to discover new footwear options

delivered by a fun conveyor belt and use 3D scanning

technology to find the perfect size. The welcoming

environment will be the ideal place to find your

favourite collections as well as discover new and

upcoming products, including baby apparel, boys

and girls apparel, footwear, baby gear and more!

kidpik seasonal subscription box

Maison Mangostan's rainbow

cowboy boots

töastie's puffer coat

dress by mini boden exclusively

sold at Nordstrom's NYC flagship
---
Pitti Bimbo 89

Runway report!

In June, the Poster Child team travelled to Florence, Italy to discover

the latest children's fashions for SS20 during the beautiful Pitti Bimbo

89 fair. Held in the venue's Sala della Ronda, the runway shows are

always a highlight of Pitti Bimbo and this season's presentations did

not disappoint! We're sharing top looks from three favourite catwalks,

each more whimsical than the next.

Happy Birthday, Apartment! The luxury soul of

Pitti Bimbo celebrated its 10th birthday! This

special section is dedicated to innovative and

sophisticated couture attitude; each brand

showed strong identity. Grabbing the attention of

all passersby, the theme of this year's show was

"con la testa fra le nuvole," translated as "head

in the clouds." Decorated with colourful hot air

40

balloons and beautiful sky shades, we were in

awe over the creative stage design. The following

brands joined in on the fun: Pero, Michaela

Buerger, Velveteen, Amelie et Sophie, and Piccola

Ludo. We loved Pero's use of lightweight floral

fabrics in shades of baby pink, blue and yellow

which created a feeling of innocence and mystique

– straight out of a children's picture book.
---
fashion

New runway show alert!

Rendezvous with the best

brands on the Portuguese

fashion scene. Making their

debut on the Pitti Bimbo runway,

the Portuguese brands became

the protagonists of the Kids.

MODAPORTUGAL fashion

show. The six stars Cherry

Papaya, Knot, Laranjinha,

Patachou, Phi Clothing, and

Play Up dazzled on stage, full

of colour, fun patterns and cool

props. Especially noteworthy

was Cherry Papaya's brilliantly

executed Re(connect) with

Nature collection theme, as

well as the breathtaking sets

of helium balloons carried by

Patachou models.

The Children's Fashion From

Spain show was a mustsee.

Inspired by the limitless

possibilities of digital games,

the show's theme allowed

viewers to jump between worlds

and celebrate the freedom

of movement. Adorned with

eye-catching detailing and

warm summer shades, five of

our favourite Spanish brands

graced the catwalk with their

new SS20 collections. Featured

brands Abel & Lula, Amaya,

Boboli, Mayoral and Tuc

Tuc showcased wild animal

prints, effortless elegance,

and tropical and geometrical

patterns.
---
Visit Pitti Bimbo 89

#Activelab Tradeshow floor

New to the show! Located on the top

floor of the Main Pavilion resided the 'Great

Innovation' of Pitti Bimbo 89 - The Kids Lab.

We were excited to see the new concept and

layout dedicated to creativity in children's

wear and to explore each section further.

First stop, the #ACTIVELAB, which

highlighted the best combination of

sportswear with urban elegance!

Brand Spotlight: Wauw Capow creates

children's clothes inspired by the playful

spirit of children.

1

Kidzfizz tradeshow floor

2

Known for their experimental shapes,

unique materials and constant new

creative input, KidzFizz - the Hall of

Creativity - was our next stop. Here we

found a collection of brands that love to

push the bounds of fashion and think

outside of the box!

Brand Spotlight: Yellowpelota creates

quality garments for kids with a mix of

unique patterns creating funky and fresh

designs.

42
---
STMA @ kid's Evolution

5

Finally, adult fashion brands brought their experience

and expertise to create pint-sized capsules for parents

and their minis at Kid's Evolution.

Brand Spotlight: STMA STEFANIA MARRA is full

of trendy forms and attention to detail, creating a

collection that is pure, delicate and perfect for teens!

naturapura @Ecoethic

4

EthoEthic was our next stop; the green

heart of Pitti Bimbo! Ethical and sustainable

production and practices are becoming

more and more critical in the creation of

quality children's clothing. These brands

had a particular focus on respect for the

environment and green education in their

DNA. EcoEthic brands used organic and

certified materials.

Brand Spotlight: NATURAPURA is the first

Portuguese textile company certified with

the European Ecological Label certification

– ECOLABEL.

ARi london @ The Nest

3

Next up: The Nest, where small was beautiful.

The Nest was home to new and up-and-coming

brands looking to expand and launch themselves

into the children's fashion market; each had their

own unique story and collection to share. The perfect

place for our team to discover the best emerging

designers!

Brand Spotlight: ARI London is dedicated to

luxury with a focus on sustainable sourcing, creating

contemporary fashion for girls.
---
Lifestyle

riding with lil' LINUS

Linus was founded with a mission to inspire people to

bike more and drive less. The classic bicycle brand is

doing just that with a range of ultra-stylish, practical

and fun bikes for young riders.

riding into fall with style!

44

Flip the page to continue reading the full review.
---
Lifestyle

Photography by Jordan Walsh

Clothing by kidpik

The French-inspired bicycle brand Linus crafts their

bikes with the aesthetic of the 50s and 60s in mind,

creating bicycles that preserve the simple, elegant

form of that era, but with all the benefits of modern

comfort and reliability. The Venice, CA-based brand

sees bicycles not only for recreation and sport but

as a mode of transportation. The brand is stepping

out with new miniature offerings that really promote

bicycle riding as a family affair.

In our everyday lives, the small journeys we take

- to the store, to a cafe, to the park - can be filled

with much more joy when a bicycle is our mode of

transportation! With three Lil' Linus bicycle styles to

choose from there are plenty of good options: the 12"

Lil' Balance Bike is for riders aged 2 and up, while the

Lil' Dutchi and Lil' Roadster are offered in both 16"

and 20" size for riders aged 4 - 8 years old.

46

_____________________

These are bicyles any kid

would be proud of!

_____________________

Lighter is always better, especially for kids! The

Lil' Linus kids line is manufactured with the same

featherweight aluminum as the brand's performance

adult styles. They have also carried over some of the

same best selling colours seen on adult bicycles so

that little riders can match their parents. Finally, a kid's

bike that looks like a bike!

Biking is both a fun way to stay active and practical

way for little ones to explore their neighbourhoods. A

bicycle ride is a great activity to enjoy during the chilly

autumn months. We love products that create a stylish

lifestyle, so we were very excited to discover the Lil'

Linus line.

Our editor Rebecca had the opportunity to test out

the Lil'Dutchi, the miniature version of the brand's

adult Dutchi Bicycle, an elegant and classy cruiser

style bike. The upright riding position of this bike

makes it incredibly comfortable for everyday use, and

the low step-through frame allows for easy on and off

for young riders. Available in pink, cream and stylish

gold this 16" bicycle will fit most riders aged 4-6 years.

_____________________

"I have never seen another children's

bike that looks so classy and the colour

just makes it even more unique."

_____________________

"Isla just turned three and is quite tall for her age.

It was time to upgrade from her balance bike, so I

was very excited to see what Linus had to offer. We

received the Lil' Dutchi in the mail in just a few days,

and it was simple to put together with the right tools.

She's been learning to ride it for a few weeks, and her

confidence is building with every outing, thanks to the

handy training wheels provided. The low frame makes

it very easy for her to get on and off of the bike all by

herself; I love the independence that gives her. Isla's

favourite part - chiming the bell!

I really love this bike for Isla and would definitely

recommend it! Not only is the Dutchi excellent quality,

but it is also so stylish. I have never seen another

children's bike that looks so classy, and the colour

makes it even more unique! We regularly receive

compliments when we are out for a ride and inquires

too.

Linus is the simple, affordable, elegant bike brand for

riding around and doing stuff! Learn more by visiting

their website: www.linusbike.com
---
Our model poses on a stationary bicycle. A helmet should always be worn when riding a bike!
---
48

oh the places
---
you'll go

PHOTOGRAPHY: DAVE KENNEDY

STYLING: MARICA SMIT HAIR & MAKEUP: CHANTELLE BROWN

RETOUCHER: TAMZEN APPUNN MODELS: HALEY-RAE + ISABELLE

OF TOPCO KIDS
---
(LEFT) TOP BY ZARA, PANTS BY H&M; (RIGHT) TOP

BY COTTON ON, PANTS BY ZARA

54 50
---
52

(LEFT) PANTS BY H&M, TOP BY ZARA, JACKET BY

COTTON ON; (RIGHT) DRESS BY ZARA
---
(LEFT) SWEATER BY COTTON ON, PANTS BY ZARA

(RIGHT) - T-SHIRT BY H&M, JUMPSUIT BY H&M

42 60

58 34 54
---
MAJA WEARS: DRESS BY NUMERO 74,

PANTS BY TAMBERE, SHOES BY

YOUNG SOLES
---
56

(LEFT) DRESS BY ZARA; (RIGHT) STRIPE TOP BY

H&M, CARDIGAN BY ZARA
---
70 62 58
---
oy

from

the

sea

Photography: Michal Zawer/ LoLove Studio

Styling: Anna Waluda/ LoLove Studio

Model: Antek Glowczewski / LoLove Studio

72 48 60
---
PANTS BY ARSENE ET LES PIPELETTES, SHIRT

BY NUMERO 74, HAT BY ARSENE ET LES

PIPELETTES, BACKPACK BY NUMERO 74
---
62
---
HAT BY EMILE ET IDA, SWEATER BY OEUF

DUNGAREES BY ARSENE ET LES PIPELETTES,

SHOES BY YOUNG SOLES
---
64
---
HAT BY KIDS ON THE MOON, PANTS BY OEUF,

SHIRT BY ARSENE ET LES PIPELETTES, JACKET BY

LOUIS LOUISE, SOCKS BY COLLEGIEN, SHOES BY

YOUNG SOLES
---
PANTS BY EMILE ET IDA, 1ST JACKET BY WYNKEN,

2ND JACKET BY KIDS ON THE MOON,

HAT BYJELLY MALLOW, SOCKS BY COLLEGIEN,

SHOES BY YOUNG SOLES, BACKPACK BY NUMERO 74

54 66
---
68
---
TURTLE NECK BY KIDS ON THE MOON, PANTS BY KIDS

ON THE MOON, SOCKS BY COLLEGIEN AND WYNKEN
---
82 58 70
---
PANTS BY WYNKEN, SWEATER BY ARSENE ET

LES PIPELETTES, SOCKS BY WYNKEN, SHOES

BY YOUNG SOLES
---
DRESS BY EIRENE, TIGHTS BY COLLEGIEN

60 72
---
PHOTOGRAPHY & STYLING: EMILY KORNYA

MODELS: AURORA OF HANSEL & GRETEL , FEDERICA &

VALERY OF MODA MODA KIDS, CARLA & CAROLAY OF PEPPER KIDS.

PITTI BIMBO 88
---
74

this is the story,
---
CAROLAY WEARS PULLOVER BY LOREDANA,

DRESS BY EIRENE, TIGHTS BY COLLEGIEN

CARLA (RIGHT) WEARS JACKET BY LOREDANA.

DRESS BY EIRENE, TIGHTS BY COLLEGIEN
---
FEDERICA WEARS DRESS BY EIRENE,

TIGHTS BY COLLEGIEN

76
---
of one of us,
---
she too was born by chance

FEDERICA WEARS JACKET BY EIRENE,

PANTS BY INFANTIUM VICTORIA,

78
---
VALERY WEARS DRESS BY EIRENE,

TIGHTS BY COLLEGIEN
---
VALERY WEARS DRESS & CARDIGAN BY

EIRENE, TIGHTS BY COLLEGIEN

68 80
---
CARLA (LEFT) WEARS JACKET BY INFANTIUM

VICTORIA, SHIRT & TROUSERS BY LOREDANA

CAROLAY (RIGHT) WEARS TOP & SKIRT BY

LOREDANA, TIGHTS BY COLLEGIEN

in the street of luck.
---
82
---
Dress Code:

All The

Bright

Stuff

Photographer: Alyssa Justice

Art Director/Set Design: Randy Justice

Retoucher: Anderson Digital

Hair + Makeup Artist: Tia Cartwright

Wardrobe Stylist: Emily Baynard

Location: @wattsecondstudios

Models: Ryan McMillan & Keira Favre of Wehmann

Models & Talent; Lea Aris of Moore Creative Talent

84
---
86
---
88
---
90
---
92
---
EDITORIAL WARDOBE:

GUCCI

TREASURE & BOND

TUCKER + TATE

MINI BODEN

BROOKS BROTHERS

HANSEL FROM BASEL

STELLA MCCARTNEY

ADIDAS BY STELLA MCCARTNEY

ADIDAS Y-3 BY YOHJI YAMAMOTO

ADIDAS ORIGINALS

CAT & JACK

CONVERSE

MAKESHIFTER CANVAS WORKS

HUGO LOVES TIKI
---
Back To Garden

PHOTOGRAPHY: Andrè Glukhov PRODUCER AND STYLING: Larisa Polivanova

HAIR AND MUA: Olesya Perevoznikova MODELS: Alex , Gleb, Polina, Iliya, Maiya MA

DIRECTOR OF BACKSTAGE PHOTOGRAPHY: Arslan Sitdikov

94
---
ALEX WEARS SHIRT BY MSGM,

T-SHIRT BY ARC-EN-CIEL, TROUSERS BY DIESEL

ILIYA WEARS SWEATSHIRT BY ARC-EN-CIEL, T-SHIRT

BY DOLCE&GABBANA, TROUSERS BY MSGM

GLEB WEARS JACKET AND TROUSERS BY MSGM
---
ALEX WEARS JACKET BY SOMEDAY SOON,

T-SHIRT BY H&M, JEANS BY DIESEL

ILIYA WEARS SHIRT BY MOLO,

JEANS BY BURBERRY

MAIYA WEARS DRESS BY OSCAR DE LA RENTA,

KNIT SWEATER BY TOMMY HILFIGER, HAT BY IL

TRENINO, BANDANNA BY MONNALISA

GLEB WEARS JACKET BY TOMMY HILFIGER,

JEANS BY DIESEL, BANDANNA BY ARMANI

84 96

POLINA WEARS KNIT SWEATER BY MSGM,

DRESS BY TOMMY HILFIGER
---
98
---
ILIYA WEARS SWEATSHIRT BY ARC-EN-CIEL, T-SHIRT

BY DOLCE&GABBANA, TROUSERS BY MSGM

GLEB WEARS JACKET AND TROUSERS BY MSGM

MAIYA WEARS JACKET BY DAN MARALEX, T-SHIRT-

BY DIESEL, TROUSERS BY DOLCE&GABBANA

POLINA WEARS SWEATSHIRT BY MOLO,

TROUSERS BY MSGM
---
100

MAIYA WEARS DRESS BY BURBERRY

ILIYA WEARS JACKET BY MSGM
---
ALEX WEARS SWEATSHIRT BY MSGM, SHORTS BY LES COYOTES DE PARIS

MAIYA WEARS SWEATSHIRT BY DKNY, DRESS BY ALETTA
---
102
---
ILIYA WEARS JACKET BY MSGM, T-SHIRT

BY DAN MARALEX, SHORTS BY DAN MARALEX

GLEB WEARS KNIT SWEATER BY ARC-EN-CIEL,

SHORTS BY ARMANI
---
104

MAIYA WEARS SWEATSHIRT BY DKNY, DRESS BY ALETTA

ALEX WEARS SWEATSHIRT BY MSGM, SHORTS BY LES COYOTES DE PARIS

GLEB WEARS KNIT SWEATER BY ARC-EN-CIEL, SHORTS BY ARMANI

POLINA WEARS KNIT SWEATER BY ARC-EN-CIEL, SKIRT BY MOLO

ILIYA WEARS JACKET BY MSGM, T-SHIRT & SHORTS BY DAN MARALEX
---
106
---
Sky

Girls

Photography & Art Direction by Olesja Mueller

Hair & Makeup by Courtney Martin

Production by Sherri Dvorkin

Midland Air Museum, TX
---
108
---
MADISON & SAVANNAH (OPPOSITE PAGE) WEARING ADRIANNA OSTROWSKA
---
110

(TOP LEFT) SAVANNAH WEARING ADRIANNA OSTROWSKA

(TOP RIGHT) AUBREY WEARING ADRIANNA OSTROWSKA

(BOTTOM LEFT) KAYLEIGH WEARING LOVE BABY J

(BOTTOM RIGHT) NICOLE WEARING LOVE BABY J
---
112

LOLA WEARING BENTLEY AND LACE
---
114
---
(TOP LEFT) BROOKE WEARING LOVE BABY J

(TOP RIGHT) LOLA WEARING BENTLEY AND LACE

(BOTTOM LEFT) GABRIELA WEARING BENTLEY AND LACE

(BOTTOM RIGHT) KAYLEIGH WEARING LOVE BABY J
---
102 116 50
---
Brand

Directory

abelandlula.com

adidas.com

albetta.co.uk

ameliesophie.com

andorine.com

angulus.com

arilondon.com

armani.com

arseneetlespipelettes.com

artesania-amaya.com

bakkermadewithlove-shop.com

barnofmonkeys.com

bleucommegris.com

bobochoses.com

boboli.uk

bodenusa.com

bonton.fr

brooksbrothers.com

burberry.com

fluff.ca

carbonsoldier.com

cherrypapaya.com

cocoaulait.com

collegian-shop.com

converse.com

cottonon.com

danmaralex.com

designersremix.com

diesel.com

donnakaran.com

donsje.com

drmartens.com

edenandzoe.com

eirenestudio.com

emile-et-ida.fr

fingerinthenose.com

gucci.com

hanselfrombasel.com

hellosimone.fr

hm.com

hugolovestiki.com

hundredpieces.com

hustandclaire.com

ilgufo.com

iltrenino.it

imoimokids.com

infantiumvictoria.com

izipizi.com

jacadi.us

idkpik.com

kidsonthemoon.com

kippcollection.com

knotkids.com

lalikids.com

laranjinha.com

lellikellykids.co.uk

leoca-paris.com

lescroyotesdeparis.com

linusbike.com

loredana.it

losan.com

loud-apparel.com

louislouise.com

maisonmangostan.com

makeshiftercanvasworks.com

mayoral.com

michaelabuerger.com

mi-pac.com

molo.com

monnalisa.eu

moschino.com

msgmkids.it

nadadelazos.com

naturapura.com

noonbynoor.com

nordstrom.com

nosugarwear.com

numero74.com

oeufnyc.com

oscardelarenta.com

paademode.com

Patachou.com

pepechildrensshoes.it

pero.co.in

petit-bateau.co.uk

phiclothing.com

piccolaludo.it

playupstore.com

reebok.com

repose-ams.com

sac-us.fr

scotch-soda.com

simplekids.be

someday-soon.com

stefaniashoes.it

stellamccartney.com

store.dolcegabbana.com

target.com

tartine-et-chocolat.com

theanimalobservatory.com

tiacibani.com

toastiekids.com

tuctuc.com

ujalakidswear.in

unlabel.it

usa.tommy.com

vans.com

velveteenclothing.com

wander-n-wonder.com

wauwcapow.com

wynken.co.uk

yellowpelota.com

youngsoles.co.uk

zadig-et-voltaire.com

zara.com

118
---
illustration ana galvañ

PREMIERE TRADE SHOWS FOR KIDS FASHION AND LIFESTYLE PARIS NEW YORK SHANGHAI ONLINE

www.iloveplaytime.com

EDITION 20 10 YEARS!

FEBRUARY 9–11, 2020

Metropolitan Pavilion & Altman Building

200 collections | Fashion & Lifestyle