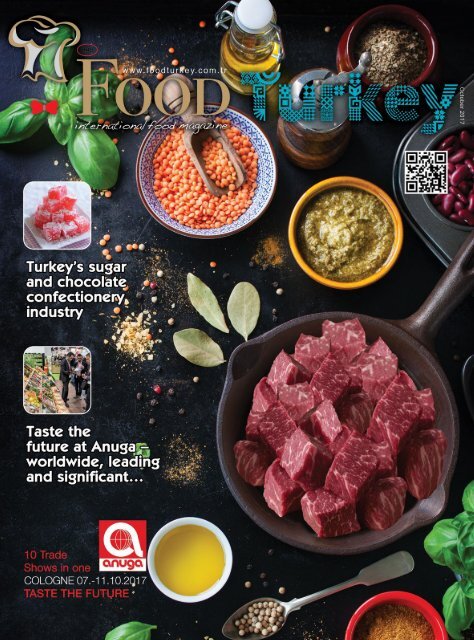 Food Turkey Magazine October 2017
Create successful ePaper yourself
Turn your PDF publications into a flip-book with our unique Google optimized e-Paper software.
An annual

Anuga!

We are making our way to Anuga, the world's largest and

most important trade fair for food and beverages, which will

open its doors on 7 October 2017 in Cologne, Germany.

Group Chairman

Publisher

Managing Editor

Responsible

Editor-in-Chief:

Editor

H.Ferruh ISIK

ISTMAG Magazin Gazetecilik

Yayıncılık İç ve Dış Ticaret Ltd. Şti.

Mehmet SOZTUTAN

(mehmet.soztutan@img.com.tr)

Cüneyt AKTÜRK

(cuneyt.akturk@ihlasfuar.com.tr)

Ibrahim Ethem KUPELI

There will be approximately 300 Turkish exhibitors in this

most important trade fair of the food and beverage industry

where 160,000 enthusiastic visitors will discover the latest and

most innovative products from more than 7,400 exhibitors

who will offer the world's largest range of products.

Only at Anuga you may find the most important key players

of the national and international food and beverage industry.

The 10 different special trade fairs are going to present the

current trend themes 2017.

The unique measuring concept of Anuga - 10 trade shows

in one - represents the diversity of the food and beverage

industry. Due to the special mix of big and small, both nationally

and internationally, the Anuga has developed into the No.

1 trading place in the world. With the various trend themes,

Anuga also proves a consistent focus on the branch trends of

the future.

Turkey will be there as the strongest participation of the

country in a foreign event. Almost 300 exporters will display a

wide range of products. Food Turkey magazine, the most influential

trade publication of this huge industry will be there to

promote the Turkish potential and to cover this world event

for the next issue.

Next month we will be in Dubai for Gulfood Manufacturing.

We will distribute free copies from our stand and we will

cover that important event where there is a huge Turkish interest

every year. We will probably be the most leading foreign

national exhibitor as usual. I wish lucrative business for

all involved.

4 FOOD TURKEY October 2017

Mehmet Söztutan

Advertisement Manager

Correspondent

Communications Manager

Art Director

Artwork Consultant

Graphic Designer

Chief Accountant

Subscription

Computing

Social Media

HEAD OFFICE

Güneşli Evren Mah. Bahar Cad.

Polat İş Merkezi B Blok No:3,34197

Güneşli-İstanbul/TURKEY

Tel: +90 212 604 50 50

Fax: +90 212 604 50 51

Emir Omer OCAL

(emir.ocal@img.com.tr)

Omer Faruk GORUN

(fgorun@ihlas.net.tr)

Enes KARADAYI

(enes.karadayi@img.com.tr)

Ebru PEKEL

(ebru.pekel@ihlasfuar.com.tr)

İsmail GURBUZ

(ismail.gurbuz@img.com.tr)

Tolga ÇAKMAKLI

(tolga.cakmakli@img.com.tr)

Mustafa AKTAŞ

(mustafa.aktas@img.com.tr)

İsmail ÖZÇELİK

(ismail.ozcelik@img.com.tr)

Emre YENER

(emre.yener@img.com.tr)

Songül ÇEK

(songul.cek@img.com.tr)

LIAISON OFFICE:

Buttim Plaza A. Blok

Kat:4 No:1038

Bursa/TURKEY

Tel: +90. 224 211 44 50-51

Fax: +90. 224 211 44 81

PRINTED BY

IHLAS GAZETECILIK A.Ş.

Merkez Mahallesi 29 Ekim Caddesi İhlas Plaza No:11 A/41

Yenibosna-Bahçelievler/ISTANBUL

Tel: 0212 454 30 00
---
CONTENTS

6

Positive reception of Savor

Europe campaign during

Food Istanbul 2017

10

Natural ingredients

14

A shining gift from

nature…

16

Collected milk

decrease whereas

production of dairy

products increase

18 50

Turkey's sugar and

chocolate confectionery

industry

32

Taste the future at

Anuga – worldwide,

leading and significant…

40

Fora Olives meets food

kings of the world at

"CNR Food Istanbul"

48

TAT becomes leader in

digital transformation

with its "Pioneers of

Tomato" project

Anuga Frozen Food:

This is where the

international frozen

food industry comes

together

52

Aves targets 100 m

dollars in exports in

2017 Aves targets

100 m dollars in exports

in 2017

60

Aktaslar targets to

enter markets abroad

64

Her Excellency Turkish

apricots!

72

Gulfood

Manufacturing to

underline Dubai's

status as global food

supply chain hub

82

WorldFood Istanbul

opened its doors for

the 25th time!

86

Quarter-wise increase

in red meat, whereas

yearly output drops

6 FOOD TURKEY October 2017
---
Positive reception of Savor

Europe campaign during

Food Istanbul 2017

8 FOOD TURKEY October 2017

A tasting menu, a discussion panel

with the meat industry specialists,

meetings with the media, a special

business talks area – these are the

offers that the Organizers of the

promotional and information campaign

- Savor Europe - presented

during the Food Istanbul fair that

took place from 20 to 23 of September

2017. The positive feedback

was immediate! During the first day,

the Guests appreciated an exquisite

tasting menu. After the discussion

panel that took place on the 21st of

September, the participants univocally

praised the contents focused on

the specificity of the Turkish market.

The aim of the campaign conducted

on the territory of Turkey until January

2018 is the popularization of the

European beef.

Food Istanbul is a 4-day long celebration

of the food industry that

gathers over 1000 exhibitors from

Turkey and other countries. On the

area of 60 000 m2 in the CNR Expo

hall in Istanbul, the visitors have a

chance to encounter companies

that represent all the businesses that

cover the chain: production, storing,

and distribution. This event is an occasion

to conduct trade negotiations,

diplomatic meetings, and market discussions.

Thanks to the partnership

of the Association of Exporters and

the cooperation with the embassies,

the Fair introduced a new quality

in the realm of B2B. Savor Europe

Campaign, apart from the information

point, hosted a discussion panel

focused on the European meat and

organized a series of individual meetings

with the media.

Our campaign is based on the key

exceptional qualities of the European

beef – high quality, safe products,

strict production norms, and honest

cooperation. Following these standards,

during the second day of the

Fair we organized a discussion panel

that was attended by the outstanding

guests – the representatives of

the Turkish trade organizations, the

media, diplomats, and Turkish meat

importers. Thanks to the honest,
---
factual discussion and active understanding

of the market needs, we

build the awareness of our product

and we build a trade platform between

the European producers and

Turkish clients. This is an up-to-date

subject as Turkey decided to open its

market – explains Katarzyna Oponowicz,

the Polish Meat Association office

director, the Organizer of Savor

Europe campaign.

The main source of information

during the Fair is the official stand

of the Campaign. On the area of 80

m2, the Organizers and producers

with a help of hostesses welcome a

crowd of visitors. Thanks to the faceto-face

conversation and the information

pack, each guest of Savor

Europe stand has a chance to obtain

complex information about the campaign

and the possibilities of cooperation.

All the guests may observe

a culinary show of the European

chefs – Marcin Budynek and Mariusz

Olechno who treat the guests with

outstanding flavors of beef kofta with

buckwheat groats and fried zucchini

in orient spices, mini beef burgers

with babaganoush and Turkish sheep

cheese, beef tartar served on emek

with wild garlic, fried capers, and

pickled red onion.

Savor Europe campaign does not

only conduct B2B activities, but it

also puts en emphasis on the communication

with the Turks that aims

at presenting them with knowledge

about the European beef. In order to

reach the public opinion effectively,

we cooperate with the media. We

decided to organize a series of individual

meetings with the key branch

media in order to conduct in-depth

talks and address all the questions of

the journalists. We consider this form

of cooperation to be the most effective

for both parties – summarizes

Katarzyna Oponowicz, the Polish

Meat Association office director, the

Organizer of Savor Europe campaign.

The stand number of the Savor Europe

campaign is 2-A02 and it is

open to visitors during the Food Istanbul

until 23 September 2017.

To learn more about the campaign

and to obtain all the information

about the past and future activities,

visit our website www.zasmakujweuropie.eu

9
---
Savor Europe campaign

Savor Europe campaign aims at informing

and promoting fresh, refrigerated,

and frozen beef and beef

products. The campaign is targeted at

the Turkish market. The main aim of

the project is to open the market for

the European beef and beef products.

Moreover, the campaign builds a

positive image of the European meat

by providing complex information

about the products and conducting

educational actions. The Organizers

are focused on the following aspects:

high quality of the European Union

products and the strict sanitary and

safety standards that characterize

meat production within the European

Community. More about the

campaign on the website: www.savoreurope.eu

Polish Meat Association

The Polish Meat Association is a Polish

institution dedicated to the meat

industry entities. The Organization

10 FOOD TURKEY October 2017

has been operating for over 20 years

and it associates sixty large and medium-sized

meat manufacturers and

companies operating on the meat

market. The main goal of the Association

is to represent economic interests

of the entities associated therein

and to create and popularize code

of ethics for business activities. The

Polish Meat Association contributes

to creation of favorable conditions

for the meat market in Poland to

consolidate and develop. The Association

supports economic initiatives

of its members.

The Polish Meat Association is a

proposing organization of the Savor

Europe campaign.

To learn more about the Polish Meat

Association go to http://polskie-mieso.pl

Food Istanbul Expo

This is the first edition of the food

market fair dedicated to such sectors

as: food and beverages; food

processing, storing, and refrigeration

technologies, food industry logistics.

FOOD Istanbul Expo takes place in

September 20-23, 2017 on the area

of 60 000 m2 in CRN Expo. The Organizers

guarantee that over 1000

brands will be present and they will

attract 35 000 professionals. The

companies that confirmed their

presence come from: Turkey, Europe,

Middle East, North Africa, Russia, and

Balkans, among others.

The fair gives a chance to establish

business relations, promote products

and services. The strategic partner of

the event is the Istanbul Association

of Exporters.

The organizer of the fair is CRN

Holding. The company used to organize

a popular event – CRN Gida

Fair, which took place for the last

time in 2012. This year, a new brand

and a new name enter an official calendar

of the events for the Turkish

food industry.
---
Avrupa eti. Sıkı standartlar. Yüksek kalite.

Yeşil fasulyeli biftek

Malzemeler:

antrikot (260-280 g), patates (300 g), zeytin yağı (20 ml), domuz

pastırması (80 g), yeşil fasulye (200 g), tereyağı (40 g), sarımsak (1 diş),

maydanoz (40 g), tuz, karabiber (isteğe bağlı), yağ (40 ml), zeytin

yağ (40 ml)

Yapılışı:

Ete tuz ve karabiber katın. Yeşil fasulyeyi yıkayın, temizleyin ve domuz

pastırması dilimlerine sarın. Kabuklu patatesleri yıkayın, tuzlayın ve azıcık

zeytinyağı ekleyin. Fırın tepsisine dizin ve fırında 200 derecede 30 dakika

boyunca pişirin. Tereyağını kase içine koyun, rendelenmiş sarımsak, kıyılmış

maydanoz, tuz, karabiber ekleyin. Malzemeleri homojenik bir karışım

olana dek karıştırın. Domuz pastırması ile sarılmış fasulyeyi 4 dakika boyunca

tavada kızartın. Eti çok az yağda her iki tarafını yaklaşık 3 dakika boyunca

kızartın. Bu şekilde hazırlanan bifteği domuz pastırması ile sarılmış

fasulye ve fırınlanmış patates ile servis edin. Etin üzerine tereyağı koyun.

Sadece "Avrupa'nın tadına bak"!

Modern ve zorlu tüketiciler, et

üreticilerden güven ve müthiş

bir tat sağlayan sıkı standartlara

uygun olarak üretilen kaliteli

ürünleri beklerler. Onların

beklentilerini göz önüne alarak,

2015 yılında Türkiye'de AB ülkeleri

menşei olan taze, soğutulmuş

veya dondurulmuş dana

eti ve onun bazında üretilen

gıda müstahzarlarına adanmış

"Avrupa'nın tadına bak" tanıtım-bilgilendirme

kampanyasını

başlattık.

Avrupa dana eti üretiminin temeli,

birtakım sıkı kurallar ve kalite standartlarını

temsil eden "Tarladan çatala"

politikasıdır. Söz konusu politika;

tam şeffaflık, denetim, hayvan refahı

için özen ve sürekli veteriner denetimi

sağlama dahil olmak üzere önemli değerlere

dayalıdır. Prosedürler; menşei,

tanımlama sistemi, doğru besleme,

kesim, paketleme ve nakliye gibi gıda

zincirinin tüm unsurlarını kapsar.

Üretim kurallarının standart hale

getirilmesiyle, Avrupa Birliği'nden gelen

dana eti tekrarlanabilirliği ile karakterize

edilir. Tüketiciler için bu her

zaman yüksek kalite, uygun yumuşaklık

ve sululuk seviyesinin yanı sıra,

inanılmaz lezzet ile ayırt edilen iyi bir

ürün alacaklarından emin olabilecekleri

anlamına gelir. Ayrıca, Avrupa

üreticileri, Türk müşterinin ihtiyaçlarına

ayak uydurabilirler. Benzersiz

duyusal ve tat özellikleri Avrupa dana

etinin mutfakta mükemmel bir seçim

olmasını sağlar.

Organizatörler; Avrupa dana eti

üreticileri ve girişimcileri arasında bir

iş platformu oluşturmayı amaçlamıştır.

Daha fazla bekleme ve bugün Avrupa'nın

tadına bak!

Daha fazla bilgi edinmek için

www.avrupanintadinabak.eu web

sitesini ziyaret edin.

KAMPANYA AVRUPA BIRLIĞI

VE POLONYA CUMHURIYETI DESTEĞI

ILE FINANSE EDILMIŞTIR

AYRICA DANA ETI TANITIM FONU

DESTEĞI ILE DE FINANSE EDILMIŞTIR
---
Natural ingredients

Turkey's Sunar

Group exports to

more than 100

countries and aims

to become one of the

biggest groups in the

Middle East, Europe

and North Africa.

Chairman Hüseyin

Nuri Çomu

outlines his vision for

the future.

12 FOOD TURKEY October 2017

Sunar Group holds a distinctive position

in the agroindustrial sector.

Founded in 1974, it is now one of

Turkey's leading industrial groups,

operating in agriculture-based

sectors that include starch and its

derivatives, edible oil, flour, animal

feed and fresh fruits.

It has a fully integrated edible oil

production plant aligned with a

high-tech infrastructure and has

been responsible for many innovations

in its field.

In its laboratories, experienced

engineers create specialised flours

and animal feeds for a diverse

range of market needs. Meanwhile,

with its fresh fruit division, the

group is helping to transform agriculture

into engineering in order

to harvest high yields of certifiedfresh

fruits. The group currently has

the capacity to process one million

tons a year of raw materials, with

a turnover of $350 million, and exports

to more than 100 countries.

It is responsible for 60% of Turkey's

corn oil exports, 12% of its sunflower

oil exports and 45% of its

corn starch exports. The company's

chairman explains more.

What makes Sunar Misir

competitive?

Hüseyin Nuri Çomu: Founded in

1985, Sunar Misir has
---
ecome the driving force of Turkey's starch and starch

derivatives industry. The company provides a range

of glucose and glucose-fructose syrups, native corn

starch, modified starch, dextrin, sorbitol and maltitol,

all of which is made from certified non-GMO corn.

It plans to invest nearly €40 million over the next five

years in strengthening its business portfolio, and expects

significant growth as a result.

What trends and opportunities will Sunar

Misir use to move forward?

The global ingredients market is in the middle of a dynamic

period. Consumer habits are constantly changing,

driven by increasing awareness for health and wellness,

the rising population and a growing middle class,

in parallel with increasing incomes and digitalisation,

and despite the strain on natural resources. Sunar Misir

Huseyin Nuri Comu,

Board Chairman

13
---
sees big potential for delivering healthy

nutrition while helping the environment.

The needs of the sugared foods and

beverages industries can be fuelled by

outstanding products. New regulations

designed to reduce daily sugar consumption

in order to address an increase in

the number of health problems, such

as cardiovascular diseases, diabetes and

obesity, have reshaped some traditional

markets in developed nations. The firm

has a dedicated research and development

department that provides nutritional

products with new applications,

functions and unique characteristics.

It is the first – and only – producer of

sorbitol and maltitol in Turkey, and hopes

to increase its share of the nation's sorbitol

market to 80%, and its share of the

maltitol market to 60% within the next

five years, and it willcontinue to pursue

an export-oriented growth strategy. As

they are manufactured by the catalytic

hydrogenation of starch hydrolysate,

these polyols are low-calorie, high performance

natural sweeteners. They have

a low glycaemic index; retain moisture

as a humectant; make effective stabilisers;

improve viscosity; display excellent

temperature and pH stability; and have

a cooling effect in the mouth with no

aftertaste. These properties make these

products able to help address today's

health and wellness challenges.

How is the company's progress

towards sustainability? What

measures have been taken

to ensure the firm is socially

responsible?

As a pioneer in sustainable agriculture in

Turkey, and the nation's sole producer of

sorbitol and maltitol, Sunar was nominated

in the environmental and corporate

sustainability category at the European

Business Awards, and was recognised as a

national champion. Sunar's commitment

to sustainability is a key part of its corporate

DNA; in 2014, it launched its Bright

Future programme to make lives better.

By working hand in hand with farmers

and manufacturing in the most traceable

and sustainable way, and by making contributions

to society, the company will

continue to challenge itself to transform

and be ready for the future.

14 FOOD TURKEY October 2017
---
A shining gift

from nature…

Diamante Food is

a leading supplier

and exporter

of various food

products such as

olives, olive oil,

sunflower oil, sundried

tomatoes,

dried fruits and

hazelnut.

Located in Izmir, Turkey, Diamante

Food is a leading supplier and exporter

of various food products such as

olives, olive oil, sunflower oil, sun-dried

tomatoes, dried fruits and hazelnut,

which are manufactured by the most

prestigious and leading manufacturers

of Turkey. The company has been

bringing these specialty foods, which

are naturally produced and packed under

hygienic conditions, to international

markets with Diamante Food brand or

private label brands according to customer

demand.

Taste the shining quality!

Diamante Food Shareholder and Director

Cigdem Sarayli said, "We are

currently exporting extra virgin olive

oil and various food products to Uzbekistan,

Turkmenistan and Azerbaijan.

In the new harvest season, one of our

target markets is Europe and we believe

that Anuga Fair will provide us

great opportunities to make new contracts

and to expand our business in

Germany and in the other European

countries as well. Aegean Region of

Turkey is the homeland of various food

products such as olives, olive oil and

figs. Via our long term and trustful partnership

with our manufacturers in our

region, our sole purpose is to provide

our customers the best quality food

products at the best possible prices

within the shortest lead times."

Diamante Food offers the following

products which are of only Turkish origin

with a wide selection of package

options:

Olives (pitted, halves, sliced, stuffed)

All kinds of olive oil (pure, virgin, extra

virgin, organic, refined) packed and

bulk "190KG DRUM or FLEXITANK"

Sunflower oil (from 1L up to 18L tin

can)

Sun-dried tomatoes (glass jar or vacuum

pack)

Dried fruits (ORGANIC & CON-

VENTIONAL fig, apricot, raisin)

Çiğdem Saraylı

Bay leaves

Hazelnut

Pickles & Capers

As for private label requirements,

Diamante Food is pleased to provide

its customers flexibility in production

and minimum order quantities in the

shortest possible time like 2 or maximum

3 weeks even in the high season.

For more information, you can visit

www.diamantefood.com or email to

cigdem@diamantefood.com

16 FOOD TURKEY October 2017
---
Collected milk decrease

whereas production of

dairy products increase

Milk collected by integrated dairies

was 740 thousand 751 tones. The

amount of collected cow's milk in

July decreased by 3.8% compared to

the same month of the previous year

TURKSTAT announced.

Drinking milk production by integrated

dairies became 102 thousand

621 tonnes in July and increased by

10.8% when compared to the same

month of the previous year. Cheese

production from cow's milk was 53

thousand 675 tonnes and increased

by 10% when compared to the same

month of the previous year. Cheese

production from sheep, goat, buffalo

and mixed milk was 3 thousand 422

tonnes increased by 26.7% when

compared to the same month of the

previous year according to recent statistics

provided by TURKSTAT.

18 FOOD TURKEY October 2017

Yoghurt production became 111

thousand 444 tonnes in July and increased

by 5.1% when compared

to same month of the previous year.

Drink made of yoghurt production

became 71 thousand 893 tonnes and

increased by 13.9% when compared

to the same month of the previous

year. In July the average fat rate

of cow's milk collected by integrated

dairies was 3.4%, the average rate of

protein was 3.2% according to TURK-

STAT.

Seasonal and calendar adjusted

amount of collected cow's milk in

July when compared to the previous

month increased by 1%. Calendar adjusted

amount of collected cow's milk

in July when compared to the same

month of the previous year decreased

by 5.3%, also announced in the recent

press release of TURKSTAT.
---
Turkey's sugar and

chocolate confectionery

industry

The Turkish confectionery sector has

always been dynamic thanks to Turkey's

young and growing population,

and traditional habits of consumption.

Sugar confectionery plays a great role

in Turkish tradition, being widely served

as gifts during religious festivals, wedding

ceremonies and celebrations. It is also a

common choice of present when visiting

family or friends. This traditional popularity

means sugar confectionery performs

much better in Turkey than in many other

countries.

However, despite their popularity, traditional

confectionery products are

strongly challenged by other confectionery

products, particularly chocolate

confectionery. Chocolate confectionery

is one of the most dynamic product in

Turkey thanks to several factors, such as

the young and rapidly growing population

and their growing demand for chocolate

with toys, developing distribution

channels, manufacturers' heavy advertisements,

new product developments

and increasing multinational investments.

The most popular types of chocolate

confectionery are countlines, tablets and

boxed assortments. Manufacturers have

successfully diversified the number and

type of products available.

The gum sector is another dynamic area

within confectionery. The Turkish gum

market is very competitive thanks to

20 FOOD TURKEY October 2017
---
The sugar and chocolate confectionery

sector in Turkey is historically based on the

production of traditional

Turkish confectionery products

such as Turkish delight

and halva.

presence of powerful local and multinational

companies, which have been

operating for a long time in the market.

Production of sweet gum, sugar-free

gum, functional gum and bubble gum

has steadily increased since 2000.

van-

Turkey has the adtage

of

being

self-sufficient in sugar which is one of

the main confectionery ingredients.

Turkey is also in a very advantageous

situation thanks to its dominance in the

world production of dried fruits (dried

apricots, raisins, dried figs) and edible

nuts (hazelnuts, pistachios).

The hazelnut,

i n particular,

is now

one of the

basic ingredients

widely

used in the

confectionery

sector. Hazelnut flour, roasted and sliced

hazelnuts are used in the production

of sweets, cakes and biscuits. Hazelnut

paste is used in the production of chocolate.

The special products supplied for

direct consumption are hazelnut puree,

halva and hazelnut cream.

Turkish pistachios, are also used in the

production of Turkish delight, halva and

chocolate, and Turkish sultanas (raisins),

as well as used in the production of

certain cakes, biscuits, and confectionery

products. The advantage of being a

producer and supplier of various agricultural

products combined with high

technology, has increased the product

variety in the industry. Apricots and

21
---
dried apricots have been used in the

production of newly developed confectionery

products such as apricot bars,

delight and paste in recent years.

Turkey is not only in an advantageous

situation with respect to the ingredients

used in the confectionery sector

but also provides good opportunity

for its confectionery producers and

exporters, with its increasing potential

in the overall size of the market, an increasing

young population, proximity to

import markets, and a strong potential

for growth in tourism.

Production trends of confectionery

products are closely related to domestic

and foreign demand. The production

capacity is well over the domestic

demand, and as a result, most middle

and large-sized companies export their

products.

Production of Turkish delight and halva

dates back to ancient times. Turkish delight,

as the name indicates, is a product

originating in Turkey. Sugar, glucose and

cornstarch are the raw materials used

in its production. Halva is consumed

22 FOOD TURKEY October 2017
---
throughout the year by consumers. It is

cheaper than many other sweets and,

in addition, it is very delicious and nutritious.

The ingredients used in its production

are flour, semolina and sugar.

Honey or grape molasses can also be

used in some varieties of halva instead

of sugar.

Changing lifestyles and increasing health

consciousness among consumers are

notable trends affecting the sector. Consumers

are demanding more innovative

products. Therefore, new products are

introduced regularly to the Turkish confectionery

market.

The sector has become one of the

most important subsectors of the food

industry using modern technology together

with the traditional production

methods. The Turkish sugar and chocolate

confectionery sector has the most

advanced technology in the Middle

East, Balkans, North Africa, Baltics and

Central Asia. Turkish products are more

widely diversified and of a higher quality.

Quality is one issue that Turkish exporters

give priority to. As a result of

integration with the European Union

(EU), Turkish food laws are being harmonized

with the relevant EU Directives,

ensuring that all consumers have

access to safe products. In addition, Turkey

is actively taking part in the Food

23
---
and Agriculture Organization / World

Health Organization Codex Alimentarius

Commission in the establishment of

international standards. Many firms are

applying quality systems like HACCP or

ISO 9000 standards and trying to satisfy

further demands of their customers.

EXPORTS

Turkey is a net exporter of confectionery

products. The export value of sugar

and chocolate confectionery reached

at 1,7 billion US dollars in 2016, which

constituted 1.19% of Turkey's total export

revenue (US$ 142 billion), nearly

the same proportion as the previous

year.

Exports of sugar and chocolate confectionery

increased steadily between

2009 and 2016, and reached 719 thousand

tons. This remarkably high increase

in export quantity has undoubtedly

been achieved thanks to the recent

modernization and technological improvements

realized in the sector.

The total export value of chocolate confectionery was 402 million US dollars in

2016. The main importer countries are Iraq, the USA and Libya.

The Turkish confectionery producers

and exporters are highly equipped to

meet international standards and consumer

preferences.

Iraq was the leading importer country

taking over 25% of total exports of

sugar confectionery in 2016. It was followed

by USA (6,1%) and Saudi Arabia

(5,9%).

The other major export items were

chewing gum, Turkish delight, halva, toffees

and caramels in 2016.

Turkish confectionery products are exported to a wide range of countries in the

world and the number of the countries importing confectionery products from

Turkey increases every year. Turkey is now exporting various confectionery products

to around 179 countries worldwide. SOURCE: TURKISH MINISTRY OF ECONOMY

24 FOOD TURKEY October 2017
---
Çaykur at Anuga

Caykur is the largest processor of tea in

Turkey and its corporate memory is as

old as tea itself in this country. Tea was

first grown here 90 years ago. Now

Turkey ranks number 1 in per capital

tea consumption globally.

Caykur has 50 factories - produce over

130,500 tons of dried tea every year,

cultivated from 75,000 hectares of the

most perfect tea growing terrain in

the world, in Northern Turkey, on the

edge of the Black Sea. Of all the tea

being consumed around the world at

this very moment, 4 percent of it is

Caykur's.

Caykur has 55 percent market share

in the tea sector in Turkey, and integral

to its success is the relationships it has

nurtured with more than 200,000 independent

tea growers in Northern

Turkey. They want to trade with Caykur

and are a cherished part of its family.

Caykur has a vision to convert all its

tea growing terrain to organic, which

will increase the competitiveness of

Turkish tea in the global market. In the

first stage, it declared 7,500 hectares of

tea land as "organic" and actively transformed

3,000 hectares in the last couple

of years.

Using its deep-rooted knowledge of

tea, one of the successes of Caykur was

the launch of Didi, an iced tea product,

in 2013. It sold more than 80 million

cans in 6 months. To date, it's sold 493

million units, and reached a market

share of 35 percent. In just three years,

iced tea consumption in Turkey has

quadrupled.

Caykur is honest enough to admit that

Mother Nature is giving a helping hand

and its tea comes from the northernmost

tea-growing region of the world.

In winter, snow covers the slopes and

the bushes in a thick, white blanket,

eliminating the need for chemicals and

pesticides, at the same time as feeding

the soil with the nutrients it needs.

Caykur has achieved its success by

sticking to what it does best, but also

by having the courage to diversify and

take risks. And so far it's working.

26 FOOD TURKEY October 2017
---
Aroma

at Anuga

AROMA Bursa Meyve Suları ve Gıda

Sanayi A.Ş. was established over a

75.000 m² area in Gürsu Dsitrict of

Bursa on the year of 1968.

At the company being established

as an aggregate corporation, Duruk

Group acceded the management by

purchasing the majority interest on

1991. By increasing the processed

fruit amount day by day with the investment

thrust starting on 1991, it

has been increased from 20.00 ton to

125.00 ton in a year and Aroma has

become one of the leading fruit juice

filling facilities of the country.

AROMA Bursa Meyve Suları ve Gıda

Sanayi A.Ş. producing fruit juices, natural

spring water and carbonated

beverages has a wide product range.

There is semi finished (concentrated

fruit and puree) and finished product

manufacture in the integrated facilities.

Aroma presents its fruit juices under

the brand of Aroma 100%, its nectars

under the brand of Aroma and Meyöz

nectars, lemonade under the brand of

Aroma Limonta, fruity beverages under

the brand of Aroma Tropical, gaseous

beverages under the brand of

Aroma.

Aroma has been taking place in this

market since 2004 under the brand of

Aroma Ömer Duruk Natural Spring

Water. AROMA Ömer Duruk Natural

Spring Water Facilities constructed

inside 50.000 m² open area as 10.000

m² closed area in the year of 2004.

Natural spring water comes from the

natural spring water source in Uludağ

being at 2020 m height. Filling is carried

out full hygienically with automatic

machines in accordance with the

applicable international standards in

the facility. Aroma Ömer Duruk Natural

Spring Water is a healthy, delicious

and silky water thanks to it rich mineral

components and low sodium rate.

Aroma made significant contributions

to the development of fruit juice market

by brining in so many new from

the date it was established. Mixed

fruit nectar with 9 vitamins including

10 different fruit which was first manufactured

by Aroma, 100% products

flavored with apple can be given as a

few examples among the innovative

products presented to the taste of the

consumer recently.

Exportation volume of Aroma targeting

being a Worldwide Brand has

been increasing day by day. Among

the countries that Aroma making exportation;

fruit juices and nectars, various

concentrated juices and purees,

gaseous beverages and natural spring

are exported to so many countries

like waters Germany, France, the

United Kingdom, the Netherlands,

Spain, Belgium, Norway, Poland, Denmark,

Austria, Switzerland, Sweden,

USA, Australia, Cyprus, Turkmenistan,

Georgia, China, Bulgaria, Malta, Canada,

Mongolia, Côte d'Ivoire, Ghana,

Kenya Benin, Burkina Faso, Morocco,

Libya, Iraq, Israel, Mexico, Italy, Dubai

and East Turkistan, etc.

Aroma, continues giving service to the

consumer markets not only with her

quality policy not changed from past

to today, but also with her safe, confident

and delicious products, as well as

their traditional but at the same time

innovative approach as being a company

growing and developing domestically

and in abroad day by day.

28 FOOD TURKEY October 2017
---
Quality by name

crunchy in taste...

Besler Nuts, operating in Dried Nuts

and Fruits Industry in Turkey, has become

one of the most important

companies of Gaziantep within a

short amount of time with its quality,

mission and vision.

With its successful business and

uncompromising quality approach

since its establishment, Besler Nuts

has an important place as one of the

most sought after companies both

in Turkey and abroad.

Besler Nuts has an extensive sales

and distribution network and is

proud to be contributing to national

economy in terms of employment

and commerce, especially by realizing

the local potential of Southeastern

Anatolia. Since the first day,

Besler Nuts always improved its

initiatives and increased work capacity

and today, company provides

services in total of 5 000 m² factory

area with its Regional Dealers in

Eastern Anatolia and Southeastern

Anatolia provinces.

Besler Nuts exceeded its national

status and formed commercial

collaborations with countries in

30 FOOD TURKEY October 2017

different continents by becoming

an international enterprise. Within

this commercial collaboration, the

company exports to Iraq, Syria, Iran

and imports from Ukraine, Bulgaria,

United States of America, Chile,

China, Romania and Austria. The

company's aim is to reinforce the

importance of these collaborations

even further among other countries.

Besler Nuts is aware that the path

to success is only possible through

uncompromising quality, reliable and

healthy working principles, efficient

use of advanced technology, and

experienced and expert personnel.

The company produces poured and

packed dried nuts under healthy

conditions, using modern machinery

untouched by hands. Preserving the

desire and excitement of the first

day, Besler Nuts proceeds with the

same excitement and passion.
---
Sabanci University

develops clay-based

antimicrobial packaging

A packaging film

coated with clay

nanotubes developed

by Sabanci University

was presented at

the 254th National

Meeting & Exposition

of the American

Chemical Society

(ACS) in Washington,

D.C.

A packaging film coated with clay nanotubes,

developed as part of a TÜBİTAK

ARDEB 1003 project by Sabancı University

Nanotechnology Research and

Application Center (SUNUM) Researcher

Hayriye Ünal as implementer

and Sabanci University Faculty of Engineering

and Natural Sciences Dean

Yusuf Menceloğlu, Sabanci University

Faculty of Engineering and Natural Sciences

Member Fevzi Cakmak Cebeci

and Integrated Manufacturing Technologies

Research and Development

Center (TÜMER) Researcher Serkan

Ünal as advisors was presented at the

254th National Meeting & Exposition

of the American Chemical Society

(ACS) in Washington, D.C.

32 FOOD TURKEY October 2017

Nano-clay packaging can

prevent economic losses from

spoilage

Over the past two decades, scientists

have been developing alternative ways

to preserve food, with an extensive

focus on packaging. Sabanci University

Nanotechnology Research and Application

Center (SUNUM) Researcher

Hayriye Ünal and her team developed

a packaging film coated with

clay nanotubes packed with an antibacterial

essential oil. The film prevents

over-ripening and microbial growth,

which could help improve the shelf life

of perishables. Discussing the project,

Hayriye Ünal said "Food packaging that

is capable of interacting with food can

contribute to safety and prevent economic

losses from spoilage" and added

that low-cost packaging could be custom-designed

for specific food types.

Effectiveness tested on

tomatoes, bananas and

chicken

The team wrapped tomatoes, bananas

and chicken in the film to test its effectiveness

over varying amounts of time

compared to foods wrapped in plain

polyethylene. After 10 days, tomatoes

wrapped with the new film were better

preserved than the control vegetables.

In addition, the new film helped

bananas stay more firm and keep their

vibrant yellow color after six days compared

to the control fruit. And chicken

enveloped with the experimental film

and refrigerated for 24 hours showed

significantly less bacterial growth than

chicken in plain polyethylene.
---
Taste the

future at

Anuga –

worldwide,

leading and

significant…

The world's largest and most important trade fair for food

and beverages will open its doors in Cologne, Germany,

7-11 October 2017, to host around 7,200 exhibitors from 100

countries and 160,000 visitors

At the coming Anuga, a shopping basket

that is full to the brim is awaiting

the visitors from the retail trade and

out-of-home market in fully-booked

exhibition halls. Around 7,200 exhibitors

from 100 countries will be

presenting the global market offer of

food and beverages throughout five

days. As such Anuga 2017 has once

again achieved its record result of

2015. Around 160,000 trade visitors

from over 190 countries are awaited.

89 percent of the exhibitors and 69

percent of the visitors come from

abroad. Anuga is the most important

trade, sourcing and trend platform for

the international food industry.

34 FOOD TURKEY October 2017

The trade fair not only reaches the

most important decision-makers

from the international trade with its

comprehensive offer, it also addresses

the leading customers from the outof-home

market and the buyers of

the big online platforms.

Anuga covers the entire fair grounds

in Cologne. It is one of the largest

exhibition complexes in the world.

284,000 m² of gross exhibition space

in 11, in some cases multi-storey halls,

four entrances, a continuous trade fair

boulevard and a central piazza ensure

fast connections and a high quality of

stay.

With its "10 trade shows under one

roof" concept, Anuga enables a clear

structure of the fair according to

themes, which facilitates the orientation

in the face of the abundance

of the offer. There have been several

changes to the concept again this year,

which compress and optimize the

structure of the offer.

In this way, coffee, tea & co. are being

awarded their own platform for

the first time, indeed under the trade

show name "Anuga Hot Beverages".

Until now hot drinks were covered in

one trade show together with bread

and bakery products.
---
The new trade show "Anuga Hot

Beverages" is a reaction to the growing

significance of this segment. The

new trade is meeting with great interest

and will represent a diversified

range of exhibitors from the coffee

and tea scene in October.

The theme "cuisine" is also being

re-defined at Anuga. To this end, the

trade show "Anuga Culinary Concepts"

is bundling cooking skills, technology,

equipment and gastronomy

concepts. Here, as in the previous

years, the finals of the two established

professional competitions, "Chef of

the Year" and "Patissier of the Year",

will once again take place. Customers

from the out-of-home market have

numerous points of contact here,

which offer information, entertainment

and contact to the stars of the

cooking scene.

35
---
All of the Anuga trade shows are displaying

an excellent alignment. A brief

overview:

Anuga Fine Food - the trade show

for delicatessen, gourmet and basic

food - the largest of the Anuga trade

shows unites a comprehensive and diversified

offer from all over the globe.

Numerous nations take part here at

joint pavilions, which present the typical

food and beverages of their home

country.

Anuga Frozen Food - the

trade show for frozen food

The frozen food segment is one of

the most important trendsetters

within the trade and on the out-ofhome

market. At Anuga, the international

industry regularly presents its

innovations for both channels. Here

among others big groups from the

European manufacturing countries

such as Belgium, France, Greece, Italy,

Croatia, the Netherlands and Portugal

with the frozen foods association ALIF

- Associação da Industria Alimentar

pelo Frio - are participating here. But

also groups from Argentina, Ecuador,

Peru and the USA enrich the international

spectrum of frozen foods.

Last, but not least the German Frozen

Foods Institute, dti, once again has its

central point of contact at Anuga Frozen

Food.

Anuga Meat - the trade show

for meat, sausages, game and

poultry

Comprising of the sub-segments

sausages, red meat and poultry, the

world's largest business platform for

the meat market offers the trade

buyers an excellent orientation. The

groups stands that are represented

here include Argentina, Australia,

Brazil, France, Ireland, Italy, the Netherlands,

Spain, Turkey, Uruguay and

the USA. Smaller group stands from

Canada and South Africa as well as in-

India is

Partnerland,

Turkey is the

most leading

foreign

national

pavilion with

almost 300

exhibitors

36 FOOD TURKEY October 2017
---
dividual exhibitors from New Zealand

round off the international spectrum

perfectly.

Anuga Chilled & Fresh Food

- the trade show for fresh

convenience foods, fresh

delicatessen, fish, fruit &

vegetables

The trendsetter segment, which has a

regular spot at Anuga, targets above

all customers, who have little time, yet

high demands in quality and freshness

and thus offers the trade and the outof-home

market attractive profiling

opportunities. The exhibitors include

Condelio, Kühlmann, Rügen Fisch,

Renna, Settele, Wewalka and Wolf

Wurstwaren. There are new group

participations from Ecuador, Ireland

and the USA.

Anuga Dairy - the trade show

for milk and dairy products

Bundled, international competence

for milk, cheese, yoghurt & co. The

complete white and yellow line is

represented in Cologne. Anuga Dairy

37
---
offers the most comprehensive overview

of the international dairy market

worldwide. Joint participations from

Belgium, Denmark, France, Greece,

Great Britain, Ireland, Italy, the Netherlands,

Austria, Poland, Switzerland,

Spain and Cyprus demonstrate the

large spectrum of the offer. A group

from the Czech Republic will also be

exhibiting at Anuga Dairy for the first

time.

Anuga Bread & Bakery

Bread and bakery products in combination

with jam, honey, chocolate-nut

spreads, peanut butter and other

sandwich spreads are an equally important

assortment for the trade as

well for the morning breakfast buffet

of hotels. The trade show presents a

comprehensive overview of the extensive

international offer. As a result

of separating the hot beverages off

from the "Anuga Bread & Bakery"

trade show, it was possible to restructure

this trade show which now benefits

from more space. The response

to this is also excellent.

Anuga Drinks

Beverages for the retail and food

service trades. Anuga offers a wide

selection of products for both target

groups: From alcohol to alcohol-free.

Furthermore, the special event "Anuga

Wine Special" presents an attractively

designed offer of wine in combination

with tasting sessions and

specialized lectures.

Anuga Organic

"Anuga Organic" presents a wide

range of organic products from

Germany and abroad with a clear

focus on export. The exhibitor offer

is enhanced by the "Anuga Organic

Market" special event. Exclusively

products are represented at "Anuga

Organic", which carry an approved

organic certification that is a standard

on the market.

38 FOOD TURKEY October 2017
---
Anuga Hot Beverages

For the first time, Anuga is presenting

coffee, tea and cocoa at their own

trade show and is thus doing justice

on an international level to the theme

that is attractive for both the trade

and the out-of-home market.

Anuga Culinary Concepts

The out-of-home market is growing

further and also provides the

trade with new impulses. The newly

launched Anuga Culinary Concepts

offers room for ideas, innovations

and networking. The exhibitors here

include AHT, CSB Systems, DIAGEO,

Dick, Ille and Unilever. Among others,

the top-class finals of the "Chef of the

Year" and "Patissier of the Year" will be

held on the integrated "Anuga Culinary

Stage".

Partner country India

With its multi-faceted food industry,

India is the ideal casting for the role

of the partner country of the world's

39
---
largest and most important trade fair

for food and beverages. But also with

its international famous and globally

widespread cuisine, India offers many

opportunities to convince the trade

and the food service sector of its diversity

and efficiency.

As group organizers the Indian Trade

Promotion Organization (ITPO), the

Agricultural & Processed Food Export

Development Authority (APEDA)

and for the first time the Indian Oilseeds

and Produce Export Promotion

Council (IOPEPC) are represented at

Anuga by numerous Indian firms. Beyond

this, many individual exhibitors

are participating. Hence, there is going

to be a record number of Indian exhibitors

at Anuga 2017. In addition to

tea and spices, rice, cereals and pulses,

the products exhibited also include

ready-made meals and organic products.

Supporting program

Congresses with high-profile line-ups,

lectures and award ceremonies, various

special events as well as the show

stage "Anuga Culinary Stage" offer information

and entertainment at Anuga

and enable an exchange within the

industry.

Initial overview:

* Anuga Executive Summit

* Professional Foodservice Forum

* Anuga OliveOil Market (special

event)

* Anuga Wine Special with award

ceremony (special event and seminar

program)

* Anuga Organic Market (special

event)

* Anuga Taste Innovation Show (special

event)

* Anuga Trend Zone (lectures and a

special event on the theme of trends

by Innova Market Insights)

* Final of the professional cooking

competition "Anuga Chef of the Year"

* Final of the "Patisserie of the Year"

competition

* Anuga Power Breakfast (lecture program

for foodservice professionals)

* iFood 2017 - Innovation Food Conference

- the German Institute for

Food Technology (DIL) is organizing

the Innovation Food Conference, iFood

Conference for short, on 9 October.

The motto of this year's conference

is "Discovering megatrends in

food".

* E-GROCERY CONGRESS @Anuga

2017 - digital strategies in the retail

trade, one of the prevailing trends in

the retail business will be comprehensively

presented and discussed for the

first time.

* DEHOGA Food Service Marketplace

* BVLH RETAIL FORUM 2017

* Grips & Co. - Final of the competition

for aspiring professionals from

the trade.

The trade fair is open daily from

Saturday, 7.10.2017 to Wednesday,

11.10.2017 from 10:00 a.m. to 6:00

p.m. Exclusively trade visitors are

granted access.

40 FOOD TURKEY October 2017
---
Fora Olives meets food

kings of the world at "CNR

Food Istanbul"

Fora Olives, well-known with its wide product range and

high-quality olives, has participated in CNR Food Istanbul,

organized between 20 – 23 September 2017. Fora Olives

gets the thumbs up from visitors showing up at CNR Food

Istanbul, considered one of the important exhibitions of

Turkey.

42 FOOD TURKEY October 2017

Fora Olives, among the leading olive

manufacturers of Turkey with the

largest olive processing facility in the

world in Balıkesir, came together with

national and international companies

in CNR Food Istanbul, in which more

than 65,000 visitors from 85 different

countries participated. The exhibition

is visited by 500 companies, regarded

as "food kings" of the world from 45

countries, to make purchases, and was

held in Yeşilköy, Istanbul between 20 –

23 September 2017.

THUMBS UP FROM VISITORS

Fora Olives participates in CNR Food

Istanbul, which gathers professionals of

the food industry and creates opportunities

for potential customers, with its
---
high-quality and healthy products and

presents its black olives, cracked olives,

stretched olives, fit, low-fat olives, olive

pastes and olive oil products for visitors

and other participants at the exhibition.

Fora Olives is among the stands

receiving the most attention in the

exhibition with its olive and olive paste

ranges, which are the essentials of

breakfast and are among the first steps

of a healthy diet. Following the tasting

session, Fora Olives made an indelible

impression with its wide product range.

"WE ARE READY FOR

HARVEST SEASON"

Efe Yazıcı, General Manager of Fora

Olives says that they have participated

in many national and international

exhibitions in 2017 and continues, "We

aim to enter into new markets both in

our country and internationally with

the largest olive-processing facility of

the world that we own. We continue

to build strategic collaborations and

communications at the national and international

exhibitions in which we are

participating this year. CNR Food Istanbul

created a considerable opportunity

for further cooperation and national

and international expansion. Besides,

harvest season is approaching. We

have completed the preparations in

our facility to harvest the highest quality

olives of the season and to perform

production under the best conditions.

We are counting days to go through a

fruitful and productive harvest season."

Efe Yazıcı

Fora Olive General Manager

43
---
A Story that

Lasts 101 Years

Poultry legend Keskinoglu keeps making history

thanks to second and third generations

1900-The first year of the 20th

century saw the birth of İsmail

Keskinoğlu. He was born as the

first son of Fevzi Bey and Hatice

Hanım, who were living then in a

village linked to the Ravika Village

in Drama, Greece. After his sister

Fatma was born, he began to

work as a shepherd in the Ravika

village in order to help his family to

survive. Hatice Hanım passed away

due to an incurable disease. After

a definite period, Fevzi Bey married

another woman and he entered into

the army when mobilization was declared

in 1910. Fevzi Bey left his family

with a stepmother, who did not care

of his children. After a while, Ismail and

Fatma had to leave, because their

stepmother did not want to

live with them anymore.

Ismail and Fatma lived

with their neighbors

for a long time. Ismail

stays there until he

gets 21 years old. This

charitable, good intended,

brave old man, who looked

after Ismail and Fatma, played

44 FOOD TURKEY October 2017

İsmail Keskinoğlu

an

important

role in Ismail's

life and Ismail considered this man

as a model. The Greek people

began

to treat Ismail badly, because the Turkish

and Greek girls living in that village

were fond of Ismail and called him as

"Handsome Ismail". By the way he was

homesick, because he knew that he

was from Turkey, but he had not ever

been in Turkey. One day a group of

Greek young people mocked at Ismail

by taking his fez and trying to

make him wear a Greek costume.

This was the moment Ismail understood

that he could no more

bear all this mistreatment. He began

to fight against these Greek

people and he injured one of them

by means of his knife. He was able to

escape from that crowd and he sheltered

by a group of Turkish people. The

involved young Greek people decided

to kill Ismail. The relatives of Ismail

warned him against the aggressive plans

of the Greeks. Therefore, Ismail decided

to find a place to hide himself for seventeen

days and then he was

secretly brought to Dedeağaç.

Ismail set off

for an unknown journey

after having bargained

for this with a

Greek boatman for

250 gold liras. His destination

for this time was

Enez. After a journey that
---
lasted for twenty one days, he arrived

at Istanbul and took the train, which

hosted people leaving Greece to arrive

at the Sarıdoğan Village in Adapazarı,

which was known as an area where

Turks migrating from Greece inhabited.

Ismail preferred a marriage of convenience

and married Esma Hanım, to

whom he got acquainted with thanks

to the efforts of his close friends. Esma

Hanım run in a rich and wealthy family.

Esma Hanım gave birth to Cavit, Cavide,

Hatice, Sevim, Yıldız and Sevdiye. However,

the Keskinoğlu family became upset

first due to the passing away of Sevim.

Later the 4-year old Hatice passed

away just one day before the 6-year old

Cavide said a last goodbye to this world.

The 7- year of Cavit passed just 15 days

later and hence, the Keskinoğlu family

experienced the grief of losing a child

for the fourth time.

Ismail began to work in the field of

tobacco production together with his

father in law. Since he found out that

one could earn a lot by manufacturing

tobacco, he decided to launch his

own business in Akhisar. Therefore, he

settled in Akhisar and began to manufacture

tobacco. It was just a short time

thereafter, when his father in law began

to have faith in him. Keskinoğlu began

to plow lands in order to manufacture

tobacco every year and it took just 4

years for him to become a wealthy

man possessing a tobacco land of 100

decares. Besides manufacturing tobacco,

he began to operate in the field of

transportation and it was then when

Keskinoğlu turned out to be a leading

company in olive transportation. Once

upon a time he decided to help one

of his customers while collecting olives

from olive trees and traveled with him.

As a result of this close contact, these

two became close friends. Whenever

this customer arrived at Akhisar, he insisted

on visiting "Ismail from Drama".

When people asked the reason laying

behind his insistence, the customer

replied: "It is not something that you

can know. This man is specially gifted".

After a long period, Ismail recognized

that this customer was Vehbi Koç. That

45
---
year his tobaccos were adversely affected

from blue mold and he had to sell

his products for the half price. This led

to the end of his tobacco production

career. Keskinoğlu paid his debts with

the Money he received from his last

harvest and decided to go to Erzurum

in order to start a new era in his life.

When Keskinoğlu arrived at Erzurum,

he got disappointed because he could

not find a suitable business atmosphere

where he could work in the way he

wanted. Therefore, he moved to Adana.

While he was wandering around the

bazaar of Adana, he came across a

master, who was bending iron

items and he decided to help

him. Keskinoğlu worked

for a period of

5 days

with

this master and his productions were

such excellent that the Master Ibrahim

and his close friend Hacı Ömer Sabancı

began to hold his effort in high esteem.

At the end of the fifth day Keskinoğlu

was introduced to Hacı Ömer Sabancı.

The fame he gained as a transporter

in Akhisar reached until Adana and Sabancı.

Sabancı offers him to work together.

Keskinoğlu replied: "For better

or for worse…But always together."

H e

lived in Adana and

İskenderun for a long period and gained

both Money and experience. Thereafter,

he decided to return to Akhisar

and took his sawing machine he bought

from French people in Iskenderun. At

first he arrived at Izmir by means of a

boat and he left his wife in Akhisar. After

a definite period, Sevdiye and Yıldız got

married on after another.

Although Ismail devoted his whole time

to his work, he desired to have a new

life and a new family. After a short time

he married Zeliha Hanım, whom he

believed brought luck to him. Zeliha

Hanım gave birth to Fevzi, Ferihan

and Mehmet. Time passes without

halting. Ismail was working

very hard and his sons provided

support for

him. It was

just after

46 FOOD TURKEY October 2017
---
a short while that Ismail and his sons

turned out to be very successful in the

fields they got involved to. After having

dealt with lumbering and carpentry,

Keskinoğlu laid the foundations of

Keskinoğlu Group one day when he

brought a rooster and chicken from

Denizli. Keskinoğlu began to operate in

the field of egg trade and as his son

Fevzi insisted on enlarging the business,

this three established miniature poultry

in 1963. The two chickens they bought

at the beginning were fruitful and after

a short time they had 30 chickens.

Keskinoğlu sold the excessive eggs to

markets and then decided to get deeply

involved in the commercial egg sector.

Fevzi Keskinoğlu saw a hatchery in a

public poultry during one of his visits.

He was so astonished by what he had

seen that he tried to construct his own

hatchery with wooden planks. As a result

of all these progresses, Keskinoğlu

began to work in the field of chicken

rearing for eggs. Only 3 broods came

out of 700 eggs by means of this hatchery.

However, Ismail did not give up the

fight. A research was conducted and

the Keskinoğlu family found out that

none of the eggs placed in the hatchery

were fertilized. When they discovered

this unsatisfactory result, they collected

fertilized eggs from villages and placed

them into the hatchery in order to ob-

47
---
tain numerous broods. This attempt resulted

in a successful way and Keskinoğlu

commenced to rear chickens for eggs

thanks to this wooden hatchery. After a

while, the three decided to take another

new step by entering into the field

of cage poultry. To this end, they manufactured

cages in their workshops. Keskinoğlu

became once more a leading

firm, because they worked very hard

with great enthusiasm. They made great

progress in cage production. Therefore,

Keskinoğlu decided to enlarge its borders

and bought a land of 60 decares

in the Kayalıoğlu Village, which was quite

close to Akhisar. This new land was acquired

for cage poultry and each house

would have a capacity of 10.000. Later,

they decided to establish an integrated

structure in the poultry sector.

The facilities that were put into service

thereafter are; Keskinoğlu Feed Factory

with a capacity of 8 tons per hour,

Broiler Production Facilities each having

a capacity of 35.000 broilers, a Viol

Factory that manufactures 100 million

units of egg package, a closed poultry

in order to rear chickens for meat, The

Keskinoğlu Integrated Chicken Processing

and Evaluation Center with

a production volume of 30.000 tons.

What is more, the capacity of the feed

production unit reached 30 tons per

hour within this timeframe along with

10-storeyed automatic poultry houses.

Apart from all these developments,

Ismail Keskinoğlu decided to construct

the Ismail Keskinoğlu Primary School,

which was granted to the Ministry of

National Education in 1995.

Ismail Keskinoğlu entered into the poultry

sector in 2001 together with his

sons Fevzi and Mehmet Keskinoğlu. After

a while, Keskinoğlu Group became

the first and single integrated poultry

facility in Turkey. It was just then on

April 18th, 2001, when Ismail Keskinoğlu

passed away.

After the passing away of Ismail Keskinoğlu,

his sons and grandchildren followed

the path he had shaped for them.

48 FOOD TURKEY October 2017
---
TAT becomes leader in

digital transformation with its

"Pioneers of Tomato" project

Hakan Turan: "We have

taken the first step of our

digital transformation

vision with the mobile

applications we have

developed in order to

add value to life by

offering healthy, reliable

and innovative products

to the consumers

everywhere by making

use of our accumulated

knowledge in the food

sector."

TAT Gıda was established in 1967 in

Mustafakemalpaşa, Bursa and it currently

engages in activities related to paste,

ketchup, mayonnaise, tomato products

and canned vegetables at Mustafakemalpaşa-Bursa,

Karacabey-Bursa and

Torbalı-Izmir plants.

Hakan Turan Deputy General Manager

of TAT Gıda who underlined

the importance of digitalization in

agriculture, said: "In our country

we are a pioneer in the development

of industrial tomato cultivation.

One of the most important

stages of our project is the digitization

in agriculture. We are digitizing mobile

applications that we develop, such as

tracking of fields, online training for farmers,

monitoring of plant development,

online consultancy for farmers. We can

also forecast the weather on a local

basis through climate monitoring stations

and

analyze the risk of diseases that affect

tomato growth. To sum up, using digital

technologies, we are producing solutions

for the establishment of a tracking

and registration system for linking

field data with product performance,

increasing communication with farmers

and supporting the development

of farmers. "

He added, "The mission of TAT is

to add value to life by offering

healthy, reliable and innovative

products to the consumers everywhere

by making use of our

accumulated knowledge in the

50 FOOD TURKEY October 2017
---
food sector." "With Tat Tomato Products

which make cooking enjoyable,

you can readily find the taste of summer

tomato in the middle of winter. Besides

the numerous health benefits of

lycopene in Tat Tomato products, you

can save both time and labor thanks to

the practicality of Tat Tomato Products."

TAT Gıda organized a Tomato Festival

participated by the citizens of the

region. During the festival, 648 people

applied tomato paste to 1500 slices

of bread in 30 seconds in order to

be qualified for the Guinness Book of

World Records.

The Company has brought the technology

to produce diced tomato into Turkey

in 1989, and it started to produce

canned diced tomatoes and peeled

whole tomatoes on the same line. In

1997-98, Jar, Ketchup and Mayonnaise

filling lines were established. In 2003, on

the other hand, Magnum Diced Tomato

Line, the welded lid technology, which

is found in very distinguished plants in

USA and only in TAT, Turkey in Europe,

and which reduces the risk of aseptically

diced tomatoes to one in a billion.

vPlants have TS EN ISO 9001: 2008

Quality Certificate issued by Turkish

Standards Institute. In July 2003, Tat,

SEK, Maret and Pastavilla merged under

the name Tat Konserve Sanayi A.Ş. for

the purposes of synergy between the

trademarks, decreasing costs and more

efficient use of resources and Tat Konserve

has become one of the largest

food companies in Turkey. Tat Konserve

Sanayi A.Ş. the trade name be changed

Tat Gıda Sanayi A.Ş. since November

15, 2013.

51
---
Anuga Frozen Food: This is

where the international frozen

food industry comes together

Anuga Frozen Food is once again the

central platform for the international

frozen food industry. Over 560 will

be presenting the broad spectrum of

products, fields of application and services

on gross exhibition space spanning

28,000 m². The offer ranges from

fish and meat, through to fruit and

vegetables, from ready-made meals

for single households, through to bulk

packs for buyers from the communal

catering and food service sectors. At

Anuga, the industry regularly presents

its innovations. The companies exhibiting

at Anuga Frozen Food include 11er

Nahrungsmittel, Agrarfrost, Ardo, Aviko,

Erlenbacher, Gunnar Dafgard, Neuhauser,

Pfalzgraf, Roncadin, Salomon Foodworld

and Surgital. Furthermore, CPF,

Délifrance and McCain are also exhibiting

at Anuga Frozen Food. There are

big group participations from Belgium,

France, Greece, Italy, Croatia, the Netherlands

and Portugal with the frozen

foods association ALIF - Associação da

Industria Alimentar pelo Frio - Serbia

and Spain. Furthermore, groups from

Argentina, Ecuador, Peru and the USA

52 FOOD TURKEY October 2017
---
are also participating. The German Frozen

Food Institute, dti, which has been

the exclusive partner of Anuga Frozen

Food since 2013, will also be represented

again with contact partners

and information at its centrally located

exhibition stand. In total, over 7,400

companies from 107 countries will be

exhibiting at Anuga from 7 to 11 October

2017. Anuga is the largest trade

fair for food and beverages worldwide.

The frozen food segment is one of

the most important innovation drivers

both for the retail trade and the

out-of-home market. The supermarket

freezers contain numerous product innovations,

for example in the sections

desserts, smoothies, vegetarian snacks

and burgers as well as new hybrid

product variations. Convenience is and

remains to be an important theme, as

are small and portionable product sizes.

The current food trends are also reflected

in the frozen food ranges: Vegan

alternatives, organic, free-from, halal can

also be found in the frozen food departments

in addition to international

specialities. Furthermore, the consumer

enjoys combining frozen products with

fresh ingredients.

Food shortages and food wastages are

also important themes in the frozen

food industry. Particularly here frozen

products offer many solutions for the

resource-saving processing and the corresponding

implementation of goods.

According to the dti, the German frozen

food market is also experiencing

further growth. Both the consumers

and professional chefs like using frozen

products. In 2016, a significant 2.5 percent

growth in volume was recorded.

The overall sales of frozen products

in Germany increased up to 3.632 mil.

tonnes in 2016. The turnover with frozen

products increased up to €13.806

billion. Pro capita the Germany consumed

on average 45.4 kg of frozen

products in 2016 - in the previous year

it was 44.5 kg. Every household in Germany

consumed on average 91.5 kg of

frozen food last year. The frozen food

industry can thus look back on a very

successful fiscal year.

For the first time ever, in terms of volume,

more frozen food products were

used in the out-of-home market than

by the end consumer at home. The

sales volume rose by 4.1 percent up to

1.827 million tones. The out-of-home

market turnover with frozen foods

achieved a value of €6.236 billion last

year, this corresponds to a growth of

5.7 percent. This is also due to the fact

that the food service sector and out-ofhome

market are experiencing growth

overall. For example the commodity

group bakery products is profiting

from the "to-go" trend. It increased by

5.9 percent in 2016.

53
---
Aves targets 100 m

dollars in exports

in 2017

One of the

companies in TIM

1000 list, Aves is

the seventh fastest

growing company

in export markets.

54 FOOD TURKEY October 2017

We talked with Aves AŞ General Manager

Onat Angı, a fast growing company

in exports. He informed about their

targets and said, "We aimed to put

our Safya brand sunflower oil on the

shelves in Turkey."

What are the measures you

have taken for the health of

consumers in your production

process?

All consumers demand safe and

healthy food and the food industry has

to meet these demands by observing

all legal and moral rules and limitations.

We also do not produce any food that

we can offer to our family members to

consume. Hygiene is the only consideration

that we are taken into account

during our whole production process

from the first stage of acceptance up

to the last stage of production ended

in product warehouse. We have checks

and control that are carried out either

daily, weekly and monthly to keep our

facilities clean and safe for infections.

Under the framework of FSSC 22000

and ISO 22000 quality management

systems, periodic hygiene trainings and

controls, including personal hygiene,

food safety, quality control, documentations,

product recalls, food allergens,

health hazards and risks, etc.

Will you mention about

your production facilities and

the technologies you have?

How large is your annual

production capacities? What is

your proportion of domestic

sourcing of raw materials?

Aves, has designed Turkey's larges and

fully integrated oil seeds processing

facilities on 120 acres land in Mersin

equipped with latest technologies at

international standards. In this facility

1 million tons of vegetable oil and 600

tons of refined oil is produced annually

on crushing machinery that has 1500

tons of daily capacity. Aves imports 35

% of sunflower oil to the country and

buy 20 % of sunflower seeds from domestic

farmers.
---
Onat Angı

Aves AŞ General Manager

You have a good logistics and

seaport facilities over your

competition. What are the

other advantages you have

that makes your company so

different and so powerful?

We may summarize the problems of

the sector in Turkey: lack of scale economies,

logistics costs and lack of full

integration. Strategic location of the

company in Mersin, one of the important

center for world trade, Savka open

seas loading and discharging wharf, a

transport fleet of 70 tanker 30 heavy

duty trucks are our advantages over

our competition. Besides, having a business

history in international financial

markets, long term agreements with its

partners, make Aves powerful.

Though you located in Mersin,

you have firms in many parts

of the world for trade and

marketing. What is your

volume of exports and your

targets?

Our export volume was 70 million dollars

in 2016. 20 % of our sales come

from export operations. Our sunflower

oil is exported to more than 30

countries. We are expanding our ex-

55
---
port markets entering new countries,

from Middle East to far east. We ranked

among the list of prestigious companies.

We have managed to be the 7th

fastest growing firm in exports in the

TIM 1000 list with our 79 % growth last

year. Our export target for 2017 is 100

million dollars.

Safya brand is positioned on the purity

of the oil. It is not blended, it is pure

sunflower oil. Actually, Safya, means

pure oil in Turkish. Blended oils threatens

the health of consumers and against the rules of fair trade and competition.

Our pure oil are healthy and safe for digestion. This products is available at the

shelves of almost all food retailing chains.

What is your next target?

We want to invest more on the people and on our brand.

Our major aim is to be a global player

with our powerful quality. We have

established companies in Dubai, Russia,

Ukraine and Iraq for trade and marketing.

Aves targeted to be the third largest

company with its Safya brand oil.

How is your brand positioned

in the market? What is the

basis of your success?

56 FOOD TURKEY October 2017
---
With over 1,800 companies

confirmed, HostMilano 2017

outshines the 2015 edition

The countdown to the 40th edition

of HostMilano has now begun, the

trade show that will be taking place

at Fieramilano from Friday 20 to

Tuesday 24 October and that will be

celebrating with the leading event

for the Ho.Re.Ca., food service, retail,

mass-market and hôtellerie industries.

Growing numbers compared

to the same period in 2015

HostMilano - International Hospitality

Exhibition is already boasting

sensational numbers, just before five

months to go to the cutting of the

ribbon, promising to further build on

the success of the last edition: as of

today, 1,824 companies have confirmed

their attendance, including

1,092 Italian (59.9%) and 732 international

firms (40.1%), representing

an increase of 11.4% compared to

the same period in 2015.

Nine new entries amongst

the participating countries

The progressively international nature

of HostMilano, which will see

55 different countries being represented

on the opening day, is

substantiated by eight new entries

- Belarus, Egypt, Lichtenstein, New

Zealand, Serbia, South Africa, Sri

Lanka and the Ukraine - which will

be taking to the stage for the first

58 FOOD TURKEY October 2017
---
time, while Canada will be back following

the 2011 edition. Excluding

Italy, Europe will boast the largest

number of companies (73.5%), with

Germany, Spain and France topping

the list, followed closely by the USA,

the United Kingdom, Switzerland,

Greece, the Netherlands, Portugal

and Austria.

As regards the product categories

represented by the companies, the

Foodservice Equipment and Bread

Pizza Pasta macro-sector equates to

45.7% and is also the most heavily

represented with 729 participants.

The other two macro-sectors are as

follows: Coffee Tea - Bar Coffee and

Vending Machines – Gelato - Pastry

(36.5%) and Furniture and Tableware

(17.8%).

1,500 buyers from all over the

world will be in attendance

Selected owing to the growing investment

in profiling and the ever

closer collaboration with the ITA

(Italian Trade Agency), there will be

over 1,500 hosted buyers arriving

from Europe (10%), the Mediterranean

and South Africa (7%), the

Middle East (15%) Northern America

(23%), Central and Southern

America (8%) Russia (18%), Asia and

Oceania (19%).

Hundreds of meetings and

events in addition to business

activities

The 40th edition of HostMilano - International

Hospitality Exhibition has

not however been designed solely

for business opportunities in all the

various Ho.Re.Ca sectors, but is also

a place where training and learning

opportunities abound. In addition

to professional meetings, there will

in fact also be an extensive number

of events, including workshops, training

opportunities, round tables and

show-cooking demonstrations. The

visitors will be able to freely attend

the hundreds of events overseen by

Host and will have the opportunity

to get the lowdown on all of today's

'hot' topics.

EXIHS will shine a spotlight on the

age-old tradition of Italian hospitality,

thanks to the return of the concept-space

by architect Dante O.

Benini, designed this year in partnership

with Davide Rampello: a great

cube that recounts the history of

hospitality through the use of surfaces

and material. Nearby, there will

be a lounge area that will feature a

background wall showcasing Italian

agricultural and cooking staples.

As regards catering, the APCI (Association

of Italian Professional Chefs),

through the Obiettivo Apprendistato

(Apprenticeship Objective) training

project, will see the most talented

newly-qualified young chefs attend

the fair after having been selected

following a lengthy process. For its

part, the Identità Future space, organised

in collaboration with Identità

Golose, will see chefs take part

in compelling show-cooking demonstrations

where the latest frontiers

in haute cuisine will be showcased.

There will also be a space dedicated

to the world championship finals of

the 'Cake Designers World Cham-

59
---
pionship' and the 'World Trophy of

Pastry, Ice Cream and Chocolate' in

collaboration with FIPGC (International

Federation Pastry Ice Cream

Chocolate).

Moreover, Altoga (Lombard Association

of Coffee Roasters and Importers

and Food Wholesalers) will be

joining forces with Fipe at Host 2017

for Caffè e…, the event dedicated

in its entirety to the coffee industry.

The same theme will be the focus

on 21 and 22 October for the 5th

Gran Premio della Caffetteria Italiana

(Italian Coffeehouse Grand Prix), organised

by AICAF (Italian Academy

of Coffee Masters), and supported

during the finals by Altoga, so as to

promote made in Italy professionalism

and products.

Last but not least, the schedule of

training and entertainment events

devised by Mixer with Planet One

will be taking place:

HostMilano will provide an opportunity

for them to reveal the magic of

mixology through professional workshops

and Food Shows intended to

discover natural herbs and medicinal

plants.

Agreements with international

associations get the go ahead

As part of a strategy that has seen

extensive promotion the world over

so as to reach a wider audience, the

event taking place next October has

also been devised to focus on this

edition's target areas - the USA, Canada

and the Middle East - for which

various activities to attract visitors

have been organised through agreements

with respected international

associations.

As regards the North American

market, in particular, after having obtained

prestigious certification from

60 FOOD TURKEY October 2017
---
the Commercial Service of the US

Department of Commerce, which

authorises the official presence of the

country at HostMilano, the fair has

confirmed a number of partnerships

with important associations such as

ASID (American Society of Interior

Designers), IDC (Interior Designers

of Canada), ISHP (International

Society of Hospitality Purchasers),

NEWH (The Hospitality Industry

Network), BAC (Baking Association

of Canada) and the NYC Hospitality

Alliance. These are the very latest

companies that will be joining those

with Feda ( Foodservice Equipment

Distributors Association): Ocsa (Ontario

Convenience Stores Association),

WCSA (Western Convenience

Stores Association) and Restaurants

Canada.

This being said, when discussing

agreements, HostMilano does not

focus solely on North America but

on all the most interesting of markets.

Subsequently, the most recent

agreement has been made with

CEDA (Catering Equipment Distributors

Association), which includes

almost 100 distributors of products

and services for the catering industry

in the United Kingdom. Spain's

AFEHC (Asociación de Fabricantes

Españoles Exportadores de Equipamientos

para Hostelería y Colectividades)

also operates in the same

sector, while the collaboration with

two organisations that have had an

active and constructive role in the

Milanese event for some time now

is set to continue: FCSI (Foodservice

Consultants Society International),

which brings together professionals

specialised in the provision of consulting

services in the catering and

hospitality industry all over the world.

SCA (Speciality Coffee Association),

which as of January 2017, merged

with SCAA (Speciality Coffee Association

of America) and SCAE, (Speciality

Coffee Association of Europe).

61
---
Aktaslar targets to

enter markets abroad

A group in the

bakery industry,

Aktaslar prepares

for Anuga Fair to

introduce pita that

represents Turkish

culture to world

markets.

62 FOOD TURKEY October 2017

Known as a famous taste in Blacksea

region, Aktaslar Pide, headquartered

in Ordu province, opens first branch

in Bagdat avenue, Istanbul, as Nelipide

adds two new ones in Atasehir

and Beylikduzu. The company registered

its Pideor brand aiming to introduce

its special pitas to markets

abroad. The company produces 20

tons of frozen bakery products daily.

Chairman of the board Tamer Aktas,

informed about his organizations

both in Turkey and in abroad.

Would you tell us about the

emerging story of Aktaslar

brand?

Established first in 1981 in Ordu as

a small pastry shop having about

ten employers serving customers

at ten tables. Since 2001 we have

been managing our business with

my brother. Recently, we decided to

grow by opening new branches and

established a logistics and procurement

section with an aim to supply

our branch operations.

Having 4 thousand sqm space our

production facility is in Ordu organized

industrial zone. Products are

processed without using any protective

chemicals and have a shelf

life about one year. Our factory is

able to produce 20 tons of frozen

products per day. We provide employment

for about 450 people, we
---
have five storage space there in

Istanbul, one in Ankara and one

in Samsun.

What do you have to say

about Nelipide brand?

We developed a concept to emphasize

especially on pita (known

as pide in Turkish) and named it

Nelipide, meaning "with what

pide?". Everybody asks the kind of

materials to be used in the pita; so,

all people mention our name by

ordering their choices. Our first

branch for this brand has been

opened in Bagdat avenue, in Istanbul,

that was followed the ones in

Atasehir and Beylikduzu. Now we

own six brands three in Istanbul

and three in Ordu, our home city.

Tamer Aktas

Chairman of the board

Earlier pita was sold slum outlets

while fish, kebabs and other

foods were sold in more prestigious

places. There were no location

that offers great services for

pide=pita lovers. We aimed to attract

them to our Nelipide brand.

What are your targets by

the end of the year?

At the beginning we had considered

to sell as franchise, aiming

to have 12 outlet by the end of

2017. However, events, processes,

economic climate, investment

cost and our sensitivity for better

production, we changed our

minds. Now we want to grow

by opening new branches of

our own. We planned to open a

branch in Ankara.

For franchise operations we registered

Pideor brand for faster

growth both in the country and

in the markets abroad. Naturally,

this is a long-term project.

63
---
Whit Pideor, we offer economic

products that can be served in 90

seconds to our customers in fastfood

business. Pideor has variety

of choices for customers. We developed

new varieties by looking

to pita from the world outside, not

from pita to the word. Our concept

requires less space and investment,

and offers delicious, quality and

healthy products at economic prices

and fast. We aimed to expand in the

markets abroad.

Which countries do you

target to penetrate?

Retail chains are of third channel to

reach consumers as Pideor. Our frozen

pitas are already sold in leading

retailers including the BIM, Migros,

Carrefour, Macro Center, etc. "We

supply to famous and respectful

brands and we are about to finalize

our new contracts with some more

recognized brands.

We aimed to be the greatest producer

of Pide. The first branch of

Pideor will be opened in Spring season

in Besiktas Barbaros avenue. We

planned to have 400 branches, starting

with 20 then 112 and 400. Following

the completion of the growth

project in Turkey we will begin operations

in abroad. We have contacts in

Qatar and in Saudi Arabia. We gave

permission for 5 branches in Cyprus,

and we develop plans for Kazakhstan

and Ukraine markets.

Do you consider entering

food fairs to realize your

global targets?

We are going to participate in Anuga

fair in Cologne, World Food Moscow

and Dubai Gulfood. We planned to

deliver our frozen products to Georgian

market. Our products are in the

customs to reach to Germany and

Qatar markets. We keep expanding

our market coverage in abroad. We

have deals with 60 companies and

Turkey and 50 firms in abroad.

64 FOOD TURKEY October 2017
---
Her Excellency

Turkish apricots!

The following Turkish apricot crop information

has been provided by Banu

Er of Doraintrade which is working as

an agent, broker and consultant at international

markets targeting to establish

a strong link between producers

and buyers on trust basis. Doraintrade

has been tracing the market on behalf

of producers and buyers in order to

give feedback and market reports from

the source regularly. The crop information

follows:

Turkish Apricots 2017 crop harvest

started in the production area of

Malatya. This year, harvest was around

2 weeks later than usual due to cooler

and rainy spring season and necessary

hot and dry weather for harvest arrived

to the production areas.

As every year, at the beginning of the

harvest, we have visited wide production

areas in Malatya, performed our

own survey and met with the farmers

to hear their expectations and learn

their new crop production behaviors.

Beginning of the harvest by shaking the

tress with machinery or by hand and

collecting the fresh apricots from the

plastic shields covered at the bottom

of trees.

If the production will continue, dried

natural or organic Apricots, fresh products

are spread over the shield for drying

process immediately.

When the Apricots dry for 2-3 days

they become soft enough for pitting

without damage. Pitting process is the

most costly process for labor expenses

in the orchards. Women workers can

pit max 5-6 cascades after whole day

66 FOOD TURKEY October 2017
---
work. Unfortunately, there is no still

efficient machinery for Dried Apricots

pitting without certain damage to the

fruits.

After pitting process Natural apricots

lie under the sun lastly for few days

more in order to come to the last stage

and ready for raw material markets.

On the other hand, conventional So2

Dried Apricots are stored in So2 burning

tents of rooms just after the harvest.

Depending on desired high or low So2

content at final product. Application

and duration varies in the orchards.

Drying and pitting process continue

after So2 application for yellow color

Dried Apricots as same as Natural apricots.

Because it takes very long time to

lose the So2 level for apricots (loose

only 50-100ppm per month with good

air circulation warehouses) after dried,

growers mainly apply So2 according to

the requests from the packers relating

to export market's So2 regulations.

Finally dried Apricots are stored in the

orchard warehouses and ready for

market as raw materials to be further

processed in factories.

Although official declaration of estimated

production quantity for Malatya

dried apricots in 2017 crop was around

142,000 mtons, general expectation of

the region's biggest packers as well as

ours is above 160,000 mtons production

in new crop. Meanwhile, estimated

Natural production would be around

10-15,000 mtons.

There is a reality that Turkish Dried

Apricots will have enough availability

with all sizes this year. From our past

experiences we can estimate price offers

will be more settled and probably

lower when the big raw material quantities

are delivered.

Same as previous years, organic buyers

may need to contract as soon as possible

in order to cover annual needs but

for conventional business being no rush

may lead the overseas buyers to better

position for pricing in coming months.

According to physical defects rate in

2017 crop, price difference between

Extra class, Class1 and Industrial may

appear to be big. While Turkey has

both extra quality and industrial grade

enquiries from overseas markets, we

believe the shipments will

carry on in balance for

all different qualities

and sizes.

We hope to have

a good crop year

for Turkish Apricots

2017 and we

would like to help

you for your enquiries

from globally unique taste of

Malatya Dried Apricots. Below Chart

shows figures of Turkish dried fruits

varieties tonnage, average export prices

with its comparison with last year

figures.

67
---
Turkish Minister &USA

CEO unveil scientific

breakthrough to save

honeybees

45 th Apimondia

International

Apiculture

Congress

Focuses on

Staggering

Losses

Istanbul – At the 45th annual Apimondia

International Apiculture

Congress, Turkey's Minister of Food,

Agriculture and Livestock and the

CEO of America's Healthy Bees,

LLC, unveiled the highly anticipated

scientific breakthrough of BeesVita

Plus. It is an advanced, organic nutritional

system that researchers say

can strengthen the immune systems

and improve the health of billions of

honeybees that face annihilation due

to the unexplained epidemic of colony

losses, worldwide. Minister Ahmet

Eşref FAKIBABA, PhD, BeesVita Plus

Italian inventor, Francesca Del Vecchio,

PhD, Healthy Bees CEO, Lee Rosen,

and Philip McCabe, President of the

International Beekeeping Federation,

announced the start of field testing

of the new formulation by scientists

at the Hacettepe Üniversitesi Bee

Health Center in Ankara.

Turkey's Professor Queen Bee

Tests Formulation

The field tests will be supervised by

Professor Asli Özkırım, PhD. She is

one of the world's most-respected

honeybee biologists. She is affectionately

known as "Turkey's Queen Bee."

68 FOOD TURKEY October 2017
---
The professor will work with beekeepers

at 10 biodiverse locations

throughout Turkey testing the efficacy

of BeesVita Plus.

BeesVita Plus Global Testing:

Saves Hives. Saves Lives.

BeesVita Plus has already been tested

in the field and in laboratories by the

United States Department of Agriculture,

at the University of Maryland,

and at Argentinian, Brazilian and Italian

agricultural research facilities and by

beekeepers, around the world.

Preliminary scientific data indicates

that BeesVita Plus helps improve

honeybee resistances to pesticides,

parasites and diseases. According to

studies, BeesVita Plus stabilizes colony

populations, increases the weight

of hives and improves longevity and

productivity.

Precision Patty

BeesVita Plus is a pre-packaged dietary

supplement patty that is placed

in honey bee colonies. Honeybees

eating the product, opposed to typical

sugar water solutions fed by most

beekeepers, receive a precise amount

of essential nutrients and anti-oxidants

that improve health.

Minister Awaits Findings

The Turkish Minister says, "It is very

important for all nations to work on

this worldwide pandemic and we are

welcoming this new product and if it

is confirmed by Turkish scientists l that

it is really working then we will give all

of our support."

Necessity: Mother of

Invention

Dr. Del Vecchio, a genetic biologist and

family farmer, says, "I invented BeesVita

Plus out of necessity; when bees in the

agricultural community where I live in

Italy started dying in masses."

She continues, "I am a scientist and so

I started looking for answers in my

laboratory. The result led to me

to creating the BeesVita Plus

formulation that I now have

the chance to bring to

the world to

help save honey

bees."

International

Beekeeping

President

Philip

McCabe, President of Apimondia,

says, "BeesVita Plus is one of the

most-exciting developments in the

effort to save the honey bee in years."

Global & Turkish Honeybee

Fatalities

Worldwide and throughout Turkey,

honeybees are dying at alarming rates,

according to the International Beekeeping

Foundation. Turkey boasts the

world's second-largest population of

honeybee colonies.

The Ministry reports that there are

7 million colonies spanning Turkey's

780,000 square kilometers. Pine Honey

production, which is mostly exclusive

to Turkey, is being impacted the

most, according to the Hacettepe

University Bee Health Center.

Honeybee Impact

In recent years, honey bee lifespans

have decreased from two months

to, as short as, two weeks, according

to beekeepers. The impact on crop

pollination, honey production and the

livelihoods of farmers and beekeepers

has been staggering, according to reports

from the United Nations Environment

Program (UNEP).

Turkey Testing

Hacettepe University's Professor Ozkirim

says she is establishing test sites

in multiple areas of Turkey with varying

bio-diversities that feature varying

species of honey bees so that she has

a broad range of data to analyze.

"I typically decline invitations to study

most products; says Dr. Ozkirim."However,

I was so impressed by the initial

data about BeesVita Plus that I decided

to conduct my own research."

She continues, "So far, I have observed

that honey bees like eating BeesVita

Plus, which is a good initial indication

since they often reject most manmade

feed solutions. Yet, I am not prepared

to issue any conclusions until I

have sufficient time to fully investigate

the product's actual efficacy."

69
---
American CEO

BeesVita Plus Chairman and CEO,

Rosen, says, "We believe through

the use of our product, there will be

no more colony loss throughout the

world."

Rosen also emphasizes, "Not only is

BeesVita Plus nutritionally effective, it

is also cost-effective for Beekeepers

who spend unproductive hours every

day hand feeding their hives with

homemade mixtures that do little for

honey bee health."

Beekeeper Concerns

Beekeepers attending Apimondia

complain that government agencies in

most countries fail to implement solutions

to curtail colony loss.

Beekeepers seek regulations that include

preventing the use of systemic

neonicotinoid pesticides that are

absorbed by plants, which eventually

release poison attacking honey bees'

neurological systems, thus paralyzing

them in the fields, where they die

because they cannot find their ways

back to the hive.

Pollination

The honeybee is critical to crop pollination.

Beekeepers transport their

hives, in boxes, to farms, where the

honey bee flies from plant to plant

-- pollinating crops. Honeybees pollinate

more than 40 crops including

almonds, apples, blueberries, cherries,

citrus, cotton, melons, pumpkins, tomatoes

and more.

70 FOOD TURKEY October 2017
---
Beta Tea adds value

to Turkish tea

Exploring the

world's best

quality tea and

representing it in

Turkey Beta Tea

aims to sell Turkish

tea in global

markets

72 FOOD TURKEY October 2017

Selling 800 varieties of tea in the most

parts of the world, Beta Tea has a processing

facility in Turkey, as well. Sabiha

Uslu, manager of corporate communications,

says that they want to introduce

new tea culture in Turkish market

and Turkish tea to the global markets.

She said they had focused on central

European markets and would soon be

sold in retailers.

May we know about Beta Tea

brand, at the beginning?

Beta is headquartered in Adana and

aims to build a tea brand from Turkey,

a country that consumes tea the

most. There are several tea trade

centers in the world where so many

teas are traded, but no Turkish brand.

Beta wants to grow as an international

brand and all our efforts and systems

are built on this.

Beta was founded in 1978 and has

been in trade by the year 1993 as a

tea exporter. Then, following the high

inflation period in Turkey, it moved its

operations to Azerbaijan and other

Turkic countries to sell tea it imported

from Sri Lanka to these countries.

As we know taste of tea

changes depending on the

level of leaves from top to

bottom. What kind of teas are

you offering?

We choose the best quality teas of

the world. Seventeen people in our

Sri Lanka office buy the best teas of

the country. We are the third biggest

player in tea bourse. We maintain the

same quality all year long. Classification

of teas is so neat. There are lots tastes

in black tea category. The system runs

different in Turkey. We grouped the

teas as the first harvest, second cut

and third cut. We process Turkish tea

at our facility that we have built in 2012

in Trabzon.

What are the differences

between teas produced

in Turkey and the ones

processed in abroad?

There is a huge difference between

them. Our factory in Turkey has been

constructed by the people coming
---
from Sri Lanka. They have specific criteria

for the classification of tea. Our

production capacity is definitively less

than the capacities of others, because

we have more delicate process in the

factory. When we asked them the people

demanded quality, so we do not try

to be cheaper than others.

How large is your domestic

trade volume?

Very limited, at most, it was 5 %. We

want it should be more. Russia, Kirghizstan,

Kazakhstan and Azerbaijan are our

markets. We are not among the top

five brands in Russian market. We are

the leader in other countries. We are

preparing to take part in central European

markets. We are the first tea

company who is covered by Turquality

program, an incentive and support

scheme run by the state. It is hard to be

a tea producer in Turkey. We support

the economic value of Turkish tea with

our expertness and productions.

You are a trader in world tea

markets. Where do you have

your packing facility?

We have business partners and distributors

in several countries in the world.

Which regions are important

for you right now? To which

country are you selling your

products the most?

We are the market leader in Azerbaijan,

Kazakhstan and Kyrgyzstan. Beta

brand is the major tea brand in Turkic

countries for many years. We are still

struggling in Russian market, a large and

important market. We have dealers in

Iraq and Middle East markets. Recently

we are interested in central European

countries.

Our product varieties are suitable for

offering the right choice to the right

country having specific tea cultures.

What can be said about the

variety of teas?

Opa is a popular one in the world.

Black teas have soft and hard types. We

have three tea brands, namely Howdah,

Champion and Beta Tea. There are still

difference in these categories. Onl Beta

has 800 varieties. British tea is black

granule, rather hard and it smoothed

with additional milk, and preferred in

certain regions. Azerbaijani people has

similar taste as Turkish people. We also

keep an eye on local varieties. We observe

the tea drinking habits and preferences

of the people in the world.

In Turkey, we have particulate black

teas and bergamot and citrus varieties

though most people are not aware of.

What do you do in order to

explain the importance of teas

to the people?

We take part in several events and we

want the people to have emotional

contacts and experiences. We contact

with our buyers directly to transfer

our knowledge and experiences to the

buyers. People see our brand on the

shelves and our commercials on TV.

We gift them metal tea boxes.

Third generation of coffee

lovers have emerged in Turkey.

Nowadays, we are witnessing

some cafes that serve tea

imported from Sri Lanka.

Does Beta Tea consider about

entering retail chains?

Yes, we do. We have plans for the

opening our first retail store in Adana.

People in this market drinks tea while

socializing. Turkish people consumes

tea more that the consume water. We

are testing new varieties from time to

time. Turkey is developing and people

like to taste new products. However,

original Turkish tea has a good reputation.

We want to make it a global brand.

73
---
Gulfood Manufacturing to

underline Dubai's status as

global food supply chain hub

1,600-plus exhibitors

bound for MENA's

largest specialist food

manufacturing and

processing event

as geographical

location, stability

and government

investment affirm

Dubai's critical role

in the future of food

Dubai, UAE – As the world's population

figures continue to soar,

so does demand for food with a

United Nations Department of

Social and Economic Affairs study

revealing the global figure is growing

annually by 83 million people

and estimated to reach 9.7 billion

people by 2050. Consequently, the

need for food is set to increase by

at least 60 per cent.

In the GCC alone, population

growth is forecasted to maintain a

Compound Annual Growth Rate

(CAGR) of 2.4 per cent to reach

57.6 million by 2019, according to

Alpen Capital. As a result, regional

food consumption will rise by a

CAGR of 3.5 per cent to hit 51.9

million tons annually.

Identifying an urgent need to address

growing food demand in the

region, fueled by a growing population

with an increasing disposable

income per capita, Dubai, boosted

by its strategic geographical location,

modern infrastructure, sociopolitical

stability and commitment

to economic investment has moved

to the forefront of the international

food supply chain industry.

And Gulfood Manufacturing 2017,

which takes place from 31 October

to 2 November at Dubai World

Trade Centre (DWTC) - will reinforce

the emirate's strategic objective

to become a global hub for the

food processing and supply chain

industries.

Trixie LohMirmand, Senior Vice

President, Exhibitions & Events

Management, DWTC, said: "Dubai's

geographical location, political stability

and world-class infrastructure

support the food processing sector

and food export trade. The contin-

74 FOOD TURKEY October 2017
---
ued growth of Gulfood Manufacturing

is further evidence of how the world's

leading food industry providers view

the show as a must-attend and Dubai

as a preferred destination to both

house and grow their global business."

Backed by a visionary leadership committed

to diversifying the country's

economy - the food trade currently

accounts for 11 per cent of the UAE's

GDP - Dubai has assumed a crucial

role from manufacturing, processing

and packaging, to re-exports and the

growing importance of food security.

The UAE is already the world's biggest

re-exporter of rice, accounting for 81

per cent of global trade.

Innovative government-backed initiatives

such as Dubai Wholesale City and

Dubai Food Park and private sector

investment, highlighted by halal food

producer Al Islami's USD27.2 million

facility at Dubai Investment Park, Brazil's

BRF SA's USD150 million plant

and Abu Dhabi's National Food Products

Co's USD411 million facility at

the Khalifa Industrial Zone Abu Dhabi

(Kizad) have further cemented the

UAE's increasingly influential role in the

food supply chain industry.

"Government and private sector investment

in the industry complement

Gulfood Manufacturing as all major

stakeholders continue to work together

in Dubai's quest to become the

primary hub in the global food production

value chain," added LohMirmand.

Emphasising the emirate's high standing

in the global food supply chain, Gulfood

Manufacturing – the region's largest

food manufacturing, processing and

supply chain event - will feature more

than 1,600 local, regional and international

food supply chain suppliers and

service providers with thousands of

buyers. Exhibitors from more than 60

countries will be showcasing their latest

innovations, including 30 national pavilions,

with first-time participation from

countries including Poland and across

the CIS.

Fresco NZ, a Dubai-based supplier of

food processing and handling solutions,

will be exhibiting for the fourth straight

year and is fully aware of the role Gulfood

Manufacturing plays in cementing

Dubai's role as a key player in the global

food manufacturing industry.

"Gulfood Manufacturing provides us

with a tailored platform to exhibit our

products to new and existing regional

customers. It also allows our customers

to see we are locally based and

committed to servicing their needs

pre- and post-sale," said Ken Hetherington,

Regional Director of Fresco NZ.

"While Dubai's global ambition will

keep re-exports high, the need for in-

75
---
creased local manufacturing is growing

because it reduces carbon footprint, labour

costs and logistics - Gulfood Manufacturing

provides these opportunities

for growth."

To ensure participating companies can

connect with the right partners and

investors, Gulfood Manufacturing 2017

will host the 'Big Buyers' Programme,

which will host more than 2,000

pre-qualified buyers from across the

Middle East and Africa, with a pre-determined

budget to spend with participating

exhibitors.

Also new for this year are the Gulfood

Manufacturing Awards, which

will recognise industry excellence in

a glittering ceremony and gala dinner

on the evening of October 31, while

the Innovation Tours will offer visitors

a memorable journey showing real-life

innovations within some of the region's

top, award-winning food factories.

An industry-leading conference will

also be held on the sidelines of the exhibition

featuring in-depth analysis, debate

and discussion on topics including

digitisation in the industry, smart manufacturing,

big data and analytics.

Gulfood Manufacturing 2017 will open

from 10 am – 6 pm on 31 October

and 1 November, and 10 am – 5 pm

on 2 November 2017. The show is only

open to F&B trade professionals and

visitor attendance is free of charge.

76 FOOD TURKEY October 2017
---
yummex Middle East:

growing MENA market is

driving snacks and sweets

trends

yummex Middle East (ME) has once

again impressively demonstrated its

top position as an international trade

fair for sweets and snacks in the MENA

region. The event took place for the

first time under the new trade fair

umbrella of the "Dubai International

Hospitality Week", with five other

co-located trade shows: GulfHost, The

Speciality Food Festival and SEAFEX

Middle East, organised by Dubai World

Trade Centre (DWTC), as well as The

Hotel Show and The Leisure Show,

organised by dmg events. Exhibitors

and trade visitors thus profited from

expanded access to the growing hospitality

and foodservice market in the

MENA region and were able to open

up attractive new business potential.

The consistently positive market situation

in the region and the partner trade

fair concept also promoted opportunities

for successful business contacts and

initiation of transactions in the hotel industry

and food service sectors, as well

as in the retail business. For the 11th

edition, yummex ME demonstrated its

importance as a central, firmly estab-

78 FOOD TURKEY October 2017
---
lished business platform for sweets and

snacks, and convinced with a high degree

of internationality: 333 exhibitors

from 43 countries presented their new

products and trends to 8,507 trade

visitors from 111 countries. Represented

for the first time were exhibitors

from Argentina, Romania and Switzerland.

The largest national participation

came from Turkey, Germany and

Malaysia. Companies jointly presented

their sweets and snacks offerings for

the region in 18 regional and international

pavilions. "yummex ME 2017

was a complete success. Exhibitors and

trade visitors profited from extensive

access to the retail and hospitality sectors

were able to utilise a variety of

synergies and establish profitable business

contacts. This further increased

the attractiveness of yummex ME as a

leading business platform for all those

involved", emphasises Gerald Böse,

President and Chief Executive Officer

of Koelmesse GmbH. yummex ME

is organised by Koelnmesse and the

Dubai World Trade Centre.

In the context of the "Innovation Corner"

special event, two themes were

focused on during this year's event:

the yummex ME trend partner Innova

Markets Insights presented "Sweet

Trends" - global industry trends - and

underlined their importance for the

MENA region. The yummex Innovation

Awards also presented prize-winning,

innovative new products.

The renowned market research company

presented the top ten global

trends of 2017 for the snacks and

sweets world, as well as their transfer

to the diversified and high- contrast

market in the MENA region. Consumer

trends like growing health consciousness

and the focus on indulgence

were presented on the basis of numerous

new products in the sweets

and snacks market. All of this offered

exhibitors and trade visitors an ideal

overview and numerous approaches

for participating in the success of the

booming sweets and snacks market in

the MENA region. According to studies

of Euromonitor International, the

79
---
growth rate in the segment of sweets

and snacks in the MENA region is

twice as strong as the global average.

Growing regional markets, increasing

incomes and strong consumer behaviour

present the manufacturers of

sweets and snacks with ideal conditions

for successful access to the market and

for exploiting profitable potential. "It's

fantastic, on day one we have almost

achieved our objectives. We met companies

from various countries in the

MENA-region and signed off distributors

for three markets. We go to a

lot of trade shows around the world.

yummex is certainly one of the best

trade fairs we have been to. The show

is very professional and there is a lot

of engagement. We will for sure rejoin

next year", says Eoghan Webb, Head of

Export from Fulfil Nutrition. The trend

overview, with its future-oriented presentation

of innovations in the sweets,

snacks, aromas and additives segments,

was therefore an important starting

point for many exhibitors and trade

visitors.

The "Innovations Awards" for especially

innovative, newly-launched sweets and

snacks products were awarded for the

fourth time in four categories. The increase

in the number of participants

and of submitted products in comparison

to the previous year demonstrates

the growing interest in innovations, the

awards and the benefit of the attractive

additional presentation possibilities that

come with the award. It underlines the

venerable position of yummex ME as

an industry meeting point and provider

of impulses for trends and innovations

in the MENA region. An independent

jury of experts evaluated the many

submissions for the competition from

regional and international companies.

The prizewinners were exhibited at

yummex ME in the "Innovation Corner"

and will also be presented in Cologne

from 28-31 January 2018 at the

ISM, the world's leading trade fair for

sweets and snacks.

First class, handmade ice cream and

confections from an international field

of competitors were distinguished inside

the Gelato and Pastry Lab. The

recreated ice cream parlour and the

confectionery shop attracted many

spectators. Participants in the competition

presented the high art of their

profession in live demonstrations. The

winner of the GELATO CHEF`S Cup,

which took place as part of the Young

Chef`s Hotel Challenge, is Mary Rose

Perez.

The next yummex Middle East takes

place from 16 to 18 September 2018

in Dubai in the context of the Dubai

International Hospitality Week.

80 FOOD TURKEY October 2017
---
To be a pioneer means

to be "Öncü" thanks to

carrying on some traditions

As a result, Acemoğlu family started

the establishment of Öncü brand.

Within a very short time, the family

put its plan into practice and expanded

their business in homemade type

tomato and pepper paste by establishing

a full scale factory in 1998, to

be the very first company to produce

homemade type tomato and pepper

paste in Turkey, following strict hygiene

and safety rules.

Despite the annual increase in the

company's production capacity, and

due to the expanded demand on

Öncü products, the company had to

take a big decision in order to catch

up the growing demand and increasing

tomato and pepper paste market.

Within 3 years, in 2001, the second

Acemoğlu Food factory was established

and put into practice in Tire located

in Izmir. This factory specialized

in homemade type pepper and tomato

paste production.

As a result of the significant increase

in demand on homemade type pep-

82 FOOD TURKEY October 2017
---
Due to the excellent quality paste produced by

Acemoglu, the sales scale started to grow and expand

significantly. Consequently, the demand on paste

produced in the villages of Gaziantep has grown and

increased.

per and tomato paste, the production

capacity had to expand in order to

catch up the increasing demand. So

the company decided to establish another

3rd factory located in Gönen

in Balıkesir city. The factory started its

production in 2006.

With the increase in demand on

homemade type pepper and tomato

paste, the company again decided to

increase the capacity by establishing

the 4th factory in 2010 located in

Torbalı/Izmir. In order to produce high

quality paste, Acemoğlu Food industry

offered the nearby farmers incentives

and supported them to get the highest

quality pepper and tomato to deliver

the wanted and expected high quality

products to consumers. By 2013,

Öncü products includes mild and hot

pepper paste, and tomato paste packaged

in PET, tin, and glass bottles. In

addition, Öncü has variety of products

such as pomegranate sauce as well

as cig kofte, pepper flakes, ketchup,

mayonnaise, roasted eggplant, roasted

pepper. In this way, Öncü widened its

products variety, which consequently

continues to enrich the research and

development studies.

Acemoğlu food industry established

in 1998, had a humble start selling

its products in Gaziantep and its surrounding.

In the same year, after the

significant increase in its capacity, and

within challenging time period, Acemoğlu

food industry started selling in

all over Turkey, and exporting to Europe,

USA, Asia, making Öncü products

to be proudly exported to more

than 20 countries, characterizing itself

as the leading company in its field all

around the world.

Öncü Salça has proudly several awards

including the US Quality Award that

was awarded in 2009, the Consumer

Quality Award which was awarded in

2010, Trustful Brand Award which was

awarded in 2011, and Eurasia Quality

Award, which indeed prove and support

the high quality Öncü Salça own.

83
---
WorldFood Istanbul

opened its doors for

the 25th time!

The WorldFood Istanbul International

Food Products and Technologies Exhibition,

which opened its doors for the

25th time this year, welcomed 13.198

visitors between September 7th and

10th WorldFood Istanbul, with its

broad participation, provided its exhibitors

new business and business development

opportunities and led the

latest developments in the food sector.

WorldFood Istanbul, which is the

"Where the World of Food Meets"

and has pioneered the exhibition of

the latest products, services and technologies

in the Turkish food sector to

this day, provided information on many

different topics to the food sector with

the conference program, which was

84 FOOD TURKEY October 2017

held simultaneously with the exhibition,

showed its exhibitors and visitors

the future of food sector and created

awareness. Expert speakers in the international

arena shared their impressions

and ideas, giving participants a

vivid vision.

Supported by the Turkish Ministry of

Food, Agriculture and Livestock, the

Turkish Ministry of Economy, the Turkish

Federation of Food and Drink Industry

Associations (TGDF), KOSGEB,

TÜGİDER, MARSAP and PAKDER,

WorldFood Istanbul hosted many activities

this year as well.

The Marmara Regional Procurement

Managers Platform (MARSAP), which

has many hotel procurement managers,

took its place at WorldFood

Istanbul. WorldFood Istanbul brought

together the procurement managers

of many hotels with members of the

MARSAP Association, and opened the

doors for new business opportunities.

The Turkish Cooks Association, which

works to promote and enrich the

Turkish cuisine and food culture, made

delicious food shows at WorldFood Istanbul.

The Cooks Association shared

the interesting details and special presentations

of the cooking art with the

visitors by welcoming famous chefs

and cooks throughout the event. At

the stand of the Turkish Cooks Association,

which participated in the event
---
with The International Taste & Quality

Institute - iTQi, the products of the

domestic companies which won the

"Superior Taste Award" were exhibited.

In addition to this, the Superior Tastes

Award Exhibition, which took place at

the stand of the Cooks Association, has

hosted the Turkish firms that won the

Superior Taste award of iTQi, which is

an independent organization consisting

of chiefs and sommeliers. iTQi, operating

in Belgium on testing consumer

foods and beverages from around the

world and introducing the tastiest ones,

also organized a conference entitled

"Superior Taste Award in the World"

in the show area of the Cooks Association.

The shows at the exhibit, which

brought together all the stakeholders

of the food industry, coloured up the

event. Visitors also had the opportunity

to experience new tastes in the

shows. Gastronomy feasts set sail for

new tastes.

New products for the first

time at WorldFood Istanbul

At WorldFood Istanbul, held at TUYAP

Fair and Exhibition Center, while visitors

experienced many products for

the first time, the exhibition took on

an important role with the attendance

of sector-oriented people and wide

exhibitor profile.

85
---
This year, the exhibition had featured a

number of products, including beverages,

milk and dairy products, meat and

poultry products, fresh fruits and vegetables,

seafood, frozen products, basic

foods and oils, sugary products, bakery

products, nuts and food components.

Products, services and technologies

in all processes from food production

to end customers have met under the

roof of WorldFood Istanbul.

WorldFood Istanbul, which hosted

national and international brands, provided

sectoral information flow with

conferences forming platform for new

business opportunities and collaborations.

At the exhibition, which is Turkey's

greatest food gathering, visitors had a

chance to listen to the views of the experts

on topics such as "Turkish Food

Codex Labeling Legislation, Health and

Nutrition Statements", "Food Products

Import Legislation", "Responsible Procurement

= Sustainable Agriculture,

we are responsible for every product

we produce", "Heat monitoring of cold

chain products in storage and transportation,

Indicator labels" and "Turkish

Food and Drink Sector, Consumer and

Trends". Speakers who shared their

comments on the food industry, pointed

out important issues that provide an

insight to the participants.

This year, "International Hosted Buyer

Delegation" from Afghanistan, Azerbaijan,

Bahrain, Belarus, Bosnia and Herzegovina,

Algeria, Ethiopia, Palestine, India,

Iraq, Sweden, Japan, Qatar, Kazakhstan,

Northern Cyprus, Korea, Kosovo, Kuwait,

Libya, Lebanon, Egypt, Uzbekistan,

Pakistan, Rwanda, Sudan, Saudi Arabia,

Taiwan, Jordan, Greece were present.

Retail Center hosted B2B

Meetings

The Retail Center area, where the international

hosted buyer delegation

were hosted and the B2B meetings

were held, enabled different partnerships

with hosted buyer delegation

from Azerbaijan, Kazakhstan, Uzbekistan,

Sudan and the United Arab

86 FOOD TURKEY October 2017

Emirates. Semi Benbanaste, exhibition

spokesman and ITE Turkey Food

Group Director, said: "Turkish food sector

is growing every year. Since the first

day we started organizing WorldFood

Istanbul as ITE Turkey, we are leading

the development of the industry. In this

direction, we aimed to bring together

industry stakeholders, create new business

opportunities and inform visitors

about developments in the food field.

There are billions of dollars worth of

opportunities for exporters in the

Turkish import market. Those who

want to benefit from these advantages

took the opportunity to contact food

and beverage buyers at WorldFood

Istanbul. WorldFood Istanbul provided

a convenient environment for participants

to reach food and beverage professionals,

including distributors, retail

representatives and members of the

HoreCa sector."
---
We starts every day

with a new taste passion!

To offer you more healthy, reliable, tasty chicken products…

Dry Poultry Defeathering, Slaughtering by Hand, Halal Food Criterias,

TSE quality certificates and awards,

all of them is in order to raise your taste satisfaction.

Since 1969…

% 100

Slaughtering By

Hand
---
Quarter-wise increase

in red meat, whereas

yearly output drops

Total red meat production was estimated

as 260 683 tones in the

second quarter as announced in

the TURKSTAT release. Red meat

production increased by 12.2% according

to the previous period, it

decreased by 3.4% when compared

with the same period of last year.

In total red meat production, the

amount produced by slaughterhouses

was 140 093 thousand tones.

While cattle meat production increased

by 10.3% according to the

previous quarter with an estimated

as 229,227 tones, it decreased by

5.6% when compared with the same

quarter of last year. Thanks to an estimated

22,276 tones of production,

sheep meat increased by 19.3%

according to the previous quarter,

whereas it decreased 2.1% when

compared with the same quarter of

last year stated by recently released

TURKSTAT statistics.

88 FOOD TURKEY October 2017
---
A taste of honey by

Balparmak

With his education behind him, Özen

Altıparmak now needed to give direction

to his future, yet he still remained

undecided as to how he would establish

his business life.

This is not just the story of Balparmak,

but also the story of the Turkish Honey

Sector and the two brothers who

brought the sector's leading and distinguished

brand, Balparmak, to life. The

exemplary story began as a modest

enterprise in Istanbul, and within a few

years became known all over Turkey.

Now the whole world is starting to

hear and talk about it.

Özen Altıparmak, the founder of Altıparmak

Gıda Sanayi ve Ticaret A.Ş., is

one of the two brothers who created

the Balparmak brand. He graduated

from the Turkish Education Association's

(TED) Ankara College in 1971,

and in 1978 completed his education

at Middle East Technical University's

Department of Administrative Sciences.

His independent and enterprising spirit

on the one hand compelled him to

start his own business, but on the other

hand, conditions necessitated that

he immediately find a job and start

working.

He took the employee entrance exam

of Öğretmenler Bank, which was one

of the biggest and most important

banks at the time. He passed the test,

and was offered a position on the permanent

supervisory staff, but with the

five-year mandatory service condition...

Free spirit? Entrepreneurship? These

qualities of Özen Altıparmak did not

mesh well with this stipulation so he

declined the job.

He moved to Istanbul, which he thought

was an opportune location to start his

own business. There, he embarked on

his professional work life while working

90 FOOD TURKEY October 2017
---
on business projects. He worked at a

variety of jobs.

His last job was in the marketing

department of a spice production

and sales company. His success there

turned out to be, in a sense, one of the

most important factors in bringing him

and Balparmak brand, to where they

are today.

The management at the spice firm

advised Özen Altıparmak to found a

marketing and distribution company to

handle the Istanbul distribution of their

products.

The opportunity he had been waiting

for had arrived. He accepted. He

founded Altıparmak Pazarlama Unlimited

with his father, Sabri Altıparmak, and

his brother, Özgür Altıparmak.

Özgür Altıparmak, who was born in

Ankara in 1958, is now the Vice Chairman

at Altıparmak Gıda Sanayi ve Ticaret

A.Ş. He manages analysis, product

blending, and the filling facility.

Özgür Altıparmak, who graduated

from Gazi University's Press Academy

in 1983, entered business life while

he was still a university student. He

became a founding partner with his

brother Özen Altıparmak, with whom

he shared the same entrepreneurial

spirit and vision.

Before long, the company undertook

the marketing, selling and distribution

of a great many food products, which

was in line with the two brothers' common

vision and goal, and became successful

at it.

One of these products was the specialty

of a close acquaintance of their

father: mankind's natural, millennia-old

friend and food, honey.

As with every product, the selling and

marketing of honey also requires the

seller to know it very well. And to be

acquainted with honey, to intimately

know its qualities, its place in people's

lives, its laborious production, its burdened

producers, presented the Altıparmak

brothers with a brand new

horizon. Their future lay in honey, in the

honey sector.

In those years, apiculture in Turkey was

just beginning to develop, and scientific

methods were seldom used in honey

production. There was no brand of

honey that was widely distributed, preferred,

or even known to consumers.

Because of this, the honey sector was

an open field with a wide horizon and

lots of work to be done. The Altıparmak

brothers had the foresight and vision

to notice this situation.

Özen Altıparmak and Özgür Altıparmak

saw that it was possible to develop

apiculture, which was one of

Turkey's most prized lines of work, by

putting a well-deserved premium on

honey, which is one of Turkey's most

valuable resources. With this foresight,

they decided to inextricably fuse the

future of their company, Altıparmak,

with the future of beekeeping and the

honey sector.

They would collect the choicest honey

from the best regions in Turkey, and

present it to consumers packaged in

the safest and most hygienic way. Their

long-term goal was to create a world

brand from Turkey's best honey.

91
---
They gave it a name:

Balparmak.

The next step consisted of directing

the process primarily through a consumer-oriented

perspective that employed

scientific methods and accurate

solutions. This was accomplished

through decisiveness and patience by

an excellent team of personnel that

took consumer needs and demands

into consideration, and carried out a

meticulous analysis of market conditions

without sacrificing the principles

of quality and management.

Balparmak came on the market under

the Altıparmak umbrella and in 1989

became the top selling honey brand in

Turkey. Altıparmak Gıda Sanayi ve Ticaret

A.Ş. assumed market leadership in

1991 and maintains that position today.

Under the title Altıparmak Gıda San.

ve Tic. A.Ş., the Turkish honey sector's

leading corporation ranks among Europe's

largest honey producers with its

annual operational capacity of 32,000

tons, over 350 employees, and 30,000

m2 of facilities.

Balparmak differentiates itself through

the standard of quality that it delivers to

consumers, making it the leader of the

industry. When it comes to food safety,

the company operates in accordance

with international standards, holding a

FSSC 22000 food safety management

system certificate as well as the BRC

(British Retail Consortium) global food

standard certificate, among others.

The Balparmak Analysis Laboratory

(APİLAB) ranks among Europe's four

most comprehensive honey-specialist

laboratories and is the only lab of

its kind in Turkey. The laboratory can

analyze honeys gathered from every

region in Turkey on 122 different parameters.

With steady and decisive steps, Balparmak

is forging ahead on the path to

becoming a world brand.

92 FOOD TURKEY October 2017
---
Crop & cereals production

estimated to increase in 2017

Increase was expected in the production

of cereals and other crops, fruits

in the first estimation of 2017 with

rates of 4.4% and 9.7% when compared

with the previous year, TURK-

STAT announced in a latest release.

Production quantities of cereals and

other crops, vegetables, fruits in 2017

were predicted approximately as follows;

68.2 million tonnes for cereals

and other crops, 30.3 million tonnes

for vegetables, 20.8 million tonnes for

fruits.

It was estimated that in 2017, cereals

production would increase with

a rate of 4.4% when compared with

the previous year and approximately

become 36.8 million tonnes.

It was foreseen that wheat production

will increase by 5.8% to become

21.8 million tonnes, barley production

will increase by 11.9% and become

7.5 million tonnes, rye production will

increase by 6.7% and become 320

thousand tonnes, oats production will

increase by 11.1% and become 250

thousand tonnes, when compared

with the previous year.

In the pulses group, it was expected

that an increase will occur in broad

beans to consume by 10.7% and

production approximately become

7 thousand tonnes, red lentil will increase

by 7.2% and become 370

thousand tonnes, potatoes will increase

by 0.6%, one of tuber crops,

and approximately become 4.8 million

tonnes.

In the group of oil seeds, it was expected

that soybean production

94 FOOD TURKEY October 2017
---
would decrease by 9.1% and become

150 thousand tonnes.

It was estimated that tobacco production

will be 70 thousand tonnes with

invariably, while sugar beets production

will increase by 4.5% and approximately

become 20.5 million tonnes.

Vegetable production would

be stable, whereas the fruit

production estimated to elevate

It was estimated that vegetables production

would be no significant change

in 2017 compared with the previous

year, also stated in the TURKSTAT forecasts.

Vegetables production in 2017 was estimated

to be approximately 30.3 million

tonnes with no significant change

when compared with the previous year.

When examining production of subgroups

of vegetables, root and tuberous

vegetables production was expected

to decrease by 0.8%, and other

vegetables not elsewhere classified was

expected to increase with the rate of

0.4%.

The production of some important

crops in vegetables; increments were

expected in watermelon production

by 3.3%, in pepper for processed, capia,

by 12.1%, in carrots by 2.4% respectively,

while decrements were expected as

1.6% in tomatoes, 2.8% in dry onion,

1.2% in melon.

It was estimated that fruits production

will be 20.8 million tonnes in 2017 increasing

by 9.7% when compared with

the previous year.

When examining productions of some

important fruits, it was estimated that

there is increase in apple figures with

the rate of 17.5%, in peaches by 6.3%,

in cherries by 7%, in apricots production

with the rate of 34.9% respectively,

while decrements were expected in

grape fruits by 13.5%, when compared

with the previous year.

In the citrus group, an increase was

expected in mandarin production by

14.2%. From nuts, pistachios production

is expected to decrease by 50%.

It was estimated that grape production

will increase by 7.5%, and bananas production

will increase by 3.9%.

95
---
Russia to

import Turkish

tomatoes

in certain

periods

Russia has decided to buy tomatoes

from Turkey at certain times and three

companies that meet the requirements

will initially export them to the country.

The green light was finally given

regarding the embargo that Russia had

applied on Turkish tomatoes. Russia decided

to import tomatoes from Turkey

at certain periods which the product is

not grown by its own producers and it

will additionally import other products

such as tomato paste from Turkey.

According to the decision taken after

the contacts of Russian officials in

Turkey, three companies that fulfill the

technical requirements will initially export

Turkish tomatoes to the country.

According to the decision taken after

the technical contacts of Russian officials

96 FOOD TURKEY October 2017

Turkey, which produces 70 percent of

tomato exports to Russia, faced a Russian

embargo after the jet downing crisis

between the two countries. Russia,

which launched an economic embargo

on Turkey as of January 1, 2016. The imposed

import sanctions on many Turkish

products such as tomato, orange,

apple, apricot, broccoli, mandarin, pear,

chicken and turkey, were later lifted after

normalization talks began, with the

exception of tomatoes. Turkey, therefore,

intensified efforts to solve the crisis

surrounding the crucial exports of

tomatoes.

The Turkish delegation that engaged in

talks with the Russian delegation that

came to Turkey, proposed to pave the

way for exporting in the seasons when

Russia cannot produce tomatoes.

It was reported that Russians also

leaned toward this proposal. According

to the decision made after technical

talks with Russian officials, three Turkish

companies that meet the technical requirements

will be the first to engage

in exports with Russia. These three

companies will be selected from those

which have exported to Russia before.

The export permit covers the entire

year except for a few months when

Russia can plant tomatoes. The permit

is expected to take effect within a few

months. Samples will be taken from

Turkish tomatoes with the mechanism

to be set up and then, tomatoes that

meet the required conditions will be

exported without any bottleneck in

customs.

Thus, problems associated with pesticides

are expected to be avoided. With

the said mechanism, there will also be

no customs duties arising from the inspection

with regards to the exports

of tomatoes.

With the new system, the Russian

farmers who started to produce tomatoes

in the greenhouses after the crisis,

will not be victimized either. Russia's tomato

needs will be primarily met from

the domestic producers. Especially, the
---
greenhouses in the southern part of

the country are said to be working efficiently.

Russia estimates that the tomato prices

in the market will also drop as a result

of renewed visa exports of tomatoes

from Turkey. In 2014, Turkey exported

$508 million in tomatoes and cucumbers

to Russia, while prior to the

embargo, 43 percent of the tomatoes

consumed in Russia came from Turkey.

Following the ban by the Russian government,

Turkey's exports of tomatoes

increased by 500 percent to Belarus,

200 percent to Poland, 200 percent to

Azerbaijan and 130 percent to Nakhichevan.

In addition, producers and exporters,

regarding an increase in the tomato

exports to countries neighboring

Russia, said they are buying tomatoes

from them and selling the product to

Russia.

and a very minor reduction value compared

to the 2013 quarter.

The official data also demonstrated

that Turkey's fresh tomato exports in

2014 were valued at $426 million while

$275 million of this amount came from

exports to Russia, which signifies that

Russia alone constituted 65 percent of

the Turkey's fresh tomato exports.

According to the Turkish Exporters'

Assembly data from May, Turkey's fresh

fruit and vegetable exports to Russia

increased by 503.7 percent in May and

reached $2.12 billion.

Indicating that the price of selling tomatoes

to Russia before the crisis was

around TL 4-5 ($1.14-1.42), Turkey's

Greenhouse Investors' and Manufacturers'

Association (SERA BİR) Chairman

Müslüm Yılmaz previously noted,

"After the crisis, the tomato price in

Russia was TL 13 ($4). Russian citizens

consume tomatoes at a price that is

three times higher that amount."

In the January-April period of 2016,

Turkey exported 227,619 tons of tomatoes

valued at $120 million. In the

same period this year, 267,482 million

tons were exported and the value of

these exports was $161 million. Officials

stated that Turkey's tomato exports

increased by 18 percent compared

to the previous year, saying there

was a value-based increase of 34 percent.

They also said that tomatoes are

entering the Russian market.

Moreover, during the third quarter of

2014, tomato exports to Russia increased

by 89 percent in volume and

96 percent in revenue compared with

the same quarter of 2013, official data

revealed. The fourth quarter of 2014

saw a 2 percent increase in volume

97
---
www.beypilic.com.tr