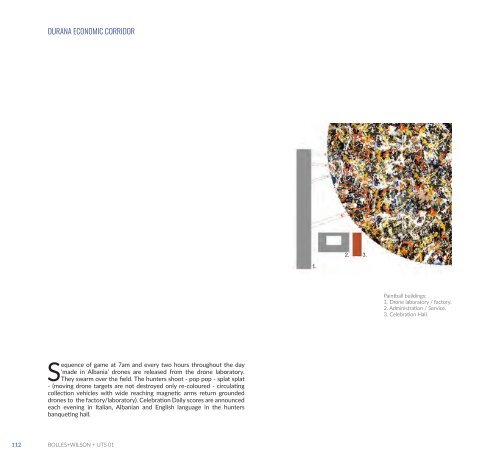 Durana Corridor
The competition for Tirana-Durres corridor stems from the need to improve the urban condition of the area along the corridor. It is one of main circulation axis of Albania that connects the two biggest cities in the country and again connects them both to the airport. It has become an economic corridor that brings large revenue to the country. It cuts through many small cities and in this perspective the whole country is the beneficiary, while the communities along the corridor will be direct beneficiaries. From an organizational perspective the competition slices the Tirana -Durres corridor into three segments/ lots: the area which connects Tirana to the metropolitan highway, the area which connects Durres to the metropolitan highway, and the city of Vora which is split in half by the metropolitan highway.
DURANA ECONOMIC CORRIDOR

2.

3.

1.

Paintball buildings:

1. Drone laboratory / factory.

2. Administration / Service.

3. Celebration Hall.

S

equence of game at 7am and every two hours throughout the day

'made in Albania' drones are released from the drone laboratory.

They swarm over the field. The hunters shoot - pop pop - splat splat

- (moving drone targets are not destroyed only re-coloured - circulating

collection vehicles with wide reaching magnetic arms return grounded

drones to the factory/laboratory). Celebration Daily scores are announced

each evening in Italian, Albanian and English language in the hunters

banqueting hall.

112

Bolles+Wilson + UTS 01
More magazines by this user