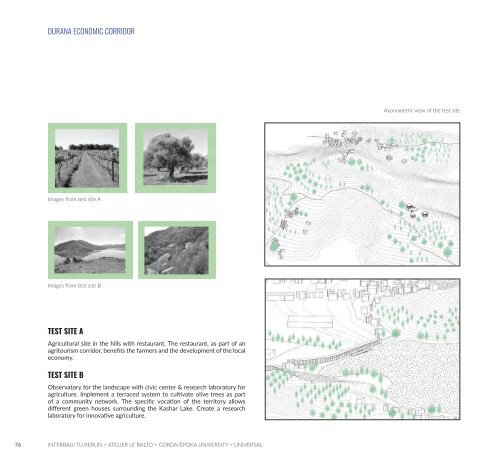 Durana Corridor
The competition for Tirana-Durres corridor stems from the need to improve the urban condition of the area along the corridor. It is one of main circulation axis of Albania that connects the two biggest cities in the country and again connects them both to the airport. It has become an economic corridor that brings large revenue to the country. It cuts through many small cities and in this perspective the whole country is the beneficiary, while the communities along the corridor will be direct beneficiaries. From an organizational perspective the competition slices the Tirana -Durres corridor into three segments/ lots: the area which connects Tirana to the metropolitan highway, the area which connects Durres to the metropolitan highway, and the city of Vora which is split in half by the metropolitan highway.
DURANA ECONOMIC CORRIDOR

Axonometric view of the test site

Images from test site A

Images from test site B

TEST SITE a

Agricultural site in the hills with restaurant. The restaurant, as part of an

agritourism corridor, benefits the farmers and the development of the local

economy.

TEST SITE B

Observatory for the landscape with civic center & research laboratory for

agriculture. Implement a terraced system to cultivate olive trees as part

of a community network. The specific vocation of the territory allows

different green houses surrounding the Kashar Lake. Create a research

laboratory for innovative agriculture.

76

InterBAU/Tu Berlin + Atelier Le Balto + Corda/Epoka University + Universal
More magazines by this user