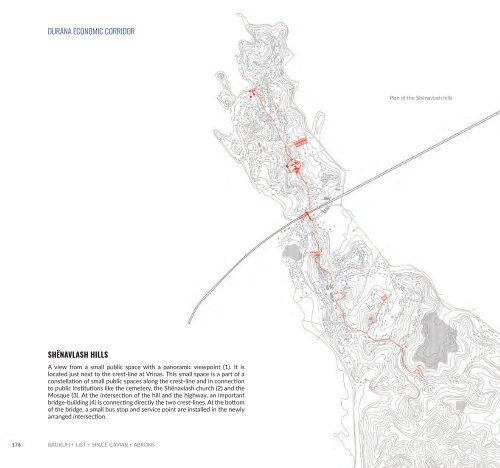 Durana Corridor
The competition for Tirana-Durres corridor stems from the need to improve the urban condition of the area along the corridor. It is one of main circulation axis of Albania that connects the two biggest cities in the country and again connects them both to the airport. It has become an economic corridor that brings large revenue to the country. It cuts through many small cities and in this perspective the whole country is the beneficiary, while the communities along the corridor will be direct beneficiaries. From an organizational perspective the competition slices the Tirana -Durres corridor into three segments/ lots: the area which connects Tirana to the metropolitan highway, the area which connects Durres to the metropolitan highway, and the city of Vora which is split in half by the metropolitan highway.
DURANA ECONOMIC CORRIDOR

Plan of the Shënavlash hills

Shënavlash hills

A view from a small public space with a panoramic viewpoint (1). It is

located just next to the crest-line at Vrinas. This small space is a part of a

constellation of small public spaces along the crest-line and in connection

to public institutions like the cemetery, the Shënavlash church (2) and the

Mosque (3). At the intersection of the hill and the highway, an important

bridge-building (4) is connecting directly the two crest-lines. At the bottom

of the bridge, a small bus stop and service point are installed in the newly

arranged intersection.

176

Baukuh + List + Space Caviar + Abkons
More magazines by this user