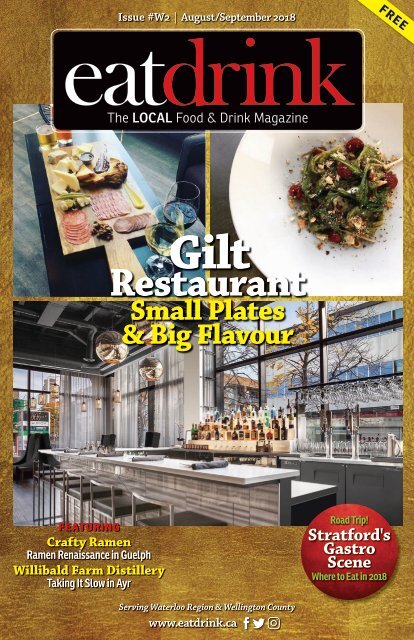 Eatdrink Waterloo & Wellington #2 August/September 2018
Local food and drink magazine serving Waterloo Region and Wellington County.
Local food and drink magazine serving Waterloo Region and Wellington County.
SHOW MORE
SHOW LESS
You also want an ePaper? Increase the reach of your titles
YUMPU automatically turns print PDFs into web optimized ePapers that Google loves.
Issue #W2 | August/September 2018

eatdrink

The LOCAL Food & Drink Magazine

FREE

Gilt

Restaurant

Small Plates

& Big Flavour

FEATURING

Crafty Ramen

Ramen Renaissance in Guelph

Willibald Farm Distillery

Taking It Slow in Ayr

Road Trip!

Stratford's

Gastro

Scene

Where to Eat in 2018

Serving Waterloo Region & Wellington County

www.eatdrink.ca
---
2 |August/September 2018

eatdrink.ca |@eatdrinkmag

THE BACON AND ALE TRAIL

IS A WELL ROUNDED MEAL

IF YOU COUNT BARLEY

AS A VEGETABLE

Bacon and ale are a combination made in heaven,

includes 5 tastes for just $30.

-

Stratford Tourism Alliance at 47 Downie Street.

visitstratford.ca
---
eatdrink

The LOCAL Food & Drink Magazine

eatdrinkmagazine

@eatdrinkmag

eatdrinkmag

eatdrink.ca

Think Global. Read Local.

Publisher

Chris McDonell – chris@eatdrink.ca

Managing Editor Cecilia Buy – cbuy@eatdrink.ca

Food Editor Bryan Lavery – bryan@eatdrink.ca

Editorial Consultant Andrew Coppolino

Copy Editor Kym Wolfe

Social Media Editor Bryan Lavery – bryan@eatdrink.ca

Advertising Sales Chris McDonell – chris@eatdrink.ca

Bryan Lavery – bryan@eatdrink.ca

Stacey McDonald – stacey@eatdrink.ca

Terry Lynn "TL" Sim – TL@eatdrink.ca

Finances

Ann Cormier – finance@eatdrink.ca

Graphics

Chris McDonell, Cecilia Buy

Writers

Jane Antoniak, Darin Cook, Andrew

Coppolino, Gary Killops, Bryan Lavery,

George Macke, Tracy Turlin

Photographers Steve Grimes, Nick Lavery, Brogan McNabb

Telephone & Fax 519-434-8349

Mailing Address 525 Huron Street, London ON N5Y 4J6

Website

City Media

Printing

Sportswood Printing

OUR COVER

An array of images helps capture some of the

myriad urbane

appeals of Gilt

Restaurant

in Downtown

Kitchener. The

ambiance,

the cuisine,

the location

... Read the

story by Bryan

Lavery on

page 6.

© 2018 Eatdrink Inc. and the writers.

All rights reserved.

Reproduction or duplication of any material published in

Eatdrink or on Eatdrink.ca is strictly prohibited without

the written permis sion of the Publisher. Eatdrink has a printed

circulation of 20,000 issues published six times annually. The

views or opinions expressed in the information, content and/

or advertisements published in Eatdrink or online are solely

those of the author(s) and do not necessarily represent those of

the Publisher. The Publisher welcomes submissions but accepts no

responsibility for unsolicited material.

Serving up

Great

partnerships

commercial | digital | wide format | design

Let us help with your next project...

519.866.5558 | ben@sportswood.on.ca

www.sportswood.on.ca
---
Contents

Issue #W2 | August/September 2018

Publisher's Notes

Spreading the Word

Let's Communicate!!

By CHRIS McDONELL

5

6

Spirits

Taking it Slow

Willibald Farm Distillery

By ANDREW COPPOLINO

38

Restaurants

Small Plates & Big Flavours

Gilt Restaurant in Kitchener

By BRYAN LAVERY

6

Ramen Renaissance

Crafty Ramen in Guelph

By ANDREW COPPOLINO

10

Road Trips

Stratford's Gastro Scene

Where to Eat in 2018

By BRYAN LAVERY

14

The BUZZ

Culinary Community Notes

22

Spotlight

A Taste of Place

Taste Detours in Guelph

40

Two Books on

Eating Insects!

By BRYAN LAVERY

28

10

42

33

14

38

Beer

Twelve Temptations

Local Craft Beers for Summer

By GEORGE MACKE

33

Wine

Finding "Somewhereness"

Terroir In a Glass of Wine

By GARY KILLOPS

37

Books

Rustle Up Some Grubs

Edible and Eat The Beetles!

Reviews by DARIN COOK

40

Recipes

Firehouse Chef

Recipes from Canada's Firefighters

Review & Recipe Selections by TRACY TURLIN

42

The Lighter Side

Give Peas a Chance

By DARIN COOK

46

46
---
Eatdrink: The Local Food & Drink Magazine

Publisher's Notes

Spreading the Word

Let's Communicate!

By CHRIS McDONELL

August/September 2018 | 5

Thank you for the warm welcome we

have enjoyed in Waterloo Region

& Wellington County! This is only

our second issue here, so we're

definitely the new kid on the block, but what

a friendly neighbourhood we have moved

into. We've been adding new distribution

points for our print editions every week, at

select locations where we think we're likely

to find readers who will

enjoy and appreciate our

presentation of local food

and drink stories. We do our best to keep

that list updated on our website (eatdrink.

ca/find-us). Of course, the magazine is also

always available online, in full, for those who

prefer that. The magazine scales beautifully

to your device — smartphone, tablet or

computer — and we encourage you to follow

us on Facebook, Twitter or Instagram, or all

three! Your feedback is always appreciated.

In this issue, we're excited to tell the stories

of two very different restaurants. Bryan

Lavery visited Gilt Restaurant in Downtown

Kitchener for Eatdrink, while Andrew

Coppolino checked out Guelph's Crafty

Ramen. We know that "all that glitters is not

gold," but Bryan discovered that Gilt is truly

golden, while Andrew found out that "craft"

is definitely an apt descriptor for the food at

Crafty Ramen. Our approach at Eatdrink is to

only write about businesses that we like, and

we're confident you will share our enthusiasm.

Andrew also drove out to Ayr on the

magazine's behalf to visit the innovative folks

at Willibald Farm Distillery. Fortunately for

consumers (us drinkers), the province of

Ontario is removing some of the obstacles

that have made the craft distillery business

so challenging. Read on to see how cool

agriculture can be.

Bryan took a road trip to Stratford. In

truth, he took a number of trips, and you'll

see his recommendations on where to eat and

eatdrink.ca

drink in"Festival City." The theatre is world

class, but so is Stratford's culinary scene.

I know full well how much Bryan labours

for this magazine, but it's also hard not to

feel a little envy at times. An exploratory trip

he took to Guelph with our sales rep TL Sim

turned into such a treat that we found room

to feature it in a short "Spotlight" story. Read

about Taste Detours on page 28.

Our cookbook reviewer

Tracy Turlin spent some

quality time with Canada's

firefighters, but only through the pages of

Firehouse Chef by Patrick Mathieu. Patrick

is a firefighter with the Waterloo Fire

Department and we've been looking forward

to featuring his book for awhile. Bonus: we

got permission to share three recipes and

you'll find them all here.

There's plenty more in this issue, with

reviews of a couple of unusual (perhaps

unsettling for some) books on eating insects.

I do not envision many readers muttering

"Yum" at this thought! But there is definitely

food for thought there.

I will close here with a plug for our "Buzz"

column, which is our summary of the culinary

news that we know our readers devour. We

encourage local chefs, restaurateurs, managers

— and readers — to send us info. While

we've always got our ears to the ground, the

area we cover is so large and there is so much

happening that we truly need assistance with

this. There is no charge to be included here

and we strive to include as much news as

possible. In addition to sharing this info in the

magazine, we often also share it through our

social media channels. Contact info is at the

end of the Buzz column. We look forward to

hearing from you.

CHRIS McDONELL founded Eatdrink in 2007.
---
6 |August/September 2018

eatdrink.ca |@eatdrinkmag

Restaurants

Small Plates and Big Flavours

Gilt Restaurant in Downtown Kitchener

By BRYAN LAVERY

The culinary scene in Kitchener-

Waterloo is being nourished by the

community, including from the

thriving tech industry (from indie

startups to international goliaths), global think

tanks, condo developments and downtown

Kitchener's pedestrian-friendly urban vibe

and entrepreneurial spirit. The new LRT line

is helping to transform the region by creating

better access to Downtown Kitchener and

Uptown Waterloo. Initiatives launched by the

City of Kitchener to galvanize the downtown

core are making an impact. New lighting was

added to the streets, sidewalks were enlarged,

and curbs were

lowered. Planned

developments are

exploring ways to

bring more retail and

restaurants to the

streetscape.

Downtown

Kitchener exemplifies

a new urban identity,

with arts, culture,

recreation and

commercial spaces

that underpin an

excellent quality of life and well-being.

Anchored by Kitchener Market, this

district is home to one of the region's

most interesting cluster of culturally

diverse restaurants and eateries. Venture

along King and Queen Streets to explore

independent, locally owned shops,

Gilt is urbane, open, airy and sophisticated, with

lofty ceilings and a stylish and comfortable

industrial ambiance. The 65-seat restaurant is

located on the main floor of an office tower.
---
Eatdrink: The Local Food & Drink Magazine

August/September 2018 | 7

attractive cafés, pubs and great restos like TWH

Social Club, La Cucina, The Rich Uncle, B at the

Museum and Gilt Restaurant. The influx — and

growth — of technology firms in Kitchener's

downtown have changed the area and the restaurant

scene continues to morph to better serve not only

the millennial crowd and the tech community but

the increased foot traffic and energy that seasonal

events bring to the core.

Trella White and Stephanie Randall, both in

their late twenties, grew up in Cambridge, Ontario,

attending the same high school. Being roommates

throughout university and friends since high school,

they graduated from Wilfrid Laurier University with

Bachelors of Business Administration. White and

her mother (Starr) opened the much-lauded farmto-table

inspired Cork Restaurant in Elora in 2010.

After university, Stephanie joined them as a partner

and took over the kitchen operations.

Stephanie has a passion for the kitchen and quickly

became an accomplished and creative cook under the

chef at Cork. In relatively short order, she assumed

the lead in the kitchen and along the way transformed

into a professional, self-taught chef. Randall and

White operated Cork for several years before they

decided to expand their business interests. They

set their sights on Kitchener-Waterloo, ultimately

choosing their current location for their new

restaurant. "Downtown Kitchener stood out to us, as

it is a vibrant, creative, technology-driven community

and we knew we had to be a part of it," says White.

"We didn't want to be followers, we wanted to be

leaders. When we moved to downtown Kitchener

there weren't any restaurants doing anything

remotely similar to what we wanted to do. There was

no one here downtown and we changed and innovated

as the tech sector grew, evolving both the restaurant

and catering business."

Gilt opened in September of 2014, a contemporary

tapas restaurant with a millennial vibe in a

re-purposed space in the heart of the technology

triangle. The bar, lounge and 65-seat restaurant on the

main floor of the office tower at 305 King Street West

can also boast an elevated patio for alfresco eating and

drinking. Gilt is urbane, open, airy and sophisticated,

with lofty ceilings and a stylish and comfortable

industrial ambiance. The music is upbeat.

Gilt is about sharing, feasting, authenticity, quality

ingredients and celebrating craft, innovation and

From the top: Korean Fried Chicken (KFC) with honey bourbon and

hoisin served with golden-brown potato puffs;

Hot quail with grilled jalapeño cornbread, dill pickled, buttermilk

aioli & Tennessee hot oil;

Beef Tartar with yolk, toasted nori powder, ginger, soy, bird's eye

chillies, peanuts & cilantro, served with potato chips.
---
8 |August/September 2018

eatdrink.ca |@eatdrinkmag

From the top: Ramp Tortellini with hibiscussoaked

raspberries, smoked Gorgonzola,

toasted hazelnuts & grilled mushrooms;

Paella with saffron rice, Argentinian pink

shrimp, littleneck clams & cornmealcrusted

basa fish;

Yellowfin Tuna Nachos;

Right, from the top: Pickled Mussels with

grilled broccoli, charred sweet potato

challah bread & avocado yogurt;

Pina colada Thai pancake;

Grilled Shrimp with smashed potatoes, hard

boiled egg, sweet pickled rhubarb & arugula;

Beef tatami with watermelon radish, fresh

chilis, tomatoes, sesame and pickled radish.

tradition. Chef de cuisine Alex

Janke has been at Gilt since the

beginning. Randall and White

tend to focus on the catering

end of the business. The culinary

team share innate instincts when

it comes to flavours, marrying

global ingredients and enriching

dishes by taking them to other

contemporary dimensions. In

speaking with Janke, I learned

that he has been cooking for a

decade and attended the Culinary

Management program at Niagara

College. His repertoire includes

a variety of cuisine ranging from

Thai and Indian to French and

Mexican. "My favourite flavour

profiles are Thai and Mexican

combined with local ingredients,"

says Janke. "For me, keeping

ingredients as local as possible is

essential if we would like to keep

our farmers and businesses in

Southern Ontario prosperous."

As for Janke's favourite places

in K-W, "I'd have to say Arabella

Park Beer Bar if I'm going for a

quick bite to eat and drink, and

Red House is, in my

opinion, one of the best

restaurants in Waterloo."

Dinner service

focuses on a well-chosen

selection of smaller

tapas-style offerings

divided into categories:

Fish, Meat and Vegetarian.

This menu style

proves to be infinitely

versatile, giving diners

the opportunity to

curate their own tasting

experience, rather than

offering individual starters

and main courses.

Shareable plates allow

diners to eat communally

and sample a variety of

items. Dishes are brought

to the table gradually

and continuously throughout the meal by conversant,

friendly service professionals.

The sharing and small plates menu appeal to the

sophisticated, global palate, with culturally-grounded

contemporary offerings like Middle Eastern-inspired
---
Eatdrink: The Local Food & Drink Magazine

fried cauliflower florets with citrus aioli,

chives, pomegranate, and pine nuts or baconwrapped

dates with chorizo, which are rich,

dense and sweet. Korean Fried Chicken (KFC)

with honey bourbon and hoisin has a super

crunchy kick and is served with golden-brown

potato puffs. Yellowfin tuna nachos are served

with mustard emulsion and a tangy lime aioli,

with a soy reduction and crispy taro root

chips. Brussels sprouts "Caesar" is prepared

with fried caper popcorn, hard Spanish

Manchego, orange wedges and blue cheese.

The menu features an astonishingly

delectable Beef Tartar with yolk, toasted

nori powder, ginger, soy, bird's eye chillies,

peanuts and cilantro and served with potato

chips. Try the Curried Oxtail with dukkhaseasoned

(Egyptian spice blend) sweet potato

gnocchi, candied ginger cream, parsnip chips

and curried tomato butter or Lamb Neck

Fries with hand-cut skinny fries, tamarind

raita, tandoori salsa, feta cheese and aromatic

Rogan Josh gravy.

Sharing plates and appetizers have

become the contemporary entrée, with

tapas, cicchetti, meze, and other small tastes

popping up on menus. Call it the era of the

curated tasting menu, or cloud nine, for those

diners who want to nosh on it all. Expect to

order too much, and finish it all anyway.

I asked White about why the restaurant is

named Gilt. She explained how they loved the

many iterations of the meaning of the word

and how they applied to the restaurant: gilt as

in "covered thinly with gold leaf or gold paint"

(the restaurant has gold throughout it); as a

homonym implying "all things guilty" (guilty

pleasures); a female baby pig (pork being a

staple and base of their cooking) and as a

synonym for premium.

Expect pleasant surprises.

Gilt Restaurant

305 King Street West, Kitchener

giltrestaurant.ca

519-954-6100

sunday to wednesday 11:30 am–10:00 pm

thursday to saturday 11:30 am–late

Eatdrink Food Editor and Writer at Large, BRYAN

LAVERY brings years of experience in the restaurant

and hospitality industry, as a chef, restaurateur and

consultant. Always on the lookout for the stories that

Eatdrink should be telling, he helps shape the magazine

both under his byline and behind the scenes.

Sample delicious local eats,

meet inspiring producers and

marvel at the tempting array

of fresh and artisanal edibles.

From farm to table, pork to pies

to pints, discover more

in Perth County!

restaurants

farm gates

food shops

Find us, follow us!

#DiscoverMore #PerthCounty

@PerthCoTourism

perthcountytourism.ca
---
10 |August/September 2018

Restaurants

Ramen Renaissance

Crafty Ramen in Guelph

eatdrink.ca |@eatdrinkmag

By ANDREW COPPOLINO

The idea of ramen has captured the popular

culinary imagination. But the Japanese bowl

of noodles, meats, vegetables and a soulsoothing

broth isn't as widely available in

Waterloo Region and Wellington County as is, say, pho,

the Vietnamese soup. Unless you consider the throngs

of soup-slurpers who descend on tiny Crafty Ramen in

downtown Guelph.

The Macdonell Street restaurant, a diminutive 500

square-foot space of repurposed workshop benches and

old school floors, conjures images of the joints that the

late Anthony Bourdain trekked to in his explorations

of food and its cultural and sociological idiosyncrasies.

The noodle shop is first-to-market in Guelph, and many

other places nearby, too. Ten or so stools and a few

tables — only 26 seats — provide for about 130 people

a day. "The busiest day was about 280 bowls," says

co-owner Jared Ferrall. "It's hotter weather now and

the students are gone, but we still do good numbers."

Summer heat has prompted the appearance of four

new cold bowls on the menu: a classic Hiyashi Chuka,

a summer broth popular throughout Japan, and three

Mazemen ramen of yuzu chicken, vegan sesame, and

pulled pork with onsen tamago (soft-cooked egg). "We

are making a different thicker noodle for these, that has

more chew to it," says Jared.

Crafty Ramen opened in February 2017. The

restaurant is the culmination of the efforts of an

industrious pair: Jared and Miki Ferrall. The couple

met in Vancouver. Jared, originally from England,
---
Eatdrink: The Local Food & Drink Magazine

was doing his apprenticeship and Miki, from

Iwate in northern Japan, and who had got

her first job in a ramen shop at age 16, was

working. "She was learning English, and I was

doing my Red Seal," Jared says. Since then,

they've travelled the world. They spent four

years exploring the food in Japan: Jared did

some time in Ramsay and Ducasse kitchens

in Tokyo; they both attended Yamato Ramen

School. Having absorbed Japan and toyed

with the idea (coming very close to sealing

the deal) of opening a food catering van in

Tokyo, they ended up in Guelph, where they

share responsibilities for operating Crafty

Ramen. The name has a whimsical quality,

Jared acknowledges. "It just seemed to fit. We

wanted to stay playful but highlight that what

we do is crafted."

Crafty is simple too, he adds. "People come

in, order, pay, sit down, eat, and leave." That's

part and parcel of the rogue element in the

sociology of ramen shops. "While there's a lot

of ramen in the Toronto area, there is nothing

like this here… We're in the tradition of a

true ramen shop that's innovative and chefdriven.

Each wants to use the ingredients of

the particular region. Actually, it's the rogues

of society in Japan that open up ramen shops.

Everyone wants to do it their own way and

has their own secret ingredients. That's our

style too. We don't have seafood, for instance,

and we use local producers for meats and

vegetables. That's our way." Certainly driven

by local ingredients, Crafty is no-frills,

allowing staff to focus on food prep rather

than running dishes to tables. You order up

front and sit at a stool, and, actually, the space

is larger than restaurants in Japan, says Jared.

"There, you basically walk into a vending

machine to buy a ticket."

The noodles you're eating at Crafty come

from a clunky-looking noodle machine

imported from Shinagawa, Tokyo. "The

machines are a really cool little business,"

Jared says of the green contraption. "A father

and son make them. You visit and they put

it together for you." With the machine they

make thin noodles, and occasionally fat ones

for specials, but there is not a wide range: the

philosophy is to do a few things very well. They

blend Canadian all-purpose flour and a hard

bread flour from K2 Mill (a 126-year-old milling

operation in Beeton, Ontario, northeast of

Orangeville), which, he says, is a strong and

flavourful flour. The other key to great ramen

is potassium carbonate and sodium carbonate

REAL. LOCAL. FOOD.

EXPERIENCE THE

TASTE OF HURON.

WIN

A GUIDED

FOOD

ADVENTURE

FOR 4 PEOPLE.

ENTER ONLINE

Enter and Purchase Tours Online:

tasteofhuron.com
---
12 |August/September 2018

eatdrink.ca |@eatdrinkmag

(kansui, or lye water) — essential for a proper

ramen noodle. "The alkalinity keeps the noodles

from getting soft in the broth. It's just wheat, water,

kansui and salt." The proof is often in the broth and

rogues need not apply there. All the broths are made

in-house and for assistance with that Crafty turns to

neighbouring Trotter's Butcher Shop for duck bones,

pork bones and smoked pork trotters. The restaurant

uses a reverse osmosis process to extract maximum

flavour in making the broths.

Good ramen combines noodles, broth, fat,

toppings and tare, an ingredient that contains soy

sauce, miso or black vinegar. That tare, a flavour

base ingredient, brings saltiness to ramen along

with added umami, and a touch of sweet, sour, or

spice depending on its composition. There can be a

dozen or more ingredients, which means gigantic

flavour. You might notice a dollop of it go into the

bottom of your bowl in ramen shops. Such tradition

is good, and the process is complex: days of brining

and simmering kombu, first in 60-degree water for

an hour to infuse seaweed flavour; then the kombu

is removed and shiitakes are introduced for an hour

before cherry tomatoes get their hour. It takes time

and training to hit the correct flavour notes.

"The most popular ramen has been the Meat

Lovers," Jared says. That's pork three ways with a

side of tender chicken: pork jowl, pork chashu and

salt- and sugar-cured pulled pork shoulder with

12-hour brined and one-hour 73-degree sous-vide

chicken breast. "We use modern techniques, though

we're not modernist cuisine. Just good food," he

says. There are also green onion, pickled shiitakes

and burnt sesame oil in a rich chicken, pork, and

duck broth. There's a spicy vegan tofu mapo ramen

with baby bok choy, sesame tare and vegetable

broth. Also on the menu is a delicate and light gyoza

snack that is packed with big flavour. It's a specialty

of Miki's and a family recipe that she has been

making since she was quite young. Her karaage,

Japanese fried chicken, is delicious as well and is

from a family recipe: crunchy outside and tender

and moist inside with a terrific crispy kimchi mayo.

The dish contains chicken thighs marinated in soy,

ginger and garlic for two hours. The marinade then

becomes the liquid for the potato starch-corn starch

batter for those little crispy bits on the outside. The

dipping sauce is a Kewpie mayo, with crispy bits.

And yet it's not authentic, Ferrall is quick to

stress, citing a simple fact that people forget when

looking for "authenticity" — after all, we're 10,000

kilometers from Japan. Make it as authentic as

possible, though: slurp the noodles and do it

quickly. There's a practical reason for this: the quick

and simultaneous aspiration of air with the thin

noodles captures the broth so it doesn't fall away.
---
Eatdrink: The Local Food & Drink Magazine

Sip. Savour. Stroll.

Soak up the sun and

experience the warm lake

breeze on one of Elgin's

many outdoor patios.

SoLo on Main

As the two-year mark for the business

approaches, the Ferralls say they're looking

for a venue to open another Crafty Ramen —

possibly in Kitchener — but they have to be

sure they can address properly the details of

a dish, from the noodles to the broth to the

meats and seasoning.

Small may be traditional, but that doesn't

make it easy. Ramen expectations, though

there are relatively few local examples, are

high when it comes to deliciousness framed

within the right atmosphere and ambiance

of the restaurant. Currently, they've hit the

mark, he acknowledges. "It's a successful

model for business, but we still have to strive

for really good food at a reasonable price."

Crafty Ramen

17 Macdonell Street, Guelph

info@craftyramen.com

519-824-8330

sunday–monday: closed

tuesday–thursday: 11:30 am–9 pm

friday–saturday: 11:30 am–9:30 pm

ANDREW COPPOLINO is a Kitchener-based writer

and broadcaster. He is publisher of Waterloo Region Eats

(waterlooregioneats.com) a longstanding online resource

dedicated to food, dining, restaurants, chefs, sustainability

and agriculture. Andrew also serves as a regional

Eatdrink Editorial Consultant.

Windjammer Inn

Kettle Creek Inn

Visit savourelgin.ca

to plan your next

culinary adventure in

Elgin County!
---
14 |August/September 2018

eatdrink.ca |@eatdrinkmag

Sponsored By

Road Trips

Stratford's Gastro Scene

Where to Eat and Drink in 2018

By BRYAN LAVERY

Renowned for its annual Shakespeare

Festival, its gastro scene and

hometown boy Justin Bieber, Stratford

is anything but a quiet little town.

Over the past couple of decades, Stratford's

been building a reputation as an innovational,

entrepreneurial culinary destination.

This year there are new kids on the culinary

scene like Planet Diner and The Common.

York Street Kitchen was purchased by the

Windsor Hospitality Group and has moved

back to a larger revitalized space on York

Street, previously occupied by the former

Linleys Food Shop. Founder Susie Palach will

be sorely missed. Edison's Café Bar, where all

food is prepared in-house using fresh, organic

ingredients, has become a charming hub.

While you are in the area be sure to explore

the bucolic countryside in and around Perth

and Oxford Counties. Take in the small towns

of St Marys, Shakespeare, Woodstock and

New Hamburg. Drop by the Stratford Tourism

Alliance for tickets to self-guided culinary

tours like the Bacon & Ale Trail and Chocolate

Trail, which are available all year round.

Stratford is awash with culinary "hubs"

where locals, visitors, chefs, farmers, artists and

Planet Diner

Stratford Chefs School's annual Long Table Dinner, 2017

artisans gather, such as Market Square, Your

Local Market Co-op, the Local Community Food

Centre, Stratford Farmers' Market at the Agriplex

(on Saturdays) and the Slow Food Farmers'

Market (on Sundays). There are many great

retailers like Bradshaws Kitchen Detail, Downie

Street Bakehouse ("Really Good Bread from the

Wrong Side of the Tracks"), Watson's Chelsea

Bazaar and the Milky Whey Fine Cheese Shop.

Windsor Hospitality Group's Executive Chef

Ryan O'Donnell is excited about the synergies

the culinary team is creating with The Prune,

Bar One Fifty One, Mercer Kitchen and York

Street Kitchen, and how they help create

better and better food. "This flexibility to

react to the best products, as well as synergies

between all our restaurants in Stratford, will

be the most exciting part of the new Prune in

my opinion," says O'Donnell.

Anne Campion's Revel on Market Square is a

favourite go-to for a cup of Las Chicas del Café

coffee, sourced from the owners' family-run

farm in the Nicaraguan rainforest. We love the

custom-made communal table. On Downie

Street The Pulp, Stratford's plant-based "fresh

bar," features cold-pressed juice, smoothies and

clean eating with vegan and gluten- and dairyfree

options. Grounded is a newer business,
---
Eatdrink: The Local Food & Drink Magazine

August/September 2018 | 15

WHY FIT IN,

WHEN YOU CAN STAND OUT?

A new level of performance and sophistication, the next

generation of Lexus ES arrives in September.

ELEGANT TO EXHILARATING

PERFORMANCE

THE ALL NEW

2019 LEXUS ES

3131 KING STREET EAST, KITCHENER

519 748-9668 | HEFFNERLEXUS.CA
---
eatdrink.ca |@eatdrinkmag

Chef Jamie Crosby (right) of The Prune

What's Your Flavour?

Amaretto

Cherry

Follow us to see what's fresh today!

Fresh & Frozen

Eat-In or Take-Out

45+ Soup Flavours

Vegan, Dairy Free &

Gluten Free Options

No additives or

preservatives

Tuesday–Friday 11–6 • Saturday 11–4

Sunday 10–2 at Stratford Slow Food Market

98 Wellington St., Stratford 519.497.5167

soupsurreal.com

creating fresh, healthy, plant-based food using

whole ingredients. At the time of writing,

Grounded is set to open a storefront on Erie St.

Shakespeare Brewing Company is the

newest craft brewer in the area, and uses

100% local ingredients. The owners believe the

local terroir is reflected in the flavours of their

craft beers. Black Swan Brewing Company

continues to create innovative seasonal

flavours in addition to the core products: EPA,

IPA and porter. You might want to sample the

refreshing Raspberry Wild Child, made in the

German sour beer style.

After 30 years, Chef Bryan Steele has

left The Prune. He continues to be a senior

cookery instructor at Stratford Chefs School.

Lamentably, Rundles and Monforte on

Wellington are gone. Here are a few of my

recommendations, in alphabetical order, of

where to eat and drink in 2018.

Bar One Fifty One at The Prune has a relaxed

and elegant vibe, the perfect backdrop for

signature cocktails and a varied wine list.

This season the focus is on seafood with an

emphasis on small plates and raw bar offerings.

Bubbles and Oysters anyone? 151 Albert Street,

519-271-5052, theprune.ca /bar-one-fifty-one

Bijou's farm-to-table blackboard pre-theatre

dinner menu is prix fixe. Mark and Linda

Simone purchased the legacy restaurant four

years ago, and added a new entrance off of

Wellington Street and a small bar in the front

area. Chef Roddy Eastman and his team also

offer a globally-inspired tapas bar menu of

small plates (available after 7: 30 p.m., 7:45

p.m. Friday and Saturday). 105 Erie Street,

(2nd entrance off of Wellington Street), 519-

273-5000, bijourestaurant.com
---
Eatdrink: The Local Food & Drink Magazine

The Bruce is at the high end of the dining

spectrum. Chef Arron Carley, sous chef

Christopher Howard and pastry chef Erin

Negus define "New Canadiana" by using only

ingredients found in Canada, enhanced by

produce from their own farm and gardens.

Prix fixe menus (3-courses for $95.00 with a

August/September 2018 | 17

celebrating 122 years in stratford

The Bruce

$45.00 optional wine pairing) or the avantgarde

"Fauna" tasting menu (7-courses for

$115.00 with a $65.00 optional wine pairing)

are laden with ingredients which the term

"New Canadiana" evokes. Breakfast, lunch and

Sunday brunch are à la carte, and The Lounge

offers a separate menu. There is a stylish

courtyard for al fresco dining. 89 Parkview

Drive, 855-708-7100, thebruce.ca

The Common is located in the refurbished

space previously occupied by Monforte on Wellington.

Chef Tim Otsuki offers a mix of global

comfort food. Think, Imam Bayildi stuffed

roasted eggplant with sweet onions, peppers,

spicy chickpeas, rice pilaf and house yogurt; or

Hot Spatchcock Chicken Sandwich with bread

pudding stuffing and gravy; or Roast Hoisin

Pork Tenderloin

with Szechuan stirfry

vegetables on

The Common

steamed rice pilaf.

The tagline is "Eat

Without Borders."

There is a newly

appointed patio for

outdoor drinking

and dining. 80 Wellington

Street, 519-

271-0999, thecommonstratford.com

Foster's Inn is

Stratford's original

heritage boutique

inn, situated in a
---
18 |August/September 2018

um

A restaurant inspired by

local ingredients.

Run by workers.

Owned by workers.

Shared by the Community.

eatdrink.ca |@eatdrinkmag

um

7 Days a Week

Reservations Recommended

64 Wellington St, Stratford

redrabbitresto.com

519.305.6464

@redrabbitresto

global tapas with local ingredients

fresh cocktails

Perfect for dinner before or snacks after the show

Wednesday–Sunday from 5pm

85 Downie St, Stratford

(next to Avon Theatre)

519.305.8585

85Downie.com

Foster's Inn

turn-of-the-century building two doors from the

Avon Theatre off of Market Square. Restaurateur

Craig Foster prides himself on the authenticity

of the hospitality and service. The inn features

nine individually-appointed guest rooms, a

restaurant, and a tiny cocktail bar. Foster's is a

go-to for mouth-watering char-grilled steaks and

burgers as well as re-imagined comfort foods

made with local ingredients. There is a House

Cured and Cold-Smoked Pork Tenderloin and a

Coconut Green Curry Tofu. 111 Downie Street,

519-271-1119, fostersinn.com

This season Mercer Kitchen + Beer Hall +

Hotel has some great new menu items, while

retaining some tried and true signatures. The

casual brasserie-style ambience is inspired by the

concept of izakaya — informal Japanese beer

pubs. There are 15 draft lines and over 120 bottles,

including international award-winners and

hard-to-find one-offs. Menus showcase items

that are meant to

be shared communally

and are

perfect for the

lively, dynamic

atmosphere.

Try the House-

Smoked Salmon

Board with

herbed chèvre,

red onion, fried

capers and roe, or

a choice of Banh

Mi, or Korean

Mercer Kitchen

BBQ-glazed Crispy Chicken Rice Bowl. 104-108

Ontario Street, 519-271-9202, mercerhall.ca

The Mill Stone features a globally-inspired

all-day menu, bolstered by a rotating selection

of feature dishes that focus on light and

healthy fare with plant-based and gluten-free

options. New this year is a nose-to-tail feature

that explores the hidden gems of whole

animal butchery. Sweetbreads, chicken hearts
---
Eatdrink: The Local Food & Drink Magazine

August/September 2018 | 19

"A fun place to shop

for housewares and gifts!"

Create a completely original tablescape

every time by mixing and matching

blue and white patterns.

Classically Beautiful.

The Mill Stone

and cod tongues are some of the dishes in

store. This high-energy bistro features locallybrewed

beer on tap and a varied bottle list,

with a focus on Canadian wines and a refined

international selection. Ontario Street, 519-

273-5886, themillstone.ca

Okazu 85 Downie is Stratford's hot spot

for delicious chef-inspired cuisine and is the

perfect after theatre or late-night stop. Stop

by for dinner

to taste global

fusion prepared

with local

inspiration,

or for fresh

cocktails like

the Yuzu Sour

or Mermaid

Margarita,

shaken or

Okazu 85 Downie

stirred by the

fabulous staff

until the early

hours. Chef de cuisine Angela Murphy and Ben

O'Brien spin a modern twist on dim sum and

tapas featuring items like rustic-style Perth

pork paté with fruit chutney; spice-rubbed

pork belly with sticky rice; and potato curry

with roasted cauliflower, house masala, pickled

greens and lentil salad. 85 Downie Street, 519-

305-8585, OkazuSnackBar.com

Pazzo Taverna and Pizzeria. The street-level

taverna offers rustic Italian-inspired cuisine

in a contemporary setting overlooking the

Avon River. The pizzeria, located in the historic

building's cellar, is renowned for its buildyour-own

thin crust pizza. Chef Yva Santini is

celebrating her eleventh season at the 21-year-old

restaurant. All of the incredible pastas are made

in-house. Santini showcases simple, natural

flavours of locally-sourced meats and produce in

the Italian tradition, combined with a diverse list

of Canadian and imported wines by the glass and

bottle. There is a charming street-side patio. 70

Ontario Street, 519-273-6666, pazzo.ca

WATSON'S

CHELSEA BAZAAR

84 Ontario St. Stratford

watsonsofstratford.com

519-273-1790

The Ultimate Family Fun Weekend

Ontario Garlic & Artisan Market

featuring over 60 vendors

• Exclusive Tastings pairing artisanal

cheeses with wines, beers and spirits

• Cooking Demonstrations

• Educational Forums

• Live Entertainment

September 8th & 9th

Stratford Rotary Complex, 353 McCarthy Road

Admission $10/day or $15 for 2-day pass

Children 12 & under free

Free parking and bike valet service
---
20 |August/September 2018

The Planet Diner, with candy-apple red

upholstered booths and 50s vibe, is warm

and welcoming with enthusiastic and wellinformed

staff. Owner Dee Christensen says,

"This is where herbivores can bring their

carnivore friends." Most items on the menu

are derived from plant-based foods, with a

few meat-based options. There's just nothing

like the Chick'un burger made in-house with

vegan buffalo butter. Try the cashew-based

banana split, bound to be a hit with die-hard

ice cream lovers. 118 Downie Street, 519-305-

5888, theplanetdiner.com

The Prune has been a Stratford favourite since

1977. Chef de cuisine Jamie Crosby is leading

the culinary team. He was formerly chef de

Cuisine at The Little Inn in Bayfield, and most

recently chef de partie at restaurateur Jenn

Agg's Grey Gardens in Toronto. Crosby and

sous chef Mike Booth are planning on keeping

the menu fluid this season by changing it daily,

if necessary, to showcase the best of Perth

County's bounty as it arrives at the kitchen

door. There is a prix fixe menu, offering three

courses for $79.00 or four courses for $89.00

or a six-course "Carte Blanche" for $109.00.

Wine pairing packages are available. 151 Albert

Street, 519-271-5052, theprune.com

Raja Fine Indian Cuisine

Raja Fine Indian Cuisine is the definitive

place for authentic Northern Indian food in

Stratford. Raja offers upscale Indian cuisine

in sophisticated and elegant surroundings,

and knowledgeable, well-trained staff. The

service is white linen, deferential and friendly.

Foods are prepared from scratch with fresh

ingredients. The heat quotient of dishes can

be adjusted to guest preferences. Raja offers

milder Indian fare such as Butter Chicken,

Korma, and Tikka Masala. 10 George Street

West, 519-271-3271, rajastratford.ca

The Red Rabbit. "A locally sourced

restaurant, run by workers, owned by

eatdrink.ca |@eatdrinkmag

The Red Rabbit

workers, shared by the community," sums up

the three-year-old resto's ethos. Jonathan

Naiman is now the head chef with Sean

Collins overseeing the kitchen as executive

chef. Chef Collins terms the cooking at Red

Rabbit as "flavour first, ingredient driven,"

and his motto is, "We cook food we like to

eat." The team has crafted an evolving menu

of well-executed comfort foods. The fixed price

menu returns for pre-theatre dining Tuesday

to Saturday, 5-7 p.m., with the "After 7" menu

available from 7:30 p.m. onward Thursday

to Saturday evenings. The Red Rabbit is

known for Colonel Collins fried chicken and

waffles (available at lunch). Its secret recipe

of thirteen herbs and spices, maple syrup

and carrot hot sauce has made it a Stratford

culinary staple. 64 Wellington Street, 519-305-

6464, redrabbitresto.com

Revival House and The Belfry is Stratford's

home for live music, dining and events, and

it continues to play host to many touring and

local Canadian artists throughout the summer

season. Chef Loreena Miller and culinary team

are passionate about creating and serving

foods that express the depth of Perth County's

food culture. Recent menus have revived

French-Canadian style cuisine, with an added

modern sensibility. Upstairs, The Belfry

features a 60-seat gastro-lounge and a VIP

balcony called Confession. There is a 48-seat

garden terrace-oasis beside the Brunswick

Revival House
---
Eatdrink: The Local Food & Drink Magazine

Street entrance. High Tea and Sunday Brunch

add another layer of temptation to the

offerings. 70 Brunswick Street, 519-273-3424,

revival.house

Romeos Corner Café, a friendly, familyoperated

restaurant, features comfortable

booths and tables and is within walking

distance of the Festival Theatre. There is

Romeos Corner Café

an extensive breakfast menu with omelets,

skillets and a "Benvolio Benny" with

mushrooms, spinach and caramelized onions.

A menu of elevated comfort foods is also

offered for lunch and dinner including savoury

Chicken Pot Pie, Ontario grass-fed Beef

August/September 2018 | 21

Burgers and Mac N Cheese. There are some

tables for outdoor dining. 584 Ontario Street,

519-272-2777

York Street Kitchen is Stratford's

quintessential sandwich shop and has been

a local institution since 1989. This popular

diner and takeaway offer fabulous build

your own "Show Stoppers" sandwiches. Try

"The Mennonite" sandwich with Bauman's

Summer Sausage, honey mustard, mayo,

cheddar, corn relish, lettuce and tomato on

sourdough bread. Other options include

"Not Sandwiches", "Swell Sides" and housemade

"Sweets". The YSK's famous take-out

window is perfect for your picnic in the

park. New location is in the former Linleys

Food Shop at 51 York Street, 519-273-7041,

yorkstreetkitchen.com

Eatdrink Food Editor and Writer at Large, BRYAN

LAVERY brings years of experience in the restaurant

and hospitality industry, as a chef, restaurateur and

consultant. Always on the lookout for the stories that

Eatdrink should be telling, he helps shape the magazine

both under his byline and behind the scenes.

WHERE TASTE REIGNS SUPREME

FINE INDIAN CUISINE

Stratford

10 George St. W.

519-271-3271

Kitchener

725 Belmont Ave. W.

519-208-2811

rajaindiancuisine.ca
---
22 |August/September 2018

eatdrink.ca |@eatdrinkmag

The BUZZ

Culinary Community Notes

New and Notable

Compiled by ANDREW COPPOLINO, BRYAN LAVERY and THE EDITORS

This column consists of regional culinary

information, including a large scoop

of local news and inside information.

There is no charge to be included here,

and we encourage chefs, restaurateurs, brewers,

fundraisers, culinary artisans, farmers — and

everyone else with information to share — to send

us details. Short and sweet! We want to include as

many items as possible. See the end of this column

for contact details.

Kitchener

Since 1969, Kitchener-Waterloo Oktoberfest has

developed its own traditions, becoming the largest

Bavarian festival in North America with the greatest

Thanksgiving Day Parade in Canada. Thousands

of visitors celebrate annually in our Festhallen,

and by attending one or more of our 40 family

and cultural events. Through the celebration of

this spirit of Gemuetlichkeit, the local economy

is stimulated and over 70 charities and not-forprofit

organizations raise funds to support the

high quality of life enjoyed in Kitchener-Waterloo.

Tickets for the 50th Anniversary event (October

5–13) are on sale now. oktoberfest.ca

The King-Scott area of downtown Kitchener has

seen several changes in the food landscape of late.

With its low-profile geography, Stonegate Bistro,

located in the subterranean depths of Scott Street

between Duke and King, has closed. The venue had

something of a loyal following and the occasion

to prepare a culinary throwback, whether ironic

or not, every now and then: cedar-plank salmon.

A cryptic sign on the restaurant door says a new

restaurant will be "opening soon," in typical

restaurant-speak.

At street level and right on top of the former

Stonegate is Elevenses on Scott (elevensesonscott.

com), a café, lunch stop and snack shop that has

recently changed hands. 519-579-7661

Just around the corner on King Street, Sahar

Kitchen Indian has taken over space vacated by the

Korean restaurant Shinla Garden. A few blocks west

is Izna Japanese Donburi House, which at the time

of writing was close to opening.

Legacy Greens is moving to Ontario Street between

Duke and King, helping create a little food hub

for a block or two. It started as a fall and pre-

Christmas "pop-up" greens shop, but its immediate

popularity prompted owner Jordan Dolson to stay

open year-round. Dolson says the move is exciting.

"We had the opportunity to purchase the property

and renovate it to our needs," Dolson says. The

re-location gave Legacy the chance to build an

accessible entrance and a bifold door to create

both "an outdoor feel" and street-merchandising

opportunity. There's also a commercial kitchen

in the new space. "For the most part," Dolson

adds, "we have all the same products and same

prices, but we now have the building block in

place to grow our prepared food options and

retail sales." That makes it another great addition

to the growing downtown Kitchener food scene.

legacygreensonline.com/

Nearby, Mark's Caribbean Kitchen and Seafood

has opened at 20 King Street East, a venue for

restaurants that dates to the 1990s. Mark's is

virtually directly across the street from Rainbow

Caribbean, long a popular place for patties and

other Jamaican fare. A blend of cultures, the kitchen

prepares both a $13 fish and chips and a $36 surf and

turf with lobster. markscaribbeankitchen.ca

The popular Relish Cooking Studio, formerly on

Regina Street in Uptown Waterloo, has moved to

90 Victoria Street North in Kitchener in the same

plaza as Cake Box. A kitchen store and culinary

education facility with regular cooking classes (for

summer classes sign up online) and guest chefs,

Relish is owned and operated by Donna-Marie Pye

and Maria Burjoski. Incidentally, the kitchen from

their Regina Street facility is for sale, with asking

price $5,000.

A few blocks away at The Tannery, Balzac's Coffee

Roasters, with several locations in southwestern
---
Eatdrink: The Local Food & Drink Magazine

Ontario including Waterloo, has re-modelled and

re-envisioned the décor in their store neighbouring

Communitech. Balzac's owner Diane Olsen says

they brightened up the space and are better set

up to hold events and a variety of functions. That

makes it a good place to enjoy their nitro cold brew

coffee (a partnership with Toronto's Junction Craft

Brewing), on tap and an excellent rich and creamy

sip for the hot summer months. balzacs.com/

locations/kitchener/

Just across the street from the Market and Nova Era

in the new building at the corner of King and Cedar

streets is the awkwardly named Pho Vietnam K &

W. (Along with Salvadoran pupusas, the downtown

has several pho restaurants.) Drop by and say

hello: there's no phone number or website readily

available yet.

Joining the bevy of international food vendors

upstairs at the Kitchener Market (300 King

Street East) is Naranj Blossom, a Syrian-Turkish

restaurant serving modern fare serving sweet and

savoury fare. Call 519-573-1353.

In the Belmont-Highland food hub, Muya Ethiopian

restaurant is undergoing renovations and an

expansion to the half-dozen or so tables in its

dining room. muyarestaurant.com

The long-time Weston Bakery outlet store on

Victoria closed on July 20. AM Africa restaurant on

King Street East near Rockway Gardens Kitchener

also closed.

Is this the future of dining out? North America's firstof-its-kind

smart dining experience from Graffiti

Market, Red Circle Coffee Co., Red Circle Brewing

Co., Ignite Restaurant Group and Kodisoft Smart

Dining Tables (a state-of-the-art ordering system)

are introducing a new program. Located in Kitchener

at Catalyst137, the technology accelerator (formerly

a tire warehouse on Glasgow St.) is the world's

largest IoT manufacturing hub. Graffiti Market

began with the goal of fuelling the creative spirit

in its staff, customers and community through a

unique mixture of food, art and technology. As North

America's first-of-its-kind restaurant, retail market,

microbrewery, coffee roaster and bakery, Graffiti

Market has partnered with Kodisoft, providing

patrons with a unique dining environment and a new

way to discover the Graffiti Market menu featuring

Detroit-style pizza, housemade pasta and rotisserie

chicken. Whether you're immersed in the interactive

Smart Tables, admiring the murals created by local

artists, or simply enjoying one of the in-house made

Red Circle beers or coffees, you're sure to experience

something unique. graffitimarket.ca

growers & creators of fine lavender products

DISCOVER

Steed & Company Lavender, part of a

45-acre horse farm just outside of Sparta

INDULGE

in our unique handcrafted lavender products

ESCAPE

in the wonderful scent and

calming powers of lavender

519-494-5525

47589 Sparta Line, Sparta

buds@steedandcompany.com

Open Wed–Sat 10-5; Sun 12–4

Mother's Day to Dec. 19

PLUS June–Labour Day: Tues 10-5

www.steedandcompany.com

Enjoy

Our Annual

Lavender Fairy

Festival

Saturday, Aug. 11

Noon–4pm

Bring

Your Wings!

Farm to table award winning

hand crafted alpine style cheese

Tuesday to Friday 9am–5pm

Saturday 9am–4pm

Stonetown Artisan Cheese

5021 Perth Line 8

St. Marys ON

Gift Baskets &

Gift Boxes

Cheese Trays

Fondue & Raclette

519-229-6856

info@stonetowncheese.com

www.stonetowncheese.com
---
24 |August/September 2018

Carly Blasutt and Ryan Murphy's new iteration

of Public Kitchen & Bar is a stylish independently

owned restaurant in one of Kitchener's oldest

neighborhoods. They take pride in creating

delicious small, shareable plates and well-crafted

cocktails. They also offer new and old world wines

and an all-Ontario craft beer list at reasonable

prices. kwpublic.com

Jill and Mica Sadler had a vision to create a socially

vibrant dining experience where people could come

together, enjoy great beer, wine, share charcuterie

BIG OR SMALL,

WE CATER 'EM ALL

We specialize in bringing Southern hospitality

and our award-winning food to your special

occasion.

OUR PLACE OR YOURS

Our upstairs event space,

The Lanc Loft, features a

full bar, separate washrooms,

PA system, tables and chairs.

Our fully-mobile food truck has complete

kitchen facilities wherever you need us!

EAT LOCAL. EAT FRESH.

lancsmokehouse.com

574 Lancaster Street West Kitchener ON

Monday–Saturday Open @ 11:30am

Contact our Catering Manager for booking inquiries

519.743.4331 | info@lancsmokehouse.com

eatdrink.ca |@eatdrinkmag

and cheese boards and other locally-sourced eats.

Swine and Vine was born earlier in the year, to

accomplish just that. The charming and updated

premises at 295 Lancaster Street West in Kitchener,

was previously occupied by Public Kitchen & Bar

which has moved a few blocks to Victoria Street.

swineandvine.ca

Unique and delicious, original creations from

master baker Martha Borys, The Lancaster

Co.'s new Crumb Bakehouse offers pies, cakes,

cookies, bars, milk buns, baguettes, beignets,

cornbread, pastries, and breads — both artisan

and rustic, yeast and quick-breads alike. Crumb

Bakehouse currently resides within The Lancaster

Smokehouse, but they have plans to expand the

Bakehouse into its own retail and kitchen space

in the future. lancsmokehouse.com/crumbbakehouse

Waterloo

Welcome to Meltwich Food Co., Waterloo, in the

busy and crowded King-University food hub near

Wilfrid Laurier University. There have been a

couple of grilled cheese shops in the area, and this

one is obviously targetting students. And drawing

on the "Food Co." Identifier. Pick a sandwich base

and add toppings. There are burgers and Philly

Cheesesteaks too. Cheese and especially Cheddar

plays a big part. meltwich.ca/waterloo/

Also near Laurier, Kitchener's Metro Restaurant

— long a favourite for schnitzel and Germanic fare

— has taken over Frat Burger, at one time no less

than a Mecca for burger aficionados who loved their

tri-blend of house-ground burger meat that was

cooked a bit pink if you asked for it. The restaurant is

a combination of the two called Metro on King (even

though it is on University Avenue). fratburger.ca

Serving what they describe as 100 per cent plantbased

"power food," Copper Branch in the heart of

Uptown Waterloo, which is really downtown, has

!

da

Windjammer

The

DINE

STAY

Recommended in Where To Eat In Canada for 10 years

Modern Farmhouse Cuisine Wednesday–Sunday

INN

Join us for Dinner & Weekend Brunch

Comfortable Accommodations Year Round

324 Smith St, Port Stanley • 519-782-4173 • www.thewindjammerinn.com
---
Eatdrink: The Local Food & Drink Magazine

been open since early 2018. "We offer healthy food

that people can feel good about eating and that

tastes great," says Ashley York, store supervisor.

They serve some playfulness in the form of

zucchini noodles with Sicilian "Coppernata." Get it?

copperbranch.ca

The appearance of Mashawi Waterloo near

Conestoga Mall proves the adage that there is

always room for more shawarma, the ubiquitious

middle eastern roasted meat dish. mashawi.ca

Weber Street Public House, Waterloo, has opened

for business, fitting into the former long-time

Benny's location. Recently, the location at Weber

Street and Lodge was the reappearance of the oncepopular

Mother's Pizza (which collapsed quickly

after it opened).

Cambridge

In Cambridge — Preston, to be specific — Top

Market Meats has a bricks-and-mortar presence

at 960 King Street East that, while only 650 square

feet, is serving customers a wide selection of

"seasonal goodness," according to owner and

farmer Leslie Zinger. "It's everything local: meats,

cheese, eggs, vegetables, fruits, honey, maple syrup

and more." The selection changes with the seasons,

she adds. "We also work with other local farmers

and online businesses that use Top Market as a

pickup location." That's collaborative and smart

business. facebook.com/topmarketmeats/

Nearby at 763 King Street East Cambridge is Wuddup

Dog, a hotdog and sausage joint—what they call

"gourmet street meat"—for dine-in, take-out

and delivery. Needless to say, there are many dog

varieties and fries, onion rings, mac-and-cheese

but also an assortment of deep-fried desserts.

Owner Todd Johns says be on the lookout for them

to be moving to a new location. facebook.com/

wuddupdog/

August/September 2018 | 25

Guelph & Wellington County

A few weeks open and a new Mexican restaurant in

the heart of downtown Guelph is understandably

busy with customers curious about the food. La

Reina — "The Queen" — opened in late June in

the space that was formerly Van Gogh's Ear at 10

Wyndham Street North. Calling themselves "an

authentic Mexican restaurant," La Reina draws on

three Mexican-born chefs and serves several familiar

dishes such as flautas, carne asada and ceviche as

well unique dishes such as guajillo-braised lamb

Award Winning

Artisan Cheese

Come Experience Our World!

Visit our cheese shop and sample our

unique handmade cheeses.

See and learn about how cheese is made.

Enjoy the scenery on our 3-generation family farm.

Group tours are available by reservation.

MON-SAT 9-5

445172 Gunn's Hill Rd, Woodstock, ON

519-424-4024

www.gunnshillcheese.ca

Introducing Simple Monthly Meat Delivery.

ORDER

ONLINE

Monthly Meat & Seafood Delivery

(226) 929-1280

trulocal.ca

Enter Code EATDRINK10

to receive 10% OFF
---
26 |August/September 2018

borrego, braised venison and avocado and a confit

of peaches, according to owner Bryan Steele (not

the Stratford Chefs School Bryan Steele). There's

also a late-night menu, cocktails and tequila. And

check out the dessert menu: there's a suggestion to

"Tip the Kitchen" with either Sol or Modelo beer. "I've

seen what the kitchen goes through," says Steele, a

Humber culinary grad. "This is to show appreciation

for what they do." lareina519.com/

Head over to Carden Street and you'll find Tomme

Cheese Shop, which opened in late June with a goal

to fill a gap in the fine cheese market in the city.

They're currently doing that with about 100 cheeses

in stock from local to international. "And we're not

finished yet," says owner Andrew Wheeler. He and

his wife Kim Wheeler came to Guelph and fell in

love with the city about eight years ago. "We love

food and asked what do we need here?" Cheese

was the answer. To go with it, there is just about

everything you need for charcuterie boards or a

stand-alone cheese feast. Tomme has partnered

with Guelph businesses Trotter's Butcher Shop

and Charcuterie and Polestar Hearth Bakery. As

for the name, which denotes an Alpine cheese, "we

just liked the sound of the word," says Wheeler.

facebook.com/tommecheeseshop/

We send congratulations to Western Burgers

and Steaks in downtown Guelph, who recently

celebrated their fifth anniversary. That's makes the

traditional gift given wood, fitting for the modernday

saloon in the former Diplomat Hotel from the

19th century. facebook.com/WesternGuelph

The building on the northwest corner of London

and Woolwich roads, the former home of With the

Grain, is in the process of being refurbished by the

Neighbourhood Group of Companies (NGC). The

group behind Borealis in Kitchener and Guelph, The

Wooly Pub and Miijidaa Café & Bistro are set to open

a new restaurant. Going back to square one, Court

Desautels dove into the site's history, right back to

the 1890s when it was known as Park Grocery. The

crowning achievement for the NGC is it receiving B

Corp Certification in the spring of 2016. The rigorous

process for qualification requires a company to

focus on its staff, the community and the physical

environment rather than solely chasing profits. NGC

is the largest restaurant group in the world to have

achieved B Corp certification.

The Townships & Beyond

For the first time since it opened in 1975, the St.

Jacobs Farmers' Market was sold to new owners

in the spring. The Shantz family, which owns

Mercedes Corp. together with more than 40 independent

shareholders, sold the market, along with

eatdrink.ca |@eatdrinkmag

several other businesses to the Schlegel family's

Schlegel Urban Developments. The new Market

owners said it has been a smooth transition. Open

Thursday & Saturday all year around, and Tuesdays

during summer months too (Until August 28, 2018).

stjacobs.com

In honour of the 35th anniversary of Stratford

Chefs School, work is currently underway on Farm

to Table, a cookbook that pairs 25 Stratford Chefs

School alumni chefs with their favourite food

producers and farmers for a culinary adventure

through Perth and Huron Counties. This stunning

book will not only feature recipes from some of

the region' s most celebrated graduates of the

Stratford Chefs School, but also includes fascinating

interviews with the chefs conducted by CBC food

columnist Andrew Coppolino and striking imagery

provided by photographer and SCS alumna Terry

Manzo. The book will be launched at the School's

Season Opener in late October.

The Stratford Chefs School's 2018 Long Table

Dinner is just around the corner, so don't miss

your opportunity to join a fun and eclectic group

of people for an exceptional outdoor dining

experience set in the heart of Stratford's heritage

district. Guests gather around one long beautifully

appointed table to enjoy a four-course dinner of

incredible local food complemented by VQA wines.

Participate in the unexpected. Sunday, September

9, 2018, Stratford Market Square, $125 per person

($50 tax receipt) stratfordchef.com

Plan to attend the 12th Annual Stratford Kiwanis

Garlic Festival on September 8 and 9 at the

Community Hall in The Stratford Rotary Complex.

Raising funds for local community projects and

supporting local garlic growers, The Kiwanis Club

of Stratford once again will deliver a fun family

weekend, complete with an Ontario Garlic & Artisan

Market, cooking demonstrations by professional

chefs, educational forums, live entertainment,

artisanal cheeses and exclusive wine/spirits/beer

pairings and tastings. stratfordgarlicfestival.com

The Appetite for Words Festival program is

a partnership between the Stratford Writers

Festival and the Stratford Chefs School and

features authors who have written about food, and

fiction writers who allow food to become a strong

component of scenes and/or the characters in

their novels. The best part is, chefs and students

from Stratford Chefs School develop and prepare

inspired menus, matching an author's readings with

appropriate food at literary dinners and lunches,

so you can taste the words you're hearing. Appetite

for Words revolves around storytelling and is
---
Eatdrink: The Local Food & Drink Magazine

August/September 2018 | 27

created for the enthusiastic and curious — anyone

interested in reading, discussing and consuming

food (that's you, right?). Participate in educational

workshops and tasting sessions with some of

Canada's best food writing talent and build skills

and increase your knowledge of both the culinary

and literary arts. From a literary picnic-style farm

lunch to a food photography workshop, whet your

appetite for literature. stratfordwritersfestival.

com/literary-events/appetite-for-words-festival

Savour Stratford Chocolate Trail — If you're a

choco-holic this is the trail for you! What could be

better than spending an afternoon (or two) strolling

the Victorian streets of Stratford and sampling

chocolate? The self-guided Chocolate Trail is

offered year-round and can be used at six of the 27

stops. Tickets are just $30 (+HST) and valid for 1

week from the date of purchase. visitstratford.ca/

chocolatetrail

Savour Stratford Bacon and Ale Trail — Bacon and

Ale — two of life's greatest creations! This selfguided

walking trail includes vouchers that you

can use at 5 stops. Each voucher will entitle you to

a "tasting" of a unique bacon and ale inspired treat

and the chance to speak to Stratford and area's

culinary stars while visiting unique restaurants and

retail locations. This trail is offered year-round and

is valid for 1 week from the date of purchase ($30

+HST). visitstratford.ca/bacontrail

Honey Meets Blueberries Meets Cheese — Enjoy

free samples and learn at three great locations,

Saturday, August 11. Oxford Honey offers honey

sampling and bee-keeping demonstrations

(9am-4pm). Berrylicious Fruit Farm offers

blueberry sampling, and you can pick your own

and learn about berry benefits (Tours 10am & 2pm).

Gunn's Hill Artisan Cheese is sampling Brie with

honey and blueberries, with face painting and live

music. (Tours 11am & 3pm) Sponsored by Oxford

Fresh. tourismoxford.ca

We want your BUZZ!

Do you have culinary news or upcoming events

that you'd like us to share?

Every issue, Eatdrink reaches more than

50,000 readers throughout Waterloo Region &

Wellington County in print,

and thousands more online.

Get in touch with us at editor@eatdrink.ca and/or

connect directly with our Social Media Editor

Bryan Lavery at bryan@eatdrink.ca

Submission deadline for the next issue is Sept. 5.

something

for

EVERYONE

Cambridge Farmers'

Market

Saturday Year Round

7:00am - 1:00pm

Wednesday Seasonal Market

8:00am - 1:00pm

June 6 - October 3

www.cambridgefarmersmarket.ca

Lunch

Dinner

Catering

DINNER

226.476.4418

295 Lancaster St. W.

Kitchener

swineandvine.ca
---
28 |August/September 2018

Spotlight

A Taste of Place

Taste Detours in Guelph

eatdrink.ca |@eatdrinkmag

Taste Detours highlights Guelph's

history by mapping it from one

culinary experience to the next,

offering an authentic "taste of place."

Lynn Broughton, founder of Taste Detours

(tastedetours.ca, 1-866-736-6343), spent

eight years with Downtown

Guelph Business Association,

marketing shops, restaurants

and great events in Guelph's

downtown core. Taste Detours

evolved from her passion

for the downtown, and a

love of culinary events and

tourism. As a certified Food

Tour Professional, she is a

passionate and knowledgeable

guide with the expertise

and savvy to provide a firstrate

experience. Guelph has

stunning architecture, a

strong cultural fabric and a

rich historical background.

Taste Detours literally tells the city's stories

through food and drink experiences.

On a sunny Friday in July, we spent a day

with Lynn. She arrived with iced lattes from

The Common and perfect mini sausage rolls

from Eric the Baker (who comes from a long

line of Basque pastry chefs). We gathered in

front of the John Galt statue at the historic

Market House and received an interesting

tutorial on John Galt and the historic core of

Guelph. From there, we walked along Carden

Street to the charming Atmosphere Café with

its chill vibe and charming patio. We met

hospitable co-owner Nicole Hogg, who has

operated the café for 14 years, and sampled a

delicious bite and craft beer.

Next, we walked to the steps of the Basilica

of Our Lady Immaculate, which tour-goers

can enter. The monumental church contains

decorative carvings and stained glass executed

by skilled craftsmen. We received a briefing on

By BRYAN LAVERY

Court Desautels & Rebecca Gordon

from Miijidaa Café & Bistro,

with Lynn Broughton

from Taste Detours.

the historical significance of the nearby Albion

Hotel and that part of the tour ended with

a lengthy discussion about the interesting

history of Sleeman's Brewery.

Our tour continued on to Cork Street and

into Guelph Caribbean Cuisine for a chat

with co-owner Lorenza. We

enjoyed a delectable double

(two pieces of fried dough)

with a sautéed savoury

chickpea and spice mixture

in the centre — the ultimate

Trinidadian street food.

At our next stop, Miijidaa

Café & Bistro (from the

Ojibway language meaning

"let's eat" or "bon appetit"),

we met Beverage Manager

Rebecca Gordon and Court

Desautels, Group Leader &

CEO of the Neighbourhood

Group of Companies, who

explained their strong

emphasis on Canadian-inspired offerings with

local ingredients. We sampled Welsh Griddle

cakes with wild blueberry preserve and housechurned

butter, as well as piri piri marinated

cauliflower with yogurt blue cheese dip.

We stopped in next door at Refresh Juice

for an invigorating carrot, arugula, lemon and

ginger cold-pressed juice known as the Eye

Opener. The tour wound down at Wellington

Cakes on charming Douglas Street, where we

savoured a decadent sweet meringue-based

macaron. Owner Anne Forestell is connected

to the early city's history. Her great-great-greatgreat

grandfather Felix Hanlon was one of the

so-called "27 boys" who accompanied John Galt

to Guelph and helped clear the land that became

the city centre. I felt we'd come full circle.

BRYAN LAVERY is Eatdrink Food Editor and Writer at

Large.
---
Eatdrink: The Local Food & Drink Magazine

August/September 2018 | 29

Sandwich Brewing Co. | Windsor

History pours out of this place,

on the Barrels Bottles & Brews Trail.

Uncover behind-the-scenes development and production

of dozens of area distilleries and breweries. Tap rooms and

tasting lounges welcome you with open bottles.

Get your BBB Passport and info at: barrelsbottlesbrews.ca

#BARRELTRAIL | #BREWERYQG | visitwindsoressex.com
---
30 |August/September 2018

Spirits

Taking it Slow

Willibald Farm Distillery in Ayr

eatdrink.ca |@eatdrinkmag

By ANDREW COPPOLINO | Photos by BROGAN McNABB

The folks at Willibald Farm Distillery

might say that time hasn't been on

their side — and that's all right with

them. At the distillery located near

Ayr, about 30 minutes south of Kitchener,

they're in the habit of just taking things slow.

Even after the investment in start-up costs,

they weren't in a rush to get to market. Their

success is a marker of the painstaking nature

of the planning and distilling process they

developed.

"We probably went through close to 100

variations of recipes before we decided which

one to use. We were confident then that we

had something people would really like," says

co-owner Jordan van der Heyden.

The 29-year-old and his business partners

and co-founders — brother Nolan, 25, and

long-time friend Cam Formica, also 29 — have

set themselves up on

100 acres of the van

der Heyden family

farm, formerly a

livestock operation.

The partners, who

grew up together in

Ayr, wanted to test

their entrepreneurial

mettle and "find

something different

that we could use the

land for," according

to Jordan. Their own

time-dependent

version of gin was

the immediate

answer. They grow

grains, lavender, and other crops, and keep

honey bees. "With everything we grow, we

make spirits," he says.

Nolan and Jordan both went to University

of Waterloo. Formica attended Lakehead.

That brought business, engineering and

environmental science to the Willibald

management table, along with some distilling

education in the U.S. Distilling is Nolan's

responsibility, and he is broadening his

understanding of the art and science of the

process with schooling in Scotland. As for the

name, it's an inside family joke that everyone

is now happy to share: Willibald is Jordan's

and Nolan's grandfather's middle name. "We

were looking for something unique. He's never

been too fond of it, but he's warmed up to it

as a business name and wears a shirt with the

brand," says Jordan.

It was 2012 when the trio was searching for

a way to use the farm, recognizing that there

were a lot of breweries out there. "We realized

Willibald Farm Distillery partners, from the left, Nolan

Van der Hayden, Jordan Van der Hayden & Cam Formica.
---
Eatdrink: The Local Food & Drink Magazine

August/September 2018 | 31

distilling was still in its infancy at that point.

Only Dillon's in Niagara and Still Waters in

Toronto were in business at the time." Today

there are about 20 distilleries up and running.

The Willibald facility is an old barn,

refurbished but maintaining its post-andbeam

character. There's a retail store, and they

give tours and offer complementary tastings.

Until very recently, distilleries could not offer

glasses of spirits in the way that breweries

and wineries were able to. "We just got that

privilege a few months ago and are serving

cocktails at the farm. That's been a great thing

for us," says Jordan. They've added a woodfired

oven and have started serving food.

Gin itself has a storied history. A grain

distillate, it is initially distilled to a desired

alcohol content and then distilled again along

with an infusion of juniper berries and a range

of herbs and botanicals. Water is added to

establish the correct alcohol concentration —

usually 80 to 95 proof — with the hope that

the spirit will be aromatic and fairly light. At

Willibald they have gotten that down pat, if

their success is any indication. They started

with the trial-and-error of home distilling

and learned the theory side in the U.S. Those

were the easy steps. "It took us a few years

to get the necessary permits and zoning

amendments," says Jordan. The farm is zoned

for agriculture, but distilling is considered

an industrial process. "The authorities were

extremely supportive, but because it was a

new concept it took a long time."

Imagine a drink made from corn, rye and

malted barley. Gin, by law, has to include

juniper as a flavour component. "We also add

caraway seed, grapefruit peel, cardamom,

coriander and angelica root. Those ingredients

flavour the gin, and from there we barrel it,

and that's where the colour comes from," says

Jordan. The blending process only takes about

10 days. Then comes the barrel aging — a

time commitment of many months. After

aging the contents of the barrels are blended

and then bottled for shipping. The copper pot

still capacity is 1,000 liters. Willibald distills

anywhere from three to five 50-gallon barrels

of whisky or gin a week. The gin, which is

constantly being distilled, is available at LCBO

year-round. "Our first seasonal release will be

later this summer. That will be in the realm of

1,500 to 2,000 bottles."

The current revival of the cocktail menu at

bars and restaurants, and the bespoke, crafted

impetus it carries, has meant that mixologists

are constantly scanning product lines for the

new and unique. Willibald fits the bill. At the

time of this writing Willibald gin was the only

barrel-aged gin available at the LCBO. "Gin is

typically an unaged spirit. It's clear and never

been in oak, traditionally. But our gin looks

a lot like whisky with its dark amber colour,

and that's because it spends anywhere from

four to ten months in oak casks." The results

are what he calls a "whisky character" that

bartenders are interested in because they

can't get it elsewhere. "It makes a phenomenal

whisky sour," he adds.

Like new lines of crafted tequila, a barrelaged

gin like Willibald lends itself to being

sipped neat. For consumers who have never

thought of drinking gin straight that's

something of a perceived obstacle that the

company is trying to change. "Barrel aging

really mellows out the spirit and cleans it up a
---
32 |August/September 2018

bit, making it suitable

if you do want to drink

it neat or on the rocks.

It's quite smooth.

There has been a

remarkable appetite

for good quality gin in

an older demographic

of customer we are

seeing, say from the

1950s and 1960s era."

Identifying the exact

nature of "local" is a bit of a mug's game: it

can mean different things to different people.

But the concept does play a part in Willibald's

marketing strategy. "What we find is that a

lot of the restaurants that are focussed on

quality cocktails don't necessarily put as much

emphasis on local. They're more concerned

with the quality of the product," Jordan says.

That makes sense, of course — and that's

the way it should be — but he adds that this

region has been supportive of this new entry

into the marketplace, for being both local and

of high quality. "In Waterloo Region, we've

been able to play up the local angle, but of

course it isn't the issue when selling outside

the region, in Toronto for instance." He cites

examples of where Willibald is being served in

the region, including Red House, The Belmont

Bistro and Grand Trunk Saloon, to name only

a few. "We do really well at the Cambridge

Mill," he adds. "They're extremely proud of

listing where they get their ingredients."

Willibald currently doesn't have the

competition that breweries and wineries do.

Even at the LCBO, the product is unique, and

that's been good. They target establishments

with specialty cocktail menus rather than

venues that focus on volume. Yet even some

better bars and restaurants may not yet have

what Jordan calls "the craft-spirit mentality"

like they have for craft beer. "Once they've

tried it, it's a good sell for us," he says.

eatdrink.ca |@eatdrinkmag

There's more Willibald to look forward to.

Gin accounts for only about one-third of their

production. Whisky makes up the majority.

However, that spirit, by virtue of Canadian

law, must be aged a minimum of three years.

"We haven't been able to release any yet. We've

been in production for a little over two years

now, so in the next year or two we'll have some

whisky," Jordan says. There are plans for spiced

whisky with apple. "We're also doing some

work with the lavender we grow and we have

honey bees at the

farm." That means

Willibald, unique with

its inventive gin, is

continuing along the

creative path they've

forged for themselves,

but they're not

rushing things. "We

are playing around

with quite a few

things," says Jordan.

"We have the type of still that allows us to do

anything with spirits, from gins and whiskies

to fruit brandies. Those are the products we're

interested in pursuing. But because it's aged,

it takes time."

Willibald Farm Distillery

1271 Reidsville Road, Ayr

226-556-9941

drinkwillibald.com

ANDREW COPPOLINO is a Kitchener-based writer

and broadcaster. He is publisher of Waterloo Region Eats

(waterlooregioneats.com) a longstanding online resource

dedicated to food, dining, restaurants, chefs, sustainability

and agriculture. Andrew also serves as a regional

Eatdrink Editorial Consultant.

BROGAN McNABB is a Toronto-based fashion and

lifestyle photographer. broganmcnab.com
---
Eatdrink: The Local Food & Drink Magazine

Beer

Twelve Temptations

Local Craft Beers for Summer

August/September 2018 | 33

by GEORGE MACKE

One deck, one dock, one cottage,

plenty of beer. Does anything say

summer like a selection of fresh

local craft beers?

While many equate craft beer with bitter IPAs

or thick and heavy stouts, it's not necessarily

so. Increasingly, Southwestern Ontario's

impressive craft breweries are producing small

Orange Creamsic Ale — Railway

City Brewery, St. Thomas. Available until

August, Orange Creamsic

takes inspiration for its name

and its taste from the classic

orange and vanilla ice cream

bar. Creamy with a vanilla

flavour, it's light enough in

alcohol (4.8 per cent) to be

sessionable. It also makes a

great dessert beer.

batch easy-to-drink lagers, malty golden ales,

and wheat beer seasonals with unexpected

flavours guaranteed to quench thirsts on hot

summer days. Here are some great choices —

all widely available at the brewery itself and

at the LCBO, select grocery stores, or The Beer

Store — to fill your cooler and impress guests.

Flashback Rhubarb Wheat Beer —

Forked River Brewing, London. Brewed

every spring for the past four

years, Flashback has been

known as Mojo until now.

Forked River has swapped

names for the beer, and the

lava lamp label artwork has

given way to an hourglass,

but you'll spot the 473 mL

cans quickly thanks to their
---
eatdrink.ca |@eatdrinkmag

SPECIAL GUESTS including Forked River Brewing,

London Brewing Co-op, Tobaggan Brewing, Storm Stayed

Brewing, Railway City Brewing & Powerhouse Brewing!

$5 EARLY BIRD TICKETS $10 after August 1st.

Tickets include 2 drink tokens. Purchase yours at

ANDERSON CRAFT ALES or EVENTBRITE.COM

1030 ELIAS STREET, LONDON • 548-888-ALES

Road Trip!

Come to the Cowbell Farm in Blyth, Ontario

"THE NO.1 CRAFT BREWERY IN CANADA TO VISIT."

—WAYNE NEWTON, FOOD & DRINK JOURNALIST

40035 BLYTH ROAD, BLYTH, ON N0M 1H0

1-844-523-4724 WWW.COWBELLBREWING.COM

familiar and distinctive yellow colour. The

rhubarb content gives a punch of tartness,

but not so much as to ruin the wheat beer

quaffability. Try pairing it with a bowl of

summer fruit.

El Buscador Cerveza

— Descendants Brewery,

Kitchener. What says heat

relief better than a Mexicanstyle

lager? As a deviation from

the macro-brewed Corona, El

Buscador Cerveza is a suitable

choice. It's only 4 per cent

alcohol, making it sessionable

even if the Day of the Deadinspired

artwork hints at

something more potent.

1857 Kolsch — Abe Erb Brewery,

Waterloo. This style of

beer originated in Cologne,

German, and is between a

lager and ale. It's alternatively

known as a cream ale,

particularly in the U.S. Abe

Erb's kolsch hits the mark as

a versatile and solid choice to

pair with thick hamburgers

or ribs. Many will prefer it as

a beverage with a meal rather

than a sessionable beer round

the campfire. It's 4.8 per cent

alcohol.

Cream Ale — Anderson

Craft Ales, London. If there's a craft

beer for cottage guests who think they

don't like craft beer,

this is it. One of three

breweries in London's

intriguing Old East

Village, Anderson brews

a number of delightful

year-round beers, oneoffs,

and seasonals. But

it's Anderson Cream Ale,

sold in six-packs of 355

mL cans, which serves as

the gateway. Medium in

body, malty in taste, it's

a stellar cream ale which

has quickly found a loyal fan base.

Backpaddle Blonde — Upper Thames

Brewing, Woodstock. What's summer

without a blonde in the crowd? Upper

Thames' Backpaddle Blonde is the two-year-
---
Eatdrink: The Local Food & Drink Magazine

old brewery's best selling

beer, and for good reason.

It has broad appeal among

all beer drinkers. It's malty

with a hint of citrus flavour

derived from Cascade hops

grown by the Tavistock Hop

Company. Blondes — or

golden ales — are close in

flavour to the popular macro

brews. Freshness is the key

to enjoying a craft blonde.

Backpaddle is in a limited

number of local Beer

Stores.

Helles Lager —

Wellington Brewery,

Guelph. Available at the

Beer Store in 355 mL cans,

Helles is Wellington's take

on a traditional German

light lager. It's a brave

attempt to sway fans of

big multinational brands.

For the patriots, it uses

BLACK SWAN

BREWING COMPANY

STRATFORD • ONTARIO

It's what we drink.

144 DOWNIE ST, STRATFORD

BLACKSWANBREWING.CA 519 • 814 • 7926 @BLACKSWANBREWINGCO
---
36 |August/September 2018 eatdrink.ca |@eatdrinkmag

all-Canadian barley and wheat malt. As a

4.5 per cent lager, it works in pretty much

all situations, from campfire gatherings to

grilled food.

Suburban Menace — Refined Fool

Brewing, Sarnia. This intriguing beer moves

people along the

craft beer tasting

chart. It's a little

stronger in alcohol

(5.7 per cent) and

a little more bitter

without treading into

IPA territory. Red

in colour, Suburban

Menace comes in

shareable 650 mL bottles, ideal for pouring

summer tasters for the unconverted. Its

complex tastes — can you pick up the caramel,

blueberry, and bubblegum? — make it a great

conversation starter.

Wild Child — Black Swan

Brewing Company. Wild

Child is a sour ale, in the

Berliner Weisse style. Light

and very bubbly, it's tart

without being puckering

and could serve as a great

gateway beer for wine

drinkers or those turned off

by the traditional bitterness

in many beer styles.

Variations are available at

times, with additions such as

seasonal fruit. Wild Chid is an excellent thirst

quencher as a stand alone on a hot summer

day or would pair wonderfully with a pan-fried

fish or salad. Available in 1-litre and 2-litre

growlers at the brewery.

And finally, three variations on a theme in one

convenient six-pack.

Summer Radler Pack — Waterloo

Brewing, Kitchener. Waterloo Brewing

packages its

three summer

seasonal

radlers in a

six-pack box.

A radler is a

mix of lager

and fruit

juice, with the

result being

more refreshing

flavour and less alcohol. Waterloo's pack

includes grapefruit, citrus, and raspberry

versions, each at 3.1 per cent alcohol.

Waterloo's radlers pair with light summer

fare off the grill — grapefruit with shrimp,

raspberry with whitefish and tossed salad,

citrus with steak. Waterloo Citrus Radler

has appeal as a reward after an afternoon of

summer yard work.

GEORGE MACKE is a Southwestern Ontario craft

beer explorer who spends too much time at the LCBO.

Discover Heather's Incomparable Journeys

Impeccable Italy — October 10–27, 2018

Featuring Lake Como, Tuscany, Amalfi Coast and Rome

The Slow Roads of Ireland — Sept. 5–24 , 2018

Explore Donegal, Connemara, Cork & Kerry and Dublin

Small group bespoke tours enjoying a

relaxed itinerary with inclusive pricing,

door to door from London, Ontario

www.heathersincomparablejourneys.ca

For any and all of your travel needs

519-473-8591

Heather Wilkinson

31 Nottinghill Gate, Suite 203,

Oakville ON TICO#50013851

Travel

Industry Council of Ontario
---
Eatdrink: The Local Food & Drink Magazine

August/September 2018 | 37

Wine

Finding "Somewhereness"

Terroir In a Glass of Wine

If you have been to a wine tasting, the

discussion at some point has probably

lead to terroir. This is a French term

that basically means "a sense of place."

When used in relation to wine, terroir is a

combination of factors, such as the soil and

the climate of the area where the grapes are

grown, which impart unique characteristics

that can be tasted in the wine.

Ontario is a cool climate wine region. The

wines made here are often more aromatic,

lighter in body, and

higher in acidity

than their warm

climate equivalents.

The soil in each

of Ontario's three

major wine growing

regions is complex.

Glacial clay, silt,

and limestone

contribute to the

terroir of Ontario

wines. Sometimes

just small variances

in the wine's acidity,

alcohol level or

minerality have a

big influence on the

taste and quality.

Recently a group

of 12 Ontario winemakers

gathered

at Stratford Chefs

School for an event

called Somewhereness.

In the group's

promotional material

"somewhereness"

is explained as a

term used "to describe the blend of terroir,

climate, vine and vintner that let a wine stand

apart.… It speaks of small plots, sustainable

practices, responsible stewardship and the way

by GARY KILLOPS

our approach to winemaking contributes to

the elusive characteristics that flow through to

your soul with every sip of our wine."

The tasting at the Chefs School offered

one-on-one conversations with the

Somewhereness producers.

Shiraz Mottiar, winemaker at Malivoire

Wine in Niagara, was pouring several wines. He

offered specifics on the Malivoire 2015 Small

Lot Pinot Noir ($29.95 retail from the winery).

The grapes were sourced from two vineyards

in the Beamsville

Bench. The Moira

vineyard has vines

that are over twenty

years old, and

they contribute

to the fresh fruit

acidity. The Mottiar

vineyard, Shiraz's

own vineyard, is at

a higher elevation

and imparts

both acidity and

minerality. The

Malivoire Small Lot

Pinot Noir offers

fresh, vibrant red

berry fruits, clove

and earthy spices,

and mushroom and

mineral nuances.

Lively, fresh with a

smooth finish. Wellpriced

for a quality

wine like this.

Malivoire's

2016 Small Lot

Chardonnay ($19.95

retail from the

winery) was made from Moira vineyard grapes.

The wine was allowed to go through partial

malolactic fermentation and then aged 50%

in stainless steel, with the remainder aged in

The Somewhereness brand ambassadors included:

(clockwise from top left) Shiraz Mottiar from Malivoire; Ilya

Rubin from 13th Street Winery; Harald Thiel from Hidden Bench

Estate Winery; and Suzanne Janke from Stratus Vineyards.
---
38 |August/September 2018

eatdrink.ca |@eatdrinkmag

The wineries each presented a line-up of products:

(from the left) Cave Spring, Malivoire, and Hidden Bench.

French barrels, for nine months. The buttery

notes and the hint of vanilla oak balance the

green apple and the lemon citrus notes.

Harald Thiel, owner of Hidden Bench Estate

Winery, was pouring six terroir-driven wines

at the event. "Our wines are unfiltered, which

I believe adds to their ageability" he said. "We

are trying to make wines that are not only

good Ontario wines but also are wines that

can take their place on the world stage." The

2015 Estate Chardonnay ($29.95 retail from

the winery) showcases the Beamsville Bench

terroir. The grapes in this wine are sourced

from the Locust Lane, Felseck and Rosomel

vineyards. Locust Lane and Felseck have a

west/east slope as well as a south/north slope,

providing excellent air, drainage and solar

exposure. A strikingly complex chardonnay

with lemon citrus, pear, melon and white

flowers, driven by a mineral backbone one

might expect from old world burgundies.

"Somewhereness" is also about sustainable

practices and responsible stewardship

of the land that is dedicated to growing

grapes. These winemakers also identify as

caretakers of the earth where their vines

grow. Nowhere is this more evident than at

Stratus Vineyards. Located in Niagara-on-the-

Lake, the winery was the first to earn LEED

Canada Certification by producing wines in an

environmentally-responsible manner.

"The wine we grow is dependent on the

health of the land on which it is grown,"

reads the Stratus Environmental Mission

Statement. "We farm our vineyard and guide

our winemaking as though our children's

future depends on it."

At the event, Stratus poured the 2014 Stratus

Red ($48 available at the winery only), a fine

example of terroir, as it presents a different

taste profile than the 2013 vintage currently

available at the LCBO ($38.75, vintages

#131037). A ripe, full bodied blend of cabernet

franc, cabernet sauvignon, merlot and syrah.

Juicy red berry fruits, grippy tannins and

complex secondary oak flavours having spent

584 days in 34% new French oak barrels.

Terroir reflects a vineyard's location and

captures a sense of place, soil, climate, and

seasons. It impacts vintage variations and the

winemaker's production decisions. Events

like showcase the unique terroir of Ontario

vineyards, and confirm that our wines have

evolved to be comparable with other wellknown

world-class wines.

GARY KILLOPS is a CAPS Certified Sommelier who

loves to talk, taste, and write about wine. He shares his

tasting notes on EssexWineReview.com

Share Our Passion

Available

at

at the

Fine LCBO Restaurants

& The Winery

Colchester Ridge Estate Winery

A Family-Run Craft Winery

Award-Winning VQA Wines

Friendly Tasting Boutique

Picnic Tables

Artisanal Ontario Cheeses

Special Events

@crewinery • 108 Essex County Road 50 • Harrow ON • 519-738-9800
---
Eatdrink: The Local Food & Drink Magazine
---
40 |August/September 2018

eatdrink.ca |@eatdrinkmag

Books

Rustle Up Some Grubs

Edible: An Adventure into the World of Eating Insects

and

Eat the Beetles!

When it comes to using insects

as food, a cry of "bring on the

delicacies" comes from certain

cultures, whereas

others need to be near-to-death

starving before considering bugs

for dinner. Two books, Edible: An

Adventure into the World of Eating

Insects and The Last Great Hope

to Save the Planet (Houghton

Mifflin, 2014) by Daniella

Martin and Eat the Beetles! An

Exploration into our Conflicted

Relationship with Insects (ECW

Press, 2017) by David Waltner-

Toews, have taken steps

beyond these polarizing camps

by arguing that entomophagy

(the eating of insects) has a

lot going for it: a plentiful

wild supply, few resources required to farm

them, no butchering involved, and high

nutritional value.

Martin got interested in entomophagy as

an anthropology student in Mexico.

She extended her globetrotting to

get experiences with cultures

more accepting of such a practice.

In Edible, she promotes

her theory that "insects are

the great untapped resource,

the final frontier of natural

food" by going to underground

bug-eating parties in

Tokyo, and to Noma (touted as

the world's best restaurant) in

Copenhagen, where bugs are incorporated

into the haute cuisine menu.

Her philosophy of "farm pest to table"

utilizes the natural world to counteract some

Review by DARIN COOK

Daniella Martin

harmful impacts of traditional farming. One

theory is that fields attract insects that can

simultaneously be harvested while picking the

crops. A yield of two different food sources

can be extracted from the same plot

of land, instead of disposing

of one with pesticides

that harm the other at the

same time. These are the

types of compelling ecological,

economical, and practical

reasons Martin has for eating

insects, but she also knows

how tasty they can be.

The first bugs she tried

were toasted grasshoppers

in Mexico. While not overly

enjoyable, she saw the appeal

of their resemblance to burnt

potato chips. Many bugs are

compared to peanuts, almonds,

and pistachios, with an overall consensus of

having a nutty flavour profile. Martin likens

queen ants to beef jerky popcorn kernels,

and fried bamboo worms to extra

crispy French fries. The first time

she experimented at home,

after mail-ordering wax moth

larvae, Martin says they

smelled liked mushrooms

while cooking, and tasted

like earthy, savoury raisins.

Early in her research

Martin confesses to being

"on high alert for digestive

disturbances" especially since

insects are nearly always eaten

whole, including outer shells not

easily digested by humans. Even with

the smorgasbord of insects she has sampled,
---
Eatdrink: The Local Food & Drink Magazine

August/September 2018 | 41

including tougher-to-swallow critters like

scorpions and whole tarantulas (the former

she compares to crab and the latter to chewy

Korean barbeque), she admits that insects

have never caused any gastrointestinal

problems. But she knows there is

a stigma to overcome, so Martin

digs deep with nutritional and

ecological arguments to make her

case for insect eating. She also

includes an appendix of insects

that are safe to consume, and a

compendium of some tried-andtrue

recipes (Wax Moth Tacos

or Cricket Kale Salad, anyone?).

It may not be easy for North

Americans to whole-heartedly

swallow the idea, but even

insinuating insects into one's

diet in small doses could lead

to major change.

Three years later Waltner-

Toews, a veterinarian from

Kitchener, has expanded on this topic in

Eat the Beetles! and I was curious to see if

entomophagy has become more acceptable.

Have insects been popping up on more restaurant

menus? Have they graduated

from exotic to mainstream? Have

insect farms started replacing

cattle farms? Has a reliance

on insects as food helped

the world or has the trend

stayed too small to have an

impact? Are the squeamish

still too squeamish?

While the writing style

of Martin had more of a

pop culture vibe, that of

Waltner-Toews is more scientific,

albeit very readable and enjoyable,

especially with his whimsical

reference to the (human) Beatles, not only

in the title, but in chapters alluding to Fab

Four songs — Cricket to Ride; Can't Buy Me

Bugs; I Am the Cockroach. Each punninglytitled

chapter deals with questions that have

cropped up since "global beetle-mania." His

research takes him to fine dining in Paris (for

the best insect preparations), wasp hunting

in Japan, and cricket farming in Cambodia.

One thing that the three years between

these books has provided is more time for

scientific research, to see if entomophagy

has teeth to support global food security or

will lead to newer ecological disasters. There

David Waltner-Toews

is a deep symbiotic relationship between

insects and the natural world and taking away

too many insects from the wild could have

unintentional consequences. This concern

leads Waltner-Toews to examine the viable

options currently underway in insect farming.

Although optimistic about bugs

showing up in markets and

on menus, Waltner-Toews'

tone is more cautious,

compared to Martin's

enthusiasm to convert all of

us to insect eaters. He has

good experiences sampling

bug dishes: palm weevil

larvae taste like dried figs to

him and seasoned crickets

are a legitimate substitute for

greasy bar snacks. Given the

overarching comparisons to

snack foods, bugs may not have

leapt to the plate to replace meat

entrées yet; their main success

comes as protein replacements in

tacos surrounded by the other accoutrements

to make a Mexican-style meal. For the newly

initiated, some of the least offensive offerings

are insect eggs as seasoning on upscale

dishes (similar to the use of caviar)

or an amalgam of bugs mixed

with vegetables in stir-fries or

salads. Some companies are

successfully using ground-up

cricket flour as protein

powder in energy bars to

mask any resemblance to sixlegged

creatures.

For many cultures,

entomol ogy and gastronomy

have already collided in ancient

methods of sustenance or as more

recent trends to embellish menus.

Leaving taboos at the door while reading

these books may lead to some new tasty

snacks, while jumping into a movement

that can alleviate global problems. Even if

overcoming cultural aversions seems difficult,

remember that bugs are already engrained

in many indigenous cuisines, and the advice

of Waltner-Toews is: "If you are a guest in

another country, and they offer you bugs to

eat, it is rude to decline the offer."

DARIN COOK is a regular Eatdrink contributor who

lives and works in Chatham-Kent.
---
42 |August/September 2018

eatdrink.ca |@eatdrinkmag

Recipes

Firehouse Chef

Recipes from Canada's Firefighters

By Patrick Mathieu

Review and Recipe Selections by TRACY TURLIN

Patrick Mathieu is a Quebec native who

was influenced by his grandmother

to learn to cook at the age of 16.

A few years later he was inspired

by his grandfather and uncles to become a

firefighter. Sixteen years on, Mathieu now

works for the Waterloo Fire Department.

He and his wife Andrea Lauren own Station

House Catering and Private Chef Services.

He's a food columnist for Firefighting in

Canada magazine and was a contestant on

Season 2 of Food Network Canada's Chopped

Canada. Somewhere in there he found time to

write a cookbook: Firehouse Chef: Recipes from

Canada's Firefighters (Whitecap Books, 2016).

According to the author, rookies are given

the following choices in the firehouse kitchen:

cook for a bunch of hungry firefighters, or

clean up after them. For Mathieu the decision

was easy. He developed his firefighting/

life-saving skills, balanced that out with his

culinary skills, and found he loved them both.

Firehouse Chef was more than the meat and

potatoes fare I was expecting. These men and

women seem to love their food spicy. I was also

surprised at the number of desserts on offer.

Mathieu gives us 90 of his own recipes, ranging

from classic French Canadian dishes to Italian

and Mexican favourites. He and his wife honeymooned

in Thailand, and their love for the

beautiful flavours of that country

are apparent in this book. Fifty

further recipes are contributions

from other firehouse cooks across

Canada, including a number from

Southwestern Ontario. If you

know any firefighters, you'll definitely

want to check this out to

see if they have a recipe included.

I never really get tired of fresh

Ontario corn with a simple butter/salt/pepper

treatment, but

Mexican Grilled Corn

is a decadent alternative

and sure to

impress at your next

cookout. A beautiful

balance of sweet

corn, salty cheese

and tangy lime,

these are only

made better by

being incredibly

messy. The perfect

summer food

made for sharing with a crowd.

If you like the camping vibe without the

wood smoke and mosquitoes, try a slightly

more upscale version of the campfire

classic, S'mores Sundae. It's a great way to

enjoy the flavours of childhood memories

without dropping marshmallows in the fire.

(Does anyone else like them charred on the

outside? Tasty, but difficult to find the sweet

spot before they go nuclear.)

For an easy and quick weeknight dinner

in the summer, you can't do much better

than Grilled Ahi Tuna with Sicilian Salsa.

The flavourful salsa can be made ahead of

time and the tuna can be grilled in less than

five minutes. It makes for a very light yet

satisfying dinner. Salad or pasta could be

served alongside, depending on

your appetite.

I could cook from this book

all summer and never run out of

recipes I want to try. I actually

tried to find a recipe I didn't like

the look of and couldn't find

one. (Maybe the risotto. I don't

get risotto. Is it rice? Is it cream?

Is it mushy, crunchy?) What was

Author Patrick Mathieu
---
Eatdrink: The Local Food & Drink Magazine

I saying? Oh yes, all of Firehouse Chef's recipes

— including risotto — are flavourful dishes that

work as well for a busy family as they do for busy

firefighters.

In addition to the wonderful food, we get

a glimpse into the lighter side of life in a

working firehouse. This book is as much fun to

read as it is to cook from.

Mexican Grilled Corn

Serves 4

In Ontario, we really look forward to fresh corn

season and in the fire house a couple dozen cobs

will regularly show up during a shift. Try this

Mexican street-food edition to dress up your

next cob.

August/September 2018 | 43

TRACY TURLIN is a freelance writer and dog groomer

in London. Reach her at tracyturlin@gmail.com

Recipes excerpted from Firehouse Chef: Recipes from

Canada's Firefighters. Published by Whitecap Books.

Reproduced by arrangement with the Publisher. All

rights reserved.

Brush each ear of corn with about 1 Tbsp (5 ml)

mayonnaise mixture and then roll in the cheese to coat.

Sprinkle with salt, pepper and cilantro and serve with lime

wedges for squeezing over the corn.

4 ears fresh corn,

husked

½ cup (125 ml)

mayonnaise

½ Tbsp (7.5 ml)

Mexican-style chili

powder

½ Tbsp (7.5 ml)

smoked paprika

1 tsp (5 ml) finely

grated lime zest

½ cup (125 ml)

crumbled cotija,

queso fresco or

feta cheese

Kosher salt, to taste

Freshly ground

pepper, to taste

½ cup (125 ml) fresh

cilantro, chopped

1 lime, cut into

wedges, for serving

Prepare a gas or charcoal

grill over high heat.

Grill the corn, turning

frequently with tongs

until the kernels have

softened and are charred

in spots, 6-8 minutes.

Remove from the grill and

allow to cool slightly.

In a small bowl, combine

the mayonnaise, chili

powder, smoked paprika

and lime zest. Put the

cheese on a small plate.
---
44 |August/September 2018

Grilled Ahi Tuna with Sicilian Salsa

Serves 4-6

Ahi Tuna could very well be my favourite

ingredient both to cook and to eat. During my

appearance on Season 2 of the Food Network's

Chopped Canada you can only imagine my giant

sigh of relief when I saw a beautiful piece of

tuna as one of my secret ingredients in the main

course round! This dense, firm-fleshed fish is

absolutely perfect for grilling and absorbs rubs

and marinades wonderfully. Cooking it rare will

ensure its maximum tenderness and flavour, and

the Sicilian Salsa is a perfect briny compliment to

this or any grilled fish.

4 ahi tuna steaks

(about ½ lb/225 g

each)

2 Tbsp (30 ml)

grapeseed oil, for

coating

SPICE RUB

1 Tbsp (15 ml) garlic

powder

1 Tbsp (15 ml) dried

basil

1 tsp (5 ml) ground

fennel seeds

¼ tsp (1 ml) red chili

pepper flakes

½ Tbsp (7.5 ml)

kosher salt

1 tsp (5 ml) lemon

pepper or freshly

ground black

pepper

SICILIAN SALSA

¼ cup (60 ml)

chopped cured

black olives

1 cup (250 ml)

chopped tomatoes

¼ cup (60 ml)

chopped fresh basil

3 garlic cloves,

minced

¼ tsp (1 ml) cayenne

2 Tbsp (30 ml) extra

virgin olive oil

Juice of ½ lemon

Kosher salt, to taste

Prepare a grill for direct

grilling over high heat and

oil the grill rack. Coat the

tuna with grapeseed oil.

eatdrink.ca |@eatdrinkmag

SPICE RUB

In a small bowl mix together the garlic powder, basil,

fennel seeds, chili flakes, salt and pepper. Sprinkle both

sides of each tuna steak generously with the spice rub.

SICILIAN SALSA

To make the salsa, combine all ingredients in a bowl, taste

and season with salt. Set aside.

Grill the tuna directly over high heat for 1–2 minutes per

side, until grill marked and still rare in the middle.

Arrange the tuna steaks on individual plates and top with

the salsa. Serve alongside your favourite pasta.
---
Eatdrink: The Local Food & Drink Magazine

S'mores Sundae

Serves 6

Sundaes are a really simple way to have fun

with dessert, and they are a regular treat in

the firehouse. This easy and decadent twist

on everyone's campfire classic might surpass

the original, with a homemade chocolate

ganache, toasted marshmallow and lots of

ice cream!

12 graham crackers

3 Tbsp (45 ml) brown sugar

1 stick unsalted butter, melted

Pinch of kosher salt

40 large marshmallows

½ lb (225 g) good-quality dark chocolate

½ cup (125 ml) heavy cream

2 cups (500 ml) vanilla bean ice cream

2 cups (500 ml) chocolate chunk ice cream

August/September 2018 | 45

Preheat oven to 325°F (160°C) and line a baking tray with

parchment paper. Add the graham crackers to a food

processor and process into fine crumbs. Add the sugar, butter

and salt and pulse until the mixture is well incorporated.

Pour out onto baking tray and form into one large "cookie."

Bake until light golden brown, about 15 minutes. Let cool

completely then break into crumbles.

Preheat oven on broil. Lay marshmallows on a parchmentlined

baking tray in a single layer and place under the broiler

for just a couple of minutes until browned well all over.

Remove and set aside.

Finely chop the chocolate and place in bowl. Heat the heavy

cream over medium heat until just starting to simmer.

Pour the heavy cream over the chocolate and fold until the

chocolate melts and it becomes a smooth ganache.

Place 1 scoop each of vanilla and chocolate ice cream

in a parfait glass or bowl. Layer your sundae with dark

chocolate ganache, graham cracker crumbles and a toasted

marshmallow or two on top.
---
46 |August/September 2018

eatdrink.ca |@eatdrinkmag

The Lighter Side

Give Peas a Chance

By DARIN COOK

It is not surprising that romantic unions

occur over a common love of certain

foods, as dictated by the adage that

the way to one's heart can be through

the stomach. Less often will you see a couple

bonding over a meal liked by one individual

but not by the other. Such incompatibilities,

though, can provide insights into how

relationships work. It was definitely

not my culinary skills that urged

my wife to enter into holy

matrimony with me, but it

was my cooking during our

courtship that taught us both

some relationship lessons.

When we were dating, the

first meal I cooked for my future

wife was my signature dish, one far more

elaborate in my mind than in reality. I called

it Chicken and Peas over Rice. By cooking for

her in the early stages of our dating, I thought

I was proving that I was not useless as a

potential mate, and I was under the illusion

that it was more romantic to surprise her

with a homemade dish than to let her in on

what to expect for dinner. I may have had this

recipe down pat — open a can of soup and a

container of sour cream for the sauce, split

open a bag of frozen peas, boil Minute Rice,

cut boneless chicken breasts into cubes. But it

is stupefying that I thought it was worthy of

serving to a girl I was trying to impress.

A few days after I made this meal she told

me, "I hate peas, but I like you, so I ate them,

and now peas aren't so bad." Never would I

have guessed that love could edge someone

towards liking more vegetables. Up to that

point she had known she liked me, but by

eating those peas she learned just how far she

would go for our relationship. She could have

easily gone the other way, thinking, "I was on

the fence about whether I liked this guy and it

doesn't seem worth it to eat something I don't

like, so it may be time to call it quits."

But that did not happen. The peas had not

driven her away. However I wanted to avoid

giving her any more reasons to stop eating

with me. I had learned my lesson and decided

to ask more questions about what she liked

eating. I found out she liked Mexican and Asian

food, and not long after we got engaged over a

platter of Mexican-Asian nachos: a successful

fusion dish with successful results.

After twelve years of marriage and

the addition of two sons to our fold,

I still try to impress my wife with

my cooking. Although I do a lot

of things wrong in the kitchen,

even when meticulously

following a recipe, I hope that

my attempts remind her that I

wasn't such a bad catch after all.

And when I take over the kitchen I

always ask, even if slightly uncertain after all

these years, whether she likes persimmons, or

bamboo shoots.

To this day, especially when we are trying

to get our two sons to try new foods, my wife

says, "You know, I really hated peas until the

first time your dad cooked dinner for me."

And I reply with, "Actually, your mother

did not know how much she liked me until

she tried peas. Only then did she realize she

would do anything for me. And look where it

got her: she has me and she likes peas."

I still make Chicken and Peas over Rice

for our family of four. I know it may be

unrefined, but I make it with love every time,

because it could very well be one of those

links in our relationship chain that made our

love grow stronger. That first meal may not

have been the way to my wife's heart, but she

learned that she can tolerate certain things

for love. And I learned the importance of

asking more questions.

DARIN COOK is a regular Eatdrink contributor who

lives and works in Chatham-Kent.
---
Eatdrink: The Local Food & Drink Magazine

August/September 2018 | 47

a

movement

for

restaurants

who believe

local food

matters.

®

A Feast On® Certification means

you're fighting the good food fight.

You're supporting our farmers

and putting local food first.

To get certified, visit:

ONTARIOCULINARY.COM

@ONTARIOCULINARY #FEASTON
---
48 |August/September 2018

eatdrink.ca |@eatdrinkmag

All the seafood you could want ...

... right to your doorstep.

Visit us in-store in KW or order online

WWW.CAUDLESCATCHSEAFOOD.COM