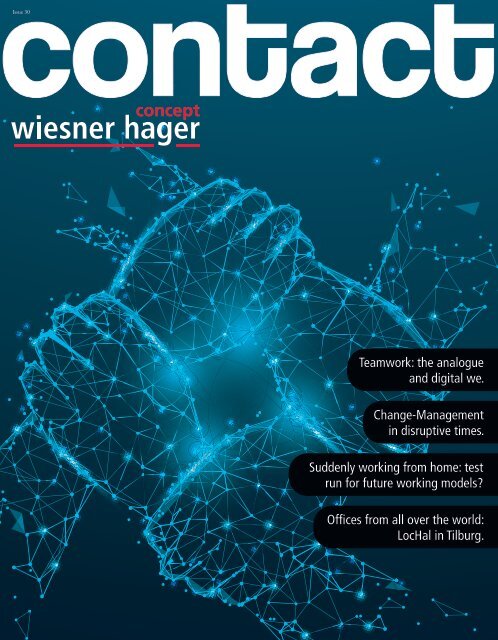 contact office magazine #30
The fact is: COVID-19 has turned organisations' playbooks upside down. Well thought-out, step-by-step change management processes are currently pipe dreams – many decisions have to be made overnight now. In our cover story, we take a close look at how team play and team leadership work during an extreme crisis like the one we are experiencing now and what insights we can preserve for the future.
The fact is: COVID-19 has turned organisations' playbooks upside down. Well thought-out, step-by-step change management processes are currently pipe dreams – many decisions have to be made overnight now. In our cover story, we take a close look at how team play and team leadership work during an extreme crisis like the one we are experiencing now and what insights we can preserve for the future.
SHOW MORE
SHOW LESS
You also want an ePaper? Increase the reach of your titles
YUMPU automatically turns print PDFs into web optimized ePapers that Google loves.
Issue 30

Teamwork: the analogue

and digital we.

Change-Management

in disruptive times.

Suddenly working from home: test

run for future working models?

Offices from all over the world:

LocHal in Tilburg.
---
A guide for difficult

times.

Of course the virus has also reached the latest edition of our Contact

– fortunately in a positive sense. It ultimately offers a series of constructive

thoughts, information and tips for, during and after corona.

In our cover story, we take a close look at how team play and team

leadership work during an extreme crisis like the one we are experiencing

now and what insights we can preserve for the future.

The fact is: COVID-19 has turned organisations' playbooks upside

down. Well thought-out, step-by-step change management processes

are currently pipe dreams – many decisions have to be made

overnight now. Read an exciting interview with Christian Vieira dos

Santos, Managing Director of SYMBIOS and expert for Change-

Management & Transformation on this.

We are also doing a test run for future working models, addressing

the often invoked but rarely spatially implemented team office, showing

three examples of how shared offices can be practised, as well as

having rethought conference rooms for you.

Afterwards we take a look at renowned residential construction

specialist Stephan Gratzer's desk and visit perhaps the most beautiful

and unusual revitalisation project in Europe: LocHal in Tilburg, the

Netherlands. I am delighted that we can offer you a real guide with

this issue of Contact!

Be inspired and stay healthy.

Markus Wiesner
---
Teamwork: the analogue and digital we ............................................................................04

Team offices: Demand and reality ......................................................................................08

Interview: Change management in disruptive times ..........................................................10

Shared Offices: from private to public space ......................................................................12

Useful things for everyday office life ..................................................................................14

Reference story: Smart workplace solution by & for ACP TEKAEF ......................................15

Suddenly working from home: Test run for future working models? ..................................18

Offices from all over the world: LocHal in Tilburg, the Netherlands ....................................20

What's on your desk, Stephan Gratzer? .............................................................................23

The "Boomer" at work ......................................................................................................24

Showroom .........................................................................................................................26

Publisher: Wiesner-Hager Möbel GmbH, Linzer Straße 22, A-4950 Altheim, T +43/(0)7723/460-0, altheim@wiesner-hager.com,

www.wiesner-hager.com, thinknewwork.com; Concept/editing: Wiesner-Hager, plenos creative; Layout: plenos creative, plenos.at;

Guest author: Wojciech Czaja; Subject to typesetting & printing errors; 05/2020.
---
Office concepts

Teamwork:

The analogue and

digital we.

How do team play and team leadership work in times of corona? What are the main differences

between analogue and digital communication? And which findings from the current crisis, but also

from labour research in the past can we preserve for the future? A story about slack, commitment

and online after-work beers.

4 contact
---
"We can talk on the phone tomorrow, sometime

between 9 a.m. and 4 p.m., and then you can ask me

your questions", says Jens Kapitzky, "but

unfortunately, we can't do that today. It's just after 5

p.m., and my team and I are already in the middle of

our online after-work beers. We're calling it a day". All

right, cheers and goodbye! See you tomorrow! The

phone call is over.

Kapitzky is an organisational and strategic consultant

and heads the Metaplan Leadership & Organization

Academy in Quickborn near Hamburg. As with most

companies in April, the German head office and the

branches in Zurich, Princeton, Versailles, Singapore

and Shanghai are currently closed, and most of the

approximately 65 employees are working

from home. Every day at 5 p.m. Central

European Time, they meet virtually

and treat themselves to a glass of beer or

pint or panaché – or even a Far Eastern

midnight drink. "Teleworking has been

on our agenda for several weeks now",

says Kapitzky the next morning, "and

although we have been used to remote

working for years, there is a significant

difference between communicating with

each other virtually, or in fact

exclusively, as is currently the case. If

there are no other possibilities for

informal meetings, chatting at the coffee

machine or having lunch together in the

cafeteria or canteen, then you have to react

flexibly to the situation and proactively introduce

substitute rituals". Top priority: professional matters

are only spoken about in a rudimentary way during

online after-work beers, and if so, then only funny

stories and anecdotes.

"For weeks the phone has been ringing off the hook,

one video conference after another, hundreds of emails

a day, as companies from all sectors find out how they

can manage their teams efficiently and facilitate

collaboration in times of the corona crisis and

teleworking". Kapitzky explains that customers

include trade fair and event organisers, machine

builders, pharmaceutical companies and educational

institutions – both large companies and SMEs and

individual entrepreneurs who are considering how

The management

role becomes more

complex with

distance.

best to take their services online in this era of social

distancing. Kapitzky also heads brand eins safari,

where he teaches the differences between analogue

and digital leadership management in the form of

Learning Nuggets webinars on behalf of the German

business magazine.

"May I be completely honest? The world is full of crap

meetings that take up a lot of time, have no

measurable results and make you feel like you are

falling into a black hole as life rushes by. And these

meetings that are so crap when you attend them in

person, are just as crap in remote mode". Kapitzky

demands: "Clear rules of the game are required as to

what a meeting is for, how long it should last, who

is going to lead the discussion, what

result is to be achieved and who is

going to implement and carry out the

agreed points, to what extent and by

when. If this distribution of roles is not

clear, then the consequences in remote

working are even more tremendous than

in everyday work when you are actually

physically present, because the

management role becomes more

complex with distance". What helps:

training sessions for meeting hosts,

ideally also the introduction of a

separate moderator role.

A study conducted in 2019 by the

globally active ADP Research Institute

(ADPRI) proves that such orchestrated teamwork in

teleworking is not necessarily a disadvantage

compared to the traditional office with physical presence.

The study analysed the involvement of a total of

19,000 workers around the world, with a

representative sample of 1,000 workers in 19

countries. The result is surprising, if not positively

shocking. Firstly: the commitment increases

exponentially with the ability to work in a team and

the trust in the team leader. While only eight percent

of all the employees surveyed working without a team

said that they feel fully committed, the commitment

in a team already rises to 17 percent. At the top with

45 percent commitment are all those who work in a

team with good confidence in the team leader. And

secondly: the more often and more intensively

© Shutterstock

contact 5
---
Office Concepts

employees work away from home or on business trips,

the more committed they are to their work. While

employees with a permanent physical presence in the

office are only 12 percent fully committed, the

commitment increases to twice that with four or even

five days of teleworking per week.

"The rise of the gig economy has raised concerns about

the social isolation of gig workers", write Marcus

Buckingham, research director and co-managing

director at the ADP Research Institute, and Ashley

Goodall, senior vice president at U.S. telecom

company Cisco, in a recent article in Harvard Business

Manager. "However, the ADPRI study shows that

this way of working actually encourages commitment

more than the traditional model. The results show

that gig-work can not only be very

appealing, but also contains elements that

we can integrate into our

traditional work".

In plain language, Buckingham and

Goodall continue in their documentation,

this means: "Employees should be able

to exercise more control over their work

and have more opportunities to do things

that inspire them. They should be able to

combine the best of both worlds –

a predictable, stable role in a home team

and a part-time job in the form of various

opportunities to join dynamic teams within

the same company". For this

communication and leadership culture to gain a

foothold, it is not only necessary to have good,

empathic team leadership, but also a clear allocation of

roles in the team and equally clear feedback rules with

attention and appropriate appreciation.

Anachronistically, a role model that was developed almost

five decades ago and that deals with the question

of how to put together a perfect team comes into play

here. The British researcher and

management consultant Raymond Meredith Belbin,

who has been researching this topic since the 1970s,

assumes that people behave differently depending

on their personality traits and take on a typical role

according to their abilities and habitus. Belbin defines

three categories, each with three matching team roles:

The action oriented roles include shaper, implementer

and perfectionist. The people oriented roles include

coordinator, team worker and resource investigator.

And the cerebral roles are made up of deviser, monitor

evaluator and specialist.

Virtual space demands

and prmotes

self-organised

work.

"Belbin's role model is still relevant today", says

Viennese industrial and organisational psychologist

Bettina Wegleiter. "And I find it fascinating that his

model continues to be used as an important basis,

even with disruptive upheaval such as digitalisation,

the corona crisis and changes in usual wor Isuk and

communication processes. Especially in times of

teleworking, digital communication and disembodied

team leadership using Zoom, Moodle, Slack, Webex

and MS Teams, Belbin's model is a very useful and

helpful orientation for putting together harmonious,

efficient and productive work and project teams". But

Wegleiter does see a change to the seventies: "In

contrast to the past, it is not the constants who win

today, but all those who are able to swap roles and

switch back and forth between different team roles,

like in holacracy". This

flexibility and elasticity is indispensable,

particularly in the new working world,

says the psychologist, because it makes

a difference whether you are physically

on site, whether you are contributing to

a video conference with a show of hands

or whether you are expressing a creative

idea during an informal meeting in the

corridor. "Virtual space demands and

promotes self-organised work. The bigger

and more extensive your role repertoire,

the faster you can integrate into the team,

the better prepared you are for the work of

the future".

The Viennese furniture and product designer Thomas

Feichtner is looking at how the previous findings

and achievements in the field of team play and team

leadership, as well as the current corona crisis, will be

reflected on the job market. "The way teams function

and how they are managed in the best possible way

is currently involuntarily undergoing a complete

upheaval. We are working differently, communicating

differently, moving differently, and our attitude

towards the classic office is changing as a result. This

will have an impact on furniture, on office design

and most likely even on the residential and office real

estate market post-corona".

We are able to work efficiently and productively from

home. As the ADP Research Institute has

emphatically demonstrated, we are doing this with a

comparatively high level of commitment. And

indispensable work qualities such as team spirit and

the ability to work in a team can be surprisingly

6 contact
---
maintained even without a permanent physical

presence, assuming good leadership. "So perhaps the

office of the future will be an office base with a lounge,

coffee house and a few work cells for concentrated

work, if someone is going stir-crazy working from

home with their children and partners around", says

Feichtner. "Perhaps the office of tomorrow will serve

less as a workplace and more as a social meeting place

to discuss work tasks and personal anecdotes – and

perhaps just to celebrate a real evening together once a

week with a real beer".

Wojciech Czaja

© Shutterstock

contact 7
---
Interior design

© Visualisierung: Studio Perspektiv

More than just a room to work in:

team offices

Demand and reality.

Collaboration before confidentiality.

Open-plan office, combi office, management

office and cellular office. The notions of what

is meant by the different types of offices vary

widely. After all, the types of offices used in

a company are as varied as the areas of responsibility.

In this article we take a look at

the often quoted but rarely spatially realised

team office.

As different as team offices are designed in companies,

depending on the respective area, this type of office has

some basic things in common that characterise it as

such. Cooperation and communication are paramount,

the work processes are geared towards collaboration.

Efficient working in a team office means short

communication channels and instantly sharing

information. Team members should therefore also

work together in the same space. Open-plan or cellular

offices are not suitable for this purpose, but "open

units" - small-structured, yet open zones - are called for.

These are visually and acoustically shielded to a greater

or lesser extent depending on the area and purpose.

The shielding from the outside should be chosen in

8 contact
---
such a way that concentrated team and project work

is guaranteed. For reasons of efficiency, the number of

employees who share a common workspace in the team

office is 20 people at the most. They need the

opportunity to share information quickly and to easily

keep up to date.

A team office must offer more than just a place to

work. The focus is on cooperation and requires the

appropriate support in terms of space and equipment.

The aim is to provide an environment that is geared

to the team's tasks entirely in line with the principle

of activity-based working: concentrated (team) work,

coordination and communication or creative

brainstorming. If necessary, an acoustic and visual

retreat should also be available, e.g. in the form of a

telephone booth or a silent room. The workstations are

ideally equipped with electric height-adjustable desks.

This not only increases the ergonomic quality, but also

creates space for coordinative, spontaneous

conversations while standing. Teams are also supported

by digital workspaces. The shared (team) cloud often

takes over the storage space function in the form of

shared storage locations. Metres and metres of wall

units are a thing of the past – at least in team offices.

Scrum gives the team office a new dynamic.

Integrated or separate communication areas should

facilitate the high demand for internal coordination

within the team. Contemporary multimedia

equipment also envisages flip charts and pin boards

for creative exchange. One meeting is hot on the heels

of the next one with Scrum teams in particular. With

this agile working method, the team office virtually

becomes a project office with flexible settings, which

can take place with different team members depending

on the project phase. This also requires the flexible

adaptability of space and furnishings. There are no

limits to the creativity of the design: high tables for

short meetings, media furniture for brainstorming

sessions and middle zones equipped with upholstered

furniture or tables and benches that are also used for

team meetings and lunches together.

Clear rules of the game are required for

cooperation.

The openness of this type of office and the subjective

perception of the team members also poses challenges

for the office space, which are best solved at the office

design stage: acoustic and climatic comfort must be

created for the whole team. On the one hand, this

requires structural measures, on the other hand it also

requires rules and a willingness to compromise for each

individual employee.

In general, people's conduct plays a crucial role for a

successful team: it brings together individuals with

different experiences and needs. What constitutes a

team's strength under normal circumstances can

quickly become a weakness if employees do not get

along well with each other. Ongoing disputes and

friction put cooperation within the entire team at risk

– even the best office space is of no use then. Inconsistencies

should therefore be addressed at an early

stage and ideally be cleared up with the help of team

coaching, before the work together is affected and the

entire team suffers.

contact 9
---
Interview

Change management

in disruptive times:

© shutterstock

What we can learn from COVID-19 for the design of new working environments.

COVID-19 suddenly turned the rules of the game upside down for organisations. The consequences

will be felt for a long time to come. Instead of introducing processes and changes step by step into the

corporate culture, changes have to happen overnight in exceptional situations. We asked Christian Vieira

dos Santos, CEO of SYMBIOS and expert for transformation processes in new working environments, for

an interview.

During the worldwide corona crisis, many companies

have reached their limits and are operating in

"emergency mode". Is there any way to prepare for such a

horror scenario?

The corona crisis is making many things that were

there before even clearer. It's like being under a

magnifying glass. Corona has clearly shown us how

interconnected, complex and dynamic our world is.

Dynamics describes nothing other than the

probability of being confronted with surprises.

Something is complex, on the other hand, when simple

solutions no longer work on the basis of "if-then"

relationships. So in the sense of: If A happens, I have

to do B to get C. Corona is both. Dynamic and

complex. It appeared unexpectedly and cannot be

solved using simple responses.

Our current organisations are not designed for

dynamics and complexity. On the contrary, they are

based on predictability, plannability and stability. In

an environment that cannot be planned because it is

full of surprises, these forms of leadership and organisation

no longer work. The systems that brought us

prosperity in the 20th century are failing in the 21st

century.

10 contact
---
How can companies respond to dynamics and complexity?

In the meantime, we are aware of good solutions for

how we have to design leadership, organisation and

cooperation so we can master dynamics and complexity

better. That's what New Work and agile do best. Instead

of planning, centralised control and processes based on

the division of labour, there is a need for adaptability

(agility), creative problem solving and the ability to

organise yourself independently. Corona therefore offers

us a great learning opportunity to develop these skills, so

we can deal with dynamic events and complex problems

better in future.

What do you think companies can do in

concrete terms to seize this opportunity?

The corona crisis, for example, has meant

that even the most hesitant company has

had to switch to virtual collaboration. And

this happened overnight, without any long

negotiation processes through working

from home regulations. In many cases,

companies also had to find creative solutions

to make this possible from one day

to the next. That was agility in its purest

form. These companies then also realised

that you can trust your employees to work independently,

even if you only see each other from time to time by

video conferencing.

Corona has shown that many tasks can also be done

remotely using video conferences and collaboration

tools. Will we even need offices at all in the future?

Corona acts like a magnifying glass here too. Because

even before corona, more and more companies

recognised the importance of the office for corporate

culture. Corona is showing us that much more work can

be done remotely and independently of location and

time constraints. This offers, for example, a great

opportunity to reduce business and commuter traffic in

future. But corona is also showing us how

important social exchange is for us humans. The office

will therefore become a place of lively interaction even

more so than before. A place where a sense of

community, team spirit and cultural identity

are made possible.

What is important to integrate this newly

acquired knowledge into a normal working

day and not fall back into our "old rut"

again?

In my opinion, relapsing into old patterns of

behaviour should not be underestimated. We

Corona offers

learning

opportunitites for

the future.

are familiar with this effect from courses, for example:

the different environment in a seminar creates a different

context that makes something new possible. Once this

context disappears again, the old routines quickly creep

in again. Companies should therefore ask themselves

which learning experiences from the corona period can

become the new norm in everyday life.

What kind of people are needed to steer change in the right

direction?

Self-organisation, personal responsibility,

interdisciplinary problem-solving

competence and the ability to change need

a completely new way of thinking, a new

mindset or consciousness. In my opinion,

this is one of the major tasks facing managers

today. To create an environment in which

employees and the entire organisation can

develop these skills. If this is successful,

corona will also have done some good.

We human beings are born as highly creative

beings who want nothing more than to grow

beyond ourselves independently and in

cooperation with other people. Every human

being therefore innately has exactly the

prerequisites that we need in future. Unfortunately,

many people have unlearned these natural abilities from

infancy to adulthood. Therefore this is one of the great

tasks facing managers today: to create an environment in

which these skills can flourish again.

© SYMBIOS

Christian Vieira dos Santos

Founder of SYMBIOS, expert for transformation processes

and new working environments

Christian Vieira dos Santos has been working in the

fields of organisational development and consulting

for 25 years. With SYMBIOS, he supports companies

in transitioning into the new world of work and

designing new working environments.

contact 11
---
Office concepts

Shared Offices.

from private to public space.

Strictly private! Confidentiality, privacy and the security of their buildings or rental properties go

without saying for most companies. After all, who wants to show their business hand?

Nevertheless, the dogma of absolutely protected company buildings and office spaces is about to be

broken down. Companies and organisations are increasingly offering "shared offices", which create

a partial public sphere. We show you how this can be implemented in practice using three examples.

12 contact
---
Creative breeding grounds.

Little space available and high rents are increasingly

leading to several companies sharing office space in

partnership. The internal organisation for this requires

a zoning concept that combines shared areas such as

a working café, small kitchen or meeting rooms with

clearly assigned work areas, so that each company can

also preserve its privacy.

The Dutch company Broeinest has just opened its

fourth location in Utrecht. Broeinest, in English

"breeding ground", is a crossover concept consisting

of an office, showroom, coworking and creative space.

Broeinest leases to partner companies that share the

premises. It also showcases itself to external architects,

who can use the creative breeding ground as a playground

for material tests, interior products or tools.

Designerwerkschau in Munich is similarly organised.

As a shared showroom, it opens its doors to an

audience interested in architecture and design and

organises a series of events on its premises.

Coworking spaces.

Originally, the trend towards coworking was intended

as a modern and cost-effective contact point for

freelancers and start-ups: people who do not work

together directly, but who can use mutual synergies

through the shared and inspiring workspace. At the

same time it forms a community, fulfilling the

important social tasks of people being together. This

community spirit is clearly evident in the Czech Impact

HUB. The coworking centre in the heart of Prague has

been a contact point for aspiring start-ups for many

years.

In the meantime, more and more companies are setting

up and using their own coworking spaces, even within

their own organisations: They allow employees to work

together with external freelancers and crowd workers,

form temporary project teams and create retreats for

meetings. Collaboration is encouraged and the spontaneous

sharing of ideas is virtually stimulated!

Coworking spaces offer a lot of freedom in terms of

design: industrial style or living room, lounge or open

space, creative landscape or urban marketplace.

Reinterpreted foyer areas.

Foyers and entrance areas are taking on a completely

new meaning more and more often, especially at larger

company locations. They are being made "public" and

available to an external audience. The classic reception

area is transformed into a working café. The reception

counter, a bar. Instead of "sitting and waiting" it's now

"meeting and working". The "café entrance" is a public

zone – how public, that's something every company

decides for itself. Guests and business partners, such as

suppliers or customers, can make themselves

comfortable here, spend time and prepare for their next

appointment. Some companies even go one step further

and open the entrance bar area to visitors who have

nothing to do with the company. What's the point?

Networking and branding, for example. Extended by a

campus area, the foyer quickly becomes a fully-fledged

event location.

© Visualisierung: Studio Perspektiv

contact 13
---
Trend watching

Useful things for

everyday office life

(and working from home).

ROXXANE.

© Microsoft

The Roxxane cordless

table or floor lamp with

integrated rechargeable

battery offers a wide range

of applications and is easy to

transport. This makes it the

perfect companion in offices

and also illuminates darker

corners in central zones and

lounges. The light can also be

adjusted to the time of day by touch

using the integrated light control.

Manufacturer: nimbus

© nimbus

Microsoft Teams.

As part of Office 365, MS Teams offers everything your virtual conference room needs: from a classic

schedule overview to a messenger and video chat function to simple file sharing and various additional

features. It is intuitive to user and the user interface is very clear and clean. As a result, MS Teams is also a

pleasant business tool for newcomers to working at home.

© LINTEX

NOTE WHITEBOARD.

Note Whiteboard is a versatile, mobile writing tablet that can be

carried easily thanks to its lightweight construction. Both sides are

magnetic and can be written on. The Note Whiteboard is therefore

the ideal companion for project groups and Scrum teams in creative

meetings and spontaneous brainstorming sessions.

Manufacturer: Lintex

14 contact
---
Reference story

Smart Workplace Solutions

by & for ACP TEKAEF

At first glance, an office furniture manufacturer and a company for print and

digitalisation solutions do not seem to have much in common. But the truth is that

Wiesner-Hager and ACP TEKAEF not only have their roots in the same region, but

also share the same mission: modern and flexible workplace design. No wonder

that ACP TEKAEF chose interior design and office furniture from Wiesner-Hager

for their new company head office.

© www.raumpixel.at

contact 15
---
© www.raumpixel.at

Reference story

© www.raumpixel.at

ACP TEKAEF is a market leader in intelligent

solutions, products and services for the modern

workplace, with 4,800 active customers and 75

employees.

The company offers a complete portfolio in the areas

of print, workplace and mobility management. As

an innovative partner, it supports its customers in

designing work processes flexibly. ACP TEKAEF

primarily commissioned regional companies for

the new building in Hohenzell, Upper Austria. The

construction planning and management was carried

out by the architecture firm Arev, while the interior

design was entrusted to the office consulting

company Roomware.

Turning old into new.

The company founded in 1994 has grown strongly

in recent years. The company was therefore looking

for a new location that could meet the demand for a

New Work working environment. A former factory

building in Hohenzell proved to be the perfect place

for this. While the three existing warehouses were

adapted for the company's own purposes, it was

decided to demolish the old office building. The new

administration building was to be built here. The

office building was designed for 100 employees to

enable further growth.

The spacious reception area is impressive, as it has

been extended by an auditorium with a striking staircase.

In the style of a university campus, it functions

as a meeting area for employees and guests and offers

space for events. There are conference and meeting

rooms as well as individually designed working

cafés, a canteen area, a spacious terrace and of course

workstations over three floors. These were equipped

with ergonomic, electric height-adjustable desks. In

between, niche areas were created on all three floors

for collaboration and short meetings – supported

by high tables, seating groups and lounge furniture.

These were designed as working cafés with integrated

small libraries, which allow for both concentrated

work and confidential meetings. Cleverly used

bookshelves and laser-cut solid surface walls act as

room dividers.

A multifunctional room is available on the ground

floor for larger meetings and seminars. Thanks to the

flexible and mobile furnishing, it is no problem to

react quickly and spontaneously to different usage

requirements. A "Creative Room" and some smaller

meeting rooms supplement the need for

communication. They have been deliberately kept

small to allow for more effective team meetings.

Interplay between hard and soft.

The high standards that ACP TEKAEF set for the

new location's design can be seen as soon as you

16 contact
---
enter the building. Hard and soft materials have

been coordinated to create a pleasant lightness and

a feel-good atmosphere. Exposed concrete and hard,

wipeable surfaces alternate with soft textiles and

warm wood tones. The deliberate use of natural

colours and organic forms is a style that runs

through all rooms.

The ceiling suspensions in the form of the company's

logo element ensure pleasant acoustics in the

auditorium. This honeycomb shape appears

repeatedly in the room concepts. In addition to

the honeycomb-shaped elements and the angular

columns, the designers used curves, which were

incorporated, for example, into the shape of the

auditorium's seat staircase. This design language is

encountered once again in the shelving systems and

in the textile-covered room dividers between the

workstations.

"Bright" new building for the employees.

Teamwork and employee satisfaction are very

important at ACP TEKAEF. "Our team has made

our business success possible. That is why we are

building the new head office for our employees", said

Managing Director Christian Heit at the

ground-breaking ceremony. It's no wonder then that

the workforce was happy to volunteer to help with

the company's relocation, thus ensuring a smooth

and speedy process in February 2020. The planning

process and construction phase took a total of two

years.

Despite the open spatial structures, each area has

fixed workstations with the necessary task-related

additions. To ensure that this zoning does not

counter the open space concept, transparent glass

cubes and lightweight solid surface partition walls

were used. The lighting concept with a skylight and

an impressive rooftop terrace with large glass fronts

creates a natural ambience flooded with daylight

throughout the building.

ACP TEKAEF paid particular attention to the

regeneration and canteen area. GENUSSwerk

prepares fresh meals for the employees in the open

kitchen every day. Thanks to the pleasant homely

atmosphere, the canteen is also used as a working

café, where employees can meet customers outside

lunchtime.

© www.raumpixel.at

Project space

Office space: 1,200 m²

Building architecture: AREV Architektur

Statics & construction: ZTW Weilhartner

Office concept and

interior design:

Roomware Consulting

Furniture:

Wiesner-Hager,

olina Küche,

Schachreiter Interieur

contact 17

© www.raumpixel.at
---
Office life

Suddenly the home office

is here: Trial run for

future working models

Drinking a cup of coffee by yourself, going to

the office in your pyjamas and taking a shower

during your lunch break. Most of us imagine

the home office to be simpler than it actually is.

You suddenly find yourself sitting alone in the

kitchen with your laptop and missing a

comfortable office chair to sit on and a chat

with colleagues at the very least.

The current corona crisis doesn't tolerate excuses

anymore and is confronting many companies with

the task of making mobile working possible. A large

number of organisations still have a lot of catching up

to do in terms of digitalisation. But many employees

are now sitting at home on the couch with their work

laptop on their knees, despairing of an overloaded

cloud or a server that is much too slow.

Virus protection: for people and PCs

For this reason, many companies have sent their

employees to their home office without further ado.

Cyber criminals are having a field day, though, because

the home network rarely offers the same security

standards as the corporate system. To protect

your PC as well as your company from

virus attacks, installing a VPN - a

Virtual Private Network - is

imperative. To ensure an

optimum workflow, the

appropriate hardware and

software must be available in

addition to the VPN. The

motivation to work will be extremely

dampened if, for example, loading

times are too long or files cannot be

opened.

This of course creates an additional

workload for the IT department,

especially in a period of crisis

of the kind we're currently

experiencing. But

although the time and

effort involved is

18 contact
---
immense at the start, it defnitely pays off in day-to-day operations.

Team meetings in pyjamas

In the office, we're always exchanging information as we go about our

business. This natural flow of information is missing in the home office. The

best way to keep all employees up to date is to arrange feedback rounds via

video conference. You should also make it clear which channels are to be used

for communication. This way you avoid misunderstandings in communication

and strengthen internal interaction despite physical distance. And as far as the

pyjamas are concerned, though, they may go down well with colleagues, but

they have no place in meetings with customers via video chat.

A trial run for the future?

Alongside all the obstacles and fears that have

overwhelmed us due to exit restrictions and health

regulations, the sudden switch to a home office can also

be seen as a trial run for future working models and

crises. Draw up a checklist that answers questions such

as the following:

• Which measures have proved successful?

• Where does technology still have room for

improvement?

• What do you need as an employee to be able to work

productively from home?

• How can communication be improved internally and

with customers?

A feedback form for home office employees can also be

helpful in optimising flexible working practices within

the company and preparing for the future.

© shutterstock

contact 19
---
Offices from all over the world

© Arjen Veldt

Coworking between

rust &

patina

Where

locomotives were once built

and repaired, there is now a production

site of knowledge and social

networking. The so-called LocHal in

Tilburg in the Netherlands is one of

the most beautiful and unusual revitalisation

projects in Europe.

20 contact
---
The old layers of paint and varnish stick to the riveted

steel columns, sometimes red, sometimes green,

sometimes magenta, and one is almost inclined to

believe that there is still the smell of soot and heavy

engine oil in the air, as if the last repaired locomotive

had been pushed out of the hall a few minutes ago.

Once upon a time, connecting rods, steam boilers and

iron

bodies weighing tonnes hung from the huge steel

girders at a height of 15 metres, as the black-and-white

photos

framed in metal brackets in the corridors reveal.

The LocHal – an emotional monument.

"The locomotive hall was built in 1932, and there

is probably not a single inhabitant in the whole of

Tilburg who doesn't know someone who hasn't worked

here at some point, or at least sneaked into the workshop

of the Nederlandse Spoorwegen at night", says

Gert

Kwekkeboom, partner at the Dutch firm

Civic

Architects. "This hall is an emotional

monument that is firmly anchored in

this city's collective memory. It was

therefore clear to both the city government

and to us that the building and its

unmistakable character should be

preserved according to all the rules of

architecture and that the new city library

should be located here".

Where locomotives were once

repaired, welded and screwed, there is

now a workshop for networking and

knowledge transfer. The LocHal, which

If you want

to protect the soul

and the

protective spirit

of the place, you

have to make

compromises.

opened in spring 2019 and whose official

brand can be found on all analogue and

digital channels as a word mark and logo,

not only houses the municipal library,

but also a café, coworking spaces, mixed

media areas and event and conference

rooms in various sizes that can be hired.

All events have been suspended until 1

June due to the current corona crisis, but

a glance at the online calendar shows that

the summer is already well filled with

readings, project presentations and

interdisciplinary think tanks.

© Arjen Veldt

"It was a very enjoyable project, which we worked

intensively on with restorers and the monument

protection authorities",

recalls Kwekkeboom, who put this unusual mammoth

project on track together with the partner offices

Mecanoo and Braaksma & Roos. "The biggest

challenge in all this was undoubtedly the building

services, because such a unique industrial monument

does not allow for thermal insulation, triple glazing and

the usual climate comfort ideas. If you want to protect

the soul and the protective spirit of the place, you have

to make compromises".

© Arjen Veldt

contact 21
---
Offices from all over the world

The solution: the majority of the hall was designed as

an outdoor space protected from the weather, where

you can sometimes work up a sweat in summer, while

the waiter in the "StadsCafé" serves you a woollen

blanket in winter if required. Temporary common

areas, such as reading areas, a stage and auditorium, can

be

separated and locally heated or cooled with huge

thermally and acoustically effective curtains hanging

from the steel framework, designed by Amsterdam

fabric artist Petra Blaisse. Only the permanent work

areas such as the coworking offices, conference rooms

and the entire administrative organisation are located

in thermally separated house-in-house zones with the

usual indoor temperatures. The heart of the

15-metre high reading and coworking hall is the wide

arena, which connects the upper and lower levels with

stairs and comfortable wooden-clad seating steps. It

seems as if the staircase is in operation almost round

the clock, populated by people who are sometimes

browsing through a brochure or who have sometimes

set up a small, non-territorial office with their laptops

and just dialled into the Zoom meeting with headphones.

Nordic and Mediterranean plants hang from

the steel galleries on the side as if in a crumbling palm

house or a shabby-chic industrial jungle. The concept

for this was developed by the Dutch landscape planning

office

Donkergroen.

reading lamps between the cast-iron pillars and

pilasters, we find the coworking spaces and the

separate, glass-enclosed offices of the library staff

employed here. The furniture is brightly coloured with

purple sofas, orange cabinets, and neon lime green

swivel chairs. Through the doors and glass walls you

look out into the world of rust and patina.

During the course of the revitalisation project, the

once 5,000 square metre locomotive hall was more

than doubled to 11,000 square metres using retracted

platforms, surrounding galleries and dramatic stair

landscapes for walking, sitting and lounging. The EUR

18 million building on the site of the former Tilburg

freight station is one of the most beautiful and

sensitive revitalisation projects in Europe, with its

preserved past that has been brought back to the

present. Or, as one visitor noted in the guest book: "A

compliment to the architects and designers of this

building. So creative and inventive, it works so well in

use that it fills you with happiness!"

Wojciech Czaja

© Arjen Veldt

Finally, at the back of the large public hall, where small,

cosy reading and working areas have been set up with

22 contact
---
What's on your desk?

02

01

03

04

08

05

07

06

09

© Woj

What's on your desk,

Stephan Gratzer?

In the middle of Geneva city centre, just a few steps away from the large

Plainpalais, there is a factory site steeped in history. Where measuring

instruments were once built for the Societé Genevoise d'Instruments de

Physique, graphic designers, architects, photographers, advertising agencies

and catering companies now cavort. With MAMCO and the Centre d'Art

Contemporain, important contemporary and performing arts institutions

are also located here. The offices of Jaccaud Spicher Architectes Associés

( JSAA) are located in one of the courtyard buildings, accessible via a narrow

external staircase.

"This is a beautiful, listed industrial building from the 1930s", says Stephan

Gratzer. The 38-year-old is a partner at JSAA, which specialises primarily in

large-volume, subsidised residential construction in the Geneva area. You

can also see this when you walk through the offices: to the left and right of

the centre aisle are architectural models made of wood. To give the viewer

an impression from the perspective of a passer-by, the miniature houses are

propped up on frames and filing cabinets. The effect is tremendous. "The

advantages of an old industrial building are unparalleled. Because of the large

ceiling height, we can afford to position the models higher than is the case in

most offices".

From his own office, which he shares with his partners Jean-Paul Jaccaud and

Lionel Spicher, you look down into the former manipulation hall. The old

rails in the ground and the crane hooks, which hang down from steel trusses

like talkative witnesses of that time, create a beautiful background picture.

The iron industrial windows, the unfinished ribbed concrete ceiling and the

walls that were only filled in, not painted, fit in with this.

Wojciech Czaja visits Stephan Gratzer

01

02

03

04

05

06

07

08

09

We love to surround ourselves with art, especially minimalist

art by local and international artists.

The two-part, humorous work by Felix Gonzales-Torres

fits particularly well with our working concept. On the left

picture it says: "Nowhere better than this place". And on

the right one you can read: "Somewhere better than this

place".

Our office is full of samples, patterns and colour catalogues.

We work with Farrow & Ball paints, wherever possible.

The Anglepoise is a classic British lamp. We have several

dozens of these in the office for us and our employees.

I am not a fan of renderings and computer generated

images. We prefer to work with coloured pencils and lead

pencils. This also includes the good old pencil sharpener.

Aquafix and transparent paper are indispensable for our

way of working. The rolls are lying all over the place.

The many incoming and outgoing postmarks also go well

with our analogue work.

We work on Apple computers.

A simple worktop, with a steel table frame by Egon Eiermann

under it.

contact 23
---
Office Life

The "boomer"

at work.

If you don't know what the word "boomer" is all about, there is a good chance that you are a boomer

yourself. Why? The term "boomer" is based on the common generational definitions and roughly refers

to people from the post-war generations with high birth rates. In other words, those people who were

born between 1950 and the middle of the 1960s.

24 contact
---
Why this well-known fact from sociology is worth a story

of its own to us? Because the so-called boomer generation

represents a not inconsiderable part of the workforce,

especially in the highly qualified professions with an

academic background. Because the general discourse often

revolves around giving younger employees a good start in

working life, but less often around what employers can do

to ensure that older employees also feel integrated in the

company until they retire. Because job satisfaction should

not be a demographic issue. So how do you create a

working environment in which older people feel

comfortable? Some food for thought.

It's (not) all a question of age.

The most important food for thought for employers: focus

on each employee's merits and key skills, regardless of

their age.

In general, it can be said that the boomer generation has

experienced the technical development of the last 40 years

and is also fit in analogue culture and working techniques.

This combination can be of huge benefit to everyone

involved in a company. Boomers have a high level of

expertise combined with a great deal of experience.

However, this can be counter-productive in times of

digitalisation and become a stress factor.

After all, digitalisation is almost radically

changing the way knowledge is processed

and communicated.

Many boomers can't keep up with this,

quite the contrary: they often insist on

their practices and are reluctant to deal

with the new media and tools. This can be clearly seen in

the current corona crisis with working from home: what

works completely intuitively with no problems for digital

natives, causes difficulties for some of the boomers. They

have to deal with modern cloud-based collaboration tools

that were not essential in the past. But learning by doing

is the best teacher here too. Targeted support from the

employer and active involvement in teamwork is required

– coupled with clear guidelines and a systematic approach.

This is where we come full circle as the boomers are

particularly strong in this respect.

It's all in the mix.

Each age group has valuable skills for the big picture.

And small teams with a good mix of ages make it possible

to work together productively on equal terms. In best

practice, every employee feels heard and understood. And

no one overtakes or gets left behind. Ideally, all generations

are willing to learn from each other. A meaningful team,

in which everyone feels comfortable, can only be created

through cooperation and exchange. All this is not a

question of age or belonging to a cohort,

but one of respect. And respect is, more than ever before, a

universally valid component in the workplace that should

not be a question of age.

© shutterstock

contact 25
---
Showroom

Reinterpreted

The importance of good communication as a success factor for companies is undisputed. Multimedia

technology and matching conference furniture make an important contribution to the quality of

meetings. With the flexible skill system table range and the charming pulse conference chair,

Wiesner-Hager counters the heaviness of classic conference furniture with lightness of design.

pulse conference chair:

lightness and elegance.

A new four-star swivel base gives the pulse conference chair even more lightness and design

variety. The swivel frame made of high-quality die-cast aluminium is therefore the ideal

companion in conference rooms, where instead of the heaviness of classic boardrooms, the

focus is on modernity – in keeping with the spirit of: understatement is the new important.

With a wide range of fabrics and colours, it can be adapted to any architectural context.

Design: LUCY.D

© wiesnerhager

26 contact
---
conference rooms

skill table system:

the highly flexible conference table system.

The skill table system is characterised by elegance and

visual lightness. In contrast to rigid classic conference

tables, the skill table system allows for a variety of

configurations. The tables can be assembled and

disassembled in just a few steps – without using

any tools at all. A large selection of formats allows

for completely new set-up options, tailored to the

company's needs. The skill table system demonstrates

its full potential in large scale table configurations

– individually and flexibly adapted to architectural

conditions. The skill table system connects two table

tops with just one frame. This not only accentuates

the light look, but also saves costs, because there

is no need for every second frame. If required, the

elements can also be used as individual tables.

Design: Andreas Krob

© North Sea Port Authority

The frame attached to the underside of the table

top can be removed and latched into the desired

position by releasing the locking mechanism in the

table top support. The frames can be used flexibly: as

an element linking two table tops or as an end piece

flush with the edge.

Click here for the skill animation

contact 27
---
m.zone: The freedom

to choose: Our office

instead of my desk.

Büro neu denken:

thinknewwork.com

m.zone is a completely new furnishing concept for offices, which can be perfectly integrated

into the organisation of agile companies. More on: wiesner-hager.com

Design: Lucy.D