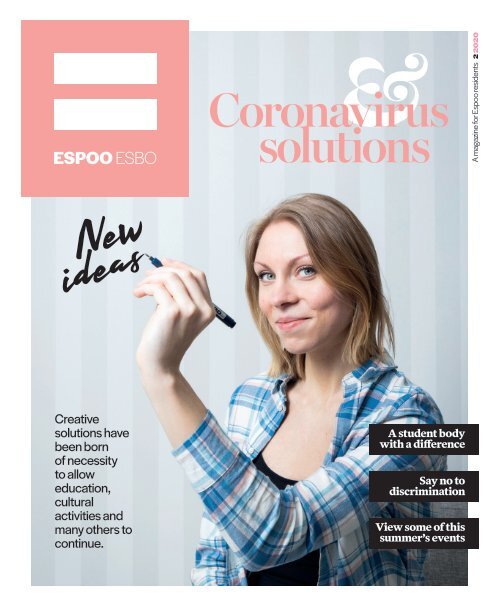 ESPOO MAGAZINE 2/2020
A MAGAZINE FOR ESPOO RESIDENTS
A MAGAZINE FOR ESPOO RESIDENTS
SHOW MORE
SHOW LESS
You also want an ePaper? Increase the reach of your titles
YUMPU automatically turns print PDFs into web optimized ePapers that Google loves.
ESPOO ESBO

& Coronavirus

solutions

A magazine for Espoo residents 2 2020

New

ideas

Creative

solutions have

been born

of necessity

to allow

education,

cultural

activities and

many others to

continue.

A student body

with a difference

Say no to

discrimination

View some of this

summer's events
---
editorial

In the editorial,

Jukka Mäkelä takes

a stand on issues of

current interest in the

City of Espoo.

Jukka Mäkelä is the Mayor of Espoo.

We can make

it together

Espoo residents have taken care of each other

in many ways, being adaptive, flexible and

compliant with instructions. Together, we have

ensured that we can cope in these exceptional

circumstances.

Now we have to look to the future. Cities will

play a major role in providing welfare society

services, in investing in growth and in generating

a new ascent after the coronavirus crisis. Cities

need cooperation, predictability and support

from the central government in order to weather

this crisis. The funding base of the public sector

has deteriorated to an unprecedented extent

due to the coronavirus crisis. Accordingly, we are

launching a programme titled Taloudellisesti

kestävä Espoo [Economically sustainable

Espoo]. Now is not the time to add to the duties

and obligations of local government.

The coronavirus crisis is having an impact

particularly on cities like Espoo that finance

their services with tax revenue. This must be

taken into account in the support measures of

the central government. Large cities also have

the potential to launch revitalising projects with

significant employment impacts. Infrastructure

investments, for instance, promote employment,

growth, competitiveness and carbon neutrality

all at once.

We need partnership and close cooperation

now like never before. We can make it together.

Jukka Mäkelä

Mayor

8

Contents

3 | Calendar and picks

Remember these this summer.

24

8 | Theme

Necessity is the mother of invention during the epidemic.

14 | At your service

Annina Artman from the kitchen at the Painiitty daycare centre.

15 | What's on

The summer is full of events.

20 | Right now

Leppävaara undergoes sustainable growth.

23 | Encounters

Being different means being conspicuous.

24 | Pearl

The Pentala Archipelago Museum reopens.

26 | Espoo people

Student teams are active at Juvanpuiston koulu school.

28 | Swedish in Espoo

Pentala Island – a historical archipelago community.

30 | We

Espoo for the nature recreation enthusiast.

31 | My Espoo

Villas were big in the 1920s.

2
---
6 June –

30 August

Espoo archipelago

boats are in service.

10 June

Korko info at the Espoo Employment and Economic Development Office

(TE Office) on Wednesday 10 June at 13:00–14:00. 'Korko' is a

service provided by the City Employment Service for unemployed jobseekers

over the age of 30 with a higher education degree. Its purpose

is to review participants' competence and employment goals, brush up

their CVs and jobseeking skills, and engage in small-group networking.

Participants may also attend jobseeking theme groups of their

interest and receive training for instance on how to use LinkedIn.

8 June and

17 August

City Council meeting

beginning at 17:30.

Meetings are streamed live at

mediaserver.fi/live/espoo.

11 June

Additional application rounds

for upper secondary school

starts on 11 June at the earliest.

Applications for vocational

education may be filed all

year round in the continuous

application process at omnia.fi/

jatkuvahaku.

calendar Jun–Aug/20

Check the

calendar for the

main events and

key dates of the

summer.

15 June

Register your event

for Espoo Day. The

advance registration

deadline is 15 June

at 16:00.

30 June

Deadline for open call for artworks. Corona Collective,

curated by the Espoo Cultural Centre and Sami Yaffa,

is an art exhibition that is to open in the Ahjo exhibition

space at the Espoo Cultural Centre in the autumn,

documenting the current exceptional circumstances. The

Collective is open to professional and amateur artists

alike. The deadline for submissions is 30 June. Further

information: bit.ly/coronacollective and #koronakollektiivi.

21 July

The deadline for the application

round that began in May for

10th grade in comprehensive

school and for preparatory

education is 21 July. Applications

for post-comprehensive

preparatory education should

be submitted via Opintopolku.

22 August

Publication of the

next issue of Espoo

Magazine.

MAGAZINE FOR ESPOO RESIDENTS

Public bulletin to all households. Feedback and suggestions: espoolehti@omnipress.fi

Publisher City of Espoo, PO Box 12, 02070 City of Espoo, 09 81 621, espoo.fi, firstname.lastname@espoo.fi

Editor-in-chief Satu Tyry-Salo, Communications Director Editors Omnipress Oy, espoolehti@omnipress.fi

Managing Editor Kimmo Kallonen Layout Oona Kavasto/Hank Printed by Punamusta

Distribution SSM Notifications jakelupalaute@omnipress.fi Cover Timo Porthan ISSN 1798-8438

3
---
Picks

A total of 2,169 applicants gave an Espoo upper secondary school as their primary choice in

the joint application round this spring. The figure was up 8.3% from last year's 2,001 applicants.

The number of students admitted to Espoo-based upper secondary schools will increase

from last year. This year, a total of 1,819 students will be admitted to Finnish-speaking upper

secondary schools in Espoo and 134 in Kauniainen.

Espoo Day celebrated

virtually at end of August

AS in previous years, summer ends with Espoo Day

on 28–29 August. This year in this largest annual city

event in Espoo, the focus is on small-scale events

held by residents' associations with free admission

and on virtual online events.

The events are produced by residents, associations,

city operators and partners. Submissions for

events to be included can be sent in up until the main

event day, 29 August, but the deadline for events to

be included in the Espoo Day programme leaflet is

15 June.

The Event and Cultural Services of the City of

Espoo provide advice and guidance for event organisers

at advance webinars that cover topics such as

how to set up virtual remote events.

Further information: espoopaiva.fi

City Bikes up and running

ahead of schedule

THE City Bikes are up and running earlier than normal

this year. As the coronavirus crisis escalated, the City

of Helsinki, Helsinki City Transport and the City of

Espoo decided to bring forward the date of putting

the City Bikes in circulation. The purpose of this was

to help curb the spreading of the coronavirus. When

using City Bikes, please wear gloves and remember

to practise good hand hygiene.

City Bike docking stations and availability can be

seen in the Reittiopas Journey Planner, where you

can also plan routes. Some docking stations have

been relocated because of construction sites or for

other reasons. These changes and the new locations

are shown at bit.ly/2VGEO6s.

" This is the 18th

time that we

celebrate Espoo

Day; it has been

held on the last

weekend in August

for the past ten

years.

Residents involved in

reforming espoo.fi

THE reform of the espoo.fi website has been

launched, and the new website will be online in 2021.

Users were polled for their opinions about the reform

in the spring. A total of 433 responses were received.

The respondents asked for good search functions

in order to find information and opening hours

for various services easily. There were also calls

for making information about decision-making and

about individual city districts more readily available.

The respondents would like to see news and event

notices on the front page of the new espoo.fi website

along with information on city operations.

54% of the respondents reported visiting the

espoo.fi website on a daily or weekly basis. All means

of access were fairly equally used – computer, laptop,

smartphone. Social welfare and health care is the top

search category, followed by culture and sports.

The majority (73%) of the respondents were

women. The 35–44 age group was the best represented

among the respondents, but responses were

received from a wide range of age groups. Espoo

residents accounted for 60% of the responses; 25%

of the respondents were employees of the City of

Espoo, and 3% had recently moved to Espoo.

If you want to contribute to the website development,

sign up for the volunteer group. By signing up,

you will get the chance to comment on the evolving

website at the various stages of the project. To sign

up, send an e-mail to verkkoviestinta@espoo.fi.

Espoo in

social media

Facebook

Espoo – Esbo

Posts from different parts of the

city and the Facebook pages of

various City of Espoo actors.

Twitter

@EspooEsbo

Timely updates and quick

responses. Bulletins, answers to

questions and discussions.

Instagram

@espoonkaupunki

Great moments, events and

landscapes through the eyes of

Espoo residents.

#espoohetki

4 A magazine for Espoo residents
---
CHECK

THIS OUT!

In this section of the

magazine, we introduce

interesting sites all

Espoo residents have

free access to.

Small and large

glacial pothole.

A third glacial

pothole, about

0.5 m across,

is a few metres

away.

Glacial potholes in

Kaupunginkallio

GLACIAL potholes are round pits that were

excavated by stones rotating in the meltwater

flows of the glaciers of the most recent Ice Age.

There are several of these in Espoo. You may

even find some close to home.

Three of them are in Kaupunginkallio, near

Espoon keskus. The glacial potholes in Kaupunginkallio

are in the lower part of the rocky

slope between Kiuastie and Kiuaskuja, about

30 m south-west of Espoonväylä. There is a

footpath leading from the cycle path to the site.

The largest of these glacial potholes is

about 1.5 m in diameter and has a depth of 2.5

m measured along the rear wall. The smaller

ones are shallow and about 0.5 m across.

Mia Weckström

Q & A

In this section of the

magazine, we answer

the most often asked

questions received by

the city at the time the

magazine is

published.

" Camping is

allowed at

Oittaa,

Nuuksio,

Kattilajärvi

and

Väransby.

?

Where can I find the archipelago boat timetable?

The archipelago boat service begins on 6 June and

ends on 30 August. The archipelago boat service will run

Tuesday to Sunday from 6 June to 9 August and thereafter

at weekends on 15–16 August, 22–23 August and 29–30

August. The archipelago boat service timetable can be

found at bit.ly/espoo_boats. Timetables are also available

at City of Espoo Service Points. Passenger volumes and

weather conditions may affect the timetable. On Midsummer's

Eve, the archipelago boats will operate according to

the normal timetable.

?

Where can I camp?

Camping is allowed at Oittaa, in Nuuksio National Park

and in the recreation areas at Kattilajärvi and Väransby.

There are islands in Espoo designated for recreational

use, accessible by private boat or by the archipelago boat

service. Camping is allowed on the following outdoor recreational

islands: Bylandet, Gåsgrund, Knapperskär, Rövargrundet,

Rövaren, Stora Herrö and Torra Lövö. Further information

on camping sites and campfire sites in Espoo can be found

at bit.ly/espoo_camping. On the luontoon.fi website, you can

search for camping and hiking sites nationwide by characteristics

and by activities available.

?

What is the algae situation on beaches?

Water temperature and algae alerts for beaches can

be found at ulkoliikunta.fi.

Viherlaakso Health Centre

relocates to Kilo

THE building housing Viherlaakso Health Centre has reached

the end of its service life, and because of this Viherlaakso Health

Centre will relocate to temporary premises on Trillakatu, adjacent

to Kilo Health Centre, after Midsummer.

A comprehensive search of premises in Viherlaakso area

revealed that there are no premises suitable as temporary premises

for an entire health centre. By contrast, space is opening

up in the Kilo Health Centre building, as the maternity and child

health clinic and dental clinic phone services are being relocated.

The neighbourhood route 229 will be rerouted so as to

provide transport from Viherlaakso to Kilo Health Centre. There

are also other frequently running buses for those who are able to

change buses on the way. Local services will be provided in the

premises of the Aurora maternity and child health clinic. Physicians

will also provide remote consultation.

The relocation of Viherlaakso Health Centre is a temporary

measure. A long-term service network planning project is being

launched for Suur-Leppävaara. This service network plan will

be created in consultation with residents. A phone survey was

conducted among residents in May, and information events for

residents will be held online.

5
---
Picks

The official population of Espoo as at the beginning of this year was

289,731. Of these, 75% were Finnish or Sámi speakers, 7% were Swedish

speakers, and 18% were speakers of foreign languages. During 2019,

the population of Espoo grew by 6,099 residents, or 2.2%.

Health Centre voucher

for the Espoon keskus

area

FROM May, Espoo residents are able to use service

vouchers to visit a private health centre in Espoon

keskus for their health care needs.

There are two participating private health

centres at the moment: Mehiläinen Oma Lääkärisi

Espoontori and Terveystalo Espoontori. Samaria

Health Centre continues to provide services in

Espoon keskus, except that during the coronavirus

pandemic Samaria is only treating patients with

respiratory tract infections.

The service voucher trial will last until 30 April

2025. During this trial, 25,000 health centre service

vouchers will be available. For further information,

please visit bit.ly/espoo_voucher.

The main character

of the My2050

adventure game,

Niha Bee, takes

players on a tour of

the future.

" A dental

care service

voucher will

be introduced

in Matinkylä

in August.

Adventure to

the future

MY2050 is an adventure game open to

every one free of charge. It features a real

urban environment, Espoon keskus. The

narrative of the game is a look into the

future, giving players information on climate

change in a new and exciting way.

The adventure to the future begins on

Espoonkatu in Espoon keskus, outside the

City Council building. The game lasts one

hour, during which players have to score

points by solving puzzles. The game is a

mobile app available in the relevant application

store for each device.

You can go on the adventure any time

you like, along or with friends or family

members. The game offers a new learning

tool suitable for students from sixth grade

to the upper secondary level, but there are

many things to do with plenty of challenge

for adults as well.

Espoon Kaupunginmuseo/Eetu Sorvali

Only a ruin remains of

the observation tower

at Dalsvik Manor.

Volunteers are needed

to take care of monuments.

Adopt a monument

in Espoo

ESPOO is launching an 'Adopt a monument' scheme.

This is a volunteer scheme for the upkeep and maintenance

of old buildings and archaeological sites.

Archaeological sites suitable for adoption include

fortifications, stone walls, cairns, remnants of quays

and ancient settlements. Other candidates include

minor buildings or structures such as monuments,

bathing houses, transformer stations, bridges or

stone road signs.

Maintenance and upkeep may involve clearing

vegetation, mowing, cutting coppices and collecting

waste, according to the maintenance plan. Maintenance

plans are drawn up jointly with the Espoo City

Museum. The Museum also provides advice and

guidance on further upkeep.

Sites may be adopted by a community, an association,

an enterprise or a public body such as a school.

In some maintenance events, anyone can participate.

Persons or organisations considering adoption are

not required to have any previous experience or

information in the maintenance of cultural sites. The

adoption may be for a short or a long period.

Further information is available from Curator Eetu

Sorvali who is in charge of cultural environments

and antiquities and of archaeological research, eetu.

sorvali@espoo.fi or kulttuuriymparisto@espoo.fi.

6 A magazine for Espoo residents
---
The coronavirus epidemic has pushed unemployment up everywhere, and Espoo is no exception.

As at the end of March, there were 3,750 more unemployed persons than at the same time in

the previous year, an increase of 35%, and the unemployment rate was 2.6 percentage points

higher. Nationwide, the increase in the number of unemployed people year on year was 30%.

Smartbot begins multilingual

coronavirus chat

THE City of Espoo is testing a smartbot, or a learning artificial

intelligence application, that answers questions in more

than 100 languages on the espoo.fi website. This multilingual

smartbot supplements the communications and services of

the City of Espoo in cases where a user is unable to communicate

in Finnish, Swedish or English. The smartbot is available

on a 24/7 basis and is capable of serving more than 100,000

simultaneous users.

The smartbot collects information from the websites of the

City of Espoo and various authorities and answers questions

on the basis of that information. The smartbot is able to learn.

If the information on the websites changes, the bot will notice

it with a short delay and change its answers accordingly.

The smartbot will also respect privacy: it always chats with

the users anonymously.

"A smartbot based on artificial intelligence and machine

translation enables us to communicate instructions and latest

updates on our services to Espoo residents who speak many

different languages. Such rapid multilingual communications

would not be possible without artificial intelligence. Although

the grammar may still have room for improvement, the solution

complements the City of Espoo's communications in Finnish,

Swedish and English," says Juha Metso, Director of Social

and Health Services.

" The bot

allows us to

distribute

information

on services

to the

multilingual

population.

Digital access

to culture

ESPOO brought a digital cultural centre to homes in

response to the culture deficit caused by the coronavirus

epidemic. Kotona247 [Home 24/7] is an online

service set up by Event and Cultural Services to offer

Espoo residents culture at home in the form of live

streaming. The programme includes concerts of Tapiola

Sinfonietta and popular music performances.

"Kotona247 is an online concert venue for every

Espoo resident – and for everyone in Finland for

that matter. When the coronavirus epidemic forced

cultural events to be cancelled, we put our heads

together and decided to accelerate the plans that we

already had been working on," says Karri Soilamo,

Event Specialist at City Events Espoo.

Forthcoming Kotona247 live webcasts and

concert recordings can be found at kaupunkitapahtumat.fi.

The programme is further augmented by the

Urban Espoo service, which is available online at

urbanespoo.fi and as a mobile service, similarly to the

digital cultural centre. Urban Espoo has a virtual city

environment which users can explore and where they

can experience the urban and natural environments

and learn new skills.

Theme year encourages

to take action for nature

THE 2020 theme year of the Espoo Environment Department,

Lumoudu kaupunkiluonnosta [Enchanted by Urban

Nature], invites Espoo residents to take action to preserve

diversity in the urban natural environment. This is done

by publishing 'nature actions' each week on the Facebook

page of the Environment Department and on the

Instagram account of the Nature House Villa Elfvik which

residents can then carry out at home and outdoors.

The nature actions are compiled in the Enchanted by

Urban Nature databank, which is at bit.ly/espoo_nature.

The databank contains info spots on biodiversity in Espoo

and on how the city is fostering biodiversity in its territory.

The material includes numerous photos and audio files

with nature soundscapes.

The Enchanted by Urban Nature theme year 2020

forms part of the Espoo nature conservation project,

whose purpose is the preservation of nature values and

biodiversity in Espoo.

7
---
theme

The Covid-19 virus

arrived in Finland

around the turn of

February–March.

By mid-March, it had

changed everyone's

lives.

Text Tiina Parikka Photos Timo Porthan and Tapiola Sinfonietta

Creative

solutions

The coronavirus spring has restricted

and changed everyone's lives. But creative

solutions have allowed people to get on with

their lives and have meaningful experiences

despite the self-isolation.

By the time this magazine goes to print, comprehensive

schools will have returned to classroom

teaching, and libraries will have been open for

borrowing and returning books for a couple of

weeks. Outdoor exercise facilities have been

open for sport and fitness from mid-May.

At the beginning of June, libraries and culture facilities

will reopen and return to normal. Museums will also

re-open in early June. •

Niina Sivonen's

drawings illustrating

remote teaching have

served as peer support

for her teacher

colleagues. Many have

shared similar

experiences.

8 A magazine for Espoo residents
---
New meaning with instructions

NIINA Sivonen, Deputy Headmaster at

the Lähderannan koulu primary school,

has described her experiences of remote

teaching in drawings. Every day, she

takes a positive observation and illustrates

it as a morale booster for herself

and her colleagues.

"There are more such things than

I have time to draw. The children have

adapted really wonderfully to this new

situation," says Sivonen, who teaches

sixth grade.

In mid-March, all school teachers suddenly

had to adjust to a new normal with

only a few days' notice.

"We're not trained to do remote

teaching. Some teachers and pupils

alike experienced challenges with the IT

requirements, but we help each other as

we can."

Sivonen's class continued to study

according to the lesson plan. She has

high praise for stay-at-home parents who

skilfully accommodated their children's

new daily routine. In most cases, the

children actually went outdoors

for breaks between lessons, and

lunch was at the same time as

at school. However, some parents still

had to go to work during the day, and in

some homes the computer had to be

used in turns.

"I always posted daily instructions on

Wilma on the previous day, so that the

parents would have time in the evening

to see whether their children would need

technical assistance with their school

day. I've made many teaching videos and

otherwise used my drawings in class.

Some of the lessons were online meetings."

Writing instructions and developing

new teaching methods means long hours

for Sivonen, but she does not complain.

"It's only temporary. Children have

learned to take responsibility and to

manage their time, and that will certainly

be useful as they move on to secondary

school."

Comprehensive schools reopened for

classroom teaching on 14 May. Upper

secondary schools chose to continue

with remote teaching until the end of the

school year. All schools had their virtual

end-of-school celebration today, 30 May.

Niina Sivonen has kind

words for the smooth

cooperation among

teachers, pupils and

parents during the exceptional

circumstances this

spring. "We helped each

other and shared our

experiences."

9
---
theme

i SMARTBOT

serves users in

more than 100 languages.

In mid-April,

the City of Espoo

introduced an online

smartbot to answer foreign

language speakers'

questions about

the coronavirus.

The bot is set up as a

chat service. It can be

found for instance at

bit.ly/espoo_smartbot.

SINCE Mother's

i Day, visitors

have been

allowed to meet

residents of the City's

care homes outdoors,

weather permitting.

Extreme caution continues

to be observed

in these meetings:

the resident and the

visitor must remain

at least 2 m apart,

and visitors must

not come to the care

home if they have any

symptoms of a common

cold at all. For

meetings with residents

with memory

disorders, the aim is

to have a barrier such

as a fence between

the resident and the

visitor.

,,

• The city and various operators have come

up with numerous creative solutions in order

to keep services running and to provide meaningful

experiences through the spring, restrictions

notwithstanding.

As services have gone increasingly digital,

the highly varied digital skills of the elderly in

particular have become a sticking point.

The helpline of Nestori – Guidance and

Service Counselling for Senior Citizens has

had extended opening hours this spring, from

08:00 to 16:00 every weekday. Ads about this

service have been run in local newspapers

continuously so that people who may not know

how to access online services can phone in to

get help. As a result, the helpline call volume

has nearly doubled.

"We have posted a coronavirus FAQ online.

We have also accepted questions by e-mail,"

says Maria Rysti, specialist in services for the

elderly.

They have also sent out letters with information,

and they have phoned up previous

Nestori clients to ask them how they are.

Food deliveries. Nestori is also organising

service needs assessments for people over 65

and arranging grocery deliveries. Members

of other at-risk groups also have access to the

The resource pool is an agile way

of ensuring sufficient staffing for

social welfare and health care

services in these exceptional

circumstances, and an opportunity

for employees to broaden their

expertise by undertaking new job duties.

food delivery service.

Rysti notes that food assistance is required

not just by at-risk groups but also by disadvantaged

people whom we normally see queuing

up at food banks.

The food service was launched around

Easter in collaboration with the city authorities,

NGOs and parishes. City employees,

for instance from Education and Cultural

Services, transitioned to the food service when

their own work came to a halt. The first food

deliveries to homes were made in early April.

Local food banks commandeered premises

that were empty due to the restrictions in place

and were suitable for food storage.

Also, students in pre-primary education,

comprehensive school and upper secondary

school have been offered packed lunches during

the distance learning period.

Help on the front line city employees have

transitioned to other duties too. By mid-April,

more than 100 city employees had been transferred

to Social and Health Services.

The city has set up a resource pool in

response to the coronavirus crisis, the purpose

being to safeguard sufficient resources

for social welfare and health care services

in these exceptional circumstances while

10 A magazine for Espoo residents
---
The Tapiola Sinfonietta

has been

giving remote

concerts for

Espoo residents

this spring. The

orchestra performs

chamber

music in small

groups under

normal circumstances

too.

Sinfonietta in the comfort of your home

THE album Metsänpeitto by Meriheini Luoto was

nominated for the Teosto Prize in 2018. The Tapiola

Sinfonietta was supposed to perform the work in an

orchestration by Kalle Vainio at its concert on 17 April.

The coronavirus epidemic and a last-minute illness

forced a change in plans.

Taavi Oramo, the orchestra's Artist in Residence,

quickly came up with a new programme. Consisting

of performances by small chamber ensembles, the

concert was streamed live online at the originally

scheduled time.

"It was important for many of our listeners to listen

to the concert live and to sense that they were part

of an event in real time," says General Manager Anna

Jaskiewicz.

For Tiina Paananen, Deputy Principal 2nd Violin,

the absence of the audience was the most exciting

thing about the remote concert.

"It's wonderful to know that there are at least some

people out there watching and listening at the same time

that we're playing. I try to capture that feeling when performing,

now that we're unable to sense the presence of

the audience," said Paananen before the concert.

This spring, orchestra members have mainly been

practising on their own and in small groups at the

Cultural Centre.

"I miss the orchestra community, but we play chamber

music during the year under normal circumstances

too, and of course everyone always practises on their

own, so it's not a completely new and strange situation,"

says Paananen.

The Tapiola Sinfonietta has made further live

webcasts during the spring, and recordings of them

are still available at kotona247.fi and on the orchestra's

YouTube channel.

All online performances are free of charge.

11
---
theme

SUMMER activities

organised

i

by the City for

children and adolescents

will go forward

as planned. There

are still vacancies at

summer camps and

courses covering all

sorts of topics such

as drama, animal

care, hiking, cooking,

canoeing and computer

games. Further

information about

camps and courses

can be found at harrastehaku.fi.

offering alternative work to city employees

from sites that had been shut down. This also

represents an opportunity for those employees

to broaden their competence and professional

skills.

The City Board and other city bodies have been

meeting remotely using the Teams platform

since late March. However, City Council meetings,

with 75 attendees, required rather more

advanced arrangements. The plan was to hold

the first online City Council meeting on 18 May,

but in mid-April it was announced that it would

not be possible to cancel the meeting scheduled

for 27 April. In a blitz response, a Teams meeting

was set up in less than two weeks, complete with

a separate system for voting. While Helsinki, for

instance, already had a system in place for online

City Council meetings, Espoo was the first to

implement voting like this.

"This was a historic meeting. Not only was it

the first online City Council meeting in Espoo,

it was the first ever meeting in my many years

on the job where every single regular member

was present," says City Council Secretary Jouni

Majuri.

City Council members were provided with

rehearsal opportunities in the previous week,

with trial runs of voting, requests to speak and

attendance reporting. Any City Council members

who were hesitant to use the systems or

were doubtful about whether the online connections

would work were allowed to attend the

meeting in person in the City Council meeting

room.

"The people present were the chairman

and myself, the Technical Secretary, three City

Council members and two IT experts," says

Majuri.

Three votes were taken in the meeting. One

participant failed to vote through the voting

system and had to have the vote recorded separately.

There was also another glitch in one of

the voting rounds, but on the whole the meeting

was much commended.

"I believe that we'll continue using the

remote meeting option even after meetings in

person are allowed again," says Majuri.

,,

This was a historic meeting.

It was the first ever City

Council meeting where

every single regular member

was present.

12 A magazine for Espoo residents
---
Supporting entrepreneurs in a tight spot

THERE are about 15,000 enterprises in

Espoo, two thirds of them being run by sole

entrepreneurs. The restrictions imposed due

to the coronavirus epidemic have severely

affected the operations of many, even shutting

some businesses down completely. The

central government has granted targeted

allowances to help sole entrepreneurs. A

sole entrepreneur allowance of EUR 2,000

has been available to apply for since 24

April.

Espoo has taken the plight of entrepreneurs

seriously. More than 980 applications

were received in a support application

process coordinated by Business Espoo

in a period of two weeks, representing a

combined support need of about EUR 1.34

million.

"At present, we are able to process applications

on the same day, and if all the attachments

are OK and all conditions are fulfilled,

the entrepreneur will have the money in their

account within 4 or 5 weekdays of the application

being filed," says Sanna Lindholm of

the Economic and Urban Development unit

of the City of Espoo.

Entrepreneurs may apply for the Espoo

allowance if they can demonstrate that the

coronavirus epidemic has reduced their sales

income and receivables by at least 30%. The

application period continues until the end

of September. Lindholm advises potential

applicants to consider what would be the

best time to apply for the allowance.

Sole entrepreneurs may also claim

unemployment benefit if their business has

stopped completely because of the coronavirus

epidemic.

Some enterprises have been able to stay

open by modifying their business model. A

case in point is the restaurant Base, almost a

second home to many Leppävaara residents.

Good food, wine and various events bring

locals together. After 30 March, however, the

restaurant was obliged to rethink its entire

operating concept.

Through the spring, Base has been selling

takeaway lunches on weekdays and preparing

meals for delivery to special occasions.

"At Easter, we had so many orders for

lamb dinners that we ended up having to

turn people away," says restaurateur Vuokko

Varila-Kiverä.

The restaurant has had to lay off its serving

staff, but the kitchen staff still have work

to do, at least part-time.

The restaurant offers home deliveries of

meals for a minimum of four people in the

Leppävaara area.

"People in at-risk groups and people

working from home who have children have

made good use of our services. We have a

lot of regular customers who have remained

faithful in these times. Leppävaara residents

look out for one another," says Varila-Kiverä

happily.

Vuokko Varila-

Kiverä explains

that Base has

been able to

offer many of its

normal items on

the lunch menu.

The restaurant

has also come

up with new

solutions based

on customer

requests.

13
---
at your service

In this section of the

magazine, meet employees

and close partners

of the City of Espoo.

Heart and soul

of the kitchen

Annina Artman is a food service coordinator responsible for

feeding more than 100 children at the Painiitty daycare centre.

"

Under normal circumstances, I'm responsible

for feeding about 120 children at the Painiitty

daycare centre. My work as a food service coordinator

includes heating up the food delivered

from the central kitchen in Kilo, serving the food,

preparing salads and sides, and performing supervisory

and customer service duties.

I have help to do the washing up a couple of times a

week, but otherwise I work alone. Because of this, it's

vital that I schedule my work so that I can keep up the

pace. But even though I work independently

for the most part, I don't feel alone

thanks to the staff and kids at the daycare

centre.

I'm always available at mealtimes and

ready to advise on special dietary requirements

and to answer any questions that

the children may have. Children are

particularly interested in where the food

comes from. The large machines in the

kitchen are also fascinating to them.

We were awarded a Makuaakkoset diploma for good

food in March. This diploma is awarded on the basis of

sustainable development measures, nutritional values

and promoting a healthy diet.

The diploma is testimony to smoothly running cooperation

between the kitchen and the daycare centre and

proves that the food served is appropriate and healthy.

Both myself and the minders are present at mealtimes.

We encourage children to try various foods and teach

them that meals are an important part of their day."

Text Mia Weckström Photo Timo Porthan

Annina Artman

has been the food

service coordinator

at the Painiitty daycare

centre for four

years, having been

a waitress for eight

years before that.

Painiitty

daycare centre:

› 120 children fed per day

› 300 meals per day, including

breakfast, lunch, snacks and

staff meals

› favourite Painiitty foods are

macaroni casserole, cream of

carrot soup and spaghetti

bolognese

14 A magazine for Espoo residents
---
15 In situ 16 Things to do 19 Exercise tip

Things to do

in Espoo

Culture, sports

and exercise on

offer from June

to August.

Car Museum opens

again in Pakankylä

The Espoo Car Museum continues with

its theme 'Skootteri on lälläripyörä' [A

scooter is a sissy bike]. Traditionally

opening at Easter, this year the summer

museum will open its doors on 2 June.

FINLAND'S oldest car museum will open its doors to the public

on Tuesday 2 June. The main features are the exhibition Skootteri

on lälläripyörä [A scooter is a sissy bike] spiced up from last

year and a new theme for this summer.

The Espoo Car Museum houses some 100 cars and more

than 200 two-wheeled vehicles. The exhibits also include other

items related to road traffic.

Founded around the Saab collection of Rafael Huhta in

1979, the Espoo Car Museum occupies historical premises: a

graphite block cowshed over 100 years old at Pakankylä Manor

near Lake Bodominjärvi in northern Espoo. The farmstead is

owned by the City of Espoo, and the Espoo Car Museum Association

has just signed an extended lease for the premises.

"We want to ensure a comfortable and safe museum experience

with regard to the precautions and restrictions required

in the current situation. We are keeping a close eye on the

recommendations of the authorities, and we will be deciding on

the events of the late summer and autumn at a later date," says

Minna Hietanen from the Espoo Car Museum.

The Espoo Car Museum was named Vehicle Museum of the

Year in 2019.

The Espoo Car Museum is open Tuesday to Sunday 11:00–17:00

(on Wednesdays 11:00–19:00) from June to August and

on weekends 11:00–17:00 in September and October.

The Moskvich 400

series, nicknamed

Piikkinokka-Mosse

[Spikenosed Mosse],

was the first range

of cars produced by

Moskvich. Introduced

in 1947, the 400 series

and the improved

401 series were in

production until 1956,

with a total of 247,439

manufactured.

Pobeda GAZ-M20 was

a car produced by the

GAZ automobile plant

in the Soviet Union

between 1946 and

1958. Many were used

as taxis.

15
---
Where to go

✱

Music • Visual arts ♥ Theatre ✘ For children ✓ Cinema = Espoo ♦ Something else

The Glims Farmstead Museum, the Helinä Rautavaara

Museum and the Exhibition Centre WeeGee reopen according

to their normal opening hours from Tuesday 2 June.

Batwatching and

birdwatching =

What goes on in Laajalahti at

night? Join us in hunting for bats.

We start in the garden of Villa Elfvik

at 22:30. Bring a torch (flashlight)

and warm clothes. There

may be plenty of mosquitoes in

some places, so also bring bug

repellent and allergy medication if

you need it. Trousers are recommended.

We will be taking a short

refreshment break.

› Sat 6 Jun 22:30 –

Sun 7 Jun 01:00

Wildflower

day trip ✘

A nature excursion for the whole

family, designed for children.

Bring a light packed lunch and

dress according to the weather.

The Nordic Wildflower Day was

established to encourage interest

in the plant world and to offer

shared experiences of the natural

environment. The theme species

for 2020 is the mountain ash.

› Sun 14 Jun at 10:30–12:30,

vicinity of the Nature

House Villa Elfvik

Glimsinjoki river

walk =

The Glimsinjoki river walk introduces

participants to the varied

flora along the river. The Glimsinjoki

river valley is recognised as

a running water site of national

importance, and as such is one of

the most valuable nature sites in

Espoo.

The walk begins at the Aurora

memorial plaque outside the main

entrance of Träskända Manor

(Träskändanristi 1) and concludes

at Jorvinkoski outside Jorvi Hospital.

Please wear sturdy shoes,

either hiking shoes or rubber

boots. The path is a natural trail

with wet spots.

Anyone wishing to leave their

car near the end point of the walk

so may do so in the hospital car

park (parking fee charged).

Have a preview of the Glimsinjoki

river walk at proespoonjoki.fi/

Glimsinjoki.htm, where you can

download a nature path guide to

bring with you on the river walk.

› Buses to Träskända:

reittiopas.fi.

› Sun 14 Jun at 10:00–12:00

Glimsinjoki river valley, from

Träskända park to Jorvi

Landscape architecture

=

The exhibition Jussi Jännes –

Unelma puutarhakaupungista

[Jussi Jännes – Dream of a garden

city] opens at WeeGee on Friday

5 June. Jussi Jännes was one of

Finland's first architects to focus

on landscape. He designed both

public green areas and private

gardens.

The exhibition includes the

first ever public display of a digitised

version of Jännes's comprehensive

designs for Tapiola.

Nature House

exhibition =

The Nature House Villa Elfvik

is the place to see the best of

Espoo's natural environment at

any time of year. Eläköön Espoo

[Long Live Espoo] is the permanent

exhibition at the Nature

House, showcasing the essential

features of Espoo's natural environment:

groves, bird wetlands,

forests and archipelago.

The exhibition is active and

appeals to all senses: visitors can

listen to birdsong, stroke a fox's

fur and view exhibits. There are

microscopes available for examining

visitors' own specimens.

The utopian Futuro, a plastic house

designed by Matti Suuronen, is one of the

most popular exhibits at WeeGee.

Personae mythologicae by Ilona Niemi

depicts not-so-familiar mythological

creatures with a modern twist.

Remember at least these!

1 2 3 4 5 6

Enchanted city

nature

The exhibition

Lumoudu kaupunkiluonnosta

[Enchanted

city nature] at the

Nature House Villa Elfvik

brings the wonders

of nature's diversity

within the reach of

visitors. The exhibition

is open from 24 June

to 16 August 2020.

Futuro open in

summer

The Futuro House, the

well-known landmark

of WeeGee, is open in

the summer, from mid-

May to 13 September.

The building is accessible

during WeeGee

opening hours.

Urban

mythology

Personae mythologicae

[Mythological persons],

a work by Ilona

Niemi, is on display on

the fence encircling

the construction site

outside WeeGee. The

28 quirky characters

depicted are drawn

from Finnish mythology.

Virtual Gallen-

Kallela tour

A virtual tour of the

Tarvaspää castlestudio

designed

and built by artist

Akseli Gallen-Kallela

(1865–1931) is available

online at

gallen-kallela.fi.

Espoo in

Images

The exhibition Bodom

Ämmässuo – kaupunki

kuvissa [Bodom

Ämmässuo – Espoo in

Images] at the Espoo

City Museum is also

available for virtual

visits. All the images

in the exhibition are

posted in Finna. The

exhibition showcases

the 56 official city

districts of Espoo.

Open

Studios Day

An open house for

painting is held in the

garden of the Gallen-

Kallela Museum on

Fine Arts Open Studios

Day on Fri 10 July

from 11:00 to 14:00.

The event includes a

demo. The instructor

is Olga Veselovskaya.

Please bring your own

equipment.

16 A magazine for Espoo residents
---
The Pentala Archipelago

Museum reopens according

to its normal opening hours

on Saturday 6 June.

The Villa Museum

Villa Rulludd

reopens on

Sunday 7 June.

Libraries are open

as usual from

1 June.

The Tacita Dean exhibition

includes the ambitious chalk painting

Chalk Fall (2018).

The IC-98 media installation forms part

of the Kosketus [Touch] collection exhibit

in the EMMA exhibition space.

Nastja Säde Rönkkö makes use

of a gesture familiar from

political demonstrations.

A Thousand

Stories about

Espoo ♦

Tuhat tarinaa Espoosta [A Thousand

Stories about Espoo] is a permanent

exhibition on the history of the city

at KAMU. The exhibition focuses

on five eras and five locations in the

history of Espoo: Stone Age sealers

at Bosmalm, Medieval farmers at

Mankby, gentlefolk and commoners

at Alberga, factory workers at

Kauklahti and urban life in suburbs.

How was Espoo born, and how did it

become what it is today?

The Next

500 Years ♦

Artist Akseli Gallen-Kallela built

his castle-like studio, Tarvaspää,

on the Pellavaniemi headland

beside Villa Linudd in the grounds

of Alberga Manor in 1911–1913."I'm

not building for us, I'm building for

the next 500 years," he said of his

studio more than a century ago. The

exhibition Tarvaspää – 500 vuotta

eteenpäin [Tarvaspää – The Next

500 Years] is about architecture,

construction and everyday life.

› 1 Jun 2020 – 25 Apr 2021

for those

yet to be •

The work for those yet to be

(2016–2018) by Nastja Säde

Rönkkö (b. 1985), Young Artist

of the Year 2019, is on display at

EMMA until 2 August. The work

is a series of video performance

art pieces about the emotions

prompted by climate change and

environmental damage. Rönkkö

visits fragile locations around the

world that are being destroyed

through human activity, sending

a message to future generations.

This is the first time that the work

is being displayed in its entirety.

Main exhibition

continues

through August •

The exhibition of works by Tacita

Dean (b. 1965), one of today's

internationally most distinguished

contemporary artists, will continue

at EMMA through 2 August. Dean

is especially known for 16 mm

and 35 mm films and her work to

preserve the tradition of analogue

film but also for large-sale chalk

drawings that command the

space. Dean works with drawing,

photography, printing methods

and found materials.

Ceramic animal

figures •

A group of delightful animal

figures is on display in EMMA in

the summer. Animals created by

ceramic artist Michael Schilkin

(1900–1962) are displayed in a

playful environment designed by

contemporary artist Lotta Mattila

(b. 1986). Mattila, also known

for animal figures, contributes new

sculptures of her own, created for

this exhibition.

› 2 Jun 2020 –

28 Feb 2021

Cars for

kids ✘

The special exhibition Menopelileikki

[Vehicle Play] explores

movement and travel, vehicles and

traffic safety from a child's perspective

and through playing. The

exhibition features traffic-themed

toys and playful vehicles. Active

and interactive, the exhibition is an

introduction to how traffic works

and to what various vehicles are

like and also tests visitors' knowledge

of traffic regulations.

Anni Puolakka:

Diamond Belly •

From June, the media space in the

Kosketus [Touch] exhibition features

the video work Timanttimaha

[Diamond Belly] (2018) by Anni

Puolakka, a discussion between a

human and an AI chatbot. The work

explores love and companionship

between a human artist, a bot and

mosquitoes. Puolakka incorporates

autobiographical and documentary

materials into her works.

› 2 Jun 2020 – 27 Sep 2020

Theses on the

Body Politic •

The media installation Teesejä

yhteiskuntaruumiista [Theses on the

Body Politic] by IC-98, a.k.a. Patrik

Söderlund (b. 1974) and Visa

Suonpää (b. 1968) is on display at

EMMA in August and September.

The work forms part of the Kosketus

[Touch] collection exhibit in the

EMMA exhibition space. The work

focuses on the shapes and metamorphoses

of rope. Sound plays a

significant role in the work.

› 4 Aug 2020 – 27 Sep 2020

Aladdin and the

Magic Lamp ✘

The classic story Aladdin ja

taikalamppu [Aladdin and the

Magic Lamp] is presented by the

Hevosenkenkä Theatre as an

exciting adventure story for kids.

The cast includes the young hero

Aladdin and his rat friend Baba, the

lovely princess, the Genie, the evil

Grand Vizier and of course a flying

carpet. The production is generous

with visuals and music, conjuring

up an ancient Oriental mood.

› Thu 13 Aug at 18:00, Sat 15 Aug

at 16:00, Sun 16 Aug at 15:00 and

Sat 22 Aug at 16:00.

17
---
Where to go

✱

Music • Visual arts ♥ Theatre ✘ For children ✓ Cinema = Espoo ♦ Something else

The Gallen-Kallela

Museum reopens on

Monday 1 June.

Lehman Trilogy

in August ♥

Fifteenth Night,

the Musical ♥

History of toys

and play ♦

The Lehman Trilogy traces the evolution of

modern capitalism and the beginnings of

mass consumerism.

One of ASA's most recent releases

are Rakkauslauluja miehille

(Love songs for men).

Dave Lindholm Lights are: Dave himself

and seasoned musicians Tommi Laine,

Juppo Paavola and Mikko Löytty.

The premiere of Lehman-trilogia

[The Lehman Trilogy] has been

postponed to Saturday 1 August.

Directed by Davide Giovanzana,

the play depicts the history of

the family of the founders of the

Lehman Brothers investment bank

over three generations.

In the course of an evening,

actors Jussi Lehtonen, Timo

Torikka and Juha Sääski and

composer-musician Maija Ruuskanen

relive a story that begins

in 1844 and ends with the bank's

collapse in 2008, sparking one

of the most devastating financial

crises of all time.

› Sat 1 Aug at 18:30, Fri 7 Aug at

18:30, Sat 8 Aug at 14:00 and

Fri 14 Aug at 18:30, Espoo City

Theatre

Asa & Band at

Sello Hall ✱

Asa & Band appear in concert at

Sello Hall in August. Matti Salo,

who began his career under the

pseudonym Avain, is an artist

driven to pursue paths very

much his own. His début album

Punainen tiili [Red Brick] brought

social realism and political pathos

to the Rähinä Records catalogue,

but he did not truly discover his

own voice, language and world

until becoming Asa.

Over the past ten years, Asa

has published and performed

a great deal of music, from the

emphatically psychedelic, do-ityourself

-themed Foetida series to

more conventional explorations

of hip-hop aesthetics such as the

albums Love and Jou jou, and

from DJ-driven gigs to concerts by

Asa & Band.

› Thu 13 Aug at 19:00

Tickets: lippu.fi

Viidestoista yö [Fifteenth Night]

is a musical offering a time travel

experience to the world of the

late legendary Finnish singersongwriter

Juice and his friends.

In addition to the greatest Juice

classics, the production includes

songs by Mikko Alatalo and

some of the finest gems of

Manserock from the city of Tampere,

including the bands on the

famous Tuuliajolla [Adrift] cruise

tour in the 1980s. The musical

includes these songs and many

more: Viidestoista yö, Rakkauden

haudalla, Syksyn Sävel, Marilyn,

Jyrki Boy, Mä maalaispoika

oon, Hän hymyilee kuin lapsi,

Kaksoiselämää, Musta aurinko

nousee, Paperitähdet, Aamu alkaa

A:lla, Pidetään ikävää... Juice himself

is played by Matti Mikkonen,

alias Matthau Mikojan, a secondgeneration

Manserock musician.

› Fri 14 Aug at 19:00

Tickets: lippu.fi

Dave Lindholm

at Sello Hall ✱

Dave Lindholm is undisputedly

one of Finland's most distinguished

musicians. He began his career in a

band named Ferris in 1971. In 1972,

he released his first solo album, Iso

"Kynä" Lindholm. His most recent

band, Dave Lindholm Lights, is in

concert at Sello Hall in September.

The band's roots and blues sound

is created alongside Dave himself

by musicians familiar to enthusiasts

from a variety of contexts: guitarist

Tommi Laine (e.g. Groovy Eyes),

drummer Juppo Paavola (e.g.

Pauli Hanhiniemen Perunateatteri)

and bass player Mikko Löytty (e.g.

SF Blues).

› Thu 20 Aug at 19:00

Tickets: lippu.fi

A tour aimed specifically at

adults, Lelujen ja leikkien historiaa

[History of toys and play] is an

exploration and remembrance of

how toys, playing and children's

lives have changed over the

decades, from the 19th century

to today. The tour starts at the

door of the Finnish Toy Museum

and is included in the price of the

WeeGee ticket. Recommended

age: 7 and up.

› Sat 6 Jun at 13:30–14:00, Exhibition

Centre WeeGee, Finnish Toy

Museum Hevosenkenkä

Louhiklubi at

Espoo Cultural

Centre ✱

Friends of Finnish popular music

have here a rare opportunity

to witness two fine and longstanding

duos at one go, as Kettunen–Kuokkanen

and Johanna

& Mikko Iivanainen join forces on

their second joint tour. In a series

of lounge concerts, they perform

their own material and a carefully

chosen selection of covers. There

are sensitive moments, down-toearth

stories and humour in store.

› Thu 27 Aug at 19:00–21:00,

Espoo

Cultural Centre, Louhi Hall

Tickets: lippu.fi

Virtual arts

experiences •

The Espoo Museum of Modern

Art has posted a wealth of content

on its website for you to enjoy at

home. There is a compiled list of

links to documentaries on artists

and to exhibition-specific artist

interviews.

18 A magazine for Espoo residents
---
5

magic moves

for home

workouts

Warm up properly. Perform the

moves according to your fitness

and capacity. Repeat each move

10 to 15 times. Take a break and

then do the same thing again. Do

several rounds if you feel like it.

3

Thighs and buttocks:

squatting.

Squat as if you were

about to sit on a chair.

Then straighten up

again.

Tips

for independent exercise

for people of all ages (in Finnish):

espoo.fi/

omatoimiliikunta

The videos, live group

exercise sessions and instructions

listed on the

page are free of charge.

2

Upper body: rowing.

Perform rowing movements

in long pulls,

bringing your shoulder

blades together.

Exercising in Espoo

It is important to keep

in shape and look after

your mobility even in

these quarantine-like

conditions.

Text and photos Espoo Sports and Exercise Services

1

Warm-up: ski moves.

Swing your arms back and

forth in opposite directions.

Allow your torso and your

line of sight to turn with the

movement.

4

Abdominal oblique

muscles: rotation.

Touch your fingers/elbow

to the opposite knee.

5

Mobility: side stretch.

Reach up and to the other

side over your head with

your arm.

19
---
ight now

Espoo is growing at a

rate of about 5,000

residents per year.

Sustainable solutions

will benefit future

generations.

Text Maarit Krok

Green

hub for

sustainable

mobility

In the near future, a pedestrian

centre and services will be

developed in Leppävaara.

Indicative plan of

what Leppävaara is

to look like, viewed

from the direction of

the Ring I road.

Leppävaara is the third busiest public transport hub in the

Helsinki metropolitan area and also accounted for one third of

Espoo's population growth last year. In 2019, Espoo acquired

more than 6,000 new residents, of which 2,000 in the Greater

Leppävaara area.

There are three key goals for Leppävaara: condensing the urban structure,

improving public transport and services, and expanding the pedestrian

zone.

"The basis for project development is that at present this environment

does not meet the requirements of a heavy-traffic area," says Mika

Rantala, Project Director of the Greater Leppävaara area.

The Sello shopping centre is the heart of Leppävaara, and the current

project is intended to develop its immediate vicinity.

"The 'Leppävaara centre' vision involves a new business park to the

north and the Hatsinanpuisto business park to the east of Sello. All

these are within walking distance of each other. We are seeking to create

a larger city centre that can generate positive urban buzz," explains

Rantala.

The redeveloped city centre is also meant to be greener and more

accessible. Car parks will be relocated underground, and the bridge spanning

the railway is intended to house services along with an indoor terminal

space for both bus and train passengers.

These projects are consistent with sustainable mobility and public

transport. Several of the planned new housing estates are located along

the forthcoming Jokeri Light Rail, and cycling routes are being planned

along with the expanded pedestrian zone.

The area is being designed according to the wishes of its residents,

who have been invited to participate actively in the development work

through residents' forums and other channels.

"I've been meeting local residents on a monthly basis under the heading

Tehtävä Leppävaarassa [Mission Leppävaara], and I run a public

Facebook group where people can discuss current affairs and development

initiatives," Rantala says.

›

20 A magazine for Espoo residents
---
Leppävaaran keskus (SARC Architects ltd)

Aerial view of the

Hatsinanpuisto site.

The new business park

will expand the Leppävaara

urban centre

around Sello.

Hatsinanpuisto (OOPS, NCC)

21
---
Projects:

HATSINANPUISTO

(under construction)

about 100,000 sq.m of floor space

(offices, hotel, housing and

commercial space)

VERMONNIITTY

(under construction)

250,000 sq.m of floor area for housing

Illustration of

an aerial view

of Leppävaara

according to

current plans.

Construction of

the Jokeri Light

Rail has begun

in Leppävaara.

Raide-Jokeri

SCHOOL CENTRE

2023–2024

PUUSTELLINKALLIO

(under construction)

60,000 sq.m of floor area mainly for

housing

Leppävaara

statistics

LEPPÄVAARA CENTRE

new railway station bridge

35,000 sq.m of floor area for housing

25,000 sq.m of floor area for offices

20,000 sq.m of floor area for a hotel,

services and businesses

SÄTERINKALLIONKULMA

40,000 sq.m of floor area for housing

Population: 71,500

Population increase:

9,000 by 2025

PALOKÄRKI

30,000 sq.m of floor area for housing

MÄKKYLÄNKUJA

25,000 sq.m of floor area for housing

Jobs:

30,000

Jokeri Light Rail:

9 km in Leppävaara

Services for new residents in Espoo

ESPOO enjoys one of Finland's highest

rates of population growth. The

City is catering to new residents by

producing various info packages.

Under the heading Information

for residents on the city of Espoo

website, there are sections for

instance on housing counselling,

allotment gardens and carpet washing

sites. The city has also launched

an English-language website, Hello

Espoo, for foreign residents. The site

is a step-by-step guide to the journey

before, during and after moving to

Espoo.

The InfoFinland.fi website also

provides a wealth of information

about Espoo for both Finnish and

international people relocating to

the area and is available in Finnish,

Swedish and English and also in nine

other languages, including Somali

and Chinese.

Read more:

• espoo.fi (Information for residents)

• helloespoo.fi

• infofinland.fi

22 A magazine for Espoo residents
---
Human

dignity is for

everyone

It is only natural to have

prejudices about people

who are different. However,

there is a difference between

thinking and saying things

out loud. Sometimes prejudices

can lead to another

person's fundamental rights

being violated.

› We are meeting Hanna Bäckström

and Paula Åkerlund by virtual

means because of the current exceptional

circumstances. Because of this,

it was easy for all of us to come to the

meeting. That is not always the case.

Bäckström is in a wheelchair, and

sometimes she quite literally faces a

high threshold for attending events.

"In many cases, when I arrive at

an event, it's taken so much time and

trouble to get there that I can't be

bothered with how confused people

get when I arrive in a wheelchair," says

Bäckström.

Paula Åkerlund, a Roma woman,

can identify with the experience. She

also often encounters open resentment

and discriminatory behaviour.

"It's humiliating to walk around

in a shop with a security guard trailing

behind you. I can't accept anyone

making automatic judgments like that

about another person."

Åkerlund is active in advocating for

minorities. She used to be a member

of the Espoo Multicultural Advisory

Board and is now in her first term as

minority representative on the Espoo

Equality Committee. Bäckström,

following in her father's footsteps,

represents Uudenmaan lihastautiyhdistys

[Muscle Disease Association

of Uusimaa] on the Espoo Disability

Council.

Through their respective

municipal bodies, Paula

Åkerlund and Hanna Bäckström

are involved in the 'Espoo for

Everyone – Stop Hate Speech!'

campaign, the purpose of which

is to raise awareness, to foster

an atmosphere of tolerance

and to encourage everyone to

intervene in harassment and

hate speech.

With the honour of representation

comes great responsibility.

Sometimes it is not so easy to be humble,

friendly and kind.

"Sometimes I'd like to be able to

be bad-tempered and rude without

having the entire disabled community

judged by my conduct," says

Bäckström.

Åkerlund admits that she has a

very short fuse in situations where

she feels she is being mistreated. If

she has had a rough day, she may lash

out at someone more fiercely than she

intended.

"And then they say 'you people are

always like that'," says Åkerlund.

Everyone has prejudices. When

Hanna Bäckström catches herself

thinking in a prejudiced way, she

laughs at herself.

"Stereotypes about population

groups are incredibly powerful. I'm a

slave to them just as much as the next

person. When you catch yourself having

thoughts like that, you just have to

grab yourself by the neck," she says.

Paula Åkerlund stresses that

no one is saying you cannot have

thoughts and opinions of your own.

The point is in how you express them.

"You don't always have to take up the

pitchforks and torches even if you don't

approve of a particular operating culture

or way of thinking. Every human

being is entitled to human dignity, no

matter what they are like. We all have to

respect that," Åkerlund insists.

encounters

Espoo is a multicultural

city with a policy of promoting

acceptance and

cooperation between

population groups.

Text Tiina Parikka Photo Timo Porthan

23
---
pearl

Pentala island is one of

the 11 outdoor recreation

islands in Espoo. The

Pentala Archipelago

Museum and its services

have been open to the

public since 2018.

Text Mia Weckström Photo Ari Siliamaa

24 A magazine for Espoo residents
---
Life in the archipelago requires

many kinds of manual skills

THE Pentala Archipelago Museum is

located on an old fisherman's estate on

Pentala island in Espoonlahti Bay. With the

help of museum guides, you get to explore

life in the archipelago and everyday life on

the fisherman's estate as it used to be.

"We organise guided tours, lectures,

exhibitions and craft workshops, such as

net knotting, in the museum area," says

Pentala Archipelago Museum's guide and

coordinator, Ninni Finnberg whose job

description includes producing museum

services for the public and keeping an eye

on the plants in the museum yard.

The role of a museum guide on Pentala

is very versatile. As well as serving

customers, museum guides look after the

sheep in the area under Finnberg's tuition.

"The sheep that have a summer job at

the Archipelago Museum are very affectionate,

and visitors to the museum also

get to stroke and cuddle them when their

guide takes them to the pasture."

Visitors can enjoy the archipelago

nature on the 2.3-kilometre-long nature

trail that starts in the museum area and

continues from the former fisherman's

estate to lake Pentalanjärvi and the

Diksand beach.

"When planning a visit to the museum,

it's good to remember that when the Tapiola

weather station shows rain in Espoo,

it's often sunny here in the archipelago,"

Finnberg says.

You can also explore the Archipelago

Museum and the history of the

Pentala island virtually using the

'Museum Without Walls' mobile guide

at tarinasoitin.fi/pentala.

The Pentala

ram is waiting

to be let

loose on the

island for

the summer.

The Pentala

Archipelago

Museum will

reopen to the

public on 6

June.

25
---
Espoo residents

Juvanpuisto is in the

Niipperi district. It is a

low-rise housing area

favoured by families,

situated adjacent to

the industrial estates

at Juvanmalmi and

Koskelo.

Text Tiina Parikka Photos Eemeli Sarka

A student body

with a difference

At the Juvanpuiston koulu

joint comprehensive school,

every pupil at the secondary

level can participate in

pupil body activities. The

pupil body also adapts its

activities according the

pupils' wishes.

The Juvanpuiston koulu joint

comprehensive school has

abandoned the traditional

secondary-level pupil body

elections where one representative

from each class is elected to

the board. Instead, pupil body activities

are structured around teams that any

pupil may join according to their interests.

"We have about 580 pupils, and some

100 of them are on these teams. Next

autumn, we plan to have all new pupils

pick a team that they want to join. If

there is no team that they're interested

in, we'll set up new ones according to

their interests," says Headmaster Vesa

Äyräs.

The largest teams are the café team

and the environmental Vihreä lippu

[Green flag] team, which also admits

pupils from primary school.

"The café is open two days a week.

The team is divided into smaller groups,

with each group tending to the café for

one week. We shop for baking supplies,

bake the products and sell them. It's

a great way to learn about customer

service and how to run a business," says

Mandi Isopahkala.

Everyone may contribute however

they can. Kerttu Kantomaa joined

the international team initially as an

observer but has since become one of its

key members.

"The international team takes care

of guided tours for visitors. We have a

lot of foreign visitors coming to view the

Finnish school system in action and to

see our school in particular. The best

thing is meeting people from different

cultures. It's also good practice for performing

skills and of course for communicating

in English," says Kerttu.

There are many ways of working,

and how often the teams meet

depends on what they are doing. Kaisa

Koivunen is on the international

team and is also a member of STEM,

a team for pupils interested in science

and mathematics.

Niipperi

• Population: 3,364 (31 Dec 2018), of which

over 600 of comprehensive school age

• Located in northern Espoo, along

the Ring III road

• Most of the 3.9 sq.km of the area is owned

by the Espoo Ringside golf course

• Two shops: a barber shop and a florist's shop

• Two youth halls, open alternately

"Last year, our activities included an

escape room," says Kaisa.

Mandi, Kerttu and Kaisa are also on

the board of the pupil body along with

Adele Silvennoinen.

"We don't actually elect the board

members. It's the most active people

that get to be on the board," says Adele,

who herself is on the café, international,

communications and environment

teams.

Coordinating teachers look after

team operations, but everything is very

free and informal.

The teams are set up according to

pupil interests. There is a scooter badly

in need of repair stored at the school.

The scooter, the spare parts needed and

the mat on the workshop floor were

acquired with a project grant received by

the northern Espoo local chapter of the

Mannerheim League for Child Welfare.

"We work on the bike whenever we

feel like it, on breaks and at other times

too. The idea was to sell it by auction in the

spring, but that was put on hold because of

the coronavirus," says Petrus Tahkola.

Team activities are important for

adolescents in a district where there are

not many places to hang out. This operating

model is being extended to two

other schools in the Niipperi district.

Opportunities

for success

THE unusual pupil body at Juvanpuisto

forms part of a broader project to

orient adolescents' interests towards

positive things.

"All too often it's the individuals

who do stupid things that get all the

attention among young people. It's

normal to explore your boundaries and

to experiment with new things, but we

want to focus on the positive," says

Headmaster Vesa Äyräs.

The pupil body teams concept

was launched at Juvanpuisto three

years ago. With meaningful activities

provided for the pupils, there have

been fewer problems for instance during

breaks. The concept now involves

other schools in the district along with

daycare centres and networks.

"We hold intoxicant abuse seminars

for parents in the evening to find

ways for young people to engage

actively. Pupils can now lead clubs

for younger children, and parents and

local businesses have offered their

support for pupil teams," says Äyräs

and continues:

"It's nothing new, of course. You

know, 'it takes a village to bring up a

child'." At the turn of the millennium,

there were dozens of clubs led by parents

in the Juvanpuisto area, but they

faded away. Now it is time to become

active again.

The pupils themselves wish that

the youth facilities that there are in the

district would be open more often.

26 A magazine for Espoo residents
---
Kerttu Kantomaa,

Adele Silvennoinen,

Mandi Isopahkala

and Kaisa Koivunen

are all members

of the pupil body

board.

Petrus Tahkola

found his thing on

the moped team.

The idea was to

repair and sell a

scooter, but the

sale had to be suspended

because of

the coronavirus.

Mandi Isopahkala

and Kerttu Kantomaa

know that

the classic 'mocha

squares' are a big

hit at the café.

There is time to

bake for instance

during breaks.

"

foreign

Our school

receives a lot of

visitors.

27
---
Swedish in Espoo

Espoo has strong

Swedish-speaking

roots. As recently as the

1920s, 70 per cent of

the population spoke

Swedish.

Text Jenni von Frenckell Photos Espoo City Museum

This island in the Espoo Archipelago has not

always been known as Pentala. Over the years,

it has also been called Bentsall and Pentari. The

earliest reference to the island by name dates

from 1540, when it was referred to as Bentsall,

notes Tryggve Gestrin, a curator at the Espoo City

Museum.

"Etymologically, the name was a combination of the

Swedish first name Benedictus – Bengt – and the Finnish

ending '-salo' which means a large, wooded island,"

explains Gestrin who has researched Pentala's history.

Pentala is located at the entrance to Espoonlahti bay

and is one of the Sommaröarna – the 'Summer Islands', or

Suvisaaristo in Finnish. It is not surprising that in the past,

the most important source of income in the archipelago

was fishing.

"Pentala is a typical old fishing village. The inhabitants

made their living from high seas fishing, and it was primarily

Baltic herring that filled their nets. Most of the catch was

kept by the inhabitants for their own use, and to pay the

lease for the cottages. What was left over was then sold at

the Market Square in Helsinki," Gestrin describes.

Sea fishing was demanding, but the Pentala fishermen

were skilled masters of the art of sea fishing, recounts

Gestrin.

"In the 18th century, the explosions at Suomenlinna sea

fortress posed a challenge, because they frightened the fish.

This forced the fishermen to fish far out at sea, and not everyone

made it back.

In addition to fishing, the residents of Pentala hunted

seabirds and seals and engaged in agriculture. The inhabitants

primarily grew potatoes and other plant-based food

for their own use.

People on the pier

of the Nyholm

fisherman's estate in

the summer of 1933.

Unknown photographer.

Man and woman in a

speedboat adjacent

to the pier of the

Nyholm fisherman's

estate in the 1940s.

Unknown photographer.

In 1776, the island of Pentala

in Espoo was inhabited

by 22 Swedish-speaking

inhabitants. Nowadays, the

island welcomes visitors to

the archipelago museum

where the residents of Espoo

can learn about Pentala's

history.

Pentala Island

– a historical

archipelago

community

28 A magazine for Espoo residents
---
The main building

of the Nyholm

fisherman's estate

in 1937. Unknown

photographer.

In those years, Pentala belonged to the

villages of Svinö and Moisö, which had been

owned by Espoo Manor since 1640. It was

also Espoo Manor that established the first

fisherman's cottage on Pentala in 1758. At

the end of the 19th century, the island had

three cottages. There were also several residential

buildings and villas, including Gurli's

house.

"Gurli's house belonged to the fisherman's

widow Gurli Nyholm. She was the last

resident to live on Pentala year-round, even

in the 1980s. Her husband Arvid was the

island's last fisherman," Gestrin describes.

The oldest preserved fishing cottage on

the island dates from 1791. The cottages and

villas served as an extra source of income for

Pentala's fishermen.

"We know that the first summer tourists

to rent accommodation in Pentala did so as

early as the middle of the 19th century. The

guests were primarily officials and burghers

who wanted a break from the crowded capital,"

Gestrin said.

No precise data exists about the development

of the island's population. Yet thanks

to old church books from 1776, it is known

that there were then 22 Swedish-speaking

people living on Pentala.

"Throughout the 18th and 19th centuries,

the inhabitants of Pentala were mainly

Swedish-speaking, which was also the case

elsewhere along the coast. Finnish only

gained a stronger influence in the archipelago

in the 20th century, when the archipelago

became accessible via highways,"

Gestrin explains.

In 2010, the buildings on Pentala underwent

an extensive renovation. Every object

found in the course of the renovation was

catalogued.

"In the attic of the fisherman's cottage,

200 pairs of shoes and a small sealskin cap

were discovered. In the old days, you didn't

throw anything away. New garments were

made out of old materials," explains Gestrin.

Today Pentala Island is dotted with summer

villas. In the summertime, the villas are

primarily used by descendants of the original

homeowners.

Since the summer of 2018, Pentala also

serves as an archipelago museum.

"

Gurli Nyholm was

the last inhabitant

of Pentala.

29
---
we

Nature in Espoo is

like Finland in miniature:

we have the sea and the

archipelago in the south

and the rugged

wilderness of Nuuksio

National Park

in the north.

Test your

Finnish with this

crossword puzzle!

Book prizes!

Espoo for the nature tourist * from June to August 2019

145,200

tourists,

of which from

Finland

79,700 * 11

outdoor

5

kilometres

of nature paths at

Hanikka, with

Bronze Age cairnsn

crossword puzzle

recreation islands

44 metres

above sea level

at the observation

point on Kasavuori

>300 species of birds

to be seen in the Laajalahti

nature reserve

14

kilometres

of hiking trails in

Nuuksio National

Park

17

hectares of

wetlands in Finnoo

Mark the letters from the orange boxes (1–14) below and send the answer with

your name and address by e-mail to: espoolehti@omnipress.fi by 31st July 2020.

30 A magazine for Espoo residents
---
The Villa Museum Villa Rulludd is an uncommonly

well-preserved example of early villa architecture

along the entire Uusimaa coast. The museum is a

time capsule of the summer holidays of the culturally

active Kihlman family. They enjoyed summers at their

villa for six generations until the villa passed into the

ownership of the City of Espoo in 1980.

Memorial book of Agneta Kihlman, 1936–1941. This

page in the memorial book shows a drawing made by

Agneta's aunt Agnes Kihlman, an arts teacher, of the

Päijänne pavilion at Villa Rulludd in 1937.

my espoo

Further information: kulttuuriespoo.fi/en/rulludd

Swimming, previously

regarded as a pastime

of the common people,

became popular among "the gentlefolk.

Summer

villas dot

the islands

Villas were big in the 1920s

and 1930s. The bourgeoisie

of Helsinki used to migrate

to their villas in Espoo for the

summer to enjoy crayfish

banquets, swimming and

social life in general.

In 1920, Espoo was a

rural municipality with a

population of less than

9,000. Growth and

urbanisation began in

the 1940s.

Text Hanna Leino Photo Espoo City Museum

› Espoo became a choice destination for summer residents

in the 19th century when upper-class folk and merchants

from Helsinki began to seek out the peace and quiet of the

countryside in Espoo. City homes were cramped and maintained

to strict standards to keep up appearances, and there

was little potential for outdoor recreation.

Back in the day, people with villas did not just pop over for

the weekend – they relocated there for the entire summer.

They would pack up a cartload of items, including linens

and tableware. Their servants came with them, of course.

They journeyed by steamship and boat from the Market

Square in Helsinki to maritime Espoo. There were clusters

of villas particularly in Degerö (now Laajasalo) and on the

islands off Espoo, amidst lovely landscapes but conveniently

served by local shipping.

These villas were not summer cottages as we understand

the term today. They were designed as fully liveable

leisure residences with several outbuildings such as gazebos

and bathing houses, the latter typically perched on the

end of a jetty. Swimming used to be regarded as a pastime

of the common people, but gentlefolk soon took it up when

the outdoor life came to be idealised at the turn of the 20th

century.

Conceptions about appearances began to shift too:

tanned skin and muscle tone were no longer regarded as

coarse and common. Tennis and other outdoor sports

were embraced by gentlefolk, and gardening was keenly

adopted as a hobby. Villa gardens flourished. Villas had

balconies and terraces on which to enjoy sunny summer

days, and plenty of windows to admit the abundant summer

sunlight.

Such settings were ideal for hosting guests, and

Midsummer bonfires and crayfish banquets in August

could bring together families from several villas.

While the better-off lived it up at their villas, the poor

folk continued their everyday lives in the city. There was

no such thing as a holiday for working people, so even

among the gentlefolk the men who had jobs might commute

to Helsinki to work by steamship.

This article is based on an interview with researcher

Heli Haavisto MA. In the autumn, Haavisto gives

talks on the villas and other cultural-historical sites in

Espoo in the lecture series Espoon helmet

[Espoo gems]. The talks are held at the Espoo

City Museum, and admission is free.

Children of the

Kihlman family

on the steps

of Vintervillan

(Winter villa) at

VIlla Rulludd.

(1930, photographer

unknown )

31
---
FARM.FI

Start a

business

Competence

development

Internationalisation

Grow your

business

Recruitment

assistance

Change

situations

ONE ADDRESS,

HELP EVEN IN

SURPRISING SITUATIONS

BUSINESS ESPOO helps companies and entrepreneurs in change situations.

We can tell you about opportunities to get support and help you find solutions.

If necessary, we can refer you to the legal and financial experts in our network.

Sole entrepreneur!

Have you noticed the operating

support of 2 000 euros?

You may apply for the support

until 30 September 2020 to cover

the costs that arise from business

operations during the coronavirus

situation. You can find more

information and directions

to apply on our website.

CITY OF ESPOO // ESPOO MARKETING OY // ENTERPRISEESPOO //

UUSIMAA TE SERVICES

BUSINESSESPOO.COM

HELSINKI REGION CHAMBER OF COMMERCE // OMNIA // FEDERATION OF ESPOO ENTREPRENEURS