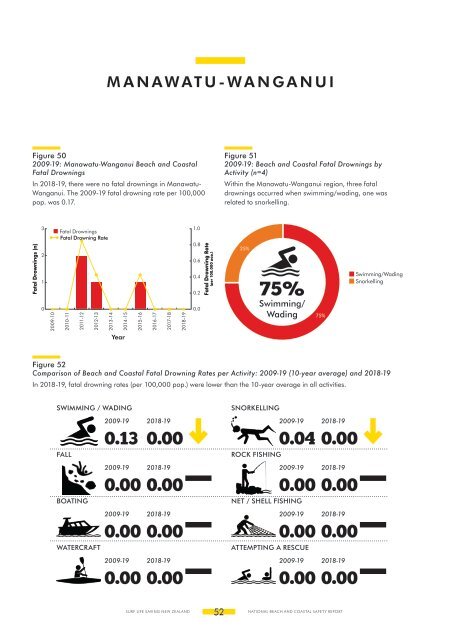 SLSNZ NATIONAL Beach & Coastal Safety Report
New Zealand has one of the highest fatal drowning rates in the OECD1. This report is our way of drawing a line in the sand. We, Surf Life Saving New Zealand, are saying "enough is enough". No more unnecessary deaths from drowning on our beaches and along our coastline.

MANAWATU-WANGANUI

FATAL DROWNING SNAPSHOT

Figure 50

2009-19: Manawatu-Wanganui Beach and Coastal

Fatal Drownings

In 2018-19, there were no fatal drownings in Manawatu-

Wanganui. The 2009-19 fatal drowning rate per 100,000

pop. was 0.17.

Fatal Drownings (n)

3

2

1

0

2009-10

Fatal Drownings

Fatal Drowning Rate

2010-11

Figure 51

2009-19: Beach and Coastal Fatal Drownings by

Activity (n=4)

Within the Manawatu-Wanganui region, three fatal

drownings occurred when swimming/wading, one was

related to snorkelling.

Figure 52

Comparison of Beach and Coastal Fatal Drowning Rates per Activity: 2009-19 (10-year average) and 2018-19

In 2018-19, fatal drowning rates (per 100,000 pop.) were lower than the 10-year average in all activities.

SWIMMING / WADING

FALL

2011-12

BOATING

2012-13

WATERCRAFT

2013-14

2014-15

Year

2009-19

0.13

2015-16

2009-19

0.00

2009-19

0.00

2009-19

0.00

2016-17

2017-18

2018-19

2018-19

0.00

2018-19

0.00

2018-19

0.00

2018-19

0.00

1.0

0.8

0.6

0.4

0.2

0.0

Fatal Drowning Rate

(per 100,000 pop.)

25%

SNORKELLING

ROCK FISHING

75%

2009-19

0.04

2009-19

0.00

NET / SHELL FISHING

2009-19

0.00

ATTEMPTING A RESCUE

2009-19

0.00

75%

2018-19

0.00

2018-19

0.00

2018-19

0.00

2018-19

0.00

Swimming/Wading

Snorkelling

10-YEAR OVERVIEW | 2009-19 1-YEAR OVERVIEW | 2018-19

Attempting a Rescue

Boating

Diving / Jumping

Fall

AVERAGE FATAL DROWNINGS

More magazines by this user