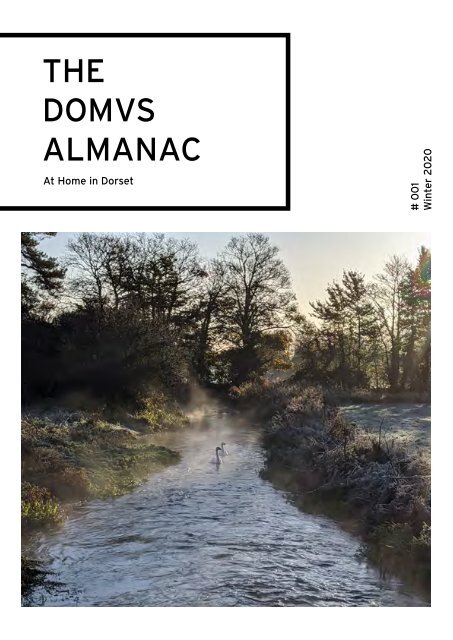 The DOMVS Almanac_issue #1_Winter 2020
THE DOMVS ALMANAC At Home in Dorset ALMANAC noun [ C ] (also almanack) a handbook, typically seasonal, that includes information for the year such as important days, weather, traditions, tips and nature. # 001 Winter 2020
THE DOMVS ALMANAC
At Home in Dorset

ALMANAC noun [ C ] (also almanack) a handbook, typically seasonal, that includes information for the year such as important days, weather, traditions, tips and nature.

# 001 Winter 2020
SHOW MORE
SHOW LESS
You also want an ePaper? Increase the reach of your titles
YUMPU automatically turns print PDFs into web optimized ePapers that Google loves.
THE

DOMVS

ALMANAC

At Home in Dorset

# 001

Winter 2020
---
Welcome to The DOMVS Almanac

ALMANAC noun [ C ] (also almanack) a handbook, typically seasonal, that includes

information for the year such as important days, weather, traditions, tips and nature.

We are proud to introduce The DOMVS Almanac, which

brings to you our highlights of living in Dorset. We

will share with you the hidden gems of our beautiful

county, from our favourite autumn countryside walks

and the best places to go for the freshest seafood, to

tucked away places perfect for a Sunday morning beach

breakfast, and dolphin-spotting hotspots. Read on to

find out how to make the very best of your home,from

loft conversions and home offices, to bringing living

outdoors, latest home styling trends and gardening tips.

From the purveyors of the most scrumptiously tasty

treats, to the most talented designers, decorators,

and stylists, we've partnered with independent Dorset

businesses, who are incredibly passionate about where

we're from and what we do, and we are all here to help

you feel at home in Dorset.

To discover more about the beautiful Dorset home

pictured here, read on...
---
Six bedrooms | Six bathrooms | Additional 3-bed house & 1-bed holiday let | Over 17 acres | Offers over £1,500,000

Shipton Gorge, Dorset | Contact Polly Greenway: 01305 757300 or click here: domvs.co.uk

Modern living, rural location

Eight bedrooms | Four entertaining spaces | Tennis court | Natural lake | Approx. 6.24 acres | £2,250,000

Upwey, Dorset | Contact Tim Grainger: 01305 757300 or click here: domvs.co.uk

Historic home, exclusive living

In association with

In association with

3

domvs.co.uk

domvs.co.uk

4
---
Our Partners

Inside this Season

Our partners comprise some of the best producers

Dorset has to offer, all independent businesses founded

and located in Dorset, brought together to promote not

only each other, but the glorious lifestyle and products

our unique county has to offer.

3. Dream homes from DOMVS

7. PLM Jewellery gives life to old treasures

9. The Gardens Group celebrates winter colours

25. Indulge your sweet tooth with Chococo

29. 'Hygge' your home with Purbeck Candles

30. See things in a whole new light with Misty Glass Dorset

We are always looking for exciting and innovative

new partners, so if you fit the bill and would like to be

involved, please get in touch.

10. Tuck in with Rosemary Rogers

13. Sculpture by the Lakes Artisans' Bazaar

31. Release your inner vixen with Foxy by Design

33. Dream homes from DOMVS

On the Cover (and above)

'Morning Misty River Fix' by Shelley Ham, photographed

from the river path near her pub, The Sun Inn, Lower

Burton, Dorchester (famous for its carvery, served seven

days a week). Visit sun-inn-dorchester.co.uk

Director

Polly Greenway

Almanac Secretary

Lucy Cole

lucy.cole@domvs.co.uk

Editorial & Design

Charlie Ryan

charlie.ryan@domvs.co.uk

15. Sun, skin and Sarah Dale Aesthetics

17. A sustainability makeover with Primrose's Kitchen

19. A fruity little tipple courtesy of Dorset Ginger Co.

21. Charge up at EBike Cafe @ Deheers

23. Introducing 1968Accessories

35. The gentle touch from Loving by Nature

37. Introducing Grange Gallery

41. DOMVS Lettings talks buy-to-let

42. Sammie Mcfarland; dedicated to your wellbeing

43. Dorset Sea Salt sprinkle on some flavour

5 6
---
Precious Metals

Recycle, redesign and remake with PLM Jewellery

Remember that old, worn ring languishing at the bottom

of your jewellery box? Imagine bringing it back to life, to

once again take sparkling pride of place on your finger

or the hand of a loved one. Having your precious metal

jewellery recycled, redesigned and remade is not just an

exciting prospect, but an achievable reality.

What are the steps involved? First - and this is the part

of the project most of my customers revel in - is the

search for inspiration. Surf the internet for ideas and save

images you love to mood boards on Pinterest; walk to

your local church and take photos of the architecture or

stained glass; or simply saunter around your garden and

browse the flora. Inspiration can spring from anything,

anywhere at any time, and your ideas help me come up

with designs which are aesthetically and uniquely 'you'.

Next, it's time to book your free consultation (this is

when it all starts to feel real!). You can contact me to

organise an appointment via video call or in person

at a location that allows for safe distancing. Due to

the current restrictions, I will take all the information

necessary for me to work on your designs at my

workshop, after which I will email them to you for you

to view at your leisure. Once we have found your dream

design, I will provide you with a quote.

I begin the recycling process by melting down your

old jewellery and pouring the molten metal into a

small ingot. From this raw form, there are a variety of

traditional techniques I can use to create your desired

piece. I can also provide a price per gram for new,

additional metal should you wish for something a little

larger or weightier than your old piece of jewellery. If

you would like photos or videos of the melting down of

your jewellery, or any other progress pictures, you need

but ask! It's important to me that my customers are as

involved in the project as they want to be, every step

of the way. My end goal is always to provide you with

something beautiful, elegant, durable and sentimental,

which is absolutely to your taste and can be worn and

enjoyed for years to come.

Modification and Repair

Reimagining old jewellery doesn't have to mean melting

it down. There are many ways in which I can alter a piece

to achieve the look you desire; rings can be resized,

stones can be replaced, detailed alterations can be made

to the metalwork, then there's plating and polishing...

the list goes on. Fall back in love with old or damaged

jewellery by giving it some TLC and a renewed shine.

About Me

My name is Poppy Middleton, and I'm a traditionally

trained goldsmith based in Weymouth, Dorset. I've had

the best of both worlds regarding my training; I was

traditionally trained as an apprentice by a recognised

master goldsmith, and I graduated from Birmingham's

School of Jewellery, a university catered uniquely to

teaching the design and production of jewellery. Having

worked for various jewellers across the UK, I have

now started my own business repairing, designing and

making jewellery. I'm committed to making connections

with people who are as passionate about their jewellery

as I am.

To see more of my work, please visit instagram.com/

plmjewellery, or contact me at poppylouisemiddleton@

gmail.com or on 07889 624661 to discuss your ideas.

7

8
---
Cold Colours

Flowers to brighten your winter garden,

from Mike Burks of The Gardens Group

For gardeners, it can be a delight to find plants in their

finest hour when most of the garden is looking pretty

poor. One great example is Lonicera fragrantissima, a

shrubby form of Honeysuckle. In the winter, small white

flowers with a powerful, sweet honeysuckle scent appear

on the bare branches.

Another medium to large shrub is the Viburnum

fragrans, which also flowers on bare stems. It's an

upright growing shrub with pleasant summer foliage,

bronze when young, which turns red-purple in the

autumn. The flowers are clusters of heavily scented

white-tinged-pink and tubular in shape. An alternative is

Viburnum Bodnantense Dawn, which is very similar, but

the flowers are much pinker.

There are even winter flowering trees, and one such

is Prunus autumnalis, the Autumn Flowering Cherry,

also sometimes known as the Winter Cherry. Prunus

autumnalis, again, has good autumn colours and then,

after the leaves fall, the flowers are white, scented and

dotted along the bare branches. There is also a pink

form, P. autumnalis Rosea. Both are small trees and are

a delight in the winter.

Viburnum Bodnantese Dawn - Pink Dawn

Jasmine nudiflorum - Winter Jasmine

There are one or two climbers that have a go in the

winter, or at least late winter/early spring. These include

the Winter Jasmine, Jasminum nudiflorum, with its mass

of yellow flowers; a joy at a very dull time of year.

More detailed are the Clematis cirrhosa types, which are

evergreen and also have dainty nodding flowers towards

the end of the winter. My favourite variety is 'Freckles',

which has pink-brown blotches on creamy flowers. It

lasts a long time, and the ferny foliage is also attractive.

The larger Clematis armandii – a very vigorous plant –

also flowers in the late winter and has a fragrance too,

with masses of white flowers.

On a smaller scale, there are, of course, herbaceous

plants such as Helleborus niger, the Christmas Rose.

There are a number of improved forms of this plant

now, and it's worth looking out for the 'Harvington

Hybrids' and 'Wintergold'. Also take a look at the darker,

December-flowering varieties Helleborus Penny's Pink

and Anna's Red.

My favourite winter flower, however, has to be the

Sarcococca or Christmas Box. These small shrubs are

evergreen and then, as the autumn comes along, so they

bud up and the flowers open, white and tiny, but with a

huge scent. They also do very well in our local soils.

For year-round hints and tips and to find out more about

The Gardens Group, visit thegardensgroup.co.uk

9

Clematis armandii

Helleborus niger - The Christmas Rose

A Fresh Start

The perfect Christmas Day starter from Rosemary Rogers Catering

Happy to provide "anything from a plate of sandwiches

to a wedding buffet", Dorset-based Rosemary Rogers

Catering also caters for everything from office lunches

to picnic hampers to corporate events. With the cold

winter weather (a.k.a. Comfort Food Season) setting

in and the annual day of over-indulgence looming, we

asked Rosemary for a fresh dish to get your Christmas

Day off to healthy start.

"This is one of my favourite starters! French Bean,

Asparagus and Avocado Salad with Pomegranate and

Hazelnuts."

Ingredients:

• Rocket

• Fine French beans

• Asparagus spears

• Avocado

• Hazelnuts

• Pomegranate

• Olive oil

• Pomegranate balsamic glaze (I use Gilly's)

For each serving:

1. Place a handful of washed and dried rocket on a side

plate.

2. On top of the rocket, place 6-8 fine French beans

that have been cooked, but maintain a crunch when

you bite into them.

3. Next, add 4-5 asparagus spears, again, just cooked.

4. On top of this, add about a third of an avocado,

sliced.

5. To finish, add a scattering of chopped, browned

hazelnuts and a sprinkle of pomegranate seeds. Dress

with olive oil and pomegranate balsamic glaze.

To discuss your catering needs with Rosemary, please

visit: facebook.com/RosemaryRogersCatering

10
---
Built for Comfort

Rosemary Rogers' shares her beef-in-beer casserole

This is a delicious, warming casserole for cold winter

nights. I especially love it because the quantity of each

ingredient can be adjusted according to personal taste.

If you would like to make this meal even more special,

serve with gratin potatoes and a medley of vegetables.

Serves six.

Ingredients:

For the beef:

• 1.5kg braising steak

• 2 medium white onions

• 2 medium carrots peeled and cut into chunks (or you

can use whole baby carrots)

• Splash of sunflower oil

• 440ml Guinness

• 1 tin of good quality chopped tomatoes

• 2 tbsp Worcestershire sauce

• 1 clove garlic, crushed

• 2 bay leaves

• Sprig of thyme

• 12 button mushrooms

• 2 tbsp muscovado sugar

For the dumplings:

• 110g self-raising flour

• 50g shredded suet

• 1 small white onion, grated

1. Begin by chopping the onions and frying in a heavybased

saucepan until golden. Remove from the pan and

set aside.

2. In the same pan, fry your diced meat, browning and

sealing on each side, a few pieces at a time.

3. Return to the pan with the onions and add the

Guinness, Worcestershire sauce, tomatoes, carrots,

mushrooms, herbs, garlic and muscovado sugar. Bring to

the boil.

4. Either reduce the heat and simmer until tender, or

place in a low oven until tender (approx. 2 hours). Once

cooked, remove the meat, carrots and mushrooms.

Cover and keep warm.

5. To make the dumplings combine the ingredients and

add enough water to bring it all together and for it to be

elastic in consistency. Divide into about 12 small pieces

to roll into dumplings.

6. Place the dumplings into the gravy, bring to the boil

on the hob and cook for 20-25 minutes. Remove the

dumplings.

7. If desired, thicken the gravy with flour. You will need

to mix a little flour with some cold water first to form a

paste. Add this to the boiling gravy, stirring continuously

until the desired consistency is achieved.

8. Return the meat and vegetables to the gravy, season

with salt and pepper and serve with a green vegetable

and mashed potatoes.

facebook.com/RosemaryRogersCatering

11
---
Artisans' Bazaar

Eye-catching artwork, jewellery, sculpture, pottery and more at Sculpture by the Lakes

Sculpture by the Lakes, Dorchester, is to be transformed

into the Artisans' Bazaar in the six weeks running up

to Christmas. More than 50 artists and makers, many

of them from the Dorset area, showcasing their work at

stalls in the Sculpture Park SPACE from 7th November

to 23rd December 2020.

During lockdown, the Artisans' Bazaar has moved

online. You can see the fabulous array of work at

sculpturebythelakes.co.uk/shop with free delivery

available when you spend over £100. You can also click

and collect; the sculpture park remains open and entry

is free when you spend more than £50.

Visitors will be able to explore unique and beautiful

creations across a range of artistic mediums and

techniques, from glasswork to pottery, painting to

textiles, wood carving to weaving, and leatherwork to

jewellery making. Exhibitors include Suzette Knight

and her 'hand build' ceramics; Sharon Boon, who turns

'shoreline treasures' collected on local beaches into

artworks; printmaker Paul Cleden; silverware designer

Karina Gill; woodturner Darren Wheeler; and Claire

Richards with her raffia craft creations, to name just a

few. To complete the experience, on-site gallery space,

The Gallery by the Lakes, is set to be turned into a

sumptuous palace filled with colour and enticing aromas.

The park's café will also be open, so visitors can combine

the experience with a coffee or lunch.

Simon Gudgeon, sculptor and owner of Sculpture by the

Lakes, has said:

"With a wealth of artefacts and artworks on sale, the

Artisans' Bazaar will be a pleasure to explore and a truly

unique Christmas shopping experience. Rather than the

same old, mass-produced stuff, shoppers will take home

some very special gifts to be treasured." There will be

something to suit everyone's taste. Not only will there

be art for your walls, but you'll also find pieces for the

garden, for your coffee tables, and pieces you can wear."

The event is being organised by Simon and Monique

Gudgeon, owners of Sculpture by the Lakes. The park,

near Dorchester, features over 30 of Simon's own

internationally recognised sculptures, set in spectacular

gardens maintained by his wife Monique and a team of

gardeners. Simon has an extensive history of celebrating

fellow artists, featuring their work in his gallery spaces

as well as hosting workshops and events, including the

popular Dorset Arts Festival held at Sculpture by the

Lakes in July.

Simon adds:

"This new event brings together a group of incredibly

talented creative individuals, unified by their high levels

of skill and the fact that their work is beautiful. It will be

a feast for all the senses, and visitors will not only want

to take it all in, but also, I hope, want to take a little of

that experience home to share with loved ones too."

The Artisans' Bazaar at Sculpture by the Lakes,

Dorchester, runs from 7th November to 23rd December

2020, except Sundays and Mondays. In accordance with

Covid-19 rules, face masks must be worn by all visitors,

and numbers at any one time will be limited in order

to support social distancing. To find out more about

the Artisans' Bazaar, visit: sculpturebythelakes.co.uk/

artisans-bazaar or to book tickets to Sculpture by the

Lakes visit: sculpturebythelakes.co.uk

13

14
---
Where the Sun Never Sets

It's skin rejuvenation time again at Sarah Dale Aesthetics

Photograph © Jane Adams

With Christmas upon us, it's that time of year when we

start putting on more layers and turning up the heating

to keep the cold out. The change of season means our

skin can feel a little drier, and as we look in the mirror,

we might notice the effects of the summer months

on our skin. It's one of the busiest times at the clinic,

as our regular customers make their 'after summer'

appointments, coming in for their laser skin rejuvenation

treatment.

What are they getting?

• Age spots (sun damage) removed

• Spider veins treated until they disappear

• Redness and uneven pigment improved

• Boosted collagen production

• Reduction of fine lines

Following months of closure this year, we are delighted

to have welcomed back our loyal clients and lots of new

ones too. In common with so many businesses, we have

worked hard to get everything in place to ensure we

operate in a safe way. We are so grateful to have been

able to retain all our staff and that our appointments

are, yet again, in great demand.

Sarah, Tanya, Milly, Annie (our clinicians) and Julie, Beth,

Lucy, Gerry and Ellie (the reception team) look forward

to seeing you soon.

sarahdaleaesthetics.com

facebook.com/sarahdaleaesthetics

E. info@sarahdaleaesthetics.com

T. 01305 269220

Before and after pigmentation (sun

damage) removal and rejuvenation

And the results? A lighter, brighter and more even

complexion, which equals healthy-looking skin! If you

don't know about this top-of-the-range treatment and its

benefits, book in for a free consultation with any of our

clinicians to discuss how we can help you towards clear,

glowing skin.

As a pro-aging clinic, we are so pleased the message is

now out there that our skins need protecting from the

harmful (and aging) rays of the sun. This year we have

been blessed with lots of sunshine, with many of us

enjoying more time outside than usual. It seems much

easier for us all to remember our sunscreen when it's

warm and sunny. Beware - the danger is still out there

during the autumn and winter months. Damaging light

from both the weak winter sun and our mobile devices

is still breaking through to our skin. We promote allyear-round

use of a sunscreen with at least 50 SPF. The

brilliant Heliocare range, which includes tinted creams

for the face, all offer 50 SPF protection. Prevention

is always better than cure; keep using the sunscreen,

come rain or shine, and take advantage of our special

offer of 15% off the full Heliocare range with offer code

SKINSAFE.

We've just mentioned one of our treatments and one of

our product ranges, but there is so much more on offer

at Sarah Dale Aesthetics. Our Aesthetics Skin and Laser

Clinic is a nurse-led clinic, with experienced clinicians

using medical grade machines to offer advanced

skincare for face and body, permanent hair removal and

non-surgical treatments. Our product ranges (Medik8

and Noon) have been carefully researched and chosen

to complement our treatments, and all staff have been

trained to give you advice on the best products for you.

Check out our website for a full list of our treatments

and don't forget we offer complimentary consultations,

so book yours now.

15

25 16
---
Kitchen Kind

Find out how to keep your kitchen sustainable and environmentally-friendly

from Primrose Matheson of Primrose's Kitchen

We hear the word sustainable a lot these days, but what

does it mean? Defined as "causing little or no damage

to the environment and therefore able to continue for

a long time", how can sustainability be applied to our

kitchens? What choices can we make here to limit our

negative effect on the environment? The biggest ways

in which I believe we can reduce our impact on the

environment within our kitchens is through packaging,

cleaning products, food sourcing and food waste:

Food Packaging

The food we buy has more packaging on it than ever

before, especially in supermarkets. Finding ways to

eliminate this from our lives can be hard. Clearly,

processed foods have the most packaging. The more

we process food the less healthy it is for our bodies and

for the planet. More processing means more factory

production, more chemicals, often more sugar, more

preservatives, and more shipping. Try changing your

diet and your impact for the better by choosing fewer

processed foods and more whole foods whenever

possible.

Read the Ingredients

When shopping for food, read the ingredients list. Look

for products that containing whole foods and just a few

ingredients. Avoid ingredient lists that include chemicals

or items you can't pronounce or don't recognise. Keep

things pure and simple. Processed foods are designed to

be addictive. By sticking to whole foods, your taste buds

will quickly adapt and begin to appreciate the amazing

taste of fresh fruits and vegetables. Bear in mind that

the fruits and vegetables that taste the best are often

the ones that contain the most nutrients.

Source Locally

When you eat what is grown locally and in season, you

are eating more nutrient dense foods, decreasing the

demand for food from other regions, reducing food

miles, contributing to the local economy, and shrinking

your carbon footprint.

Reduce Food Waste

Globally, over 1.3 billion tons of food is thrown away

every year. Over 51% of the rubbish going to landfills

is compostable, including food scraps, paper, garden

trimmings, and wood. The environmental costs of food

waste worldwide are staggering, and 3.3 billion metric

tons of carbon dioxide is released into the atmosphere

each year through the production, harvesting,

transporting, and packaging of wasted food. Even more

troubling, once food waste reaches the landfills, it begins

to decompose and emit methane gas. Methane has 21

times the warming potential of carbon dioxide, meaning

it has an even greater impact on global warming than

CO2. You can reduce your food waste by buying only

what you need. Take responsibility for your food scraps

by returning these nutrient-dense items to the earth.

Composting fertilizes future plants, clears space in

landfills, and dramatically reduces your personal

greenhouse gas emissions.

Choose Meat Wisely

Animals are an essential part of the nutrient cycle, and

managing them properly within our agricultural systems

is critical for restoring soils and balancing the climate.

Worldwide, land is being deforested to support herds

of grazing animals, disrupting natural ecosystems.

Whenever possible, choose meat that has been grass fed

by farmers who support regenerative farming practises.

Cleaning Products

The cleaning products in our kitchen contain hidden

nasties which are bad for our health or the environment.

Did you know the average home contains 62 toxic

chemicals? Of those 62, the eight that are most

commonly used are phthalates, perchloroethylene,

triclosan, QUATS, 2-butoxyethanol, ammonia, chlorine,

and sodium hydroxide. These are known endocrine

disruptors, irritants, can cause damage to vital organs,

and promote the growth of drug-resistant bacteria.

My advice is to remove these from your kitchen - or

anywhere in your house for that matter - and try a

natural replacement like the following:

Tea Tree Oil - As an alternative to chemical disinfectants

and sanitizers, try antibacterial and antifungal tea tree

oil. Mix a few drops of tea tree oil and a tablespoon of

vinegar with water in a spray bottle for a safe, germkilling,

all-purpose cleaner. Add a couple of drops of

lavender essential oil for scent.

Vinegar - This is a great all-purpose cleaner and works

well on mirrors and windows. Vinegar also acts as a

fabric softener; just add a teaspoon to your washing

machine. To create your own citrus surface cleaner, save

up your lemon or orange peels, add vinegar and let the

mixture sit for two weeks before using.

Baking Soda - Another natural cleaning agent ideal for

scrubbing kitchen surfaces and as an oven cleaner.

Creating a more sustainable kitchen and indeed a more

sustainable home is an ongoing process that doesn't

happen overnight. Implement small things slowly, which,

over time, will make a real difference.

primroseskitchen.com

17 18
---
Gift Box

Only £15

& includes Recipe Book

The Dorset Ginger Company

Wildberry Smash

Ingredients:

• 25ml Dorset Ginger Co. Original Ginger

• 50ml Dorset Ginger Co. Extra Strong Ginger with

Cinnamon

• 50ml gin/vodka

• 15ml sugar syrup

• Tonic or soda water

• Handful of berries (see note)

• Ice

Add fruit, spirit, sugar syrup, ginger drinks and ice to

a tall glass. Muddle well and top up with soda or tonic

water. Add a few berries of your choice as garnish.

Enjoy!

Note: this cocktail will vary greatly depending on the

spirit used and fruit paired with it. If you're using a

light spirit such as gin, vodka or a lightly spiced rum,

use softer fruits like strawberries and blueberries. If

you're using a strong bourbon, peaty whiskey or spiced

Jamaican rum, use stronger fruits such as blackberries

or raspberries.

The Perfect Christmas Gift for Ginger Lovers

Each gift box contains 33cl sized bottles of 5 Flavours:

Apple with a Ginger Kick, Original, Strong, Extra Strong & Cinnamon

Order online at www.dorsetginger.ltd

19

20
---
The EBikes team with owners Josephine and Peter (centre)

Together in

Electric Dreams

Introducing EBIKE CAFE @Deheers, where

good food and great bikes meet

An innovative new venture, EBIKE CAFE @ Deheers

opened its doors on Saturday 7th November 2020 in

the prestigious Deheers Building along Weymouth's Old

Harbourside.

Owners Peter Claxton and Josephine Parker are

championing an active lifestyle, healthier eating and

positive mental wellbeing in a COVIDsafe environment

through their new-look enterprise. EBIKE CAFE @

Deheers combines their current shop, Dorset CycleLife

- a well-established and successful all electric bike shop

- with a cafe offering a great selection of nutritious,

healthy foods.

Co-owner Josephine Parker explains, "The EBIKE CAFE

@ Deheers is our new venture for all your ebike needs.

Here you can enjoy wholesome takeaway food and

drinks on the iconic Weymouth Harbourside. There is

parking for those arriving by cycle, and the opportunity

to hire a bike to explore the surrounding area. You can

even recharge your bike in the ebike charging points.

In addition, customers will find expert technicians

in the dedicated service and workshop zone, and a

comprehensive sales area."

On display is a wide range of electric bikes from leading

suppliers. In addition to Raleigh, Haibike and Tern

brands, EBIKE CAFE @Deheers is the only stockist

locally to hold the full range of turbo ebikes from the

iconic, market-leading Californian brand Specialized.

Co-owner Peter Claxton says, "Our aim is to give electric

bike riders the very best technology by the leading

brands. We stock a wide range of ebikes offering a

diversity of riding options. Whether your electric bike

is for the daily commute, your shopping needs, trekking

through the countryside or more extreme and specialist

sports such as enduro, all mountain or downhill biking,

we can source the perfect bike for you."

The market has seen a major shift in personal transport

needs this year, led predominantly by health and

environmental factors. A recent study carried out

by CREDS (Centre for Research into Energy Demand

Solutions) researchers at the University of Leeds has

found that electrically-assisted bicycles (e-bikes), if used

to replace short car travels, have the capability to cut

car carbon dioxide (CO2) emissions in England by up to

50% (about 30 million tonnes per year). Add to that the

benefit of better health and a socially distanced method

of travel, it is no wonder bike sales in the UK have

doubled in the past two years.

Peter says, "We welcome this change to greener travel

habits, cleaner air and healthier communities. Our move

to Weymouth gives us a better platform to engage with

those considering a more carbon-friendly transport

option, whilst providing a complete service for fellow

ebike users."

And what better place to start this new venture than

along the historic Weymouth Old Harbourside in the

prestigious and sensitively renovated historic Deheers

building?

EBIKE CAFE @ Deheers is open seven days a week, from

10am to 4pm, located on the ground floor of Deheers, 9A

Custom House Quay, Weymouth, DT4 8BG.

Find out more at ebikecafe.co.uk

21

22
---
She's Like a Rainbow

Colourful talk from fashion designer and owner of 1968accessories, Caroline Gray

1968accessories is based in the beautiful Isle of

Purbeck. After a lifetime of being involved in fashion

as a qualified fashion designer, it wasn't until two years

ago - upon turning 50 - that I thought now is the time to

start making my own designs.

My style is unique, bold and full of colour. I make

jewellery in resin, clay and copper, and many of my

statement pieces are one-of-a-kind. For those days

when you need a simple look, I have created a selection

of small stud earrings and pendants, and around mid-

November 2020, I will be adding handmade hair

accessories, scarves and berets to my online collection.

1968accessories is a member of the Guild of Jewellery

Designers. The business uses absolutely no single-use

plastics and is a proud member of Plastic Free Swanage.

All my packaging is made from recycled and recyclable

items; even the ribbon is made from wood pulp.

To see more, visit 1968accessories.com, where you can

enjoy 20% off your first online order by entering the

code 'Dorset' at the checkout. I look forward to seeing

you in the 'shop' soon.

23 22
---
Top of the Chocs

Move over, Willy Wonka, Chococo's in town

Born here in Dorset back in December 2002, Chococo

is an independent artisan chocolate company crafting

all our chocolates by hand in small batches. When we

started, it was just me - Claire - and my husband Andy

with a two-year old toddler in tow. We made all our

chocolates fresh by hand in a tiny ground floor kitchen

(which we had converted from a hairdressers) in an alley

in the heart of Swanage.

I was passionate about

only working with fine,

single origin chocolate

of known provenance,

about using fresh local

and seasonal ingredients,

and about not using any

additives or preservatives,

as they adulterate the

purity of the flavours.

Our equally tiny shop was

upstairs (how bonkers was

that?!) and we were only

open three afternoons

a week. Today, we have

a production unit in

Wareham, four Chocolate

Houses in Swanage,

Winchester, Exeter and

Horsham, and an online,

nationwide mail order

service. We are still

making and packing all

our chocolates by hand,

however, just with more

people to help!

In all our locations we

employ a wonderful team

who are all passionate

about spreading the word

about our world of fine chocolate. We are still potty

about all the same things we were back in 2002; we now

work with a wide variety of single origin chocolates from

Madagascar, Colombia and Venezuela especially, we still

love working with local ingredients, and we still don't use

preservatives, so when we say our chocolates are made

fresh, we mean it! We have won 98 national and

international fine food awards to date and were humbled

at the 2019 Dorset Food & Drink Awards to be awarded

Dorset Food Hero for our contribution to promoting all

things Dorset and working with so many fellow local

producers over the years.

We also now make our own gelato and have a bakery

opposite our original

chocolate house in

Swanage, which supplies

the cafes in all our

chocolate houses. The

next time you visit

Swanage for a walk on

our glorious beach or

along the coast path

from Durlston Country

Park, why not pop in

for a restorative hot

chocolate and one of our

award-winning gelatos or

brownies?

lactose or vegan by choice.

As you might expect,

we offer a selection

of Christmas-themed

chocolate gifts, with

something for all the

family, from small, fun

stocking fillers to giant

hampers to share, all

in 100% recyclable,

recycled or compostable

packaging. If you didn't

know, dark chocolate

is also naturally veganfriendly,

and we offer

many gifts suitable for

anyone intolerant to

In these strange Covid times, we hope to lift your spirits

with our delicious, fine, fresh chocolates, which are

available from our Chocolate Houses, open seven days a

week, and online at chococo.co.uk (during UK lockdown,

visit our website for Chocolate House opening hours).

Tantalise your taste buds and enjoy your very own

Chococo treats at home with our Chococo recipes.

Created by Co-Founder Claire, this Salted Caramel Hot

Chocolate and showstopping Chocolate Ganache Cake

(overleaf) are sure to keep the whole family happy this

winter.

Salted Caramel Hot Chocolate

Serves one.

Ingredients:

• 250ml milk, whole or semi-skimmed

• 25g good quality 70% dark chocolate, chopped

• 1 tsp dulce de leche caramel

• 1/10 tsp crushed sea salt (or a large pinch)

Optional to serve:

• 2 tbsp whipping cream

• Flaked dark chocolate

1. Claire recommends whisking a small amount of fresh

whipping cream by hand to soft peaks rather than using

canned cream, but you can use that sort of cream if you

want.

2. To flake the chocolate, run a knife along the back of

the rest of the bar of chocolate in short sharp motions

to create simple flakes.

3. For the hot chocolate itself, put the chopped chocolate

and two tbsp of the milk into a small, heavy-based pan

and warm gently to melt the chocolate into the milk.

4. Use a small balloon whisk to stir this mixture into a

smooth paste and, once the chocolate has all melted,

add the rest of the milk, the caramel and salt.

5. Keep whisking the mixture to help melt the caramel.

The moment it starts to boil, remove from the heat and

whisk vigorously to make a foam.

If you are going to top your hot chocolate with cream

and flaked chocolate, prepare these first.

6. Pour your foaming hot chocolate into your mug, top

with cream and chocolate flakes, and enjoy!

25

26
---
Chocolate Glory

Chococo Co-Founder Claire's showstopping

Chocolate Ganache Cake

Serves eight.

Equipment:

• 20cm loose-bottomed cake tine lined with

parchment

Ingredients:

For the base:

• 200g all-butter shortbread

• 60g unsalted butter

• 1/2 tbsp soft light brown sugar

For the ganache:

• 250g good quality 70% dark chocolate, chopped

• 300ml double cream

• 35g unsalted butter

• 80g dark soft brown sugar

• 1/2 tsp sea salt, crushed

Optional:

• 100g griottine cherries (or fresh raspberries if you

can't find these cherries)

• 1-2 tbsp kirsch juice (from cherries)

Optional decoration:

• 1 edible pattern transfer sheet (available from online

cake decorating suppliers)

• 200g good quality 70% dark chocolate, chopped

• Fresh cherries or berries of your choice

1. To make the biscuit base for the tart, first crush the

shortbread into powder using either a food processor

or by putting the biscuits into a strong plastic bag and

bashing them very well with a rolling pin.

2. Gently melt the butter and soft light brown sugar in a

pan. Mix the biscuits with the melted butter and sugar

mixture, press firmly into the base of the cake tin and

put in the fridge to chill.

3. Whilst the base is chilling, put the cream, sugar and

salt for the ganache in a heavy-based pan and warm

gently to melt the sugar. Stir this mixture continuously

and take it off the heat as soon as it comes to the boil.

4. Add the chopped chocolate and butter, stirring gently

to melt together and form the ganache. If the chocolate

doesn't all melt, put the pan back onto a very low heat,

stirring gently all the time to ensure the mixture doesn't

catch on the bottom of the pan.

5. If using, now add the kirsch juice to taste (if just one

tablespoon doesn't do it for you!).

6. Set aside to cool for at least an hour. By the way, if

the mixture 'splits' (doesn't blend) on you, you may need

to gently stir in a little more warm cream to help it reblend

into a smooth shiny 'emulsion'.

7. Place the griottine cherries in a shallow dish and pat

dry with kitchen roll to remove excess kirsch juice. Pour

a thin layer of the cooled ganache onto the chilled base

and sprinkle with cherries before covering them with

the rest of the ganache. Leave to finish setting in a cool

place for several hours. Ideally, you would put this tart in

a cool, dry room to set rather than in the fridge, as this

will help maintain the shine on the top of the ganache.

If, however, the fridge is your only option, put the tart in

there to set.

8. You can simply decorate the tart with cherries and/

or other berry fruits, or you can have some fun melting

chocolate to make shards and curls while the tart is

setting. To make the chocolate shards and curls, melt

125g of the 200g of dark chocolate in a bowl sitting over

a pan of gently simmering water (the water must not

touch the bottom of the bowl).

9. As soon as the chocolate has melted, take the bowl off

the heat, add the remaining 75g of chopped chocolate

and stir gently to melt into the liquid chocolate. This will

bring the temperature of the chocolate down to the right

ballpark to work with.

10. As soon as the chocolate has melted together, spread

a thin layer across the edible pattern on a baking tray.

If you don't have a printed edible pattern sheet, you can

use thick plastic, e.g. a laminating pouch.

11. Cut different sizes of triangle shapes into the

chocolate before it sets hard. Put in a cool room or the

fridge to set (it shouldn't take long as it is so thin).

*Top tip: don't try to peel the chocolate away from the

transfer too quickly. It needs a bit of time for the pattern

to transfer onto the chocolate.

12. Pour your remaining chocolate onto a cold surface in

a thin layer and, as soon as it starts to set, scrape a cold

knife away from you in short sharp motions to create

curls.

13. When you are ready to serve, remove the tart from

the tin and enjoy decorating it to your own design. Use

a hot knife to cut slices from the tart and serve with

whipped cream for the full Black Forest experience.

For more tantalising Chococo recipes visit: chococo.co.uk

27
---
Comfort and Joy

Phaedra Radestock of Purbeck Candles,

Dorset's award-winning candle company

We would like to thank all you wonderful customers for

your continued support through these difficult times. We

hope our candles and diffusers have brought you joy and

filled your new home offices, busy kitchens and living

spaces with wonderful natural fragrances, scents to

inspire, to invigorate and to calm.

Here at Purbeck Candles, we are all about ingredients

and fragrance. We construct each blend in-house using

the same techniques as master perfumers. The only

difference is we use only pure essential oils to create

our blends, building up layers of dreamy scent that will

fill your home with beautiful aromas designed to make it

a place of joy and comfort.

Through

the

Looking

Glass

See things in a whole new

light with Misty Glass Dorset

Our award-winning fragrances are available in stores

throughout Dorset and online at purbeck-candles.co.uk

At DOMVS, we're lucky enough to sell some of the

most beautiful homes in Dorset, many of them historic

or listed buildings. When in need of a little TLC, the

restoration or replication of period features within older

homes often requires the specialist skills of traditional

craftsmen - enter, Misty Glass Dorset.

Misty makes stunning stained-glass panels for windows

and doors and has installed them in properties

throughout Dorset. Having started her business on the

dining room table of her home in Weymouth, Misty now

works in her own studio, where the views across the sea

towards Portland fill her with inspiration every day.

After 20 years spent renovating properties with her

husband in Oxfordshire, Cornwall and France - where

they spent eight years converting a traditional barn into

a fabulous home - Misty and her family returned to

England to work on a Victorian property in Weymouth.

The gift of a stained-glass course for her birthday

changed everything.

Misty now has a wonderful workshop filled with every

colour and texture of glass you could think of. Her

hand-made, bespoke works hang in the window letting

in beams of kaleidoscopic colour. "I love glass, I can get

totally lost in every detail. Then, after soldering all the

lead together, I get to enjoy the magic of being the first

person to hold it up to see how the light brings it to life."

Misty takes commissions for replacing stained glass as

part of renovations, and creates bespoke door plaques.

To speak to her about your stained-glass project or

ideas, email mistyglassdorset@gmail.com or call 07756

466868. You can see all her latest work at instagram.

com/mistyglassdorset

29
---
Foxy Lady

Feel your best, inside and out, with

Foxy By Design

At Foxy By Design, we sell beautiful clothing and

accessories to help women release their inner vixen.

Confidence is key to looking good, and although it comes

from the inside, it is truly reflected on the outside.

Empowering women is the cornerstone of our business,

and we understand that all women are different. Our

unique shapes and sizes should be celebrated and do

not determine how good we can look or feel. We at Foxy

By Design want to help you be the very best version of

yourself, and can offer advice and style tips to help you

achieve the look you desire. As a fashion retailer, we are

determined to be outstanding in our field of expertise

and have chosen our collections accordingly. Our clothing

lines combine style with a timeless appeal designed to

suit those with a discerning taste.

For foxy tips and to shop the collection, visit

foxybydesign.co.uk

31

32
---
Uninterrupted sea views | Two bedrooms | Two bathrooms | Garden and garage | Guide price £365,000

Swanage, Dorset | Contact Jon Booth: 01929 555300 or click here: domvs.co.uk

Apartment living, unrivalled location

Stunning barn conversion | Four bedrooms | Four bathrooms | Vaulted living spaces | 1.79 acres | £1,150,000

Sturminster Marshall, Dorset | Contact Jon Booth: 01929 555300 or click here: domvs.co.uk

Contemporary living, rustic charm

In association with

In association with

33

domvs.co.uk

domvs.co.uk

34
---
Woman of the Cloth

Charlotte Loving on how she spreads the good

word of ethical nappies

In 2016 I was pregnant and working for the BBC on a

popular Sunday night programme. I had been at the BBC

for seven years on and off, on fixed-term contracts of

varying lengths. With my baby due, I was about to take

maternity leave, and there were certain things that, like

every new parent, I knew I wanted to do. Using reusable

nappies was up there as most important to me. I knew

that my mum had used terries with me, and I didn't like

the thought of my baby's nappies lingering in landfill for

generations - along with the other three billion that are

thrown away in the UK every year.

I thought it would be easy to research the various

options and decide on a type of nappy that would be

right for us, but much Googling, reading and thinking

later, I was still none the wiser. The hardest thing about

it was there didn't seem to be anywhere to go and see

cloth nappies in person. I started wondering why on

earth there wasn't a 'real' shop anywhere that sold 'real'

nappies.

Soon after going on maternity leave, I was offered

voluntary redundancy from my job. My mind had already

started wandering towards the possibility of opening a

real nappy shop like the one I had so desperately needed

when I first started thinking about real nappies, so I took

the opportunity.

35

A small retail unit on the edge of an industrial estate

came up and, before I knew it, we were gutting and

insulating it to turn it into a little shop. Those first

months were so much fun. A lot of what I made my

displays out of was borrowed from the antiques centre

next door, and the place had a very rustic appeal!

As the months have gone on, the interest in real nappies

has flourished. The council, who hand out incentives to

parents who choose reusables, have noticed a doubling

in the number of enquiries about their voucher scheme

since I opened my doors. By far and away the best thing

about the shop though is meeting people as they start

out on the greatest adventure of their lives, and being

there to answer their questions and provide a comfy

sofa and a place to escape to for a moment. It helps that,

together, we are helping save thousands of single-use

nappies from landfill too.

At the moment, there are still very few bricks-andmortar

shops with a primary focus on reusable nappies,

but in the three years I've been open, that is starting to

change. I am incredibly proud to be among the first retail

businesses bringing real nappies to bricks-and-mortar

retail, especially in my beloved hometown of Dorchester.

My shop has now grown to offer organic and ethically

made clothes, wooden toys and books, alongside real

nappies. My purpose remains though, first and foremost,

to be a friendly face offering first-hand advice in a

simple and accessible way.

lbndorset.com

Photo by Jason Perkins Photography

Photos by AmorAmor Photography

36
---
Grange Gallery

Art in the heart of the Isle of Purbeck

Grange Gallery is a welcoming, stylish place to shop,

drink coffee and be inspired, nestled at the foot of the

hills on the Isle of Purbeck, Dorset. The gallery was

designed, built and landscaped by creative husband and

wife team, Jason and Esme James-Cameron. Jason is a

furniture maker and designer, and Esme is contemporary

artist, and together they manage Grange Gallery and Café

Grange.

Jason's furniture workshop has been located onsite for

over 20 years, and Esme's art studio for five years. Both

passionate about art, design and making, Esme and

Jason had long shared the dream of creating an inspired

space for their clients and visitors to view, experience,

shop and commission great art and design. They built

their cedar barn in 2016 to house their workshop, studio,

gallery and café under one roof. Now open all year

round and offering a warm welcome to all their visitors,

the Grange Gallery hosts workshops while Café Grange

serves delicious coffee in their stunning oasis in the Isle

of Purbeck.

The perfect place to shop for gifts, for yourself, your

home and garden, Grange Gallery has a range of quality

art and design available, all from highly skilled artists

and makers living and working in Dorset. Original works

and prints are on display in a variety of mediums and

techniques from watercolour to wood engravings.

Artists featured include Cathy Veale, Carol Cruickshank,

Jenny Hawke, Katy Harrold, Littlezart, Robin MacKenzie

and Grange Art to name a few. Also on show is a

range of captivating glass art and jewellery by Galiani

Glass, traditional handmade leather bags and gifts by

Strowbridge Leather, and Portland stone sculptures -

for both home and garden - from celebrated sculptor

John Davey. The gallery also showcases contemporary

furniture, homeware and lighting by Cameron Furniture,

and works by Esme James-Cameron, Contemporary

Artist. There is also a wide range of greetings cards by

local artists, perfect for any occasion. Whether you're

looking for a piece of bespoke furniture for your home or

a sentimental gift for a loved one, help is always on hand

should you need any inspiration or advice.

Commissions Welcomed

With their workshop and studio on site, Cameron

Furniture and Esme James-Cameron, (cont.)

37

38
---
Contemporary Artist both offer a bespoke

commissioning service with consultations available.

Bespoke commissions are perfect if you have a specific

idea for a unique piece of art or furniture.

"From original concept, through the design stages,

the choice of materials, to the final implementation,

this has been an enjoyable and rewarding experience

working with both Jason and Esme. The craftsmanship

is excellent with a balance of flair and a strong eye for

detail." L. Brian, 2020

Grange Gallery also accepts commissions for Galiani

Glass Art, Strowbridge Leather and offers a bespoke

picture framing service.

Workshops and Gift Vouchers

Grange Gallery Painting Classes are the perfect

introduction to painting, ideal for those who have not

painted since school. Painting Classes are hosted by

Esme James-Cameron, who guides the class step by

step to recreate the painting on display at the front. The

classes are relaxed and distanced, a perfect activity for

pairs or one-to-one. It is a great way to relax, learn,

have fun and enjoy the tranquillity of the county side. All

materials are provided, along with a light refreshment

from Café Grange. You'll also receive a complimentary

Grange Gallery gift bag to take home, as well your

completed masterpiece. Grange Gallery is programming

a schedule of workshops for 2021-22 that will cover a

range of disciplines. Gift vouchers are available for those

looking for an original and memorable gift.

"Fantastic afternoon, great company, relaxing,

informative, great coffee... beautiful bespoke products

in the gallery, just what was needed after 6 months in

lockdown... highly recommended - thank you." Sally,

2020

Grange Gallery and Café Grange are open all year round,

Mon-Sun, 10am-4pm. To visit, you must book in advance

by phone or email.

T. 01929 553942

E. info@grangegallery.co.uk

grangegallery.co.uk

facebook.com/GrangeGallery

instagram.com/grangegallery.co.uk

cameronfurniture.co.uk

39

40
---
Pilates | Therapy | Core

Dedicated to wellbeing, Sammie Mcfarland

offers supportive coaching for 'normal' folk

Buying to Let

DOMVS Associate Director, Debbie Turner,

explains how to get it right

In recent years, Buy-to-Let has become a booming

business, and property has always been regarded as one

of the safest investments for those with the means and

funds available. Whilst there may be some risk involved,

if research is carried out correctly the return can be

two-fold. The rental will help to cover the mortgage and

you should receive capital growth on your investment.

Buy-to-Let is not a get-rich-quick scheme and should be

looked on as a long term investment.

• Look at being a landlord as a business venture. Ensure

thorough research is carried out and always remember

the property is a business and not your home.

• Make sure you take advice about the best areas in

which to purchase a property, and research which

properties are currently being sought by tenants. Look

at local employment and, most importantly, think about

the type of tenant you wish to attract.

• Research the costs you will incur against the rental

yields you will receive, to ensure Buy-to-Let is financially

viable for you.

• Ensure you factor in ongoing repair costs, rental voids

and annual safety checks. Also allow for redecoration

approximately every four years.

• When preparing the property to let, take advice from

41

an expert about what attracts tenants. Try to stick to

neutral colours; again, remember this is about business

not personal choice.

• Finding the right tenant is extremely important. Ensure

they are fully vetted and Right-to-Rent checks are

carried out.

• Lettings legislation is continually changing, and it is

important to keep up to date to ensure your property is

compliant and your tenant safe.

• If you buy a property in need of refurbishment, our

Property Management team can arrange and project

manage a refurbishment programme for you, to enable

you to carry on with your everyday life.

• Self-Managed versus Letting Agent; do you have the

time to take on the day-to-day workload of a rented

property?

• It has been said that 15% of your working life can be

taken up with dealing with your rented property. It may,

therefore, be more cost effective to call in professionals

to do it for you.

DOMVS Lettings is here to guide you through the

whole process, from sourcing a property and arranging

the tenancy, through to making sure the property is

professionally managed. To find out more about our

award-winning service, contact the DOMVS Lettings

team on 01305 835300 or visit domvs.co.uk/lettings

Sammie Mcfarland is on a mission to encourage

everyone to enjoy the skin they live in, while being true

to her message and managing her own wellbeing. Having

overcome adversity and learnt to thrive with Chronic

Fatigue and Rheumatoid Arthritis, Sammie warmly

shares support, and cares for clients of all ages.

Having started her vocation supporting women 25 years

ago, in 2019 Sammie was awarded Women's Wellness

Coach of the Year. She offers gentle holistic coaching

from the heart, supporting women, and men, to be the

best version of themselves with a balanced approach

to wellbeing. Her popular sessions are delivered with

warmth and a sprinkling of laughter.

Sammie draws on all her skill sets to offer weekly

classes online and on location in Dorset, as well as a

range of holistic massage therapy appointments to

provide a balanced wellbeing. Her qualifications include

Holistic Core Restore® Pelvic Health & Fitness Coach;

Pilates Coach & Fit Pro.Soft Tissue Massage Therapist;

Pregnancy, Core Fascial Release Therapist; and Scar &

Hysterectomy Massage Therapist.

Sammie is offering DOMVS Almanac readers two

exclusive wellbeing opportunities:

- To enjoy a free Restorative Pilates class online or on

location (one per customer), visit sammiemcfarland.

co.uk/booking and enter code DOMVSWELLBEING

- To enjoy 25% off a Restorative Sports Massage

(gentle sports massage to rebalance and relax - one per

customer), visit sammiemcfarland.co.uk/our-therapies

and enter code DOMVSSELFCARE

Sammie is Mum to two beautiful girls, and lives with her

husband, chickens, sausage dog and two cats in rural

Dorset. To find out more about her and the services she

offers, visit sammiemcfarland.co.uk

42
---
IN IT TOGETHER

Plastic-Free Gift Sets from Dorset Sea Salt

Our new gift sets make the perfect gift for a foodie friend or family member. With three different gift sets on offer, pick

your favourites and share the joy of cooking with Dorset Sea Salt.

2020 has made us all feel fragile, and never before have we needed our houses to feel more like

home. With DOMVS, you're in safe hands.

If you've been thinking of buying, selling or letting, talk to us today.

Great Taste Gift Set

This award-winning gift set consists of our two Great Taste Winning flavours, Celery and Garlic,

complemented by our 'go to' Natural sea salt.

Chilli & Lemon Gift Set

This gift set contains our zesty Lemon & Thyme sea salt alongside our fiery Chilli sea salt,

finished off with the classic addition of our Natural sea salt.

Dorchester: 01305 757300 Wareham: 01929 555300 Weymouth: 01305 835300

Smoked & Chilli Gift Set

A combination of our classic Natural sea salt and our punchy Oak Smoked and Chilli sea salts.

domvs.co.uk

In association with

To find out more and shop online, visit dorsetseasalt.co.uk

43