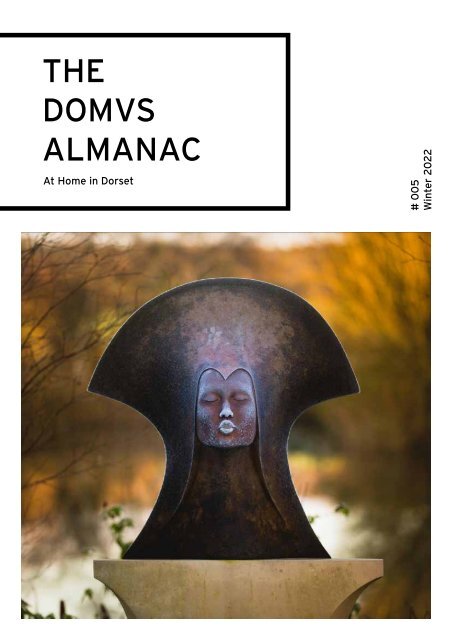 The DOMVS Almanac issue #5_Winter 2022
THE DOMVS ALMANAC At Home in Dorset
THE DOMVS ALMANAC
At Home in Dorset
SHOW MORE
SHOW LESS
You also want an ePaper? Increase the reach of your titles
YUMPU automatically turns print PDFs into web optimized ePapers that Google loves.
THE

DOMVS

ALMANAC

At Home in Dorset

# 005

Winter 2022
---
Welcome to The DOMVS Almanac

ALMANAC noun [ C ] (also almanack) a handbook, typically seasonal, that includes

information for the year such as important days, weather, traditions, tips and nature.

We are proud to present issue five of The DOMVS

Almanac, which brings to you our highlights of living

in Dorset. With each new season, we will share with

you the hidden gems of our beautiful county, from our

favourite countryside walks and the best places to go for

the freshest seafood, to one-of-a-kind shops that aren't

to be missed and inspiring local creatives. Read on to

find out how to make the very best of your home, your

garden and your mind, body and soul.

From the purveyors of the most scrumptiously tasty

treats, to the most talented designers, decorators,

and stylists, we've partnered with independent Dorset

businesses who are incredibly passionate about where

we're from and what we do, and we're all here to help

you feel at home in Dorset.

To discover more about the beautiful Dorset home

pictured here, read on...
---
Three bedrooms | Two entertaining spaces | Large cellar | Garage | Grade II Listed | Offers over £550,000

Puddletown, Dorset | Contact Polly Greenway: 01305 757300

Modern village location, 18th century charm

In association with

In association with

3

domvs.co.uk
---
Three bedrooms | Two reception spaces | Paddock and stables | Rural views | Circa 1.1 acres | Offers over £800,000

Frome St Quintin, Dorset | Contact Greg Carter: 01305 757300

Period character, idyllic location

In association with

domvs.co.uk

4
---
Michael Blyth - Photographer

Our Partners

Our partners (above) comprise some of the best

producers Dorset has to offer, all independent businesses

founded and located in Dorset, brought together to

promote not only each other, but the glorious lifestyle and

products our unique county has to offer.

We are always looking for exciting and innovative

new partners, so if you fit the bill and would like to be

involved, please get in touch.

On the Cover (and above)

'Whispering Spirit' by Simon Gudgeon, on show at

Sculpture by the Lakes, Pallington, nr. Dorchester

5

Director

Polly Greenway

Almanac Online

Zach Trigg

zach.trigg@domvs.co.uk

domvs.co.uk/almanac

Almanac Editorial & Design

Charlie Ryan

charlie.ryan@domvs.co.uk
---
Jurassic Coast

Farm Shop

Inside this Season

3, 17, 29 & back cover. Dream homes from DOMVS

7. Introducing Coral Interiors, Bournemouth

13. Shire Hall host a British Museum Spotlight Loan

15. Enjoy a sweet treat from Rosemary Rogers Catering

19. Travel in style EBIKE Cafe @ Deheers

25. Introducing Brace of Butchers, Poundbury

31. Christmas at Sculpture by the Lakes

35. Glow through winter with Sarah Dale Aesthetics

37. What's on at The Oyster & Fish House

38. Big opportunities at Sunninghill Prep School

23. Feed the family with NEST

6
---
931
---
Home

Makers

Introducing Coral Interiors, Bournemouth

Since 2014, Coral Interiors has specialised in interiors

for period homes and holiday cottages. One of our

favourite projects has been 'Furlongs', a stunning barn

conversion holiday cottage in the beautiful setting of

Abbotsbury, Dorset. The client had identified a barn on

their estate which could be converted and extended to

provide a substantial holiday cottage over two floors.

The client and their build team created a stunning

building with stacks of charm including original oak

beams and exposed stone walls. We partnered with them

to create a welcoming, harmonious scheme to reflect the

coastal countryside setting.

It's really important with holiday cottages not to cram

as many beds in as possible. Think about 'optimising not

maximising'; if you have beds for six people, you need to

be able to comfortably seat six people around the dining

table, and have relaxed seating for that many people in

reception rooms and the garden.

With three reception areas and a vast open-plan kitchen/

dining space, there is room at Furlongs for family

members to do their own thing, whether that be playing

board games, reading, watching TV or relaxing after

dinner.

8
---
9
---
The five bedrooms each have their own personality and

features and can comfortably accommodate ten guests.

With zip-and-link beds, we added flexibility for some

rooms to be configured as luxurious doubles or useful

twins.

We also try to think about multiple generations and the

ages/needs of guests. For example, we use chairs with

high backs and firm seats alongside slouchy corner

sofas where possible. It's also important to factor in

accessibility early on, with low or no thresholds, wide

doorways, and wet rooms rather than shower cubicles,

especially in ground floor en-suites.

Technology is also key; a decent broadband service is

essential to allow all guests to stay connected or even

be able to work remotely. Large TVs with sound bars,

bluetooth speakers, and USB wall sockets all make the

guests feel welcomed and make their stay as convenient

as possible. And don't forget an electric car-charging

point on the driveway.

Our key recommendation is to think about your target

market from the outset. Why are they likely to book

your property? Are they likely to be large family groups

with children and grandparents, or is it a cosy cottage

for two? If walking is a key activity, then consider a

boot room and allowing a well-behaved dog or two. Is

a hot tub an option, or a pizza oven, Shepherd's hut, or

outdoor games room? Always aim for that wow factor, so

you can command a better nightly rate and attract more

bookings.

To find out more about Coral Interiors, visit

coralinteriors.co.uk

With a Visit England Gold 5-star rating, Furlongs

can be booked through Luxury Dorset Cottages at

luxurydorsetcottages.co.uk

11
---
Crossings:

Community

& Refuge

Shire Hall, Dorchester hosts a

British Museum Spotlight Loan

A highlight of the year, Shire Hall is delighted to host a

British Museum Spotlight Loan 'Crossings: Community

and Refuge'. Opened on Friday 2nd December, this

exhibition engages audiences in questions of identity,

belonging and sharing our world.

A Grade I Listed building, Shire Hall was Dorset's centre

of justice from 1797 until 1955. Now an award-winning

social justice museum, Shire Hall brings over 200 years

of justice and injustice to life.

Shire Hall Museum is the final venue on this UK-wide

tour from the British Museum, the first time the

'Lampedusa Cross' has been displayed across the

country. Made from the remnants of a boat carrying

refugees wrecked near the Italian island of Lampedusa,

close to the coast of Tunisia, the cross carries poignant

messages about kindness, community and the

indifference faced by many refugees.

Alongside the cross will be a display of twelve tiny boats

from Syrian-born Issam Kourbaj's series 'Dark Water,

Burning World' (pictured above), made from repurposed

bicycle mudguards tightly packed with burnt matches to

represent the fragile vessels used by refugees to make

their perilous voyages across the Mediterranean.

Jill Cook, Curator at the British Museum, says: "The

Lampedusa Cross reminds us of all the histories that

are lost and of the thousands of people who are not

otherwise remembered. The wood, with its paint

blistered by the sun and smelling of salt, sea, and

suffering, embodies a crisis of our times, as well as hope.

The cross invites discussion of the varied reactions to

13
---
one of the great tragedies of our time. It is an artefact

shaped by tragedy that symbolises those who have

nothing and desperately seek to share in a better

future. As such, it is touchingly complemented by Issam

Koubaj's little boats."

Alongside the objects on loan from the British Museum,

the exhibition features objects kindly loaned by Dorset

History Centre and Portland Museum. From the 1872

wreckage of the Royal Adelaide and the thousands of

people travelling through Blandford from across the

world to penal transportation and forced migration

overseas, the exhibition will explore the journeys people

made and their impact throughout the world.

Nina Corey, Director of Shire Hall Museum, says:

"Throughout history, people have set out on journeys

across our world. Some are made by choice, others in

hope, and there are also journeys people have been

forced to make. In this exhibition, we're taking a closer

look at the stories behind those journeys.

"Inspired by the incredible objects loaned to us by the

British Museum, we wanted to explore our local history

and the stories of people who travelled through or from

Dorset. We were interested not just in the journeys that

people made, but the reasons and motivation behind

them."

'Crossings: Community and Refuge' is at Shire Hall

Museum from 2nd December 2022 until 26th February

2023. Entry to the exhibition is included with a Museum

ticket. For more information, visit shirehalldorset.org

14
---
Crème Brûlée Rosemary's Way

A fresh twist on a timeless classic from Rosemary Rogers Catering

Serves: four

Equipment:

• 4 x individual ramekins

Ingredients:

• 600ml double cream

• 1 vanilla pod split lengthways

• 6 egg yolks

• 2 dessert spoons caster sugar

• 2-4 tablespoons caster sugar for the crunchy top

1. Chill four individual ramekin dishes in the freezer.

2. Heat together the cream and vanilla pod, whisking to

disperse the seeds into the cream. Remove from the heat

and leave to infuse for 10 minutes.

3. Lightly beat together the egg yolks and sugar. Strain

the cream into the egg mixture and whisk thoroughly.

4. Heat the custard over a very low heat, stirring

constantly. Stop from time to time to see if there is a

tremble from the custard as it begins to heat. When

this happens, beat with a whisk to disperse the heat.

Keep gently heating and whisking until it reaches an

almost jelly-like consistency. Start testing after about

10 minutes by removing from the heat and drawing the

whisk across the surface of the custard.

5. Pour into the ramekins and chill in the fridge for 8

hours or overnight.

6. About 1 hour before serving, sprinkle with caster

sugar and caramalise using a blow torch or by placing

under a hot grill. Serve with a side of berries and a

shortbread biscuit.

To discuss your catering needs with Rosemary, visit

facebook.com/rosemaryrogerscatering

15
---
Four bedrooms | Two reception spaces | South-facing garden | Garage and parking | Offers over £675,000

Bere Regis, Dorset | Contact Alison Owens: 01929 555300

Central village location, peaceful, private garden

In association with

In association with

17

domvs.co.uk
---
Five bedrooms | Two reception spaces | Large garden | Garage | Grade II listed | Guide price £695,000

Wareham, Dorset | Contact Trisha Ashby-Rudd: 01929 555300

Historic town location, river views

In association with

domvs.co.uk

18
---
Vehicle for Life

Test ride the Specialized Turbo Vado at EBIKE CAFE @ Deheers

19
---
24
---
Drop into the EBIKE Cafe @ Deheers on Custom House

Quay, Weymouth and test drive the 'eBike of the Year

2022', Specialized Turbo Vado, as voted by Cycling

Plus Magazine.

Specialized Turbo Vado - 'Your Vehicle for Life'

You're more than a bike rider, and Turbo Vado is more

than a bike. Yes, it's fast (4x you), but we think you'll

appreciate its versatility just as much. It's powerful yet

smooth. Fun but functional. A bike you can commute on,

workout with, carry lots of stuff on — then lock up and

walk away.

Our customers tell us:

• It's seriously smooth

• It gives them superpowers, as much as 4 x YOU!

• You can ride it anywhere with up to a 90-mile range

• And it just looks lovely

Book a test ride and let the Turbo Vado speak for itself.

Whatever colour or size you're after, Josephine and

Peter can call one down from the Specialized warehouse

if they don't have one in stock, ready for you to pick up

in a matter of days.

In the meantime, the shorter days have seen us

introduce our Winter menu at EBIKE Cafe, with lots of

tasty treats, including our brand new Moroccan Bowl,

served warm with quinoa, chilli butternut squash, kale,

beetroot, black beans and falafel, dressed with mint

yoghurt, olive oil, pumpkin seeds and Moroccan spices.

We have a vegan option for this scrumptious dish too,

or if you want to go full carnivore, we can add chicken.

Finally, add a glass of Golden Milk, a special Ayurvedic

drink that will put a pep in your step. You'll feel on top of

the world and like you've been whisked away.

EBIKE CAFE @ Deheers is open seven days a week, from

9am to 4pm, on the ground floor of Deheers, 9A Custom

House Quay, Weymouth, DT4 8BG.

Find out more at ebikecafe.co.uk

21
---
22
---
NEST

Nurture, Educate,

Support - Together

NEST is a private Early Years Consultancy Service

offering bespoke support to families with children aged

0-5 years. NEST works closely with you and your family

in a nurturing and non-judgmental way, to support you in

your child's early years. NEST is proud to have a strong

ethos ensuring that every family receives a service

which is confidential, informative, and exclusively

tailored to each individual family and their needs.

NEST was founded in 2018 by Lucy, a qualified Norland

Nanny and Maternity Practitioner who has ten years

of experience, and has worked with families and

their children, both privately and in the community

through the NHS. This enabled Lucy to gain a wealth

of knowledge and experiences, and she passionately

believes that no two journeys are the same, which is why

she felt a bespoke service should be made available.

For more information:

Visit: n-est.co.uk

Call: 07825 308570

Email: nestchildren.enquiries@gmail.com

Or find us on social media at:

facebook.com/NESTchildren

instagram.com/nest.children

24
---
Big Night In

With Brace of Butchers, Poundbury

As the temperature drops and daylight dwindles,

the prospect of venturing out can seem rather

underwhelming – typically, this coincides with the climax

of our social calendars over the festive period! And with

worries about rising costs and tighter budgets, it can

feel daunting when you're faced with so many invitations

to dinners, drinks parties and trips to the pub. That's

why, this year, we're perfecting the art of the night in.

Forget paying through the nose for elaborate but

disappointingly small cocktails and getting cold as you

wait for the taxi home. Instead, this year we're all about

rounding up our favourite people and putting on some

top-notch food to enjoy from the comfort of our own

home – or a friend's.

Ben (pictured above left) and Rob, our expert butchers,

can help you find everything you need for feasting at

home this winter; whether you want to go gourmet with

duck breast for two, host a chilled steak night, or need

a luscious leg of lamb for your home-style carvery, our

dynamic duo can help you pick the right cut, give you tips

on how to prepare it and recommend lots of produce to

pair it with.

If picky teas are your thing, Lee is the man to speak to

– he carefully curates our in-house charcuterie range,

delicately smoking and curing a range of treats that are

perfect for the occasion. Of course, no charcuterie board

can be complete without a choice of fine cheese, which

is Henry's area of expertise. Whether you're a cheese

novice or connoisseur, Henry (pictured above right) will

be able to help you build a superb selection of texture

and flavour.

25
---
26
---
To top it all off, we have a fantastic range of local drinks.

What could be better than curling up with a beautiful

bottle of Bride Valley Pinot Noir on a chilly evening?

We've also got plenty of choice for the beer, cider,

cocktail, gin, and rum drinkers. Whatever your tipple of

choice, we promise to deliver something delicious.

So that's it, our recipe for the best big night in; great

company + great food + great drinks. The team is

always on hand in the shop or on the phone to help you

prepare for your own night in, whether it's a low-key,

sophisticated dinner or a wine and cheese night with

friends. Either way, it will cost you less than a night out,

and you can stay warm and cosy!

Brace of Butchers can be found in Queen Mother

Square, Poundbury. To find out more, visit the website at

braceofbutchers.co.uk or call 01305 260956.

27
---
Pictured: Brace of Butchers beetroot gratin

26
---
Four bedrooms | Three entertaining spaces | Wine cellar | Rural and coastal views | Offers over £775,000

Weymouth, Dorset | Contact Gabby Lock: 01305 835300

Convenient town location, stunning rural views

In association with

29

domvs.co.uk
---
Four bedrooms | Three reception spaces | Extensive parking | One-bedroom annexe | Offers over £625,000

Weymouth, Dorset | Contact Gabby Lock: 01305 835300

Family home, income potential

In association with

domvs.co.uk

30
---
Pictured: 'Luna' by Simon Gudgeon

31
---
Winter

Wonderland

Christmas at Sculpture by the Lakes

A wintry walk through The Sculpture Park, a tasty lunch

in The Kitchen café, a feast for the eyes in The Gallery,

followed by a wander through The Store and The Pantry

perusing unique and beautiful gifts – your perfect

day awaits at Sculpture by the Lakes this Christmas!

The festive season is a special time to visit this multiaward-winning

attraction nestled in the heart of the

countryside at Pallington, near Dorchester. For those in

the know, the combination of The Sculpture Park, where

art meets nature across 26-acres of gardens, woodland,

rivers and lakes, and The Makers Yard, with its fresh

dining and artisan shopping opportunities, is the perfect

tonic to the commercialised mayhem December can

bring.

The Store is brimming with creations from the hands of

more than 80 artists and makers from around Dorset

and beyond, and treasures from as far afield as Morocco,

including ceramics, textiles, jewellery and more. In The

Pantry, visitors can discover exceptional produce from

passionate artisanal producers, from small batch chili

sauces to botanical gins - the perfect presents for the

foodie in your life. The Kitchen is open for coffees, cakes,

and lunches, including seasonal delights sourced from

the park's own kitchen garden, and no visit is complete

without a wander around The Gallery, where the

exhibition closing out the year is 'Look Up! A Journey

Through Print Land', a stunning celebration of the

ingenuity, diversity and sheer magic of contemporary

printmaking.

With its delicious food and beautiful venues across

the park, which can host between four to 100 people,

Sculpture by the Lakes is also the ideal spot for

Christmas parties and corporate away days, providing an

inspirational setting for colleagues to connect and enjoy

time outdoors. And don't forget to keep an eye on the

website for details of additional seasonal events, such

as late-night shopping with fire-cooked food and mulled

wine, and the popular Saturday night Supper Club in The

Kitchen.

Sculpture by the Lakes is open Tuesdays to Saturdays,

10am - 5pm during the winter. Tickets to The Sculpture

Park are £14.50, and entry to The Makers Yard, including

The Gallery, The Kitchen, The Pantry and The Store, is

free. See sculpturebythelakes.co.uk

32
---
Pictured: 'Dancing Cranes' by Simon Gudgeon

33

Pictured: 'Breeze', linocut by Lisa Takahashi
---
Pictured: 'Holkham', linocut by Colin Moore

Pictured: 'Thoth' by Simon Gudgeon
---
Winter Sparkle

Face the season with Dorset's skincare specialists, Sarah Dale Aesthetics

Frosty mornings, crisp afternoons... winter has

descended! We are embracing this glorious change

of season but, as always, it can leave our skin feeling

compromised and in need of some replenishment and

repair. Here at Sarah Dale Aesthetics, we are familiar

with supporting our clients' skin as it adapts to the

colder months.

We bring you the most advanced skincare and nonsurgical

treatments in Dorchester and across Dorset.

Our clinic offers a natural and effective alternative

to anti-aging injectables and surgery. We consider

ourselves a pro-aging clinic and feel we can embrace and

even celebrate the aging process with style and dignity.

We are recommended by GPs and dermatologists

alongside having NHS contracts. Clinical lead Tanya

Lambert-Culling and her team of aesthetic clinicians

provide you with their extensive experience of skincare

and four different laser platforms. We work to the

highest standards of professional excellence and thanks

to our extensive research we only offer the safest and

most effective treatments.

OUR TOP THREE SAVIOUR TIPS FOR DISTRESSED SKIN

- Hydration

- Repair

- Rejuvenate

We can help you combine the scientific evidence of

ingredients within our skincare ranges with the expert

knowledge of our clinicians to achieve these goals.

TREATMENTS FOR EVERYONE

We specialise in skin solutions for:

- Redness/rosacea

- Pigmentation

- Broken facial/leg vessels

- Acne and scarring

- Hair removal

- Collagen building

It's a great time of year to start your skin health journey

with us. We offer complimentary consultations with all of

our clinicians, so you can determine the best solution for

you. We cater to all different skin types and lifestyles.

With over 160 5-star reviews on Google, you can trust

that you are in the best hands. We pride ourselves on

our welcoming and specialist care.

sarahdaleaesthetics.com

facebook.com/sarahdaleaesthetics

E. info@sarahdaleaesthetics.com

T. 01305 269220

35
---
25 36
---
37
---
38
---
Three bedrooms | Period features | Gardens and terrace | Off-street parking | Offers in excess of £350,000

Chideock, Dorset | Contact Benjamin Dobson: 01308 805500

"Chocolate box" charm, close to the beach

In association with

domvs.co.uk