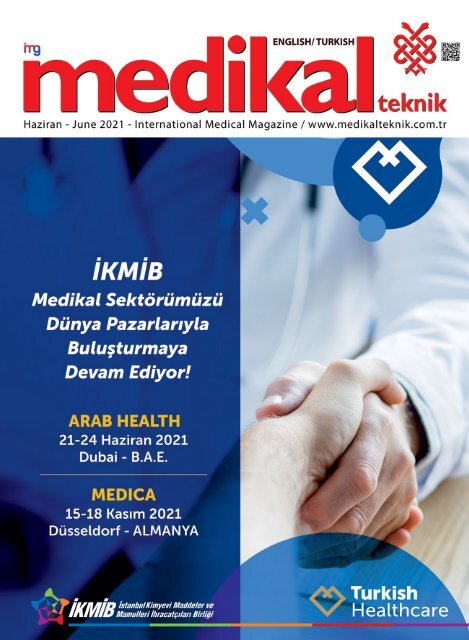 Medikal Teknik Haziran 2021
Medikal Teknik Haziran 2021
Medikal Teknik Haziran 2021
SHOW MORE
SHOW LESS
Create successful ePaper yourself
Turn your PDF publications into a flip-book with our unique Google optimized e-Paper software.
Publisher

H. Ferruh IŞIK

on behalf of

İstmag Magazin Gazetecilik

İç ve Diş Tic. Ltd. Şti.

Managing Editor

(Responsible)

Mehmet SÖZTUTAN

mehmet.soztutan@img.com.tr

Advertising Coordinator

Recep ARSLANTAŞ

recep.arslantas@img.com.tr

+90 537 441 97 68

Editors

Duygu SAZAN

duygu.sazan@img.com.tr

Recep ARSLANTAŞ

recep.arslantas@img.com.tr

Foreign Relations Manager

Ayça SARIOGLU

ayca.sarioglu@img.com.tr

Accounting Manager

Cuma KARAMAN

cuma.karaman@img.com.tr

Finance Manager

Yusuf DEMİRKAZIK

yusuf.demirkazik@img.com.tr

Digital Assets Manager

Emre YENER

emre.yener@img.com.tr

Web Designer

Amine Nur Yılmaz

amine.yilmaz@img.com.tr

Graphic & Design

Sami Aktaş

sami.aktas@img.com.tr

Subscription

İsmail Özçelik

ismail.ozcelik@img.com.tr

Bursa Represantation

Ömer Faruk GÖRÜN

omer.gorun@img.com.tr

Buttim Plaza D Blok Kat: 4 No:1267 BURSA

Tel:+90 224 211 44 50 / Fax: 224 211 4481

Printing

CTP • BASKI

İHLAS GAZETECİLİK A.Ş.

Merkez Mah. 29 Ekim Cad.

İhlas Plaza No: 11 A/41

Yenibosna - Bahçelievler / İSTANBUL

+90.212 454 30 00

Head Office

İstanbul Magazin Grubu

İHLAS MEDIA CENTER

Merkez Mahallesi 29 Ekim Caddesi

No:11 Medya Blok Kat:1

34197 Yenibosna / İstanbul / Turkey

Tel: 0212 454 22 22

Faks: 0212 454 22 93

www.medikalteknik.com.tr

e-mail: info@medikalteknik.com.tr

İMG - Medikal Teknik dergisinde

yer alan makalelerdeki fikirler

yazarlarına aittir.

Yayınlanan ilanların sorumluluğu

reklam verene aittir.

İMG - Medikal Teknik dergisinin

bütün yayın hakları İstmag Magazin Gazetecilik İç

Ve Dış Tic. Ltd. Şti.'ne aittir.

Yazılar kaynak gösterilmeden yayınlanamaz.

medikalteknik

Recep Arslantaş

Duygu Sazan

1

0

1

8

2

6

3

4

4

6

5

0

The Rate of Allergic Diseases

Increased from 3 Percent to 15 in the

Last 20 Years

Alerjik Hastalıkların Oranı Son 20 Yılda

Yüzde 3'ten 15'e Çıktı

Medical Directorate of Abdi İbrahim

Warns: 'Pulmonary Arterial

Hypertension' is a Life-Threatening

Disease

Abdi İbrahim Medikal Direktörlüğü

Uyarıyor: 'Akciğer Yüksek Tansiyonu' Hayatı

Tehdit Eden Bir Hastalıktır

Eight Myths about Heart Health

Kalp Sağlığıyla İlgili Doğru Gibi Kabul

Edilen 8 Şehir Efsanesi

Have "Emergency Health"!

"Acil Sağlık"lı Olun!

Sanofi and GSK COVID-19 Vaccine

Candidate Demonstrates Strong

Immune Responses Across All Adult

Age Groups in Phase 2 Trial

Sanofi ve GSK'nın COVID-19 Aşı Adayının

Faz 2 Sonuçları Açıklandı

A New Step in Combating Multiple

Medication Use and Drug Side Effects in

the Elderly

Yaşlılarda Çoklu İlaç Kullanımı ve İlaç Yan

Etkileri ile Mücadelede Yeni Bir Adım
---
NEW SEASON, NEW NORMAL, NEW LIFE

Now, our sectors, our people, and we are all used to living with the effect of the pandemic.

At first, the wounds that were made or the crises that were turned into opportunities left

their place to normalization in the sector. Of course, there will be tides, we will not be

able to proceed with a fixed line, but we left behind the days of being caught unprepared

for negative situations.

The acceleration of vaccination studies has become a new hope for us. Of course, we do

not get vaccinated today and expect everything to return to normal tomorrow. However,

it is comforting to know that our life will decrease with the pandemic.

Our health system has also developed in change. I visited several hospitals during this

month. The whole order continues as if there was no epidemic. People comply with

masks, distance, hygiene rules and can now go to hospitals with peace of mind to have

their regular checks or treatment. Observing this made me very pleased to be honest.

As life is on its way, our industry fairs also adapt to this way of life. Our industry meetings

will start with the Expomed Eurasia Istanbul Fair. Being able to come together with our

friends at this fair again made both my team and me really happy. Right after, Arab

Healtcare Dubai Fair has already taken its place in our plans and calendar.

We are starting a new life again in a new season, with our new issue, accompanied by

new normals. Our direction in change continues its course in development ...

Stay healthy until we see you in our next issue, with good developments and good

meetings!

YENİ MEVSİM, YENİ NORMAL, YENİ HAYAT

DUYGU SAZAN

Editor

Artık sektörlerimiz, insanlarımız, hepimiz pandemi etkisiyle yaşamaya alıştık. İlk

başlarda alınan yaralar ya da fırsata çevrilen krizler sektörde yerini normalleşmeye

bıraktı. Elbette ki gel gitler olacak, sabit bir çizgi ile ilerleyemeyeceğiz ama olumsuz

durumlara da hazırlıksız yakalanma günlerini geride bıraktık.

Aşılama çalışmalarının hızlanması bizler için yeni bir umut oldu. Tabi ki bugün aşı olup,

yarın her şeyin bir anda normale dönmesini beklemiyoruz. Ancak pandemi ile birlikte

yaşama süremizin azalacağını bilmek içimizi rahatlatıyor.

Sağlık sistemimiz de değişim içerisinde gelişim göstermiş durumda. Bu ay süresince

birkaç hastane gezdim. Tüm düzen sanki salgın yokmuşçasına devam ediyor. İnsanlar,

maske, mesafe, hijyen kurallarına uyum sağlıyor ve düzenli kontrollerini yaptırmak ya da

tedavi olmak için gönül rahatlığıyla artık hastanelere gidebiliyorlar. Bunu gözlemlemek

beni de oldukça memnun etti açıkçası.

Hayat yoluna giriyorken, sektör fuarlarımız da hayatın bu yoluna uyum sağlıyor. Sektör

buluşmalarımız, Expomed Eurasia İstanbul Fuarı ile başlayacak. Dostlarımızla bu

fuarda tekrar bir araya gelebiliyor olmak hem ekibimi hem de beni gerçekten sevindirdi.

Hemen sonrasında, Arab Healtcare Dubai Fuarı, planlarımız ve takvimimizdeki yerini

çoktan aldı.

Yeni bir mevsimde, yeni sayımızla, yeni normaller eşliğinde adeta yeni bir hayata

başlıyoruz tekrardan. Değişim içerisindeki yönümüz, gelişimde seyrini sürdürüyor…

Güzel gelişmeler ile, güzel buluşmalar ile, bir sonraki sayımızda görüşünceye dek

sağlıkla kalın!
---
6

New Variants Infect Cells Faster

Yeni Oluşan Hücreleri Daha Hızlı Enfekte Ediyor

Tüm dünyayı bir yılı aşkın süredir etkisi altına

alınan Covid-19 pandemisinde virüsün varyantları

en çok konuşulan konular arasında yer alıyor. Yeni

oluşan varyantların tehlikeli özelliklerini daha

da etkili hale getirdiklerini belirten uzmanlar, bu

nedenle hücreleri daha hızlı enfekte ettiklerine

dikkat çekiyor. Uzmanlar, yapılan çalışmaların tüm

varyantların orijinal SARS-CoV-2'den türediğini

ve haliyle ortak bölgelerinin bulunma ihtimalinin

yüksek olduğunu vurguluyor. Uzmanlara

göre etkisi azalan varyantlar da oluşuyor. Bu

varyantların çoğalması, aşılama çalışmalarının

hız kazanması ve insanların daha dikkatli olarak

virüsü konak hücresiz bırakması ile bu virüsten

kurtulmamızın mümkün olabileceğini kaydediyor.

Lecturer Prof. Dr. Korkut Ulucan, Molecular Biology and Genetics,

Faculty of Engineering and Natural Sciences, Üsküdar University

Variants of the virus are among the most talked

about topics in the Covid-19 pandemic, which has

been under the influence of the whole world for

more than a year. Stating that the newly formed

variants make their dangerous properties even

more effective, experts point out that they infect

cells faster. Experts emphasize that all variants of

the studies are derived from the original SARS-

CoV-2 and naturally, common regions are likely

to be found. According to experts, there are also

variants with decreasing effect. He notes that

it may be possible to get rid of this virus by the

proliferation of these variants, the acceleration

of vaccination studies and the more careful

people leaving the virus without a host cell.

Lecturer Prof. Dr. Korkut Ulucan, Molecular Biology and

Genetics, Faculty of Engineering and Natural Sciences,

Üsküdar University, made evaluations on the variants of the

coronavirus that have affected the whole world for more

than a year.

Stating that the pandemic of the century, which started in

Wuhan, China as of the end of 2019, affected the whole

world in a short time, Prof. Dr. Korkut Ulucan said, "The

pandemic has completely changed the rules of the world.

Pandemic is still on our agenda with news of new variants

and suddenly increasing deaths. The questions of What are

these variants and how are they so dangerous? are not off

the agenda."

Üsküdar Üniversitesi Mühendislik ve Doğa Bilimleri

Fakültesi Moleküler Biyoloji ve Genetik Öğretim Görevlisi

Prof. Dr. Korkut Ulucan, bir yıldan fazla bir süredir tüm

dünyayı etkisi altına alan koronavirüsün varyantlarına ilişkin

değerlendirmelerde bulundu.

2019 yılı sonu itibarıyla Çin'in Wuhan kentinde başlayan

yüzyılın pandemisinin kısa sürede tüm dünyayı etkisi

altına aldığını belirten Prof. Dr. Korkut Ulucan, "Pandemi

dünyanın kurallarını tamamen değiştirdi. Pandemi yeni

varyant haberleri ve bir anda artan ölüm sayıları ile yine

gündemimizden düşmüyor. Nedir bu varyantlar ve nasıl bu

kadar tehlikeli oluyorlar soruları gündemden düşmüyor."

dedi.

Genetik çalışmalarla virüs analiz edildi

Hastalığın sebebinin virüs olduğu belirlendikten sonra

moleküler biyoloji alanındaki bilgiler ve gelinen noktanın bir

sonucu olarak günler içinde virüsün genetik yapısını bilim

insanlarının analiz etmeyi başardığını kaydeden Prof. Dr.

Korkut Ulucan, "Böylece virüsün genetik yapısı hakkında

birçok bilgiye sahip olduk. Hangi bölgelerinde hangi bilgiler

saklı, hücreye girişte ve hücre içindeki metabolizması ve bu

metabolizmaları yöneten genetik yapının içeriği hakkında

çok önemli bilgilere sahip olduk. Bu bilgiler aslında

bilim insanlarına hem hastalığın tedavisi için hem de aşı

çalışmaları için çok önemli bilgiler sundu. Bu sayede de

aşı çalışmaları hız kazandı." diyerek bilimsel gelişmelerin

öneminden bahsetti.

Virüsler konak hücrede kendilerini çoğaltıyor

Prof. Dr. Korkut Ulucan, virüsün çok fazla varyant

oluşturması ile ilgili olarak şu değerlendirmelerde

bulundu: "Virüsler zorunlu hücre içi paraziti olarak da

Haziran - June 2021
---
7

Virus analyzed with genetic studies

Noting that after the virus was determined to be the

cause of the disease, scientists managed to analyze the

genetic structure of the virus within days as a result of

the information in the field of molecular biology and the

point reached, Prof. Dr. Korkut Ulucan said, "Thus, we

learned a lot about the genetic structure of the virus.

What information is hidden in which regions, we have very

important information about the metabolism inside and

inside the cell, and the content of the genetic structure

that governs these metabolisms. This information actually

provided very important information to scientists both for

the treatment of the disease and for vaccine studies. In this

way, vaccination studies have accelerated." He talked about

the importance of scientific developments.

Viruses reproduce themselves in the host cell

Prof. Dr. Korkut Ulucan made the following evaluations

regarding the virus generating too many variants, "Viruses

are also considered as obligate intracellular parasites.

That is, they activate themselves only in another cell. Once

inside the host cell, they either integrate their own genome

into the host cell genome, or they tend to infect other cells

by rapidly replicating themselves and killing the host cell.

The newly formed variants are more effective

Sometimes they make mistakes while synthesizing their

genomes during rapid reproduction. These errors either

give viruses a new feature or increase the effect of an

existing feature or cause the loss of the effect of an

existing feature. Here, the newly formed variants make

their properties even more effective when they pose a

danger to us, they infect cells faster."

Noting that these variants proliferate very rapidly due

nitelendirilmektedirler. Yani kendilerini ancak başka bir

hücre içinde aktive ederler. Konak hücreye girdikten sonra

ya kendi genomlarını konak hücre genomunun içine entegre

ederler veya kendilerini hızla çoğaltarak konak hücreyi

öldürerek diğer hücreleri enfekte etme eğilimindedirler.

Yeni oluşan varyantlar daha etkili oluyorlar

Hızlı çoğalma sırasında da genomlarını sentez ederken

bazen hatalar yaparlar. Bu hatalar da virüslere ya yeni bir

özellik kazandırır ya olan bir özelliğin etkisini artırır veya

olan bir özeliğin etkisinin kaybolmasına neden olurlar. İşte

yeni oluşan varyantlar bizim için tehlike oluşturduklarında

olan özelliklerini daha da etkili hale getiriyorlar, hücreleri

daha hızlı enfekte ediyorlar."

Bu varyantların bu özelliklerinden dolayı çok hızlı

çoğaldığına dikkat çeken Prof. Dr. Korkut Ulucan, "Belirli

zaman içinde de belirli bir bölgede baskın varyant oluyorlar

ve enfeksiyon hızını ve riskini de artırıyorlar. Bu yüzden

oluşan varyantların karakterizasyonu çok önemli. Virüsler

ne kadar çok konak hücreye girerse o kadar değişime açık

olurlar ve bizler için o kadar tehlikeli boyutlara ulaşırlar"

diyerek varyantların tehlikesine dikkat çekti.

Ölüm sayılarının artması oluşan varyantlar ile

orantılı

Prof. Dr. Korkut Ulucan, ölüm sayılarının artması ile ilgili

olarak da şunları söyledi: "Virüsler ne kadar kolay hücrelere

girerse o kadar sayısal çoğunluğa ulaşırlar ve özellikle

hassas bireylerde istenmeyen sonuçlara neden olabilirler.

Yani bir virüsün hücre içine kolay girebilmesi, oluşan yeni

varyantlar ile daha çok bireyi enfekte etmesi ve dolayısıyla

virüse karşı direnç gösteremeyen bireylerde daha ciddi

zarar vermesi anlamına da gelebilmektedir. O yüzden

yeni varyantların enfeksiyon riskinin yüksek ama ölüm

Haziran - June 2021
---
8

to these features, Prof. Dr. Korkut Ulucan said, "They

become a dominant variant in a certain region over time

and increase the speed and risk of infection. Therefore,

characterization of the variants formed is very important.

"The more viruses enter the host cell, the more they are

open to change and the more dangerous they reach for us,"

he drew attention to the danger of variants.

The increase in the number of deaths is

proportional to the variants that occur

Regarding the increase in the number of deaths, Prof.

Dr. Korkut Ulucan said, "The more easily viruses enter the

cells, the more numerical they reach, and they can cause

undesirable results, especially in sensitive individuals. In

other words, the easy entry of a virus into the cell can also

mean that it infects more individuals with the new variants

and therefore causes more serious damage to individuals

who cannot resist the virus. Therefore, the hypothesis

that new variants have a high risk of infection but a low

mortality rate is not always correct. Here, the genetic

makeup of the infected individuals and the strength of

their immune systems are also important. In other words,

the resistance of the host cell and infected individuals

against the virus, and the biological and genetic structure

underlying this resistance are very important."

Prof. Dr. Korkut Ulucan noted that the mortality rates are

not only dependent on the virus, but are linked to the

genetic and biological structure of the individual.

There is also the possibility that newly formed

and potential variants are fusions

Stating that the more the virus infects, the more it is wide

open to change, Prof. Dr. Korkut Ulucan concluded his

words as follows, "The errors that can occur while copying

the genome of the virus we currently predict, and the

variations that result from these errors either acquiring new

features or strengthening a feature. At first, we compared

it with influenza, and we thought whether the different

variants we observed in influenza could combine in one

cell and form a new and dangerous variant. Our current

information is not in this direction, but for now. However,

the fact that the previous variants have common points

in the Indian virus, which scares us nowadays, has made

us think this way. However, we already have information

that all variants are derived from the original SARS-CoV-2

and naturally their common regions are likely to be found.

But over time, we will be able to understand more clearly

whether different variants infect a cell and generate new

combinations of genes within the cell. It is too early to claim

this. However, it should not be forgotten that just as new

variants show more severe features in the virus, variants

that lose their characteristic are also formed, and perhaps

we will be able to get rid of this virus with the proliferation

of these variants, the acceleration of vaccination studies

and we more carefully leave the virus without a host cell.

So until there is zero incidents, attention should be paid to

the quadruple of social distancing, mask, ventilation and

hygiene."

oranlarının düşük olması hipotezi her zaman doğru değildir.

Burada enfekte olan bireylerin genetik yapıları ve immün

sistemlerinin güçleri de önemlidir. Yani konak hücrenin ve

enfekte olan bireylerin virüse karşı gösterdikleri direnç,

bu direncin altında yatan biyolojik ve genetik yapı çok

önemlidir."

Prof. Dr. Korkut Ulucan, ölüm oranlarının sadece virüse

bağlı olmadığını, bireyin genetik ve biyolojik yapısı ile

bağlantılı olduğunu da kaydetti.

Yeni oluşan ve oluşabilecek varyantların füzyon

olma ihtimali de var

Virüsün ne kadar çok enfekte ederse o kadar değişime

davetiye çıkardığını belirten Prof. Dr. Korkut Ulucan,

sözlerini şöyle tamamladı: "Bizim şu anda tahmin

ettiğimiz virüsün kendi genomunu kopyalarken ortaya

çıkabilen hatalar ve bu hatalardan oluşan ya yeni özellik

kazanma veya bir özelliği güçlendiren varyasyonlar. Biz ilk

başlarda influenza ile karşılaştırdık, özellikle influenzada

gözlemlediğimiz farklı varyantların bir hücrede birleşip

yeni ve tehlikeli bir varyant oluşturabilir mi diye düşündük.

Şuan ki bilgilerimiz bu yönde değil ama şimdilik. Ancak

örneğin şimdilerde bizleri korkutan Hindistan virüsünde

önceki varyantların ortak noktalarının olması, bizleri böyle

düşünmeye itti. Ancak zaten eldeki bilgilerimiz, orijinal

SARS-CoV-2'den tüm varyantların türediği ve haliyle ortak

bölgelerinin bulunma ihtimalinin yüksek olduğu. Ama

zaman içinde acaba farklı varyantlar bir hücreyi enfekte

edip hücre içinde yeni gen kombinasyonları oluşturuyor

mu diye daha net anlayabileceğiz. Bunu iddia etmek için

henüz erken. Ancak unutulmamalıdır ki nasıl yeni varyantlar

virüste daha şiddetli özellikler gösteriyorsa olan özelliği

kaybeden varyantlar da oluşuyor ve belki de bu varyantların

çoğalması, aşılama çalışmalarının hız kazanması ve bizlerin

daha dikkatli olarak virüsü konak hücresiz bırakması ile

belki de bu virüsten kurtulabileceğiz. Bu yüzden sıfır vaka

olana dek elden geldiğinde mesafe, maske, havalandırma

ve hijyen dörtlüsüne dikkat etmeye devam edilmelidir."

Haziran - June 2021
---
10

The Rate of Allergic Diseases Increased from

3 Percent to 15 in the Last 20 Years

Alerjik Hastalıkların Oranı Son 20 Yılda Yüzde 3'ten 15'e Çıktı

Yapılan çalışmaların 2050 yılında her iki kişiden

birinin alerjik yapıya sahip olacağını gösteriyor.

Çocuk Alerji ve İmmünoloji Uzmanı Prof. Dr. Hülya

Ercan Sarıçoban, 20 yıl öncesinde %3-5 oranında

görülen alerji hastalıklarının günümüzde 2-3 kat

artış göstererek %10-15 gibi bir orana çıktığını

işaret etti.

Pediatric Allergy and Immunology Specialist

Prof. Dr. Hülya Ercan Sarıçoban

Studies show that by 2050, one out of every two

people will have an allergic nature. Pediatric

Allergy and Immunology Specialist Prof. Dr. Hülya

Ercan Sarıçoban pointed out that allergy diseases,

which were seen at a rate of 3-5% 20 years ago,

have increased to a rate of 10-15%, showing 2-3

times more increase today.

With the arrival of spring, the importance of allergies, one

of the most frequently discussed topics, is increasing day

by day. Research shows that almost all allergic diseases

have increased significantly in recent years. Reminding

that environmental factors and industrialization are of

great importance at this point, Pediatric Allergy and

Immunology Specialist Prof. Dr. Hülya Ercan Sarıçoban,

Kozyatağı Hospital, Yeditepe University said, "We know that

it has a very serious effect especially on the occurrence

of respiratory allergies. Allergic responses are increasing

with many chemicals and their inhalation especially with

the use of increasing detergents in the current period, as

well as exhaust smoke, increased air pollution, processed,

packaged foods, microplastics, nanoparticles."

Global warming extended pollen season

Noting that allergic rhinitis, known as hay fever in the

society and associated with pollen, is seen in the spring

months when plants leave their pollen, Prof. Dr. Hülya

Baharın gelmesiyle birlikte en sık konuşulan konulardan

biri olan alerjilerin her geçen gün de önemi giderek artıyor.

Zira araştırmalar alerjik hastalıkların hemen tamamında

son yıllarda ciddi artış görüldüğünü gösteriyor. Bu noktada

çevresel faktörler ve endüstrileşmenin çok büyük önemi

bulunduğunu hatırlatan Yeditepe Üniversitesi Kozyatağı

Hastanesi Çocuk Alerji ve İmmünoloji Uzmanı Prof. Dr.

Hülya Ercan Sarıçoban, "Özellikle solunum alerjilerinin

ortaya çıkmasında çok ciddi etkisinin olduğunu biliyoruz.

Egzoz dumanı, hava kirliliğinin artması, işlenmiş, paketli

gıdalar, mikroplastikler, nanopartiküllerin yanı sıra

özellikle içinde bulunduğumuz dönemde kullanımı artan

deterjanların kullanılması ile birçok kimyasal ve bunların

solunmasıyla birlikte alerjik tepkiler artıyor." diye konuştu.

Küresel ısınma polen mevsimini uzattı

Toplumda saman nezlesi olarak bilinen ve polenlerle

ilişkili olan alerjik rinitin, bitkilerin polenlerini bıraktığı

bahar aylarında görüldüğünü kaydeden Prof. Dr. Hülya

Ercan Sarıçoban, sözlerine şöyle devam etti: "Havaların,

küresel ısınma ile birlikte daha erken ısınmaya başlaması,

mevsim sezonun daha uzun sürmesi polenlere karşı

maruziyeti arttırdı. Normalde Nisan ortasında başlamasını

beklediğimiz bir polenizasyon Mart ortasında başlıyor

ve normalden uzun sürüyor. Bu nedenle daha fazla aynı

alerjenle, polenle karşılaşıyoruz."

Evde geçirilen zaman artıkça solunum alerjieri

artıyor

Ev içinde geçirilen zamanın artmasıyla birlikte solunum

yolu alerjilerinin tetiklendiğine dikkat çeken Prof. Dr.

Hülya Ercan Sarıçoban, sözlerine şöyle devam etti: "2

yaş öncesi daha çok besin alerjileri görülürken solunum

yolu alerjileri 2 yaşından sonra görülüyor. Hava yolu ile

alerji yapabilen maddeler içinde ev tozu akarları, küf,

hayvan cilt döküntüleri, salgı ve tüyleri, yabani ot, çimen

ve ağaç polenleri sayılabilir. Uzun süre evde kalmak da ev

içi alerjenleri, ev tozu akarları, küf mantarları ve hayvan

tüylerine olan maruziyetin artmasına neden oluyor.

Haziran - June 2021
---
11

Ercan Sarıçoban said, "The fact that the weather started

to get warmer earlier with global warming and the season

lasting longer increased the exposure to pollen. Pollination,

which we normally expect to start in mid-April, starts in

mid-March and takes longer than usual. That's why we

encounter more of the same allergen, pollen."

Respiratory allergies increase as time spent at

home increases

Expressing that respiratory allergies are triggered with

the increase of time spent at home, Prof. Dr. Hülya Ercan

Sarıçoban said, "Before 2 years of age, more food allergies

are seen, but respiratory allergies are seen after 2 years of

age. House dust mites, mold, animal skin rashes, secretions

and feathers, weeds, grass and tree pollen are among

the substances that can cause allergies by air. Staying at

home for a long time also increases exposure to household

allergens, house dust mites, mold fungi and animal dander.

For this reason, it is important to take the necessary

precautions, especially when staying at home. In addition,

household cleaning and dishwashing, detergents used

in washing machines, perfumes used in the house-room

fragrances and cigarette smoke also contribute to the

appearance of respiratory allergies."

Not all allergies have the same symptoms

Since different organs and systems are affected to

different degrees in an allergic reaction, the symptoms

of allergic diseases can occur in many different ways.

Emphasizing that respiratory allergies reduce the quality of

life of the child, Prof. Dr. Hülya Ercan Sarıçoban said, "With

allergic colds, nasal itching, sneezing that occurs 10-15

times in a row, runny nose, then nasal congestion, difficult

breathing, sleeping with open mouth, sleeping with open

mouth and increased snoring at night, itching in eyes,

Watering, rash, shortness of breath, unresolved cough and

wheezing are among the complaints we often encounter.

If it is not treated well, we encounter conditions that

disrupt the quality of life such as recurrent ear infections

and hearing loss for young children, recurrence of sinusitis

for older children and adults, and recurrent antibiotic use

needs."

Bu nedenle özellikle evde kalınan zamanlarda gerekli

önlemleri almak önem taşıyor. Ayrıca ev temizliği ve

bulaşık, çamaşır makinesinde kullanılan deterjanlar, ev

içinde kullanılan parfümler-oda kokuları sigara dumanı da

solunum alerjilerin gözükmesinde katkı sağlıyor."

Tüm alerjilerde aynı belirtiler görülmüyor

Alerjik reaksiyonda, değişik organ ve sistemler farklı

derecelerde etkilendiğinden, alerjik hastalıkların belirtileri

çok farklı şekillerde ortaya çıkabiliyor. Solunum yolu

alerjilerinin çocuğun yaşam kalitesini düşürdüğünü önemle

vurgulayan Prof. Dr. Hülya Ercan Sarıçoban, "Alerjik nezle

de burun kaşıntısı, arka arkaya 10-15 defa oluşan hapşırık,

burun akıntısı, daha sonra burnun tıkanması, zor nefes

almak, ağzı açık uyumak, ağzı açık uyumak ve burnun

tıkanmasıyla birlikte gece horlamalarının artması, gözlerde

kaşıntı, sulanma, kızarıklık, nefes darlığı, düzelmeyen

öksürük ve hırıltılı solunum sıklıkla karşılaştığımız

şikayetler arasında yer alıyor. Eğer iyi tedavi edilmezse

küçük çocuklar için tekrar eden kulak iltihaplanmaları

ve işitme kayıpları, büyük çocuklar ve erişkinler için

de sinüzitin tekrar etmesi gibi hayat kalitesini bozan

durumlar ve tekrar eden antibiyotik kullanım ihtiyaçlarıyla

karşılaşıyoruz" diye konuştu.

Alerjide alınabilecek önlemler

"Alerjinin neye karşı olduğunu bilmek, alerji zamanı

gelmeden önlemlerini almak, gerekiyorsa alerji koruyucu

ilaçları kullanmak gerekiyor" diye konuşan Prof. Dr.

Hülya Ercan Sarıçoban şunları da ekliyor; "gereksiz

antibiyotik kullanımının önüne geçilmesi ve çocukların

fast-food yerine sebze, meyve ağırlıklı beslenmesi önemli.

İşlenmiş, paketli, boyalı, kıvam artırıcı içeren besinlerden

uzak durulmalı. Çocukların, alerjen ve enfeksiyonlarla

daha kolay karşılaşabilecekleri kreş, alışveriş merkezi

gibi ortamlara mümkünse erken yaşlarda sokulmaması

gerekiyor. Kullanılan vitaminler, bitkisel ilaçlar bağışıklığı

zayıf olan çocuğu koruyamıyor. Su ve sabunla el yıkamak

Measures that can be taken in allergies

"It is necessary to know what the allergy is against, to take

precautions before the allergy time comes, and to use

allergy preventive drugs if necessary," said Prof. Dr. Hülya

Ercan Sarıçoban also adds, "It is important to avoid the

use of unnecessary antibiotics and to eat vegetables and

fruits instead of fast-food. Avoid processed, packaged,

dyed foods that contain thickeners. If possible, children

should not be allowed into environments such as nurseries

and shopping malls at an early age, where they may

encounter allergens and infections more easily. The

vitamins and herbal medicines used cannot protect the

immunocompromised child. Washing hands with soap

and water is enough, not using hand disinfectants, even

Haziran - June 2021
---
12

if used, rinsing later and removing the disinfectant is also

important for allergic children. In household cleaning, it is

very important to avoid the use of strong chemical solvents,

washing and dishwasher detergents as much as possible or

to use the least amount of low power ones and to remove

the detergents as much as possible by doing additional

rinsing. Cigarette smoke and air pollution also increase

respiratory allergens. Even smoking on the balcony affects

the lungs of the children in the house. The penetration of

microplastics into the body also increases allergic diseases,

therefore food containing microplastics, plastic cooking

and storage bags should be avoided. In short, it should be

remembered again what our grandmothers did at home

before 1960, what they ate, drank, and how they cleaned.

It is important in reducing the amount of allergens in the

home. If there is a house dust mite-mite allergy, not to use

wool, feather bedding, duvets, pillows, not to use wool

carpets, thick curtains, to wash the duvet covers once a

week at 60 °C and above. It is beneficial to keep the indoor

humidity between 30-50% and not to feed furry animals.

For pollen, not opening the windows from morning until

noon, wearing a visor hat and glasses when going out.

Taking a shower when entering the house. Not going to the

pollen-rich picnic areas during the pollen season will reduce

the complaints."

yeterli, el dezenfaktanları kullanmamak, kullanılsa bile

daha sonra durulayıp dezanfaktanı uzaklaştırmak da alerjik

çocuklar için önem taşıyor. Ev temizliğinde güçlü kimyasal

çozücüler, çamaşır ve bulaşık makinası deterjanlarının

kullanılmasından mümkün olduğunca kaçınmak veya en az

miktarda düşük güçtekileri kullanıp, ek durulama yaparak

deterjanları olabildiğince uzaklaştırmak çok önemlidir.

Sigara dumanı ve hava kirliliği de solunum alerjenlerini

çok arttırmaktadır. Sigara balkonda dahi içilse ev içindeki

çocukların akciğerlerini etkilemektedir. Mikroplastiklerin

vücuda girmesi de alerjik hastalıkları artırmaktadır, bu

sebeple mikroplastik içeren besinler, plastik pişirme,

saklama poşetlerinden uzak durulmalıdır. Kısaca 1960'dan

önce büyükannelerimizin ev içinde neler yaptıkları, ne yiyip,

içtikleri, nasıl temizlik yaptıkları tekrar hatırlanmalıdır.

Ev içi alerjen miktarını azaltmakta önemli. Ev tozu akarımite

alerjisi var ise yün, kuş tüyü yatak, yorgan, yastık

kullanmamak, yün halı, kalın perdeler kullanmamak,

nevresim kılıflarını 60 °C ve üstünde haftada bir yıkamak.

Ev içi nem oranını %30-50 arasında tutmak, tüylü hayvan

beslememek fayda sağlar. Polenler için ise sabahtan

öğlen saatlerine kadarki sürede camları açmamak, dışarı

çıkarken siperli şapka, gözlük kullanmak. Eve girildiğinde

duş almak. Polen mevsiminde polenin yoğun olduğu piknik

alanlarına gitmemek şikâyetleri azaltacaktır."

Haziran - June 2021
---
14

Questions which Blood Pressure Patients are Worried About

Tansiyon Hastalarının Merak Ettiği Sorular

Tansiyon hastalığı dünyada her gün 50 bin

kişinin hayatını kaybetmesine sebebiyet veriyor.

Ülkemizde de 40 yaş üzerindekilerin yarısı

hipertansiyon hastası. Yıllarca hiçbir belirti

vermeden ilerleyen ve teşhis edilip kontrol

altına alınmadığı sürece kalp ve damar sistemine,

beyine, gözlere ve böbreklere kalıcı hasar veren

bu hastalığın tek tanısı kan basıncının 140/90

üzerinde seyrediyor olması. Bu nedenle uzmanlar

hiçbir şikayetimiz olmasa bile en azından 6 ayda

bir kez tansiyonumuzu ölçmemiz gerektiğini

söylüyor.

Cardiologist Assoc. Dr. Muhammed Keskin

Blood pressure disease causes 50 thousand

people to die every day in the world. Half of those

over the age of 40 in our country also suffer from

hypertension. The only diagnosis of this disease,

which progresses without any symptoms for years

and causes permanent damage to the heart and

vascular system, brain, eyes and kidneys unless it

is diagnosed and controlled, is the blood pressure

watching over 140/90. For this reason, experts

say that even if we have no complaints, we should

measure our blood pressure at least once every 6

months.

Stating that patients diagnosed with hypertension should

definitely comply with drug treatments and recommended

lifestyle changes, Cardiologist Assoc. Dr. Muhammed Keskin

answers questions such as how and how much drugs should

be used, which hypertension patients are curious about on

World Hypertension Day ...

Is heart the cause of blood pressure?

"Blood pressure is not a heart disease, it is a vascular

disease and the hardening of the vessels causes

hypertension," said Assoc. Dr. Muhammed Keskin, "The

most common causes of arteriosclerosis are age, obesity,

smoking, diabetes, stress and inactivity. Blood pressure

disease occurs as a result of these risk factors and affects

our heart. Our heart is not an organ that causes blood

pressure, but an organ affected by blood pressure disease.

In someone whose blood pressure treatment is regulated

and blood pressure is controlled, the risk of affecting the

heart is minimized."

Hipertansiyon tanısı konmuş hastaların da hekim tarafından

düzenlenmiş ilaç tedavilerine ve önerilen yaşam tarzı

değişikliklerine mutlaka uymaları gerektiğini söyleyen

Kardiyoloji Uzmanı Doç. Dr. Muhammed Keskin, Dünya

Hipertansiyon Günü'nde hipertansiyon hastalarının merak

ettiği ilaçların nasıl ve ne kadar kullanılması gerekir gibi

soruları yanıtlıyor…

Tansiyonun sebebi kalp midir?

"Tansiyon bir kalp değil damar hastalığıdır ve damarların

sertleşmesi hipertansiyon hastalığına sebep olur." diyen

Doç. Dr. Muhammed Keskin, "Damar sertleşmesinin

de en sık nedenleri yaş, obezite, sigara, diyabet, stres ve

hareketsizliktir. Tansiyon hastalığı bu risk faktörlerinin

sonucunda ortaya çıkar ve kalbimizi etkiler. Kalbimiz

tansiyona neden olan bir organ değil, tansiyon hastalığından

etkilenen bir organdır. Tansiyon tedavisi düzenlenmiş

ve kan basınçları kontrol altına alınmış birinde kalbin

etkilenme riski minimuma inmiş olur." diyor.

Tansiyon ilaçları bağımlılık yapar mı?

Doç. Dr. Muhammed Keskin, "Tansiyon tedavisinin

başlanması için bazı kriterler vardır ve bunlardan en

önemlisi ortalama kan basıncımızın 140/90 mmHg'nin

üzerinde olmasıdır." diyor ve ekliyor, "Diyet ve yaşam tarzı

değişikliğine rağmen kan basıncı yüksek olan bireylerin

ilaç tedavisine başlaması gerekir. Tansiyon dinamik

bir hastalıktır ve zaman içerisinde tedavide değişiklik

yapılması gerekebilir. Bu ilaçların belirli bir sıralaması

vardır. Hekimler kan basıncı değerinize göre ilaç tedavinize

eklemeler yapabilir veya bazı ilaçlarınızı kesebilir. Sürekli

ilaç kullanılması ihtiyacı olan bireyler bunu bir bağımlılık

gibi algılasa da bu aslında bir tedavidir. Hiçbir tansiyon

ilacı bağımlılık yapmaz ve tedavi zaman içerisinde

değiştirilebilir."

Haziran - June 2021
---
15

Are blood pressure medications addictive?

Assoc. Dr. Muhammed Keskin said, "There are some criteria

for starting blood pressure treatment and the most

important of these is that our average blood pressure is

above 140/90 mmHg," and he added further, "Individuals

with high blood pressure despite diet and lifestyle changes

need to start drug therapy. Blood pressure is a dynamic

disease and treatment may need to be changed over time.

These drugs have a certain order. Physicians may make

additions to your medication treatment or discontinue

some of your medications according to your blood

pressure value. Although individuals who need continuous

medication perceive it as an addiction, this is actually a

treatment. No blood pressure medication is addictive and

treatment can be changed over time."

Do blood pressure medications harm the kidneys?

Declaring that the most common cause of renal failure

requiring dialysis in our country is hypertension and that

the absolute treatment of hypertension is performed

with medication, Assoc. Dr. Muhammed Keskin said, "The

reason for kidney failure in individuals with hypertension

is not the drugs given, but the inadequate treatment

or discontinuation of the drugs by the patient. A drug

treatment with an appropriate dose and blood pressure

control is the strongest weapon we have against kidney

failure. Contrary to popular belief, the side effects of

drugs on the kidneys are very rare and in such a case, your

doctor will control the situation by making changes in the

treatment."

At what time of day should the medication be

taken?

"Blood pressure treatment is personalized and not

everyone needs to take the same medication at the same

time," Assoc. Dr. Muhammed Keskin said, "We, physicians,

plan the treatment in the morning or evening according

to the blood pressure balance of the person. Sometimes,

we can apply a combination of two drugs or give them

separately. We determine the time intervals and start the

most appropriate treatment for the patient's condition. In

other words, a person's blood pressure treatment is not

suitable for other individuals."

Tansiyon ilaçları böbreklere zarar verir mi?

Ülkemizde diyaliz gerektiren böbrek yetersizliğinin en

sık nedeninin hipertansiyon olduğunu ve hipertansiyonun

mutlak tedavisinin ilaç ile yapıldığını önemle belirten Doç.

Dr. Muhammed Keskin, "Hipertansiyonu olan bireylerdeki

böbrek yetersizliğinin nedeni verilen ilaçlar değil,

tedavinin yetersiz kalması veya hasta tarafından ilaçların

bırakılmasıdır. Uygun dozda ve kan basıncı kontrolünün

sağlandığı bir ilaç tedavisi böbrek yetersizliğine karşı

elimizdeki en güçlü silahtır. İlaçların böbrekler üzerindeki

yan etkisi sanıldığının aksine çok nadir olur ve böyle bir

durumda doktorunuz tedavide değişiklikler yaparak durumu

kontrol altına alacaktır." diyor.

İlaçlar günün hangi saatinde alınmalı?

"Tansiyon tedavisi kişiye özeldir ve herkesin aynı ilacı

aynı saatte alması gerekmez." diyen Doç. Dr. Muhammed

Keskin, "Biz hekimler kişinin tansiyon dengesine göre

tedaviyi sabah veya akşama planlıyoruz. Bazen iki ilacın

kombinasyonu veya ayrı ayrı verilmesi şeklinde de tedavi

uygulayabiliriz. Saat aralıklarını da belirleyip hastanın

durumuna en uygun tedaviye başlıyoruz. Yani bir kişinin

tansiyon tedavisi diğer bireyler için uygun olmuyor." diyerek

uyarıda bulunuyor.

Hiçbir şikayetim yok ama tansiyonum yüksek. İlaç

kullanmalı mıyım?

Doç. Dr. Muhammed Keskin, "Tansiyon hastalığının

tanı yöntemi tansiyon aleti ile kan basıncının ölçülmesi

ve ortalama değerin 140/90'nın üzerinde olmasıdır."

diyor ve ekliyor, "Tansiyon hastalığında en sık semptom

semptomsuzluktur. Yani genellikle tansiyon bir şikayete

sebep olmaz. Fakat herhangi bir semptom olmasa bile

tansiyonun yüksek olması kalp damar hastalığı açısından

oldukça riskli bir durumdur ve tedavi edilmelidir. Tansiyon

hastalığının tedavi edilmesi için herhangi bir şikayetinizin

olması gerekmez. Tansiyonun gizli ve riskli bir hastalık

olması nedeniyle 30 yaş üstü bireylerde rutin olarak senede

2 kez tansiyon ölçümü yapılmasını ve ölçüm değerleri

140/90'nın üzerindeyse kardiyoloji muayenesi olmalarını

öneriyorum."

I have no complaints but my blood pressure is

high. Should I use medication?

Assoc. Dr. Muhammed Keskin said, "The diagnosis method

of blood pressure disease is to measure blood pressure

with a blood pressure device and the average value is over

140/90," and he added more, "The most common symptom

of tension disease is asymptomatic. In other words, blood

pressure usually does not cause a complaint. However,

even if there are no symptoms, high blood pressure is a

very risky condition in terms of cardiovascular disease and

should be treated. You do not have to have any complaints

to treat blood pressure disease. Since blood pressure is

a hidden and risky disease, I recommend routine blood

pressure measurements for individuals over the age

of 30 twice a year, and a cardiology examination if the

measurement values are above 140/90."

Haziran - June 2021
---
18

Medical Directorate of Abdi İbrahim Warns: 'Pulmonary

Arterial Hypertension' is a Life-Threatening Disease

Abdi İbrahim Medikal Direktörlüğü Uyarıyor:

'Akciğer Yüksek Tansiyonu' Hayatı Tehdit Eden Bir Hastalıktır

Medical Directorate of Abdi İbrahim warns

that pulmonary arterial hypertension (PAH)

is a progressive disorder in which endothelial

dysfunction and vascular remodeling obstruct

small pulmonary arteries, resulting in increased

pulmonary vascular resistance and pulmonary

pressures. This leads to reduced cardiac output,

right heart failure, and ultimately death. In the

statement by Medical Directorate of Abdi İbrahim

on May 5, World Pulmonary Hypertension Day in

order to raise awareness about the disease known

as pulmonary hypertension, PAH is a rare disease

that prevents blood and oxygen flow to the heart,

which can lead to progressive heart failure and

can be life-threatening.

In the statement by Medical Directorate of Abdi İbrahim,

it was stated that the basis of pulmonary arterial

hypertension disorder was the high pressure caused by the

Abdi İbrahim Medikal Direktörlüğü, küçük arterler

ve arteriollerin daralması ve damarlardaki

direncin artması sonucu oluşan pulmoner

hipertansiyonun (PAH) tedavi edilmediği sürece

kalp yetmezliğine ve ölüme neden olabileceği

uyarısında bulunuyor. Akciğer yüksek tansiyonu

olarak da bilinen hastalıkla ilgili farkındalık

oluşturmak adına, 5 Mayıs Dünya Pulmoner

Hipertansiyon Günü'nde Abdi İbrahim Medikal

Direktörlüğü tarafından yapılan açıklamada,

PAH'ın kalbe kan ve oksijen akışını engelleyen,

ilerleyici, kalp yetmezliğine neden olabilecek,

hayatı tehdit edebilen nadir bir hastalık olduğu

vurgulanıyor.

ABDİ İbrahim Medikal Direktörlüğü'nden yapılan

açıklamada, pulmoner hipertansiyon hastalığının temelinde,

kalpten akciğere temizlenmek üzere gönderilen kanın

yer aldığı damardaki bozulmalar nedeniyle oluşan basınç

Haziran - June 2021
---
19

disruptions in the vein in which the blood sent from the

heart to the lung to be cleansed. In the statement, it was

noted that although the data on the incidence rates from

country to country and even from region to region vary

widely, the disease has a new case rate of 15-25 per million

and a death rate of 15 percent. It was also pointed out that

the disease is seen 4 times more frequently in women than

in men.

Pulmonary arterial hypertension, which can progress

in the early period without any signs or symptoms, is a

non-contagious, life-threatening disease with certain

inherited aspects. The awareness of both patients and their

relatives in this disorder, which makes daily life difficult as

it progresses and needs to be followed closely, is of great

importance in the process of coping with the disease.

The most common symptom (seen in 86%) in patients

is shortness of breath. Prolonged fatigue and fatigue,

chest pain, edema (swelling), dizziness or fainting,

and palpitations are other common symptoms of the

disease. It was pointed out that the patients could

receive different diagnoses and treatments because the

findings were non-specific complaints such as shortness

of breath, palpitations and fatigue, and the disease could

be at a more advanced stage when the final diagnosis of

pulmonary hypertension was made. In the statement, it

was stated that pulmonary hypertension can affect many

organs.

"Promising development with disease; use of

specific drugs"

The following information about the diagnosis

yüksekliğinin olduğu belirtildi. Açıklamada, ülkeden ülkeye,

hatta bölgeden bölgeye görülme oranları ile ilgili verilerin

çok değişkenlik göstermesine karşın, hastalığın milyonda

15-25 arası bir yeni vaka görülme oranına ve yüzde 15

gibi bir ölüm hızına sahip olduğu kaydedildi. Hastalığın

kadınlarda erkeklerden 4 kat daha sık görüldüğüne de

işaret edildi.

Erken dönemde hiçbir bulgu ve belirti göstermeden

ilerleyebilen pulmoner hipertansiyon, bulaşıcı olmayan,

belli ölçüde kalıtsal yönleri olan, hayatı tehdit eden bir

hastalıktır. İlerledikçe gündelik hayatı zorlaştıran, yakından

takip edilmesi gereken bu hastalıkta hem hastaların hem

de hasta yakınlarının bilinçlenmesi, hastalıkla başa çıkma

sürecinde büyük öneme sahiptir.

Hastalarda en sık ortaya çıkan belirti (%86'sında görülür)

nefes darlığıdır. Bitkinlik ve yorgunluğun uzun sürmesi,

göğüs ağrısı, ödem (şişlik), baş dönmesi ya da bayılmalar

ve çarpıntı hastalığın diğer sık görülen belirtileridir.

Bulgularının nefes darlığı, çarpıntı ve çabuk yorulma gibi

spesifik olmayan şikayetler olması nedeniyle hastaların,

değişik tanı ve tedaviler alabildiği, nihai pulmoner

hipertansiyon tanısı konulduğunda da hastalığın daha ileri

evrede olabileceğine işaret edildi. Açıklamada, pulmoner

hipertansiyonun birçok organı da etkileyebildiği belirtildi.

"Hastalıkla umut veren gelişme; spesifik ilaçların

kullanımı"

Açıklamada hastalığın tanı ve tedavisi ile ilgili şu bilgilere

de yer verildi: "Sistemik hipertansiyonda tansiyon aleti ile

ölçülen tansiyon yüksekliği söz konusu iken, PAH ancak

ekokardiyografi veya sağ kalp anjiyosu yapılarak tespit

Haziran - June 2021
---
20

and treatment of the disease was also included

in the statement: "PAH can only be detected by

echocardiography or right heart angiography, while

high blood pressure measured with a blood pressure

monitor is in question in systemic hypertension. With

this measurement, if the pressure in the vein between

the heart and lungs is detected higher than 25mmHg

during rest, a diagnosis of pulmonary hypertension is

made. Pulmonary arterial hypertension treatment is a

disease that requires advanced expertise and a multidisciplinary

approach. There are drugs effective to stop

the progression of PAH, which is a serious disease. In

addition, clinical studies are carried out on the course

and prevention of this disease. The severity, course

and progression of each patient's disease is different.

Early diagnosis and treatment is important to limit the

progression of pulmonary hypertension. In the field of

treatment, there have been positive developments in

the last 20 years. While there was only treatment for

symptoms before, nowadays, as the underlying causes of

the disease are understood, molecules for this have been

found and with these new molecules, treatment results

that increase the exercise capacity of the patients and

reduce the hospitalization and mortality rates have been

obtained. In the absence of specific drugs in this area, the

average life expectancy of patients after diagnosis was 2.8

years, while the average life expectancy after diagnosis

has extended to 9 years with innovative treatments in this

area in the last 20 years."

Pulmonary Arterial Hypertension disease and its

types

Pulmonary Arterial Hypertension disease; Pulmonary

arterial hypertension is classified under 5 main groups

within the framework of its pathophysiological

mechanisms, histopathological features, clinical findings

and treatments. These;

I. Group: Pulmonary arterial hypertension (PAH),

II. Group: (PH) due to left heart diseases,

III. Group: (PH) due to chronic lung disease and /

or hypoxia

IV. Group: Chronic thromboembolic (PH),

V. Group: (PH) caused by uncertain mechanisms

or by many factors.

Pulmonary arterial hypertension (PAH) is a

subgroup of pulmonary hypertension that

reduces blood flow and increases pressure

in the arteries between the heart and

lungs without underlying lung or

left heart disease. A small number

of patients may develop PAH

without an underlying condition,

called idiopathic PAH. Besides; There

are types of PAH associated with

diseases (congenital heart diseases,

connective tissue diseases, HIV

infection, portal hypertension,

schistosomiasis), and inherited types

of PAH associated with drug-drug use.

edilebilmektedir. Bu ölçüm ile dinlenme sırasında kalp ile

akciğer arasında damardaki basınç 25mmHg'den yüksek

tespit edilirse pulmoner hipertansiyon tanısı konmaktadır.

Pulmoner hipertansiyon tedavisi, ileri uzmanlık ve multi

disipliner yaklaşım gerektiren bir hastalıktır. Ciddi bir

hastalık olan PAH'ta ilerlemeyi durdurmak üzerine

etkili ilaçlar mevcuttur. Ayrıca bu hastalığın gidişatı ve

durdurulması üzerine klinik araştırmalar yapılmaktadır.

Her hastanın hastalığının şiddeti, gidişatı ve ilerlemesi

farklıdır. Erken tanı ve tedavi pulmoner hipertansiyonun

ilerlemesini sınırlamak için önemlidir. Tedavi alanında

son 20 yılda yüz güldürücü gelişmeler yaşanmaktadır.

Öncesinde sadece semptomlara yönelik tedavi mevcutken,

günümüzde hastalığın altında yatan sebepler anlaşıldıkça

buna yönelik moleküller bulunmuş ve bu yeni moleküller

ile hastaların egzersiz kapasitelerini artıran, hastaneye

yatış durumu ve ölüm oranlarını düşüren tedavi sonuçları

elde edilmiştir. Bu alanda spesifik ilaçlar olmadığında,

hastaların tanıdan sonraki ortalama yaşam süresi 2,8 yıl

iken, son 20 yılda bu alandaki yenilikçi tedaviler ile tanıdan

sonra ortalama yaşam süresi 9 yıla uzamıştır."

Pulmoner Hipertansiyon hastalığı ve türleri

Pulmoner Hipertansiyon hastalığı; pulmoner hipertansiyon,

fizyopatolojik mekanizmaları, histopatolojik özellikleri,

klinik bulguları ve tedavileri çerçevesinde 5 ana grup altında

sınıflandırılmıştır. Bunlar;

I.Grup: Pulmoner arteryel hipertansiyon (PAH),

II.Grup: Sol kalp hastalıklarına bağlı PH,

III.Grup: Akciğer hastalıklarına ve/veya hipoksiye bağlı PH

IV.Grup: Kronik tromboembolik PH,

V.Grup: Mekanizmaları belirsiz ya da çok faktörün neden

olduğu PH.

Pulmoner arteriyel hipertansiyon (PAH) ise altta yatan

akciğer ya da sol kalp hastalığı

olmaksızın kalp ile akciğer

arasındaki atar damarlardaki

kan akışını azaltan ve

basıncı artıran, pulmoner

hipertansiyonun alt

grubudur. Az sayıda

hastada, altta yatan

bir durum olmaksızın

PAH gelişebilir,

buna idiyopatik

PAH denir. Bunun

yanında; hastalıklarla

ilişkili (doğuştan gelen

kalp hastalıkları, bağ

dokusu hastalıkları,

HIV enfeksiyonu,

portal hipertansiyon,

şistozomiyaz) PAH

türleri, ilaç uyuşturucu

kullanımı ile ilişkili ve de

kalıtsal geçen PAH türleri

bulunmaktadır.

Haziran - June 2021
---
22

Treatment Processes of Cancer Patients

During Periods of Covid-19

Covid-19 Döneminde Kanser Hastalarının Tedavi Süreçleri

Kanser vücudumuzdaki normal hücrelerin

kontrolsüz ve anormal bir şekilde büyümesi

sonucunda oluşmaktadır. Kanser hücrelerinin

sağlıklı hücrelerin yerini alması sonucunda bu

durumdan etkilenen organlar artık düzgün

çalışamaz hale gelir. Günümüzde artık tedavi

edilebilir hastalıklar arasında yer alan kanser

hastalıklarında erken tanı ile başarı oranı yüksek

tedavi sonuçları elde edilmektedir.

Cancer occurs as a result of the uncontrolled and

abnormal growth of normal cells in our body. As

a result of cancer cells replacing healthy cells,

organs affected by this condition can no longer

function properly. Nowadays, cancer diseases,

which are among the treatable diseases, achieve

high success rate treatment results with early

diagnosis.

Covid-19 is still effective in our country, where it is all over

the world. Cancer patients are perhaps among the patient

groups most affected by this difficult process. Cancer

patients' immunity is more sensitive due to the treatment

protocols they take and the drugs they use.

Covid-19 infection has caused a serious increase in deaths

in cancer patients. The diagnosis of Covid-19 most often

gives symptoms such as fatigue, fever, dry, cough, loss of

appetite, muscle aches, shortness of breath and inability

to smell in cancer patients. Most of these symptoms are

also seen in side effects related to chemotherapy, and this

makes differential diagnosis mandatory in complaints.

Assoc. Dr. Didem Taştekin, Gaziosmanpaşa

Hospital Oncology Department, Yeni Yüzyıl

University, informed about "What cancer patients

Covid-19 tüm dünyada olduğu ülkemizde de hala etkisini

devam ettirmektedir. Bu zorlu süreçten belki de en

çok etkilenen hasta grupları arasında kanser hastaları

gelmektedir. Kanser hastalarının gerek almış oldukları

tedavi protokolleri, gerekse kullandıkları ilaçlar nedeniyle

bağışıklıkları daha hassas.

Covid-19 enfeksiyonu kanser hastalarında ciddi ölüm

artışına sebep olmuştur. Covid-19 tanısı kanserli hastalarda

en sık yorgunluk, ateş, kuru, öksürük, iştahsızlık, kas

ağrıları, nefes darlığı ve koku alamama gibi belirti verir.

Bu belirtilerin çoğu aynı zaman da kemoterapiye bağlı

yan etkilerde de görülür ve buda şikayetlerde ayırıcı tanıyı

zorunlu hale getirir.

Yeni Yüzyıl Üniversitesi Gaziosmanpaşa Hastanesi

Onkoloji bölümünden Doç. Dr. Didem Taştekin

'Covid-19 döneminde kanser hastalarının dikkat

etmesi gerekenleri ve tedavi süreçlerinin

ilerleyişi' hakkında bilgiler verdi.

2018'de kanserden 1 yıl içinde 9.6 milyon kişi öldü ve her

yıl yeni tanı sayısı 18 milyon olarak kaydedildi. Covid-19

diğer mevsimsel gripler gibi olmadığını çok acı bir tabloyla

tüm dünya da gördük ve onkoloji hastalarını ciddi şekilde

etkiledi. Hastalığa yakalanmanın dışın da bu hastalara

verilen sağlık hizmetleri de sekteye uğradı.

Onkologlar olarak viral, bakteriyal ve mantar

enfeksiyonlarını çok iyi biliyoruz ve bunlar her zaman için

kanser tedavisinin bir parçası olmuştur. Covid-19' dan

bugün itibari ile ölüm…3.3 milyon olarak haberlere düştü.

Peki Covid-19'a yakalanan kanser hastalarında ölüm

oranı nedir? Kanserli hastalarda ölüm oranı yüzde 25-30

oranında artış oluğu belirtildi. Yapılan bazı çalışmalar da

ise Covid-19'dan ölen hastaların 5 de 1 inin kanser hastası

olduğu tespit edildi. Peki bu artışın sebebi neydi? En

önemli sebep kanser hastalarının çoğunluğunun ileri yaşta

Haziran - June 2021
---
23

should pay attention to in the period of Covid-19

and the progress of treatment processes."

9.6 million people died of cancer in one year in 2018, and

the number of new diagnoses was recorded as 18 million

each year. We have seen that Covid-19 is not like other

seasonal flus all over the world with a very painful picture

and it seriously affected oncology patients. Apart from

getting the disease, the health services provided to these

patients were also interrupted.

As oncologists, we know very well about viral, bacterial and

fungal infections and they have always been part of cancer

treatment. Death from Covid-19 as of today… It has fallen

into the news as 3.3 million.

So what is the mortality rate in cancer patients caught with

Covid 19? It was stated that the mortality rate in cancer

patients increased by 25-30 percent. In some studies, it

was determined that 1 in 5 of the patients who died from

Covid-19 were cancer patients. So what was the reason for

this increase? The most important reason is the advanced

age of the majority of cancer patients, additional diseases

(Diabetes, Hypertension, Obesity) and low immune system

due to chemotherapy.

Double-wave death due to Covid-19 can occur in cancer

patients. It can become the second wave due to death

or cancellation of treatments due to Covid-19 due to the

immunocompromised patient caught in Covid 19. Stopping

or delaying cancer treatments due to the pandemic also

increases this risk.

Most of those who had to go to bed due to Covid-19

were cardiovascular diseases or cancer patients. As life

expectancy has increased in the world, it has become a

general risk factor for cancer. In 2018 alone, the number

of patients over the age of 70 who were newly diagnosed

with cancer is a considerable number. The fact that the

majority of deaths from Covid-19 are also in elderly

patients reveals the seriousness of the work. In addition to

the advanced age, if there are hematological cancers and

additional diseases such as lung cancer, obesity, diabetes,

Covid 19-related deaths increase and increase.

olması, ek hastalıkları (Diyabet, Hipertansiyon, Obezite) ve

kemoterapiye bağlı bağışıklık sistemi düşüklüğü.

Kanser hastalarında Covid-19'a bağlı çift dalgalı ölüm

olabiliyor. Bağışıklığı baskılanmış hastanın Covid-19'a

yakalanması nedeniyle ölüm veya Covid-19 nedeniyle

tedavilerin geciktirilmesi iptali nedeniyle ikinci dalga

olabiliyor. Kanser tedavilerinin pandemiden dolayı

durdurulması, geciktirilmesi de bu riski artırıyor.

Covid-19 nedeniyle yatmak zorunda kalanların çoğu

kardiovasküler hastalıklar veya kanser hastalarıydı. Dünya

da yaşam süresi arttıkça, kanser için genel bir risk faktörü

haline gelmiştir. Sadece 2018 de 6,6 milyon 70 yaş üstü

yeni kanser tanısı alan hasta sayısı azımsanmayacak bir

sayı. Covid-19'dan ölümlerin de büyük oran da ileri yaş

hastalarda olması işin ciddiyetini gözler önüne seriyor. İleri

yaşın yanında, hematolojik kanserler ve akciğer kanseri,

obezite, diyabet gibi ek hastalıklar da varsa Covid-19 ilişkili

ölümler katmerlenerek artıyor.

Kanser hastalarının Covid-19 sürecinde dikkat

etmesi gerekenler;

-Kanser hastasıysanız sakın kemoterapiye ara vermeyin

-Beslenmenize, uykunuza, temizliğinize ve kişisel

bakımınıza daha fazla önem gösterin.

-Eğer kanserin erken belirtisini fark ettiyseniz en kısa

sürede doktorunuza başvurun, erken tanı şansınızı

kaçırmayın.

-Kanser ameliyatlarını, radyoterapiyi ve kemoterapilerinizi

aksatmadan devam edin. Bunları yaparken bağışıklığınızı

kuvvetlendirecek yüksek doz C vitamini, D vitamini ve ozon

tedavisi almayı unutmayın.

-Uykuya dalmakta zorluk çekiyorsanız bağışıklığınızı

artıracak ve sizi uykuya hazır hale getirecek melatonin

hormonunu da unutmayın.

What cancer patients should pay attention to

during the Covid-19 process;

-If you have cancer, do not stop chemotherapy.

-Pay more attention to your diet, sleep, cleanliness and

personal care.

-If you have noticed the early signs of cancer, contact your

doctor as soon as possible, do not miss your chance of early

diagnosis.

-Continue cancer surgeries, radiotherapy and

chemotherapy without interruption. While doing these,

do not forget to take high-dose vitamin C, vitamin D and

ozone therapy to strengthen your immunity.

-If you have trouble falling asleep, don't forget the

melatonin hormone, which will boost your immunity and

make you ready for sleep.

Haziran - June 2021
---
26

Eight Myths about

Heart Health

Kalp Sağlığıyla İlgili

Doğru Gibi Kabul Edilen

8 Şehir Efsanesi

Now, think of the things you know about heart

health. Which of those that you know are facts?

Interventional Cardiologist Prof. Dr. Ali Metin

Esen, explains 8 myths about heart health and

how following these outdated ideas can be

detrimental to your heart.

Approximately 400 thousand people die every year due to

cardiovascular causes in Turkey. Heart disease ranks 1st for

men and 2nd in women as a cause of death. Currently, 3.5

million patients are suffering from heart disease in Turkey,

and the number is predicted to reach 5.4 million by 2035.

Also, our country has the highest number of deaths due to

heart attack in people under age 50 years across European

countries. To put it in perspective, 1 person out of every 5

people who have a heart attack is age under 50 years old.

Interventional Cardiologist Prof. Dr. Ali Metin Esen states

that "We have gathered a lot of information on what causes

heart disease and how we can prevent it. However if you

don't follow medical developments from reliable sources,

you have a very high chance of having misinformation on

heart disease and the risk factors that cause heart disease."

And he debunks the 8 widely known myths about heart

disease.

Tıbbi haberleri doğru kaynaklardan takip

etmediğiniz sürece kalp hastalığı veya kalp

hastalığının risk faktörleri hakkında yanlış

kanılara sahip olma ihtimaliniz yüksek" diyen

Girişimsel Kardiyolog Prof. Dr. Ali Metin Esen,

yaygın olarak kabul edilen 8 şehir efsanesi

hakkında gerçekleri açıkladı.

Türkiye'de yılda yaklaşık 400 bin kişi, kalp ve damar

hastalıklarından yaşamını yitirmektedir. Halihazırda 3,5

milyon insanın kalp ve damar hastası olduğu bilinen

ülkemizde 2035 yılında bu sayının 5,4 milyona yükseleceği

öngörülmektedir. 50 yaş altında kalp krizinden ölüm

sıklığıyla ülkemiz, Avrupa ülkeleriyle kıyaslandığında

1. sırada yer almaktadır. Kalp krizi geçirme oranlarına

bakıldığında ise kalp krizi geçiren her 5 kişiden 1'nin 50 yaş

altında olduğu saptanmıştır.

Ülkemizde kalp ve damar hastalıkları tüm ölüm nedenleri

arasında ilk sırada yer alsa da ne yazık ki kalp sağlığı

konusunda yeterince bilgiye sahip değiliz. Girişimsel

Kardiyolog Prof. Dr. Ali Metin Esen, Covid-19'un kalp

hastalıklarını tetiklediğini belirtirken, gıda takviyelerini

kullanmaktan ziyade doğaldan yana olunmasının altını

çiziyor.

Haziran - June 2021
---
27

Myth 1: If you have heart disease, you should live

a quiet life.

Fact: Physical inactivity is a bad idea for most patients with

heart disease. Immobility causes blood clots in leg veins

and decreases the general physical conditioning of the

body. Physical activity helps to increase the contractile

strength of heart muscles and improves blood flow to the

brain and internal organs and maintains general wellbeing.

What can you do? Ask your doctor about the kind and the

intensity of exercises you can do. Many people can walk

comfortably and walking at least 30 minutes 5 days of the

week is beneficial for your heart.

Myth 2: Cholesterol-lowering drugs don't have

any benefit and besides have serious side effects.

Fact: Regular long-term use of cholesterol-lowering

agents slow down and eventually decrease the amount

of fat build-up (plaque formation) in heart vessels. There

has been extensive research and proof on how they

prevent heart disease and death. It is acknowledged that

cholesterol-lowering drugs may have side effects but

they are mostly minor like muscle aches. They are dosedependent

and can be reversed by discontinuation of the

drug. The frequency of the most feared action on the liver

is between 0.5-2%. These cases rarely necessitate stopping

the medication.

Myth 3: It is normal to have high blood pressure

as you age.

Fact: Blood pressure indeed tends to increase with age.

However, it does not mean that it is normal and can be left

untreated. On the contrary untreated high blood pressure

causes heart attack, stroke, and heart failure. You should

regularly check your blood pressure. If you discover that

your blood pressure readings are 140/90 mmHg and over,

you should seek help from your doctor.

Myth 4: Taking vitamins and supplements can

decrease your risk of heart disease.

Fact: The clinical studies done on the use of antioxidants,

vitamin E, C, D, and beta carotene supplements have failed

to show any benefit in neither prevention nor slowing

down the progress of heart disease. The American Heart

Association concluded that there is no scientific proof to

use these supplements to prevent or treat heart disease.

What can you do? Our body absorbs the 'essential' (because

they are not produced in the body) vitamins and minerals

from our food sources, so if you keep a well-balanced

healthy diet the body gets what it requires. Ideally, you

should be able to obtain these vitamins and minerals from

natural sources, not from commercially available tablets. So

please remember to stop fighting mother nature.

Myth 5: If you have smoked for long years, you

cannot prevent heart disease after you quit

smoking.

Fact: The benefits of quitting smoking start as soon as

you put it to action regardless of the time and amount of

cigarettes you have smoked. Your risk of having a heart

attack decreases by 50% after 1 year of quitting cigarettes,

Efsane 1: Kalp hastalığınız varsa sakin olmalısınız

Gerçek: Kalp hastalığı olan insanların büyük çoğunluğu için

hareketsiz kalmak doğru olmayan bir fikirdir. Hareketsizlik,

bacaklarda kan pıhtılaşmasına ve genel fiziksel durumda

düşüşe neden olabilir. Fiziksel aktivite, kalp kasını

güçlendirmeye yardımcı olur, beyne ve iç organlara

kan akışını ve genel sağlığı iyileştirir. Ne yapabilirsiniz?

Doktorunuza sizin için ne tür bir egzersizin doğru olacağını

ve ne kadar yapmanız gerektiğini sorun. Çoğu insan

yürüyebilir ve herhangi bir süre ve tempoda yürümek

kalbiniz için iyidir.

Efsane 2: Kolesterol ilacı kullanmanın hiçbir

faydası olmadığı gibi ciddi yan etkiler vardır

Gerçek: Kolesterol düşürücü ilaçların bilinen birtakım yan

etkileri olduğu muhakkaktır. Ancak bu yan etkiler doza

bağımlı ve tamamı ilacı kesince ortadan kaybolmaktadırlar.

En fazla korkulan karaciğeri etkileme sıklıkları yüzde

0,5 ile 2 arasındadır. Kaldı ki bu etki ilacı bırakmayı çoğu

zaman gerektirecek düzeyde olmamaktadır. Aksine

kolesterol düşürücü ilaçların düzenli kullanılmaları halinde

kalp damarlarında yağlanmayı önleyerek kalp damar

hastalıklarına karşı koruyucu olduğunu gösteren yüzlerce

bilimsel kanıt mevcuttur.

Efsane 3: Artan yaşla birlikte daha yüksek

tansiyona sahip olmak doğaldır

Gerçek: Kan basıncı yaşla birlikte yükselme eğilimindedir.

Ancak bu eğilim yüksek kan basıncı düzeylerinin tedavisiz

bırakılabileceği anlamı taşımamaktadır. Yüksek kan basıncı

ileri yaşlarda da daha genç yaşlardaki gibi tedavi edilmek

zorundadır. Aksi takdirde kalp krizi, felç ve kalp yetersizliği

riski söz konusu olmaktadır. Hangi yaşta olursanız olun kan

basıncınızı kontrol ettirin. Kan basıncınız 140/90 milimetre

civanın üzerindeyse doktorunuza onu düşürmek için ne

yapabileceğinizi sorun.

Efsane 4: Vitaminler ve takviyelerle kalp hastalığı

riskinizi azaltabilirsiniz

Gerçek: Antioksidanlar, vitamin E, C, D ve beta karoten

içeren gıda takviyeleri ile yapılan klinik deneyler bu

ürünlerin kalp hastalığından koruduğu veya kalp

hastası olanlarda olumlu katkılar yaptığına dair etkileri

doğrulayamamıştır. Amerikan Kalp Derneği, bu vitaminlerin

kardiyovasküler hastalıkları önlemek veya tedavi etmek

için kullanılmasını haklı gösterecek hiçbir bilimsel kanıt

olmadığını belirtmiştir. Ne yapabilirsiniz? Vücut, vitaminleri

ve mineralleri en iyi besinlerle elde ettiğinde hemen

emer ve kullanır. İhtiyacınız olan vitamin ve mineralleri

mağazadan satın alınan takviyeleri kullanarak değil, doğada

bulunan besinlerden sağlayın. Doğalla savaşmayı bırakın.

Efsane 5: Yıllarca sigara içtiyseniz kalp hastalığı

riskinizi bırakarak azaltamazsınız

Gerçek: Sigarayı bırakmanın faydaları, yaşınız, ne kadar

süredir sigara içtiğiniz veya günde kaç tane sigara

içtiğinizden bağımsız olarak bıraktığınız anda başlar.

Sigarayı bıraktıktan sadece 1 yıl sonra kalp krizi riskiniz

yüzde 50 azalır, 10 yıl içinde ise hiç sigara içmemiş gibi

olursunuz.

Haziran - June 2021
---
28

and by the 10th year, you have the same risk as a person

who has never smoked.

Myth 6: Drinking alcohol is good for your heart

vessels.

Fact: The American and European Heart societies do not

advise any form or amount of alcohol for prevention

and treatment of heart disease. Alcohol is not medicinal

and there is no satisfactory scientific proof of benefit on

heart health.

Myth 7: Stenting for coronary artery disease is

a temporary treatment whereas bypass surgery

is a permanent solution.

Fact: Groundbreaking improvements in drug-eluting

stent technology like the use of highly tissue compatible

metals, ultrathin-strut stents, and the advancements in

stent polymer technology have changed the course for

stent therapy. Moreover, sophisticated state-of-the-art

intravascular imaging techniques enable optimal stent

deployment. Recently, with the introduction of drugeluting

balloons for the treatment of occluded stents,

stent therapy has become one of the 'permanent'

treatment options for coronary artery disease. The

popular idea that argues that bypass surgery is a

permanent cure for heart disease does not correlate

with scientific data. The 'saphenous' vein graft vessels

used in by-pass surgery may be occluded as early as

the first year and by the 10th year 50% will have been

occluded. Moreover to treat occluded vessels stents are

used.

Myth 8: It is OK to stop using medications after

bypass surgery because all your vessels are

'regenerated'.

Fact: This opinion is wrong. To ensure the patency of

by-passed vessels, you should use cholesterol-lowering

drugs and blood thinners and if necessary blood

pressure medications regularly and continuously.

Efsane 6: Alkol kalp damarları için koruyucudur

Gerçek: Amerikan ve Avrupa kalp cemiyetleri, alkolün hiçbir

türünü ve miktarını kalp damar hastalıklarından korunmada

ve tedavisinde önermemektedir. Alkol ilaç değildir ve kalp

sağlığı için olumlu ispatlanmış tatminkar bilimsel kanıtlar

yoktur.

Efsane 7: Kalp-damar hastalıklarının tedavisinde

stent geçici, baypas cerrahisi kalıcı çözüm sağlar

Gerçek: İlaç kaplı stent teknolojisindeki çığır açan

gelişmeler ve bu teknolojinin her 4 yılda bir yenilenmesi,

doku uyumu yüksek metallerin kullanımı, çok ince sarmallı

stent platformları, kullanılan stent polimer teknolojisindeki

gelişmeler bu durumu tamamen değiştirmiştir. Üstelik

stent takılırken kullanılan yüksek damar içi görüntüleme

teknikleri stentlerin optimal şekilde yerleştirilmesine olanak

sağlamaktadır.

Son yıllarda tıkanan stentlerin ilaç kaplı balonlar ile açma

tekniklerinde devreye girmesi kalp damarlarında stent

uygulamalarının kalp damar tıkanıklıklarının tedavisinde

kalıcı tedavi seçeneği haline getirmiştir. Bypass cerrahisi

yapıldıktan sonra artık tüm sorunun kalıcı olarak çözüldüğü

iddiası da bilimsel verilerle bağdaşmamaktadır.

1'inci yıldan itibaren yapılan baypas damarları tıkanmaya

başlamakta ve 10'uncu yıla gelindiğinde özellikle "safen" adı

verilen bacak toplar damarları kullanılarak yapılan baypas

damarlarının en az yarısında tam veya ciddi tıkanmalar

gelişmektedir. Üstelik tıkanan bypass damarlarını açmak

içinde stentler kullanılmaktadır.

Efsane 8: Bir kez baypas olduktan veya stent

takıldıktan sonra "Damarlar nasıl olsa yenilendi"

diyerek ilaçlar bırakılabilir

Gerçek: Bu düşünce son derece yanlıştır. Yapılan baypas

damarlarının veya takılan stentlerin açık kalmasını

sağlamak için kolesterol ilaçlarını, kan sulandırıcıları

ve uygun görülmüşse şayet tansiyon ilaçlarını büyük bir

dikkatle kullanmak gerekmektedir.

Haziran - June 2021
---
29

IF THE SHOWCASE LIGHTS GO OUT

VİTRİNLERİN IŞIKLARI SÖNERSE

Despite many negativities, good news continues to come

from the Turkish medical sector. Although some of our

partners in the sector seem to be in despair, we observe

that they do not break away from the race. Isn't that what

matters? Of course, there are periods when visibility is

almost completely lost in foggy and hazy weather. It is

always said from time to time; "We can't see ahead of

us." The clearest development that summarizes this

situation must be the pandemic process. Which sector

has not been adversely affected by Covid-19! Despite this,

we see that those who know geography well, continue

on their way step by step without getting damaged, with

the logic of "one is greater than zero" even when visibility

drops to zero in foggy and hazy weather.

Expomed Eurasia Fair, which is the meeting point of

the medical sector where business contacts have been

established for years, new customers are found and

existing customers are also hosted, will open its

doors for the 28th time and Arab Healthcare

Dubai will be opening its doors after a short

while. Are these and other brand fairs not our

important venues, showcases, where products

are exhibited and presented to the buyer on

behalf of the Turkish medical sector? We are

confident that the Turkish medical sector will

continue to rise as long as the lights of

the showcases continue to light.

As Medikal Teknik magazine team,

we will be at Arab Healthcare Dubai

Fair after our Expomed Eurasia

Istanbul fair. We would like to

welcome you to our stand numbered

H7 D37 at the fair where we have been

a press sponsor for years. We remind

you that the only Turkish publication

from the Turkish press sector that

participates with a stand is Medikal

Teknik Magazine, and we wish success to

our industry stakeholders at the fair.

Stay healthy until we see you in our

new issue.

Birçok olumsuzluğa rağmen Türk medikal sektöründen

güzel haberler gelmeye devam ediyor. Bazı sektör

paydaşlarımız ümitsizliğe kapılıyor gibi olsalar da yarıştan

kopmadıklarını gözlemliyoruz. Önemli olan da bu değil

mi? Sisli ve puslu havalarda görüş mesafesinin nerdeyse

tamamen kaybolduğu dönemler oluyor elbette. Dönem

dönem hep söylenir ya; "Önümüzü göremiyoruz." Bu

durumu özetleyen en net gelişme pandemi süreci olsa

gerek. Covid-19'dan hangi sektör olumsuz etkilenmedi ki!

Buna rağmen coğrafyayı iyi bilenlerin, sisli ve puslu havada

görüş mesafesinin sıfıra düştüğü anlarda bile "bir sıfırdan

büyüktür" mantığıyla adım adım hasar görmeden yoluna

devam etiklerini görüyoruz.

Yıllardır iş bağlantılarının kurulduğu, yeni müşterilerin

bulunduğu, mevcut müşterilerin de misafir edildiği adeta

medikal sektörünün buluşma noktası olan fuarlarımızdan

Expomed Eurasia Fuarı 28. defa kapılarını açarken, kısa bir

süre sonra da Arab Healthcare Dubai fuarı kapılarını

açıyor olacak. Bu ve diğer marka fuarlar Türk

medikal sektörü adına ürünlerin sergilenip

alıcıya sunulduğu önemli mekanlarımız,

vitrinlerimiz değiller mi? Vitrinlerin ışıkları

yanmaya devam ettiği müddetçe, Türk

medikal sektörünün yükselişine devam

edeceğine inancımız tamdır.

Medikal Teknik dergisi ekibi olarak

Expomed Eurasia İstanbul

fuarımızdan sonra, Arab

Healthcare Dubai Fuarı'nda

olacağız. Yıllardır basın

sponsoru olduğumuz fuarda

H7 D37 no'lu standımıza

bekleriz. Türk basın

sektöründen stantlı

katılım gösteren tek Türk

yayınının Medikal Teknik

Dergisi olduğunu hatırlatır,

fuarda sektörümüz

paydaşlarına başarılar

dileriz.

Yeni sayımızda görüşünceye

kadar esen kalın.

Recep ARSLANTAŞ

Coordinator

Haziran - June 2021
---
30

Coronavirus does not Affect the Baby in the Womb!

Koronavirüs Anne Karnındaki Bebeği Etkilemiyor!

The coronavirus process has

greatly affected pregnant women

as well as everyone. While

many misinformation is around,

Gynecology and Obstetrics

Specialist Salih Yılmaz, Acıbadem

Altunizade Hospital answered all

the curious questions. Reminding

that births occur very comfortably

with the precautions taken during

the pandemic process, Specialist

Salih Yılmaz underlined that

within the information obtained

so far, the coronavirus does not

affect the baby in the womb.

Gynecology and Obstetrics Specialist

Salih Yılmaz, Acıbadem Altunizade

Hospital answered all questions about

coronavirus and pregnancy.

Stating that with the pandemic, the concerns whether

everything that was done while pregnant was affecting

the baby increased thoroughly, Specialist Salih Yılmaz said,

"Covid positivity when pregnant shakes the expectant

mother psychologically. However, being infected with

this virus while pregnant is mostly passed on with mild

symptoms. Colds, muscle aches or flu-like symptoms are

experienced." Yılmaz also said that in the coronavirus

process, the biggest known mistakes about pregnancy

is that the virus has passed to the baby in the mother's

womb and that the pregnant woman cannot give birth

and breastfeed normally. Specialist Salih Yılmaz said that

such false information is not correct and that only expert

doctors' statements should be heard.

"If the coronavirus is infected, the general condition of the

mother is very important here," said Specialist Salih Yılmaz,

"If the mother is in intensive care or her general condition

is bad, cesarean delivery can be applied immediately, but if

her general condition is good, there is no need for cesarean

delivery, normal birth can be done."

Pregnancy does not increase the risk of getting

coronavirus

Declaring that pregnant women with coronavirus can give

normal birth like pregnant women with covid-negative,

Gynecology and Obstetrics Specialist Salih Yılmaz said,

"During the birth of these pregnant women, only the team

should wear protective equipment to protect themselves.

We deliver pregnant women with Covid disease in an

isolated room. Apart from that, there is no different

Gynecology and Obstetrics Specialist

Salih Yılmaz, Acıbadem Altunizade Hospital

Koronavirüs süreci herkesi olduğu

kadar hamileleri de fazlasıyla

etkilemiş durumda. Birçok

yanlış bilgi etrafta dolaşırken,

Acıbadem Altunizade Hastanesi

Kadın Hastalıkları ve Doğum

Uzmanı Op. Dr. Salih Yılmaz bütün

merak edilen sorulara cevap

verdi. Pandemi sürecinde dikkat

edilen önlemlerle birlikte çok

rahat bir şekilde doğumların

gerçekleştiğini hatırlatan Op.

Dr. Salih Yılmaz, şimdiye kadar

elde edilen bilgiler dahilinde

koronavirüsün anne karnındaki

bebeği etkilemediğinin altını

çizdi.

Acıbadem Altunizade Hastanesi Kadın

Hastalıkları ve Doğum Uzmanı Op. Dr. Salih Yılmaz,

koronavirüs ve hamileliğe yönelik merak edilen bütün

sorulara cevap verdi.

Pandemiyle birlikte hamileyken yapılan her şeyin bebeği

etkileyip etkilemediği kaygılarının iyice arttığını söyleyen Op.

Dr. Salih Yılmaz, "Gebeyken covid pozitifliği anne adayını

psikolojik olarak çok sarsıyor. Ancak hamileyken bu virüsle

enfekte olmak çoğunlukla hafif semptomlarla geçiriliyor.

Soğuk algınlığı, kas ağrıları veya grip benzeri semptomlar

yaşanıyor." açıklamasında bulundu. Yılmaz ayrıca

koronavirüs sürecinde hamilelikle ilgili bilinen en büyük

yanlışların; anne karnındaki bebeğe virüsün geçtiği, gebenin

normal doğum yapamayacağı ve emziremeyeceği olduğunu

belirtti. Op. Dr. Salih Yılmaz, bu tür yanlış bilgilerin doğru

olmadığını ve bu konuda sadece uzman doktorların

açıklamalarının dinlenmesi gerektiğini söyledi.

"Eğer koronavirüsle enfekte olunduysa burada annenin

genel durumu çok önemlidir." diye konuşan Op. Dr. Salih

Yılmaz, "Anne yoğun bakımdaysa veya genel durumu

kötüyse acilen sezaryen doğum uygulanabilir fakat genel

durumu iyiyse sezaryen doğum uygulanmasına gerek yok,

normal doğum yapılabilir." şeklinde konuştu.

Gebelik koronavirüse yakalanma riskini

arttırmıyor

Koronavirüs hastası gebelerin covid negatif olan gebeler

gibi normal doğum yapabileceğini ifade eden Kadın

Hastalıkları ve Doğum Uzmanı Op. Dr. Salih Yılmaz,

"Bu gebelerin doğumu esnasında sadece ekibin kendini

koruması için koruyucu ekipman giymesi gerekiyor.

Covid hastası gebelerin doğumunu izole bir odada

Haziran - June 2021
---
31

process than other pregnant women." On the other hand,

stating that the follow-up of pregnant women caught in

coronavirus varies according to the week of pregnancy,

Salih Yılmaz pointed out that pregnancy does not increase

the risk of getting coronavirus. Yılmaz also stated that

within the information we have obtained so far, the virus

does not affect the baby in the womb.

Specialist Salih Yılmaz answered whether the antibodies

of the mother who had coronavirus passed to the baby as

follows: These antibodies are protective antibodies that

are formed after suffering the disease. Likewise, IgG type

antibodies are formed after vaccination and can be passed

to the baby. IgM type antibodies formed during the active

period of the disease cannot pass through the placenta to

the baby."

Expectant mothers should definitely take vitamin

and mineral supplements during the coronavirus

process.

Underlining that expectant mothers should definitely take

vitamin and mineral supplements during the coronavirus

process, Gynecology and Obstetrics Specialist Salih Yılmaz

said, "The expectant mother should pay close attention

to the diet and sleep patterns of this period. It is very

important to take vitamins C and D especially to keep the

immune system strong."

Recording that expectant mothers who have coronavirus

can have radiological imaging when necessary, Specialist

Salih Yılmaz said, "We should not forget that mother's

health is always more important. If the mother's clinical

condition deteriorates and these tests are deemed

necessary, radiological imaging can be obtained by

protecting the baby."

gerçekleştiriyoruz. Onun dışında diğer gebelerden farklı

bir süreç yaşanmıyor." dedi. Öte yandan koronavirüse

yakalanan gebelerin takibinin gebeliğin hangi haftasında

olduğuna göre değiştiğini ifade eden Op. Dr. Salih Yılmaz,

gebeliğin koronavirüse yakalanma riskini arttırmadığına

dikkat çekti. Yılmaz, şimdiye kadar elde ettiğimiz bilgiler

dahilinde virüsün anne karnındaki bebeği etkilemediğini de

ifade etti.

Op. Dr. Salih Yılmaz, koronavirüs geçiren annenin

antikorlarının bebeğe geçip geçmemesini ise şöyle

cevapladı: "Annede olan antikorlardan immünglobulin G

(IgG) dediğimiz antikorlar plasentadan bebeğe geçebilir.

Bu antikorlar hastalığı geçirdikten sonra oluşan koruyucu

antikorlardır. Yine aynı şekilde aşı sonrasında da IgG tipinde

antikorlar oluşur ve bebeğe geçebilir. Hastalığın aktif

döneminde oluşan IgM tipindeki antikorlar ise plasentadan

bebeğe geçemez."

Anne adayları koronavirüs sürecinde kesinlikle

vitamin ve mineral takviyesi almalı

Anne adaylarının koronavirüs sürecinde vitamin ve mineral

takviyesini kesinlikle alması gerektiğinin altını çizen Kadın

Hastalıkları ve Doğum Uzmanı Op. Dr. Salih Yılmaz, "Anne

adayının bu dönemdeki beslenme ve uyku düzenine çok

dikkat etmesi gerekiyor. Bağışıklık sistemini güçlü tutmak

için özellikle C ve D vitamini alması çok önemli." dedi.

Koronavirüse yakalanan anne adaylarına gerekli olduğunda

radyolojik görüntüleme yapılabileceğini söyleyen Op. Dr.

Salih Yılmaz, "Şunu unutmamalıyız ki annenin sağlığı her

zaman daha önemlidir. Eğer annenin klinik durumunda

kötüleşme varsa ve bu testler gerekli görülürse bebeği

koruyarak radyolojik görüntüleme alınabilir." açıklamasında

bulundu.

Haziran - June 2021
---
32

Babies should not be deprived of breast milk

Indicating that the coronavirus will not affect the mode of

delivery if the general condition of the mother is not bad,

Specialist Salih Yılmaz said, "There is no study showing that the

coronavirus has been passed on to the baby through breast

milk except for a few case reports. Mothers who give birth can

breastfeed their babies by wearing masks and paying attention

to hand hygiene." On the other hand, the World Health

Organization underlined that babies should not be deprived of

breast milk.

Explaining the drug use of pregnant coronavirus patients,

Specialist Salih Yılmaz continued his words as follows, "In these

patients, we cannot use the active ingredient drug favipiravir

given when covid positivity is detected in our country. We

provide more supportive treatment. However, we can use

other antiviral drugs in expectant mothers whose general

condition worsens and who are taken into intensive care.

Apart from these, since pregnancy is a condition that increases

intravascular coagulation and covid positivity increases this

situation, all pregnant women with covid-positive should

receive blood thinners."

It was observed that pregnant women with

coronavirus vaccine in the USA did not face any risks

in the short term.

Specialist Salih Yılmaz said that the first data about coronavirus

vaccination in pregnancy were published in the United States

and added further, "The data of 30,000 pregnant women with

coronavirus vaccine have been announced. It was observed

that the vaccinated pregnant women did not experience a

risk in the short term. You can be vaccinated after the first 3

months of pregnancy. Currently, coronavirus vaccine is applied

to pregnant women in many countries. The American Journal

of Obstetrics & Gynecology (AJOG) also states that pregnant

women should be vaccinated."

Bebekler anne sütünden mahrum

bırakılmamalı

Annenin genel durumu kötü değilse koronavirüsün

doğum şeklini etkilemeyeceğini belirten Op. Dr.

Salih Yılmaz, "Koronavirüsün şimdiye kadar anne

sütüyle bebeğe geçtiğini birkaç vaka sunumu dışında

gösteren bir çalışma yok. Doğum yapan anneler maske

takarak ve el hijyenine özen göstererek bebeklerini

emzirebilirler." diye konuştu. Öte yandan Dünya

Sağlık Örgütü bebeklerin anne sütünden mahrum

bırakılmaması gerektiğinin altını çizdi.

Hamile olan koronavirüs hastalarının ilaç kullanımını

anlatan Op. Dr. Salih Yılmaz, sözlerini şöyle sürdürdü:

"Bu hastalarda, şu an ülkemizde covid pozitifliği

saptandığında verilen favipiravir etken maddeli ilacı

kullanamıyoruz. Daha çok destek tedavisi veriyoruz.

Fakat genel durumu kötüleşen, yoğun bakıma

alınan anne adaylarında başka antiviral ilaçları

kullanabiliyoruz. Bunların dışında gebelik, damar içi

pıhtılaşmayı arttıran bir durum olduğu ve covid pozitifliği

de bu durumu arttırdığı için covid pozitif olan tüm

gebelerin kan sulandırıcı tedavi alması gerekmektedir."

Amerika'da koronavirüs aşısı olan gebelerin

kısa dönemde risk yaşamadığı gözlemlendi

Salih Yılmaz, Amerika'da gebelikte koronavirüs aşısı

olunmasıyla ilgili ilk verilerin yayımlandığını söyledi ve

sözlerini bu şekilde tamamladı: "Koronavirüs aşısı olan

30.000 gebenin verileri açıklandı. Aşı olan gebelerin kısa

dönemde bir risk yaşamadığı gözlemlendi. Gebeliğin ilk

3 ayından sonra aşı olunabilir. Şu anda birçok ülkede

gebelere koronavirüs aşısı uygulanıyor. Amerika Kadın

Hastalıkları ve Doğum Uzmanları Derneği (AJOG) de

gebelerin aşılanması gerektiğini belirtiyor."

Haziran - June 2021
---
34

Have "Emergency Health"!

"Acil Sağlık"lı Olun!

R. Başar Ezer, General Manager, Medline Emergency Health

Health is the most important source of life

for human beings. However, some misfortunes

encountered in daily life can threaten people

because of their health. This is why early and

correct response to health problems is of great

importance.

We made an interviewed R. Başar Ezer, General

Manager, Medline Emergency Health on Medline

health services and the developments in the

emergency health sector.

Could you inform us about Medline?

Medline, which is a brand with its service quality and

equipment by approaching the emergency health service

with an understanding of integrity, is the first private

mobile health service company in Turkey. Medline has

undertaken pre-hospital emergency health services since

its establishment in 1995, and since the second half of

2009, not only in the field of emergency health, but also in

the "mobile health" and "emergency" needs of the person

outside the hospital services, where the health services

İnsan için en önemli yaşam kaynağıdır sağlık.

Ancak, günlük yaşam içerisinde karşılaşılan bazı

talihsizlikler, insanı sağlığından olmakla tehdit

edebiliyor. Sağlık sorunlarına erken ve doğru

müdahale, işte bu yüzden büyük önem taşıyor.

Medline Acil Sağlık Genel Müdürü R. Başar Ezer

ile Medline sağlık hizmetlerini daha yakından

tanımak ve acil sağlık sektöründe yaşanan

gelişmeleri değerlendirmek adına bir röportaj

gerçekleştirdik.

Medline'ı tanıyabilir miyiz?

Acil sağlık hizmetine bütünlük anlayışı içinde yaklaşarak,

hizmet kalitesi ve donanımı ile marka olan Medline,

Türkiye'nin ilk özel mobil sağlık hizmeti veren firmasıdır.

Kurulduğu 1995 yılından itibaren hastane öncesi acil sağlık

hizmetlerini üstlenen Medline, 2009'un ikinci yarısından

itibaren sadece acil sağlık alanında değil, hastane

hizmetleri dışında kalan kişinin, evde ya da işyerinde

ihtiyacı olan sağlık hizmetlerinin yerinde sunulduğu "mobil

sağlık" ve "acil durum" ihtiyaçlarını da karşılamaya yönelik

Haziran - June 2021
---
35

needed at home or at work also renewed its structure

in order to provide various services to meet. Medline, a

company of Esas Holding, offers 24/7 Medical Consultancy

by Telephone, Land Ambulance with Doctor, Infirmary

and Fixed Point Health Services, Home Health Services

and Individual Service Packages (doctor to home, nurse

to home, examination, checkup, medical equipment at

home or workplace / medical device supply), Air Ambulance

Organization services.

What are your studies on healthcare services,

which are especially important during the

pandemic process?

As Medline, in the mobile health services section, which is

taken to the emergency health or the location requested

by the people during the pandemic process, in our

transportation services after discharge from the inpatient

institutions, providing the support of health personnel

such as doctor, nurse and caregiver to the home, workplace

or summer address of the people, mobile on-site imaging

services. and we observed significant increases in the

organization of on-site blood collection services. We can

say that there is a noticeable increase in the use of our

Medical Counseling by Phone service, especially in these

days when people are hesitant to go to health institutions.

As you know, our mobile application "Medline Emergency"

was based on directing the emergency ambulance and

emergency medical team to the location where the person

is located immediately, when a button is pressed in case

of emergency needs. We started to increase the number

of basic services in our smart application with our Tele

Medicine, that is, remote disease monitoring service.

Especially with the pandemic process, digitalization in

health and making such applications available to more

consumers, we have accelerated our efforts to transform

our "Medline Emergency" smart application into an

integrated structure that will meet the mobile health

needs of people and increase their quality of life. As the

first step, as we mentioned, we are implementing 24/7

online or visual medical consultancy services through our

mobile application in a very short time these days when

people are hesitant to go to health institutions. In addition,

our digital service, in which people enter their blood

pressure, glucose meters with their manual measurements,

with the support of new devices, automatically with the

support of new devices, the alarm center will be in front

of our doctors through our simultaneous application and

more detailed monitoring will be recorded in our database,

the user's own doctors or the health we make it can show

to the establishment.

What are your expectations about the emergency

health sector by the end of 2021?

When it comes to the emergency health sector, the first

things that come to mind are emergency interventions

and health applications such as ambulance service, in

fact, these and similar services constitute a part of mobile

çeşitli hizmetleri vermek üzere yapısını yenilemiştir. Esas

Holding şirketi olan Medline, 365 gün 24 saat Telefon ile

Tıbbi Danışmanlık, Doktorlu Kara Ambulansı, Revir ve

Sabit Nokta Sağlık Hizmetleri, Evde Sağlık Hizmetleri ve

Bireysel Hizmet Paketleri (eve doktor, eve hemşire, evde

ya da işyerinde tetkik, checkup, medikal malzeme / tıbbi

cihaz tedarik edilmesi), Hava Ambulansı Organizasyonu

hizmetlerini vermektedir.

Özellikle pandemi sürecinde önemi artan sağlık

hizmetleri ile ilgili çalışmalarınız neler?

Pandemi sürecinde acil sağlık ya da kişilerin talep ettiği

lokasyona götürülen mobil sağlık hizmetleri kısmında

Medline olarak, yataklı kurumlardan taburcu sonrası taşıma

hizmetlerimizde, kişilerin ev, iş yeri ya da yazlık adreslerine

doktor, hemşire, hasta bakıcı gibi sağlık personeli desteği

sunulmasında, mobil yerinde görüntüleme hizmetleri ve

yerinde kan alımı hizmetlerinin organizasyonunda ciddi

artışlar olduğunu gözlemledik. Özellikle kişilerin sağlık

kuruluşlarına gitmeye çekindiği bu günlerde, Telefonla

Tıbbi Danışmanlık hizmetimizin kullanımında gözle

görülür bir artış olduğunu söyleyebiliriz. Bildiğiniz üzere

mobil uygulamamız 'Medline Acil" kişinin acil durum

ihtiyaçlarında bir butona basıldığında derhal bulunduğu

lokasyona acil yardım ambulansı ve acil sağlık ekibimizin

yönlendirilmesi üzerine kuruluydu. Tele Tıp yani uzaktan

hastalık takibi hizmetimizle birlikte akıllı uygulamamızda

yer alan temel hizmetlerinin sayısını arttırmaya başlamıştık.

Özellikle pandemi süreci, sağlıkta dijitalleşmenin ve bu tür

uygulamaların daha çok tüketici tarafından kullanılabilir

hale gelmesiyle,"Medline Acil" akıllı uygulamamızın

kişilerin mobil sağlık ihtiyaçlarını karşılamaya yönelik, hayat

kalitelerini arttıracak bütünleşik bir yapıya dönüşmesi için

çalışmalarımıza hız verdik. İlk adım olarak, belirtiğimiz

gibi kişilerin sağlık kuruluşlarına gitmeye çekindiği bu

günlerde mobil uygulamamız üzerinden 7/24 online ya

da görüntülü tıbbi danışmanlık hizmetlerini çok kısa süre

içinde hayata geçiriyoruz. Ayrıca kişilerin kendi tansiyon,

şeker ölçüm cihazlarıyla manuel ölçümlerini girdiği dijital

hizmetimizi, yeni cihazların desteği ile otomatik olarak

ölçümün gerçekleştiği anda eş zamanlı uygulamamız

üzerinden alarm merkezi doktorlarımızın önüne düşeceği

ve daha detaylı takip edilerek veri tabanımıza kaydedileceği,

kullanıcının dilediği zaman kendi doktorlarına ya da istediği

sağlık kuruluşuna gösterebileceği hale getiriyoruz.

2021 yıl sonu acil sağlık sektörü ile ilgili

beklentileriniz nelerdir?

Acil sağlık sektörü denildiğinde ilk akla gelenler acil

durumda yapılan müdahaleler, ambulans hizmeti gibi sağlık

uygulamaları olmakta, aslında bu ve benzeri hizmetler

mobil sağlık hizmetlerinin bir parçasını oluşturmaktadır.

Pandemi öncesine kadar, mobil sağlık hizmetlerinin

Avrupa'daki sağlık hizmetlerinde %27'lik bir tasarruf

sağladığı hesaplanmıştır. Sağlık uzmanlarının, hastalarla

Haziran - June 2021
---
36

health services. Until before the pandemic, it has been

calculated that mobile health services have saved 27% in

healthcare services in Europe. Mobile technology, which

allows healthcare professionals to access remotely with

patients, has also provided cost savings of up to 35% in the

treatment of patients with chronic diseases.

We lived in the pandemic period and we saw that even

though we have to stay at home, it is vital to reach many

pre-hospital and post-hospital health services on a mobile,

complete and timely basis. With the rapid development

of technology, the transformation in the health sector

increases the importance of digital services day by day.

We think that different care and treatment models will

develop in the future and mobile technologies will form

the backbone of them. Thanks to advancing technologies,

in the near future millions of people will be able to provide

healthcare services at the same time. ECG with smart

phones, video doctor calls, Tele-Medicine applications,

adjusting drug doses thanks to smart blood glucose

measurement devices, instant processing and archiving of

all kinds of health data (analysis, imaging results, checkup

results, etc.) by the physician. New applications such

as scales that automatically send your information to the

dietician and receive your daily diet program via SMS will be

implemented.

uzaktan erişimine de olanak sağlayan mobil teknoloji,

ayrıca kronik rahatsızlıklara sahip hastaların tedavi

yollarında da yaklaşık %35'e varan maliyet tasarrufu

sağlamıştır.

Pandemi döneminde yaşadık ve gördük ki, evlerde kalmak

zorunda olsak da birçok hastane öncesi ve sonrası

sağlık hizmetlerine mobil olarak, eksiksiz ve zamanında

ulaşmak hayati önem taşımaktadır. Teknolojinin hızlı

gelişmesiyle birlikte sağlık sektöründe yaşanan dönüşüm,

dijital hizmetlerinin önemini de her geçen gün artırıyor.

Gelecekte de farklı bakım ve tedavi modellerinin gelişeceği,

bunların omurgasını da mobil teknolojilerin oluşturacağını

düşünüyoruz. İlerleyen teknolojiler sayesinde yakın

gelecekte milyonlarca insana aynı anda sağlık hizmeti

sunulabilir hale gelinecek. Akıllı telefonlar ile EKG çekmek,

görüntülü doktor görüşmesi, Tele-Tıp uygulamaları,

akıllı kan şekeri ölçüm cihazları sayesinde ilaç dozlarını

ayarlamak, her türlü sağlık verinizin (tahlil, görüntüleme

sonuçları, check-up sonuçları vb…) anlık olarak işlenmesi,

arşivlenmesi, hekim tarafından izlenmesi ve istediğiniz

yerden istediğiniz zaman ulaşabilme imkanı olması hatta

diyetisyene otomatik olarak bilgilerinizi gönderen tartılar

ile günlük diyet programınızı SMS ile almak gibi yepyeni

uygulamalar hayata geçirilecek.

Haziran - June 2021
---
38

Preventing Coronavirus Transmission

Reduces the Risk of Stroke

Virüs Bulaşmasını Engellemek İnme Riskini de Azaltıyor

Interventional Neurologist Assoc. Dr. Çetin Kürşad Akpınar,

Stroke Center Supervisor, Neurology Clinic, Samsun Training and

Research Hospital, Samsun University (SU)

Situations such as an intense stress situation,

sudden increase in blood pressure or high blood

sugar can trigger the development of stroke.

Stroke is a preventable disease by controlling

risk factors. Interventional Neurologist Assoc. Dr.

Çetin Kürşad Akpınar, Stroke Center Supervisor,

Neurology Clinic, Samsun Training and Research

Hospital, Samsun University (SU) shared

important information on the occasion of "10th

May, World Stroke Day" and made suggestions to

patients regarding the Covid-19 period.

Stroke is an abrupt interruption of constant blood flow

to the brain that causes loss of neurological function.

The interruption of blood flow can be caused by a

blockage, leading to the more common ischemic stroke,

or by bleeding in the brain, leading to the more deadly

hemorrhagic stroke. Ischemic stroke constitutes an

estimated one third of all stroke cases. Stroke often occurs

with little or no warning, and the results can be devastating.

Situations such as an intense stress situation, sudden

increase in blood pressure or high blood sugar can trigger

the development of stroke.

Pay attention to risk factors that cause stroke

Interventional Neurologist Assoc. Dr. Çetin Kürşad Akpınar,

Stroke Center Supervisor, Neurology Clinic, Samsun Training

Yoğun bir stres durumu, ani tansiyon yükselmesi

veya kan şekerinin yükselmesi gibi durumlar

inme gelişimini tetikleyebilmektedir. İnme

risk faktörlerinin kontrol altına alınmasıyla

önlenebilir bir hastalıktır. Samsun Üniversitesi

(SÜ) Samsun Eğitim Araştırma Hastanesi Nöroloji

Kliniği, İnme Merkezi Sorumlusu Girişimsel

Nöroloji Uzmanı Doç. Dr. Çetin Kürşad Akpınar

"10 Mayıs Dünya İnme Önleme Günü" vesilesiyle

önemli bilgiler paylaştı ve hastalara COVID-19

dönemine ilişkin önerilerde bulundu.

İnme, beyine giden kan akımının aniden kesilmesi veya

azalması durumudur. Kalp ile ilgili hastalıklar ve/veya ritim

bozukluğu, beyni besleyen ana damarlarda ciddi darlığa

neden olan kireçlenme veya damarın tamamen tıkanması

ve genetik nedenlerle beyni besleyen damarlar ya tıkanarak

ya da yırtılarak felç gelişimine neden olabilir. İnme sonrası

yapılan incelemelere rağmen damar tıkanması olan üç

hastanın birinde herhangi bir neden bulunamamaktadır.

Yoğun bir stres durumu, ani tansiyon yükselmesi veya

kan şekerinin yükselmesi gibi durumlar inme gelişimini

tetikleyebilmektedir.

İnmeye neden olan risk faktörlerine dikkat

Samsun Üniversitesi (SÜ) Samsun Eğitim Araştırma

Hastanesi Nöroloji Kliniği, İnme Merkezi Sorumlusu

Haziran - June 2021
---
39

and Research Hospital, Samsun University (SU) said, "In a

year, approximately 150 thousand people in our country

and 17 million people in the world suffer from a stroke.

In other words, one person per minute in the world has a

stroke. Among the stroke risk factors; diabetes (diabetes

mellitus), high blood pressure (hypertension), high blood

lipids (high triglycerides and LDL), smoking, alcohol,

substance abuse, irregular diet, not exercising, overweight

(obesity), advanced age, heart-related diseases (heart

failure, arrhythmia, by-pass…) and genetic causes that tend

to clot or bleed.

Thanks to regular electrical signals, the heart works in a

certain rhythm. Noting that these electrical signals are

faster and irregular than normal in the presence of atrial

fibrillation, Assoc. Dr. Çetin Kürşad Akpınar said that such

an irregularity in the heart that works synchronously can

initiate a process that can lead to the development of clots

in the heart and ultimately paralysis.

Stroke suffer serious consequences

Pointing out that stroke severity varies according to the

occluded vascular region and personal characteristics,

Assoc. Dr. Çetin Kürşad Akpınar said, "One third of the

patients with stroke become disabled and one third die.

Disabled patients, on the other hand, are either completely

bedridden or continue their lives although they can do

their jobs with help. The likelihood of mental and mental

problems increases in people who are disabled by stroke.

It becomes susceptible to infections due to the decrease in

body resistance."

Girişimsel Nöroloji Uzmanı Doç. Dr. Çetin Kürşad Akpınar:

"Bir yılda ülkemizde yaklaşık 150 bin, dünyada ise yaklaşık

17 milyon kişi inme geçirmektedir. Yani dünya da dakika da

bir kişi inme geçirmektedir. İnme risk faktörleri arasında;

şeker hastalığı (diyabetes mellitus), tansiyon yüksekliği

(hipertansiyon), kan yağlarındaki yükseklik (trigliserid ve

LDL yüksekliği), sigara, alkol, madde bağımlılığı, düzensiz

beslenme, egzersiz yapmama, aşırı kilo (obezite), ileri yaş,

kalp ile ilgili hastalıklar (kalp yetmezliği, ritim bozukluğu,

by-pass…) ve pıhtılaşma ya da kanamaya eğilim yaratan

genetik nedenler sayılabilir.

Düzenli elektrik sinyalleri sayesinde kalp belirli bir ritimde

çalışmaktadır. Atrial fibrilasyon varlığında bu elektrik

sinyalleri normalden hızlı ve düzensizdir diyen Doç. Dr.

Çetin Kürşad Akpınar, senkronize bir şekilde çalışan

kalpte böyle bir düzensizlik olması kalp içerisinde pıhtı

gelişmesine ve sonuçta felce neden olabilecek bir süreci

başlatabileceğini söyledi.

İnme geçirenler ciddi sonuçlarla karşı karşıya

kalıyor

İnme ciddiyeti, tıkanan damar bölgesine ve kişisel

özelliklere göre farklılık göstermektedir vurgusu yapan

Doç. Dr. Çetin Kürşad Akpınar: "İnme geçiren olguların üçte

biri sakat kalmakta, üçte biri de hayatını kaybetmektedir.

Sakat kalan hastalar ise ya tamamen yatağa bağımlı

olur ya da yardımla işlerini yapabilir halde yaşamlarını

sürdürmektedir. İnmenin sakatlık bıraktığı kişilerde ruhsal

ve zihinsel sorunlar görülme ihtimali artmaktadır. Vücut

direncinin düşmesi nedeniyle enfeksiyonlara yatkın hale

gelmektedir" dedi.

Haziran - June 2021
---
40

Timing is as important as treatment in stroke.

Assoc. Dr. Çetin Kürşad Akpınar said, "Strokes are of

two types. Treatment for an obstructive (ischemic) or

bleeding (hemorrhagic) stroke is different. In obstructive

strokes, if there is a small vessel occlusion, a vascular

opening drug from the vein can be given within the first

4.5 hours in eligible patients. If there is a large vessel

occlusion, the occluded brain vessel is opened in the first

6-8 hours by angiographic intervention from the artery.

Supportive therapies and preventive vascular occlusion

drugs (antiaggregants, anticoagulants) are initiated in

patients who are not suitable for these two treatments.

In a bleeding type stroke, if it has developed as a result of

the bleeding of a bubble in the cerebral vessel, sometimes

it is necessary to occlude the bleeding area with an urgent

angiography. In other types of bleeding into the brain

tissue, hospitalization is made to prevent too high blood

pressure."

Stroke is a preventable disease

Emphasizing that stroke is a preventable disease by

controlling risk factors, Assoc. Dr. Çetin Kürşad Akpınar

continued his words as follows, "For example, the

fasting blood sugar of someone with diabetes should

be kept below 100 mg / dl and the postprandial blood

sugar below 200 mg / dl. If this is not achieved, the risk

of stroke increases. Again, if the blood pressure value is

above 140/90 mm / Hg, the risk increases. It is aimed to

bring abnormal blood values to normal values by using

İnmede tedavi olduğu kadar zamanlama da çok

önemli

Doç. Dr. Çetin Kürşad Akpınar: "İnmeler iki tiptir. Tıkayıcı

(iskemik) veya kanayıcı (hemorajik) inme de tedavi farklıdır.

Tıkayıcı inmeler de eğer küçük damar tıkanması varsa

toplardamardan damar açıcı ilaç, uygun hastalarda, ilk

4,5 saat içerisinde verilebilir. Büyük damar tıkanması

varsa ilk 6-8 saatte atardamardan anjiografik yöntemle

müdahale edilerek tıkalı olan beyin damarı açılmaktadır.

Bu iki tedavi için uygun olmayan hastalarda destekleyici

tedaviler ve inmenin tekrarlaması önlemek amaçlı damar

tıkanmasını önleyici ilaçlar (antiagreganlar, antikoagülan)

başlanmaktadır. Kanayıcı tip inme de ise beyin damarındaki

bir baloncuğun kanaması sonucu gelişmişse bazen acil

anjiografi ile kanayan yeri tıkama işlemi gerekmektedir.

Beyin dokusu içine olan diğer tip kanamalarda ise

hastane yatışı yapılarak tansiyonun çok yükselmesi

engellenmektedir" dedi.

İnme önlenebilir bir hastalıktır

İnme risk faktörlerinin kontrol altına alınmasıyla önlenebilir

hastalıktır vurgusu yapan Doç. Dr. Çetin Kürşad Akpınar

sözlerine şöyle devam etti: "Örneğin şeker hastalığı olan

birisinin açlık kan şekerinin 100, tokluk kan şekerinin 200

mg/dl altında tutulması gerekmektedir. Bu sağlanamaz ise

inme riski artmaktadır. Yine tansiyon değeri 140/90 mm/Hg

üzerinde ise risk artmaktadır. Risk faktörüne göre uygun

ilaçlar kullanılarak anormal olan kan değerleri, normal

değerlerine getirmek hedeflenmektedir.

Haziran - June 2021
---
41

appropriate drugs according to the risk factor. If he has a

sedentary life, he needs to make a change in his lifestyle

(like exercise). If there is an increase in blood fat, it is

necessary to pay attention to the diet, even in these

cases, Mediterranean type nutrition is recommended.

It is necessary to increase the consumption of plenty of

vegetables and fruits and reduce the consumption of red

meat. If there is more weight than normal, it should be

aimed to reach a normal weight with appropriate diet

and exercises. If there is cigarette, alcohol and substance

addiction, it is also very important to quit them. If this is

done, both the person's paralysis can be prevented and a

person who has had a stroke can be prevented from being

paralyzed again."

Recording that while the effectiveness of blood thinners

used in primary prevention could not be demonstrated,

secondary protection can prevent secondary stroke at

a high rate, Assoc. Dr. Çetin Kürşad Akpınar said, "Drugs

are expelled from the body at different times, so they

should be used in a certain dosage and regularly. If

these conditions are not met, the risk of developing

stroke increases because blood thinners cannot function

effectively."

Preventing virus transmission also reduces the

risk of stroke

Assoc. Dr. Çetin Kürşad Akpınar said, "An increase in

cerebrovascular diseases has been observed during the

course of Covid-19. Because, with the effect of the virus

on the body, the tendency to clot in the vein or to tear in

the vein wall increases. By preventing the transmission

of the virus, we protect ourselves from the increased

risk of stroke. If we have been diagnosed with Covid-19,

especially if our blood values are also very high, the

recommended antiaggregant or anticoagulant drugs

should be used at the appropriate dose and time. Since

vaccination will reduce the risk of virus transmission, we

will also reduce the risk of stroke indirectly."

Hareketsiz bir yaşamı varsa, yaşam tarzında değişiklik

(egzersiz gibi) yapması gerekmektedir. Kan yağlarında

yükseklik varsa diyete dikkat etmek gerekir, hatta bu

durumlarda Akdeniz tipi beslenme önerilmektedir. Bol

sebze ve meyve tüketiminin artırılıp, kırmızı et tüketimin

azaltılması gerekmektedir. Normalden fazla kilo varsa

uygun diyet ve egzersizlerle normal kiloya ulaşım

hedeflenmelidir. Sigara, alkol ve madde bağımlılığı varsa

bunların bırakılması da çok önemlidir. Böyle yapılması

durumunda hem kişinin felç geçirmesi engellenebilir hem

de inme geçiren bir kişide tekrar felç geçirmesinin önüne

geçilmiş olur"

Birincil koruma da kullanılan kan sulandırıcı ilaçların

etkinliği gösterilememişken, ikincil koruma yüksek oranda

ikinci inmeyi önleyebilmektedir açıklamasında bulunan Doç.

Dr. Çetin Kürşad Akpınar: "İlaçlar farklı sürelerde vücuttan

atılmaktadır bu nedenle belirli bir dozda ve düzenli bir

şekilde kullanım gerekir. Bu şartlar sağlanamaz ise kan

sulandırıcı ilaçlar etkin düzeyde işlev göremeyeceğinden

inme gelişim riski artmaktadır" dedi.

Virüs bulaşmasını engellemek inme riskini de

azaltıyor

Doç. Dr. Çetin Kürşad Akpınar: "COVID-19 seyrinde beyindamar

hastalıklarında artış gözlenmiştir. Çünkü virüsün

vücuda yapmış etkiyle damar içerisinde pıhtılaşmaya

veya damar duvarında yırtılmaya eğilim artmaktadır.

Virüsün bulaşmasını engelleyerek inme riski artışından da

kendimizi korumuş oluruz. Eğer COVID-19 tanısı almışsak

özellikle de kan değerlerimiz de enfeksiyon göstergeleri

çok yükselmişse önerilen antiagregan veya antikoagülan

ilaçlar uygun dozda ve sürede kullanılmalıdır. Aşı yaptırma

virüs bulaşma riskini azaltacağından inme riskini de dolaylı

yoldan azaltmış oluruz" dedi.

Haziran - June 2021
---
42

Hidden Lung Cancer Cases Appear in

Tomographs Taken Due to Coronavirus

Gizli Akciğer Kanseri Vakaları Koronavirüs

Nedeniyle Çekilen Tomografilerde Ortaya Çıkıyor

Göğüs Hastalıkları Uzmanı Dr. Öğr. Üyesi Seha

Akduman, yeni tanı akciğer kanseri sayısının

geçen yılın ortalamasının 5 kat üzerinde olduğunu

belirtti. Akduman, "Özellikle tomografiye ikna

edemediğimiz sigara içen kişiler, koronavirüs

nedeniyle tomografi çektirmek zorunda kaldı.

Bu sayede akciğer kanserini erken evrede

yakalayabildik" dedi.

Akciğer kanseri tanısı oranı koronavirüsle daha da arttı.

Salgın nedeniyle çekilen kontrol tomografiler, erken evreyi

yakalama şansını doğurdu. Yeni tanı akciğer kanseri

sayısının geçen yılın ortalamasının 5 kat üzerinde olduğunu

belirten Göğüs Hastalıkları Uzmanı Dr. Öğr. Üyesi Seha

Akduman, "Tomografiye ikna edemediğimiz sigara içen

kişiler, koronavirüs salgını nedeniyle tomografi çektirdi. Bu

sayede akciğer kanserini erken evrede yakaladık" dedi.

Chest Diseases Specialist Lecturer Dr. Seha Akduman

Chest Diseases Specialist Lecturer Dr. Seha

Akduman stated that the number of newly

diagnosed lung cancer is 5 times higher than last

year's average. Akduman said, "Especially smokers

that we could not convince for tomography had

to have tomography due to coronavirus. In this

way, we were able to catch lung cancer at an early

stage."

The rate of lung cancer diagnoses increased even more

with the coronavirus. Control tomographs taken due to the

epidemic gave rise to the chance to catch the early stage.

Stating that the number of newly diagnosed lung cancer

is 5 times higher than last year's average, Chest Diseases

Specialist Lecturer Dr. Seha Akduman said, "Smokers, whom

we could not convince for tomography, had tomography

due to the coronavirus epidemic. In this way, we caught

lung cancer at an early stage."

Lung cancer diagnosis rate increased during the

pandemic period

One of the important steps in diagnosing coronavirus at an

early stage is Computed Tomography (CT). This procedure,

which is important in detecting the lung involvement of the

virus, also provided the opportunity to detect lung cancer

at an early stage. Declaring that according to the Ministry

of Health data, the number of newly diagnosed lung cancer

Akciğer kanseri tanı oranı pandemi döneminde

arttı

Koronavirüsü erken evrede teşhis etmenin önemli

adımlarından biri de Bilgisayarlı Tomografi (BT). Virüsün

akciğer tutulumunu tespit etmede önem taşıyan bu işlem,

akciğer kanserini erken evrede yakalama fırsatını da

sağladı. Sağlık Bakanlığı verilerine göre yeni tanı akciğer

kanseri sayısının geçen yılın ortalamasının 5 kat üzerinde

olduğunu söyleyen Yeditepe Üniversitesi Tıp Fakültesi

Göğüs Hastalıkları Anabilim Dalı'ndan Dr. Öğr. Üyesi Seha

Akduman, önemli bilgiler paylaştı.

"Yeni tanı akciğer kanseri oranı geçen yılın 5 kat

üzerinde"

Dünya ve Türkiye'de her iki cinsiyet için en çok yaşam

kaybına neden olan kanser tipinin akciğer kanseri olduğuna

dikkat çeken Dr. Öğr. Üyesi Seha Akduman, "Tüm dünyada

akciğer kanserinin en sık görüldüğü ülkeler arasında

Türkiye ilk 10'da yer alıyor. Hem artan yaş hem sigara

kullanımı bunun yanı sıra kontrolsüz hava kirliliği nedeniyle

akciğer kanseri görülüyor. Akciğer kanseri tanısı oranı

koronavirüsle arttı. Koronavirüs nedeniyle çekilen kontrol

tomografiler yeni tanı akciğer kanseri oranlarını artırdı.

Toraks tomografisi dediğimiz göğüs ve akciğer tomografisi

sayısı normalin çok üzerine çıktığından Sağlık Bakanlığı

verilerine göre erken evre ve yeni tanı akciğer kanseri sayısı

geçen yılın ortalamasının 5 kat üzerinde. Tüm dünyada da

rakamlar bu şekilde. Yeni tanı akciğer kanseri sayısı geçen

yıllara oranla şu dönemlerde alışılmış yükseğin üzerine

çıktı" değerlendirmesinde bulundu.

Haziran - June 2021
---
43

is 5 times higher than the average of last year, Lecturer Dr.

Seha Akduman, Chest Diseases Specialist, Department of

Chest Diseases, Faculty of Medicine, Yeditepe University

shared important information.

"Newly diagnosed lung cancer rate is 5 times

higher than last year"

Pointing out that lung cancer is the cancer type that causes

the most loss of life for both sexes in the world and in

Turkey, Lecturer Dr. Seha Akduman, said, "Turkey is among

the top 10 countries where lung cancer is most common in

the world. Lung cancer is seen due to both increasing age

and smoking as well as uncontrolled air pollution. The rate

of lung cancer diagnoses increased with the coronavirus.

Control tomographs taken due to coronavirus increased

the rates of newly diagnosed lung cancer. Since the number

of chest and lung tomography, which we call thoracic

tomography, is much higher than normal, according to

the Ministry of Health data, the number of early stage and

newly diagnosed lung cancer is 5 times higher than the

average of last year. These are the numbers all over the

world. The number of newly diagnosed lung cancer has

exceeded the usual high in these periods compared to the

previous years."

"Coronavirus convinced smokers to tomography"

Declaring that with the use of tomography more because

"Sigara içen kişileri koronavirüs tomografiye ikna

etti"

Tomografinin tanı nedeniyle daha fazla kullanılmaya

başlanmasıyla birlikte hastalığın erken evreyi yakalama

gibi bir şansı artırdığını anlatan Dr. Öğr. Üyesi Akduman,

"Ülkemizde sigara kullanım oranı yaklaşık yüzde 45'lerde.

Akciğer kanserinin en önemli risk faktörü de sigara.

Daha önce tomografiye ikna edilemeyen sigara içicilerinin

koronavirüs nedeniyle zorunla olarak tomografi çekilmek

zorunda kalmaları, akciğer kanserini erken evrede

yakalama fırsatı doğurdu. Bu durum da tedavi şansını

artırdı" diye konuştu.

"Akciğer kanseri oldukça ileri evrede karşımıza

çıkıyor"

Akciğer kanserinin son yıllarda her iki cinsiyette yaygın

şekilde görüldüğüne dikkat çeken Dr. Öğr. Üyesi Akduman,

"Önceki yıllarda akciğer kanserini erkeklerde görüyorduk.

Artık her iki cinsiyette de çok yaygın şekilde görüyoruz.

Maalesef hastalık oldukça ileri seviyede karşımıza çıkıyor.

Akciğer kanserli olguların 3'te 2'sini ameliyat edilemeyecek

dönemde yakalıyoruz. Kemoterapi ya da radyoterapi ile

tedavi etmeye çalışıyoruz. Ancak aslında akciğer kanserinde

en temel ve istenen tedavi yöntemi erken tanı ve cerrahidir"

ifadelerini kullandı.

"Riskli grupta akciğer grafisi yetersiz"

Sigarayı bırakmanın önemli olduğunu ancak riski

Haziran - June 2021
---
44

of diagnosis, the chance of catching the early stage of

the disease increases, Lecturer Dr. Seha Akduman said,

"The smoking rate in our country is around 45 percent.

Smoking is the most important risk factor for lung cancer.

The fact that smokers, who could not be persuaded to

have tomography before, had to have tomography due to

coronavirus, created the opportunity to catch lung cancer

at an early stage. This situation also increased the chance of

treatment."

"Lung cancer is at a very advanced stage"

Drawing attention to the prevalence of lung cancer in

both genders in recent years, Lecturer Dr. Seha Akduman,

said, "In previous years, we used to see lung cancer in men.

We now see it very widely in both sexes. Unfortunately,

the disease is quite advanced. We catch two-thirds of the

patients with lung cancer in the non-operative period. We

try to treat it with chemotherapy or radiotherapy. However,

in fact, the most basic and desired treatment method in

lung cancer is early diagnosis and surgery."

"Chest radiography is insufficient in the risky

group"

Stating that quitting smoking is important but does

not reset the risk, Lecturer Dr. Seha Akduman made

the following warnings, "If you have smoked a pack of

cigarettes a day for 20 years, your lung cancer risk is

always with you. Although it decreases over the years

after quitting smoking, the risk still continues compared to

the non-smoker population. We recommend a screening

test with low-dose lung tomography for our patients

over the age of 50 with a smoking history of 30-35 years.

However, chest radiography is insufficient in the risky

group. It must be a minimum of 1 centimeter for us to see

a lesion here. We can detect the lesion that we missed on

chest radiography by following the nodule in tomography.

However, it is necessary not to say 'we smoked we already

took the risk'. The longer the cigarette is used the more the

risk increases exponentially. Whenever you give up then

you start to be lucky."

sıfırlamadığını belirten Dr. Öğr. Üyesi Akduman, şu

uyarılarda bulundu: "20 yıl boyunca günde 1 paket sigara

içtiyseniz akciğer kanseri riskiniz her zaman sizinle.

Sigarayı bıraktıktan sonra da yıllar içerisinde azalsa da hiç

sigara içmeyen popülasyona göre risk hala devam eder. 50

yaş üstü 30-35 yıl sigara içiciliği öyküsü olan hastalarımızda

mutlaka düşük doz akciğer tomografisiyle tarama testi

öneriyoruz. Ancak riskli grupta akciğer grafisi yetersiz.

Bizim burada bir lezyon görebilmemiz için minimum 1

santimetre olması gerekir. Akciğer grafisinde atladığımız

lezyonu tomografide nodül takibiyle tespit edebiliriz. Ancak,

'biz içtik zaten riski aldık' dememek gerekiyor. Sigara ne

kadar uzun yıllar kullanılırsa risk katlanarak artar. Ne

zaman bırakırsanız o zaman siz şanslı olmaya başlanır."

Kanlı balgam, geçmeyen öksürüğe dikkat

Sigara içen kişilerde görülen kanlı balgamın ciddiye

alınması gereken bir kanser belirtisi olduğuna dikkat

çeken Göğüs Hastalıkları Uzmanı Dr. Öğr. Üyesi Seha

Akduman, "Bunun yanında ses kısıklığı hem tiroid hem

akciğer kanserinde çok kritik. Sırt ağrısı akciğer zarı ya

da sinir hücreleri tutulumu varsa riskli. Geçmeyen inatçı

öksürük, sık tekrarlayan zatürre ciddiye alınmalı. Mesela

bir hastanın sık tekrarlayan zatürresi aynı tarafta ve sürekli

dirençliyse nefes borusunun içerisinde tıkayıcı tümör

olabilir. Bronkoskopiyle kanlı balgam ve inatçı öksürüğü

görüntüleyebiliriz. Nefes borusunun içerisine kamerayla

görüntülenmesi önemli" uyarısında bulundu.

Watch out for bloody sputum and persistent

cough

Pointing out that bloody sputum seen in smokers is

a sign of cancer that should be taken seriously, Chest

Diseases Specialist Lecturer Dr. Seha Akduman warned,

"Besides, hoarseness is very critical in both thyroid and

lung cancer. Back pain is risky if there is pleural or nerve

cell involvement. Persistent cough that does not go

away, frequent pneumonia should be taken seriously. For

example, if a patient's frequent pneumonia is on the same

side and is constantly resistant, there may be an obstructive

tumor in the trachea. We can visualize bloody sputum and

persistent cough with bronchoscopy. It is important to view

the inside of the trachea with a camera."

Haziran - June 2021
---
46

Sanofi and GSK COVID-19 Vaccine Candidate Demonstrates Strong

Immune Responses Across All Adult Age Groups in Phase 2 Trial

Sanofi ve GSK'nın COVID-19 Aşı Adayının

Faz 2 Sonuçları Açıklandı

Adjuvanted recombinant COVID-19 vaccine

candidate triggered strong neutralizing antibody

responses in all adult age groups. High immune

response after a single dose in patients with prior

infection shows strong booster potential. Global

Phase 3 study expected to start in the coming

weeks.

The Sanofi and GSK adjuvanted recombinant COVID-19

vaccine candidate achieved strong rates of neutralizing

antibody responses, in line with those measured in people

who have recovered from COVID-19, in all adult age groups

in a Phase 2 study with 722 volunteers. A global pivotal

Phase 3 study is expected to start in the coming weeks.

The Phase 2 interim results showed 95% to 100%

seroconversion following a second injection in all age

groups (18 to 95 years old) and across all doses, with

acceptable tolerability and with no safety concerns. Overall,

722 gönüllünün katıldığı Faz 2 çalışmasında Sanofi

ve GSK'nın aşı adayı tüm yetişkin yaş gruplarında

güçlü bağışıklık yanıtları gösterdi.

Adjuvanlanlı rekombinant COVID-19 aşı adayı,

tüm yetişkin yaş gruplarında güçlü nötralize

edici antikor yanıtlarını tetikledi. Aşılanma

öncesi enfeksiyon geçmişi olanhastalarda tek bir

dozdan sonra görülen yüksek bağışıklık yanıtı,

aşı adayının güçlü bağışıklık arttırıcı pekiştirme

doz (booster) potansiyelini gösterdi. Küresel Faz

3 çalışmasının önümüzdeki haftalarda başlaması

bekleniyor.

Sanofi ve GSK'nın adjuvanlan rekombinant COVID-19 aşı

adayının Faz 2 sonuçları açıklandı. 722 gönüllünün katıldığı

Faz 2 çalışmasının sonuçlarına göre çalışmaya katılan tüm

Haziran - June 2021
---
47

the vaccine candidate elicited strong neutralizing antibody

levels that were comparable to those generated by natural

infection, with higher levels observed in younger adults (18

to 59 years old). After a single injection, high neutralizing

antibody levels were generated in participants with

evidence of prior SARS-CoV-2 infection, suggesting strong

potential for development as a booster vaccine.

"Our Phase 2 data confirm the potential of this vaccine

to play a role in addressing this ongoing global public

health crisis, as we know multiple vaccines will be needed,

especially as variants continue to emerge and the need

for effective and booster vaccines, which can be stored at

normal temperatures, increases", said Thomas Triomphe,

Executive Vice President and Global Head of Sanofi Pasteur.

"With these favorable results, we are set to progress

to a global Phase 3 efficacy study. We look forward to

generating additional data and working with our partners

around the world to make our vaccine available as quickly

as possible."

Roger Connor, President of GSK Vaccines added: "These

positive data show the potential of this protein-based

adjuvanted vaccine candidate in the broader context of

the pandemic, including the need to address variants and

to provide for booster doses. We believe that this vaccine

candidate can make a significant contribution to the

ongoing fight against COVID-19 and will move to Phase 3

as soon as possible to meet our goal of making it available

before the end of the year."

Based on these positive Phase 2 interim results, the

companies plan to initiate a global Phase 3, randomized,

double-blind study with the 10µg dose, in combination

with GSK's pandemic adjuvant, in the coming weeks. This

Phase 3 trial is expected to enroll more than 35,000 adult

participants from a broad range of countries and will assess

the efficacy of two vaccine formulations including the

D614 (Wuhan) and B.1.351 (South African) variants.

In parallel, the companies intend to conduct booster

studies with various variant formulations in order to assess

the ability of a lower dose of the vaccine to generate a

strong booster response regardless of the initial vaccine

platform received.

Pending positive Phase 3 outcomes and regulatory reviews,

the vaccine is expected to be approved in the fourth

quarter of 2021.

More about the Phase 2 study

The Phase 2 study interim results show that the adjuvanted

recombinant vaccine candidate triggered strong immune

response amongst adults of all age groups with 95% to

100% seroconversion rates and neutralizing antibodies that

were comparable to those generated by natural infection.

The high titers observed in the non-naïve population after

one dose of the vaccine candidate also suggest it may have

strong potential for use as a booster vaccine. Full results

of the Phase 2 study will be published in a peer-reviewed

journal.

The randomized, double-blind, multi-center-dose-ranging

yetişkin yaş gruplarında aşı adayının COVID-19 hastalığını

atlatan kişilerde ölçülen oranlarda güçlü nötralize edici

antikor tepkileri gözlemlendi.

Faz 2 ara sonuçlarına göre, Sanofi ve GSK'nın COVID-19

aşı adayının ikinci dozunun enjeksiyonun ardından tüm

yaş gruplarında (18 ila 95 yaş) geçerli tolere edilebilirlik

seviyesinde ve güvenlilik endişelerini bertaraf edecek

şekilde %95 ile %100 serokonversiyon (aşının COVID-19

antikorlarını üretme oranı) gözlemlendi. Bu sonuçlar

paralelinde aşı adayının küresel Faz 3 çalışmasının

önümüzdeki haftalarda başlaması bekleniyor.

Sanofi Pasteur İcra Kurulu Başkan Yardımcısı ve Küresel

Başkanı Thomas Triomphe Faz 2 verilerine ilişkin olarak

yaptığı açıklamada şunları kaydetti; "Şunu çok net

görüyoruz ki, özellikle COVID-19'un yeni varyantları ortaya

çıkmaya devam ettikçe, pandemi ile mücadelede etkili ve

bağışıklık arttırıcı pekiştirme doz (booster) aşılara duyulan

ihtiyaç sürecek. Faz 2 sonuçları, normal ısı koşullarında

depolanabilecek aşı adayımızın, devam eden küresel halk

sağlığı krizinin yönetilmesinde önemli bir rol oynayacak

potansiyele sahip olduğunu göstermektedir. Elimizdeki

olumlu sonuçlarla, aşı adayımızın küresel Faz 3 etkililik

çalışmasına geçmeye hazırız. Aşımızın mümkün olan en

kısa sürede kullanıma sunulması adına dünya genelindeki

paydaşlarımız ile birlikte çalışmalarımızı sürdürüyoruz."

GSK Aşıları Bölümü Başkanı Roger Connor da Faz 2

çalışmasının pozitif sonuçları ışığında protein bazlı adjuvanlı

aşı adayının COVID-19 varyantlarına verdiği olumlu tepkiler

ve bağışıklık arttırıcı pekiştirme dozlar (booster) da dahil

olmak üzere pandemi ile verilen mücadelede önemli

bir potansiyele işaret ettiğini belirtti. "Aşı adayımızın,

COVID-19 ile devam eden mücadeleye önemli bir katkı

sağlayabileceğine inanıyoruz ve yıl sonundan önce

kullanıma sunma hedefimizi gerçekleştirmek için mümkün

olan en kısa sürede Faz 3 çalışmalarına geçeceğiz" dedi.

Olumlu Faz 2 ara sonuçlarına dayanarak, iki şirket

önümüzdeki haftalarda aşı adaylarının 10µg dozu ile

GSK'nın pandemik adjuvanını kapsayacak global Faz

3 çalışmasını, randomize, çift kör çalışma yöntemi ile

başlatmayı planlıyor. Faz 3 çalışmasının, çeşitli ülkelerden

35.000'den fazla yetişkin katılımcı ile gerçekleşmesi

planlanıyor. Faz 3 çalışmalarında ayrıca COVID-19'un D614

(Wuhan) ve B.1.351 (Güney Afrika) varyantları dahil olmak

üzere iki aşı formülasyonunun etkinliği değerlendirilecek.

Buna paralel olarak şirketler, ilk aşı platformundan

bağımsız olarak daha düşük bir aşı dozunun güçlü bir

destek tepkisi oluşturma yeteneğini değerlendirmek

amacı ile çeşitli varyant formülasyonları destekleme

çalışmaları yürütmeyi hedefliyor. Önümüzdeki haftalarda

başlatılması planlanan Faz 3 çalışmaları sonuçları ve ruhsat

değerlendirilmesi doğrultusunda, aşının 2021'in dördüncü

çeyreğinde onaylanması bekleniyor.

Haziran - June 2021
---
48

study was conducted in healthy adults aged 18 years

of age and older, including those with high risk medical

conditions, to evaluate the safety, reactogenicity, and

immunogenicity of two injections given 21 days apart,

with 3 antigen dose levels of 5, 10 and 15 µg. Beginning

in February 2021, the study enrolled 722 volunteers in

the U.S. and Honduras. It included equivalent numbers of

adults 18 to 59 years and those 60 years and above.

This effort is supported by federal funds from the

Biomedical Advanced Research and Development

Authority, part of the office of the Assistant Secretary

for Preparedness and Response at the U.S. Department

of Health and Human Services in collaboration with the

U.S. Department of Defense Joint Program Executive

Office for Chemical, Biological, Radiological and Nuclear

Defense under Contract # W15QKN-16-9-1002.

Shots on goal in the fight against the COVID-19

pandemic

In addition to the adjuvanted recombinant protein-based

vaccine in collaboration with GSK, Sanofi is developing

a messenger RNA vaccine in partnership with Translate

Bio. In March 2021, Sanofi and Translate Bio initiated a

Phase 1/2 clinical trial of their mRNA COVID-19 vaccine

candidate, in order to assess safety, immune response

and reactogenicity, after preclinical data showed high

neutralizing antibody levels. First results are expected in

the third quarter of 2021.

Sanofi is also committed to providing manufacturing

support to other vaccine producers. The company

recently announced it will manufacture up to 200

million doses of Moderna's COVID-19 vaccine for the

U.S., starting in September 2021. Earlier this year, Sanofi

also announced the company will provide support to

BioNTech for 125 million doses for the European Union.

In February, Sanofi said it would support Johnson &

Johnson for the production of its COVID-19 vaccine at a

rate of approximately 12 million doses per month.

In addition to developing its two COVID-19 vaccines,

Sanofi is the only company to leverage its manufacturing

capacity and expertise for three different COVID-19

vaccines to support the global vaccines supply and help

combat the pandemic.

COVID-19 salgınına karşı mücadelede gerçekleşen

çalışmalar

GSK ile iş birliği içinde adjuvanlı rekombinant protein

bazlı aşıya ek olarak Sanofi, Translate Bio ile ortaklaşa

bir haberci RNA aşısı geliştiriyor. Mart 2021'de Sanofi

ve Translate Bio, klinik öncesi verilerin yüksek nötralize

edici antikor seviyeleri göstermesinin ardından güvenliliği,

bağışıklık tepkisini ve reaktojeniteyi değerlendirmek için

mRNA COVID-19 aşı adayı için bir Faz 1-2 klinik çalışmasını

başlattı. Bu çalışmanın ilk sonuçlarının 2021'in üçüncü

çeyreğinde alınması bekleniyor.

Sanofi ayrıca diğer aşı üreticilerine üretim desteği

sağlıyor. Şirket geçtiğimiz günlerde, Eylül 2021'den itibaren

ABD için 200 milyon doza kadar Moderna'nın COVID-19

aşısını üreteceğini duyurdu. Sanofi ayrıca, Avrupa Birliği

için BioNTech firmasına 125 milyon doz üretim desteği

sağlayacağını da bu yılın başında duyurmuştu. Sanofi,

Johnson & Johnson'ın COVID-19 aşısının üretimi için şirketi

ayda yaklaşık 12 milyon doz üretim ile destekleyeceğini de

geçtiğimiz Şubat ayında duyurdu.

Sanofi, iki COVID-19 aşı adayını geliştirmenin yanı

sıra, küresel aşı tedarikini desteklemek ve pandemiyle

mücadeleye yardımcı olmak için üç farklı COVID-19 aşısı

için üretim kapasitesi ve uzmanlığından yararlanan tek

şirket konumunda.

Haziran - June 2021
---
50

A New Step in Combating Multiple Medication

Use and Drug Side Effects in the Elderly

Yaşlılarda Çoklu İlaç Kullanımı ve

İlaç Yan Etkileri ile Mücadelede Yeni Bir Adım

Prof. Dr. Gülistan Bahat Öztürk, Board Member of Turkish Academic Geriatrics Society, Faculty Member of Geriatrics, Faculty of Medicine, I.U.

A Powerful Assistant in the Treatment of Elderly

Patients: 'Turkish Inappropriate Medication Use in

the Elderly (TIME) Criteria'

'Turkish Inappropriate Medication Use in the

Elderly (TIME) Criteria' were established under

the leadership of geriatricians in the Rational

Drug Use Working Group of the Turkish Academic

Geriatrics Society, with the participation of

academicians who are experts in their fields and

experienced in elderly patients.

Stating that the elderly generally use a large number

of drugs due to their many illnesses, Prof. Dr. Gülistan

Bahat Öztürk, Board Member of Turkish Academic

Geriatrics Society, Faculty Member of Geriatrics, Faculty

of Medicine, I.U. said, "Polypharmacy is most commonly

defined as the use of five or more medications daily by

an individual. Approximately one out of every two elderly

Yaşlı Hastaların Tedavisinde Güçlü Bir Yardımcı:

"Türkiye Yaşlıda Uygunsuz İlaç Kullanım Kriterleri

('Turkish Inappropriate Medication Use in the

Elderly-TIME' Kriterleri)"

Akademik Geriatri Derneği'nin Akılcı İlaç

Çalışma Grubundaki geriatri hekimlerinin

önderliğinde, Türkiye'de alanında uzman ve yaşlı

hasta konusunda deneyimli öğretim üyelerinin

katılımıyla "Türkiye Yaşlıda Uygunsuz İlaç

Kullanım Kriterleri" oluşturuldu.

Akademik Geriatri Derneği Yönetim Kurulu Üyesi ve İ.Ü.

İstanbul Tıp Fakültesi Geriatri Bilim Dalı Öğretim Üyesi

Prof. Dr. Gülistan Bahat Öztürk, yaşlıların mevcut çok

sayıda hastalıkları nedeniyle genellikle çok sayıda ilaç

kullandıklarını belirterek, "Sürekli olarak günde dört

veya beşten fazla ilaç kullanımı 'polifarmasi' olarak

adlandırılmaktadır. Toplumda yaşayan yaklaşık her iki

Haziran - June 2021
---
51

living in the community has polypharmacy. Polypharmacy

is more common in elderly people in nursing homes or

hospitals. In addition to using a large number of drugs in

elderly individuals, the use of 'inappropriate' drugs is also

common. Due to the changes that occur in the body with

aging, elderly individuals are more susceptible to drug

side effects. In addition to physiological changes such as

decrease in water ratio in the body, decrease in muscle

mass, increase in fat ratio, decrease in kidney functions,

falling, loss of balance, malnutrition, decrease in muscle

strength and mass, which we call sarcopenia, urinary

incontinence and forgetfulness, which are frequently seen

in advanced age makes elderly people more sensitive to

drug side effects."

Side effects may be more harmful for older ages

Pointing out that some side effects, which are not seen in

young adults or are insignificant, may be harmful in elderly

individuals, Öztürk said, "While some drug groups such

as muscle relaxants, sleeping pills or allergy medications

do not cause significant side effects in young adults,

drowsiness, forgetfulness, It can result in significant

side effects such as dry mouth, loss of balance, falls and

resulting bone fractures. A drug side effect that occurs

in the patient is considered as a new disease in elderly

individuals and another drug is started to be used, this

time a side effect due to this drug occurs; this situation is

called 'prescription cascade'. Elderly individuals may be less

likely to adhere to drug use due to some problems such as

forgetfulness and insufficient social support. Therefore,

using the least number of drugs as possible would be a

suitable approach for the elderly. In addition to the use of

inappropriate drugs in elderly people, we often see that

there are drugs that are not used although they are useful.

In other words, proper drug selection and regulation of

drug treatments is an important issue in elderly people."

"TIME Criteria" was generated as a guide

Noting that there is a need for rational drug use guidelines

to guide healthcare professionals in our country due to all

these reasons, Öztürk said, "In 2020, under the leadership

of geriatricians in the Rational Drug Use Working Group of

the Turkish Academic Geriatrics Society, expert teaching

in the field and experienced in elderly patients in Turkey

Turkish Inappropriate Medication Use in the Elderly; TIME

criteria are a guideline and consist of two parts; Part 1:

There are criteria ('TIME to STOP') including drugs that

should not be used in elderly people or should be used

carefully. There are 112 criteria in this section. Part 2:

The drugs that are beneficial to use in elderly people

are included ('TIME to START'). There are 41 criteria

in this section. Recently, a group of faculty members

from Germany, Israel, Spain, England, Italy, Belgium,

the Czech Republic and the Netherlands demonstrated

the international validity of the TIME criteria and was

presented to the entire scientific world in the medical

journal "Drugs and Aging". (Bahat G, Ilhan B, Erdogan

yaşlıdan birinde polifarmasi mevcuttur. Bakımevi veya

hastanede bulunan yaşlılarda ise polifarmasiye daha sık

rastlanmaktadır. İleri yaştaki bireylerde çok sayıda ilaç

kullanmanın yanında 'uygun olmayan' ilaçların kullanımı

da sıktır. Yaşlanma ile birlikte vücutta ortaya çıkan

değişiklikler nedeniyle yaşlı bireyler ilaç yan etkilerine

karşı daha duyarlıdır. Vücuttaki su oranının azalması,

kas kütlesinin azalması, yağ oranının artması, böbrek

fonksiyonlarının azalması gibi fizyolojik değişikliklerin yanı

sıra ileri yaşta sıklıkla gördüğümüz düşme, denge kaybı,

beslenme yetersizliği, sarkopeni dediğimiz kas kuvvetinde

ve kütlesindeki azalma, idrar kaçırma ve unutkanlık gibi

'geriatrik sendromların' varlığı yaşlı bireyleri ilaç yan

etkileri hususunda daha hassas hale getirmektedir." dedi.

Yan etkiler ileri yaşlar için daha zararlı olabilir

Genç erişkinlerde görülmeyen veya önemsiz olan birtakım

yan etkilerin ileri yaştaki bireylerde zararlı olabileceğine

dikkat çeken Öztürk, "Örneğin kas gevşetici ilaçlar, uyku

ilaçları veya alerji ilaçları gibi bazı ilaç grupları genç

erişkinlerde önemli yan etkilere sebep olmazken ileri

yaştaki bireylerde gün boyunca uyku hali, unutkanlık, ağız

kuruluğu, denge kayıpları, düşmeler ve bunun sonucunda

ortaya çıkan kemik kırıkları gibi önemli yan etkiler ile

sonuçlanabilmektedir. Hastada ortaya çıkan bir ilaç yan

etkisi yaşlı bireylerde yeni bir hastalık gibi düşünülerek

bir başka ilacın kullanımına başlanmakta, bu kez de bu

ilaca bağlı bir yan etki ortaya çıkmaktadır; bu duruma

'reçete kaskadı' denilmektedir. Yaşlı bireylerde unutkanlık,

sosyal desteğin azlığı gibi bir takım sorunlar sebebiyle ilaç

kullanımına uyum da daha az olabilmektedir. Bu nedenle

mümkün olan en az sayıda ilacın kullanılması yaşlı bireyler

için uygun bir yaklaşım olacaktır. Yaşlı bireylerde uygun

olmayan ilaç kullanımının yanı sıra, kullanılması faydalı

olduğu halde kullanılmayan ilaçlar olduğunu da sıklıkla

görmekteyiz. Yani yaşlı bireylerde uygun ilaç seçimi ve

ilaç tedavilerinin düzenlenmesi önemli bir konudur." diye

belirtti.

Yol gösterici olarak "TIME Kriterleri" oluşturuldu

Tüm bu sebeplerden dolayı ülkemizde sağlık çalışanlarına

yol gösterecek akılcı ilaç kullanım rehberi ihtiyacı

doğduğunu söyleyen Öztürk, sözlerine şöyle devam etti:

"2020 yılında ülkemiz Akademik Geriatri Derneği'nin Akılcı

İlaç Çalışma grubundaki geriatri hekimlerinin önderliğinde

Türkiye'de alanında uzman ve yaşlı hasta konusunda

deneyimli öğretim üyelerinin geniş katılımı ile (12 ayrı ana

dal ve 5 ayrı iç hastalıkları yan dallarından toplamda 49

danışman öğretim üyesi ve 23 çalışma grubu öğretim üyesi)

Türkiye Yaşlıda Uygunsuz İlaç Kullanım Kriterleri (Turkish

Inappropriate Medication Use in the Elderly; TIME Kriterleri)

oluşturulmuştur. TIME kriterleri bir rehber niteliğinde

olup iki kısımdan oluşmaktadır; 1. kısım: Yaşlı bireylerde

kullanılmaması veya dikkatli kullanılması gereken ilaçları

içeren ('TIME to STOP') kriterler yer almaktadır. Bu

bölümde 112 kriter mevcuttur. 2. kısım: Yaşlı bireylerde

kullanılmasının faydalı olduğu ilaçlara yer verilmektedir

Haziran - June 2021
---
52

T, Oren MM, Karan MA, Burkhardt H, Denkinger M,

Garfinkel D, Cutz-Jentoft AJ, Morissey Y, Onder G, Pazan

F, Tommelein E, Topinkova E, van der Velde N, Petrovic

M. International Validation of the Turkish Inappropriate

Medication Use in the Elderly (TIME) Criteria Set: A Delphi

Panel Study. Drugs Aging. 2021 Apr 13;1-9). It has also

been prepared as a mobile application for easy access.

This application can be downloaded free of charge to all

smartphones from Apple Store and Play Store. TIME criteria

have been completely prepared for the use of healthcare

professionals. The following point should not be forgotten,

the decision in the selection of drugs for treatment belongs

to the responsible physician, the physician informs the

patient and their relatives about the effect and side effects

of the drug he has chosen. This set of criteria has been

prepared to assist physicians and healthcare professionals.

Drugs are substances that are given externally for the

treatment of diseases and it is natural to have undesirable

effects. Knowing the effects and side effects of the drug,

patients should be followed up. It will be useful for elderly

patients and their relatives to review their medications with

their physicians using TIME criteria. It may be dangerous

to start or stop taking medication without the knowledge

of their physician, and our patients and their relatives

should be aware of this issue. As a result, TIME criteria

have been presented as a resource that physicians can

refer to. It has been prepared by considering the health

conditions and characteristics of the elderly individuals.

The unrecognized and frequently encountered side effects

of drugs, which are frequently encountered in the daily

life of elderly individuals whose treatment is regulated

or reviewed under the guidance of TIME criteria, will

decrease. Thus, the quality of life of elderly people will

increase, various side effects such as forgetfulness, falls,

fractures, urinary incontinence, constipation that may be

caused by inappropriate drug use will be reduced to the

lowest possible level, and possible hospital stays and health

expenses due to side effects will decrease."

('TIME to START'). Bu bölümde 41 kriter mevcuttur.

Yakın zamanda Almanya, İsrail, İspanya, İngiltere, İtalya,

Belçika, Çek Cumhuriyeti ve Hollanda'dan bir öğretim

üyesi grubu TIME kriterlerinin uluslararası geçerliliğini

göstermiş ve "Drugs and Aging" isimli tıp dergisinde tüm

bilim dünyasına sunulmuştur (Bahat G, Ilhan B, Erdogan

T, Oren MM, Karan MA, Burkhardt H, Denkinger M,

Garfinkel D, Cutz-Jentoft AJ, Morissey Y, Onder G, Pazan

F, Tommelein E, Topinkova E, van der Velde N, Petrovic

M. International Validation of the Turkish Inappropriate

Medication Use in the Elderly (TIME) Criteria Set: A Delphi

Panel Study. Drugs Aging. 2021 Apr 13;1-9). Kolaylıkla

ulaşılabilmesi için bir mobil uygulama (aplikasyon) olarak

da hazırlanmıştır. Apple Store ve Play Store'dan tüm akıllı

telefonlara bu uygulama ücretsiz olarak indirilebilmektedir.

TIME kriterleri tamamı ile sağlık çalışanlarının kullanımı

için hazırlanmıştır. Şu nokta unutulmamalıdır, tedavi

için ilaç seçiminde karar sorumlu hekime aittir, hekim

seçtiği ilacın etkisi ve yan etkisi konusunda hasta ve

yakınlarını bilgilendirir. Bu kriter seti hekim ve sağlık

çalışanlarına yardımcı olmak üzere hazırlanmıştır. İlaçlar

hastalıkların tedavisi amacıyla dışardan verilen maddelerdir

ve istenmeyen etkilerinin olması doğaldır. İlacın etki ve

yan etkilerini bilerek hastalar takip edilmelidir. Yaşlı

hasta ve yakınlarının kullandıkları ilaçları TIME kriterleri

yardımıyla hekimleriyle birlikte gözden geçirmeleri yararlı

olacaktır. Hekiminden habersiz olarak ilaç başlamak veya

kullandığı ilacı kesmek tehlikeli olabilir, hastalarımız ve

yakınları bu konunun bilincinde olmalıdır. Sonuç olarak,

TIME kriterleri hekimlerin başvurabilecekleri bir kaynak

olarak hizmetlerine sunulmuştur. Tamamen ileri yaştaki

bireylerin sağlık durumları ve özellikleri göz önünde

bulundurularak hazırlanmıştır. TIME kriterleri rehberliğinde

tedavisi düzenlenen veya gözden geçirilen ileri yaştaki

bireylerin günlük hayatta sıkça karşılaşmış oldukları ve

fark edilmeyen ilaç yan etkilerin azalacaktır. Böylelikle

yaşlı bireylerin hayat kaliteleri artacak, uygunsuz ilaç

kullanımının yol açmış olabileceği unutkanlık, düşmeler,

kırıklar, idrar kaçırma, kabızlık gibi çeşitli yan etkileri

mümkün olan en düşük seviyeye inecek, yan etkilere bağlı

muhtemel hastane yatışları ve sağlık giderleri azalacaktır."

Haziran - June 2021
---
54

Which Eye Diseases Does Diabetes Cause?

Diyabet Hangi Göz Hastalıklarına Yol Açar?

Diyabetin göz sorunlarına yol açtığı hemen hemen

herkes tarafından biliniyor. Bu sorunların erken

tespit edilmesi durumunda tedavi başarısının

daha yüksek olduğunu vurgulayan Anadolu

Sağlık Merkezi Göz Hastalıkları Uzmanı Op.

Dr. Yusuf Avni Yılmaz, "Diyabet hastalarının

şikayetleri olmasa da düzenli göz muayenesi çok

önemli. Koşullar aynı olmak şartıyla 10 yıldan

beri diyabet olanın göz ve diğer dokulardaki

komplikasyon riski 5 yıl diyabet olanlara göre

daha yüksektir. Diyabetik hastalarda sık görülen

göz problemleri glokom, katarakt ve retinopati

olarak sıralanabilir" açıklamasında bulundu.

Eye Diseases Specialist Op. Dr.

Yusuf Avni Yılmaz, Anadolu Medical Center

It is known by almost everyone that diabetes

causes eye problems. Emphasizing that if these

problems are detected early, the success of the

treatment is higher, Eye Diseases Specialist Op.

Dr. Yusuf Avni Yılmaz, Anadolu Medical Center

said, "Even though diabetes patients do not

have complaints, regular eye examination is very

important. Provided that the conditions are the

same, the risk of complications in the eyes and

other tissues of those who have diabetes for 10

years is higher than those who have diabetes

for 5 years. Common eye problems in diabetic

patients can be listed as glaucoma, cataract and

retinopathy."

Diabetes is a disease that requires lifelong control. Eye

Diseases Specialist Op. Dr. Yusuf Avni Yılmaz, Anadolu

Medical Center said, "There are people who have diabetes

and have not experienced any eye problems for years, as

well as people who have serious eye and vision problems

due to the effects of diabetes. At the beginning, patients

may not feel any complaints, although eye problems due to

diabetes begin."

Even if there is no complaint, it should be checked

twice a year.

Emphasizing that the damage in the eye is significantly

Diyabet, yaşam boyu kontrol gerektiren bir hastalıktır.

Diyabetin bütün vücudu etkileyebildiği gibi gözü de

etkilediğini belirten Anadolu Sağlık Merkezi Göz Hastalıkları

Uzmanı Op. Dr. Yusuf Avni Yılmaz, "Diyabet olup yıllarca

hiçbir göz problemi yaşamayan insanlar olduğu gibi

diyabetin etkilerine bağlı ciddi göz ve görme problemleri

yaşayan kişiler de mevcut. Başlangıçta diyabete bağlı göz

problemleri başlamasına rağmen hastalar hiçbir şikayet

hissetmeyebilirler" dedi.

Bir şikâyet olmasa dahi yılda 2 kez kontrole

gidilmeli

Hastaların diyabetin komplikasyonlarına bağlı belirtti

hissettiklerinde genelde gözdeki hasarın önemli oranda

ilerlemiş durumda olduğunu vurgulayan Op. Dr. Yusuf

Avni Yılmaz, "Bu problemler başlangıç aşamasında iyi

takip edilip gerekli durumlarda uygun tedaviler yapılırsa

kalıcı görme hasarları önemli oranda önlenebilir. Bunu

yapabilmenin tek yolu diyabet teşhisi konmuş hastaların

düzenli göz muayenesinden geçer. Diyabet olan her kişinin

görsel bir şikâyeti olmasa bile senede en az 2 kere düzenli

göz muayenesi yaptırması gerekir. Muayenelerde bir sorun

tespit edilirse ona göre yol haritası çizilmeli" uyarısında

bulundu.

Göz Hastalıkları Uzmanı Op. Dr. Yusuf Avni Yılmaz, diyabetik

hastalardaki sık görülen göz problemleri glokom, katarakt

ve retinopati hastalıkları ve tedavilerine ilişkin önemli

bilgiler paylaştı:

Glokom göz tansiyonu olarak bilinir. Diyabetik hastalarda

glokom diyabetik olmayanlara göre yaklaşık iki kat daha

sık görülür. Glokomun erken tanınması ve tedavisine

başlanması kalıcı görme hasarını önlemede en önemli

faktördür. Glokom için ilaç tedavisi, lazer tedavileri ve

Haziran - June 2021
---
55

advanced when patients feel that the complications of

diabetes are related to the complications, Op. Dr. Yusuf

Avni Yılmaz said, "Permanent vision damage can be

prevented to a great extent if these problems are followed

closely at the initial stage and appropriate treatments are

applied when necessary. The only way to do this is through

regular eye exams of patients diagnosed with diabetes.

Every person with diabetes should have regular eye exams

at least twice a year, even if they do not have a visual

complaint. If a problem is detected in the examinations, a

road map should be drawn accordingly."

Eye Diseases Specialist Op. Dr. Yusuf Avni Yılmaz shared

important information about common eye problems in

diabetic patients, glaucoma, cataract and retinopathy

diseases and their treatments:

Glaucoma is known as eye pressure. Glaucoma is seen

about twice as often in diabetic patients than in nondiabetic

patients. Early diagnosis and treatment of

glaucoma is the most important factor in preventing

permanent vision damage. Various treatment options

are available for glaucoma depending on the patient's

condition, including medication, laser treatments, and

surgery.

Cataract is an eye disease that causes clouding

characterized by the dullness of the lens located just

behind the pupil, known as the pupil. Although its

cerrahi olmak üzere hastanın durumuna göre çeşitli tedavi

seçenekleri mevcuttur.

Katarakt ise göz bebeği olarak bilinen pupillanın hemen

arkasında bulunan lensin matlaşmasıyla karakterize

bulanıklaşmaya neden olan bir göz hastalığıdır. Yaşla

beraber sıklığı artsa da diyabetik hastalarda da diyabetik

olmayanlara göre daha sık görülen bir durumdur. Tedavisi

ise cerrahidir.

Diyabetik retinopati adından anlaşılacağı üzere gözün

retina tabakasında diyabete bağlı olarak gelişen birtakım

bozukluklardır. Diyabetik retinopatiyi 3 kategoride

incelemek gerekir.

1) Proliferatif olmayan (non proliferatif) retinopati diyabete

bağlı retinopatinin başlangıç evresidir. Burada göz

arkasında kanamalar başlamıştır ancak çok major bir

sorun henüz oluşturmamaktadır. Bu evredeki hastaları

yakın takip ederek gerekli durumlarda tedavilerini yaparak

görme kayıplarının önlenmesi en önemli durumlardan

biridir. Bu dönemde hastaların görsel şikayetleri olmadığı

için genellikle rutin göz muayenesi sırasında hekimler

tarafından tanınırlar.

2) Maküler ödem ise retina merkezinde görme reseptör

hücrelerinin yoğun olduğu bölgede sıvı birikmesi nedeniyle

görmeyi oldukça düşüren bir durumdur. Ödem artmasına

paralel olarak görme düşer, ödem azalınca görmede

iyileşme olur. Ancak ödemin çok uzun süre devam etmesi

Haziran - June 2021
---
56

frequency increases with age, it is more common in diabetic

patients compared to non-diabetic patients. Its treatment

is surgery.

As the name suggests, diabetic retinopathy is a number of

disorders that develop in the retina layer of the eye due

to diabetes. Diabetic retinopathy should be examined in 3

categories.

1) Non-proliferative retinopathy is the initial stage of

diabetic retinopathy. Here, bleeding has started behind the

eyes, but it does not pose a major problem yet. Prevention

of vision loss is one of the most important situations by

following the patients at this stage closely and applying

their treatments when necessary. Since patients do not

have visual complaints during this period, they are usually

recognized by physicians during a routine eye examination.

2) Macular edema, on the other hand, is a condition that

considerably reduces vision due to the accumulation of fluid

in the area where visual receptor cells are concentrated in

the retina center. In parallel with the increase in edema,

vision decreases, and when the edema decreases, vision

improves. However, if the edema continues for a long

time, the vision may not improve at the same rate even if

the edema is reduced with treatment. Therefore, if this

condition is detected, treatment should be applied quickly.

3) Proliferative diabetic retinopathy is one of the most

serious eye problems of diabetes. New vessels are formed

on the retina due to circulatory disorders in the retinal

layer. These veins are not as healthy as the true veins of

the retina. They are fragile and prone to bleeding. If these

retinal hemorrhages fill the eye, vision may disappear

completely and highly critical surgeries may be required.

In addition, these circulatory disorders and bleeding in the

retina can cause highly problematic and difficult to control

glaucoma types. This can cause not only vision problems,

but also pain in the eyes that are difficult to control.

Treatments related to the effects of diabetes on

retinopathy can be divided into 3 groups as laser

treatments, intraocular injections and vitrectomy surgeries.

durumunda tedavi ile ödem azaltılsa da görme aynı oranda

düzelmeyebilir. Bu nedenle bu durum tespit edilmesi

durumunda hızlıca tedavi uygulanmalıdır.

3) Proliferatif diyabetik retinopati ise diyabetin en ağır göz

problemlerinden biridir. Retina tabakasındaki dolaşım

bozukluğuna bağlı retina üzerinde yeni damarlar oluşur.

Bu damarlar retinanın gerçek damarları gibi sağlıklı

değildir. Kırılgandır ve kanamaya meyillidirler. Bu retina

kanamaları göz içerisini doldurursa görme tamamen

gidebilir ve oldukça kritik ameliyatlara ihtiyaç duyulabilir.

Ayrıca retinadaki bu dolaşım bozukluğu ve kanamalar

oldukça sorunlu ve kontrolü zor olan glokom türlerine

sebep olabilir. Bu durum da sadece görme problemine değil

gözlerde kontrolü zor olan ağrılara da neden olabilir.

Diyabetin retinopati üzerindeki etkilerine ilişkin tedaviler

lazer tedavileri, göz içi enjeksiyonlar ve vitrektomi

ameliyatları olmak üzere 3 gruba ayrılabilir.

Haziran - June 2021
---
58

Gene2info Ranked as One of the

6 Most Innovative Health Initiatives in Turkey

Gene2info Türkiye'deki En Yenilikçi

6 Sağlık Girişiminden Biri Seçildi

Nadir hastalıklara yönelik genetik kökenleri

inceleyen global biyoinformatik sektörünün Türk

oyuncusu Gene2info, Türkiye'de sağlık alanında

yenilikçi çözümler geliştirmek ve sunmak

için çalışan Sanofi'nin girişimcilik programı

PharmUp 2021'e seçildi. Endeavor iş birliğinde

gerçekleştirilen programda Gene2info, 64 şirket

arasından ilk 6'da yer aldı.

Bahadır Onay, Founding Partner and CEO of Gene2info

Gene2info, a Turkish player in the global

bioinformatics industry that examines the genetic

origins of rare diseases, has been selected

for PharmUp 2021, Sanofi's entrepreneurship

program that works to develop and offer

innovative solutions in the field of health in

Turkey. Gene2info was one of the top 6 companies

among 64 companies in the program held in

cooperation with Endeavor.

Genetik hastalıkların tanı sürecini, hastalığa özel tanı

kitleri ve yapay zekâ destekli algoritmalarla hızlandıran

Gene2info, Türkiye'de en yenilikçi 6 sağlık girişimden biri

seçildi. Gene2info, Sanofi'nin hayata geçirdiği ve Endeavour

Türkiye iş birliği ile yürütülen sağlık alanında fark yaratacak

fikir ve proje sahiplerine yönelik PharmUp Girişimcilik

Programı'na katılmaya hak kazandı. Programa başvuran 64

firma arasından ilk 6'ya giren Gene2info,2021 yılı PharmUp

kapsamında çalışmalar gerçekleştirecek.

Uygulanan teknolojiyle Türkiye'de bir ilk

Genetik tanı alanında, nadir hastalıklarla ilgili çalışan tüm

hekimlere uçtan uca bir çözüm sunduklarını söyleyen

Gene2info Kurucu Ortağı Bahadır Onay, "Nadir hastalıkların

genetik tanısında uyguladığımız teknoloji ve iş modeliyle

Accelerating the diagnostic process of genetic diseases

with disease-specific diagnostic kits and artificial

intelligence-supported algorithms, Gene2info was selected

as one of the 6 most innovative health initiatives in Turkey.

Gene2info has been awarded the right to participate in the

PharmUp Entrepreneurship Program, which is implemented

by Sanofi and carried out in cooperation with Endeavor

Turkey, for ideas and projects that will make a difference

in the field of health. Gene2info, which entered the top 6

among 64 companies that applied to the program, will carry

out studies within the scope of PharmUp in 2021.

A first in Turkey with the technology applied

Declaring that they offer an end-to-end solution to all

physicians working on rare diseases in the field of genetic

diagnosis, Bahadır Onay, Founding Partner and CEO of

Gene2info said, "We are breaking new ground in Turkey

Haziran - June 2021
---
60

and our region with the technology and business model

we apply in the genetic diagnosis of rare diseases. We

accelerate the diagnosis process with our standardized

products, software and services. We offer a cloud-based

genetic diagnosis solution where the whole process from

taking biological sample from the patient, analyzing the

digitized genetic data with artificial intelligence, detecting

variants and sending the genetic analysis report to the

doctor is carried out on an online platform. There are still

many goals and a long way to go. In this sense, we are very

excited to be one of the 6 innovative health initiatives

selected for Sanofi's PharmUp 2021 Entrepreneurship

Program. We had the opportunity to benefit from Sanofi's

health innovation experience, to enrich our solutions with

the innovative perspective of Endeavor Turkey mentors, to

research cooperation opportunities and to be together with

similar initiatives in health technologies. We believe that this

experience will make a great contribution to us."

The participants of the 2021 PharmUp program were

selected from innovative initiatives in the healthcare

field that work in the fields of Smart Health Devices and

Diagnostic Solutions, Medical Education and Communication

Tools, Healthy Living Solutions, Digital Health and

Telemedicine, Data Management and Analytics, Corporate

Digital Transformation. The program, which includes

mentoring support and trainings, will last for 3 months.

Türkiye'de ve bölgemizde bir ilki gerçekleştiriyoruz.

Standardize edilmiş ürün, yazılım ve servislerimizle

tanı sürecini hızlandırıyoruz. Hastadan biyolojik örneğin

alınması, dijitize edilmiş genetik verinin yapay zekâ

ile analizi, varyantların saptanması ve genetik analiz

raporunun doktora iletilmesine kadar tüm sürecin

çevrimiçi bir platformdan yürütüldüğü bulut tabanlı bir

genetik tanı çözümü sunuyoruz. Daha önümüzde pek çok

hedef ve uzun bir yol var. Bu anlamda Sanofi'nin PharmUp

2021 yılı Girişimcilik Programına seçilen 6 yenilikçi

sağlık girişiminden biri olduğumuz için çok heyecanlıyız.

Sanofi'nin sağlıkta inovasyon tecrübesinden faydalanmak,

Endeavor Türkiye mentorlerinin yenilikçi bakış açısıyla

çözümlerimizi zenginleştirmek, iş birliği olanaklarını

araştırmak ve sağlık teknolojilerindeki benzer girişimlerle

bir arada olmak fırsatını elde ettik. Bu deneyimin bize çok

büyük katkılar sunacağına inanıyoruz" dedi.

2021 yılı PharmUp programı katılımcıları Akıllı Sağlık

Cihazları ve Diagnostik Çözümler, Medikal Eğitim ve

İletişim Araçları, Sağlıklı Yaşam Çözümleri, Dijital Sağlık

ve Teletıp, Veri Yönetimi ve Analitiği, Kurumsal Dijital

Dönüşüm alanında çalışmaları bulunan sağlık alanındaki

yenilikçi girişimlerden seçildi. Mentörlük desteği ve

eğitimler içeren program 3 ay sürecek.

Haziran - June 2021
---
62

Good News that will Delight Calcification Patients

Kireçlenme Hastalarını Sevindirecek Güzel Haber

Intra-articular Injection Therapy, the Latest

Product of the Rapidly Advancing Technology, Has

Been a Light of Hope for the Patients Who Cannot

Be Operated and Who Do Not Want to Be Treated.

Known as the Number 1 Product of Intra-Joint

Injection in the World, CINGAL is now in Turkey.

Burak Aşkın, Managing Partner, Turkey distributor

of the product, HerAda Group Health Technologies,

Pharmaceuticals and Cosmetics Ltd. Co. made statements

about Cingal Injection. Osteoarthritis, or arthritis as it

is popularly known, is the common health problem of

millions. Health studies show that the number of patients

with only knee calcification in Turkey is 11,600,000.

Calcification is unfortunately not only in the knee, but also

in the shoulders, hips, wrists, neck and even jaw joints.

The answer to the question of what makes Cingal

so special is hidden in technology

Cingal, which is the first and only approved combination

viscosupplement that combines the proven benefits of a

proprietary hyaluronic acid with a well-established steroid

to provide fast acting and long lasting pain relief from

osteoarthritis, makes calcification patients smile. The

effect of an injection lasts for at least a year, and patients

do not need any other treatment during this time. Since

the corticosteroid in Cingal is a molecule suitable for use

even in children, it is used safely in the first and repeat

applications.

The quality of the injection product used is

decisive for the success of intra-articular injection

High quality products, produced at world standards and

with millions of global applications, have no side effects

and treatment success lasts more than a year. On the other

hand, severe side effects can be seen in applications whose

origin cannot be traced, and this causes negative opinions

about intra-articular injection among the public. Today, it is

possible to easily reach Orthovisc, which is accepted as the

gold standard for intra-articular injection in Turkey all over

the world. There were no adverse effects in Orthovisc's

more than 25 million global transactions. It is also possible

to find Monovisc in Turkey, which is a breakthrough in

intra-articular injection treatment in the world and has

more than 10 million applications. Patients also have a role

in the treatment of intra-articular injection. Awareness and

consciousness are very important. Research is needed to

get the best treatment.

Hızla ilerleyen teknolojinin son ürünü olan

eklem içi enjeksiyon tedavisi, ameliyat

olamayan, olmak istemeyen hastalar için umut

ışığı oldu. Dünyada eklem içi enjeksiyonun

1 numaralı ürünü olarak bilinen Cingal artık

Türkiye'de.

Türkiye distribütörü HerAda Grup ve Yönetici ortağı Burak

Aşkın Cingal Enjeksiyon hakkında açıklamalarda bulundu.

Osteoartrit ya da halk arasında bilinen adı ile kireçlenme

milyonların ortak sağlık sorunu olarak karşımıza

çıkıyor. Türkiye'de sadece dizinde kireçlenmesi olan

hasta sayısının 11.600.000 kişi olduğunu yapılan sağlık

çalışmaları gösteriyor. Kireçlenme ne yazık ki sadece

dizde değil, omuz, kalça, el bileği, boyun ve hatta çene

eklemlerinde de kireçlenme görülüyor.

Nedir Cingal'i bu kadar özel kılan sorusunun

cevabı ise teknolojide saklı

Hızlı ağrı kesici etkisi ile bilinen güçlü bir kortikosteroid

ve FDA onaylı, patentli Hyalüronik asit kombinasyonun

bir araya geldiği Cingal tedavisi kireçlenme hastalarının

yüzünü güldürüyor. Bir enjeksiyonun etkisi en az bir yıl

sürüyor ve bu süre içinde hastaların başka bir tedaviye

ihtiyaçları kalmıyor. Cingal'deki kortikosteroid, çocuklarda

dahi kullanımı uygun olan bir molekül olduğu için ilk ve

tekrar uygulamalarda güvenle kullanılıyor.

Eklem içi enjeksiyon uygulamasının başarılı

olabilmesi için, kullanılan enjeksiyon ürününün

kalitesi belirleyici

Dünya standartlarında üretilen, milyonlarca global

uygulaması olan yüksek kalitedeki ürünlerin yan etkisi

görülmüyor ve tedavi başarısı bir yıldan uzun sürüyor.

Diğer yandan, menşei takip edilemeyen uygulamalarda

şiddetli yan etkiler görülebiliyor ve bu da halk arasında

eklem içi enjeksiyona dair olumsuz fikirlerin dolaşmasına

neden oluyor. Bugün, Türkiye'de eklem içi enjeksiyonda

tüm Dünya'da altın standart olarak kabul edilen

Orthovisc'e kolayca ulaşmam mümkün. Orthovisc'in

25 milyondan fazla global işlem uygulamasında hiç yan

etki görülmemiş. Yine Dünya'da eklem içi enjeksiyon

tedavisinde çığır açan ve 10 milyondan fazla uygulaması

bulunan Monovisc'i de Türkiye'de bulmak mümkün.

Eklem içi enjeksiyon tedavisinde, hastalara da görev

düşüyor. Bilinçlenme ve bilinç çok önemli. En iyi tedaviyi

alabilmek için araştırma yapmak gerekiyor.

Haziran - June 2021