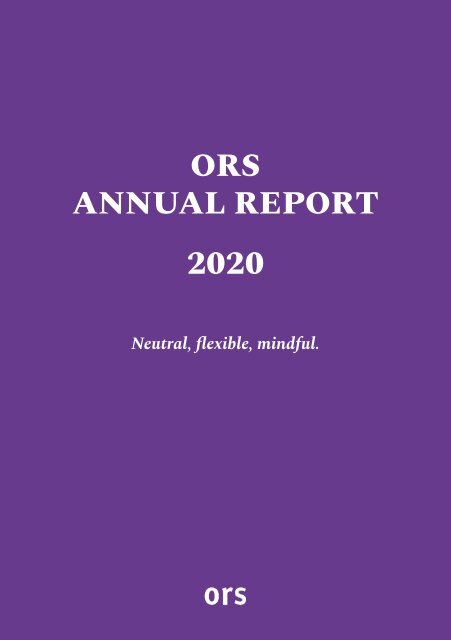 ORS Annual Report 2020 English
ORS Annual Report 2020 in English
ORS Annual Report 2020 in English
SHOW MORE
SHOW LESS
Create successful ePaper yourself
Turn your PDF publications into a flip-book with our unique Google optimized e-Paper software.
ORS

ANNUAL REPORT

2020

Neutral, flexible, mindful.

1
---
CONTENTS

ORS believes in the importance of equal opportunity. We use gender-neutral language

in this Annual Report to refer equally to female, male and non-binary individuals.

Editorial: ORS's journey through the year of coronavirus

ORS Group facts & figures

2020 milestones – ORS Switzerland

Laura Mastronardi – day-to-day life in a repatriation centre

Sophia Egli – a start in life for unaccompanied minor asylum seekers

2020 milestones – ORS Germany

Claudia Hänig – coronavirus scare in refugee accommodation

Claudia Gawlowski – committed to vulnerable refugees

2020 milestones – ORS Austria

Nina Trippl – support work is teamwork

2020 milestones – ORS Italy

Sabrina Montagna – a rock in stormy situations

HR & training

Karolina Trappitsch – personnel management as an opportunity for development

Annual results 2020

ORS Advisory Board – interview with Rita Fuhrer

Group management and management values

Our values

Glossary

Our locations

4

6

8

12

14

16

20

22

24

28

30

34

36

38

40

44

46

48

50

54

2 3
---
'I believe in flexible working

conditions that allow women

better access to managerial

positions and enable them

to bring greater perspective

and diversity to our

decision-making

processes in these key

roles.'

Dear Readers,

I am delighted to have been asked to introduce the 2020 Annual Report. This year, it focuses

on women, mothers, management roles and, above all, the female members of the ORS

team. Gender equality and respect are the cornerstones of our diverse organisation, and

we expect an equal balance of power between men and women at all levels and in all roles.

More women in managerial positions

Being the only woman on the Group management team, as I am at present, is not always

easy. While it does not tend to take us long to reach a consensus where goals and commitment

are concerned, we women often have a different approach to achieving those goals.

The discussions surrounding this and the different perspectives are what makes our work

so interesting – we tend to weigh up more options and consider more diverse possibilities

in our teams where there is a balanced mix of men and women. We are more productive

when we work together.

Our goal is for half of all managerial positions to be filled by women by 2025. We are still

some way off. In 2020, women made up around 37% of ORS Group employees and 42% of

managers were female.

ORS's journey through the year of coronavirus

In common with everyone, regardless of organisation or circumstances, our experience

of 2020 was very much dominated by coronavirus. Our colleagues went above and beyond

when it came to implementing all the required measures and contingencies. I am proud to

see that, one year on, everyone is still very much on the ball and committed to providing the

best support, day after day, for those living in our accommodation facilities.

Despite explanatory videos and other multilingual information materials for the residents,

an active crisis team and extensive hygiene and protection measures, we were unable to

keep COVID-19 out of our facilities. May 2020 proved particularly challenging when a mass

outbreak took hold in the Sankt Augustin central refugee facility (ZUE) in Germany, which

required the mobilisation of assistance from all areas of the Group. Thankfully, we managed

to get the situation under control and learned valuable lessons from the experience.

2020 also proved very eventful in other areas aside from coronavirus. In Switzerland, we

started work on our major mandates in the canton of Bern. These involve providing support

for refugees, from accommodation to integration in the job market, and running repatriation

centres. In Italy, we were able to stabilise our mandates on Sardinia – something

we certainly had not taken for granted given the difficult security situation. In Germany,

we began work in a new district in Baden-Württemberg with the opening of two reception

facilities in Karlsruhe. In contrast, we have to report a significant downturn in Austria. Following

the decision to nationalise responsibilities for refugees, we handed over our services

to the state-run agency at the end of November and, after nine years, had to discontinue

over 90% of our activities.

Our Annual Report – this year in the capable hands of women

In this year's Annual Report, you can learn about our mindset and methods from a woman's

perspective and gain insight into a world in which we work day in, day out to provide the

individuals in our care with the best quality support and integration.

Carolin Wälz-Fabregon

Managing Director, ORS Deutschland GmbH

Member of the Group management team

Mother of two

4 5
---
FACTS & FIGURES

As at 31 December 2020

4+2 countries

CH

DE

AT

IT

ES

GR

Zurich

Freiburg

Vienna

Rome

Madrid

Athens

70+

Support facilities

mandates

Bed capacity

10,000+

CH

DE

AT

IT

6,500+

4,000+

100+

200+

CH

DE

AT

IT

60+

10

2

3

Number of employees

1,309

CH

DE

AT

IT

815

439

7

48

Women in managerial positions

42%

CH

DE

IT

21%

49%

AT 71%

25%

6 7
---
MILESTONES

2020

06/2020

Switzerland

03/2020

Opening of cantonal

accommodation for vulnerable

individuals in Embrach

(ZH): capacity 50 people

04/2020

Opening of the Erlenhof Zurich care

centre as a cantonal emergency hospital

for rejected asylum seekers in quarantine:

capacity 36 people

Reopening of the Les

Passereaux centre in Broc (FR):

capacity 60 people

New service agreements with

local authorities come into force

Opening of Boltigen federal asylum

centre (BAZ) (BE):

capacity 120 people

Opening of the temporary 'Fridau'

transit centre in Egerkingen (SO)

for resettlement refugees:

capacity 40 people

05/2020

Suspension of the job

market integration

programme at training

restaurants Engel

in Pratteln (BL) and

Cittadella (TG) in German-speaking

Switzerland as a result

of coronavirus

Reopening of

Muttenz BAZ (BL):

capacity 250 people

08/2020

Opening of the Fribourg

cantonal police canteen,

'Le Vidocq', with

apprenticeships for

five asylum seekers

10/2020

Expansion of integration services in the

mandate for the canton of Fribourg with

a 100% female team of nine integration

advisers

All accommodation placed under

quarantine: Möhlin (AG), Dübendorf

(ZH)

11/2020

Opening of Brugg BAZ (AG):

capacity 220 people

ORS approved as SPI-

TEX-SPITIN organisation:

ors@home

JANUARY

FEBRUARY

MARCH APRIL MAY JUNE JULY AUGUST SEPTEMBER OCTOBER NOVEMBER DECEMBER

8 9
---
MILESTONES

2020

Switzerland

ORS Switzerland – impacts of the pandemic

on asylum support

ORS felt the effects of the COVID-19

pandemic in Switzerland. Because

borders outside Europe were closed,

there was little migration, which in

turn meant that asylum accommodation

was at low capacity. The low

numbers did, however, offer a better

opportunity to implement measures

designed to prevent the spread

of coronavirus. We worked with our

partners to develop, adapt and implement

pandemic plans. We also had to

set up new, temporary facilities for

vulnerable groups and for individuals

who were self-isolating or subject

to quarantine requirements. ORS

Switzerland is grateful that the collaboration

with partners at national,

cantonal and local level functions so

well. At the same time, ORS Switzerland

is proud of its employees. They

have done sterling work in support,

medical care and integration without

being distracted by public pressure

stirred up by third parties.

New mandates

The fact that we were able to take

on two mandates in the canton of

Bern (repatriation centres and the

NaBe mandate to restructure asylum

and refugee support in the Oberaargau-Emmental

region) underlines the

growing importance of the range of

services we offer the public sector. At

times, we had to summon up resources

at very short notice so that temporary

centres could be opened as part

of the fight against COVID-19. ORS

was able to demonstrate its flexibility

and reliability here and hire over 240

new employees.

New service agreements

ORS was able to offer a standardised

and modular service agreement to the

30 or so local authorities that work

with us in the field of asylum and

refugee coordination. Following restructuring,

ORS Switzerland has divested

itself of loss-making mandates

and positioned itself as an attractive

service provider in public tender procedures.

In spring 2020, coronavirus

meant that we had to suspend operations

at the 'Engel' restaurant in Pratteln

and the 'Cittadella' restaurant in

Frauenfeld, along with the associated

integration programme that trains

asylum seekers to work in the catering

industry. However, we were able

to initiate a refugee project as part

of our mandate for the canton of Fribourg,

taking over the management

of 'Le Vidocq', the cantonal police

canteen.

Employees step up

Our employees were not untouched

by coronavirus. Luckily, however,

we only saw a few sporadic positive

Le Vidocq (the Fribourg cantonal

police canteen) has been run by

ORS since August 2020. Young

refugees undergo culinary training

here and can be integrated into the

job market.

cases. Wherever possible, our staff

switched to working from home.

The experience showed that flexible

working can lead to greater personal

responsibility and can have a positive

impact on the completion of assignments.

ORS persevered despite the

waves of coronavirus and, with almost

30 years' experience under our

belt, we showed that our support,

accommodation and integration services

can be relied on whatever the

circumstances.

10 11
---
Laura Mastronardi

Director Adliswil repatriation

centre (RKZ)

Joined ORS CH in 2015

'As a manager, I bring my experience

to the table and work

with my team to try and make

the residents' time with us as

pleasant as possible.'

A container settlement in Adliswil,

around 10 kilometres outside Zurich,

is temporary home to individuals

whose asylum application has been

officially rejected. The people who

live here – men, women and families

with children, a maximum of 140 in

total – have been instructed to leave

Switzerland. Laura Mastronardi is

responsible for managing the centre

where, despite the asylum seekers'

shattered hopes, the focus is on treating

people with humanity.

The year 2020 was certainly challenging.

The conclusion that Laura was

able to draw from dealing with the

pandemic and the associated protective

measures is that optimism,

flexibility and creativity go a long

way towards overcoming a problem.

Good team spirit, support within the

centres and good communication

between centre directors are equally

important in her working environment.

Laura feels that this is a key

benefit of working for ORS. She sees

the fact that she was appointed to run

the centre in 2020 as a sign of trust of

the other repatriation centres in the

Zurich cantonal mandate and longterm

colleagues from other support

facilities in Switzerland. She hopes to

be a good role model and to be able to

make fair, comprehensible and transparent

decisions.

'Good experiences

make us stronger. But

overcoming tricky

situations that take us

out of our comfort zone

can also have a positive

impact on us.'

To unwind and recharge her batteries,

she likes to spend time in the

great outdoors and is a keen sportswoman.

Her personal philosophy is

one of idyllic coexistence between all

individuals.

'It is only when we

recognise that there are

fewer differences

between us than our

ego would like to

believe that we begin to

treat our fellow human

beings as equals.'

12 13
---
Sophia Egli

Social worker, specialising in

support for unaccompanied minors

in the canton of Solothurn

Joined ORS CH in 2016

'Offering young refugees prospects

and showing them how

they can make the transition to

independent living is my biggest

motivation.'

Sophia Egli's goal is to help young

people with a migration background

to tackle the challenges of independent

living. Based in the canton of

Solothurn, the social worker and her

five-strong team support unaccompanied

minor asylum seekers (UMAs)

who have fled to Switzerland without

their parents. They provide financial

support, serve as legally appointed

custodians on behalf of the Child and

Adult Protection Authority (KESB)

and support the youngsters during

their time in assisted UMA accommodation

or with foster families.

Each youngster brings with them

their own personal set of experiences

and resources.

'As far as I'm concerned,

there are no

hopeless cases. Everyone

deserves a chance.'

The job of UMA coaching is to uncover

the youngster's personal situation,

work with them on their

prospects and support them on their

individual journey. If they are to live

independently in Switzerland, it is

important to help them to find their

feet. Structures are needed to provide

clarity and security while offering

learning arenas for individual development

at the same time.

UMA coaching has been run on these

principles since 2016. Over 160 UMAs

have since been helped to develop

their abilities over short or longer

periods. In 2020, almost 50 UMAs

reached such a high level of independence

in all aspects of life that we

were able to discharge them from the

coaching programme. Many go on to

settle in Switzerland and complete an

apprenticeship. Car mechanic, joiner

and logistics specialist are among

the most popular careers. Where the

youngsters have undergone extremely

traumatic experiences or have had

little education, the integration process

often takes longer. Flexibility

and creativity are sometimes needed.

'We just keep at it! Step by step. For

some the steps are bigger, for others

small,' explains Egli, who has been

working at ORS for five years.

She constantly documents her conversations

with the youngsters, noting

down key words and making

sketches. Thoughts, fears, goals and

possible solutions gradually materialise.

Once problems and questions

are out in the open, they can be examined,

discussed and worked through

with the youngsters.

'We share the youngsters'

joy in their personal

successes.'

Her notes help her to leave her

thoughts behind in the office at the

end of the day.

14 15
---
MILESTONES

2020

Germany

05/2020

Opening of the temporary accommodation at Bad

Honnef ZUE (NRW) as a result of coronavirus:

day-to-day support, hospital ward:

capacity 193 people

Opening of Durlacher Allee regional reception

facility (LEA), Karlsruhe (BW) with accommodation

and day-to-day support:

500 spaces regular accommodation + 400 spaces

short-term stays

03/2020

Closure of

'Weiche' integration restaurant

in Freiburg as a result of

of coronavirus

Mass COVID-19 outbreak at

Sankt Augustin ZUE (NRW)

04/2020

Opening of Eggenstein

reception facility (EA)

(BW) with accommodation

and day-to-day

support:

capacity 500 people

09/2020

Tübingen EA (BW)

Hospital ward

12/2020

Sigmaringen LEA (BW): Separation

accommodation with dayto-day

support:

design occupancy 875

Closure of Colditzstrasse Berlin

hostel (GU)

11/2020

Closure of the temporary

Bad Honnef ZUE (NRW)

JANUARY

FEBRUARY

MARCH APRIL MAY JUNE JULY AUGUST SEPTEMBER OCTOBER NOVEMBER DECEMBER

16

17
---
MILESTONES

2020

Germany

ORS Germany – coronavirus and other

developments

Spring 2020 – support under

COVID-19 conditions

The outbreak of the coronavirus pandemic

in March 2020 turned support

on its head. Within next to no time,

the teams at ORS Germany had to

adjust to providing support under

the strictest hygiene and safety measures.

Activities for residents, particularly

children, were temporarily

suspended, cohorts were formed and

one of the few highlights of the day,

the shared mealtimes, had to be abandoned,

with residents eating in their

rooms instead.

The biggest challenge for the organisation

came at the Sankt Augustin

ZUE, where over 200 residents and 23

team members were infected. Thanks

to support from staff from other facilities

and from Switzerland and

Austria, we were given the all-clear a

few weeks later. The ORS integration

restaurant 'Die WEICHE Freiburg'

was a victim of the economic impact

of the coronavirus and has not reopened.

New accommodation 2020

In spring 2020, ORS Germany was

awarded the contract for the Durlacher

Allee LEA in Karlsruhe and

the Eggenstein-Leopoldshafen reception

facility (EA). Since May, ORS has

been actively supporting up to 1,000

refugees on behalf of the administrative

authority in Karlsruhe. Shortly

afterwards, we opened the Bad-Honnef

ZUE in North Rhine-Westphalia,

a temporary facility designed to open

for a fixed term of six months to provide

care for up to 200 vulnerable

individuals during the coronavirus

pandemic. Since September, the ORS

mandate at the Tübingen EA has been

extended to include the operation of a

hospital ward.

And finally, at the end of the year,

separate accommodation was added

at the Sigmaringen LEA to serve as

a distribution and quarantine centre,

staffed by an additional team.

Efficiency boost for all

teams at headquarters

While we are pleased to report growth

in Germany, ORS is now at its capacity

limits in organisational terms.

New approaches are required, including

digitalisation. The introduction

of a digital application management

system, a central procurement and

contract management system and

programmes to simplify time management

and shift planning are key

steps when it comes to efficiency.

Additional contracts and closures

In addition to the Bad Honnef

ZUE, we said goodbye to the team

in Berlin at the end of the year.

The support mandate in the capital

has been transferred to one of

our competitors. However, ORS

has been awarded the contract for

three new accommodation facilities

with even greater responsibility: the

Düren ZUE in North Rhine-Westphalia

from 1 March 2021 plus Hermeskeil

and Kusel reception centres

for asylum seekers (AfA) in Rhineland-Palatinate

from 1 April 2021.

18 19
---
Claudia Hänig

Operations manager

Sankt Augustin ZUE

Joined ORS DE in 2019

'With enough self-belief, the

question of whether you're going

to succeed becomes less about

impossible challenges and more

of about self-fulfilling prophecies.'

In a refugee centre, many of the residents

and staff come from countries

with a highly patriarchal tradition.

This means that you have to work

doubly hard to assert yourself as a

woman in management. Claudia faces

this challenge on a daily basis as

operations manager at the Sankt Augustin

ZUE in North Rhine-Westphalia.

When the facility experienced

a coronavirus outbreak in spring 2020

and the virus brought the lives of the

400 or so residents to a halt, Claudia

proved her worth as a walking symbol

of the new society in which the refugees

find themselves.

An issue that affected everyone in

2020, but particularly those at the

Sankt Augustin ZUE, was COV-

ID-19. Following a mass outbreak

and full quarantining of a large section

of the regular staff, the resolute

core of remaining employees, supported

by ORS staff from other locations

and with external assistance

from the emergency services, had to

pull together and weather this difficult

time. 'In a situation like that,

it is vital to be able to rely on one

another and support each other,' the

operations manager explains. Claudia

is convinced that the ability to

master mammoth tasks such as this

is not gender specific. She believes

that the way we deal with situations

like this has much more to do

with our experience and character.

'With enough self-belief, the question

of whether you're going to succeed

becomes less about impossible challenges

and more about self-fulfilling

prophecies.' You need to have a

thick skin in some situations, which

is why it is important to maintain a

good work-life balance and have a

strong network of friends and family

for support.

'Successful outcomes

and being part of the

positive development

of a resident's fate

through your team's

efforts hold much more

weight than frustrating

day-to-day

situations.'

The joyful moments she witnesses

in her work fill her with renewed

energy and are the main reason she

is able to tackle the job with new

zest and enthusiasm day after day,

she explains, describing one such

moment when a war-torn family

was finally reunited after what

seemed like an endless wait.

20 21
---
The medical station at the Tübingen

reception facility (EA) was designed

for displaced people who are in particular

need of protection. The background

stories that the staff heard

from those in their care in 2020 were

often chilling. 'In the year of the pandemic,

we were occupied on a daily

basis with totally different issues,' reports

Claudia Gawlowski, head of the

medical station at Tübingen EA.

Human trafficking, forced prostitution,

violence, discrimination and

persecution on the grounds of ethnicity

or religion were all issues that

staff encountered daily in the medical

station at Tübingen EA. The residents

come from different continents

and their personal stories demand

intensive and tactful support. A psychiatrist

visits the reception facility

once a week and a psychologist twice

a week to talk to residents about their

experiences. During the year of the

pandemic, Claudia and her team of

three continued to tend to the mental

and sometimes physical wounds of

the residents.

ORS, describes her role at the reception

facility.

'The residents often

see me as the

caring mum.'

Along with her team, she ensures

that the residents are provided with

medical care, quickly and directly.

The team has to deal with a range

of backstories, some of which pack

a punch. Within the team, Claudia

is not just the boss but also a friend

and confidant. When planning shifts,

she is particularly concerned about

ensuring a balance between career

and family. It can be a tightrope walk,

however, as shift work demands flexibility

from all parties. 'Together we're

a team, through thick and thin!' An

inveterate worker, she does not distinguish

between emancipation at

work and at home. The care professions

and nursing tend to be predominantly

female. She is a firm believer

that emancipation is equally important

on both sides.

Claudia Gawlowski

Head of the medical station at

Tübingen EA

Joined ORS DE in 2019

'I'm a great believer in team

spirit. Together, we are strong

and can overcome even the most

difficult of situations.'

The centre mainly houses women and

physical conflicts are rare. It is the

mental suffering of the residents that

preoccupies the whole team at the

Tübingen EA medical station. Touching

scenes regularly play out, with

staff sitting on the floor and crying

with residents or celebrating a birth

or a residence permit with thunderous

applause and tears of joy.

This is how Claudia, who worked for

years in geriatric care before joining

22 23
---
MILESTONES

2020

Austria

01/2020

Introduction of temperature

measurement to control access

Termination of work for the

state of Lower Austria

02/2020

BMI terminates individual

and framework

contracts for federal

primary care

06/2020

Opening of the emergency

accommodation in Villach

and Vienna:

capacity 450 people

05/2020

Contract negotiations

with BMI & BBU for

the transfer of operations

11/2020

Federal mandate expires

Retrospective '9 years of ORS

success in Austria'

10/2020

Nina Trippl takes charge of the ORS

team Assisted Living in Styria and

Carinthia

On behalf of the ORS Group, ORS

Austria presents a donation to the Greek

women's aid organisation 'MELISSA'

12/2020

Contracts extended with the

states of Styria and Carinthia

JANUARY

FEBRUARY

MARCH APRIL MAY JUNE JULY AUGUST SEPTEMBER OCTOBER NOVEMBER DECEMBER

24

25
---
MILESTONES

2020

Austria

ORS Austria – accepting watershed moments as

an opportunity for refugee care

The year 2020 marks a special turning

point in the development of ORS Austria:

after nine successful years of support

work at national level, the staterun

Federal Agency for Reception and

Support Services (BBU) took over primary

care in the federal centres at the

beginning of December. Renationalisation

was decided by an act of parliament

in 2019. On 1 December, as part of the

transition process, 297 employees were

transferred to the state-run BBU and

their jobs continue to be safeguarded.

In the months leading up to this, ORS

Austria faced coronavirus-related challenges

and, with the support of the ORS

Group's crisis management team, managed

to achieve notable results through

its innovations. Special measures relating

to tackling the COVID-19 pandemic

include:

Special communication initiatives

in various languages:

COVID-19 newsletter, YouTube videos

with codes of conduct for residents in the

facilities, social distancing and hygiene

rules outlined on posters and flyers.

These communication tools were created

in-house with the assistance of

our employees and, as such, were rolled

out rapidly – while other organisations

where still working on their preparations.

Strict implementation of health

authority guidelines:

• The facilities began taking temperatures

as early as January 2020. Our staff

began wearing masks early on, despite

the shortage of supplies of PPE. This

successfully protected employees from

infection when carrying out support

work.

• Deployment of an ORS Group crisis

team with regular feedback on experiences

and introduction of protective

measures.

• Adaptation of the asylum administration

programme to document medical

and organisational measures (officially

required isolation, quarantine, etc.).

• Identification of people in medical

risk groups and their exemption from

support work.

• Introduction of working from home

for administrative work. Thanks, in

particular, to the support of our internal

IT department, we did not experience

any loss in efficiency.

Focus on regional support services

The extension of our contract for activities

for the states of Styria and Carinthia

provided a positive conclusion to

the year 2020. The rescinding of our

mandates marks a watershed. ORS

Austria firmly believes that we will continue

to serve as a reliable partner and

set standards in care and support for

Solidarity: ORS Austria donates

women's clothing to Green women's

aid group MELISSA.

asylum seekers and refugees in Austria.

Solidarity

The ORS Group continued to observe

the refugee situation in Greece in 2020.

Work was concluded on the foundation

of a – currently non-operative – national

subsidiary, headquartered in Athens.

At the invitation of the Greek migration

minister, a group of ORS experts

is to visit the island of Lesbos to see

the situation following the fire at the

'Moria' container village for themselves.

26 27
---
Nina Trippl

Team leader for support work

in Styria & Carinthia

Joined ORS AT in 2015

'Talking to one another and

learning from each other enriches

our experience. It has taught

me not to be the kind of manager

who doesn't want to delegate

tasks and demands perfection.'

In 2020, Nina Trippl saw the number

of her colleagues reduced from over

300 to less than 20. The withdrawal

from responsibility for support at

national level left many unanswered

questions. The realignment of ORS

Austria, with Nina as new team leader

for support work in the states of

Styria and Carinthia, marks a new beginning.

'Onwards and upwards' is Nina Trippl's

motto for the year. On the one

hand, it sums up our perseverance

in our commitment to refugees, despite

the coronavirus restrictions.

On the other hand, the phrase also

reflects her optimism for the future

of ORS, which had to regroup once

the support work for the Austrian

Ministry of the Interior expired.

Saying goodbye to long-term colleagues

was not easy.

The social support workers in her

team are often alone, travelling to

assist the refugees and also tend not

to be fazed when the unforeseen happens.

As team leader, she regularly

sets aside time to catch up. The demands

and expectations that both

partners and asylum seekers place on

support are many and varied. Day-today

circumstances require a professional

understanding of how to deal

with on-site and remote issues.

'Talking to one another and learning

from each other enriches our experience.

It has taught me not to be the

kind of manager who doesn't want

to delegate tasks and demands perfection,'

explains the team leader,

who has been employed by ORS for

just under six years. Even if women

are now represented in many areas

previously dominated by men, she

feels that there is still room for improvement

where equal opportunity

is concerned. With reference to her

role at ORS, however, she does not

believe that gender is a pivotal factor

when it comes to management

positions, or that she faces greater

or different challenges as a result.

And so it's 'onwards and upwards'.

She is setting about her new responsibilities

as team leader and

has a positive view of what the future

will bring.

'The best recipe for

overcoming stressful

situations in support

is continuity, your own

experience and talking

to other members

of the team.'

28 29
---
MILESTONES

2020

01/2020

Start of operation of the repatriation centre

Macomer CPR: capacity 50 people

Arrival of the first residents

02/2020

Questore (local police commissioner)

of Nuoro and 'Garante' (ombudsperson

for the rights of detainees) visit

Macomer CPR. Positive feedback on

management of the centre

03/2020

Contract awarded and,

five days later, launch

of the reception centre

Monastir CAS:

capacity 150 people

05/2020

Direct award of the

mandate to take over

transport services

for refugees arriving

illegally by boat

Members of parliament

and a general in

the Italian

army visit Macomer

repatriation centre

(CPR) and give very

positive feedback

06/2020

First COVID-19 case

in Monastir reception

centre (CAS)

Several riots, protests

and damage to property

by refugees at Macomer

CPR + Monastir CAS

08/2020

Admission and support for

45 boat refugees who tested

positive for COVID-19

9/2020

High occupancy of 260 people

(220 of them boat refugees) at

Monastir CAS

10/2020

Italy

United Nations High Commissioner for

Refugees (UNHCR) visits Macomer CPR

and reports to the Italian interior ministry.

Positive feedback on management of the

centre and recommendation that other

repatriation centres in Italy adopt various

ORS services

JANUARY

FEBRUARY

MARCH APRIL MAY JUNE JULY AUGUST SEPTEMBER OCTOBER NOVEMBER DECEMBER

30

31
---
MILESTONES

2020

Italy

ORS Italy – professionalism in uncertain times

thanks to committed employees

Operative support work in Sardinia

finally got the green light at the beginning

of 2020. ORS Italy was able to

open the repatriation centre Macomer

CPR in January 2020 and in April,

mid-pandemic, the reception centre

Monastir CAS. From the outset, the

tensions caused in the centres by the

coronavirus situation meant that we

had to be mindful of the health and

the safety of both residents and staff.

Riots and protests by the residents

have been part and parcel of life at

the centres since and require professional

handling by our staff.

ORS Italy is also subject to regular

criticism in the media, although this

criticism often fails to make a distinction

between operative support

work and the political system.

Six days to set up a centre

At the express wish of the Prefecture

of Cagliari, the Monastir reception

centre was opened six days after

the contract was awarded. It is only

thanks to good organisation and the

brave commitment of the regional

management and staff that we managed

to pull off this Herculean task.

Following various visits from politicians,

officials, government representatives

and the UNHCR, ORS

Italy is delighted at the positive feedback

on the support provided for the

residents and the professional way in

which the centres are run.

Point of contact for boat refugees

Just under 80 coronavirus patients

were cared for by ORS's own support

and medical staff. The ORS team

was also the first point of contact for

around 1,200 boat refugees arriving

on European soil. We did experience

some critical situations, where

quarantine regulations and limited

freedom of movement provoked tremendous

potential for aggression,

but have been able to get these under

control. The 'mediations' carried

out in particular by the female staff

have helped engender understanding

among the residents and a willingness

to cooperate. Talking, listening

and showing empathy has paid off.

The women in particular deserve recognition

for their invaluable work.

32 33
---
Sabrina Montagna

Regional manager Sardinia

Joined ORS IT in 2018

'I find the refugees' stories very

moving, even though I can't

change anything for them. I

want my professional work to

leave them feeling that they've

been treated with humanity.'

Sabrina Montagna: her name says

it all. A trained psychologist, she is

a rock for those around her and is

not easily ruffled by the day-to-day

problems that arise when supporting

refugees. More than once, the ORS

regional manager for Sardinia has

been able to calm angry residents and

earned their applause for her efforts.

'The best decisions

include both a rational

and an emotional

basis.'

'I want the refugees to feel in their

hearts that they've been treated with

humanity.' Hearing this wish expressed

by a woman who regularly

faces abusive language and threats

as she goes about her work and has

to ensure the safety of her staff is

remarkable. Her determination and

strength are appreciated in Sardinia.

She sees being a woman as a strength.

Yet she modestly claims that her

commitment is nothing out of the

ordinary. She feels that we all benefit

when we treat people with respect

and learn from each other.

Everyone deserves a chance – regardless

of gender. She can never forget

the message left by a person she knew

who committed suicide after losing

their job: 'I can no longer look my

family in the face because I can't take

care of them any more.'

When time allows, Sabrina likes to

drive down to the sea and look out at

the horizon. The sea is like life – deep,

calm, then choppy and stormy again.

She loves the smell of the sea and the

colours remind her of her work: the

blue of the sea is the blue of ORS.

Sabrina sees herself as a link between

ORS management and the staff at the

two facilities. On site, she also acts

as an intermediary for the security

forces and authorities where the interests

of the centres are concerned.

At times, she wishes they could do

something about the typically slow

reaction times in Italy. So when she

sees the possibility of a solution, she

likes to take the lead herself.

'I let people measure

my work by my actions.

To the critics, I say

come and visit, help

out and see for yourselves

what day-to-day

life at the centre is like.'

Last year she surpassed her career development

goals. She is proud of her

team and always keeps track of the

big picture, even in stormy times.

34 35
---
Die SQS bescheinigt hiermit, dass nachstehend genannte Organisation über ein Managementsystem

verfügt, das den Anforderungen der aufgeführten normativen Grundlage entspricht.

Geltungsbereich

Normative Grundlage

Reg.-Nr. H60180 Gültigkeit 25. 09. 2019 – 17. 12. 2021

Ausgabe 04. 03. 2021

sqs.ch

A. Grisard, Präsidentin SQS

Schweizerische Vereinigung für

Qualitäts- und Management-Systeme (SQS)

Bernstrasse 103, 3052 Zollikofen, Schweiz

F. Müller, CEO SQS

Swiss Made

Die SQS bescheinigt hiermit, dass nachstehend genannte Organisation

über ein Managementsystem verfügt, das den Anforderungen der aufgeführten

normativen Grundlage entspricht.

Geltungsbereich

Normative Grundlage

Reg.-Nr. H60549 Gültigkeit 04. 03. 2021 – 28. 02. 2022

Ausgabe 04. 03. 2021

sqs.ch

A. Grisard, Präsidentin SQS

Schweizerische Vereinigung für

Qualitäts- und Management-Systeme (SQS)

Bernstrasse 103, 3052 Zollikofen, Schweiz

F. Müller, CEO SQS

Swiss Made

Zertifiziertes

Management-

System

Die SQS bescheinigt hiermit, dass nachstehend genannte Organisation über ein Managementsystem

verfügt, das den Anforderungen der aufgeführten normativen Grundlage entspricht.

Geltungsbereich

Normative Grundlage

Reg.-Nr. H60179 Gültigkeit 31.03.2020 – 30.03.2023

Ausgabe 04.03.2021

sqs.ch

A. Grisard, Präsidentin SQS

Schweizerische Vereinigung für

Qualitäts- und Management-Systeme (SQS)

Bernstrasse 103, 3052 Zollikofen, Schweiz

F. Müller, CEO SQS

Swiss Made

Die SQS bescheinigt hiermit, dass nachstehend genannte Organisation über ein Managementsystem

verfügt, das den Anforderungen der aufgeführten normativen Grundlage entspricht.

Geltungsbereich

Normative Grundlage

Reg.-Nr. H60181 Gültigkeit 18. 03. 2019 – 17. 03. 2022

Ausgabe 04. 03. 2021

sqs.ch

A. Grisard, Präsidentin SQS

Schweizerische Vereinigung für

Qualitäts- und Management-Systeme (SQS)

Bernstrasse 103, 3052 Zollikofen, Schweiz

F. Müller, CEO SQS

Swiss Made

HR & TRAINING

Employment contracts, sick notes,

pay slips, recruitment, training, time

sheets and references – just some of

the key components of the job for

our HR departments. At the onset of

the coronavirus pandemic, our HR

specialists found themselves bombarded

with questions from staff and

management. Every concern, no matter

how small, was taken seriously.

Throughout the year, the staff were

provided with regular updates on hygiene

and distancing measures, official

directives relating to work, etc.

Switching employees in interdepartmental

roles to working from home

presented a particular headache in

terms of organisation and infrastructure.

But processes have been established

in the meantime and online

meetings are now routine. The opening

of nine accommodation facilities,

some of them at short notice, while

staff absenteeism was slightly up as

a result of coronavirus, led to an increase

in new appointments. In Switzerland

alone, 589 new people were

recruited and 631 staff reallocated

internally to different operations.

Thanks to the introduction of digital

HR programmes, the workflow was

simplified and resources were deployed

more efficiently.

During the pandemic, we had to move

our programme of internal and external

training online within the space

of two months. We managed to run

most of the basic and introductory

courses. There were never any gaps in

the transfer of useful knowledge for

everyday support work. Sadly, however,

some of our specialist courses had

to be cancelled.

Together with the executive managers

on the ground, the Human Resources

department ensures that staff

are deployed where their strengths

and personality are most needed.

Colleagues identify best with the job

in hand when they are supported and

motivated. Looking back at 2020, a

year dominated by coronavirus, we

are proud of our team of over 1,300

colleagues and very grateful for their

efforts. They have worked day in, day

out on behalf of our partners to offer

asylum seekers and refugees the best

possible support services. They deserve

our thanks.

4421_1 / Juni 2019 / Version 2.0

ISO 29990:2010

Zertifikat

ORS Management AG

Röschibachstrasse 22

8037 Zürich

Schweiz

Weitere Standorte gemäss Appendix

Dienstleistungen auf Corporate Level

für die Gesellschaften ORS Service AG,

ORS Integration AG, ORS Deutschland GmbH,

ORS Italia S.r.l., ORS España Servicios Sociales S.L.,

ORS Service GmbH und ORS Integration GmbH

by

Lerndienstleistungen

für die Aus- und Weiterbildung

Certified Management Systems

Switzerland

5341_1 / Juni 2019 / Version 2.0

SVOAM:2010

Zertifikat

ORS Management AG

Röschibachstrasse 22

8037 Zürich

Schweiz

Weitere Standorte gemäss Appendix

by

Certified Management Systems

Switzerland

SVOAM

AOMAS

Erbringung von Dienstleistungen zur Integration

in den (ersten) Arbeitsmarkt

Arbeitsmarktmassnahmen

Women at ORS

37%

CH

Women in managerial positions

42%

CH

Our quality management

ORS services and management processes are regularly audited by the leading

Swiss organisation for certification and assessment services (SQS). We have

been awarded the following certifications:

4020_1 / Juni 2019 / Version 2.0

ISO 9001:2015

Zertifikat

ORS Management AG

Röschibachstrasse 22

8037 Zürich

Schweiz

Weitere Standorte gemäss Appendix

Dienstleistungen auf Corporate Level

für die Gesellschaften ORS Service AG,

ORS Integration AG, ORS Deutschland GmbH,

ORS Italia S.r.l., ORS España Servicios Sociales S.L.,

ORS Service GmbH und ORS Integration GmbH

by

Qualitätsmanagementsystem

Certified Management Systems

Switzerland

DE

IT

42%

49%

AT 33%

DE

IT

25%

21%

49%

AT 71%

25%

6421_1 / Juni 2019 / Version 2.0

eduQua:2012

Zertifikat

ORS Management AG

Röschibachstrasse 22

8037 Zürich

Schweiz

Weitere Standorte gemäss Appendix

Dienstleistungen auf Corporate Level für die

Gesellschaften ORS Service AG, ORS Integration AG,

ORS Deutschland GmbH, ORS Italia S.r.l.,

ORS Service GmbH und ORS Integration GmbH

by

Schweizerisches Qualitätszertifikat

für Weiterbildungsinstitutionen

Certified Management Systems

Switzerland

36

37
---
Karolina Trappitsch

Head of HR and member of the senior

management team ORS Switzerland

Joined ORS CH in 2001

'Supporting staff and allowing them room

for personal development stimulates talent

and has a positive effect on the culture

of the organisation as a whole. My

HR team and I are committed to ensuring

that this happens.'

In summer 2020, Karolina Trappitsch

took over management of the HR department

at ORS Switzerland. Along

with her 12-strong team (10 women

and 2 men), she is the point of contact

for current and future staff when it

comes to personnel-related matters.

She is also responsible for training

and professional development and

coordinates HR issues for the entire

ORS Group, across all national borders

and linguistic divides. She is a

member of the senior management

team and certainly does not consider

her role there as tokenism. As a woman,

she knows how to assert herself

and makes sure that work issues are

also considered from a female perspective.

The HR professional joined

ORS 20 years ago and will begin a

part-time postgraduate course in autumn

2021 to qualify as a personnel

manager.

As a 23-year-old, Karolina Trappitsch

visited many of the world's popular

tourist regions as a tour guide and

has rather negative memories of her

negotiations with hotel managers

back then. 'They thought they could

rip me off just because I'm a woman.'

With hindsight, the experiences

served to make her stronger and more

self-confident. She doesn't avoid conflicts

and addresses problems head

on, with the aim of finding common

ground.

At ORS too, her work during the

coronavirus pandemic focussed on a

solution-oriented approach. The regulations

governing working practices

had to be clarified and staff informed.

Coronavirus meant that there was

an increased need for staff cover.

Employer branding and recruitment

measures therefore had to be implemented.

As head of personnel, she feels it is

important to show staff at every level

of the organisation that their work

is appreciated and that this appreciation

should involve more than just

words of praise. She is keen to retain

a space for interaction in person and

would like to see colleagues rewarded

for their work during the pandemic

with various benefits.

'I believe that a key part

of a good work-life

balance is the fair

division of household

chores and carer roles

between men and women.'

The demand is clear: there should be

more opportunities for men to work

part-time in the modern working environment.

Where men and women

work, she feels it is also vital to share

the household chores. She also believes

in equal opportunity at work

and is delighted that ORS has been

endorsed by the Federal Office for

Gender Equality. She enjoys being a

woman. But she is intrigued by the

idea of spending a day as a man to

better understand the male thoughts

that women sometimes have problems

relating to.

38 39
---
ANNUAL RESULTS

2020

Finances

Review and outlook

Asylum applications in Europe were

down 30% on the previous year in

2020. This downturn is directly connected

to the COVID-19 pandemic

and the measures taken to stop the

spread of the virus. Operations in

the facilities we run were made significantly

more difficult by the pandemic

and in some instances involved

a great deal of extra work for the national

ORS organisations. Nevertheless,

we succeeded in stabilising the

profitability of the ORS Group and

exceeded the budgeted turnover. We

can therefore see a positive trend in

the year-on-year comparison of our

operating profit.

Switzerland

In 2020, around 11,000 asylum applications

were made in Switzerland,

representing a drop of just under 23%

against the previous year. This places

the decline in asylum applications in

Switzerland significantly below the

European average of 32%. The fall in

asylum applications led to a reduction

in the overnight accommodation

figures.

ORS Switzerland's share of the ORS

Group's total turnover stands at 56%.

Collective accommodation has been

added to the cantonal mandates, tra-

ditionally the area with the highest

turnover for Switzerland, since the

reporting year. In early summer/summer

2020, ORS took over the operation

of the repatriation centres in the

canton of Bern as well as the support

and integration of asylum seekers and

recognised refugees in the Oberaargau

region as part of the Bern cantonal

mandate (NA-BE).

For the coming year, we anticipate

that the upturn in turnover will be

slight given the expected stagnation

in asylum applications in the first

half of 2021 as a result of the continuing

COVID-19 pandemic.

Germany

In comparison with the previous year,

Germany has also seen a drop in the

number of initial applications from

asylum seekers (2020: 102,581 | 2019:

142,509). This situation has led to major

volatility in the market.

Despite the ongoing decline in initial

and follow-up applications, ORS

Deutschland GmbH was able to consolidate

its position in the market

and achieve the planned growth by

acquiring additional mandates.

Because the COVID-19 pandemic is

still ongoing, we expect that initial

and follow-up applications will continue

to stagnate in 2021. We are nevertheless

anticipating further growth

in Germany, largely as a result of the

additional mandates we have already

acquired.

Austria

Bucking the general trend in Europe,

asylum applications in Austria rose

by around 13% last year in comparison

with 2019. The pandemic and

the associated transport restrictions

led to increased capacity utilisation

in the facilities run by ORS, forcing

the Federal Ministry of the Interior

(BM.I) to increase the overall capacity

of federal support facilities by adding

further locations over the course of

the year.

These circumstances led us to exceed

the budgeted result for Austria, and

turnover rose in comparison with

2019. The significant additional costs

associated with the protection and

hygiene measures, however, resulted

in a slightly lower profit-turnover ratio.

Despite the trend in asylum applications,

turnover in 2021 is set to fall

to a very low level following the nationalisation

of the mandate with the

BM.I. From a strategic point of view,

it is important to us to hold on to

Austria as a location.

Italy

In 2020, ORS Italia S.r.l. took over

its first two mandates on Sardinia.

The launch of operations in Italy was

made significantly more difficult by

the global pandemic situation. The

combination of the pandemic and

a change in government held up all

bidding processes. As a result, we

were unable to implement our growth

strategy in Italy as planned.

The focus for the coming year is on

profitable growth and, with it, expansion

of our position in the market.

Sources

Asylum Statistics 2020 – State Secretariat for Migration (SEM), Bern-Wabern, 1 February 2021

BMI Asylum Statistics 2020

Federal Office for Migration and Refugees, key asylum figures 2020

40 41
---
ANNUAL RESULTS

2020

71,884 CHF Switzerland

19,898 CHF

Finances

Germany

Turnover per country (in thousand CHF) 2020 2019

127,529CHF Total

Switzerland 71,884 87,832

Austria 34,285 31,758

Germany 19,898 13,135

Italy 1,462 -

Total 127,529 132,726

Operating profit* 1,322 1,774

34,285 CHF

Austria

1,462 CHF

Italy

Turnover split Switzerland (in thousand CHF)

SEM 24,148 26,183

Collective accommodation 25,383 23,615

Local mandates 20,108 34,931

Integration 2,245 2,754

Special charge - 348

Total ORS Switzerland 71,884 87,832

* Operating profit before exceptional items relating to other periods

The consolidated annual statement for 2020 was prepared in accordance with Swiss GAAP FER guidelines

and audited by Baker Tilly OBT. The auditor's report contains no findings of discrepancies.

'Dealing with numbers

is meticulous work. I am

convinced that in the

world of finance, soft

skills are becoming more

and more important for

the successful implementation

of interdisciplinary

projects.'

As Head of Group Accounting, Beatrice Greger works with the national accounting

teams to ensure the numbers add up. She believes that the team

members' qualifications and the quality of their work are more important

than their gender, nationality or age.

42

43
---
ADVISORY BOARD

Our Advisory Board is a professional body that advises ORS on current and future migration

issues. It recommends approaches for implementing the strategy and developing

the business. It is composed of prominent political figures, entrepreneurs and migration

experts from the DACH region:

Rita Fuhrer: accompanying ORS on the

Advisory Board

As a teenager, Rita Fuhrer wanted to become a handicrafts teacher. Then a job at a

health insurance organisation took her into politics and, from 1995 to 2010, she served

as a parliamentarian for the canton of Zurich, where she was responsible for social and

security policies. Political setbacks and health issues did not prevent her from campaigning

for greater subsidiarity between the public and private sector. Since 2017, the

ex-politician has served on the ORS Advisory Board, along with five other individuals

from the worlds of politics and business.

Ruth Metzler-Arnold (President)

Former Federal Councillor (CH),

Minister of Justice and Police, President

Switzerland Global Enterprise,

member of several boards of

directors, member of the University

Council, University of St. Gallen (CH)

Erwin Jutzet

Former member of the cantonal

government of Fribourg, Department

of Security and Justice and

the National Council (Switzerland)

Thomas Bäumer

CEO of Colosseum Dental Germany,

former CEO of Adecco Germany and

Austria, committee member of the

Confederation of German Employers'

Associations (BDA, DE)

Dr Michael Spindelegger

Former Vice-Chancellor and Foreign

Minister of Austria (AT), General

Director of the International

Centre for Migration Policy Development

(ICMPD)

Rita Fuhrer

Former member of the cantonal

government of Zurich, Department

of Social Affairs and Security (CH)

and former Minister of Economic

Affairs (CH)

Dr h.c. Fritz Schramma

Former Lord Mayor of the City of

Cologne and President of the German

Association of Towns and Municipalities

(DStGB).

What motivated you to join the Advisory

Board?

I have been very familiar with the issues involved

in supporting and accommodating

asylum seekers ever since I began working

as a parliamentarian back in 1995. Since

then there have been huge developments

– from a legislative point of view, from the

point of view of the support organisations'

human resource requirements, in the individual

nature of the support and in the attitude

of society. These developments are still

ongoing. The challenges remain gargantuan.

So I am happy to help wherever I can.

Are there any areas of your work that you find

particularly challenging as a woman?

I have always had to prove that I am just

as strong and experienced as a man. I have

battled to try and ensure that a woman's life

experience and professional experience are

respected as a matter of course. Why should

having been in the military and led a platoon

of recruits prove your management

skills but having brought up three sons, as

I have, apparently doesn't?

As a general rule: can women do more to influence

decisions?

A person's perception has a lot to do with

their own experience. That's why women

and men can listen to the same issues but

hear different things, set different priorities

as a result and often prefer different solutions.

When you look at it like that, I can

have a major influence on decisions if, as a

woman, I view my own suggestions as just as

valid and correct as those of a man and am

prepared to back them up with conviction.

If you could change anything in the course of

gender history and equal rights, what would

it be?

Any change takes time. Despite the fact that

equal rights have been enshrined in law for

some time now, they're not always reflected

in everyday practice. The genders don't

have to be exactly the same, but it is important

that they respect and value one another.

When my daughter-in-law, who can

manoeuvre any vehicle with a large trailer

better than most men, takes her car to the

garage because of a faulty turbo cable and

the car mechanic explains to her that she's

probably just jammed the floor mat under

the accelerator, that's down to a lack of respect

not a lack of equality.

So if I could change anything, I'd demand

honest acknowledgement of other people's

life experiences and unprejudiced respect.

That would have made the journey towards

the goal of equal rights simpler and shorter

and, of course, it would have prevented a lot

of distress.

44

45
---
GROUP MANAGEMENT

Jürg Rötheli

CEO ORS Group

We lead mindfully and

promote diversity among

our teams.

Shared values through successful leadership

The continuing positive development of our organisation is also reflected in

the new management values. These were drafted at the Leaders' Conference

in Zurich in October 2019 in consultation with 40 managers from all the different

national companies. They build on the company values 'neutral, flexible,

mindful'.

We weigh up situations carefully, make decisions rapidly

and act in a sustainable, resource-aware manner.

Carolin Wälz-Fabregon

Managing Director

ORS Germany

Claude Gumy

Deputy Managing Director

ORS Switzerland

Maurizio Reppucci

Managing Director

ORS Italy and Spain

Wilhelm Brunner

Managing Director

ORS Austria & New Markets

We trust in our colleagues'

skills and demonstrate this

by delegating responsibility

to them.

We communicate respectfully

and openly. We listen to

others and share information

promptly.

Martin Nyfeler

CFO ORS Group

Lutz Hahn

Head of Communications

& Public Affairs

46

47
---
OUR

VALUES

neutral

We are politically and religiously neutral. We provide competent

and reliable services to support and integrate refugees. We

are approachable and committed without sacrificing objectivity.

We work transparently, and we proactively and critically

evaluate the quality of our services.

flexible

We offer a care-free package for authorities and society.

Our years of international experience enables us to call on

proven processes. This means that we can act in an agile

and cost-effective manner. We respond quickly and efficiently

to short-term changes with effective solutions for

our partners and the people in our care.

mindful

People are at the heart of our work and we seek to communicate

eye to eye. Our goal is to broaden perspectives and create

added value, both for refugees and the local population.

We always set ourselves the highest goals and pursue them

with decency, modesty and care.

48

49
---
GLOSSARY

Abbreviations – Switzerland

NaBe – restructuring of asylum and refugee support in the canton of Bern

SPITEX – organisation for outpatient help and care

BAZ – federal asylum centre

RKZ/RZB – repatriation centre

KU – collective accommodation

MNA/UMA – unaccompanied minor asylum seeker

SEM – State Secretariat for Migration

Cantons

Abbreviations – Austria

BM.I – Federal Ministry of the Interior

BBU – Federal Agency for Reception and Support Services

Abbreviations – Italy

UNHCR – United Nations High Commissioner for Refugees

CAS – reception centre

CPR – repatriation centre

AG – canton of Aargau

BE – canton of Bern

BL – canton of Basel-Landschaft

FR – canton of Fribourg

SO – canton of Solothurn

TG – canton of Thurgau

ZH – canton of Zurich

Abbreviations – Germany

BU – support centre

LEA – regional reception facility

ZUE – central refugee facility

EA – reception facility

AfA – reception facilities for asylum seekers

GU – hostel

German states

BW – Baden-Württemberg

NRW – North Rhine-Westphalia

RP – Rhineland-Palatinate

50 51
---
52

53
---
OUR LOCATIONS

CONTACTS

As at May 2021

Head office

Accommodation

EU office

Belgium

Switzerland

Austria

Italy

Germany

Switzerland

ORS Management AG

Röschibachstrasse 22

8037 Zurich, Switzerland

Tel. +41 (0)44 386 67 67

info@ors.ch

www.ors-group.org

ORS Service AG

Röschibachstrasse 22

8037 Zurich, Switzerland

Tel. +41 (0)44 386 67 67

info@ors.ch

www.ors-schweiz.ch

Germany

ORS Deutschland GmbH

Güterhallenstrasse 4

79106 Freiburg im Breisgau, Germany

Tel. +49 (0)761 769 931 20

info@orsdeutschland.de

www.ors-deutschland.de

Austria

ORS Service GmbH

Mooslackengasse 17

1190 Vienna, Austria

Tel. +43 1 25301 62362

info@orsservice.at

www.ors-austria.at

Italy

ORS Italia S. r. l.

Piazza Annibaliano 18

00198 Rome, Italy

info@ors-italia.com

www.ors-italia.it

Spain

ORS España

Servicios Sociales S.L.

Avenida Felipe II, 17

1° oficina 1

28009 Madrid, Spain

www.ors-espana.es

Greece

ORS Greece Monoprosopi

A.E. 280 Kifisias Avenue

15232 Chalandri, Greece

www.ors-greece.org

EU

ORS Group

14b Rue de la Science

1040 Brussels, Belgium

Tel. +32 2 880 3783

www.ors-group.org

Imprint

Spain

Greece

Publisher

ORS Management AG, Zurich

June 2021

© ORS Management AG, Zurich

Concept and design

Lena Striegel & Ellinor Amini

ORS Deutschland GmbH

Marketing & Communications

Editor

Lutz Hahn

Head of Communications

ORS Management AG

54 55
---
www.ors-group.org

56