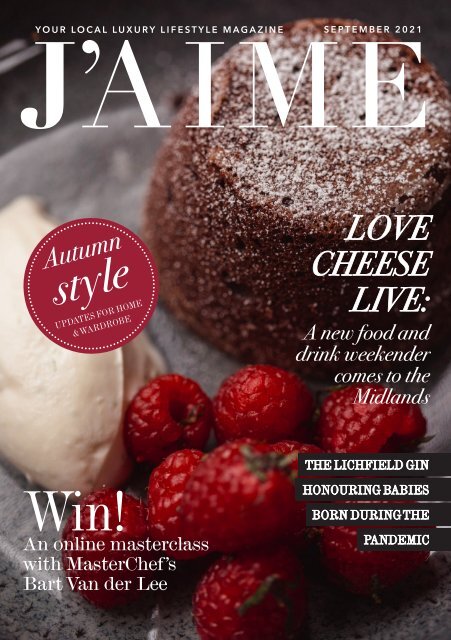 J'AIME SEPTEMBER 2021
Your luxury lifestyle magazine
Your luxury lifestyle magazine
SHOW MORE
SHOW LESS
You also want an ePaper? Increase the reach of your titles
YUMPU automatically turns print PDFs into web optimized ePapers that Google loves.
S E P T E M B E R 2 0 2 1

J'AIME

Y O U R L O C A L L U X U R Y L I F E S T Y L E M A G A Z I N E

Autumn

style

UPDATES FOR HOME

& WARDROBE

LOVE

CHEESE

LIVE:

A new food and

drink weekender

comes to the

Midlands

Win!

An online masterclass

with MasterChef's

Bart Van der Lee

THE LICHFIELD GIN

HONOURING BABIES

BORN DURING THE

PANDEMIC
---
P R E P

A thousand years of lear ning; you r limitless f ut u re.

A world-class boarding and day school in the hear t of the Midlands f rom 3-13.

OPEN DAY: SATURDAY 2 OCTOBER 2021

" WE WANT OUR

CHILDREN TO

STAY CHILDREN

FOR LONGER."

reptonprep.org.uk

Call 01283 559222 or email admissions@repton.org.uk to book a place on our Open Day.
---
Welcome to J'AIME

What a difference a year makes! As we head into

autumn, this year we've swapped whispers of

lockdowns for getting out and about, and Zoom

gatherings for dinner dates with friends. Of course,

there's still plenty to be cautious about post-Covid, but

the hope that life is getting back to normal is very real.

One man tasked with reviving the area in the wake of

the pandemic is West Midlands mayor Andy Street,

who was elected for a second term earlier this year. We

catch up with him to discover more about his plans for

the region's future.

We also talk to a Lichfield couple who have created a

new gin to honour all of the babies born during the

pandemic, which will be raising funds for maternity

charity Pregnant Then Screwed.

If you're a foodie, we've got an action-packed

issue for you, with news of a brand new food and

drink weekender coming to Staffordshire, featuring

celebrity chefs James Martin, Marco Pierre White and

Michel Roux Jr, plus you can win an online culinary

masterclass with MasterChef: The Professionals

finalist Bart Van der Lee.

The past 18 months have been a challenging time

for many small, independent businesses - something

which we at J'AIME know all too well. As a

completely independent publication, we are proud

that we've survived these unprecedented times, and

we remain passionate about supporting other small,

independent businesses along the way - it would be

great if our readers would join in and continue to

support the businesses in our community.

If you enjoy what you read in this issue, then why not

help us to spread the word? As well as being delivered

directly to homes in selected postcodes across the

area, you can pick J'AIME up free of charge in major

supermarkets around the Midlands, as well as read the

whole thing - and plenty more! - online at

www.jaimemagazine.com

We hope, as always, that our upbeat, positive content

will help to put a smile on your face. Enjoy!

EDITOR: AMY NORBURY

EDITOR@JAIMEMAGAZINE.COM

ADVERTISING: JAN ASHLEY

ADVERTISING@JAIMEMAGAZINE.COM

07388 335 931

DESIGN: DESIGN@JAIMEMAGAZINE.COM

CONTRIBUTORS: GARY PHELPS, JENNY

AMPHLETT, JAZZ SHERGILL, NATHAN

COLLINS, SUSIE MANDLEBERG, DEBORAH

MITCHELL, RAUL ROMERO

J'AIME IS PUBLISHED BY ASHBURY

PUBLICATIONS LIMITED.

Check us out online at:

WWW.JAIMEMAGAZINE.COM

Find us on

/JAIMEMAGAZINE

@JAIMEMAGAZINE

@JAIMEMAGAZINE

SPONSORED BY

3
---
CO N T E N T S

InsideJ'aime this month...

6 Elvins Gin - The Lichfield gin inspired by

babies of the pandemic

10 Andy Street - The West Midlands Mayor on his

plans for the future of the region

12 Property - Property of the month

14 Property - A successful first year

18 Interiors - See red for autumn

22 Interiors - Let there be light

26 Paralympics - Jack Hodgson goes for gold,

with help from Steven Hale Hearing

28 Food and drink - Reviewing Hoar Cross Hall

30 Food and drink - A sumptuous salad from

Thyme Kitchen

32 Food and drink - Love Cheese Live comes to

Staffordshire, and you can win tickets

36 Competition - Win an online culinary

masterclass with Bart Van der Lee

40 Staffordshire author - Debbi Vosey discusses

her debut novella

44 Travel - Holidaying in a post-pandemic world

47 Health - Lichfield personal trainer Raul

Romero on being the healthiest version of you

50 What's On - Events around the Midlands this

month

54 Fashion - Transitional style

56 Beauty - Take it off, says Heaven Skincare's

Deborah Mitchell

57 Beauty - Our pick of the best face serums

60 In the news - From field to fashion for luxury

British brand

62 In the news - Capturing perfect moments

64 Health - Sight-saving surgery for world title

hopeful

66 In the news - A new opening for family funeral

company

SPONSORED BY

4
---
F E AT U R E

For our babies

A NEW GIN, CREATED BY A LICHFIELD COUPLE TO HONOUR ALL OF THE

BABIES BORN DURING THE COVID-19 PANDEMIC HAS JUST HIT THE SHELVES.

AMY NORBURY DISCOVERS MORE

MATHEW AND MARIA HUNTER, WITH

THEIR SONS ELLIS AND ELVIN

When the Covid-19 pandemic hit, it affected life in

myriad ways.

Among the chaos, pregnant women and new parents

had an additional layer of worry, with conflicting

advice and uncertainty as to how Covd-19 may affect

their babies, both in utero and as newborns.

Faced with midwife visits, hospital appointments and

scans alone, and with medical staff hidden behind

layers of PPE, it added unprecedented worry to what

is, an already highly emotional time.

As a mental health nurse, working predominantly

with women and mothers, maternal mental health is

a cause extremely close to Maria Hunter's heart.

And this came to the fore last year when the 30-yearold,

from Lichfield, gave birth to her second son

Elvin in October, following a pandemic-dominated

pregnancy - and just as the country headed into

lockdown for the second time.

It was a tumultuous time for Maria, as it was for

all pregnant women and new parents, with the

pandemic presenting many challenges as she got

to grips with the isolation of being a new mum in

lockdown, as well as balancing the needs of baby

Elvin with homeschooling her eldest son, five-yearold

Ellis.

Now, as the country is getting back to a sense of

normality, Maria is determined to commemorate the

experience of being a pandemic parent.

So alongside husband Mathew, Maria has created

Elvins Gin, in honour of their little own Elvin and all

of the babies born while coronavirus raged on.

While a gin may seem like a leftfield choice in the

circumstances, any parent who has endured enforced

homeschooling will testify to the pleasure of a chilled

G and T at the end of the week. And for the couple,

it's a case of doing what they know best.

Mathew, also known as The Liquorman, specialises

in the wholesale and distribution of craft beers,

ales and spirits - so he knows a thing or two about

handcrafted, small batch gins.

6 www.jaimemagazine.com
---
Mathew says: "The idea for Elvins was essentially

came from the fact that we had Elvin during the

pandemic, and all of the horrors and troubles that

came from that, not being able to attend scans,

all of the extra worry that we, and other couples,

encountered during this time."

A percentage of the profits from all sales of Elvins

Gin will go to Pregnant Then Screwed, a charity

which is dedicated to helping pregnant women and

mothers.

Maria says: "I already followed Joeli Brearley, who

founded Pregnant Then Screwed and knew about

her journey, how she'd faced discrimination when she

got pregnant, how she was sacked from work.

"Throughout my pregnancy with Elvin, Pregnant

Then Screwed provided a range of resources and

advice, and we are so very thankful that this space

exists for pregnant women and mothers. It seemed

like a perfect fit for us."

Pregnant Then Screwed is dedicated to stop the

systemic, cultural and institutional discrimination

faced by a vast amount of pregnant women and

mothers every year. Founder Joeli Brearley and her

team fiercely break down the walls against maternity

discrimination, through campaigning to have voices

BABY ELVIN, WHO WAS BORN

DURING THE PANDEMIC IS THE

INSPIRATION BEHIND ELVINS GIN

heard while simultaneously ensuring that they

provide up-to-date information about employment

rights and options, whether this is legal advice or just

a listening ear.

Joeli said: "'We are so delighted that Elvin's gin will

be donating a percentage of their profits to Pregnant

Then Screwed as a way to honour the challenges

pregnant women and new mothers have experienced

during the pandemic.

"The money will go towards developing our support

services for women who experience discrimination

and fighting to change the systems which prevent

them from having equal access to the labour market.

Plus, the gin is absolutely delicious! So it's a win-win

all round."

The two iterations of Elvins, a dry gin and a pink,

have been handcrafted and distilled locally by

Mathew and Maria, who tried, tested and tweaked

the recipes, playing around with the botanicals until

they were confident Elvins was just right.

Mathew says: "In terms of the Elvins Dry, we've

made it to be very classy and elegant, very citrusforward

to adhere to the London Dry principles. In

terms of the botanical split it's actually 68 per cent

juniper, which is really heavy juniper.

"The juniper is backed by white lavender, lemon

thyme, grapefruit and lemon rind, which allows it to

be a citrus-forward gin with a floral backbone and a

nice, clean finish."

www.jaimemagazine.com

7
---
"With the pink we toyed with a lot of different

recipes, we discussed doing lingonberry as something

different, but essentially we want to hit a slightly

different demographic of drinker, but to keep it

classy."

The result is Elvins Pink, a wonderfully fruitful gin

bursting with British strawberry, raspberry and rose.

All natural flavours are used to create a grown-up

iteration of a pink gin, backed by the 43 per cent

ABV, the same strength as the dry version.

While Mathew's expertise in the drinks industry has

enabled the couple to create a small batch gin which

would sit proudly on any shelf, it is Maria who has

driven the look and feel behind the brand.

The tall, slender, elegant bottle has been imported

from Italy, carefully chosen for its unusual aesthetic.

"We wanted something which looks different and

stands out - not easy when there are more than 3,000

gins on the market," says Maria.

The label, designed by Maria, is handwritten to

display each bottle's number within the batch. And

with a tiny batch of each gin - just 150 bottles of the

dry gin and 158 of the pink have been made in this

first batch - customers know they're getting a truly

bespoke product.

While Mathew is used to championing handcrafted,

small batch spirits, this is his first foray into

developing a product of his own. Elvins Dry and

Pink join an impressive line-up of some 75 spirits

PREGNANT THEN SCREWED

FOUNDER JOELI BREARLEY

from small distilleries across the UK and beyond.

"We are passionate about independent businesses

and the stories behind them," explains Mathew.

"The craft alcohol sector is the fastest growing

segment of the market and the innovation and

diversity means there is a product to suit any taste."

Mathew is an advocate for independent, small

brands. Having worked in the hospitality industry

from the age of 14, eventually working his way up to

be operations manager, he has seen first-hand how

difficult it can be for small brands to get shelf space.

"Throughout various companies, I found that

whenever a small, independent distillery or brewery

would approach us, the bigger boys would just offer

more incentives, deals and freebies. I was getting

really frustrated that I couldn't get the smaller brands

stocked; it was just impossible for them to compete."

So Mathew decided to take matters into his own

hands, starting up The Liqourman in a bid to get

independent brands stocked in other independents.

"Every brand that we stock is very small and

independent," says Mathew. "Recently we had one

product which went into Morrisons, which was great

for them, but we delisted the product because that's

not what we're about. Our products are all from truly

independent makers.

"And we buy independent and local as much as we

can ourselves, because while you may pay a little

more, you're supporting someone and buying a

product that's made with care and love."

Elvins Dry Gin and Elvins Pink Gin are available

from www.theliquorman.com priced at £29.95,

with free delivery within five miles of Lichfield.

8

www.jaimemagazine.com
---
F E AT U R E

Man on a mission

AFTER A TUMULTUOUS 18 MONTHS FOR THE WEST MIDLANDS IN THE WAKE OF THE

CORONAVIRUS PANDEMIC, MAYOR ANDY STREET KNOWS HE HAS A SIZABLE JOB TO DO.

GARY PHELPS DISCOVERS MORE ABOUT HIS PLANS

Andy Street is a man on a mission – to revive the

West Midlands as it emerges from the coronavirus

pandemic. And after being re-elected for a

second term as the West Midlands Mayor in May,

the former boss of John Lewis is showing his

characteristic energy to get the job done.

And it's a big job. Over the last 18 months the

West Midlands – made up of Birmingham,

Coventry, Dudley, Sandwell, Solihull, Walsall and

Wolverhampton – was economically the worst

affected region of the UK.

Yet, despite these challenges ahead, Andy remains

positive.

"There is no doubt, we are facing real challenges

here," he says.

"But I know that we have the innovation and drive

to overcome these challenges. This region has always

bounced back in times of adversity, thanks to the

nature of the area and the people who live here, and

I believe we are beginning to see that happen again.

"The last two years have seen lots of examples of

determination and resilience from the communities

that make up our region, and now I think you can

sense a similar determination to get back to where

we were before COVID hit.

"We West Midlands people may not have the

same kind of swagger you get in other parts of the

UK – we tend to be more modest and just get on

with things – but we are resilient, innovative and

industrious."

Andy is a Brummie, from a Brummie family, who

says he was born in Banbury 'by accident' because

his parents were working there. The Streets moved

back to Birmingham when he was just ten months

old. He grew up in the Second City, going to King

Edward's School before attending university.

His first ambition was to become a social worker

but instead he chose a life in retail. After being

turned down by Marks and Spencer, he got a job as

trainee at John Lewis, beginning a three decade-long

association with the company that saw him rise to

Managing Director.

WEST MIDLANDS MAYOR ANDY STREET

10 www.jaimemagazine.com
---
But after a decade

of running the high

street giant, he saw an

opportunity to return to his

roots – and swap the high

street for high office.

"I had really enjoyed

running John Lewis," he

says "then the idea of a

West Midlands Mayor

began to be talked about. It

really interested me.

"The more I thought about

it, the more it seemed like

the perfect opportunity to

swap the job I loved for the

chance to serve the region

where I grew up. In the

end, it was simply too good a chance to miss."

After being elected in 2017, Andy applied the lessons

of his years in business to his role as Mayor, focussing

on attracting investment and delivering tangible

results that would revive the region.

As he approached the end of his first term that

approach was delivering record house-building

figures, high employment levels and the highest

growth rate of any UK region outside London.

But then COVID hit, bringing tragic consequences

for thousands of local families and economic turmoil.

Elections were postponed for 12 months, while Andy

led the West Midlands through the pandemic.

That meant uniting the region to ensure a joined-up

approach, while providing a valuable direct link to

government.

As well as this huge professional test, Andy faced a

ANDY STREET WAS ELECTED

FOR A SECOND TERM IN MAY

personal challenge. In early 2021, he lost his mother

to COVID. She died just days before she was due to

be vaccinated.

He says: "It has been a very difficult time, and the

most difficult of it all, of course, was when mum died

as a result of COVID. It was an incredible shock.

"I really didn't anticipate it at all – I was out walking

with her just a week before she went into hospital."

Andy says he dealt with this personal tragedy by

'doing one thing at a time' while accepting his

responsibility to lead the region while so many others

were going through similar experiences.

He says: "I kept thinking 'people expect me to lead

here, that is my job as mayor. I've got to step forward

and demonstrate that I can do that'.

"So, I tried to concentrate on what our citizens

expected of me as the region's leader at such

a difficult time – things like providing clear

communication, telling them

things straight and always

being positive about where

the opportunities are.

"Because in times of

adversity, people want some

positivity to believe in."

That positive outlook played

a huge role in his re-election

in May this year – and it is

now a driving factor in his

determination to help revive

the region as we look ahead

to life post-pandemic.

That means pressing on

with his plans for the future,

whether that's building

www.jaimemagazine.com

11
---
thousands of new homes, revolutionising the region's

transport system, meeting net zero carbon ambitions

or delivering on his commitment to create 100,000

new jobs over the next two years.

He says: "Of course, we must be cautious and

sensible as restrictions are eased, and I have no doubt

that we have many challenges ahead, but we also

have to recognise and seize the opportunities that can

help us get back to where we were.

"We are seeing millions of pounds being poured into

our town centres, and our transport system is being

transformed, with railway stations reopened and new

Metro lines being built.

"We're leading the way in the new science of

reclaiming old derelict sites for redevelopment.

This means that we can remove eyesores that blight

communities, while building new homes where

they can create footfall for town centres rather than

destroying greenbelt land.

"This 'brownfield first' policy was inspired by the

loss of so much greenbelt in Sutton Coldfield, which

happened before I became mayor, and it is making a

difference.

"We have also set ourselves the challenge of

becoming a carbon neutral region by 2041, which

will bring with it all kinds of opportunities as we

change the way we live.

"And then, of course, we also have the

Commonwealth Games in Birmingham next year,

which will provide a well-timed boost for everyone,

both economically and culturally."

With his second term as West Midlands mayor

underway, does he feel the role has been fully

accepted by the region's people?

"Well, I think it's fair to say that when I was first

elected, back in 2017, the job seemed like an

experiment," he says.

"You have to bear in mind that it's still a relatively

new thing here – after all, we have had a mayor

for four years, while London has had one for two

decades.

"It's also important to remember that our region had

been in decline for 40 years. Our communities were

more likely to compete with each other than unite to

attract investment.

"But I think people are beginning to understand

how the Mayor's role can be a catalyst for change, as

well as uniting all those different communities to win

investment.

"The current push to 'level up' the nation, and

perhaps devolve further powers to the regions, to

increase local decision making, can really help the

region's fortunes.

"I'm certain that, even after the hardships of the

last two years, the West Midlands is a much more

confident place – and I'm optimistic about the

opportunities that lie ahead."

MAYOR ANDY STREET IS A MAN ON A MISSION TO

REVIVE THE REGION IN THE WAKE OF THE PANDEMIC

12 www.jaimemagazine.com
---
Why wait to

see clearly?

At Spire Little Aston Hospitals dedicated Eye Centre,

we offer a range of treatments for common eye

problems including cataract surgery, refractive

lens exchange surgery and age-related macular

degeneration treatment.

Our expert ophthalmologists (eye specialists) use

some of the latest medical treatments for a range

of eye problems, including:

– Conditions commonly associated with age such

as cataracts and glaucoma

– Correcting eyesight problems through laser eye

surgery

– Eye disease such as diabetic retinopathy

We offer fast access to diagnostic tests and

scans, and can often arrange for you to see a

consultant within a few days of your enquiry.

Book to see an expert today

Search 'Spire Little Aston Hospital'

Call 0121 514 7034

Our private treatments are often more affordable

than you think. There's even interest free finance –

0% representative APR available on treatment.

Meet the experts

Book a free virtual mini consultation where

Mr Thomas Ressiniotis, Consultant Ophthalmologist,

will be offering expert advice on cataracts and

glaucoma treatments available in the Spire Eye Centre.

07

Oct

Free mini appointment, from 6pm

Booking is essential, so please visit our website or call

0121 514 7034 to book your place.

Upon booking, you will be offered either a virtual

Zoom appointment or telephone call, both for 10

minutes between 6–7pm, offered on a first come first

serve basis.

Book early to avoid disappointment.

*Mini consultations are an opportunity to ask any questions you have about surgery and are not a formal

outpatient consultation. If you wish to proceed to surgery or your consultant suggests that further treatment

may be necessary, a full outpatient appointment will be required to assess your suitability for surgery/treatment.
---
P R O P E RTY

Property of the Month

WE TAKE A SNEAKY PEEK AT SOME OF THE HOTTEST PROPERTIES ON THE MARKET IN THE AREA

EACH MONTH. THIS MONTH'S SELECTION IS AN INCREDIBLE FIVE-BEDROOM FAMILY HOME WITH

EXTENSIVE AND WELL-PRESENTED LIVING ACCOMMODATION IN SOUGHT-AFTER FOUR OAKS

32 Streetly Lane, Four Oaks, Sutton Coldfield: £1,050,000

On the market with Aston Knowles: 0121 362 7878

THE AGENT SAYS: This beautiful five-bedroom family

home is sure to make an incredible first impression. The

gravel driveway leading up to the porch entrance offers ample

parking space. The porch entrance leads into the welcoming

reception hallway via the heavy oak front door with brass

knocker. The hallway is sure to take your breath away, with

its stunning high ceiling, wooden floor, and log burner. The

stairs are tastefully set behind a partitioning wall and lead up

to the mezzanine landing.

The spacious drawing room with front and side aspect

is located off to the right and features a lovely coal-effect

fireplace with oak surround along one wall.

An internal hallway leads off from the reception hallway and

into the generously sized kitchen/breakfast/family room.

This is a stunning space, truly designed to be the heart of the

home and an excellent space for family living.

The kitchen features lovely slate grey wall and floor

cupboards and high-gloss black granite worktops. Built-in

appliances include a large gas-fired hob with double oven and

extractor fan above.

The principal bedroom suite is set on the first floor and

features a stunning outlook onto the garden and space for

a sitting area, as well as a walk-in wardrobe with built-in

wardrobes on both sides and an en-suite bathroom, featuring

a modern suite with grey tiling.

The first floor benefits from three further bedrooms, all

with built-in wardrobes, an airing cupboard, and a family

bathroom with a beautiful white suite and separate walk-in

shower.

Finally, the home offers an amazing second-floor split-level

bedroom suite with shower room and walk-in wardrobe.

Steps lead up to a higher level, ideal for a sitting area or

study/workspace.

W E L O V E : T H E S T UNN ING V IE W S O V ER A G O L F C O UR S E

14 www.jaimemagazine.com
---
PREMIUM LETTINGS

IF YOU THOUGHT

ASTON KNOWLES

ONLY SOLD PREMIUM HOUSES...THINK AGAIN!

Introducing ASTON KNOWLES Premium Lettings & Property Management.

Are you looking for a quality agent, with excellent communication skills and management

experience who will care for your home like their own? At ASTON KNOWLES, we know that

a premium property like yours deserves a like-minded tenant like ours.

GET IN TOUCH WITH OUR TEAM | Book your Free Market Appraisal today!

0121 362 7878

enquiries@astonknowles.com

www.astonknowles.com

@astonknowles
---
P R O P E RTY

A whirlwind year in business

A YEAR HAS PASSED SINCE MIDLANDS ESTATE AGENCY

CHOSEN HOME LAUNCHED - AND WHAT A YEAR IT'S BEEN

Despite launching in the midst of a pandemic,

the company has thrived through two national

lockdowns to reach its first anniversary, scooping a

prestigious award and growing its team further along

the way.

Director Nicki Ash said: "The past 12 months have

been something of a whirlwind and we can't quite

believe we're already marking our first anniversary

in business. In that time, Chosen Home has become

one of the region's fastest-growing independent

estate agents, priding itself on providing exceptional

customer service, excellent communication and

guidance, and first-class marketing packages, while

not charging our clients a penny.

"We've made a real impact on the Midlands

marketplace, and we're especially proud of how our

reputation within Sutton Coldfield is growing; so

much so that we've recently appointed a new sales

manager to help meet the demand for our services

and maintain the high standards we're committed to

delivering," she added.

The transparent and effective 'we sell your home for

free' model, which sees purchasers pay the business'

fee of one per cent of the asking price, has proved a

huge hit, with Chosen Home having listed or sold 40

properties with a total value of almost £40m to date,

and having been presented with a gold accolade in

the British Property Awards, which were created by

an independent team of former estate agency owners

to recognise credibility and outstanding customer

service.

The most recent addition to the team is Hannah

Delaney, who has a strong background in the

property sector, most recently as senior sales manager

at residential development specialist, Seven Capital.

She joins Nicki and fellow sales manager Rob

Shotton to develop the business' sales potential.

Hannah said: "Having spent nine years specialising

in residential sales, I was looking for a new challenge,

and after meeting the Chosen Home team, I knew

this was it. The experienced team are so passionate

about what they do, and believe strongly in the

unique model that the business has created, that we

are all focused on driving it forward.

"The past couple of months have been incredibly

busy with the well-documented demand in the

current climate to buy and sell homes, and it's

exciting to see the brand evolving - I get a real sense

of pride every time I drive past a Chosen board," she

added.

Chosen Home is now setting its sights on further

expansion as it moves into its second year, and

aims to extend its reach into the Solihull, Knowle,

Dorridge, Harborne and Edgbaston areas in the

coming months.

For more details about the business, visit

www.chosenhome.com.

16 www.jaimemagazine.com
---
The Sutton

Coldfield

estate agent

that doesn't

charge you to

sell your home?

"Excellent"

Sold.

chosenhome.com

Call 0121 222 1108
---
I N T E R I O R S

See red for

autumn

AS the last vestiges of summer give way to more autumnal

feels, it's time to look forward to some of the hottest design

trends which are set to make an impact on our homes this

season.

At this time of year, a colour palette inspired by nature

comes to the fore, and one of the standout shades from

2021's offerings is sun-dried tomato.

A more muted, burnt orange-toned take on red, a

sun-dried tomato hue is perfect for injecting a touch

of warmth into your decor scheme, without it feeling

overpowering.

If you're looking to make an impact with your paint

choices, the pared-back, almost russet-like vibes of sundried

tomato offer a more sophisticated look than bright,

bold pillarbox red or vibrant cherry.

A few well-chosen accessories will add an autumnal colour

pop to your spaces. Pair with this year's favourite warm

neutrals to create a cosy, calm space, or combine with

green tones for a more vibrant look.

LITTLE GREENE PAINT IN HEAT (INSIDE UNIT). LITTLE

GREENE PAINTS ARE NOW AVAILABLE FROM INTERIOR

CHOICE OF LICHFIELD. WWW.INTERIORCHOICE.NET

£24.99

ORANGE CERAMIC LAMP, NEEDWOOD LIVING

OF ALREWAS. WWW.NEEDWOODLIVING.CO.UK

£49

RUST SHELL VASE, COFFEE & CLOTH.

WWW.COFFEEANDCLOTH.CO.UK

£225

DULUX PAINT IN SUN DRIED TOMATO,

AVAILABLE FROM TIPPERS OF LICHFIELD.

WWW.TIPPERS.COM

ALEXA LOW STOOL IN BURNT ORANGE

VELVET, CULT FURNITURE.

WWW.CULTFURNITURE.COM

18 www.jaimemagazine.com
---
£850

£POA

CLAM SOFA BED IN RED, £POA, LIGNE ROSET.

WWW.LIGNE-ROSET.COM/UK

CREWELWORK BERERE CHAIR, NEEDWOOD LIVING

OF ALREWAS. WWW.NEEDWOODLIVING.CO.UK

£171.95

£515

BRICK RED VELVET BENCH, THE HOUSE OFFICE.

WWW.THEHOUSEOFFICE.CO.UK

HUGO FLOOR LIGHT,

ORIGINAL BTC.

WWW.ORIGINALBTC.COM

£95

£POA

SOUFFLOT SOFA IN RUST RED TERRACOTTA VELVET,

LIGNE ROSET. WWW.LIGNE-ROSET.COM/UK

JASPER VELVET DINING CHAIR IN COPPER,

PEPPERMILL INTERIORS, BURNTWOOD BUSINESS

PARK. WWW.PEPPERMILLINTERIORS.COM

TREIG MURAL WALLPAPER, £200, LEIGH BAGLEY.

WWW.LEIGHBAGLEY.COM
---
DIDSBURY SOFA, FROM £1,695, ROSE & GREY.

WWW.ROSEANDGREY.CO.UK

LITTLE GREENE PAINT IN TUSCAN RED. LITTLE GREENE

PAINTS ARE AVAILABLE FROM INTERIOR CHOICE OF

LICHFIELD. WWW.INTERIORCHOICE.NET

SQUISHAROO SOFA, £1,395, LOAF.

WWW.LOAF.COM
---
WELCOME TO BAYLISS BATHROOMS,

THE LARGEST INDEPENDENT LUXURY

BATHROOM SPECIALIST IN THE REGION.

OUR UNRIVALLED ONE STOP PROJECT

MANAGED SERVICE, FROM DESIGN

THROUGH TO INSTALLATION, IS FOCUSED

ON TURNING YOUR DREAM BATHROOM

INTO REALITY.

WHATEVER YOUR REQUIREMENTS,

WE CAN PROVIDE YOUR BATHROOM

SOLUTION. WE WELCOME YOU TO VISIT

OUR NEW WEBSITE OR SHOWROOM TO

EXPLORE THE BAYLISS EXPERIENCE AND

ALL THE OPTIONS AVAILABLE TO YOU

We offer a complete 'One Stop' process to turn your bathroom dreams into reality, which includes:

• A bespoke 2,500 sq ft showroom with over 20 bathroom displays located in Sutton Coldfield

• A specialist design team to create designs to match your every need

• Expert knowledge of our partner brands giving you access to superb products and tiles.

• In-house installation teams working to the highest possible standards

• Management of all aspects of the Project, providing you with a single point of contact, every step of the way

• For those customers who require a Supply Only service, access to all leading brands at competitive cost.

BAYLISS BATHROOMS, 23 GATE LANE, BOLDMERE, SUTTON COLDFIELD B73 5TR

0121 362 1800 - www.Baylissbathrooms.co.uk
---
I N T E R I O R S

Let there

be light

WHEN it comes to creating stylish spaces, you can't

underestimate the importance of lighting. In the midst

of choosing colour schemes, picking paints and finding

furniture, lighting can often be a bit of an afterthought

- but the right lighting has the ability to pull everything

together and set the tone for the entire space.

Want a bright, airy, open space? Glass pendants and large

chandeliers can flood your room with the light you need.

Looking to create an intimate, cosy vibe? Opt for ambient

lighting from strategically placed lamps, or go for discreet

wall lights instead of large ceiling lights.

Lighting can be used to tie in and enhance your decor

scheme, from metal fixtures for an industrial feel to

opulent crystal for a palatial touch, or chintzy fabrics for a

more retro take on tradition.

Even the smallest lighting solutions can have an impact;

think candles and string lights for a quick lighting refresh

with a big

FRANCES THREE-LIGHT CLUSTER CEILING FITTING IN

GUNMETAL, £59, DUNELM. WWW.DUNELM.COM

DAVEY LIGHTING SCHOOL WALL LIGHT

IN WEATHERED BRASS, ORIGINAL BTC.

WWW.ORIGINALBTC.COM

£POA

£295

£145

SAIGON LAMPSHADE, £250, AND

REGENCY FLOOR LAMP BASE,

£249, MINDTHEGAP.

WWW.MINDTHEG.COM

HOOD TABLE LAMP, LIGNE ROSET.

WWW.LIGNE-ROSET.COM/UK

HAND BLOWN GLASS LAMP,

NEEDWOOD LIVING OF ALREWAS.

WWW.NEEDWOODLIVING.CO.UK

£270

YEREVAN 40CM GLOBE

PENDANT LIGHT, MULLAN

LIGHTING AT LIME LACE.

WWW.LIMELACE.CO.UK

22

www.jaimemagazine.com
---
Refresh your home with soft furnishings

from our family owned and run business

Curtains | Blinds | Cushions

Shutters | Paint | Wallpaper

3 year guarantee

Expert fitting service

Top brands | great prices

8,000+ fabric options

Check out our recent reviews

«««««

Lichfield Showroom

Interior Choice

1st Floor

Sure Store

WS13 6UY

Woodburning &

Visit our Showroom (by appointment multifuel stoves only) Open 7 days a week, including late openings

Book online interiorchoice.net or call 01543 406162

PHOTO ME

t he heart of t he home...

Visit our showroom to be amazed by the choice -

from traditional to modern

With such a wide range of fires, fireplaces and stoves

there is sure to be a style to suit you & your home

WE OF F ER

A C OMP LE T E

INST ALLA T ION

SERV ICE

Visit our showroom and be amazed by the choice! With such a wide range from traditional to modern, there's sure to be a style to suit you!

5 Stafford Road, Lichfield WS13 7BZ - Tel: 01543 263 383 • www.thefireplacelichfield.co.uk • Email: sales@thefireplacelichfield.co.uk

Opening hours: Open Tuesday to Saturday 10am - 4pm. Closed Sundays, Monday's and bank holidays . FREE ON-SITE PARKING.
---
TAMARA ONE LIGHT SINGLE PENDANT,

£90, AND SINGLE WALL LIGHT, £51, BOTH

IN ANTIQUE BRASS RIBBED GLASS, DAR

LIGHTING. WWW.DARLIGHTING.CO.UK

ORIGINAL BTC OXFORD DOUBLE

CHANDELIER, £POA.

WWW.ORIGINALBTC.COM

LEVEN LIGHTING RANGE, FROM £195,

TOM RAFFIELD. WWW.TOMRAFFIELD.COM

22 www.jaimemagazine.com
---
BOOK YOUR

PRIVATE TOUR TODAY

LIVE THE LIFE YOU

LOVE IN THE MIDLANDS

Hagley Rd

A456

Birmingham

City Centre

Bath Row

B4127

Harborne Rd

Calthorpe Rd

Birmingham

New Street

Islington Row Middleway

Five Ways

Westbourne Rd

Highfield Rd

†

The

Birmingham

Botanical Hallfield

Gardens School

Church Rd

Audley

St George's

Place

St James Rd

Charlotte Rd

Edgbaston

Cricket Ground

A450

AUDLEY ST GEORGE'S PLACE OWN YOUR RETIREMENT

Now restrictions have eased, it's time to take control of our lives. Audley St George's Place

is an exclusive over 55's development where you can own your own property, keep your highly

valued independence and live the life you love. And with all that the vibrant city of Birmingham

has to offer right on your doorstep, that's now easier and more enjoyable than ever. Whether

you want to visit Birmingham's glorious Botanical Gardens, catch a day's play at the famous

Edgbaston Cricket Ground, or head into the heart of Birmingham to enjoy the hustle and bustle

of city life – it's entirely up to you.

Don't miss your chance to reserve one of the stunning properties at Audley St George's Place

in the Midlands. Join us for a private tour on a day and time that works for you and enjoy a

complimentary Champagne viewing of our show apartment and luxury facilities.

Call us to request an information pack or to arrange a visit.

0121 238 0015 | www.audleyvillages.co.uk/stgeorgeslocal

Properties from £214,088 based on 75% equity share (other fees apply). For more information please visit www.audleyvillages.co.uk/equityshare

Scan to find

out more

AY_005225_ST_GEORGES_PRESS_AD_REGIONAL_216x303_JAMIE_AW_v2.indd 1 23/08/2021 17:01
---
F E AT U R E

Powering a Paralympian

PARALYMPIC JUDO FIGHTER JACK HODGSON IS GOING FOR GOLD IN TOKYO - WITH

A LITTLE HELP FROM SUTTON COLDFIELD AUDIOLOGIST STEVEN HALE HEARING

PARALYMPIAN JACK HODGSON

It was a toss-up between tutus and takedowns for

Team GB paralympian Jack Hodgson.

The 24-year-old, who is currently making his mark

on the judo competition in Tokyo, started out in a

ballet class before making the switch which would

eventually see him joining the British Judo team and

competing all over the world.

Jack, who lives and trains with the Paralympic Team

GB in Walsall, says: "When I was younger, I lived

on a military base and there were only two clubs

available to kids my age – ballet and judo! Initially

my mum put me in the dance class, but I was way

too clumsy so naturally found my way to the fighting

sport of judo, which suited me far better!"

However, Jack was born with Usher Syndrome. This

rare genetic disorder is characterised by hearing

loss and an eye disorder called retinitis pigmentosa,

which causes degeneration of the retina until only

the ability to see straight ahead - tunnel vision -

remains.

But Jack has never let his condition hold him

back from his dream to fight for a medal at the

Paralympics.

Tokyo marks Jack's second Paralympic Games, after

making his debut as a teenager in Rio in 2016 -

where he finished in seventh place.

"I have spent the past five years competing in various

events around the world – places as far afield as

America, Azerbaijan, Georgia, Japan, Uzbekistan

and many others!" says Jack. "The rules are the

same as in Olympic Judo, except for the fact that the

two fighters start 'gripped up'. Qualifying has been

lengthy and gruelling, but worth every minute!"

Jack's hearing difficulties have proved challenging

within his sport. However, support from Sutton

Coldfield-based Steven Hale Hearing and hearing

aid brand Phonak has enabled Jack to compete at the

very top level, thanks to the combination of Phonak

Audéo Paradise hearing aids and Roger On.

"Well, not being able to hear your coach 'in action'

26 www.jaimemagazine.com
---
was a massive issue at first, and then

we started to use hearing aids,"

explains Jack.

"However, I struggled for many years

with my aids breaking as soon as they

came into contact with sweat, which

was frustrating, and really hindered

my improvement as a judo fighter.

Then along came Phonak, and their

receiver in canal Audeo hearing aid.

Wow! What a difference! Not only do

they sit completely in the canal, so

they are safe, clear and comfy, but they

also have the NEW UV drier/cleaner

portal which will dry and clean the

aids usually within three hours! I never

even knew about this technology, so

it's brilliant to have it at my fingertips! Also, Roger

On is a microphone dedicated to conversations that

occur over distance – so now my coach can shout at

me from the side-lines!"

Audiologist Steven Hale, who fitted Jack with his

equipment, says: "These hearing aids are also

Bluetooth compatible, so if Jack has any issues while

he's in Tokyo, I can help him! It's a bit like standing

in his corner with him!"

Phonak's latest hearing aids Audéo Paradise deliver

a crisp natural sound, brilliant speech understanding

and personalised noise cancelling. Not only that, they

are rechargeable and connect to a large array of

multimedia devices including smart phones, tablets

and TV.

Roger On will give Jack the flexibility to focus on

conversations whenever and wherever he may be, it is

fully automatic depending on when used on a table,

held in his hand or clipped on to a main conversation

partner. Roger On uses Multibeam 2.0 technology

JACK IN TRAINING

JACK WITH AUDIOLOGIST STEVEN HALE

to distinguish the direction of incoming speech and

automatically selects the person who is talking. Jack

is also using the Phonak Charge and Care which is a

charger that dries hearing aids - perfect for athletes

and their gruelling training regimes.

"I hear so much better with my new hearing aids

compared to my older ones," says Jack.

"I have been super impressed with the clarity. It

is great that they are rechargeable and can be

controlled by an app. This makes it easy to turn the

volume up and down and change programmes. I also

think Charge and Care is a fantastic piece of kit! In

the past when I've had a hard, sweaty training session

I have to take my aids out and it takes some time for

the aids to dry out – if they ever do! But now using

Charge and Care is quick, easy and successful.

"My Roger On is great as I can hear my coach - he

just has to remember that I can now hear him and

not say anything he doesn't want me to hear! I'm also

really looking forward to using Roger On during the

flight to Tokyo. To listen to music

or watch a film on my phone has

always been difficult, so now my aids

have Bluetooth and I can stream my

multimedia direct to my ears, it will

be much easier. I am also hoping I

will get some sleep easier as I won't

be having to wear bulky headphones

and still have some awareness

around me."

Jack adds: "I am honoured to

represent Paralympics GB, in what

has been a life-changing time for me.

The support and investment from

Phonak and Steven Hale Hearing

has been immense and means that I

really can 'Go for Gold' to the very

best of my ability!"

www.jaimemagazine.com

27
---
F O O D & D R I N K

A fine place to dine

STATELY SPLENDOUR ABOUNDS AT HOAR CROSS HALL, AND THEIR NEW HEAD

CHEF AND HIS TALENTED TEAM ARE ENSURING THEIR CULINARY OFFERINGS

MATCH THE SURROUNDINGS, AS AMY NORBURY DISCOVERED

Hoar Cross Hall has long been a landmark in the

area, attracting visitors from all over the country to

enjoy its renowned spa and sumptuous rooms for a

luxury retreat.

With a focus on wellness, it may come as a surprise

that Hoar Cross Hall's restaurants are less health

food and more about food which nourishes the soul

- at this retreat the emphasis is most definitely on the

treat.

The jewel in the crown is fine-dining in The

Ballroom. A grand space with opulent decor, The

Ballroom is certainly an impressive setting for any

meal.

And with a covered AA rosette among its credentials,

you can rest assured that the culinary experience

matches the stately setting.

My colleague and I were greeted warmly by front-ofhouse

team member Owen, and shown to our table

in one of The Ballroom's vast bay windows, where

we could enjoy the beautiful views over the grounds.

The restaurant offers plenty of space between tables

to ensure the utmost comfort for diners, while hand

sanitiser on arrival and staff in face masks remain the

only clues that we're still not out of the Covid woods.

Our waiter for the evening, Jack, proffered menus

and took orders for pre-dinner drinks to sip while we

perused.

Hoar Cross Hall's ethos is one of seasonality and

sustainability, using the freshest produce from

renowned local suppliers, as well as making the most

of the hall's own substantial gardens and woodland

to cultivate herbs, wild garlic, fruits and more.

The menu changes with the seasons to really make

the most of that wonderful produce, offering a

selection of carefully thought-out dishes which

showcase the bounty available.

As you may expect from a health spa, dietary

requirements are exceptionally well catered for, with

allergens clearly marked, and plenty of options for

vegetarian, vegan, gluten-free and dairy-free diners.

Happily, free-from doesn't mean any compromise

on taste or quality, as my gluten-free colleague

discovered.

To start, I opted for the ham hock terrine with chilli

pineapple salsa, while my colleague was won over by

the promise of the honey truffle goats' cheese with

28

www.jaimemagazine.com
---
oasted and pickled beetroot and

pine nuts.

Now, they say you eat with your eyes

first, and this was most definitely the

case at Hoar Cross. Presentation for

both dishes was beautiful, perfectly

showcasing the ingredients - and

both dishes lived up to that initial

delicious promise.

The terrine was rich and hearty,

with the pineapple salsa adding a

delightfully fresh mouthfeel to each

bite, while the chilli kick was just

enough to keep things interesting.

The goats' cheese dish is apparently

a favourite of executive head chef

James St Claire-Jones - and it's easy to see why.

The salty tang of the light, whipped goats' cheese,

the earthy sweetness of the beetroot and the slight

sharpness coming from the pickles was, proclaimed

my colleague, a match made in heaven.

Baskets of freshly made bread - gluten-free,

of course, for my colleague - were a welcome

accompaniment.

Onto the main event, and I plumped for the breast

of duck with fondant potato and cauliflower purée,

duck being a personal favourite but something we

rarely cook at home, so something I tend to gravitate

towards on any menu.

The duck itself was beautifully cooked, with seared

skin, rendered fat and perfectly pink meat. With the

buttery fondant, and hints of sweetness from the silky

cauliflower purée and a lovely duo of carrot, it made

for a rather indulgent plate.

My colleague's spiced monkfish with lentil dhal,

spinach, pickled cauliflower and coriander oil was

a dish packed with wonderfully balanced flavours.

The spicing, she said, was just enough so as not to

overwhelm the delicate monkfish, while the delicious

dhal was a great accompaniment. It was a dish, she

remarked, that she'd be happy to order again and

again.

Side dishes of triple-cooked chips - after all, who

can resist such an offering? - a more virtuous veggie

selection of tenderstem broccoli and French beans,

and a flavour-packed salad of English heritage

tomatoes, basil and baby mozzarella, rounded the

main event off nicely.

The heavenly-sounding dessert selection proved far

too tempting to resist - especially when my colleague

discovered a gluten-free version of sticky toffee

pudding on the menu, a rare treat indeed.

And it was a treat worth waiting for, she said as she

happily devoured every moreish morsel.

I was torn between said sticky toffee pud and the

lemon creme brûlée, with the brûlée eventually

winning out.

Rich, creamy, with a subtle citrus zing and a

caramelised sugar top which gave way with a

satisfying crack, it was a very good pud indeed.

The pistachio biscotti on the side were just right for

scooping up the last remnants too.

We finished what had been a suitably refreshing and

refined evening with a selection of British

cheeses, crackers and chutney - because

why not? - and an after dinner cocktail; the

espresso martini is seriously good.

Service throughout the evening was as

impeccable as the surroundings, with our

waiter Jack going above and beyond at every

turn to ensure we had a wonderful experience.

And wonderful it was. After months of

uncertainty for the hospitality industry, the

team at Hoar Cross Hall have proved beyond

doubt that their credentials as a fine dining

destination are as strong as ever.

www.jaimemagazine.com 29
---
F O O D & D R I N K

Best of British

SUSIE MANDLEBERG, HEAD CHEF OF THYME KITCHEN AT CURBOROUGH, SHARES A

DELICIOUS SALAD WHICH MAKES THE MOST OF THE HUMBLE BRITISH TOMATO

Panzanella

salad

Ingredients

500g British cherry or baby plum

tomatoes

1 bunch basil

2 red peppers

3 slices of day old bread (we use

sourdough)

Good quality extra virgin olive oil

1 tbsp dried oregano

Salt

For the dressing:

1 small shallot, finely chopped

2 tbsp red wine vinegar

Susie says: "This is such a simple,

summery salad that makes the most out

of the stunning tomatoes we grow in

the UK. This recipe traditionally uses

anchovies in the dressing, which you're

more than welcome to add back into the

dressing, or leave this recipe veggie, like

we do.

"Start by roasting the red peppers for

10 mins at 180°C. Once cooled, peel off

the skins and slice the peppers into thin

strips.

"Tear the pieces of bread, drizzle over

some olive oil to coat them, and sprinkle

over the salt and oregano. Toast in the

oven for 15 minutes, or until crisp.

"Cut each tomato in half, and place in

a large bowl. Tear the basil, add in the

sourdough pieces, shallots and red wine

vinegar, and stir all together. Drizzle

over a little more olive oil, and serve at

room temperature."

30 www.jaimemagazine.com
---
Christmas at the Hall

FESTIVE SPA

PARTY

DECADENT

WINTER

EXPERIENCES

NIGHTS

DINING

ESCAPES

Escape from the cold to

the tropical temperatures

of our award-winning

spa, with experiences

guaranteed to leave you

feeling utterly rejuvenated.

• Festive Afternoon

Tea Spa Day

• Festive Twilight

Spa Evening

Get your glad rags on

and make it a night to

remember, as you join

us for an evening of

feasting and frivolities in

spectacular surroundings!

• Party Night with

Overnight Stay

• Ball at the Hall

Let our talented team

of hard-working kitchen

elves spread a little magic

at this special time.

• Christmas Day Lunch

• Private Dining

at the Hall

• Festive Lunch with Santa

• Festive Afternoon Tea

From family breaks to

couples retreats, our festive

overnight stays have got

your Christmas covered.

• Three Night

Festive Escape

• Splash and Stay

• Family Escape One

Night Stay

hoarcross.co.uk | events@hoarcross.co.uk | 01283 477900

HCH_0934 J'aime Christmas Advert.indd 1 18/08/2021 14:44
---
F O O D & D R I N K

Love cheese - and more!

A BRAND NEW CHEESE AND FOOD WEEKENDER IS COMING TO STAFFORDSHIRE NEXT

MONTH - AND YOU COULD WIN ONE OF FIVE PAIRS OF TICKETS TO THE SHOW

Leading chefs James Martin, Marco Pierre White,

Michel Roux Jr and Matt Tebbutt will be just some

of the star attractions at the inaugural Love Cheese

Live weekender, which takes place from October

22 to 23 at the prestigious Staffordshire County

Showground.

Sharing some of their ultimate cheese-themed dishes

on the Cathedral City Main Stage and Le Gruyere

Kitchen Stage, the foodie favourites will be cooking

up a storm over the two days of the show, as well as

meeting and greeting fans over the weekend.

The chef demonstrations will be just some of the

highlights of what promises to be an action-packed

show, featuring the best of all things cheese and

cheese-related.

More than 150 well-known cheese and dairy brands

will be in the Love Cheese Pavilion, which also

hosts the world's largest cheese and dairy show; the

International Cheese and Dairy Awards.

THERE WILL BE CHEESES GALORE

TO SAMPLE AT THE SHOW

MARCO PIERRE WHITE

IS ONE OF THE STAR

NAMES APPEARING

AT LOVE CHEESE LIVE

Formerly part of Nantwich Show, the International

Cheese and Dairy Awards has moved to Staffordshire

to be a part of this exciting new food and drink

extravaganza. Attracting some 5,000 entries from all

four corners of the world, the ICDA will crown the

best of the best in categories ranging from hard and

soft cheeses, to sheep and goats' cheeses, as well as

butters, milk and yoghurts.

Learn how cheese is judged and what it takes to be

the best. With entries from all categories on display

throughout the show, there's a lot of cheese to learn

about - from the very best cheddars to the finest

fetas, from halloumi to stilton, there's a cheese for

everyone.

But Love Cheese Live is about so much more than

just cheese.

There will be more than 400 food producers

covering a wide range of products, including areas

of the show dedicated to regional producers such

32 www.jaimemagazine.com
---
as Taste Cheshire, Eat and Drink Staffordshire and

Deliciously Yorkshire. Each area will also have its

own demonstration stage, featuring outstanding local

chefs and produce.

At the Marks and Spencer Cookery School, you'll

be able to get hands-on following demonstrations

from chefs including celebrity chef Chris Baber - and

there'll be plenty of time to enjoy the fruits of your

labour.

Another exciting attraction is the Cheese Board

Pavilion, dedicated to all of those delicious things

that perfectly partner cheese. Sponsored by Marks

and Spencer, the area also includes talks from leading

experts, pairing experiences and demonstrations

from some of the finest food producers in the

country. The accompanying Cheese Board Awards

will help visitors discover the best of the best.

Elsewhere, award- winning cheese-maker Belton

Farm will be hosting cheese and beer pairings

compered by USA ambassador and pairing expert

Michael Landis; while award-winning Welsh cheesemaker

Snowdonia will be showcasing the art of

creating the perfect grazing board for the ultimate

casual at-home dining experience.

There is something for all the family, with children's

cookery schools for the littlest foodies, as well as live

music and outside attractions.

DISCOVER THE TOP

TIPPLES TO PAIR WITH

DIFFERENT CHEESES

TV FAVOURITE

JAMES MARTIN

WILL BE TAKING TO

THE STAGE

And over the course of the show, visitors will be able

to taste and buy some amazing combinations of

award-winning cheese and accompaniments from

leading UK producers and retailers.

For a truly indulgent show, the VIP experience will

offer an extra special day out, starting with a glass of

fizz on arrival and access to the exclusive VIP suite

and garden, where you will receive a copy of the

Love Cheese Live guide as well as a goody bag to

take home.

The Love Cheese Live VIP experience gives you

access to meet and greet with the celebrity chefs and

an exclusive wine and cheese pairing session where

guests will learn what cheeses are suited to which

wines and why. Relax in fabulous surroundings

and enjoy use of the exclusive VIP bar, where

refreshments are available throughout the day. There

is also the option to add on a VIP lunch or luxury

afternoon tea.

Tickets to Love Cheese Live are available to

buy online now, priced at £15 for adults general

admission, with under 16s going free, and from £50

for VIP tickets. Tickets for the chef demonstrations

are priced at just £5, and must be booked alongside

an admission ticket. For more details visit www.

lovecheeselive.co.uk

www.jaimemagazine.com

33
---
Cathedral City

Main Stage

FIND OUT WHAT MAKES A

PERFECT PAIRING

FRIDAY, OCTOBER 22

10.00am - Mario Olianis

11.00am - Marco Pierre White

12.00pm - Will Holland

1.00pm - Matt Tebbutt

2.00pm - TBA

3.00pm - Marco Pierre White

SATURDAY, OCTOBER 23

10.30am - Mario Olianis

11.30am - Matt Tebbutt

12.30 - Will Holland

13.30 - TBA

14.30 - Michel Roux Jr

Competition!

J'AIME has teamed up with Love Cheese Live to offer readers the chance to be

a part of the action, with five pairs of general admission tickets up for grabs.

For your chance to win, simply answer the following question:

Name one of the celebrity chefs who will be appearing at Love Cheese Live 2021.

Send your answer, along with your name, address and contact number,

to competitions@jaimemagazine.com before midday on Friday, October 1.

Winners will be informed via email shortly after the competition has closed.

Terms and conditions apply. For more details visit www.jaimemagazine.com

MATT TEBBUTT WILL BE

APPEARING AT LOVE

CHEESE LIVE

ACCLAIMED CHEF MICHEL

ROUX JR WILL BE A FAMILIAR

FACE TO FOODIES

34

www.jaimemagazine.com
---
LCL-J'AIME-FullPage-Ad-June2021-190x280-PRINT.qxp_Tf-Ocado 17/08/2021 16:59 Page 1

THE UK'S LARGEST

CHEESE AND

FOOD FESTIVAL

22 nd - 23 rd OCTOBER 2021

Staffordshire County Show Ground, Weston Road, Stafford ST18 0BD

There's something for all the family at Love Cheese Live,

with more than 350 of the UK's finest cheese, food and

drink producers and over 5,000 entries to the International

Cheese & Dairy Awards. Enjoy our star chefs' cooking

demonstrations, cookery schools, wine masterclasses,

cheese pairing experiences and activities for the children.

It's sure to be a great day out…

LIVE DEMONSTRATIONS

Live demonstrations from leading chefs James Martin, Michel Roux Jr,

Marco Pierre White, Will Holland, Matt Tebutt, Mario Olianas and Chris Baber.

TICKETS:

Adults: £15 online - £20 on show days

Children (1-16): FREE

VIP TICKETS AVAILABLE FROM £50

To purchase tickets at discounted prices visit www.lovecheeselive.co.uk
---
F O O D & D R I N K

Lessons from a MasterChef

MASTERCHEF: THE PROFESSIONALS FAVOURITE BART VAN DER LEE IS HELPING

PEOPLE TO UP THEIR GAME IN THE KITCHEN, THANKS TO HIS NEW ONLINE CULINARY

MASTERCLASS. AMY NORBURY CAUGHT UP WITH THE TALENTED CHEF - AND YOU

COULD WIN ACCESS TO HIS DELECTABLE COURSE

Since reaching the final of MasterChef: The

Professionals last year, Bart Van der Lee has been a

chef in demand.

From working behind closed doors as the private

chef for a family in Chelsea, the 33-year-old was

catapulted into the spotlight, thanks to his television

success which saw him consistently wow judges

Michel Roux Jr, Monica Galetti and Gregg Wallace.

Eagle-eyed foodie fans may have spotted the

Netherlands native cycling around Lichfield earlier

this year, firstly when he spent a week in the

cathedral city with the team at Sauce Supper Club,

creating an exclusive recipe box for their 'Dine at

Home' customers, and then when he popped up at

Sauce's home Thyme Kitchen for a delicious dinner

experience in July.

And now, Bart is aiming to help food fans up

their own skills in the kitchen, thanks to his online

Culinary Masterclass course. With eight video classes

featuring an array of delectable starters, main dishes

and desserts, the course will enable even those less

confident cooks to create a stunning three-course

dinner in their own home.

"The main reason behind the masterclass is that,

because I'm a private chef, I work behind closed

doors, and I don't get to share my food in the same

way that I would if I worked in a restaurant,"

explains Bart.

"People are really interested in cooking and

learning, and want to be better in the kitchen, so the

masterclass is a great way for me to help people with

that."

Each beautifully-shot video gives you all of the

detailed instructions you need to recreate Bart's tasty

dishes, from perfectly seared scallops to pancettawrapped

monkfish, a beautiful rack of lamb to an

indulgent chocolate fondant.

"These are beautiful dishes which aren't too difficult

or time-consuming to make, but might require a few

tips to finish them off correctly," says Bart.

"I like to show people how to take care of the details,

with some chef 's tricks and tips which people can use

to elevate their cooking"

The recipes included in the masterclass are all

favourites of Barts, which he has perfected over a

long culinary career working all over the world.

36 www.jaimemagazine.com
---
CHRISTMAS THYME

CHRISTMAS PARTY MENU NOW AVAILABLE TO BOOK

Open Daily 10am-4pm | Evenings Thursday-Saturday

Curborough Countryside Centre, Watery Lane, Lichfield, WS13 8ES

Telephone: 01543 264050

BRUNCH | LUNCH | DINNER

www.thymekitchen.co.uk @thymekitchen
---
"I've always been wild and free, I wanted to travel

and when i was old enough I set my sails, started

working in some of the most beautiful restaurants

around the Netherlands, with chefs who have taught

me everything, my love for produce, my love for

fish, and all these amazing techniques I've picked up

working with these amazing chefs," says Bart.

After honing his skills in Michelin-starred kitchens,

Bart took on his first head chef position at the age

of just 22, in the luxury Resort of El Gouna, on the

red sea coast in Egypt. From there, he travelled to the

Caribbean, as head chef at an ultra luxury resort in

Turks and Caicos.

It was there Bart met his wife Ana, and after years

living on the other side of the world the couple

decided that it was time to move back to Europe

and be closer to their loved ones. London came into

the picture, and that is what they have called home

ever since. The reason to come back was family, and

not long after that they have created their own, as

parents to their two little ones.

"Food is what we live, what we breathe and what

we do every single day," says Bart. "People gather

around food, it's such an amazing thing to bring

people together, around the table, to share the wine,

share the bread and have that experience of having

something delicious.

"I hope my masterclass will help to share some of my

passion and knowledge, and things which will bring

families together over a beautiful meal."

With the first Masterclass now live, Bart is already

planning a second course, as well as a meat speciality

course, where he plans to dive into different cuts of

meat and look at the best techniques for preparing

and cooking each piece properly.

Bart says: "My goal is to build up an online

classroom, featuring beautiful, classic dishes and

techniques that every good chef should know."

Bart Van der Lee's eight-class Culinary Masterclass

is available now at masterclass.bartvanderlee.

co.uk priced £49.95. Visit the website for more

details and to sign up.

Competition!

J'AIME has teamed up with chef Bart Van der Lee to offer readers the chance to

win one of three online culinary masterclass courses, worth £49.95 each.

For your chance to win, simply answer the following question:

Which television competition did Bart reach the finals of last year?

Send your answer, along with your name, address and contact number, by email

to competitions@jaimemagazine.com with the subject heading Masterclass

Competition. The competition will close at midday on Friday, October 1 and the

winners will be notified by email shortly after.

Terms and conditions apply. For more details visit www.jaimemagazine.com

38

www.jaimemagazine.com
---
T H E

M e y n e l l I n g r a m

A R M S

A traditional country pub with a menu of stunning, locally sourced food and

a vast range of drinks, including local ales, an array of gins and fine wine.

Following significant renovations in 2019, The Meynell now offers relaxed dining, with a high quality

food and drink offer throughout a variety of different dining areas including; the main restaurant,

Sam's bar, and the original dog friendly Meynell bar and restaurant. In addition the much redesigned

courtyard and garden with beautiful private dining pods equipped with optional heating and music,

provide a fabulous space for outdoor drinking and dining. So whether it's a quick pint after work, a

light lunch with friends or a special celebratory dinner, we hope to have something to suit all.

Contents

Festivities

AT THE MEYNELL INGRAM ARMS

berkeley inns locations ................... p11

pre-order forms .................................... p12

Festivities

AT THE MEYNELL INGRAM ARMS

1st december - 24th december

christmas day

Bar | 11:00-6:00pm

Restaurant | 12:00-4:00pm

*Christmas Day Menu

boxing day

Bar | 12:00-8:00pm

Restaurant | 12:00-6:00pm

* Normal Menu & Festive Menu

new year's eve

Bar | 12:00-2:00pm

Restaurant | 12:00-2:00pm

* Pizzas Only

MEYNELLWOOD TICKETED EVENT 5PM & 8PM

new year's day

Bar | 12:00-8:00pm

Restaurant | 12:00-6:00pm

* Normal Menu

'We look forward to welcoming you at the Meynell Ingram Arms this festive season.

Come and feast on our stunning dishes prepared by our fantastic chefs

and relax by the fire with a warm mulled wine. There is no better place to spend this winter season than

in our traditional country pub, where we have something special for all'

seasons greetings from all at Berkeley Inns &

a very prosperous new year

'We look forward to welcoming you at the Meynell Ingram Arms this festive season.

Come and feast on our stunning dishes prepared by our fantastic chefs

and relax by the fire with a warm mulled wine. There is no better place to spend this winter season than

in our traditional country pub, where we have something special for all'

seasons greetings from all at Berkeley Inns &

a very prosperous new year

Festive

festivities ......................................................p3

OPENING TIMES

festive menu ................................................p5

Festive Season

christmas day ............................................p7

1st december - 24th december

New Years Eve.............................................p9

Bar | Monday -Thursday & Sunday 12:00-11:30pm

OPENING TIMES

Friday - Saturday 12:00pm-12:00am

gift vouchers ......................................... p10

Restaurant | Monday - Thursday 12:00-9:00pm

Friday - Saturday 12:00-9:30pm

terms & conditions ............................ p10

Sunday 12:00-8:00pm

Season

2021

christmas eve

We

Bar

look

| Monday -Thursday & Sunday 12:00-11:30pm

Friday

forward

- Saturday 12:00pm-12:00am

to welcoming you at the Meynell Bar | 12:00-11:30pm Ingram Arms

Restaurant Friday | Monday - Saturday - Thursday 12:00-9:30pm

12:00-9:00pm

Restaurant | 12:00-8:30pm

* Normal Menu & Festive Menu

this festive season. Come and feast on our stunning dishes prepared

Sunday 12:00-8:00pm

Bar christmas | 11:00-6:00pm

day

by our fantastic chefs and relax by the fire with a warm mulled wine.

Restaurant | 12:00-4:00pm

Bar christmas | 12:00-11:30pm

eve 2021 *Christmas Day Menu

There is no better place to spend this winter season than in our

Restaurant | 12:00-8:30pm

* Normal Menu & Festive Menu

traditional country pub, where we have something special for all.

Bar

boxing | 12:00-8:00pm

day

Restaurant | 12:00-6:00pm

* Normal Menu & Festive Menu

Festive menus available now on our website

new year's eve

Bar | 12:00-2:00pm

Restaurant | 12:00-2:00pm

* Pizzas Only

MEYNELLWOOD TICKETED EVENT 5PM & 8PM

TO MAKE A BOOKING, CALL 01283 575988

OR VISIT WWW.MEYNELLINGRAM.CO.UK

new year's day

Bar | 12:00-8:00pm

Restaurant | 12:00-6:00pm

* Normal Menu

The Meynell Ingram Arms, Abbots Bromley Rd, Hoar Cross, Burton-on-Trent DE13 8RB

Tel: 01283 575988 • Email: info@meynellingram.co.uk • Facebook|Instagram: @themeynellingram

Opening Hours: Sun - Thurs: 12:00 - 23:00. Fri - Sat: 12:00 - 00:00
---
I N T H E N E W S

A very personal story

STAFFORDSHIRE AUTHOR DEBBI VOISEY HAS BEEN WRITING SINCE SHE WAS A

LITTLE GIRL BUT HAS JUST ACCEPTED HER FIRST BOOK DEAL IN HER 50S. SHE

TELLS JENNY AMPHLETT ABOUT HER DEBUT NOVELLA, ONLY ABOUT LOVE

STAFFORDSHIRE AUTHOR

DEBBI VOISEY

The debut novel by Staffordshire author Debbi

Voisey reads like the work of someone who has spent

decades honing their craft - because that's precisely

what it is.

Born and bred in Stoke-on-Trent, Debbi spends her

working days crafting newsletters and bulletins for

DHL and then every spare moment she can find

working on her own creative writing.

That dedication has seen her longlisted and

shortlisted in the likes of Bath Short Story Award,

Flash 500 and Reflex Fiction. She's a past winner of

Staffordshire University's Too Write creative writing

competition, where her prize was presented by

former Poet Laureate Carol Ann Duffy.

Her first book, Only About Love, was published last

month. Unlike many debut works, the novella-inflash

is not self-published but rather is published by

Oxford-based Fairlight Moderns.

Although a work of fiction, the book is based on

some of Debbi's own experiences including watching

the decline of her own dad to Alzheimer's.

"The character Frank is definitely based on my dad

and a lot of the things in there are true," said Debbi.

"My mum doesn't mind that certain things are being

exposed.

"It's based on his life but the family in the book is

entirely fictional. I talk about him having an affair

but I don't know the details so a lot of things I

40 www.jaimemagazine.com
---
HAND HEALTH CHECK

BOOK NOW FOR OUR FREE

MINI CONSULTATION

PUT YOUR HANDS IN OUR HANDS

Are you suffering with hand or wrist pain? Have you seen your GP? Or are you

currently on a long waiting list for surgery?

We would like to invite you to join us 'virtually' on Monday 4th October for a free

mini consultation with Mr Shyamalan, Consultant Hand Surgeon at Spire Little Aston

Hospital.

The free 10 minute mini consultation will give you the opportunity to ask any

questions you may have and for Mr Shyamalan to provide you with the information

on various conditions and treatments available, such as:-

• Carpal Tunnel

• Arthritis in the hand and wrist

• Trigger Finger

• Dupuytren's

• Joint injections

How do I book?

Places are limited so pre-booking is essential. Either visit www.spirehealthcare.

com/spire-little-aston-hospital/events or call 0121 580 7119 and the advisors

at Spire Little Aston will be happy to help you. You will be offered a free 10 minute

mini consultation between 6pm and 8pm on Monday 4th October 2021.

The event will be hosted via Zoom. You will be sent an event link upon calling

to book.

So, if you detect any signs or symptoms of a hand condition, don't delay, let

the Midland Hand Clinic help you to reach the correct diagnosis and receive

the right treatment!

Midland Hand Clinic lead by Mr G Shyamalan FRCS

NHS consultant hand surgeon.

All patients welcome whether you have private medical

insurance or you are self-paying.

Hand Clinic PA: Pam Dziubany

Email: pdziubany@hotmail.com

Call: 07815 460786 - 01827 892952

www.midlandhandclinic.com
---
describe are totally made up. It's based on him but

fictional.

"Dad was ill and in a home for a few years and I

found myself writing all these little flash fictions.

Then when I came to write the novella I had all these

linking stories which I expanded and added to.

"What's really sad about this book is that dad isn't

here to see it being published. I had to dedicate it to

him."

In snapshots through time, Only About Love takes a

sweeping loop around protagonist Frank's life as he

navigates courtship, marriage, fatherhood and illness.

Told through the perspectives of Frank and his

family, the story is one of intense honesty about the

things we do to those closest to us.

Although she hasn't self-published, Debbi says people

who go down that route work extremely hard at it.

"There are a lot of people who assume that I've selfpublished,

but I haven't, not that there's any shame

in that," she said.

"The marketing is all down to them and a lot of

people have become very successful releasing books

that way.

"I'm being paid in advance and will be paid royalties

as well," said a proud Debbi.

"The publisher put out

an open call for novellas

so I applied. They loved

what I sent in and wanted

more to develop it a bit. I

doubled it in length.

"They're such great

publishers to be with, so

proactive and they aim

to only publish quality

fiction."

The novella-in-flash has

been around for many

years but has become

increasingly popular over

the past three or four

years. Every chapter of

a novella-in-flash can be

read as a standalone story,

but they also link together

and make sense as part of

a wider story.

"They're short chapters

so they're easy to read,

you can read one of two

chapters if you only have

a few minutes," she said.

DEBBI'S DEBUT BOOK ONLY

ABOUT LOVE IS OUT NOW

"You can be very experimental with flash fiction

and use a lot of different techniques. I enjoyed

putting some lists in there - including the items in an

adulterer's holdall. The first chapter is a breathless

paragraph - which purposefully has no punctuation."

Debbi's debut has already earned rave reviews

from fellow writers, with Tracy Fells, 2017 regional

winner (Canada & Europe) of the Commonwealth

Short Story Prize calling her writing 'breathless,

red-raw and brutally honest,' while Lisa Blower,

author of Pondweed described Only About Love

as 'gut wrenching, heart-warming, playful with

time, language, and memory; a gathering of special

moments relived that remind us that time is never on

our side so to make the most of it whilst we have it.'

Debbi added: "When I won the Too Write

competition five years ago mum and dad went to

accept the prize on my behalf as I was away on

holiday. Dad was so proud, he cried. That was just

before he started to get really ill.

"When I heard about this book being published he

was still alive but was too ill to understand. I still wish

I could tell him about it."

Only About Love by Debbi Voisey, published

by Fairlight Books, is out now, priced £7.99.

42 www.jaimemagazine.com
---
Mason Flooring

SPECIALISTS IN ALL TYPES OF FLOORING

- CARPET RANGES FROM ALL LEADING

MANUFACTURERS INCLUDING BEST SELLING

CORMAR CARPETS, ULSTER & BRINTONS

APPROVED SPECIALISTS

Sales and installation of Amtico flooring

SPECIALISTS IN CURTAINS AND SOFT FURNISHINGS

- RE-UPHOLSTERY SERVICE AVAILABLE -

STOCKISTS OF FABRICS BY HARLEQUIN, ROMO & SCION.

WALLCOVERINGS BY HARLEQUIN.

Langan Carpets & Interiors

Telephone: 0121 308 8998 - Email: langancarpets@gmail.com

1 Cremorne Walk, Lichfield Road, Four Oaks, Sutton Coldfield, B75 5AL

Telephone: 0121 308 3895

Email: langancarpets@gmail.com

1 Cremorne Walk, Lichfield Road, Four Oaks, Sutton Coldfield, B75 5AL

Refreshingly Different

A new door for the new decade

Visit our Stylish Showroom

11 Belwell Lane, Sutton Coldfield, B74 4AA - Tel: 0800 996 1241

Visit our fantastic website www.jmiwindows.co.uk - enquiries@jmiwindows.co.uk

Windows | Doors | Bi-Fold Doors | Garage Doors | Conservatories | Orangeries | Secondary Glazing | Window Repairs
---
T R AV E L

Post-Pandemic

Travel Questions

LOCAL TRAVEL EXPERT NATHAN COLLINS, FROM RB COLLECTION, ANSWERS YOUR

QUESTIONS ABOUT TRAVELING ABROAD IN A POST-PANDEMIC WORLD

MAURITIUS IS NOW OPEN TO UK TRAVELLERS

We are Green for Go! Holidays restarted this

summer and while there were a lot less people taking

a trip overseas than normal, those who did jet off

have sent in very positive feedback. Understandably

many were confused by the Government's travel

policies in place, and we helped navigate clients

through these by keeping things simple and stress

free - it is, in fact, a lot easier than it may seem.

I wanted to answer some of the most common

questions brought up this summer to explain a little

more about how holidays work in a post-pandemic

world.

What needs arranging before I travel?

Firstly, remember that going on holiday is a fun

and exciting experience – so don't let the new

requirements take away the shine! We have a

checklist to help and will guide you through the

requirements so it is stress free. I've done it myself

with my wife and kids so I know first-hand that it's a

lot simpler than expected – plus we have researched

and tested some of the cheapest and most convenient

testing services on the market too.

Where can I go?

The list is expanding all the time as destinations

reopen to allow UK visitors in and our Government

expands the green list. The latest updates are

published every three weeks on the FCDO website,

and we have a handy 'Travel Updates' page on our

website.

Over the summer we have sent clients to Majorca,

44

www.jaimemagazine.com
---
Ibiza, Bermuda, Spain, Croatia, the

Canary Islands and Greece. A lot

of the Caribbean is already open as

well as Mauritius, the Maldives and

Middle East.

MARRAKECH IS ONE OF

NATHAN'S TOP CITY BREAK

PICKS

How does the traffic light

system work?

Put simply, for those who are double

vaccinated you can travel to green

and amber destinations without the

need to quarantine when you get

home. Most also have their FCDO

travel advice lifted and most also are

allowing UK visitors in.

What if a green destination

turns amber while I am abroad?

First, don't panic! You do not need to rush home or

change your plans. There is no difference between

green and amber for most of us who are fully

vaccinated. If not vaccinated, there is a 'test to

release' scheme after five days.

What insurance do I need?

Simply ensure your insurance provider covers you

if you catch Covid before or during your trip. Many

policies are starting to do this now. If you have

annual cover with your bank, for example, do check

this detail carefully.

THE STUNNING KRKA

NATIONAL PARK IN CROATIA

I desperately need a break in the sun! Where

should I go?

There is still time to enjoy end of season sunshine

in some of the popular Mediterranean resorts on

the Balearic Islands, on the Algarve in Portugal,

Croatia and in Greece. Ibiza welcomed a number

of new and exciting hotels this year if you want to

try something new and all these destinations are

good for private pool villas too if you want a more

independent trip. We can have a quick chat and

get to know you and recommend the most suitable

destination.

Where have you been this summer?

I had a couple of weeks in a part of Croatia I had

not visited before with the family. The feeling of

our first beach holiday in more than 18 months was

overwhelming. The boys were so excited, and we saw

some stunning natural scenery including the Krka

National Park. It helped recharge the batteries and

reminded us about the importance of quality time

together overseas, and how this can help with the

kids' learning and development too.

How were the queues at the airport?

The airport experience was not as busy as we

expected. Some airlines require you to upload your

documents before you travel to reduce queues. We

flew with Jet2 and everyone was being checked

carefully, but it didn't take much longer than usual.

Security was quiet and boarding was civilised.

How did it feel being away?

It reminded me how much we have missed exploring

new destinations and increasing our knowledge,

seeing and experiencing wonderful things. Seeing

my children's faces again made a few extra tests and

checks seem like a breeze!

www.jaimemagazine.com

45
---
What changes are hotels

making?

In short, the hotels we have

personally experienced at RB

recently in Croatia, Ibiza,

Spain and the Canary Islands

have all had excellent Covid

protocols in place. Generally

speaking, all of the facilities

remain in place including

the pools, restaurants, bars

and so on. There were a

few changes, such as more

spacious outdoor seating

areas, hand sanitisers

provided around the resorts,

optional breakfast in your

room and amended cleaning

services to suit your requests.

LISBON IS PERFECT FOR CHILLED CULTURE

I've got a holiday booked, when will I know it

will continue as planned?

This depends on the trip. For example, cruise

companies make decisions very early - months in

advance - and escorted tour companies do too.

Package holidays can be a month or so in advance

and others a few days before you go. It all depends

on the status of the destination and logistics. As

more destinations open back up and are added to the

green list, there are more positive signs holidays can

continue as planned.

When should I be booking for Christmas or

2022?

With so many holidays already postponed to 2022,

peak times such as Christmas, New Year, February

half term and Easter are already extremely busy for

th,e popular destinations. It has become increasingly

expensive to postpone some holidays to 2022 and

so my advice is to book early and check the flexible

terms which are much improved now compared to

pre-pandemic times.

I want a little culture and city-life, where do

you suggest?

There are some great options around Europe such

as Athens, Lisbon, Barcelona and a little further

afield but only three hours away, Marrakech. All are

bursting with a variety of options of things to see

and do. Marrakech would be my top pick as you can

opt for a stunning riad in the city which acts as your

oasis away from the hustle and bustle of the markets.

What is the latest regarding cruise holidays?

Most of the major cruise lines have restarted their

programmes already. Some of these have been

around the UK, others in the Mediterranean and

further afield. Silversea launched their newest ship,

Silver Moon, in Greece to much fanfare while

Regent Seven Seas will begin sailing this month.

My fellow MD Oliver will be experiencing his first

cruises as they set sail this autumn so we can inspect

their protocols and report back to our clients.

Final thoughts?

It is understandable some people are nervous and

concerned about an overseas holiday. Our main

message is don't believe everything you read. Speak

to professionals who have tested protocols and

procedures and can give you independent, honest

advice. Maybe start with something simple like a

week in the Med. Maybe revisit an old favourite

resort you haven't seen for a few years, so you feel

more comfortable and have a little nostalgia too.

Whenever you are ready, we will be here to help.

Notes on the latest advice: I've written this as close to

J'AIME's deadline as possible but, of course, there

may be further updates from the Government since

the magazine was printed. I always suggest speaking

to our travel professional for the latest information

and checking the FCDO website (www.gov.uk/

foreign-travel-advice). We also have a handy Travel

Updates page at www.rbcollection.com/travel-reopening-update.

How to book your next luxury or specialist

holiday: Call Nathan on 01543 258631or email

vip@rbcollection.com. Remember to mention

J'AIME when you call.

46

www.jaimemagazine.com
---
F I T N E S S

Achieve a healthy lifestyle

that works for you

THIS MONTH, LICHFIELD'S FAVOURITE PERSONAL TRAINER RAÚL ROMERO HIGHLIGHTS THE

CHALLENGES OF GETTING BACK TO THE DAILY GRIND, AND REITERATES WHAT WE NEED TO

CONSIDER IN ORDER TO BECOME THE FITTEST VERSION OF OURSELVES

So the summer holidays have come

to an end, kids have returned to

school and we are back to the daily

grind and trying to settle into a

regular routine. This year continues

to be full of ups and downs

with the pandemic still lingering

which has affected so many of us

in our everyday lives, including

maintaining and taking control of

our fitness.

This month, I'd like to go back

to the bread-and-butter basics of

what we need to consider to be

the healthiest, fittest version of

ourselves. You know, the stuff that

everyone knows really but where

the brain doesn't always connect to

the belly or body to ensure they act

upon what the brain knows!

So, what are the five most important components

to achieving a healthy lifestyle, and what can we do

to nudge our belly and body along to ensure they

comply?

Well, most basically, the five areas to consider are:

NUTRITION - REST - EXERCISE -

POSTURE - AVOIDING ALCOHOL

CONSUMPTION

Upon reading this list, your strengths and weaknesses

in these areas will immediately jump out to you. This

is a great first step to take; analyse strengths and

weaknesses in these five areas. Once you have done

this, it will be easier to know what your focus area

is and concentrate on what you need to do to take

control and improve.

1. NUTRITION FOR A HEALTHY

LIFESTYLE

I prefer not to use the word 'diet' as, in recent years,

MEAL PREPPING CAN BE A

SAVIOUR DURING A BUSY WEEK

'diet' has often been coined as something we do for

a short period of time to achieve quick and often not

long-lasting results.

Nutrition is key, and should be something realistic

that can be sustained as a way of life over a long

period of time. Following the 80/20 rule is a great

way of maintaining healthy nutrition, where we

eat 'clean' and healthy 80 percent of the time,

and indulge in the not-so-healthy sweet treats the

remaining 20 percent of the time. This way, we

don't have to cut anything out food-wise, reducing

the chances of massive sugar cravings which then

snowball into an unhealthy eating habit.

Here are my top tips to help take control of your

nutrition and master a healthy way of eating over a

long period of time:

Meal plan! Write down a weekly menu or meal

plan to organise all of your meals. This will really

help you take control and think about the different

food groups and ingredients you need for different

meals. Remember the importance of including all

www.jaimemagazine.com

47
---
the categories from the Food

Pyramid in their recommended

percentages (fruits and

vegetables, grains and potatoes,

protein sources and beans, fats

and oils).

Simplicity really is key here,

but you can always swap basic

meals for more elaborate meals

if you have time on the day.

Make a shopping list! And stick

to it! This should be done after

you have meal-planned so you

know exactly what ingredients

you need. Armed with your list,

you are less likely to chuck extra

treats into your trolley as you

don't need them. Don't buy anything that is not on

your list (you can of course plan your 20 percent of

treats for the week so you're not depriving yourself).

Supermarkets are full of products ready to ruin our

nutrition and they know how to stock them to claim

our attention and raise our temptation. If you are

not very good at controlling your temptations at

the supermarket, a good alternative is to order your

shopping online.

Food prep! This is one of my personal favourites.

After meal planning and doing the weekly shop on a

Saturday, the few hours I spend prepping my meals

on a Sunday undoubtedly help make my week run

much smoother in being able to work hard, spend

quality time with the family and also eat nutritiously

without getting stressed or without cooking feeling

like a chore. The beauty of food prep is that you

can do as little or as much as you like depending on

DON'T UNDERESTIMATE THE IMPORTANCE OF

POSTURE, SAYS RAUL

how much time and effort you wish to put in; some

people prefer to have everything cooked and ready

whereas others prefer to have the veggies chopped

and ingredients prepped ready to cook fresh.

Drink, drink and drink some more! Water that is!

The NHS recommends drinking six to eight glasses

of water a day (approximately two litres) to keep the

body well hydrated.

2. REST AND RECOVERY

It often feels like as the years pass by, life seems to get

busier and busier. Especially for those of us who are

always on the go, finding time for rest and recovery is

essential in maintaining the body in optimum health.

Though they are basic, a few things to remember to

try and nail are:

Sleep! Understandably not always possible due to

work, kids and a plethora of other reasons, but our

bodies really do need sound uninterrupted sleep

every night in order to function

right and feel fresh and focused.

Work-out recovery. Taking

enough recovery time between

workouts is essential to maximise

all the benefits of training.

Massage. Sport and relaxation

massages are great alludes to

regenerate our bodies. These can

also help us sleep better so are

especially great for those who are

in pursuit of a great night's sleep!

EXERCISE IS ESSENTIAL FOR YOUR HEALTH AND

FITNESS GOALS

3. EXERCISE

If you are new to exercise, or

haven't exercised in a while, check

in with your doctor first to ensure

48 www.jaimemagazine.com
---
you are ready to challenge your body and will be

able to cope with the different exercises and intensity

levels.

So what is the recommended amount of exercise?

Well the NHS recommends following these basic

guidelines:

Strengthening activities that work all the major

muscle groups (legs, hips, back, abdomen, chest,

shoulders and arms) at least two days a week;

To do at least 150 minutes of moderate intensity

activity a week or 75 minutes of vigorous intensity

activity a week;

To spread exercise evenly over four to five days a

week, or every day;

To reduce the time sitting or lying down and to break

up long periods of not moving with some activity.

This nicely leads me on to my seven favourite tips

to take control of your health and fitness goals and

smash them this season:

Establish a ROUTINE!

Start with exercises you like. Make it FUN!

Seek expert SUPPORT.

Join GROUP sessions for that extra support and

motivation (if possible).

Be KIND to yourself.

Try and find a training BUDDY.

TRACK your progress.

DRINK MORE WATER AND CUT BACK

ON ALCOHOL, SAYS RAUL

4. POSTURE

This is one that doesn't always spring to mind

when contemplating health and fitness but I really

do believe it is a vital contribution in becoming

the fittest, healthiest versions of ourselves. Many

studies have shown that poor posture can cause

problems with fatigue, circulation, arthritis, mood,

musculoskeletal dysfunction, jaw pain, breathing

efficacy, headaches, sexual function, and shoulder

and back pain.

These issues really highlight just what a massive

effect correct posture can have on keeping our

bodies in optimum condition. Some of my favourite

activities that are not only fun to do, but also help

improve posture are yoga, pilates, body balance and

tai chi.

5. AVOID ALCOHOL CONSUMPTION

Yes, this is a tough one for many of us, especially as

the summer slips away and the cold, dark nights start

drawing in, but alcohol has such a massive impact

on our health that we just can't get away with not

contemplating it.

The following extract from the NHS website has

really helped some of my clients put this point in

perspective:

"Did you know a standard glass of wine can contain

as many calories as a piece of chocolate, and

a pint of lager has about the same number of

calories as a packet of crisps? So, if you're trying

to lose weight you need to think about what

you are drinking as well as what you are eating.

Drinking four bottles of wine a month adds up

to a yearly consumption of around 27,000kcal

which is equivalent to eating 48 Big Macs per

year. Drinking five pints of lager each week adds

up to 44,200kcal over a year, equivalent to eating

221 doughnuts."

Is evident that we have to consider liquid calories

as part of the equation when discussing nutrition

and leading a healthier lifestyle. For weight

management, especially when embarking on a

weight loss journey, it's fundamental to count

them in your daily calorie count intake.

For any further help or support on maintaining or

improving your health and fitness, or to join any

of our group fitness sessions, please feel free to

contact me at raul@ambitionpt.co.uk or via

social media @ambitionpersonaltraininguk.

I wish you all the best with your autumn health

and fitness journey.

www.jaimemagazine.com

49
---
W H AT ' S O N

What's On this month

WITH ENTERTAINMENTS AND ARTS VENUES SLOWLY GETTING BACK TO NORMAL, WE TAKE

A LOOK AT SOME OF THE BEST EVENTS HAPPENING AROUND THE MIDLANDS THIS MONTH

WHAT: LAWYERS ARTS CLUB X DIGBETH ART SPACE

WHERE: DIGBETH, BIRMINGHAM

WHEN: SEPTEMBER 3 TO 30

For the past six months, Birmingham based artists Harri Hampson and George

Cox have created a series of handmade artworks each with a legal story behind

them for the exhibition. It includes more than 60 original pieces of art on

display for the first time on the opening night.

Throughout this month LAC will be holding multiple events and talks in

the exhibition space, surrounded by the organisation's original artwork. The

showcase will offer a place to reflect, as well as spark important and relevant

discussions.

For more details visit www.lawyersartclub.com

WHAT: ADAM FROST

WHERE: LICHFIELD GARRICK

WHEN: SEPTEMBER 12

Gardeners' World favourite Adam Frost will be appearing at the Garrick this

month for an evening of conversation, covering all things gardening and more.

Adam appears regularly on the BBC's coverage of RHS Flower Shows, and has

also featured on The One Show and DIY SOS as well as The Alan Titchmarsh

Show. Since 2007, Adam has amassed seven gold medals at the RHS Chelsea

Flower Show. He is a regular contributor to Gardeners' World and other

horticultural magazines.

Adam's love for the great outdoors started from a young age when he helped

on his grandparent's allotment. His fascination with watching plants and

vegetables grown and the wildlife it attracted has stayed with him and he

remains passionate about passing this on to future generations.

Tickets are priced at £21.50. For more details visit

www.lichfieldgarrick.com

WHAT: AVIJATRIK (THE WANDERLUST OF APU)

WHERE: MAC BIRMINGHAM

WHEN: SEPTEMBER 18

The Birmingham Indian Film Festival returns from Saturday, September 18

to cinemas and online for an autumn edition of premieres, shorts and classics.

One of the highlights is set to be the UK Premiere of the Bengali drama

Avijatrik (The Wanderlust of Apu), directed by Subhrajit Mitra; a new tale

based on the legendary character Apu who was first brought to the screen

by India's most internationally acclaimed director Satyajit Ray, in his Apu

Trilogy in the 1950s. Lovingly shot in black and white and keeping an eye

on the continuity to Ray's classics, the new film Avijatrik focuses on Apu's

overwhelming wanderlust to discover the world beyond Bengal with his

doting six-year-old son Kajol.

This is a must see for all Satyajit Ray fans in the centenary year of his birth

anniversary and is screened for one night only at Midlands Arts Centre in

Birmingham. For more details visit www.macbirmingham.co.uk

50 www.jaimemagazine.com
---
THEATRE LISTINGS

ADAM FROST

SUN 12 SEPTEMBER | 7.30PM

FORBIDDEN NIGHTS

WED 15 SEPTEMBER | 7.30PM

THE MAN WITH THE

GOLDEN PEN

FRI 8 OCTOBER | 7.45PM

SEVEN DRUNKEN NIGHTS

WED 13 & THU 14 OCTOBER | 7.30PM

DAD'S ARMY RADIO SHOW

SAT 23 OCTOBER | 7.30PM

FASCINATING AIDA

WED 27 OCTOBER | 7.30PM

THE JOHNNY CASH

ROADSHOW

THU 28 OCTOBER | 7.30PM

AN EVENING WITH

SIR GEOFFREY BOYCOTT

FRI 29 OCTOBER | 7.30PM

VOICE OF THE HEART

SAT 30 OCTOBER | 7.30PM

www.lichfieldgarrick.com
---
WHAT: JEREMY VINE - WHAT THE HELL IS GOING ON?

WHERE: SUTTON COLDFIELD TOWN HALL

WHEN: SEPTEMBER 24

Jeremy Vine increasingly finds himself asking "What the hell is going on?". He

explains that in a world where it is easy for information and misinformation to

become muddled due to the sheer volume, people are becoming more reliant on

anecdotes to tell a story.

The show will see the popular broadcaster explore some of the 25,000 questions

his daily BBC Radio 2 show the Jeremy Vine Show has received from listeners.

Get ready to laugh and cry as Jeremy tries to make sense of a world that

increasingly makes no sense at all!

Jeremy will be doing a pre-event book signing in the Sir Doug Ellis lounge bar

from 6pm, and a Q&A session will follow the talk. For more details visit

www.suttoncoldfieldtownhall.co.uk

WHAT: MALVERN AUTUMN SHOW

WHERE: THREE COUNTIES SHOWGROUND, MALVERN

WHEN: SEPTEMBER 24 TO 26

The Malvern Autumn Show returns for a harvest festival packed with special

guests, giant vegetables, floral displays, and family entertainment. This year's

three-day show will take place at the Three Counties Showground in Malvern.

Explore a range of drinks at the Gin Show, have a few nibbles at the new openair

food & drink village, browse the nursery and RHS flower show displays and

be wowed by the size of the vegetables on display in the CANNA UK National

Giant Vegetables Championship.

Adult tickets are £18, under 16s go free. Visit www.malvernautumn.co.uk

WHAT: HAIRSPRAY!

WHERE: BIRMINGHAM HIPPODROME

WHEN: SEPTEMBER 27 TO OCTOBER 2

The international musical phenomenon Hairspray returns to Birmingham

Hippodrome this month following its postponement in March. After breaking

box office records and delighting audiences in the West End, on Broadway and

on the big screen since 1988, this smash hit musical-comedy has quite the legacy.

Welcome to the 60s, where everyone's grooving to a brand-new sound! Enter

our vivacious heroine Tracy Turnblad, who has big hair, a big heart, and big

dreams to dance her way onto national TV, and into the heart of teen idol Link

Larkin. When Tracy becomes a local star, she is able to use her newfound fame

to fight for liberation, tolerance, and interracial unity in Baltimore. But can she

win equality – and Link's heart – without denting her 'do?

This fun-filled, feel good show is bursting with show-stopping numbers, dazzling

costumes, and dizzying dance routines that you can't help but shimmy to! For

more details visit www.birminghamhippodrome.com

WHAT: ROMEO AND JULIET LIVE RECORDING

WHERE: LICHFIELD GARRICK STUDIO

WHEN: SEPTEMBER 28

Romeo and Juliet risk everything to be together. In defiance of their feuding

families, they chase a future of joy and passion as violence erupts around them.

This bold new film brings to life the remarkable backstage spaces of the National

Theatre in which desire, dreams and destiny collide to make Shakespeare's

romantic tragedy sing in an entirely new way.

Jessie Buckley (Wild Rose, Judy) and Josh O'Connor (The Crown, God's Own

Country) play Juliet and Romeo. The award-winning cast includes Tamsin

Greig, Fisayo Akinade, Adrian Lester, Lucian Msamati, Deborah Findlay.

Tickets are priced at £16.50. For more details visit www.lichfieldgarrick.com.

52 www.jaimemagazine.com
---
Jean Lamb Wealth Consultancy

My offices are situated in the historic city of Lichfield and I have been providing personal

wealth management advice to my clients for more

than 25 years.

I specialise in the following key areas

and welcome your enquiry:

• Investment Planning

• InheritanceTax and Estate Planning

• Pre and Post-Retirement Planning

• Care Fees Planning and Funding for Care

Telephone: 01543 417342

Website: www.jeanlamb.co.uk

Email: jean.lamb@sjpp.co.uk

Office: 6A Market Street, Lichfield, WS13 6LH

Jean Lamb Wealth Consultancy is an Appointed Representative of and represents only St. James's Place Wealth Management Plc (which is authorised and regulated by the Financial Conduct Authority)

for the purpose of advising solely on the Group's wealth management products and services, more details of which are set out on the Group's website www.sjp.co.uk/products.

SOMERTON

KITCHEN

ELEGANT & TIMELESS

EUROPA WAY, LICHFIELD, WS14 9TZ

01543 440020 | SHOWROOMS.TIPPERS.COM

BOOK AN

APPOINTMENT

APPOINTMENTS.

TIPPERS.COM

WEEKDAYS

7.30AM - 5.00PM

SATURDAY

8.00AM - 2.00PM
---
FA S H I O N

Layers of style

AS SUNNY DAYS GIVE WAY TO CHILLIER CLIMES IT CAN BE DIFFICULT TO DRESS

FOR THE WEATHER. AMY NORBURY PICKS OUT SOME PERFECT PIECES TO SEGUE

SEAMLESSLY FROM SUMMER TO AUTUMN

AAH, the in-between season. Where it can be gloriously sunny

one moment, and torrential downpours the next. As we move

from the halcyon days of summer to distinctly autumnal chills,

choosing an outfit which stays weather-appropriate all day long

can prove to be somewhat challenging.

So it is at this time of year that more really is more - layers, that

is.

Layering up is the stylish solution to transient weather dressing.

Opting for several lighter layers which pair perfectly and can

be removed or added as the day wears on makes light work of

dressing for all weathers at once.

And since our great British summer has been more or less a

washout this year, a few nifty layering tricks will help you to

make the most of your summer wardrobe for a little while

longer.

Take those beautiful, floaty summer dresses, for example. They

may be perfect for parading up and down the beach, but it

doesn't end there. Swap your sandals for boots and throw over a

lightweight knit, and your warm weather wardrobe has suddenly

got a new lease of life as a transitional style saviour. Add a cosy

gilet, and that same dress will take you right through autumn

and beyond.

Finding the right knitwear is key to between-season dressing.

Before we get onto the chunky knits of deepest winter, fine knits

are perfect for layering with shirt and blouses, teaming with

floaty maxi skirts and wearing over dresses and jumpsuits, to add

an extra bit of warmth without being too bulky.

Ever the librarian's favourite, the cardi has been making a

serious style comeback in recent seasons, with designers galore

opting for a touch of granny chic on the catwalks. A chunky

cardigan is ideal for when it's too warm outside for a coat, but

not warm enough to do without that extra layer entirely.

Extend your knitwear arsenal to include dresses, skirts and

trousers for cosy style as the thermometer starts to plummet and

the promise of sunny days looks to be firmly behind us until the

new year.

And when it comes to outerwear, a blazer will be your

transitional dressing hero. Light enough to be part of your

outfit, rather than an outerwear add-on, a blazer is perfect for

smartening up jeans or adding a style statement to girly dresses.

ENCHANTING AUTUMN DRESS, £49, AND

70S VIBE FEDORA, £25, JOE BROWNS.

WWW.JOEBROWNS.CO.UK

54 www.jaimemagazine.com
---
DENIM SHIRT DRESS, OLIVER BONAS.

WWW.OLIVERBONAS.COM

£45

CHUNKY CARDIGAN, RIVER ISLAND.

WWW.RIVERISLAND.COM

£65

£109

£69.50

BUTTON THROUGH SAGE GREEN

KNITTED DRESS, OLIVER BONAS.

WWW.OLIVERBONAS.COM

£65

£129

BARBOUR INTERNATIONAL

SOLITUDE JUMPSUIT.

WWW.BARBOUR.COM

BARBOUR MATILDE BOOTS.

WWW.BARBOUR.COM

CREAM BELTED BLAZER, RIVER ISLAND.

WWW.RIVERISLAND.COM

BARBOUR CRESSWELL DRESS, £89.95.

WWW.BARBOUR.COM

THE HERITAGE JACKET, £85, GRAPHIC HOODIE, £45,

AND ROCK CHICK LEATHER LOOK TROUSERS, £45,

JOE BROWNS. WWW.JOEBROWNS.CO.UK
---
B E AU T Y

Take it all off before bed!

WE'VE ALL DONE IT; GOING TO BED WITHOUT HAVING TAKEN OFF YOUR MAKEUP HAPPENS TO THE BEST

OF US BUT IT IS ONE OF BEAUTY'S BIGGEST SINS. IF YOU REGULARLY HIT THE SHEETS WITHOUT FULLY

CLEANSING YOUR FACE YOU'LL BE STORING UP A WHOLE HOST OF SKINCARE WOES, EXPLAINS ROYAL

FACIALIST AND FOUNDER OF HEAVEN SKINCARE DEBORAH MITCHELL

WRINKLES: Sleeping with your

makeup is instantly going to age your

skin, simple. Make sure you find the

time to have a proper cleanse – it'll

only take a minute and I promise you

your complexion will be very grateful.

My New Edition Cleanser contains

my patented ABEETOXIN® formula

so it not only deeply cleans but also

tightens and firms. The addition of

vitamin A helps resurface and repair

cells, and also promotes eyelash

growth.

DRY SKIN: By not removing

your foundation at bedtime

you starve the skin of essential

oxygen, making it dry and

sensitive. Sleep is vital

when it comes to repairing,

regenerating and restructuring

the skin but you can help this

process by finding time for an

effective routine before you go

to bed.

Thanks to its vitamin B content my Overnight

Success Oxygen Cream releases oxygen to

detoxify and replenish your complexion. Perfect for

dull or damaged skin, its anti-ageing properties help

boost collagen production.

BREAKOUTS: Unsurprisingly,

if you continue to hit the sack

without properly cleaning your

face first then you will become far

more prone to spots, especially

around the chin and nose, and

across your cheeks.

My Willowbee Mask and

Cleanse not only detoxes your

skin, but it heals imperfections too. It's the first

Heaven product to contain the bark from the willow

tree, a natural and organic alternative to aspirin.

Because of this it is ideal for all skin types, especially

those prone to breakouts.

BLOCKED PORES: Pores are tiny openings

in the skin, connected to your hair follicles. They

release our natural oils

to ensure skin is healthy

and moisturised. Leaving

makeup overnight means

bacteria causes blockages,

making pores appear

larger and darker.

Give your skin a helping

hand with regular

exfoliation; my Bee

Peel has a potent mix of ingredients – including

ABEETOXIN®, organic coconut and raw cane

sugar – to resurface and even out tone, minimises the

visibility of dark spots, blemishes and enlarged pores.

IRRITATED EYES: If your eyes are going to

spend the night fighting off leftover bacteria then

they will look red and feel

sore by morning. The delicate

skin around them will be dry,

leading to dark circles and

puffiness.

My hard-working yet gentle

Nettle Venom Eyes is ideal

for those mornings where

darker circles are more visible

as it hydrates the delicate

skin around your eyes, penetrating fine lines and

eliminating bags. Vitamin A and hyaluronic acid

work in tandem to reduce heaviness, making skin

brighter.

You can shop the complete range of Heaven

Skincare online at heavenskincare.com,

from the Heaven flagship spa in Shifnal or at

Harvey Nichols Birmingham.

56 www.jaimemagazine.com
---
Order now for pre-Christmas installation

FREE no obligation design service with our kitchen specialists

16 -18 Britannia Way Britannia Enterprise Park, Lichfield WS14 9UY • 01543 263340

info@lichfieldkitchensandbedrooms.com • www.lichfieldkitchensandbedrooms.com

Opening Hours: Monday - Friday 9:00 a.m. - 5:00 p.m. Saturday 10:00am - 4:00pm

Proud to be a family run business for over 35 years

HOME IS WHERE THE WARMTH IS

See our

new range of

'Clock' stoves

- all British

built

Suppliers of: Contura, Clock, Jotul, Gazco, Scan, Town & Country Fires, ACR Heat Products and many more

Installers and suppliers of gas fires, bespoke limestone surrounds, and gas and woodburning stoves, since 1981.

1/7 High Street, Erdington B23 6RG Next to Highclare School

Telephone: 0121 384 5251 - www.abbeyfirecentre.co.uk

Open: Mon - Fri: 9am - 5pm (closed Wednesdays), Sat: 10am - 2pm

abbeyfirecentre @abbeyfirecentre abbeyfirecentreltd

For your safety and to observe social distancing we are asking that you

telephone or email to arrange a personal viewing of our showroom.
---
B E AU T Y

New Season, New Skincare

J'AIMES TOP PICKS FOR SERUMS IN PREPARATION FOR THE NEW SEASON. NO

MATTER WHAT YOUR SKIN TYPE OR BUDGET THERE IS A PRODUCT FOR YOU

As we say goodbye to summer and welcome in

autumn, it's important that we don't forget to adjust

our skincare routine as each season changes. The

difference in weather can impact our skin in many

ways and if we're not using the right products, we

may not be looking our best. This month we'll see

cooler temperatures and lower humidity levels which

means the dry air draws moisture away from the

skin, so now is a good time to look at adding a little

more hydration into our face to keep us glowing!

Using a face serum daily is a great and easy way to

give us a collagen boost to the skin which will leave it

feeling nourished and radiant, let's look at J'AIME's

top picks.

LA MER - The Concentrate

£305 (30ml)

If you want to go for ultimate

luxury, look no further than the La

Mer The Concentrate. This small

green bottle includes ingredients

such as lime tea, eucalyptus and

lavender oil to renew, strengthen,

protect and soothe the skin. La Mer

recommends gently pressing and

massaging onto the skin twice a day.

CHARLOTTE TILBURY -

The Magic Serum Crystal

Elixir £60 (30ml)

One of Charlotte Tilbury's

biggest secrets…The Magic

Serum Crystal Elixir. This

water-based formula is suitable

for all skin types and can be

layered under moisturiser and

sunscreen. Adding this into your

daily skincare routine will give

you intense hydration and firmer

looking skin.

OLAY - Collagen Peptide Serum

£34.99 (40ml)

Looking to spend a little less but still

get great results? Olay's new skincare

range offers their collagen peptide

serum which includes niacinamide

to regenerate skin. The lightweight,

fragrance-free formula smooths and

strengthens skin while also giving it

that much needed moisture for the

colder months.

FENTY BEAUTY - Fat Water

Pore-Refining toner serum £25

(150ml)

Fat Water Pore-Refining toner serum

by Rihanna's Fenty Beauty is a 2-in-1

toner and serum – revolutionary!

As well as having the benefits of a

traditional serum, the toner in the

formula helps pores to appear smaller

as well as evening out skin texture

over time. Your skin will be left feeling

smooth, plump and replenished.

THE ORDINARY - Buffet

£12.70 (30ml)

One of the most popular and

affordable toners on the market is

the classic cult favourite 'Buffet'

serum by The Ordinary. This little

bottle is packed with peptides that

help stimulate collagen in the skin.

Incorporate this into your skincare to

achieve more plumper and smoother

looking skin over time.

For more on skincare visit

www.jaimemagazine.com

58 www.jaimemagazine.com
---
The Salon Lichfield

Welcome their new stylist Jemma

Jemma brings a wealth of hairdressing experience to 'The Salon'

having spent the last 12 years as a 'hairdressing educator'. Working

alongside the award winning Wella colouring stylist Ricky Harding

MCE and his partner Deborah Morgan, Jemma, who was initially

trained at one of the industry's best known salons, will add her own

considerable hairdressing skills and artistic flair to the team. Jemma

will be in the salon every Tuesday, Friday and Saturday.

20% off when you recommend a friend

3 Bolt Court, Lichfield WS13 6LA - 07583559128

Based in the heart of Staffordshire in the picturesque

villages of Alrewas & Tutbury, our shops are packed

with ideas and inspiration for your home. Incorporating

Jo Raybould Interior Design within, for those who

require the services of a professional designer.

needwoodliving.co.uk

info@needwoodliving.co.uk

136 Main Street

Alrewas, DE13 7ED

01283 711 272

7A High Street,

Tutbury, DE13 9LP

01283 813 322

アパート 夀 䔀 䄀 刀 匀 伀 䘀

䈀 䔀 匀 倀 伀 䬀 䔀 䘀 䤀 一 䔀 䨀 䔀 圀 䔀 䰀 䰀 䔀 刀 夀 ꀀ

Specialists in designing

and making, remodelling

and refurbishing

伀 渀 攀 漀 昀 琀 栀 攀 氀 愀 爀 最 攀 猀 琀 挀 漀 氀 氀 攀 挀 琀 椀 漀 渀 猀 漀 昀

挀 漀 渀 琀 攀 洀 瀀 漀 爀 愀 爀 礀 ǻ 渀 攀 樀 攀 眀 攀 氀 氀 攀 爀 礀 椀 渀 琀 栀 攀 唀 䬀

匀 瀀 攀 挀 椀 愀 氀 椀 猀 琀 猀 椀 渀 搀 攀 猀 椀 最 渀 椀 渀 最 愀 渀 搀 洀 愀 欀 椀 渀 最 Ⰰ

爀 攀 洀 漀 搀 攀 氀 氀 椀 渀 最 愀 渀 搀 爀 攀 昀 甀 爀 戀 椀 猀 栀 椀 渀 最 昀 漀 爀 アパート 礀 攀 愀 爀 猀

ALLEN 䄀 䰀 䰀 䔀 一 䈀 BROWN 刀 伀 圀 一 䨀 JEWELLERY

䔀 圀 䔀 䰀 䰀 䔀 刀 夀

䠀 Heart 攀 愀 爀 琀 漀 of 昀 吀 The 栀 攀 䌀 Country 漀 甀 渀 琀 爀 礀 匀 Shopping 栀 漀 瀀 瀀 椀 渀 最 Village 嘀 椀 氀 氀 愀 最 攀

匀 Swinfen, 眀 椀 渀 昀 攀 渀 Ⰰ Lichfield, 䰀 椀 挀 栀 ǻ 攀 氀 搀 Ⰰ

匀 Staffordshire 琀 愀 昀 昀 漀 爀 搀 猀 栀 椀 爀 攀 WS14 圀 匀 㐀 9QR 㤀 儀 刀

01543 㔀 㐀 アパート 㐀 481948 㠀 㤀 㐀 㠀

眀 www.allenbrownjewellery.co.uk

眀 眀 ⸀ 愀 氀 氀 攀 渀 戀 爀 漀 眀 渀 樀 攀 眀 攀 氀 氀 攀 爀 礀 ⸀ 挀 漀 ⸀ 甀 欀

昀 椀 琀
---
I N T H E N E W S

A passion for

sustainable fashion

FROM 'FIELD TO FASHION' IS THE PHILOSOPHY OF JO WHITEHOUSE'S FASHION BRAND

ETON TAYLOR, WHICH NOW HAS A PERMANENT HOME AT THE DEER PARK AT HOAR CROSS

Timeless and elegant style staples which look fabulous,

yet are practical enough for the rigours of the great

British countryside throughout the seasons, are at the

heart of luxury British fashion brand Eton Taylor.

Founded by Jo Whitehouse in 2018, the company can

be found adding a touch of style to game fairs, horse

trials and country shows around the UK, earning a

loyal customer base which travels around the country

to peruse Jo's wares.

And now, customers old and new will be able to enjoy

the Eton Taylor experience at The Deer Park at Hoar

Cross, where Jo has recently opened her first retail

shop.

For Jo, fashion has been a lifelong passion. Her mother

opened her fashion shop, Joanne's, when Jo was just

a baby, so she grew up around glamorous ladies and

beautiful clothing.

As a teenager she started modelling for her mother at

local fashion shows - something she still does to this

day.

Eton Taylor harks back to the days when women

would invest in timeless, classic clothing, rather than

change and replace the contents of their wardrobe

season after season.

"It's about women feeling fabulous, and having a

wardrobe which is an investment which will last for

years," says Jo. "I'm not into fast fashion.

"Eton Taylor came about because I found it hard to

find things I liked, and that I would wear for years.

Here, I have a core selection - my tweeds, my suedes,

my Toscanas, my white shirts, my wraps, they are my

core products and they don't change throughout the

year.

"I pick certain things that I think will work for

everybody; colour-wise, size-wise, style wise. Our

customer age range goes from 18, up to ladies in their

nineties.

"It's all about having key basics. If you've got a classic

jacket, a crisp white shirt, a beautiful scarf, a stylish

coat and a fabulous piece of knitwear, then you've got

ETON TAYLOR FOUNDER

JO WHITEHOUSE

the essence of a wardrobe you can wear throughout

the seasons.

"We work with British companies; our tweed coats are

made in the UK, our classic ladies' shirts are made in

the UK, and we stock a good mix of natural fabrics,

from suede to sheepskin, to cashmere.

"Versatility is also a big thing for me. It's all about how

versatile pieces can be and how much wear you can

get out of them."

Customer service is key for Jo, who is on hand to help

her customers find exactly the right outfit for any

occasion, or item to complete their wardrobe. And

for customers who can't get to the shop, or visit Jo at

one of her shows, she also offers virtual consultations

where clients can receive the full Eton Taylor service

from the comfort of their own home.

"I love helping my customers find something that

they really love," adds Jo. "It's about helping ladies to

utilise that piece of clothing in their wardrobe, to feel

comfortable in it and get the most out of it."

Eton Taylor at The Deer Park is open

Wednesday to Saturday, from 10am until 5pm.

For more details, visit the website at www.

etontaylor.co.uk or call Jo on 07720 548510.

Follow Eton Taylor on Instagram and

Facebook.

60 www.jaimemagazine.com
---
I N T H E N E W S

Capturing

the moment

DESPITE OPENING DURING THE PANDEMIC, PORTFOLIO PHOTOGRAPHIC STUDIO AT THE DEER

PARK IS THRIVING A YEAR ON, THANKS TO OWNER STUART ADAM'S PASSION FOR PICTURES

Photography has been a lifelong passion for Stuart

Adam. Since picking up the camera at the tender

age of just five, Stuart has been a prolific snapper,

capturing memories with his beautiful images. He

estimates that he takes around a staggering 100,000

images every year - and that's even before he

launched his photography business.

The 61-year-old started Portfolio Photographic

Studio as a business to focus on during his semiretirement

after years of working in the automotive

and aerospace industries as an engineer by trade -

although the thriving studio has put paid to any ideas

of an easier working life.

"It's something I love, and something I've always

wanted to do," explains Stuart. "My dad bought me

a camera when I was five to document our holidays

in Scotland, and that was it. And for as long as I can

remember photography has been such a big part of

my life.

"I've been a wedding photographer for about five

years, and wedding photographers don't generally

need studios because they're always working on

location. But I liked the idea of what I could do in

the studio, to do something different."

Stuart initially set up a small studio at home, where

he would do cake smashes, family shoots and more,

before looking for dedicated premises to move into.

In March last year, Stuart's wife Toni, a wedding

cake maker and talented photographer who often

works as Stuart's second shooter, discovered that

some spaces were available at The Deer Park at

Hoar Cross. The site, which was then still a work in

progress, immediately captured Stuart's imagination.

"The whole thing just felt right," explains Stuart.

"The location, the space, what they're trying to

create here, it was all just perfect."

With building work put on hold as the pandemic hit,

it was August until Stuart was finally able to open

his studio to the public. Alongside weddings, which

STUART ADAM, OF PORTFOLIO

PHOTOGRAPHIC

are coming thick and fast since restrictions on events

have been lifted, Stuart is booked up with family

portraits, cake smashes, couples' shoots and more.

"Because I'm an engineer, I can't draw, and I'm

not artistic at all," laughs Stuart. "So the way I can

create something is through my photography.

"My style is really natural and engaging, a relaxed

style of photography which just captures moments as

they happen.

"And I love weddings because they're a big gig, every

wedding is different and weddings these days are

more diverse than ever. And that's fabulous because

it makes every wedding unique."

Since moving into the studio, Stuart has become a

key part of the business community at The Deer

Park, helping the other companies with their product

photography, and being on board with wedding

fayres and fashion shoots.

"A year on, and I think we're still exploring

everything we can do here," Stuart says. "There's so

much potential and so many ideas, it's exciting to see

what we can do next."

For more information visit Stuart in his studio at

The Deer Park, Hoar Cross, or visit

www.portfoliophotographic.co.uk

62 www.jaimemagazine.com
---
WE ARE A TRUSTED, LOCAL FAMILY, DEDICATED TO PROVIDING

A TRULY PERSONAL SERVICE FOR THOSE WHO NEED US

BURIALS, HORSE-DRAWN FUNERALS, BESPOKE FUNERAL

AND PRE-PAYMENT FUNERAL PLANS AVAILABLE

ALL-INCLUSIVE FUNERAL PACKAGES

FEES FOR CREMATORIUM, DOCTOR AND CELEBRANT INCLUDED

*DIRECT - £1,495 *SIMPLE - £2,300 *TRADITIONAL - £2,950

ALL NEEDS AND WISHES CATERED FOR.

PRE-PAYMENT FUNERAL PLANS AVAILABLE

OUR SECOND FUNERAL HOME IS NOW OPEN AT

152, CANNOCK ROAD, BURNTWOOD WS7 0BG

ALSO AT

16 - 20 NORTH STREET, CANNOCK, WS11 0BA

01543 529813 (ANYTIME)

VISIT OUR WEB AND FACEBOOK SITES TO SEE OUR REVIEWS

WWW.OMALLEYFUNERALS.CO.UK • FACEBOOK.COM/OMALLEYFUNERALS

L U X U R Y & S P E C I A L I S T T R A V E L

G R E E N F O R G O !

WE

REMAIN

Established

Established 1990

OPEN

1990

FOR NEW

COVID

RESIDENTS Rosemary Lodge Residential Lichfield Care Home

Lichfield FREE

191 Walsall Road, Lichfield, Staffordshire, WS13 8AQ

Please contact The perfect the Registered 'home Care from Manager home' Jane Evans

The perfect 'home from home'

Tel: 01543

at

415223

Rosemary

E-mail:

Lodge

contact@rosemarylodge.co.uk

Care Home

at Website: Rosemary www.rosemarylodge.co.uk

Lodge Care Home

Rosemary Lodge Care Home for elderly ladies and

Rosemary Lodge Care Home for elderly ladies and

gentlemen offers level of care, community and

gentlemen offers a level of care, community and

comfort that is second to none. Situated short way

Rosemary comfort Lodge that is Care second Home to fRosemary none. Lodge Situated Care Home a short for elderly way

from ladies and the gentlemen city centre offers of a level Lichfield of care, community and set in and landscaped

comfort that is

from second the

gardens, to none. city Situated centre

Rosemary a short of Lichfield

Lodge way from is the and

light, city set

spacious centre in landscaped

of Lichfield and and

set in gardens, landscaped Rosemary gardens, Rosemary Lodge Lodge is light, is spacious and and beautifully

decorated, beautifully offering decorated; residents just offering the right combination residents of just interest, the activity right and

relaxation. beautifully It is a decorated; place that encourages offering residents residents to retain just their the independence right

and

combination

individuality whilst

of

being

interest,

fully supported

activity

to

and

live a

relaxation.

fulfilled and enjoyable

It is combination of interest, activity and relaxation. It is alife.

place that encourages residents to retain their

place that encourages residents to retain their

independence and individuality whilst being fully

independence and individuality whilst being fully

supported to live fulfilled and enjoyable life.

supported to live a fulfilled and enjoyable life.

Rosemary Lodge Care Home is family run home and has

Rosemary Lodge Care Home is a family run home and has

been highly regarded part of the community for over 30

been a highly regarded part of the community for over 30

years. Offering 24 hour care, our fully trained staff work

years. Offering 24 hour care, our fully trained staff work

together to communicate with residents and ensure

together to communicate with residents and ensure

personal care needs are met in person centered

personal care needs are met in a person centered

approach, thus building an important relationship of trust

approach, thus building an important relationship of trust

and friendship.

and friendship.

All rooms are on-suite, and are designed to comfortably

All Rosemary rooms are Lodge on-suite, Care Hoe is and a family are run designed home and to has comfortably

been a highly

regarded part accommodate of the community individuals for over 30 years. and Offering couples. 24 hour care, our

fully trained accommodate staff work together individuals to communicate and with couples. residents and ensure

persoal There care is needs full Wi-Fi are met connectivity in a person centred throughout approach, thus to building allow an

There is

important

full Wi-Fi

relationship

connectivity

of trust

throughout

and friendship.

to allow

residents the opportunity of keeping in touch with family

residents the opportunity of keeping in touch with family

All rooms are en-suite, and friends and are designed with video to comfortably calls. accommodate

individuals and couples. and There friends is full with Wi-Fi video connectivity calls. throughout to allow

residents the opportunity of keeping in touch with family and friends with

Regular activities and entertainment video calls. are always available,

Regular activities and entertainment are always available,

with Regular activity activities timetables and entertainment distributed are always weekly, available but with activity privacy

timetables with activity

and peace distributed timetables

and weekly, quiet but distributed

is privacy also ensured and peace weekly, and in this quiet but

beautiful is also privacy ensured

and peace and quiet is also ensured in this beautiful

'home from home'.

'home from home'.

Our commitment to offering just the right amount of care

Our commitment to offering just the right amount of care

and support has led to an excellent reputation in the

and support has led to an excellent reputation in the

community and with the care professionals who work

community and with the care professionals who work

with us. We value our staff highly and recognise that their

with us. We value our staff highly and recognise that their

care and commitment are great part of our success.

care and commitment are a great part of our success.

We also offer respite care, holiday stay and limited day

We also offer respite care, holiday stay and limited day

care. To arrange visit or to learn more about us please

care. To arrange a visit or to learn more about us please

get in touch using the contact details below.

get in touch using the contact details below.

in this beautiful 'home from home'

Our commitment to offering just the right amount of care and support has led

to an excellent reputation in the community and with the care professionals

who work with us. We value our staff highly and recognise that their care and

commitment are a great part of our success.

We also offer respite care, holiday stay and limited day care. To arrange a visit

or to learn more about us please get in touch using the contact details below.

Rosemary Lodge Residential Care Home

Rosemary Lodge Residential Home

Rosemary 191 Walsall Lodge Road, Residential Lichfield. Staffs. WS13 Care 8AQ. Home

191 Walsall Road, Lichfield, Staffordshire, WS13 8AQ

In the 191 first Walsall instance Road, please Lichfield, contact Jane Staffordshire, Evans - Registered WS13 Care Manager 8AQ

Please contact or Shirley the Registered Kent - Administration Care Manager. Jane Evans

Please contact the Registered Care Manager Jane Evans

Tel: 01543 01543 415223 415223 E-mail: - Email: contact@rosemarylodge.co.uk

roselodgehome@aol.com

Tel: 01543 415223

Website: www.rosemarylodgecarehome.co.uk

E-mail: contact@rosemarylodge.co.uk

www.rosemarylodge.co.uk

Website: www.rosemarylodge.co.uk

CQC RATING GOOD
---
H E A LT H

World title is the target after

sight-saving eye surgery

AN INTERNATIONAL AWARD-WINNING SHOOTER FEARED HE MIGHT HAVE TAKEN AIM FOR THE

LAST TIME WHEN HE VIRTUALLY LOST ALL SIGHT IN HIS LEFT EYE. BUT FOLLOWING LASER SURGERY

CARRIED OUT AT SPIRE LITTLE ASTON, IN SUTTON COLDFIELD, HE IS BACK IN ACTION

Donovan Jenkin started shooting at the age of 10,

and competes in Helice shooting – an offshoot of

clay pigeon shooting – where targets with propellers

are released from a series of 'traps'. But where clays

travel in a predictable direction, a Helice target has

an unpredictable flight path.

He was runner up in the 1990 English Open and

won the Le Touquet Grand Prix in France in 1992

and won the Grand Prix de France in 1993 when he

decided to take a break from the sport to concentrate

on his ever-expanding landscaping business.

When he decided to retire in 2016 he began

competing again and was soon back to winning ways

– adding another Le Touquet Grand Prix in 2017 to

his honours list.

But within weeks of that victory he began having

problems with vision in his left eye and was advised

to wear prescription glasses. However, the problem

continued and it wasn't long before he had lost

virtually all sight from that eye.

"I shoot from the left shoulder so I am left eye

dominant – it looked like my shooting days were well

and truly over," he explained.

It was discovered he had astigmatism and had

surgery to fit a replacement lens that should

have solved the problem. But the blurred vision

quickly returned and he was advised to meet with

ophthalmic consultant Mr Daniel Calladine at Spire

Little Aston Hospital in Sutton Coldfield.

Mr Calladine explained: "Mr Jenkin has undergone

lens replacement surgery at another centre to help

correct his distance vision and also reduce his

astigmatism.

"Technically the surgery had gone well but,

unfortunately, he was left with residual astigmatism.

This is not uncommon following refractive type lens

surgery and can mean patients often have to go back

to wearing glasses.

"We were able to correct the astigmatism using an

excimer laser which we brought into the centre as

part of a £200,000 investment package. It meant we

were able to reduce the astigmatism to practically

zero while also altering the focus of his eye to

improve his long distance vision.

"I am delighted to say it was an excellent outcome

and really gives him the eagle-eye vision he needs to

take part in Helice shooting."

Six weeks after the operation Donovan was back in

Le Touquet to win his third Grand Prix and then

came second in the British Helice Grand Prix.

He said: "It is remarkable. I thought my shooting

days were over and here I am competing at

International level again. Now I'm really looking

forward to the World Championships.

At Spire Eye Centre, the expert consultant

ophthalmologists use some of the latest medical

treatments for a wide range of eye problems,

including eye disease such as diabetic retinopathy;

conditions commonly associated with age such as

cataracts and glaucoma; and correcting eyesight

problems through laser eye surgery.

On October 7, consultant ophthalmologist Mr

Thomas Ressiniotis is offering expert advice on

cataracts and glaucoma treatments available in the

Spire Eye Centre. Call 0121 514 7034 to book your

free mini virtual consultation.

64 www.jaimemagazine.com
---
Celebrate Christmas & New Year at The George Hotel

in Lichfield city centre. Book now for a range of festive events,

stays and dining experiences.

CHRISTMAS PARTY NIGHTS | FAMILY LUNCH WITH SANTA

MURDER MYSTERY EVENINGS

AFTERNOON TEA WITH CAROLS

AFTERNOON TEA WITH SONGS FROM MICHAEL BUBLE

CHRISTMAS DAY LUNCH | NEW YEAR'S EVE DINNER & DISCO

Celebrate Christmas & New Year at 4* Moor Hall Hotel & Spa

in Sutton Coldfield. Book now for a range of festive events,

stays and dining experiences.

CHRISTMAS PARTY NIGHTS | FAMILY LUNCH WITH SANTA

MURDER MYSTERY EVENINGS | COMEDY DINING

AFTERNOON TEA WITH CAROLS

AFTERNOON TEA WITH SONGS FROM MICHAEL BUBLE

FAMILY PANTOMIME | BREAKFAST WITH SANTA

CHRISTMAS DAY LUNCH | NEW YEAR'S EVE DINNER & DISCO

Bird Street, Lichfield, WS13 6PR

01543 414822 www.thegeorgelichfield.co.uk

Visit our website for more events, menus and to book

Moor Hall Drive, Four Oaks, Sutton Coldfield B75 6LN

0121 308 3751 www.moorhallhotel.co.uk

Visit our website for more events, menus and to book
---
I N T H E N E W S

A new opening for

funeral firm

A STAFFORDSHIRE FUNERAL FIRM WITH A REPUTATION FOR THEIR

UNRIVALLED CARE AND SUPPORT TO BEREAVED FAMILIES HAVE

OPENED A SECOND FUNERAL HOME IN BURNTWOOD

Since opening up their funeral home in Cannock in

2017, the O'Malley's have built up a reputation for

providing a truly personal service during what is one

of life's most difficult times.

With funerals conducted across the Midlands and

beyond, the independent, family-run firm pride

themselves on catering for all needs and wishes,

giving each family they care for the opportunity

to say goodbye in their own unique way, all while

offering competitive and transparent pricing.

This year has seen the second branch of O'Malley

Family Funerals opening in Burntwood, the

hometown of founder Jack O'Malley, who runs the

firm alongside his brother Luke and sister Grace.

The new home is named the John Joseph Funeral

Home, in memory of the siblings' beloved grandad.

Jack O'Malley says: "We have always lived in

Burntwood and are so proud to have a second

funeral home there. My first real exposure to the

funeral profession was as an altar boy at St. Joseph's

Catholic Church, just opposite our new premises."

The team at O'Malley Family Funerals are not what

people may perceive as 'typical' funeral directors.

After assisting voluntarily at many funerals, Jack

became actively involved in the wider funeral

OFFICE MANAGER GRACE IS THE

YOUNGEST OF THE SIBLINGS

BROTHERS JACK OND LUKE O'MALLEY

profession at the age of 16, even working while

completing his A-level studies and during his time at

the University of Birmingham where he obtained his

Honours degree in English.

Jack was in his early 20s when set up O'Malley

Family Funerals in 2017, with older brother Luke

and younger sister Grace coming on board to offer a

truly family focused service.

Jack says: "We are all family at O'Malley's and it is

our promise to treat all those we care for and support

as if they are family too. Me and my siblings Luke

and Grace are also supported by uncles Andy and

John and cousin Ian who assist with funeral services."

Since launching O'Malley Family Funerals, the

siblings have gained an enviable reputation and

have attracted the attention of media across the

world, appearing on the BBC, ITV, Dutch television

and in the New York Times. Their service has

been awarded five star reviews across Google, Yell,

Facebook, Funeral Guide and more.

O'Malley Family Funerals can be contacted day or

night, 365 days of the year and serve all areas with

no restrictions, offering free home visits to all. For

more details visit www.omalleyfunerals.co.uk

66 www.jaimemagazine.com
---
Established – Professional – Transparent

The Winterton family name has been synonymous

with auctioneering in Staffordshire since 1864

Probate and formal valuations for

inheritance tax purposes

Our reliable and sympathetic

team can assist all executors in the

administration of deceased estates

From jewellery and large collections

to cars, furniture and household items,

we handle everything

Comprehensive, bespoke

clearance service and

downsizing solutions

We handle clearance of an entire

estate from houses, bungalows and

flats to offices and all other buildings

Jewellery, Watches & Silver

Sutton Coldfield

The Trinity Centre

Church Hill, Mill Street, B72 1TF

Discover that hidden gem with your local auctioneer

We specialise in:

Antique and modern jewellery

Watches

Gemstones

Silverware

Coins, medals and militaria

Works of art

Whisky and wine

Vintage toys

Stamps and ephemera

Cameras and record collections

Scientific equipment

Antique and modern furniture

Modern toys and Pokémon

Musical instruments

FREE LOCAL VALUATIONS - NEAR YOU

Watches, Jewellery, Silver & Antiques

Lichfield

The Hub at St Mary's

Market Square, WS13 6LG

Qualified

All members of our jewellery

department are certified

gemmologists and diamond graders

Record-breaking

international sales

More than 3,800 bidders from

all over the world joined our

online auctions last month

Online services available

Virtual estimates, online auctions

and contactless collections.

Valuations, viewing and consignments

by appointment only

Jewellery, Watches & Silver

The Lichfield Auction Centre

Fradley Park (close to the A38)

Wood End Lane, WS13 8NF

Mondays

9am - 12pm

Meet valuer Louise

for help and advice

(except bank holidays)

Tuesdays

10am - 12.30pm

Meet Ben for general

advice and auction

consignments

BY APPOINTMENT

Thursdays

9.30am - 4pm

With Heather,

gemmologist

& diamond grader

FREE General Valuations of your pictures, antiques and collectables

By appointment only - with our team on Thursdays from 9.30am - 4pm Call 01543 251081

01543 251081

www.richardwinterton.co.uk

office@richardwinterton.co.uk

The Lichfield Auction Centre, Wood End Lane, Fradley Park WS13 8NF

J'Aime Ad 190x280_June 2021.indd 5 14/05/2021 15:43