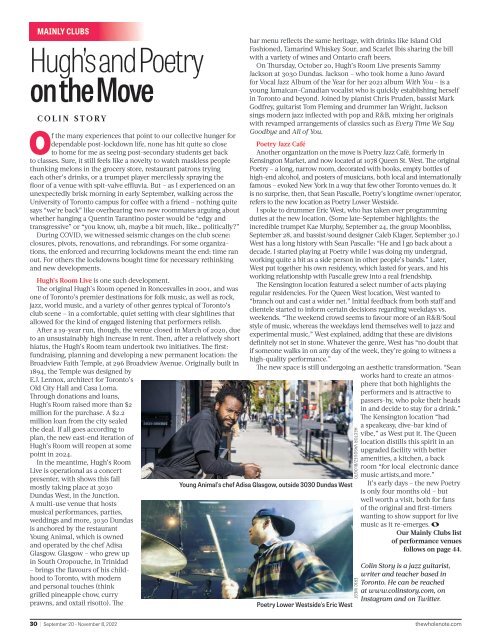 Volume 28 Issue 1 | September 20 - November 8, 2022
Our 28th season in print! "And Now, Back to Live Action"; a symphonic-sized listings section, compared to last season; clubs "On the move" ; FuturesStops Festival and Nuit Blanche; "Pianistic high-wire acts"; Season announcements include full-sized choral works like Mendelssohn's Elijah; "Icons, innovators and renegades" pulling out all the stops.
Our 28th season in print! "And Now, Back to Live Action"; a symphonic-sized listings section, compared to last season; clubs "On the move" ; FuturesStops Festival and Nuit Blanche; "Pianistic high-wire acts"; Season announcements include full-sized choral works like Mendelssohn's Elijah; "Icons, innovators and renegades" pulling out all the stops.
SHOW MORE
SHOW LESS
Create successful ePaper yourself
Turn your PDF publications into a flip-book with our unique Google optimized e-Paper software.
MAINLY CLUBS

Hugh's and Poetry

on the Move

COLIN STORY

Of the many experiences that point to our collective hunger for

dependable post-lockdown life, none has hit quite so close

to home for me as seeing post-secondary students get back

to classes. Sure, it still feels like a novelty to watch maskless people

thunking melons in the grocery store, restaurant patrons trying

each other's drinks, or a trumpet player mercilessly spraying the

floor of a venue with spit-valve effluvia. But – as I experienced on an

unexpectedly brisk morning in early September, walking across the

University of Toronto campus for coffee with a friend – nothing quite

says "we're back" like overhearing two new roommates arguing about

whether hanging a Quentin Tarantino poster would be "edgy and

transgressive" or "you know, uh, maybe a bit much, like… politically?"

During COVID, we witnessed seismic changes on the club scene:

closures, pivots, renovations, and rebrandings. For some organizations,

the enforced and recurring lockdowns meant the end: time ran

out. For others the lockdowns bought time for necessary rethinking

and new developments.

Hugh's Room Live is one such development.

The original Hugh's Room opened in Roncesvalles in 2001, and was

one of Toronto's premier destinations for folk music, as well as rock,

jazz, world music, and a variety of other genres typical of Toronto's

club scene – in a comfortable, quiet setting with clear sightlines that

allowed for the kind of engaged listening that performers relish.

After a 19-year run, though, the venue closed in March of 2020, due

to an unsustainably high increase in rent. Then, after a relatively short

hiatus, the Hugh's Room team undertook two initiatives. The first:

fundraising, planning and developing a new permanent location: the

Broadview Faith Temple, at 296 Broadview Avenue. Originally built in

1894, the Temple was designed by

E.J. Lennox, architect for Toronto's

Old City Hall and Casa Loma.

Through donations and loans,

Hugh's Room raised more than $2

million for the purchase. A $2.2

million loan from the city sealed

the deal. If all goes according to

plan, the new east-end iteration of

Hugh's Room will reopen at some

point in 2024.

In the meantime, Hugh's Room

Live is operational as a concert

presenter, with shows this fall

mostly taking place at 3030

Dundas West, in the Junction.

A multi-use venue that hosts

musical performances, parties,

weddings and more, 3030 Dundas

is anchored by the restaurant

Young Animal, which is owned

and operated by the chef Adisa

Glasgow. Glasgow – who grew up

in South Oropouche, in Trinidad

– brings the flavours of his childhood

to Toronto, with modern

and personal touches (think

grilled pineapple chow, curry

prawns, and oxtail risotto). The

bar menu reflects the same heritage, with drinks like Island Old

Fashioned, Tamarind Whiskey Sour, and Scarlet Ibis sharing the bill

with a variety of wines and Ontario craft beers.

On Thursday, October 20, Hugh's Room Live presents Sammy

Jackson at 3030 Dundas. Jackson – who took home a Juno Award

for Vocal Jazz Album of the Year for her 2021 album With You – is a

young Jamaican-Canadian vocalist who is quickly establishing herself

in Toronto and beyond. Joined by pianist Chris Pruden, bassist Mark

Godfrey, guitarist Tom Fleming and drummer Ian Wright, Jackson

sings modern jazz inflected with pop and R&B, mixing her originals

with revamped arrangements of classics such as Every Time We Say

Goodbye and All of You.

Poetry Jazz Café

Another organization on the move is Poetry Jazz Café, formerly in

Kensington Market, and now located at 1078 Queen St. West. The original

Poetry – a long, narrow room, decorated with books, empty bottles of

high-end alcohol, and posters of musicians, both local and internationally

famous – evoked New York in a way that few other Toronto venues do. It

is no surprise, then, that Sean Pascalle, Poetry's longtime owner/operator,

refers to the new location as Poetry Lower Westside.

I spoke to drummer Eric West, who has taken over programming

duties at the new location. (Some late-September highlights: the

incredible trumpet Kae Murphy, September 24, the group Moonbliss,

September 28, and bassist/sound designer Caleb Klager, September 30.)

West has a long history with Sean Pascalle: "He and I go back about a

decade. I started playing at Poetry while I was doing my undergrad,

working quite a bit as a side person in other people's bands." Later,

West put together his own residency, which lasted for years, and his

working relationship with Pascalle grew into a real friendship.

The Kensington location featured a select number of acts playing

regular residencies. For the Queen West location, West wanted to

"branch out and cast a wider net." Initial feedback from both staff and

clientele started to inform certain decisions regarding weekdays vs.

weekends. "The weekend crowd seems to favour more of an R&B/Soul

style of music, whereas the weekdays lend themselves well to jazz and

experimental music," West explained, adding that these are divisions

definitely not set in stone. Whatever the genre, West has "no doubt that

if someone walks in on any day of the week, they're going to witness a

high-quality performance."

The new space is still undergoing an aesthetic transformation. "Sean

works hard to create an atmosphere

that both highlights the

performers and is attractive to

passers-by, who poke their heads

in and decide to stay for a drink."

The Kensington location "had

a speakeasy, dive-bar kind of

vibe," as West put it. The Queen

location distills this spirit in an

upgraded facility with better

amenities, a kitchen, a back

room "for local electronic dance

music artists,and more."

It's early days – the new Poetry

is only four months old – but

well worth a visit, both for fans

of the original and first-timers

wanting to show support for live

music as it re-emerges.

Our Mainly Clubs list

of performance venues

follows on page 44.

Young Animal's chef Adisa Glasgow, outside 3030 Dundas West

HECTOR VASQUEZ/BLOGTO

Colin Story is a jazz guitarist,

writer and teacher based in

Toronto. He can be reached

at www.colinstory.com, on

Instagram and on Twitter.

Poetry Lower Westside's Eric West

ERIC WEST

30 | September 20 - November 8, 2022 thewholenote.com