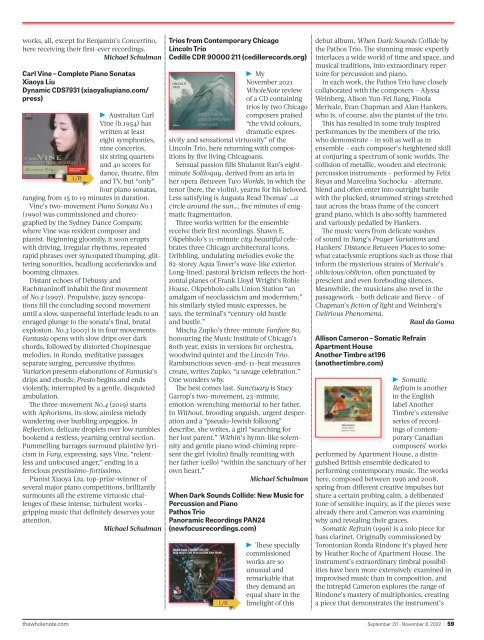 Volume 28 Issue 1 | September 20 - November 8, 2022
Our 28th season in print! "And Now, Back to Live Action"; a symphonic-sized listings section, compared to last season; clubs "On the move" ; FuturesStops Festival and Nuit Blanche; "Pianistic high-wire acts"; Season announcements include full-sized choral works like Mendelssohn's Elijah; "Icons, innovators and renegades" pulling out all the stops.
Our 28th season in print! "And Now, Back to Live Action"; a symphonic-sized listings section, compared to last season; clubs "On the move" ; FuturesStops Festival and Nuit Blanche; "Pianistic high-wire acts"; Season announcements include full-sized choral works like Mendelssohn's Elijah; "Icons, innovators and renegades" pulling out all the stops.
SHOW MORE
SHOW LESS
You also want an ePaper? Increase the reach of your titles
YUMPU automatically turns print PDFs into web optimized ePapers that Google loves.
works, all, except for Benjamin's Concertino,

here receiving their first-ever recordings.

Michael Schulman

Carl Vine – Complete Piano Sonatas

Xiaoya Liu

Dynamic CDS7931 (xiaoyaliupiano.com/

press)

! Australian Carl

Vine (b.1954) has

written at least

eight symphonies,

nine concertos,

six string quartets

and 40 scores for

dance, theatre, film

and TV, but "only"

four piano sonatas,

ranging from 15 to 19 minutes in duration.

Vine's two-movement Piano Sonata No.1

(1990) was commissioned and choreographed

by the Sydney Dance Company,

where Vine was resident composer and

pianist. Beginning gloomily, it soon erupts

with driving, irregular rhythms, repeated

rapid phrases over syncopated thumping, glittering

sonorities, headlong accelerandos and

booming climaxes.

Distant echoes of Debussy and

Rachmaninoff inhabit the first movement

of No.2 (1997). Propulsive, jazzy syncopations

fill the concluding second movement

until a slow, suspenseful interlude leads to an

enraged plunge to the sonata's final, brutal

explosion. No.3 (2007) is in four movements:

Fantasia opens with slow drips over dark

chords, followed by distorted Chopinesque

melodies; in Rondo, meditative passages

separate surging, percussive rhythms;

Variation presents elaborations of Fantasia's

drips and chords; Presto begins and ends

violently, interrupted by a gentle, disquieted

ambulation.

The three-movement No.4 (2019) starts

with Aphorisms, its slow, aimless melody

wandering over burbling arpeggios. In

Reflection, delicate droplets over low rumbles

bookend a restless, yearning central section.

Pummelling barrages surround plaintive lyricism

in Fury, expressing, says Vine, "relentless

and unfocused anger," ending in a

ferocious prestissimo-fortissimo.

Pianist Xiaoya Liu, top-prize-winner of

several major piano competitions, brilliantly

surmounts all the extreme virtuosic challenges

of these intense, turbulent works –

gripping music that definitely deserves your

attention.

Michael Schulman

Trios from Contemporary Chicago

Lincoln Trio

Cedille CDR 90000 211 (cedillerecords.org)

! My

November 2021

WholeNote review

of a CD containing

trios by two Chicago

composers praised

"the vivid colours,

dramatic expressivity

and sensational virtuosity" of the

Lincoln Trio, here returning with compositions

by five living Chicagoans.

Sensual passion fills Shulamit Ran's eightminute

Soliloquy, derived from an aria in

her opera Between Two Worlds, in which the

tenor (here, the violin), yearns for his beloved.

Less satisfying is Augusta Read Thomas' …a

circle around the sun…, five minutes of enigmatic

fragmentation.

Three works written for the ensemble

receive their first recordings. Shawn E.

Okpebholo's 11-minute city beautiful celebrates

three Chicago architectural icons.

Dribbling, undulating melodies evoke the

82-storey Aqua Tower's wave-like exterior.

Long-lined, pastoral lyricism reflects the horizontal

planes of Frank Lloyd Wright's Robie

House. Okpebholo calls Union Station "an

amalgam of neoclassicism and modernism;"

his similarly styled music expresses, he

says, the terminal's "century-old hustle

and bustle."

Mischa Zupko's three-minute Fanfare 80,

honouring the Music Institute of Chicago's

80th year, exists in versions for orchestra,

woodwind quintet and the Lincoln Trio.

Rambunctious seven-and-11-beat measures

create, writes Zupko, "a savage celebration."

One wonders why.

The best comes last. Sanctuary is Stacy

Garrop's two-movement, 23-minute,

emotion-wrenching memorial to her father.

In Without, brooding anguish, urgent desperation

and a "pseudo-Jewish folksong"

describe, she writes, a girl "searching for

her lost parent." Within's hymn-like solemnity

and gentle piano wind-chiming represent

the girl (violin) finally reuniting with

her father (cello) "within the sanctuary of her

own heart."

Michael Schulman

When Dark Sounds Collide: New Music for

Percussion and Piano

Pathos Trio

Panoramic Recordings PAN24

(newfocusrecordings.com)

! These specially

commissioned

works are so

unusual and

remarkable that

they demand an

equal share in the

limelight of this

debut album, When Dark Sounds Collide by

the Pathos Trio. The stunning music expertly

interlaces a wide world of time and space, and

musical traditions, into extraordinary repertoire

for percussion and piano.

In each work, the Pathos Trio have closely

collaborated with the composers – Alyssa

Weinberg, Alison Yun-Fei Jiang, Finola

Merivale, Evan Chapman and Alan Hankers,

who is, of course, also the pianist of the trio.

This has resulted in some truly inspired

performances by the members of the trio,

who demonstrate – in soli as well as in

ensemble – each composer's heightened skill

at conjuring a spectrum of sonic worlds. The

collision of metallic, wooden and electronic

percussion instruments – performed by Felix

Reyas and Marcelina Suchocka – alternate,

blend and often enter into outright battle

with the plucked, strummed strings stretched

taut across the brass frame of the concert

grand piano, which is also softly hammered

and variously pedalled by Hankers.

The music veers from delicate washes

of sound in Jiang's Prayer Variations and

Hankers' Distance Between Places to somewhat

cataclysmic eruptions such as those that

inform the mysterious strains of Merivale's

oblivious/oblivion, often punctuated by

prescient and even foreboding silences.

Meanwhile, the musicians also revel in the

passagework – both delicate and fierce – of

Chapman's fiction of light and Weinberg's

Delirious Phenomena.

Raul da Gama

Allison Cameron – Somatic Refrain

Apartment House

Another Timbre at196

(anothertimbre.com)

! Somatic

Refrain is another

in the English

label Another

Timbre's extensive

series of recordings

of contemporary

Canadian

composers' works

performed by Apartment House, a distinguished

British ensemble dedicated to

performing contemporary music. The works

here, composed between 1996 and 2008,

spring from different creative impulses but

share a certain probing calm, a deliberated

tone of sensitive inquiry, as if the pieces were

already there and Cameron was examining

why and revealing their graces.

Somatic Refrain (1996) is a solo piece for

bass clarinet. Originally commissioned by

Torontonian Ronda Rindone it's played here

by Heather Roche of Apartment House. The

instrument's extraordinary timbral possibilities

have been more extensively examined in

improvised music than in composition, and

the intrepid Cameron explores the range of

Rindone's mastery of multiphonics, creating

a piece that demonstrates the instrument's

thewholenote.com September 20 - November 8, 2022 | 59