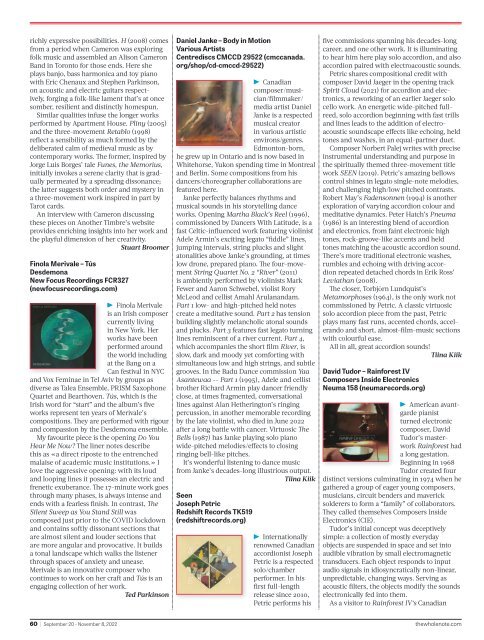 Volume 28 Issue 1 | September 20 - November 8, 2022
Our 28th season in print! "And Now, Back to Live Action"; a symphonic-sized listings section, compared to last season; clubs "On the move" ; FuturesStops Festival and Nuit Blanche; "Pianistic high-wire acts"; Season announcements include full-sized choral works like Mendelssohn's Elijah; "Icons, innovators and renegades" pulling out all the stops.
Our 28th season in print! "And Now, Back to Live Action"; a symphonic-sized listings section, compared to last season; clubs "On the move" ; FuturesStops Festival and Nuit Blanche; "Pianistic high-wire acts"; Season announcements include full-sized choral works like Mendelssohn's Elijah; "Icons, innovators and renegades" pulling out all the stops.
SHOW MORE
SHOW LESS
Create successful ePaper yourself
Turn your PDF publications into a flip-book with our unique Google optimized e-Paper software.
ichly expressive possibilities. H (2008) comes

from a period when Cameron was exploring

folk music and assembled an Alison Cameron

Band in Toronto for those ends. Here she

plays banjo, bass harmonica and toy piano

with Eric Chenaux and Stephen Parkinson,

on acoustic and electric guitars respectively,

forging a folk-like lament that's at once

somber, resilient and distinctly homespun.

Similar qualities infuse the longer works

performed by Apartment House. Pliny (2005)

and the three-movement Retablo (1998)

reflect a sensibility as much formed by the

deliberated calm of medieval music as by

contemporary works. The former, inspired by

Jorge Luis Borges' tale Funes, the Memorius,

initially invokes a serene clarity that is gradually

permeated by a spreading dissonance;

the latter suggests both order and mystery in

a three-movement work inspired in part by

Tarot cards.

An interview with Cameron discussing

these pieces on Another Timbre's website

provides enriching insights into her work and

the playful dimension of her creativity.

Stuart Broomer

Finola Merivale – Tús

Desdemona

New Focus Recordings FCR327

(newfocusrecordings.com)

! Finola Merivale

is an Irish composer

currently living

in New York. Her

works have been

performed around

the world including

at the Bang on a

Can festival in NYC

and Vox Feminae in Tel Aviv by groups as

diverse as Talea Ensemble, PRISM Saxophone

Quartet and Bearthoven. Tús, which is the

Irish word for "start" and the album's five

works represent ten years of Merivale's

compositions. They are performed with rigour

and compassion by the Desdemona ensemble.

My favourite piece is the opening Do You

Hear Me Now? The liner notes describe

this as «a direct riposte to the entrenched

malaise of academic music institutions.» I

love the aggressive opening: with its loud

and looping lines it possesses an electric and

frenetic exuberance. The 17-minute work goes

through many phases, is always intense and

ends with a fearless finish. In contrast, The

Silent Sweep as You Stand Still was

composed just prior to the COVID lockdown

and contains softly dissonant sections that

are almost silent and louder sections that

are more angular and provocative. It builds

a tonal landscape which walks the listener

through spaces of anxiety and unease.

Merivale is an innovative composer who

continues to work on her craft and Tús is an

engaging collection of her work.

Ted Parkinson

Daniel Janke – Body in Motion

Various Artists

Centrediscs CMCCD 29522 (cmccanada.

org/shop/cd-cmccd-29522)

! Canadian

composer/musician/filmmaker/

media artist Daniel

Janke is a respected

musical creator

in various artistic

environs/genres.

Edmonton-born,

he grew up in Ontario and is now based in

Whitehorse, Yukon spending time in Montreal

and Berlin. Some compositions from his

dancers/choreographer collaborations are

featured here.

Janke perfectly balances rhythms and

musical sounds in his storytelling dance

works. Opening Martha Black's Reel (1996),

commissioned by Dancers With Latitude, is a

fast Celtic-influenced work featuring violinist

Adele Armin's exciting legato "fiddle" lines,

jumping intervals, string plucks and slight

atonalities above Janke's grounding, at times

low drone, prepared piano. The four-movement

String Quartet No. 2 "River" (2011)

is ambiently performed by violinists Mark

Fewer and Aaron Schwebel, violist Rory

McLeod and cellist Amahl Arulanandam.

Part 1 low- and high-pitched held notes

create a meditative sound. Part 2 has tension

building slightly melancholic atonal sounds

and plucks. Part 3 features fast legato turning

lines reminiscent of a river current. Part 4,

which accompanies the short film River, is

slow, dark and moody yet comforting with

simultaneous low and high strings, and subtle

grooves. In the Badu Dance commission Yaa

Asantewaa -- Part 1 (1995), Adele and cellist

brother Richard Armin play dancer friendly

close, at times fragmented, conversational

lines against Alan Hetherington's ringing

percussion, in another memorable recording

by the late violinist, who died in June 2022

after a long battle with cancer. Virtuosic The

Bells (1987) has Janke playing solo piano

wide-pitched melodies/effects to closing

ringing bell-like pitches.

It's wonderful listening to dance music

from Janke's decades-long illustrious output.

Tiina Kiik

Seen

Joseph Petric

Redshift Records TK519

(redshiftrecords.org)

! Internationally

renowned Canadian

accordionist Joseph

Petric is a respected

solo/chamber

performer. In his

first full-length

release since 2010,

Petric performs his

five commissions spanning his decades-long

career, and one other work. It is illuminating

to hear him here play solo accordion, and also

accordion paired with electroacoustic sounds.

Petric shares compositional credit with

composer David Jaeger in the opening track

Spirit Cloud (2021) for accordion and electronics,

a reworking of an earlier Jaeger solo

cello work. An energetic wide-pitched fullreed,

solo accordion beginning with fast trills

and lines leads to the addition of electroacoustic

soundscape effects like echoing, held

tones and washes, in an equal-partner duet.

Composer Norbert Palej writes with precise

instrumental understanding and purpose in

the spiritually themed three-movement title

work SEEN (2019). Petric's amazing bellows

control shines in legato single-note melodies,

and challenging high/low pitched contrasts.

Robert May's Fadensonnen (1994) is another

exploration of varying accordion colour and

meditative dynamics. Peter Hatch's Pneuma

(1986) is an interesting blend of accordion

and electronics, from faint electronic high

tones, rock-groove-like accents and held

tones matching the acoustic accordion sound.

There's more traditional electronic washes,

rumbles and echoing with driving accordion

repeated detached chords in Erik Ross'

Leviathan (2008).

The closer, Torbjörn Lundquist's

Metamorphoses (1964), is the only work not

commissioned by Petric. A classic virtuosic

solo accordion piece from the past, Petric

plays many fast runs, accented chords, accelerando

and short, almost-film-music sections

with colourful ease.

All in all, great accordion sounds!

Tiina Kiik

David Tudor – Rainforest IV

Composers Inside Electronics

Neuma 158 (neumarecords.org)

! American avantgarde

pianist

turned electronic

composer, David

Tudor's masterwork

Rainforest had

a long gestation.

Beginning in 1968

Tudor created four

distinct versions culminating in 1974 when he

gathered a group of eager young composers,

musicians, circuit benders and maverick

solderers to form a "family" of collaborators.

They called themselves Composers Inside

Electronics (CIE).

Tudor's initial concept was deceptively

simple: a collection of mostly everyday

objects are suspended in space and set into

audible vibration by small electromagnetic

transducers. Each object responds to input

audio signals in idiosyncratically non-linear,

unpredictable, changing ways. Serving as

acoustic filters, the objects modify the sounds

electronically fed into them.

As a visitor to Rainforest IV's Canadian

60 | September 20 - November 8, 2022 thewholenote.com