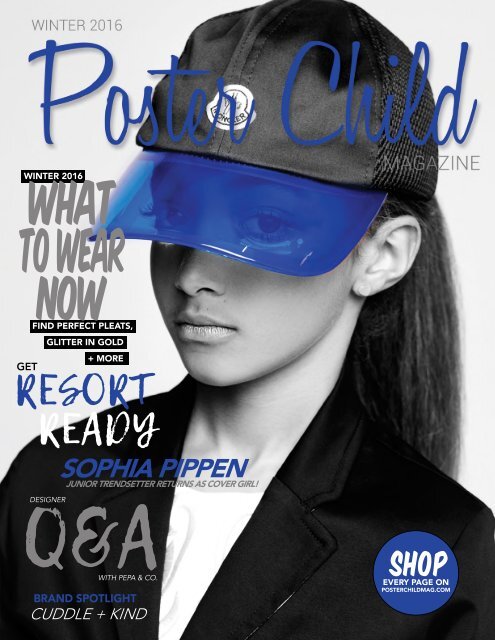 Poster Child Magazine - Winter 2016
Our latest issue of Poster Child Magazine for Winter 2016!
Our latest issue of Poster Child Magazine for Winter 2016!
SHOW MORE
SHOW LESS
Create successful ePaper yourself
Turn your PDF publications into a flip-book with our unique Google optimized e-Paper software.
WINTER 2016

WHAT

TO WEAR

NOW

FIND PERFECT PLEATS,

GLITTER IN GOLD

+ MORE

GET

RESORT

READY

SOPHIA PIPPEN

JUNIOR TRENDSETTER RETURNS AS COVER GIRL!

Q&A

WITH PEPA & CO.

DESIGNER

BRAND SPOTLIGHT

CUDDLE + KIND

SHOP

EVERY PAGE ON

POSTERCHILDMAG.COM
---
34

4

THE CONTRIBUTORS

Get to know the talented

individuals who made this

issue happen!

7

EDITOR'S NOTE

10

ONLINE EXCLUSIVE

A preview of our newest

Online editorial by Allana

Wesley White

11

ON LOCATION

A closer look at our cover

story with Sophia Pippen.

Get reacquainted and shop

her cover look!

FASHION

cover girl:

Sophia Pippen

13

WHAT WE'RE LOVING

Glimmering gold hues are

perfect for spreading holiday

cheer or ringing in the new

year

14

ON THE TOWN

A perfect fashion look

for party or play!

16

PLEAT PERFECTION

A trend too cute to pass up:

the perfect pleated frock

FEATURES

18

DESIGNER Q&A

Get to know Pepa & Co, a

nostalgic Spanish children's

collection, in our exclusive

Q&A with the founder

22

THE HOLIDAY GIFT

GUIDE

We've rounded up the

perfect gifts for your kiddos

in our annual holiday gift

guide

Winter /16

30

CUDDLE + KIND

With the noble aim of feeding

over 1 million needy children

per year, this line of handmade

dolls are as kind as they

are cuddly!

EDITORIALS

34

SO SOPHIA

Model Sophia Pippen pops

off the pages of our flashy

cover story photographed by

Mai Tilson.

44

WORD ON THE STREET

Urban and edgy, photographer

Amber Eggleden captures

serious street style!

56

THE ECLIPSE

Photographer Candice

Cohen takes us to the dark

side of the moon where little

girls are dressed impeccably.

68

INTO THE WOODS

Journey across mountainous

countryside and deep into the

woods for a playful adventure

captured in photos by Eliana

Bartolomé.

80

SPY GIRL

Secret agent Brookelin has

gone undercover for her

latest mission in this editorial

by Robyn Breen Shinn. These

disguises are ultra stylish.

Word on

the street

BONUS

93

PACK AND PLAY

Heading to the sunny

south? Get perfect beachready

looks for your kids

already available Online.

94

MIAMI HEAT

The Poster Child team escaped

the chilly north and

soaked up the sun in Florida!

We partnered with our

favourite brands to share

perfect resort styles.

106

WINTER IN HAWAII

From the Islands of Hawaii

photographer Stephanie

Matthew shares gorgeous

tropical winter fashions.

44
---
the

contributors

mai tilson

Photographer

(pg.34)

Amber Eggleden

Photographer

your Favourite movie duo...

Woody & Buz

Two pieces of clothes you

could live in forever...

Leggings & Sweaters

Two things that go really

well together...

Cookies & Milk

Your fave weird food

pairing...

Peanut Butter & Apple

Two things in life you could

never give up...

Music & Photography

4

(pg.44)

Felicia Mcgowan

Photographer

your Favourite movie duo...

Oh my gosh that's hard....

Dennis and Mr. Wilson from

Dennis the Menace

Two pieces of clothes you

could live in forever...

A good pair of socks and a

my mom's old jean jacket

Two things that go really

well together...

Peanut Butter and Honey

Your fave weird food

pairing...

As a kid I loved putting gogurt

between two waffles

Two things in life you could

never give up...

Music and Photography

heather rome

wardrobe Stylist

(pg.80 & 94)

your Favourite movie duo...

THELMA AND LOUISE

Two pieces of clothes you

could live in forever...

JEANS AND A TSHIRT

Two things that go really

well together...

MUSIC AND LONG CAR

RIDES

Your fave weird food

pairing...

SOFT SERVE ICE CREAM

AND FRENCH FRIES

Two things in life you could

never give up...

PIZZA AND MY IPHONE

your Favourite movie duo...

Mel Gibson and Danny

Glover in all the lethal

weapon movies! My mom

loved Mel Gibson so I grew

up watching those A LOT.

Two pieces of clothes you

could live in forever...

My GAP black super soft

leggings and my Roots

sweatshirt.

Two things that go really

well together...

Chips and Salsa

Your fave weird food

pairing...

In Mexico we have this

delicious street snack food

that I miss so much; it's

corn on the cob and we put

mayo, parmesan cheese,

lime, chili pepper powder

and cream. Hahaha my

mouth is watering as I

imagine it!! SOOO GOOD!

Two things in life you could

never give up...

Coffee and Movies
---
the

editor's note

The best trade show for American & international children's brands

"Mothers are all slightly insane." The quote

from Catcher in the Rye novelist J.D Salinger

rings especially true in my house at the moment.

Though everyone tells you that nothing

– no books, no mommy blogs, no seminars, no

webinars, no classes – can prepare you enough

for the challenges of parenthood, you certainly

don't understand the reality until a baby is in

your arms.

February

12-13-14, 2017

Metropolitan Pavilion & The Altman

135 W 18th St, New York

I'm accustomed to insanity in my day-to-day

life. I have several jobs, wear many hats and

always work best under pressure. But, if there

is one thing I can say I've learned in the past

four months is that Motherhood brings with it a

new kind of insanity, one I've never before experienced.

This is the kind of insanity that allows

you to justify eating nothing all day because you

were busy - busy staring at your newborn for

hours on end…

180 collections

Clothing / Accessories / Shoes

Gifts / Toys / Home

illustration Manon Debaye

Where are you off to

this winter and what is your

child's holiday style? Tag

@posterchildmag in your

Instagram pictures or

comments!

Of course, the majority of you already knew that

life as a mom is a little, (or a lot) insane and with

each year and every new little one that joins the

family, day-to-day life gets a little more chaotic.

So, I'm hopeful that you've opened this issue of

Poster Child Magazine to take a break from the

rat race that is parenthood and enjoy flipping

through fashionable inspiration for the winter

season.

Can't wait to hear from you!

xo Rebecca Poier

Poster Child Magazine

Editor-in-Chief

PARIS

21 st edition

JANUARY 28 > 30, 2017

www.playtimeparis.com

NEW YORK

14 th edition

FEBRUARY 12 > 14, 2017

www.playtimenewyork.com

TOKYO

16 th edition

FEBRUARY 21 > 23, 2017

www.playtimetokyo.com

CHILDREN'S & MATERNITY TRADE SHOWS WORLDWIDE!

FOR PROFESSIONALS ONLY

GET YOUR PERSONAL PASS ON

www.playtimenewyork.com
---
the

poster child Team

on the go?

TAKE US WITH YOU

EDITOR-IN-CHIEF: REBECCA POIER

PUBLIC RELATIONS: ERICA STEVENSON

PHOTOGRAPHER: FELICIA MCGOWAN

ADVERTISING: TRACEY LUTH

INTERNS: EMILY CLARK, SARAH BROOKS

CONTRIBUTERS

MAI TILSON, ALLANA WESLEY WHITE, MICHELLE

CAMEAU, JADE PETTYJOHN, CEDRIC TERRELL,

ARBANA DOLLANI, JEN CASTELO, MATTHEW PERIDIS,

ERIC BROCKOB, SOPHIA PIPPEN, BRYAN ARMANDO,

NICHOLE COSTALES, AMBER EGGLEDEN, BELLA

COSTANZO, BELDA CHUNG, CANDICE COHEN, IRIS DE

MELO, CAROLE, PIEDBOIS, ELIANA BARTOLOME,

MONIQUE DELAPIERRE, MERITXELL SEVA, ANNEMARIE

BÖRLIND, ROBYN BREEN SHINN, HEATHER ROME,

ADRIANA RODRIGUEZ, STEPHANIE MATTHEW.

SPONSORS & AFFILIATES

PIPPA & JULIE, PLAYTIME NEW YORK, MINI BODEN,

ELAIS & GRACE, ALEX & ALEXA, MAMAS & PAPPAS,

SMALLABLE, L'OFFICIEL ENFANT, KIDPIK, QUESTION

EVERYTHING, BLEU COMME GRIS, TUCHINDA, LITTLE

PEIXOTO, SUBMARINE SWIM, NINA SHOES.

ADVERTISING POLICY

POSTER CHILD MAGAZINE INC. ACCEPTS ADVERTISING BASED ON SPACE

AVAILABILITY AND CONSISTENCY WITH ITS MISSION TO INSPIRE A STYLISH

CHILDHOOD. POSTER CHILD MAGAZINE INC. IS NOT RESPONSIBLE FOR

THE CONTENT OF THE ADVERTISEMENT, THE PRODUCTS OFFERED OR THE

VIEWPOINTS EXPRESSED THEREIN.

EDITORIAL NOTE

NO PORTION OF THIS MAGAZINE MAY BE REPRINTED, DUPLICATED OR TRANSMITTED WITHOUT THE WRITTEN

PERMISSION OF THE PUBLISHER. PHOTO OR ARTWORK SUBMISSIONS ARE MADE AT THE RISK OF THE SENDER;

POSTER CHILD MAGAZINE WILL ASSUME NO LIABILITY FOR LOSS OR DAMAGE. OPINIONS EXPRESSED IN POSTER

CHILD MAGAZINE ARE THOSE OF THE AUTHORS AND DO NOT NECESSARILY REFLECT THE VIEWS OF THE

PUBLISHER. POSTER CHILD MAGAZINE DOES NOT ASSUME LIABILITY FOR CONTENT.

Read Poster Child Magazine on the App. Download today!

8

posterchildmag.com
---
the

online exculsive

behind the

on

location

scenes

Poster Child's Junior

Trendsetter, Sophia Pippen,

returns as Cover Girl!

Last summer we introduced you to

Sophia Pippen, the daughter of

retired Chicago Bulls star Scottie

Pippen and health and fitness guru

Larsa. The stunning mini model,

who made her runway debut just

last year, is now represented by

Wilhelmina Models and has kept

busy persuing her career in the

industry, even walking for Converse

Kids during New York Fashion

Week this fall! The aspiring talent,

who turns 8-years-old later this

month, graces our cover featuring

her trademark style - So Sophia!

on the cover

Sophia Pippen is

wearing: Dress

by Mischka Aoki,

jacket by Cesare

Paciotti, hat by

Moncler and

shoes by AKID.

Photograph:

Mai Tilson

Styling/Art

Direction:

Bryan Armando

Hair& Makeup:

Nichole Costales

get the cover look!

$135, Karl Lagerfeld

$37, Kenzo Kids

10

www.posterchildmag.com

$487, Dolce & Gabbana
---
1

8

FASHION

#nowtrending

2

3

What we're loving

Everything that glimmers is gold this winter.

Sparkle and shine this holiday season

doning gorgeous gold hues!

7

4

6

5

1. Bag by Burberry 2. Jacket by H&M 3. Dress by Hucklebones 4. Bow by Tartine et Chocolat

5. Dress by Bleu Comme Gris 6. Shoes by Pom D'Api 7. Skirt by Billieblush 8. Sweater by Bonpoint. Image courtesy of Bonpoint.
---
FASHION

#nowtrending

1

7

6

2

3

5

14

4

on the town

Heading to a party, taking in a show or just in need

of an outfit with wow factor? This look has you

covered! Sparkles, suede, tassles, fur + pops of

pink... what more could you ask for?

1. Jacket by Yellow Pelota, 2. Bag by Louise Misha, 3. Skirt by Billieblush, 4.

Boots by Pepe Jeans, 5. Scarf by Old Navy, 6. Shirt by Crewcuts, 7. Hat by Regina
---
FASHION

#nowtrending

1

2

3

4

5

6

pleat perfection

1. Floral print dress. Ralph Lauren ($117)

2. Navy blue sparkle dress. Petit Bateau ($77)

3. Checked neoprene dress. Mayoral ($50)

4. Ivory & gold striped dress. Hucklebones London ($128)

5. Spotted dress. Il Gufo ($107)

6. Jacquard dress with lurex thread. Carrément Beau ($88.50)

16
---
PEPA & CO

Passionate about fashion and children, Pepa Gonzalez, founder of Pepa & Co,

knew this was a dream she had to see turned into reality.

18

Inspired by her large Spanish family, Pepa Gonzalez

founded Pepa & Co with the dream of bringing

smart, quality, handpicked Spanish clothing to

the marketplace at affordable prices. Every season

Pepa & Co offers an exciting array of beautifully designed,

classic and contemporary garments made

in Spain. We were thrilled to interview Pepa and

chat all about her practical, playful line for babies

and children up to age 12-years. Read all about her

nostalgic collection in this issue's designer Q&A.

What inspired the name of your label?

The name comes from my own nickname "Pepa"

which comes from "Josephine" believe it or not! It's

very popular in Spain, quite traditional and an old

fashioned name actually! Nothing related to little

Peppa Pig… I was skeptical to use my name as I

found it a bit egotistical! However when I was thinking

about the name I emailed all my UK friends and

family and most of them agreed that just my name

sounded great for a children's clothing brand, short

and easy to remember and friendly … so I listened

to them!

What made you want to design for children?

I love fashion. In Spain we truly care about what

we wear. It's a way of expression and makes us feel

good. We also care about the quality of clothing

and the provenance of both our children's and our

own clothing.

When I came to London six years ago, I was working

as a nanny in-between jobs and at that time

I realized how difficult it was to find good quality

classic clothing for children in the UK. In Spain, the

style is much more classic for children; Peter Pan
---
collar shirts, soft colour, floral prints and it was this

style and aesthetic that I wanted to bring to the UK

which was not available here. But it is funny how we

actually follow English styles in Spain.

What is your brand's mission statement or goal?

To offer high quality yet affordable classic and

vintage-inspired clothing for babies and children.

What are the motivations or inspirations behind

the designs?

To bring back vintage-inspired collections for children

from the last generation. Most of the pieces in

the collection are timeless pieces with a classic cut

that will never date. In Spain, we keep the essence

of timeless clothing for children and enjoy seeing

our children look like children. The smocked dresses

are actually a quintessentially English style and

as I mentioned before, in Spain we are inspired by

this particular style.

Is there a style decade you are inspired by?

The classic clothing I design is inspired by the

clothing from past decades that we and our parents

once wore as children. I come from a large family of

four brothers and my mother always dressed us in

smart, traditional clothing. My brothers were often

told they looked like princes so the sentiment still

sticks with me today!

What makes your label stand out

in the industry?

I would say that the quality of each garment is second

to none. Our clothing is 100% made in Spain.

That means high quality materials and that the process

in producing clothing is fair but at the same

time it's affordable compared with other childrenswear

brands. Each of our hand-smocked pieces

is stitched by hand which guarantees the highest

quality and detailing of each garment. Our collection

is limited edition and we don't produce numerous

amounts of every item. That way our customers

can be sure to have exclusive clothing that not

everyone else will have. When I launched my own

label Pepa & Co where I design the collection myself,

this came from years of listening to what our

customers liked and didn't like. Over this period of

time we built up a huge knowledge bank and now

design the collection with the customers in mind

first.

How does your design philosophy change when

creating for boys vs girls?

The design doesn't change too much for boys vs

girls as the aim is to retain the traditional and smart

Spanish style throughout the collection, but I like

to make sure that clothes are practical for parents.

There is no danger of damaging any of our beautiful

clothing in the park, as it is all machine washable!

What do you have coming up that you are really

excited about?

We are now working on the design for our new collection

for our Kenya Jeans Project. They will be

back in stock soon with exciting new designs!

All profits from the sale of these jeans will go towards

education projects in the Samburu National

Reserve. Behind this project are Pepa González,

founder of Pepa & Co, and Julia Framcombe

(Founder of Samburu Trust) who has spent her entire

life living and working amongst the Samuburu.

I have a personal family link to Kenya. We believe in

a vision of corporate social responsibility and have

an interest in working with those most in need.

What are your favourite items from the

current collection?

I have to say the current AW16 collection is my most

favourite to date. The standout pieces for me this

season are the red velvet shorts with braces and

plaid Peter Pan collar shirt for boys and for girls the

grey and red hand-smocked dress!

Visit Pepa & Co Online:

www.pepaandcompany.com

20
---
the

Gift Guide
---
Tucker + Tate Sweater

Kidscase Beanie

BB-8 Alarm Clock

for Boys

Osmo Coding Game

Little Eleven Paris Top

Lil Gadget Headphones

H&M Puffer Vest

24

Adidas Sneakers
---
Paul Smith Junior Sweater

OMY Colouring Poster

H&M Bow

Cuddle + Kind Doll

for Girls

Deux Par Deux Top

Joe Fresh Dress

Nordstrom Pillow

Stella McCartney Shoes
---
Skip Hop Diaper Tote

H&M Overall

babyletto Mini Crib

for baby

Pompom Canvas Bin

Chewbeads Teether

Joah Love Romper

Billieblush Top

babyhome Stroller

28
---
spotlight

A

s human beings we have a variety

of needs. Food, air and water keep

our bodies alive and healthy. But

our minds need to be able to give

and accept love in order to thrive. Love

is a basic need. Sometimes this means

children become attached to that one

stuffed animal, blanket or even a special

shirt. For children to thrive their basic

needs must be met.

Cuddle + Kind is a wholesome family

business, owned and founded by the

Woodgate family, that not only understands

basic needs, but strives to make

sure children around the world have

theirs met. With a background in health,

the parents of three recognize the crucial

role nutrition plays in a child's development.

Their ultimate goal is to provide meals

for people who do not have the means

and resources to provide for their families.

So they created Cuddle + Kind

dolls made to embody love and human

connection. In their missions statement,

Cuddle + Kind assures that they, "…

are committed to transparency, product

safety, environmental consciousness

and sustainable, fair trade practices."

Now that's something we can get behind!

CUDDLE

+ KIND

article by Felicia McGowan

The specialty line of Cuddle + Kind

dolls are specially and individually made

by artisans from Peru, who are provided

fair incomes. The company currently

provides over 100 sustainable jobs. Not

30
---
spotlight

only does this help to support international

economies and ethical manufacturing

practices, but also each doll

provides ten meals for children in need,

through their partners, World Food Program

USA and Children's Hunger Fund.

A family of five on a mission

to help feed children in need.

These hand-knit dolls are made with,

"natural, high quality cotton" because

a doll can never be too soft or too safe.

The high quality material and timeless

designs ensure that your Cuddle + Kind

doll will be loved for years and years

to come. Inspirational prints are also

sold to encourage confidence, self-love

and kindness for every child. Each print

provides five meals for a child in need,

furthering their goal of providing one

million meals a year, with other 600,000

already given!

When you purchase a Cuddle + Kind

doll that your child will love forever, you

are telling children around the world

that you love them as well! Imagine a

world without poverty or hunger or disease.

It seems impossible. There are

too many people and not enough resources.

But, everyday beautiful people

are working to provide a better world

for current and future generations. Cuddle

+ Kind does it one doll at a time.

Visit Cuddle + Kind Online

www.cuddleandkind.com

Dolls pictured: Aspen the Penguin

and Chloe the Bunny

32
---
Photography: Mai Tilson

Creative Direction: Bryan Armando

Hair & Makeup: Nichole Costales

Model: Sophia Pippen

34

Dress by Mischka Aoki, Jacket by Cesare Paciotti,

Hat by Moncler, Shoes by AKID
---
Top by Caroline

Bossmans, Dress by

Moncler

Jacket by Oil & Water

Rainwear, Skirt by

kidpik, Shoes by AKID

36
---
Top by Motoreta,

Jacket by Caroline

Bossmans, Pants

by Shan + Toad,

Sunglasses by Sons +

Daughters

Top by Mimisol, Pants

by AKID, Shoes by

Marc Jacobs Jr, Pom

Pom by Amour Bows

38
---
40

Vest by kidpik

Jumper by Illudia

via Childsplay
---
42
---
word

the

on

street

photography: amber Eggleden

Hair + Makeup: Bella Costanzo

Styling: Belda Chung

44
---
46

Sweater by GAP, Shirt

by Stella McCartney,

Buttoned shirt by H&M,

Jeans by GAP, Sneakers

by Converse, Hat by

Little Eleven Paris
---
On Him: Shirt by GAP,

Overalls by Dickies,

Badge by Mango

On Her: Jumper by

Tommy Hilfiger, Scarf

by Mango, Jeans by

Miss Grant, Sneakers

by Adidas, Cap by

Little Eleven Paris

model's own

48
---
50

Dress by Mango, Bomber

by Mango, Puffer jacket

by Little Eleven Paris,

Headband by No Added

Sugar, Socks by Topshop,

Badge by Mango
---
On Right: Sweater by

Someday Soon, Sneakers

by Converse

On Left: Jacket by Little

Eleven Paris, Sweater

by GAP

52
---
On Her: Jacket by Little

Eleven Paris, Badge by

Mango, Choker by River

Island

On Him: Top by John

Galliano, Chinos by GAP,

Hat by Little Eleven Paris,

Scarf by Mango

54
---
The Eclipse Eclipse

The

56

52. Poster Child Magazine

Photography & Creative direction: Candice Cohen

Styling: Iris de Melo | Beauty: Carole Piedbois

On Left: Dress by Tambere, Necklace by Reine Rosalie

On Right: Dress by Billieblush, Jacket by Bonton, Socks by Yporque, Hat by Tartine et Chocolate, Shoes by Shoo Pom
---
On Left: Dress by The Animals

Observatory, Jacket by Tambere,

Boots by Mou, Tights by Bleu

Comme Gris, Sunglasses by

Kenzo

Centre: Shirt by Little Karl Marc

John, Sweater by Blune, Leggings

by Mes Demoiselles, Sunglasses

by Kenzo

On Right: Sweater by Tinsels,

Dress by Tambere, Skirt by April

Showers, Sunglasses by Kenzo

58

56. Poster Child Magazine
---
Jacket by Little Elevan Paris,

Jumpsuit by Abcd' R, Earmuffs

by DPAM

Dress by Emile et Ida, Shirt by Little Marc John, Cardigan by Zef, Tights by Popupshop

60
---
62

On Left: Shirt by Little Karl Marc John, Sweater by Blune, Leggings by Mes Demiselles, Sunglasses by Kenzo

On Right: Dress by The Animals Observatory, Jacket by Tambere, Sunglasses by Kenzo
---
64

On Left: Coat by Yves Salomon Kids, Shirt by Lundi Mardi, Jacket by Little Eleven Paris, Short by Ropachica, Socks by Collegien, Shoes by Twins for Peace Kids

On the Right: Blouse by Raspberry Plum, Jeans by Levi's Kids, Shoes by DPAM
---
66

On Left: Dress by Diapers and Milk, Collar by Tartine et Chocolat, Sunglasses by Kenzo

On Right: Sweater by Tartine et Chocolat, Cardigan by Carrément Beau, Skirt by Finger in the Nose, Socks by April Showers, Shoes by Clotaire, Sunglasses by Kenzo
---
On Left: Look by Little Creative

Factory, Shoes by Collégien

INTO THE

WOODS

Photographer: Eliana Bartolomé | Styling: Monique Delapierre

Hair and Makeup: Meritxell Seva & Annemarie Börlind

On Right: Jumper by Babàa,

Jumpsuit by Motoreta, Shoes by

Collégien

68
---
Dress by Little Creative Factory, Shirt by Motoreta

Shirt by Boss, Vest by Tete & Martina, Hat by Little Creative Factory, Shorts by Sainte Claire, Socks by Calzedonia

70
---
72
---
74

On Left: Dress by Little Creative Factory, Hat by Little Creative Factory, Shoes by Collégien, Swan by Ila & Ella

On Right: Shirt by Motoreta, Pants by Búho Barcelona, Shoes by Zara, Swan by Ila & Ella
---
On Left: Shirt by Sainte Claire,

Dress by Motoreta

On Right: Shirt by Elefantine, by

Hat Little Creative Factory

76
---
Hat Elefantine, Shirt Sainte Claire, Suspenders Bellerose

On Left: Shirt by Sainte Claire, Shorts by Elefantine, Suspenders by Bellerose, Hat by Elefantine, Socks by Búho Barcelona, Shoes by Zara

On Right: Coat by Little Creative Factory, Backpack by Maria Maleta, Boots by Zara

78
---
Spy Girl

AGENT BROOKELIN

Photographer: Robyn Breen Shinn

Wardrobe Stylist: Heather Rome

Hair & Makeup: Adriana Rodriguez

80
---
82

Culottes by MOLO, Blouse by

Lemoniez, Cape by Popelin:

available at Shan and Toad
---
Suit by TO.Collection,

Turtle neck by Bobo Choses

via Shan and Toad, Beret by

Eden and Zoe

84
---
86

Vintage Glasses and Gloves,

Jumpsuit by Caroline Bosmans:

available at Shan and Toad
---
88
---
Blouse by Airfish Hello

Vintage Scarf, Boots by

ZARA, Culottes by Caramel

Baby and Child: available at

Shan and Toad

90
---
the bonus

Resort Guide

pack and play

Winter vacation, here we come! In our wardrobe

picks for the sunny south your kids will arrive in

style and be ready for fun!

THE LOOK

FOR HIM!

Hat by Molo, T-Shirt

by Tommy Hilfiger,

Swimsuit by Sundek,

Flip Flops by Pepe

Jeans .

THE LOOK

FOR HER!

Glasses by Molo,

Hat by Catimini,

Swimsuit by Sunuva,

Dress by Burberry

92
---
Miami

Heat

Your winter vacation just got a heck of a lot more stylish.

From perfect swimwear to lovely poolside playwear, we're

Question Everything

sharing styles you'll love from our favourite brands!

Coco & Ginger

kidpik

94

Little Peixoto

Photography by Mai Tilson

Hair & Makeup by Michelle Cameau
---
kidpik

kidpik

kidpik

Little Peixoto

Coco & Ginger

Little Peixoto

Wolf & Rita

via Mayra's

Collection

Little Peixoto

Submarine Swim

Submarine Swim

96

Nununu via

Mayra's Collection,

Caroline Bosmans
---
Submarine Swim

Bleu Comme Gris

Tuchinda

Bleu Comme Gris

Bleu Comme Gris

Lali Kids

Lali Kids

Question Everything

Coco & Ginger

98
---
Tuchinda

Drama Queen

Drama Queen

Tuchinda

Tuchinda

100
---
Bleu Comme Gris

Coco & Ginger

Tuchinda

Little Peixoto

Question Everything

Lali Kids

kidshoes.com

Nina Shoes

102
---
Lali Kids

Drama Queen

Bleu Comme Gris

Question Everything

Submarine Swim

Little Peixoto

104
---
Winter in Hawaii

PHOTOGRAPHY BY STEPHANIE MATTHEW

STYLING BY HEATHER ROME | HAIR & MAKEUP BY MARYAM FORTUNA

Swimsuit by Of One Sea, Skirt

by Animals Observatory,

Sunglasses by Sons +

Daughters

106
---
Shirt & Skirt by Leoca Paris

108
---
110

Sweater by Caroline Bosmans,

Skirt by Little Creative Factory,

Swimsuit by Of One Sea,

Bangles by Seakissed by Kris
---
On Left: Dress by Little Creative

Factory, Coat by Shan and Toad,

Towel Of One Sea

On Right: Shirt by Leoca Paris,

Trousers by MSGM Kids

112
---
on the go?

TAKE US WITH YOU

Read Poster Child Magazine on the App. Download today!

posterchildmag.com