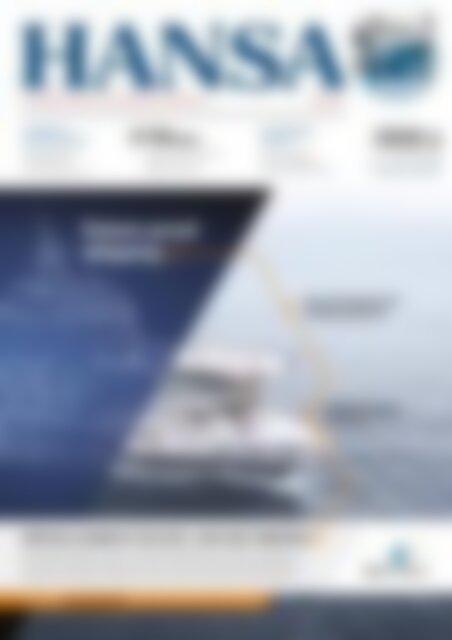 HANSA 05-2017
Special Focus: NorShipping 2017 | HullPic Review | COMPIT Preview | Leonhardt & Blumberg | Sewol  salvage | Tugs | German Banks | Tanker | Maritime Politics | Offshore Tender
Special Focus: NorShipping 2017 | HullPic Review | COMPIT Preview | Leonhardt & Blumberg | Sewol  salvage | Tugs | German Banks | Tanker | Maritime Politics | Offshore Tender
SHOW MORE
SHOW LESS
You also want an ePaper? Increase the reach of your titles
YUMPU automatically turns print PDFs into web optimized ePapers that Google loves.
est.

1864

INTERNATIONAL MARITIME JOURNAL 05|2017

SHIPPING |

TECHNOLOGY

Maritime politics

Salvage & Tugs

LNG & Charter Party

Ports & Yards in Norway

Shipowner's Crisis

Shortsea reform

OFFSHORE |

PORTS

Interview BSH

Terminal Operator

German Offshore Ports

ISSN 0017750-4

9 770017 750007

05

Mai 2017 | 154. Jahrgang

ISSN 0017-7504 | C 3503 E | € 14,80

www.hansa-online.de

Future proof

shipping

WE FOLLOW THE LATEST TRENDS

TO KEEP OUR OFFERING AND

CUSTOMERS COMPETITIVE

THE WÄRTSILÄ OFFERING

IS UNRIVALLED IN SCOPE

AND QUALITY

WÄRTSILÄ CONNECTS THE DOTS – NOW AND TOMORROW

We continuously optimise our portfolio to meet the changing needs of our customers. As a leader in LNG

technology and fuel flexibility, we allow our customers to keep their options open while guaranteeing

environmental compliance in all IMO areas for years to come. We can help you achieve optimal efficiency

throughout the entire lifecycle. Experience our visions of the future and ensure your future success.

Join us during NOR-SHIPPING 2017, May 30 - June 2, Oslo, Norway, Stand D03-36
---
REGISTER NOW

FREE ENTRANCE

27 - 29 June 2017

RAI Amsterdam

The Netherlands

Register & attend the AGM

for port & terminal professionals

Join expert speakers

Global Container

Terminals

Peel Ports Group

New Orleans Terminal

DP World

Kwang Chen

VP – Terminal Support Services

Marintec Brad Crumbleholme China 1/1 Gegengeschäft

James R. Parker

Head of Engineering

Vice President

Jan Cuppens

Director Global Engineering

170+ exhibitors

Product launches

Equipment demonstrations

Terminal vehicles

Technology updates

Networking bar

Terminal operator lounge

2 free seminar tracks

NEW App

Find out more

www.tocevents-europe.com

Supported by

Conference

Free Seminars

Sponsors

Media Partner
---
Editorial

Michael Meyer

Verantwortlicher Redakteur

Executive Editor

Undankbare

Chronistenpflicht

COMPLIANCE

Abstract: The chronicler's sad duty

Der Chronist hat die Aufgabe, die Entwicklung

nachzuzeichnen, auch wenn sie seit

langer Zeit alles andere als erfreulich ist.

Wirklich positive Nachrichten sind zumeist

Einzelfälle, oder schlicht von der Hoffnung

getrieben. Damit wären wir bei den Sorgen

der hiesigen Branche – auch wenn sie wahrlich

nicht die einzige ist, wie anlässlich der

diesjährigen Leitmesse »Nor-Shipping« ein

Blick in den hohen Norden zeigt.

Auch beim Gastgeber Norwegen, dank

des Offshore-Fokus jahrelang als stabiler

und prosperierender Markt bewertet, darben

die Reedereien. Egal ob Umsatz oder

Flottengröße – wichtige Kennzahlen haben

dort für 2016 ein Minus als Vorzeichen.

Ausschlaggebend ist vor allem die

Flaute am Öl-/Gas- und Offshore-Markt.

Schenkt man dem Reederverband Norwegens

und seiner aktuellen Umfrage Glauben,

rutscht die Branche dieses Jahr sogar

noch weiter ab. Vergleichsweise gut sieht

es nur in der Shortsea- und der weltweiten

Handelsschifffahrt aus.

Der Verband selbst muss ebenfalls einen

Aderlass hinnehmen. Die Zahl der Mitglieder

sank zuletzt auf 138, 2013 waren es noch

160. Damit teilt er das Schicksal mit seinem

deutschen Gegenpart VDR. Auch er hat seit

einiger Zeit mit Austritten zu kämpfen, zum

Teil durch das krisenbedingte Verschwinden

von Unternehmen (2011 waren es noch 388,

2015 noch 364), aber auch wegen einer wachsenden

Unzufriedenheit mit der Verbandsarbeit.

Eines der letzten prominenten Beispiele

ist die Reederei German Tankers.

Von den noch 356 Reedereien im Lande –

über 60% davon haben übrigens maximal

vier Schiffe – sind nur noch 166 im VDR

vertreten (zuzüglich 16 »fördernden« Unternehmen)

– vor wenigen Jahren waren es

noch »über 220«.

Allein mit Konsolidierungsprojekten

wie der Fusion von Leonhardt & Blumberg

mit Buss Shipping oder der Übernahme

der Conti durch Claus-Peter Offen ist

das nicht zu erklären.

Ein interessanter Unterschied zwischen

den beiden großen europäischen Schifffahrtsstandorten

zeigt sich allerdings beim

Anteil der eigenen Flagge in den Flotten.

Während von den zuletzt 2.244 deutschkontrollierten

Schiffen 333 unter heimischer

Flagge fahren, sind es in Norwegen

778 von 1.716. Das ist Wasser auf die

Mühlen der Politik, die etwa in Person von

Kanzlerin Merkel deutsche Reeder in die

nationale Pflicht nimmt.

Auch auf der »Nor-Shipping« werden die

Schifffahrts- und Offshore-Krise bemerkbar

sein. Die HANSA als Medienpartner

widmet dem Branchenevent in dieser Ausgabe

einen Schwerpunkt – auch die Konsolidierung

der deutschen Schifffahrt sowie

die politische Begleitung sind natürlich

Themen des Hefts.

A chronicler's task is to trace development,

even if it has been anything but pleasing for

a long time. This leads us directly into the

worries of the German shipping – even if it

is not the only one – just look to the north.

»Nor-Shipping« host Norway sees its shipowners

in great need. The number of members

in the shipowners association has declined

to 138 recently, from 160 in 2013.

Thus, it is comrade in misfortune with its

German counterpart. Merely 166 of Germany's

356 shipowners are still represented

by VDR (from once »more than 220«).

However, an interesting difference: While

333 of 2,244 German-controlled ships fly the

national flag, in Norway the proportion is

778 out of 1,716. This is grist to the mill of

German chancellor Angela Merkel, calling

shipowners to do their national duty.

The shipping and offshore crisis will also be

noticeable at Nor-Shipping. HANSA will

focus on the industry event in this issue.

IMPLEMENTATION

MANAGEMENT

PLAN

YOUR COURSE TO

BALLAST WATER

COMPLIANCE

With DNV GL the course is clear. Prepare

your ballast water treatment plan quickly

and easily – online with our My DNV GL

app. With the same app you can also

submit your plan for verification, then

use My DNV GL to arrange a survey and

get your BWM certificate. When the

time comes to install or retrofit a ballast

water treatment system, DNV GL has the

experience to ensure that your vessel

won't be caught out when it comes to

compliance.

Learn more at

www.dnvgl.com/bwm

HANSA International Maritime Journal – 154. Jahrgang – 2017 – Nr. 5 3
---
Inhalt | Contents Mai 2017

Schifffahrt | Shipping

Ringen um die Rickmers Gruppe. . . . . . . . . . . . . . . . . . . . . . . . . . . .24

L&B und Buss fusionieren: Gleich und gleich gesellt sich gern 25

LR2-Tanker dominieren Ablieferungen . . . . . . . . . . . . . . . . . . . . . .26

Maritime Konferenz:

Harmonische Uneinigkeit an der Oberfläche. . . . . . . . . . . . . . . . . .28

NORSHIP tunnel

5 Fragen an … CARSTEN GIERGA,

Geschäftsführer EuroFlag Services –

Agent für das Register Luxemburgs . . . . . . . .31

Herausforderung »LNG« im Chartervertrag . . . . . . . . . . . . . . . . .32

Nor-Shipping

Nor-Shipping enables a glimpse

at the future maritime universe . . . . . . . . . . . . . . . . . . . . . . . . . . . . .34

Shipowners looking back and ahead – both worried . . . . . . . . . . . 38

Industry News . . . . . . . . . . . . . . . . . . . . . . . . . . . . . . . . . . . . . . . . . . . . .40

Shortsea: Centralization through regionalization . . . . . . . . . . . . .42

Shipyards: Starting over after a full stop . . . . . . . . . . . . . . . . . . . . .44

Tunnel vision . . . . . . . . . . . . . . . . . . . . . . . . . . . . . . . . . . . . . . . . . . . . . .46

Huge potential for Norwegian ports . . . . . . . . . . . . . . . . . . . . . . . . .48

Finanzierung | Financing

Cautious optimism in (some) US markets . . . . . . . . . . . . . . . . . . . .52

34

4 Questions to … AMID MEHROTRA,

Shipping Analyst, Deutsche Bank . . . . . . . . . .53

Schiffsbanken in der Klemme . . . . . . . . . . . . . . . . . . . . . . . . . . . . . . .56

Schiffstechnik | Ship Technology

»Sewol«-Bergung: Ein Kraftakt für das nationale Gewissen. . . .58

Damen Shipyards: »Wir bleiben profitabel im Schlepper-Bau« .60

Vittoria: Neuer Schlepper-Player in Europa . . . . . . . . . . . . . . . . . .62

Spotlight on new ships: »Island Venture«. . . . . . . . . . . . . . . . . . . . .63

Der Scrubber – ein Erfolg? . . . . . . . . . . . . . . . . . . . . . . . . . . . . . . . . . .64

58

Innovative Marine-Elektronik

Navigations- und Kommunikationsausrüstung · Beratung · Projektierung · Installation · Training · weltweiter Service

4 HANSA International Maritime Journal – 154. Jahrgang – 2017 – Nr. 5
---
NORSHIP tunnel

Compit 2017 Preview:

Get smart! Autonomy now! . . . . . 66

Mai 2017

Inhalt | Contents

Unser neuer Service für Sie:

HANSADaily

Jeden Tag aktuell das

Wichtigste aus der

Branche. Bequem und

direkt per E-Mail auf PC,

Tablet oder Smartphone.

Melden Sie sich an unter

www.hansa-online.de

Interview with

DEJAN RADO­

SAVLJEVIC,

Director Marine,

Siemens Industry

Software: »No easy

problems left to solve« . . . . . . . . . . . . . . . . . . . . .70

HullPic: Next step for better hull performances . . . . . . . . . . . . . .72

HullPic: Ship operators and developers collaborate . . . . . . . . . . .76

Häfen | Ports

Gemischte Bilanzen der deutschen Terminalbetreiber . . . . . . . . . 83

transport logistic: München wird zum Mekka der Logistik . . . .84

Port News – Meldungen aus den Häfen der Welt . . . . . . . . . . . . .87

Offshore

Häfen rüsten sich für größere Anlagen . . . . . . . . . . . . . . . . . . . . . .88

Interview mit MONIKA BREUCH-MORITZ,

BSH-Präsidentin:»Wir werden uns

neu strukturieren« . . . . . . . . . . . . . . . . . . . . . . . .90

Windforce: Offshore-Industrie setzt jetzt auf Service . . . . . . . . .92

HTG-Info und Kalender . . . . . . . . . . . . . . . . . . . . . . . . . . . . . . . . . . .94

66

Rubriken

Editorial – Undankbare Chronistenpflicht. . . . . . . . . . . . . . . . . . . .3

People. . . . . . . . . . . . . . . . . . . . . . . . . . . . . . . . . . . . . . . . . . . . . . . . . . . . . .6

News. . . . . . . . . . . . . . . . . . . . . . . . . . . . . . . . . . . . . . . . . . . . . . . . . . . . . . .8

Momentaufnahme. . . . . . . . . . . . . . . . . . . . . . . . . . . . . . . . . . . . . . . . .10

Orders and Sales . . . . . . . . . . . . . . . . . . . . . . . . . . . . . . . . . . . . . . . . . . .12

Märkte | Markets – Tonnage scarcity drives rates higher. . . . . .14

Rates | Prices . . . . . . . . . . . . . . . . . . . . . . . . . . . . . . . . . . . . . . . . . . . . . .16

Versicherungen| Insurance – Viel Zuspruch für Hanseatic P&I . . 20

Buyers Guide. . . . . . . . . . . . . . . . . . . . . . . . . . . . . . . . . . . . . . . . . . . . . .78

Freight & Trade Events . . . . . . . . . . . . . . . . . . . . . . . . . . . . . . . . . . . .94

Inserentenverzeichnis | Impressum . . . . . . . . . . . . . . . . . . . . . . . 98

Aus der Seekiste … »Manitou«: Schiff des Jahres 1986

noch immer in Fahrt . . . . . . . . . . . . . . . . . . . . . . . . . . . . . . . . . . . . . . . 99

HANSA International Maritime Journal – 154. Jahrgang – 2017 – Nr. 5 5
---
People

Für mehr News scannen Sie einfach den QR-Code

oder besuchen Sie www.hansa-online.de

• J. MÜLLER WESER: Jens Ripken ist

neuer Geschäftsführer des Terminalbetreibers.

Der 50-jährige

Manager soll das

Führungsteam der J.

Müller Weser ergänzen

und verstärken.

In den vergangenen

Jahren hatte die Unternehmensgruppe

erheblich in Bremen investiert, um den

Standort zukunftsgerecht auszubauen.

Dazu gehört auch eine Stärkung der

Führungsstruktur.

• PORT OF LONG BEACH: Mario

Cordero, von der Regierung Trump

aus seinem Amt in

der Federal Maritime

Commission gedrängt,

wird neuer

Executive Director.

Die Stelle am Westküstenhafen

war seit

September 2016 vakant,

nachdem der bisherige Hafenchef

Jon Slangerup seinen Rücktritt verkündet

hatte. Corderos Ernennung war eine

internationale Suche vorausgegangen.

News des Monats: Bureau Veritas befördert Donche-Gay

• BUREAU VERITAS: Philippe Donche-Gay (l.), bisher Präsident der Marine

& Offshore Division, ist nun Senior Executive Vice President und berichtet an

CEO Didier Michaud-Daniel. In seiner neuen Rolle ist Donche-Gay für die Umsetzung

der strategischen Pläne von BV verantwortlich, parallel zu seiner Funktion

als Präsident der Marine & Offshore Division. Als neuer COO dieser Abteilung

verantwortet Matthieu de Tugny (r.) Marine Operations, Marine Technical

Management und Marine Marketing & Sales.

• LEBUHN & PUCHTA: Sabine Rittmeister

ist Leiterin der Schifffahrtsabteilung

der Hamburger

Wirtschaftskanzlei.

Als neuer »Head of

Maritime« führt sie

ein Team von acht

Fachanwälten und

soll dieses Geschäftsfeld

ausbauen. Rittmeister

wird dabei von den Partnern

Ulrich Stahl and Johannes Trost unterstützt,

die über viel Erfahrung in maritimen

Rechtsfragen verfügen.

• DETTMER: Gerald Michael Diesel

ist neuer CFO der Dettmer Group. Seine

Karriere begann er

bei Air Haniel Logistics.

Diesel war COO

und CFO/Managing

Director vorwiegend

in der Logistik für

verschiedene Unternehmen

wie ABX,

Wincanton, Agility und andere internationale

Firmen. Von Bremen aus wird

Diesel als CFO neben Andreas Niemeyer

(COO) die Geschäftsleitung der Dettmer

Group führen.

• BANK OF CYPRUS: Nicholas Pavlides,

ehemals Manager der Royal Bank

of Scotland (RBS),

übernimmt die neu

gegründete Abteilung

für Schiffsfinanzierung.

Er war

seit 2003 Senior Director

Ship Finance

bei der RBS, bis diese

sich 2016 von ihrem Schifffahrts-Portfolio

trennte. Zuvor agierte er bei der Scotiabank

in London. Pavlides ist Mitglied

des Institute of Chartered Shipbrokers.

• SEASPAN: Larry Simkins ersetzt

Graham Porter im Vorstand. Simkins

ist President, Chief

Executive Offcer

und Director der

Washington Companies

(WashCo). Der

Seaspan-Vorstand

soll nun außerdem

durch den WashCo-

Director David Sokol von acht auf neun

Mitglieder erweitert werden. WashCo ist

über die Tochterunternehmen Deep Water

Holdings und Copper Lion der größte

Anteilseigner (50%) von Seaspan.

• MAERSK: Simon Bergulf ist neuer

Director of Regulatory Affairs. Er war

zuvor acht Jahre lang

Cheflobbyist des dänischen

Reederverbands

in Brüssel.

Dort ersetzt ihn nun

Casper Andersen,

der bisher für den

Dänischen Industrieverband

Lobbyarbeit in den EU-Gremien

machte. Andersen wird außerdem

Mitglied des Managements des dänischen

Reederverbands.

• NAPA: Ilmo Kuutti ersetzt als Präsident

der Software-Gruppe Juha Heikinheimo,

der die Position

fünfeinhalb Jahre

innehatte. Kuutti ist

seit 1991 bei Napa,

zuletzt als Executive

Vice President Design

und Senior Vice

President Key Customers.

In der neuen Struktur übernimmt

Mikko Kuosa Napa Design Solutions,

Esa Henttinen führt die Safety Solutions

und Naoki Mizutani ist für Shipping Solutions

zuständig.

6 HANSA International Maritime Journal – 154. Jahrgang – 2017 – Nr. 5
---
People

The Future is Clear

ME-GI dual fuel done right

MAN B&W MC/MC-C Engines MAN B&W ME/ME-C/ME-B Engines MAN B&W ME-GI/ME-C-GI/ME-B-GI Engines

The new ME-GI generation of MAN B&W two-stroke dual fuel 'gas injection' engines are characterised by

clean and ef cient gas combustion control with no gas slip. The fuel exibility and the inherent reliability of

the two-stroke design ensure good longterm operational economy.

Find out more at www.mandieselturbo.com

HANSA International Maritime Journal – 154. Jahrgang – 2017 – Nr. 5 7
---
News

Für mehr News scannen Sie einfach den QR-Code

oder besuchen Sie www.hansa-online.de

AUSTAL

Fassmer gründet Joint

Venture in Australien

Der Schiffauer aus Berne bündelt für einen

möglichen Auftrag seine Kräfte mit

der australischen Werft Austal. Unter der

Marke Austal Fassmer Pty Ltd. nimmt

man an einer Ausschreibung des australischen

Verteidigungsministeriums für

eine Serie von Offshore-Patrouillenbooten

(OPV) teil. Weitere Bieter sind Damen

und Lürssen. Basis der OPV wäre

Fassmers Design OPV80, das man bereits

für verschiedene Kunden wie die deutsche

Küstenwache gebaut habe. Gefertigt würden

die Schiffe auf den Austal-Werften in

Osborne und Henderson.

M

SEEFRACHT

Kühne+Nagel steigert

Marktanteil auf See

Der Logistikkonzern hat im ersten Quartal

seinen Wachstumskurs im Seefrachtgeschäft

fortgesetzt. Der Gewinn nahm

allerdings leicht ab. In der Seefracht steigerte

sich das Transportvolumen um

9% auf über 1 Mio. TEU. Damit sei man

»mehr als doppelt so schnell wie der

Gesamtmarkt« gewachsen. Bereits für

2016 hatte der Konzern sein Volumen

steigern können, allerdings sank der Ertrag.

Den chinesischen Marktanteil will

Kühne+Nagel durch eine Kooperation

der chinesischen E-Commerce-Firma

Alibaba erhöhen.

M

STX FRANCE

Fincantieri kommt in

St. Nazaire zum Zug

Der italienische Werftenkonzern übernimmt

48% der Anteile und wird neuer

Haupteigentümer bei STX France in St.

Nazaire. Weitere 6% gehen an die Bankenstiftung

CR Trieste. Der französische

Staat behält gut 33% und damit ein Vetorecht.

Mit 12% soll nach Angaben italienischer

Medien der französische Staatskonzern

DCNS einsteigen. Seit 2008 war die

Werft mehrheitlich im Besitz der koreanischen

STX Offshore & Shipbuilding. Das

auf Kreuzfahrtschiffe spezialisierte Unternehmen

ist profitabel und hat volle Auftragsbücher.

M

HAMBURG SÜD

Maersk muss

Mercosul verkaufen

Um von der brasilianische Wettbewerbsbehörde

CADE grünes Licht für die Übernahme

von Hamburg Süd zu bekommen,

muss A.P. Møller Mærsk seine Tochterreederei

Mercosul verkaufen. Mercosul ist

im brasilianischen Kabotage-Markt aktiv.

Seit 2006 gehört der 1996 gegründete Carrier

zur dänischen Maersk-Gruppe. Er betreibt

zwei Liniendienste mit vier eigenen

Schiffen. Bereits Ende März hatten Maersk-Verantwortliche

die Beschäftigten

der brasilianischen Tochter über den geplanten

Verkauf unterrichtet. M

BULKSCHIFFFAHRT

Suezkanal gewährt

massive Rabatte

Um zusätzliche Transite durch das Rote

Meer anzuziehen, gewährt der Suezkanal

der Bulker-Branche massive Rabatte

von bis zu 75%. Bulker aus Südafrika mit

Ziel Mittelmeer müssen bereits 40% weniger

Transitgebühren zahlen. Ein noch

größerer Nachlass wird nun Schiffen aus

Richtung Ost- und Südaustralien mit

Ziel Nordwesteuropa gewährt. Das Experiment

soll bis zum Jahresende laufen.

Die Kanalbehörde versucht seit einiger

Zeit, Reedereien die Route schmackhaft

zu machen.

M

DEUTSCHE CALPAM

Schwefelarmes Gasöl in

Frankreich erhältlich

Die Deutsche Calpam, Teil der französischen

Bolloré-Gruppe, bietet nun physische

Bunkerlieferungen für schwefelarmes

Gasöl in Frankreich an. Für die

flächendeckende Auslieferung in allen

französischen Häfen nutz man das Terminal-

und Logistiknetzwerk von Bolloré.

Die Deutsche Calpam ist bereits seit

Jahrzehnten weltweit als Bunkerhändler

aktiv. Mit eigenen Lieferscheinen und der

Nutzung lokaler Transportfirmen werden

sämtliche Schiffstypen für Reedereien,

Händler und Makler beliefert. M

WESTHÄFEN

Rotterdam und Antwerpen starten mit Rekorden

Rotterdam hat im Containerumschlag

das beste Quartal aller Zeiten verbucht.

Für Januar bis März schlug ein Zuwachs

von 8,8% auf 3,3 Mio. TEU zu Buche. Bezogen

auf das Gewicht betrug das Wachstum

10,8% auf 34,3 Mio. t. Allard Castelein,

CEO des Hafenbetriebs: »Wir sollten

uns nicht zu früh freuen, aber in Kombination

mit den für Rotterdam günstigen

Fahrplänen, die ab diesem Monat gelten,

verspricht dies für Rotterdam ein gutes

Containerjahr zu werden.«

Der belgische Hafen Antwerpen

konnte sowohl bei der Überseefracht

insgesamt als auch im Teilsegment

Container Rekordmengen erzielen.

In den ersten drei Monaten wurden

rund 54,3 Mio t abgefertigt – ein leichtes

Wachstum um 1,5%. Die Zunahme

ist in erster Linie auf das Containergeschäft

zurückzuführen. Einen Rückgang

gab es bei Flüssiggütern. M

CONTAINERLINIEN

Yang Ming setzt

Börsenhandel aus

Die neuntgrößte Linienreederei der Welt

will ihr Eigenkapital um mehr als 50% reduzieren.

Dieser drastische Schritt folgt

auf die massiven Verluste (-650 Mio. $),

die der Carrier in den vergangenen beiden

Jahren eingefahren hat. Allein 2016 waren

es –492 Mio. $. Der Börsenhandel soll

nun ausgesetzt werden, um Zeit für eine

Restrukturierung und die Akquisition frischen

Kapitals zu gewinnen. Yang Ming

will unter den Rettungsschirm schlüpfen,

den Taiwans Regierung für die maritime

Industrie aufgespannt hat. Insgesamt stehen

umgerechnet rund 1,9 Mrd. $ für Sanierungshilfen

zur Verfügung. M

8 HANSA International Maritime Journal – 154. Jahrgang – 2017 – Nr. 5
---
News

Umfassender Service

aus einer Hand

Auf unserer Werft und weltweit liefern wir umfassende Lösungen

für zeitkritische Reparaturen, Umbauten und Wartungsarbeiten –

für Schiffe aller Art und zu jeder Zeit. Erfahren Sie mehr über unsere

kosteneffizienten und zugeschnittenen Services.

T +49 (0) 40 3119-0

shipservices@blohmvoss.com

blohmvoss.com

Besuchen Sie uns auf der NOR-Shipping in Oslo,

30. Mai – 2. Juni 2017, Messestand D03–22

Blohm+Voss. Expect the exceptional.

HANSA International Maritime Journal – 154. Jahrgang – 2017 – Nr. 5 9
---
Momentaufnahme

omentaufnahme

Liebe Leser,

wenn auch Sie eine maritime Moment aufnahme eingefangen haben, schicken Sie uns gern das Foto mit ein paar persönlichen oder erklärenden Zeilen

dazu. Wir freuen uns über Ihre Einsendungen an: redaktion@hansa­online.de sowie Schiffahrts­Verlag »Hansa«, Ballindamm 17, 20095 Hamburg.

Hinweis: Der Verlag behält sich das Recht vor, eingegangene Fotografien für redaktionelle Zwecke weiterzuverwenden.

10 HANSA International Maritime Journal – 154. Jahrgang – 2017 – Nr. 5
---
Momentaufnahme

Ein wahres Unglücksschiff

Ob die »Sternö« nicht rechtzeitig getauft wurde oder ob der Frachter einfach

unter keinem guten Stern fährt, ist nicht überliefert. An der unheilvollen Geschichte

lässt sich trotzdem nichts deuteln. Nach diversen Havarien hat es den

fast 50 Jahre alten Frachter nun auf dem schwedischen Göta-Fluss nahe der

Schleusen von Lilla Edet erwischt: Er lief auf Grund und kenterte, woraufhin

diese fast schon idyllische Aufnahme entstand.

Foto: Ardent

HANSA International Maritime Journal – 154. Jahrgang – 2017 – Nr. 5 11
---
Märkte | Markets

ORDERS and SALES

New Orders Container

Quantity/Name TEU Delivery Shipyard Ordering Party

1 + 1 460 2019 Yangzijiang Bermuda Container Lines

Still activity at the new building market for container vessels remained subdued.

So far only one firm order became public. Bermuda Container Line contracted

one 460 TEU ConRo vessel at Chinese shipyard Jiangsu Yangzijiang.

The vessel is rumored to cost about 17 mill. $. After its scheduled delivery in

2019, it is designated to be employed on a service between Hamilton (Bermuda)

and New York. Supposedly Bermuda Container Line is in possession

of an option. Other talks are ongoing. However, in most cases they are yet at

an early stage. Rumor has it that Chinese Renjian Group has placed two series

of feeder vessels at different Chinese yards. It is supposed to involve six

2,500 TEU vessels and ten 1,400 TEU ships to be delivered in 2018 and 2019.

Secondhand Sales Container

Name TEU Built Yard Gear Purchaser Price ($) Comment

Hanjin Baltimore 7471 2005 Hyundai HI gearless Sinokor Merchant Marine 14,000,000

Conti Vancouver 7471 2005 Hyundai HI gearless 14,000,000

HS Everest 4771 2014 Jiangsu Newyangzi gearless 20,000,000

HS Marco Polo 4771 2014 Jiangsu Newyangzi gearless 20,000,000

HS Debussy 3534 2009 Shanghai Shipy. gearless Celsus Maritime Ltd 6,200,000 attached TC 2 years at $6,500 /d

HS Wagner 3534 2008 Shanghai Shipy. gearless Celsus Maritime Ltd 6,500,000 attached TC 2 years at $6,500 /d

HS Oceano 2846 2006 Stx Shipbuilding gearless 7,700,000

Maersk Jubail 2824 2008 Hyundai Mipo gearless Arkas Denizcilik 9,500,000

Maersk Jaipur 2824 2008 Hyundai Mipo gearless Arkas Denizcilik 9,500,000

Hanjin New York 8586 2011 Hyundai Samho HI gearless Korea - bank sale

Hanjin Hamburg 8586 2011 Hyundai Samho HI gearless Korea - bank sale

Rio Charleston 4300 2008 Hyundai Samho HI gearless undisclosed 10,600,000

Bermudian Express 1679 2000 Hanjin Hi & Const gearless SM Line 3,800,000

Bremen Belle 5888 2007 Koyo Dockyard gearless Greece -

SCT Distinction 4380 2010 Daewoo gearless Atlantic Lloyd 9,300,000 previous sale failed

Conrad S 1118 2006 Jinling Shipyard 2 CR 45 undisclosed 5,500,000

Hohefels 966 2008 Yangfan 2 CR 45 undisclosed 4,800,000 bank sale

Hoheplate 957 2007 Yangfan 2 CR 45 undisclosed 4,800,000 bank sale

Bustle at the secondhand market for further trading container vessels remained

high throughout the second half of March and first half of April. This

resulted in higher achieved prices, but also in more ambitious price expectations

of sellers. In some size ranges prices soared significantly. E.g. at the end

of February a Korean-built eight-year-old 4,250 TEU panamax vessel had been

sold for about 6.5 mill. $. At the beginning of April a nine-year-old 4,250 TEU

panamax constructed in Korea changed hands for around 10.6 mill. $. This

equals a price increase of roughly 4.1 mill. $, not even accounting for vessels´

age difference. Quite a few vessels of over 7,000 TEU have found new owners.

Among them five former Hanjin six- to seven-year-old Samsung 9,500 types

have been sold to Greek interest. The price is hawked around to be between

31 and 33 mill. $ per vessel.

Demolition Sales Container

Name TEU Built LDT Scrap Location $ / LDT Comment

MSC Claudia 4,180 1989 19,441 India 372

Botswana 6,214 1998 26,362 – 398

Irrawaddy Star 1,388 1994 6,900 Bangladesh 355 as is S´pore, net price

Dawei Star 1,107 1994 6,900 Bangladesh 355 as is S´pore, net price

Hammonia Doricum 1,054 1995 5,119 Bangladesh 355

Mozambique 6,208 1998 28,440 India 398 delivery Indian subcontinent

MSC Alice 2,932 1988 13,803 India 388

Yangon Star 1,016 1994 5,230 – 360 as is S´pore,incl. bunkers for final journey

Mandalay Star 1,012 1996 5,248 – 360 as is S´pore, incl. bunkers for final journey

Tsing Ma Bridge 5,610 2002 24,350 – 390 as is Hong Kong, incl. ROB

Tiger Pearl 1,510 1994 7,024 Bangladesh 347

Even though demolition activity increased compared to the last reporting period,

in relation to January and the first three weeks of February it is still relatively

low. Despite still firm recycling prices, refraining incentives to scrap prevail

due to ascended secondhand values and charter rates. Andreas Mietzner

As of April 2017 / No claim for being complete

12 HANSA International Maritime Journal – 154. Jahrgang – 2017 – Nr. 5
---
Märkte | Markets

© wpd

BREMERHAVEN 2017

Windforce Gegengeschäft -WH aus H4 U2

YOUR KEY TO

OFFSHORE WIND INDUSTRY!

WINDFORCE 2017, 9 – 11 MAY

13 th Conference

60 international speakers

over 400 delegates

Maritime Wind Dinner

simultaneous translation

With the kind support of:

Visit us at:

Offshore Wind Energy 2017: 6 – 8 June in London

HANSA International Maritime Journal – 154. Jahrgang – 2017 – Nr. 5 13

HUSUM Wind 2017: 12 – 15 September in Husum

www.windforce.info
---
Märkte | Markets

Tonnage scarcity drives rates higher

Fixture levels for tramp vessels down to 2,500 TEU keep pushing up but momentum

has somewhat waned since mid-April. Effects of alliance restructuring tapering off now.

By Michael Hollmann

Sentiment in the container ship market

remained bullish during April, with

charter rates for larger vessels pushing up

vigorously and investor demand for second-hand

vessels continuing to be strong.

The New ConTex was up 11.5% month-onmonth

(20 April) – a considerable jump,

though not as steep as during the previous

4-week period (HANSA 04/17). However,

larger types which are hardly reflected in

the ConTex apart from gearless 3,500 TEU

and 4,250 TEU baby panamaxes continued

to post substantial gains. By contrary,

the feeder and handy segments of the index

(1,100 and 1,700 TEU) kept lagging behind

in the current rally, their rate levels moved

up only modestly into the mid $6,000`s and

low $7,000's range, respectively.

It is the very large and large sectors, where

trading liquidity is naturally more limited,

that keep setting the pace for the market's

advance. Modern 6,500-7,000 TEU and older

7,500 TEU class ships saw rates rise by

several thousand dollars again, illustrated

by the fixtures of the 2005-built 7,471 TEU

»Conti Savannah« at just below 20,000 $/

day for a medium period to Hapag-Lloyd

and the 2013-built high-reefer 6,881 TEU

»Kristina« for a longer 11–13 month duration

in the transpacific trade to Wan Hai.

The number of fixtures has come down

but most brokers put this down to a lack of

prompt availability after almost two months

of brisk fixing activity. Fortnightly idle fleet

statistics by researchers Alphaliner confirm

that utilization of the cellular fleet kept improving,

with the volume of idle tonnage

(liner-controlled vessels without service

assignment/charter-free tramp vessels) falling

to 256 units of 967,260 TEU as per early

April.

But a lot of this tonnage remains in layup

and cannot be activated promptly which

means that only a minor share of all these

ships can be considered available on spot/

prompt basis. According to Alphaliner, the

number of vessels immediately available as

per early April was down to just one unit in

the »large« 5,300–7,500 TEU segment and to

6 units in the »very large« 7,500-11,000 TEU

sector. The latter are mainly 10,000 TEU

class ships, previously owned by bankrupt

Hanjin and recently sold to Evangelos Marinakis-led

Capital Ship Management. Ru-

TEU Name dwt Built Type Speed Cons. Charterer Laycan Period Rate ($)

FEEDER / HANDY

704 Contship Box 8200 2008 gʹless 17.0 Hyundai Merchant Marine Apr 2–8 m Intra Asia 4200

966 Hoheriff 11500 2007 geared 18.8 Dole Apr 21–42 days Caribbean 7250

1036 WES Janine 13200 2012 gʹless 18.5 Sea Consortium Apr 1–3 m Cont / Baltic € 6300

1118 Vega Azurit 13760 2008 geared 19.6 Seago Apr 1–4 m Cont / Baltic 5900

1147 Asiatic Neptune 12690 2007 gʹless 19.0 KMTC Apr 4–6 m Intra-Asia 7250

1421 Charlotta B 17822 2009 gʹless 19.3 Hapag-Lloyd Apr 11–13 m North Europe 9250

1705 San Pedro 21737 2014 geared 19.7 Heung-A Apr 4–6 m Intra-Asia (ext) 8500

1732 RHL Audacia 23600 2007 geared 21.0 64 + 6 MCC / Maersk Apr 2–4 weeks Intra-Asia 7000

1740 EM Hydra 23400 2005 geared 19.5 62 + 3 Gold Star Line/ Zim Apr 4–7 m Intra-Asia 7200

1794 Bahamian Express 25937 2010 geared 20.5 60.4 Orient Express Lines Apr 15–20 days South Asia 7200

1900 Pacific Star 26260 1997 geared 19.0 K Line Apr 7 days Far East 6300

1924 Delphis Gdansk 24700 2017 gʹless 18.5 FESCO Apr 6 m Cont / Baltic 10500

SUB-PANAMAX

2450 Arica Bridge 32997 2010 geared 22.2 KMTC May 5–7 m Intra-Asia 9300

2472 Leda Trader 33917 2000 geared 22.0 Sinokor May 4–6 m Intra-Asia (ext) 9300

2500 Nordamelia 35500 2017 geared 19.0 Hamburg Süd May 5–7 m Pacific (relet by Seatrade) 11400

2732 Euro Max 39307 2002 gʹless 21.6 85.5 Bengal Tiger Line May 14–42 days Southeast Asia 9300

2824 Irenes Remedy 39382 2005 gʹless 24.0 Hapag-Lloyd May 5–7 m transatlantic 8850

2824 AS Carinthia 39386 2003 gʹless 24.0 Simatech May 4–7 m Indian Ocean trade (ext) 9500

3388 Natal 43127 2007 gʹless 22.4 Regional Container Lines May 4–6 m Intra-Asia (ext9 9550

3534 Northern Dexterity 42166 2008 gʹless 22.2 Hapag-Lloyd May 70–90 days Intra-Asia 9500

TRADITIONAL PANAMAX AND WIDEBEAM

4132 Duck Hunter 55495 2004 gʹless 24.0 Wan Hai May 40–50 days Far East (ext) 10600

4178 Amalthea 52788 2009 gʹless 24.6 K Line May 1 round voyage FE / SAF (ext) 10000

4398 Corinthiakos 55400 2010 gʹless 25.2 Hapag-Lloyd May 5–7 m Far East / India (ext) 10000

4600 Northern Priority 59186 2009 gʹless 24.0 Mitsui OSK Lines May 2–4 m Intra-Asia 11500

5294 Barbara 65550 2010 gʹless 25.0 181 Maersk Apr 2–3 m transatlantic (ext) 13000

5294 Blandine 65550 2009 gʹless 25.0 181 Cosco May 5 m transatlantic 13000

LARGE AND VERY LARGE

5551 Rio Barrow 68142 2001 gʹless 25.9 198 Hapag-Lloyd May 10–14 m N. Europe / ECSA (ext) 12500

5990 E.R. Denmark 68176 2002 gʹless 26.0 Hapag-Lloyd May 30–40 days N. Europe / China 10000

6492 K Phoenix 80270 2003 gʹless 25.0 225 CMA CGM May 11–14 m Asia / SAF/ WAF 12900

6881 Kristina 80277 2013 gʹless 22.5 Wan Hai May 11–13 m transpac / high reefer 18500

7241 Anton Schulte 90651 2009 gʹless 25.0 220 NYK Line May 10–12 m Far East / India (ext) 15000

7471 Conti Savannah 93542 2005 gʹless 25.8 268 + 10 Hapag-Lloyd May 5–7 m worldwide 19850

Charter deals April / all information without guarantee

14 HANSA International Maritime Journal – 154. Jahrgang – 2017 – Nr. 5
---
Märkte | Markets

mours were popping up that one of these

ships may have been committed for short

period employment at 30,000 $/day but this

could not be confirmed so far.

Further fixtures are eagerly awaited to

provide clarity over the near-term direction

of the market as first doubts are being

voiced over the sustainability of the current

rally. Yes, market fundamentals have

improved due to a stagnation in fleet capacity

caused by high demolition levels since

mid-2016 and slippage of ULCS newbuilding

deliveries this year whereas growth in

transportation demand picked up to an estimated

4% in Q1. It is clear, though, that

extra tonnage requirements linked to the

east-west alliance restructurings play a significant

role as well. This factor is harder

to ascertain because it very much depends

on the liner operators' network and capacity

strategies for this year's cargo peak season.

The basic elements of it are well understood

by now: Carriers need extra vessels for contingency

and as back-up during the transition

from the old to the new alliance schedules

to maintain service integrity. Once the

port rotations are up and running, they can

go back to »normal«, more productive tonnage

levels.

Impact on alliance reshuffe

remains mystery

Separating the »true« from the »transient«

requirements is pretty much guess work,

though. Based on an analysis of published

schedules by the alliances and vessel nominations

to date, Alphaliner suggests that

some 20 units between 4,000 and 7,000 TEU

are going to become redundant »once the

transition is done and the current overlaps

are resolved«. Will these ships – to the extent

that they are chartered-in, not owned –

be returned to their owners, or will they be

cascaded into north/south trades? The latter

remain outside the scope of the east-west alliances,

so a plethora of options and combinations

seem possible. »It will probably take

until June or July until we find out to what

extent the increases [in rates] were driven

by the new alliance start-ups,« as one Hamburg-based

shipbroker points out.

Meanwhile down in the traditional panamax

segment charter rates continued to

recover lost ground as well. Since end of

March, fixing levels for short periods up

to 7 months improved from high $8,000's

to well over 10,000 $/day as spot supply of

charter units dropped to around a handful.

Rates for standard tonnage peaked at

11,500 $/day basis 2–4 months as illustrated

by the fixture of the 4,600 TEU »Northern

Priority« to Japanese carrier MOL in

early April. This level has not been repeated

for similar tonnage so far. Only some highspec

panamax-max vessels scored higher:

the 5,300 TEU »Barbara« and »Blandine«

– once developed and launched by Hermann

Buss for employment with CSAV

on the West Coast South America/Europe

route, today controlled by Peter Döhle –

set a new benchmark of $13,000 per day

for short periods in transatlantic services

with Maersk and Cosco, respectively.

Smaller 4,250 TEU baby-panamax vessels

improved to low/mid $10,000's but

seemed to be on a sideways trend by the

time HANSA went to press. »Although the

market feels busy, we are not noticing further

gains this week,« commented one broker

during week 16 after Easter.

Expectations remain a bit firmer for

sub-panamax type ships between 2,000 and

3,000 TEU based on very tight availability

both in the geared 2,500 TEU and gearless

2,700/2,800 TEU sectors. Although some

operators are unable to find suitable tonnage

for their positions, rates for gearless

2,700 TEU ships are taking longer than expected

to reach the $10,000 mark. Rates improved

to high $8,000's in the Med and to

mid $9,000's in the Far East. If owners don't

manage to push them further up they are at

least looking for longer periods given that

durations fixed so far are mainly for 6 or

7 months maximum, brokers say. Some believe

that geared 2,500 TEU types might

overtake their larger sisters in the race to

breach the 10,000 $/day from last done levels

of 9,300 $/day. A high-spec newbuilding,

the geared 2,500 TEU »Nordamelia«,

already achieved $11,400 in a 5-7 month

period with Hamburg Süd, it was reported,

while a popular gearless unit (2,500 TEU

Artemis) reportedly obtained 10,000 $/day

in a longer period with Zim.

By comparison, market activity and rate

developments in the feeder classes below

2,000 TEU remain uninspiring. Some point

out that rate levels have been relatively high

anyway over the last year when compared

with the bigger classes. Their »unresponsiveness«

has been »fully justified by the fact that

they were already fully priced in relationship

to the larger sizes,« noted Howe Robinson.

Short-term indicators were pointing

upwards, though, and rate levels for feeder

vessels should finally be »dragged up by the

general market movement«, the broker forecast.

Tonnage demand perked up already in

the Med, albeit with limited positive impact

on rate levels, while the all-important Asian

market remained fairly quiet, especially for

1,000–1,200 TEU vessels. M

COMPASS

CONTAINER SHIP T/C MARKET

400

20.04.17

360

320

280

22.11.16

Month on Month 399 +17.0 %

CONTAINER FREIGHT MARKET

WCI Shanghai-Rotterdam 1,546 $/FEU + 0.25 %

WCI Shanghai-Los Angeles 1,358 $/FEU + 0.14 %

DRY CARGO / BULK

SHORTSEA / COASTER

TANKERS

Average rates spot/up to 4 weeks validity

WCI = World Container Index, supplier: Drewry

Baltic Dry Index 1,243 + 3.9 %

Spot time charter averages ($/day)

Capesize 5TC average 14,660 - 13.6 %

Panamax 4TC average 12,448 + 32.4 %

Supramax 6TC average 10,090 + 2.2 %

Handysize 6TC average 8,386 + 9.7 %

Forward / ffa front month May ($/day)

Capesize 180k 15,120 - 7.8 %

Panamax 11,270 + 14.5 %

Norbroker 3,500 dwt earnings est. 2,600 €/d ± 0 %

HC Shortsea Index 16.92 + 2.0 %

ISTFIX Shortsea Index 606 - 0.3 %

Norbroker: spot t/c equivalent assessment basis round voyage North Sea/Baltic;

HC Shipping & Chartering index tracking spot freights on 5 intra-European routes;

Istfix Istanbul Freight Index covering spot freight ex Black Sea

Baltic Dirty Tanker Index 819 + 0.3 %

Baltic Clean Tanker Index 643 -18.6 %

BUNKERS

IFO 380 Rotterdam $/t 297 + 10.8 %

MGO Rotterdam $/t 467 + 8.4 %

Forward / Swap price Q2/17

IFO 380 Rotterdam $/t 284.9 - 3.5 %

Data per 20.04.2017, Alterations within four weeks

HANSA International Maritime Journal – 154. Jahrgang – 2017 – Nr. 5 15
---
Märkte | Markets

Container

New ConTex Development

Vessel type

Evaluated

Period

Today Comparison to last report Month-on-Month Year-on-Year

20.04.17 13.04.17 Change Change 21.03.17 Change Change 19.04.16 Change Change

New ConTex* 399 396 3 0,8% 333 66 19,8% 342 57 16,7%

New ConTex*

1100 TEU

1700 TEU

2500 TEU

2700 TEU

3500 TEU

4250 TEU

2500 TEU

2700 TEU

3500 TEU

4250 TEU

12 mos

24 mos

12 mos

$6.539

$7.292

$9.959

$10.312

$10.142

$11.300

$9.223

$9.463

$9.279

$10.024

$6.522

$7.274

$9.820

$10.240

$9.995

$11.226

$9.032

$9.318

$9.070

$9.865

$17

$18

$139

$72

$147

$74

$191

$145

$209

$159

0,3%

0,2%

1,4%

0,7%

1,5%

0,7%

2,1%

1,6%

2,3%

1,6%

$6.378

$6.874

$7.786

$7.966

$7.796

$8.354

$6.963

$7.089

$6.836

$6.969

$161

$418

$2.173

$2.346

$2.346

$2.946

$2.260

$2.374

$2.443

$3.055

2,5%

6,1%

27,9%

29,5%

30,1%

35,3%

32,5%

33,5%

35,7%

43,8%

$7.287

$7.469

$7.634

$7.684

$7.585

$7.712

$6.102

$6.144

$5.773

$5.431

-748

-177

2.325

2.628

2.557

3.588

3.121

3.319

3.506

4.593

-10,3%

-2,4%

30,5%

34,2%

33,7%

46,5%

51,1%

54,0%

60,7%

84,6%

VHSS

10,000

9,000

8,000

4400 TEU gearless 3500 TEU gearless

2750 TEU gearless 2500 TEU geared

Period rates $/day

Charter

The surge in charter rates for larger container

vessels continued over the past weeks, helped by

tight supply of spot/prompt ships. Fixing levels

for traditional panamaxes are now cemented in

five­digit territory, with peak rates of $13,000

per day agreed for panamax­max units in the

Atlantic. Rates for 2,500­2,800 TEU ships nudge

higher in the $ 9,000's range.

7,000

6,000

5,000

4,000

Jun-16 Sep-16 Dec-16 Mar-17

Clarksons

Second hand

2750 TEU gearless 7.0

3500 TEU gearless 6.0

Secondhand Prices, mill. $, 10 year old

Charter

There are positive signs for feeder class ships

between 1,000 and 2,000 TEU but the actual

improvements so far are pretty limited. Geared

1,700 TEU ships see rate levels edging up to low

$7,000's per day. Further increases could be

beckoning, though, as carriers reportedly have a

number of open positions yet to cover for May.

The smallest feeders below 1,000 TEU continue to

struggle, particularly 700 TEU class ships in Asia.

Second hand

725 TEU geared 3.8

1000 TEU geared 4.5

1700 TEU geared 6.0

2000 TEU gearless 6.0

Secondhand Prices, mill. $, 10 year old

7,500

Period rates $/day

6,500

5,500

2000 TEU gearless 1700 TEU geared

1000 TEU geared 725 TEU geared

4,500

Jun-16 Sep-16 Dec-16 Mar-17

16 HANSA International Maritime Journal – 154. Jahrgang – 2017 – Nr. 5
---
Märkte | Markets

24,000

20,000

16,000

12,000

Spot market rates average earnings $/day (21.04.2017)

Capesize c. 2010-built bulkcarrier

post start-January 2009, then a c.

2000-built vessel

Supramax 52k dwt

Panamax c. 2010-built bulkcarrier

post start-January 2009, then a c.

2000-built vessel

13,819

12,390

11,125

Spot

Bulker

The general trend in the dry cargo market

remains positive but with diverging fortunes in

the individual size classes. The capsize spot

market lost some steam, coinciding with a softer

trend in the iron ore commodity market. By

contrast, panamax freights were soaring on the

back of buoyant tonnage in grain ports on the

East Coast of South America. Supramax and

handysize earnings improved slightly.

8,000

4,000

0

Mar-16 Jun-16 Sep-16 Dec-16 Mar-17

Clarksons

Capesize

Panamax

Supramax

13,819

12,390

11,125

Avg. Spot Earnings $/day

Period

Developments in the period market mirror those

in the spot market, with one­year durations for

180,000 dwt capesizes coming down from circa

15,000 to 14,000 $/day, according to brokers.

Meanwhile 12 month rates for panamaxes were

seen rising from 9,000 to over 12,000 $/day.

Period business for supramaxes and handysize

carriers also firmed up a bit.

16,000

13,500

Period rates $/day (21.04.2017)

Capesize modern

Panamax modern

Supramax 52k dwt from start 2002, 45k

previously

Handysize modern

15,250

7,925

Capesize

Panamax

Supramax

Handysize

15,250

12,075

10,250

8,250

1­Year Timecharter Rate, $/day

11,000

8,500

6,000

3,500

Mar-16 Jun-16 Sep-16 Dec-16 Mar-17

10,250

8,250

25

20

Second hand prices in mill. $ (10 years old, 21.04.2017)

Capesize 170k dwt

Panamax 75k dwt

Handymax 52k dwt

Handysize 32k dwt

24

Second hand

Buying interest for bulk carriers continued to be

strong over the past weeks, pushing prices

further up. Increases got smaller, though, with

the market moving sideways and even smaller

weaker transactions emerging in week 16.

Obviously, a greater number of owners are

looking to capitalise on the latest increases

following a rough ride in 2016. A lot of interest

circles around capsize units.

15

10

5

Mar-16 Jun-16 Sep-16 Dec-16 Mar-17

14

12

8

Capesize

24.0

Panamax

14.0

Handymax

12.0

Handysize

8.0

Secondhand Prices, mill. $, 10 year old

HANSA International Maritime Journal – 154. Jahrgang – 2017 – Nr. 5 17
---
Märkte | Markets

Tankers

Spot

The dirty/crude tanker market has arrived back

at the same level as four weeks ago when looking

at the Baltic index. Out­ and underperformers

have switched around, though, with VLCC rates

staging a major comeback while spot earnings

for suezmaxes and aframaxes weakened quite a

bit. VLCC earnings on voyages ex Gulf

eastbound more than doubled to 36,000 $/day.

120,000

100,000

80,000

60,000

Spot market rates average earnings $/day (21.04.2017)

VLCC c. 2010-built vessel from 2009

onwards, previously c.2000-built vessel.

Suezmax c. 2010-built vessel from 2009

onwards, previously c.2000-built vessel.

Aframax c. 2010-built vessel from 2009

onwards, previously c.2000-built vessel.

VLCC

Suezmax

Aframax

30,955

16,355

15,720

Avg. Spot Earnings $/day

40,000

20,000

0

Mar-16 Jun-16 Sep-16 Dec-16 Mar-17

30,955

16,355

15,720

Clarksons

Period

60,000

55,000

50,000

45,000

40,000

Period rates $/day (21.04.2017)

VLCC 310k dwt

Suezmax 150k dwt

Aframax 110-115k dwt

Panamax 74k dwt, products

There has been precious little change in period

rates for crude tankers given the latest swings in

spot earnings. Oslo broker Fearnley's lifted its 12

month rate assessment for VLCC marginally

from 27,000 to 27,500 $/day while suezmax 1

year periods were marked down from 19,500 to

19,000 $/day. Aframax levels were unchanged at

16,000 $ per day.

35,000

30,000

25,000

20,000

15,000

10,000

Mar-16 Jun-16 Sep-16 Dec-16 Mar-17

27,750

18,000

15,750

13,500

VLCC

Suezmax

Aframax

Panamax

27,750

18,000

15,750

13,500

1­Year Timecharter Rate, $/day

Second hand

Asset values in the tanker sector keep trending

sideways on reduced activity due to a shortage of

sales candidates in the market. Broker

assessments for 5­year old tonnage currently put

prices at around 60 mill. $ for VLCC, 40 mill. $

for suezmaxes and at 28.5 mill. $ for aframaxes.

Activity during the week when this issue was

closed was limited to a few medium­old product

tankers.

60.00

50.00

40.00

Second hand prices in mill. $ (10 years old, 21.04.2017)

VLCC 310k dwt

Suezmax 150k dwt

Aframax 110-115k dwt

Panamax 74k dwt, products

42.00

VLCC

42.0

Suezmax

27.5

Aframax

19.0

Panamax

18.0

Secondhand Prices, mill. $, 10 year old

30.00

20.00

10.00

Mar-16 Jun-16 Sep-16 Dec-16 Mar-17

27.50

19.00

18.00

18 HANSA International Maritime Journal – 154. Jahrgang – 2017 – Nr. 5
---
Märkte | Markets

Intermediate Fuel Oil (IFO 380cst in $/t)

Bunker | Currency

350.00

Date 18.04.2017

N Rotterdam = 297.00

N Singapore = 319.25

N Houston = 316.50

250.00

150.00

Apr-16 Jul-16 Oct-16 Jan-17 Apr-17

700.00

600.00

500.00

400.00

300.00

Date 18.04.2017

N Rotterdam = 469.00

N Singapore = 490.50

N Houston = 526.00

Marine Gas Oil (MGO in $/t)

200.00

Apr-16 Jul-16 Oct-16 Jan-17 Apr-17

Head Office

Clarkson Research Services Ltd

Commodity Quay

St Katharine Docks

London

E1W 1BF

United Kingdom

Tel: +44 (0) 20 7334 3134

Fax: +44 (0) 20 7522 0330

Email: sales.crs@clarksons.com

www.crsl.com

UK Representative Office

Clarksons Research

15 The Homend

Ledbury

Herefordshire

HR9 1BN

Tel: +44 (0) 1531 634561

Fax: +44 (0) 1531 633744

Email: sales.crs@clarksons.com

www.crsl.com

Clarksons 1/2 hoch in

2.00

Euro zone interest rates

1.50

Date 13.04.2017

N Bunds (10-year) = 0.19

N EURIBOR (3-month) = -0.33

1.00

0.50

0.00

-0.50

Source: Reuters EcoWin Pro

1.50

Foreign exchange rates

150

1.40

140

1.30

130

1.20

120

1.10

1.00

0.90

Date 18.04.2017

N EUR/CHF = 1.07

N EUR/USD = 1.06

N EUR/JPY = 116

Source: Reuters EcoWin Pro

110

100

90

Africa Asia Australia Europe Middle East North America South America

www.clarksons.com

HANSA International Maritime Journal – 154. Jahrgang – 2017 – Nr. 5 19
---
Versicherungen | Insurance

Viel Zuspruch für Hanseatic P&I

Der deutsche Coverholder von Lloyd's baut sein Portfolio deutlich aus.

Die Prämieneinnahmen erholen sich, schreibt Michael Hollmann

Abstract: Hanseatic P&I beefs up portfolio

German underwriter expands P&I book by around one fourth to 2,000 vessels, premium

income up by 10% in 2016/17 (30 March). Insurance consortium for Hanseatic at

Lloyd's of London enlarged from 6 to 9 syndicates amid strong interest after profitable

year. 2015/16 closed with a combined ratio of 86%.

redaktion@hansa-online.de

Das Underwriter­Team von Hanseatic (v.l.): Baris Tuncel, Petra Selke­Wolf, Christoph Oetker, Jana

Feldhus, Helge Volger, Kerstin Maack­Persicke, Tobias Braun, Simone Nieswandt, Dietrich Zeglin

Der deutsche P&I-Versicherer Hanseatic

Underwriters (»Hanseatic P&I«)

tastet sich im schwierigen Marktumfeld

weiter nach vorn. Im beendeten Zeichnungsjahr

2016/17 (per 31.03.) wuchs das

Portfolio um rund ein Viertel bzw. 421 Einheiten

auf knapp 2.000 Schiffe an, vor allem

im Bereich kleinerer Spezialtonnage.

Auch die vereinnahmten Prämien legten

spürbar zu, allerdings eher unterproportional:

um rund 10% auf 21 Mio. $. Das

liegt zu einem an der veränderten Struktur

des Bestands (mehr kleinere Einheiten)

und zum anderen an der verschärften

Preiskonkurrenz im P&I-Geschäft, wie die

Geschäftsführer Bert Wardetzki und Tobias

Braun im Gespräch mit der HANSA

erläutern. »Schlepper und Schuten zahlen

weniger Prämie als das Containerschiff«,

unterstreicht Wardetzki.

Zudem sei das Prämienniveau bei den

jüngsten Renewals am 20. Februar für

Hanseatic P&I um 4% gefallen, womit

sich der Hamburger Versicherer nach eigener

Einschätzung aber noch relativ gut

behaupten konnte. Die Nachlässe bei den

großen P&I-Gegenseitigkeitsversicherern

der International Group sollen Maklerangaben

zufolge noch ein bis zwei Prozentpunkte

höher ausgefallen sein.

Gut ein Drittel des Geschäftsvolumens

bei Hanseatic wird noch traditionell zum

20. Februar erneuert. In den ersten Jahren

nach dem Markteintritt 2005 waren es

100%. Was am wichtigsten sei, so Braun:

»Wir haben wieder ein profitables Jahr für

unsere Lloyd's-Partner hinbekommen.«

Dabei bezieht sich der Manager auf das

vorangegangene und voll abgeschlossene

Jahr 2015/16. Die Syndikate der Versicherungsbörse

Lloyd's of London, die den

Großteil der Risikokapazität für Hanseatic

P&I stellen, konnten demnach 14% der

Prämien von seinerzeit rund 19 Mio. $ als

Gewinn einstreichen. Oder andersherum

ausgedrückt: Die kombinierte Schadenkostenquote

(Schäden und Betriebskosten im

Verhältnis zum Prämienaufkommen) lag

bei 86%. Für das von ordentlichem Wachstum

geprägte Zeichnungsjahr 2016/17 lasse

sich noch kein Ergebnis abschätzen.

Die Risikoträger aus dem Londoner

Markt setzen jedenfalls hohes Vertrauen

in die Hamburger, die seit Jahren zu den

Top 5 der kommerziellen P&I-Versicherer

zählen. Bei der Neubildung des Versicherungskonsortiums

für Hanseatic per 1. April

bei Lloyd's of London sei der Andrang

überwältigend gewesen. »Wir waren zu

143% überzeichnet«, erklärt Braun.

Neu dabei sind der führende P&I-Rückversicherer

XL Catlin, die japanische Sompo

Canopius sowie das Syndikat des US-

Versicherers Hamilton. Zusammen mit

sechs weiteren Lloyd's-Konsorten decken

sie die Basis-Tranche für Schäden bis

50 Mio. $. Die oberen »Layer« der Versicherungssumme

von maximal 500 Mio. $ pro

Schaden sind ebenfalls bei Lloyd's und bei

der Allianz Global Corporate & Specialty

(AGCS) in Deutschland platziert.

Vieles deute darauf hin, dass die Versicherer

im Lloyd's-Markt aufgrund desolater

Ergebnisse einen Teilrückzug aus der

Transportversicherung angetreten haben.

Mit WR Berkeley sei kürzlich ein wichtiger

Player ausgestiegen. Im Teilsegment P&I

könnte sich eine Kapazitätsverknappung

am schärfsten auswirken, sagt Braun. Anders

als im Seekaskogeschäft gebe es keine

anderen Versicherungsmärkte (Asien,

Skandinavien), die das Vakuum auffüllen,

wenn die Lloyd's-Syndikate bei der P&I-

Rückversicherung auf die Bremse treten.

»Wir erwarten deshalb, dass in diesem Bereich

schneller wieder Preisdisziplin einsetzen

wird«, erklärt Braun.

Dank der verbreiterten Kapazitätsbasis

sieht sich Hanseatic gut gerüstet, das Portfolio

auszubauen und mehr Geschäft zu

zeichnen. Die Konsortialmitglieder seien

schon zu deutlich höheren Prämienumfängen

mit Hanseatic P&I bereit. »Momentan

haben wir nur nicht das richtige Marktumfeld

für Wachstum«, stellt Bert Wartdetzki

fest. Nur 5% aller Angebote mündeten tatsächlich

in Geschäftsabschlüsse. Das zeige,

wie groß die Möglichkeiten sind. »Wenn

das Prämienniveau anzieht, können wir

sehr viel Geschäft binden«, so Wardetzki.

Geographisch konnte Hanseatic P&I sein

Portfolio weiter diversifizieren. Rund ein

Drittel der versicherten Tonnage stammt

aus Deutschland und Nordeuropa, ein weiteres

Drittel aus der Türkei und den Mittelmeeranrainern,

der Rest verteilt sich auf die

ganze Welt. Zu den wichtigen Märkten in

Übersee zählen Fernost, Südostasien und

die Westküste Südamerikas.

M

Foto: Hanseatic Underwriters

20 HANSA International Maritime Journal – 154. Jahrgang – 2017 – Nr. 5
---
Versicherungen | Insurance

6

Havariechronik

4

2

5

3

1

1 01/04/2017, Untergang/Loss of Life, Ort: vor Uruguay,

Schiff: Stellar Daisy (Bj. 1993), 266.141 tdw Bulk Carrier,

Flagge: Marshall Islands, Haftpflicht: Steamship Mutual,

Reise: Rio de Janeiro (Brasilien) nach Qingdao (China)

2 01/04/2017, Brand, Ort: vor Sri Lanka, Schiff: MSC Daniela

(Bj. 2008), 13.800 TEU Containerschiff, Flagge: Panama,

Haftpflicht: West of England, Reise: Singapur nach Südeuropa

3 10/04/2017, auf Grund/LOF-Bergung, Ort: Parana River

(Argentinien), Schiff: Aristimo (Bj. 1997), 45.584 tdw Bulk Carrier,

Flagge: Belize, Haftpflicht: British Marine, Reise: Rosario

(Argentinien) nach Dekheila/Alexandria (Ägypten)

4 06/04/2017, Kollision/Untergang/Loss of Life, Ort: Yangtze

River, Schiff: Van Manila (Bj. 2007), 1.708 TEU Containerschiff,

Flagge: Panama, Haftpflicht: North P&I; Schiff (gesunken,

12 Vermisste): Xiang Zhou (Bj. 2009), 6.033 tdw Stückgutfrachter,

Flagge: Kiribati, Haftpflicht: Raets Marine

5 12/04/2017, auf Grund, Ort: Javasee, Schiff: Alex (Bj. 2016),

299.446 tdw Crude Carrier, Flagge: Belgien, Haftpflicht: Britannia,

Reise: Ras Tanura (Saudi-Arabien) nach Ningbo (China)

6 16/04/2017, Brand, Ort: Immingham, Schiff: Navios Orbiter

(Bj. 2004), 39.727 tdw Bulk Carrier, Flagge: Panama, Haftpflicht:

London P&I, Reise: Baton Rouge (USA) nach Immingham (UK)

Edge holt sich Verstärkung

Die Hamburger Filiale des Seeversicherungsmaklers Edge baut ihr

Team weiter aus. Seit 1. April verstärkt der gelernte Schifffahrtskaufmann

Björn Bauer als Senior Marine Insurance Broker den

Bereich Vertrieb und Kundenbetreuung.

Bauer war bis vor kurzem für Junge & Co. tätig, davor unter anderem

beim Döhle Assekuranzkontor und bei Willis JWA Marine.

Zum 1. Juni stellt Edge Hamburg nach Auskunft von Geschäftsführer

Jörn Keller eine weitere neue Kollegin für die Schadensbearbeitung

ein.

Das Team in Hamburg betreut eigenen Firmenangaben zufolge

über 200 Seeschiffe für Seekaskodeckung und P&I. »Wir glauben,

dass wir unser Geschäft trotz der schwierigen Marktbedingungen

in der Schifffahrt künftig noch weiter ausbauen können.

Dafür braucht man gute Leute«, begründete Keller die jüngsten

Neueinstellungen.

M

Schäden in der Cefor-Flotte gesunken

Laut aktuellem Jahresbericht der Nordic Association of Marine Insurers

(Cefor) sind die Schäden über eine versicherte Gesamtflotte

von knapp 15.100 Schiffen und Offshore-Objekten gegenüber dem

Vorjahr um 42% auf 491,7 Mio. $ gesunken. Das Portfolio umfasst

Schiffe, bei denen Cefor-Gesellschaften als Führungs- oder Folgeversicherer

engagiert sind. um ersten Mal seit 10 Jahren habe es

2016 gar keinen Einzelschaden über 30 Mio. $ gegeben, heißt es.

Die Zahl der Schäden über 5 Mio. $ sei auf ein historisches Tief gefallen,

erklärte Cefor-Geschäftsführerin Helle Hammer.

Erheblich gesunken sind aber auch die Prämieneinnahmen der

Cefor-Mitglieder – um 14% auf 564,8 Mio. $. Schuld daran sind

mehrere Faktoren: eine rückläufige versicherte Flotte, gesunkene

Versicherungswerte und fallende Prämienraten bei Seekasko. Ob

der nordische Markt insgesamt profitabel war, lässt sich aus den

Cefor-Zahlen nicht ableiten.

M

+++ Telegramm +++ Telegramm +++ Telegramm +++ Telegramm +++ Telegramm +++ Telegramm +++

Gute Rendite für Norwegian Hull Club: Gewinn 2016 um rund 150% auf über 21 Mio. $ gewachsen, Mitglieder sollen 5%

der gezahlten Prämie zurück erhalten. Kapitalerträge um fast 36 Mio. $ verbessert, das versicherungstechnische

Ergebnis um rund 23 Mio. $ auf 2,9 Mio. $ zurückgegangen. Grund: Rückgang der Prämieneinnahmen. +++ Gründliche

Untersuchung angemahnt: Bulkschifffahrsverband Intercargo und IMO mahnen nach Untergang von Großbulker

»Stellar Daisy« rasche Unfalluntersuchung durch Flaggenstaat (Marshall Islands) und Klasse (Korean Register) an.

Erkenntnisse könnten wichtig für gesamte Bulkschifffahrt sein. +++ Swedish Club gewährt Rabatt: Mitglieder

sollen aufgrund guter Performance im Vorjahr 4% der Gesamtprämie (Estimated Total Call) für laufendes Jahr

(2017/18) rückerstattet bekommen. 2016 mit 11,8 Mio. $ Gewinn abgeschlossen, versicherte P&I-Tonnage um 7,5% gesteigert.

+++ Japan P&I: Versicherte Hochsee-Tonnage per 20. Februar um 1,4 Mio. auf 88,2 Mio. BRZ gesunken.

Grund: Verkäufe und Verschrottungen seitens japanischer Reeder. +++ Neue Yacht-Versicherung aus London: Castel

Underwriting Agencies legt unter »Yachtpod« Spezialdeckungen für Yachten (H&M, LOH, Medical Costs, P&I…) auf.

Kapazität für Festprämien-P&I-Deckung wird durch Shipowners' Club gestellt. +++ LEUTE, LEUTE +++ Cefor:

Nordischer Versicherungsverband wählt Anne Systad (Codan Marine Norwegen) zur neuen Vorsitzenden. Sie folgt auf

Christen Guddal (Gard). Sven Buvik (Gard) wird stellvertretender Vorsitzender. Neu in den Vorstand gewählt wurden

Anna Erlandsen (Norwegian Hull Club) und Anders Hovelsrud (DNK). +++ Navigators: CFO Ciro M. DeFalco zum Executive

Vice President befördert. Außerdem Guillaume Déal (Ex-Credit Agricole Group) als Geschäftsführer für Kontinentaleuropa

angeworben. Geplant sind neue Filialen in Rotterdam, Paris und Mailand. +++ Hiscox: Simon Williams

(Head of Marine & Energy mit Sitz in London) Ende März ausgeschieden. Keine Angaben zu den Gründen. +++

HANSA International Maritime Journal – 154. Jahrgang – 2017 – Nr. 5 21
---
Versicherungen | Insurance

Ein Generationenwechsel

bei Carl Schröter

Beim Bremer Assekuradeur steht ein Wechsel in der

Führungsetage an. Stefan Rogge folgt auf Heiko Winter

Der langjährige Geschäftsführer und

Mitinhaber Heiko Thomas Winter

geht zum Jahresende in den Ruhestand.

Als Nachfolger für ihn tritt zum 1. Mai

der bisherige Geschäftsführer des Transportversicherungsmaklers

Regent Insurance

Services (Europe), Stefan Rogge, an.

Rogge, der auch die Geschäfte der Regent-Tochtergesellschaft

Lübcke Marine

in Bremen mitgeführt hat, wird zum 1.

Januar 2018 auch Gesellschafter von Carl

Schröter. Er übernimmt die 32%, die bislang

Winter an der Firma hält. Die

Geschäftsführung des 1868 gegründeten

Assekuradeurs

besteht auch künftig aus

vier Köpfen – dazu gehören

außerdem wie

bisher Claus Dimter,

Markus Willmann

und Sabine Blume.

Der 42-jährige

Rogge soll sich verstärkt

um die Themen

Vertrieb und Konzeption

kümmern. Der gelernte

Versicherungskaufmann und

Betriebswirt begann seine Laufbahn

1994 bei dem Makler Wuppesahl in

Bremen. Im Anschluss an seine Ausbildung

ging er für zwei Jahre zu Willis Corroon

& Wuppesahl in die Schweiz und

kehrte 1999 zur JWA Jaspers & Wuppesahl

Industrie Assekuranz in Bremen zurück.

Seit 2001 war Rogge für die von ihm

mitgegründete Imperial-Tochter Regent

Insurance Brokers tätig und wirkte dabei

maßgeblich an der Übernahme und Inte-

Heiko Winter

Foto: Hollmann

gration des Schiffsversicherungsmaklers

Lübcke Marine mit.

Winter, Jahrgang 1958 und geboren in

Köln, führt die Geschäfte von Carl Schröter

seit 2003 mit – seit 2004 als Mitgesellschafter.

Der gelernte Jurist, der nach dem zweiten

Staatsexamen, wie er selbst sagt, »gleich

auf die schiefe Bahn kam« – sprich: in die

Versicherungswirtschaft – war ab 1988 für

die Nordstern (heute Axa) tätig, zuletzt

als Abteilungsleiter für den Transportbereich

in Hamburg. Von 1993 bis 2003 leitete

Winter die Abteilung Industriebereich

Transport bei dem Versicherungsmakler

Funk.

Zu den wohl einschneidendsten

Enwicklungen,

die er

in seinen Jahren in

der Branche erlebt

habe, zähle die zunehmende

Regulierung.

Traditionell sei

die Transportversicherung

»ein Sammelbecken

für die Verrückten

und die verrückten Ideen gewesen«,

das sich durch hohe Kreativität

ausgezeichnet habe, stellt Winter

fest. Im Zuge der wachsenden Regulierung

müssten die Underwriter heute aber

immer mehr nationale Sonderbestimmungen

berücksichtigen, sich mit immer mehr

nationalen Tochtergesellschaften der Versicherungen

abstimmen, welche letztlich

die Risiken tragen. Das mache dem Assekuradeur

besonders bei der Konzeption internationaler

Programme für die Warentransportversicherung

die Arbeit schwer.

»Die großen Programme bereiten mehr

Aufwand, der Ertrag für den Assekuradeur

nimmt ab«, klagt Winter. Die Branche

schrecke zunehmend vor internationalen,

grenzüberschreitenden Risiken zurück,

»man wird entglobalisiert«, kritisiert er.

Für Carl Schröter als größeren Player

unter den Assekuradeuren stünden die

Chancen noch recht gut, weil man leichter

wirtschaftliche Lösungen für die komplizierteren

Prozesse (Compliance etc.) finden

könne. Das Unternehmen verzeichnet

in der gesamten Gruppe (Warentransport,

Verkehrshaftung, Seekasko, Kfz) Bruttoprämieneinnahmen

von rund 80 Mio. Euro

pro Jahr.

Die ersten kleineren Assekuradeure hätten

dagegen schon aufgegeben oder seien

verkauft worden, weitere dürften folgen.

»Der eine oder andere wird sich noch sagen:

Das will ich nicht mehr.« Ein Stück

weit wird Winter die Geschehnisse in den

kommenden Jahren noch aktiv mitverfolgen

– als Vorsitzender des neugegründeten

Beirats von Carl Schröter.

mph

Feiern

wo Hamburgs

maritimes Herz schlägt

Planen Sie mit uns

Ihre nächste Veranstaltung:

www.imm-events.de

040/300 92 30-33

Internationales

Maritimes Museum

Hamburg

KAISPEICHER B | KOREASTRASSE 1 | 20457 HAMBURG

22 HANSA International Maritime Journal – 154. Jahrgang – 2017 – Nr. 5
---
Schifffahrt | Shipping

Europe

»Changing the game!«

Executives' Shipbuilding Summit

SAVE THE DATE!

12 Sept. 2017

10 am to 4 pm

Location: International Maritime Museum Hamburg | Contact: s_schmidt@hansa-online.de

HANSA International Maritime Journal – 154. Jahrgang – 2017 – Nr. 5 23
---
Schifffahrt | Shipping

Ringen um die Rickmers Gruppe

Die finanziell angeschlagene Rickmers Gruppe steht nach einer noch ausstehenden

Sanierung zum Verkauf. Der bisherige Alleingesellschafter Bertram Rickmers trennt sich

von 75 % seiner Anteile, die an Investoren gehen sollen, schreibt Krischan Förster

Die Nachricht kommt wenige Tage vor

der Veröffentlichung einer vermutlich

verheerenden Bilanz für 2016 und

nur wenige Wochen nach dem Verkauf

der Rickmers Linie an die Bremer

Zeaborn-Gruppe. Zudem war

erst in der vergangenen Woche die

Abwicklung des Rickmers Maritime

Trust in Singapur verkündet

worden, an dem die Hamburger

Reederei 34,2% der Anteile hielt.

Nun ist auch das Stammhaus in akuter

Insolvenzgefahr.

»Wesentliche Finanzverbindlichkeiten«

der Rickmers Gruppe sollen daher restrukturiert

werden, teilte das Unternehmen

mit. Anschließend sollen Investoren

75,1% der Anteile vom Firmengründer

und bisherigen Alleinaktionär Bertram

R.C. Rickmers übernehmen.

Einen wesentlichen Beitrag zur Sanierung

leistet demnach der Unternehmensgründer

selbst. Bertram Rickmers habe

sich verpflichtet, 10 Mio. € aus seinem Privatvermögen

als Sanierungsbeitrag zu leisten,

außerdem die Rickmers Gruppe von

einer Werftenverbindlichkeit in Höhe von

weiteren 10 Mio. $ zu entlasten sowie auf

Markenlizenzgebühren bis einschließlich

des 1. Quartals 2021 zu verzichten. Dem

Vernehmen nach bekommt Rickmers für

die Überlassung des Unternehmenslogos

und der Namensrechte 0,6% des Umsatzes.

Dieser lag 2015 bei 587 Mio. €.

Darüber hinaus stelle Bertram Rickmers

noch einmal 10 Mio. € als »Back up«-Darlehen

zur Verfügung, um einen künftigen

Liquiditätsbedarf abzusichern. Der Alleinaktionär

habe bereits im abgelaufenen

Jahr 2016 einen Betrag von 13 Mio. € gezahlt,

heißt es weiter.

Schwache Charterraten, sinkende

Schiffswerte und in der Folge hohe Wertberichtigungen

hatten der Gruppe nach

den ersten neun Monaten 2016 bereits einen

Verlust von knapp 200 Mio. € bei einem

Umsatz von rund 374 Mio. € (-15% gegenüber

2015) beschert.

Im Zuge der Restrukturierung will sich

Bertram Rickmers von 75,1% der Anteile

an der Rickmers Holding AG trennen. Dafür

werde ein neues Finanzvehikel namens

»LuxCo« in Luxemburg gegründet, um

den wesentlichen Gläubigern, insbesondere

der HSH Nordbank, den Anleihegläubigern

und gegebenenfalls einer weiteren

Bank, dem Vernehmen nach der UniCredit,

eine »wirtschaftliche Partizipation« an

der Unternehmensgruppe zu ermöglichen.

Die neue Gesellschaft soll nicht nur alle

Verbindlichkeiten unter der Rickmers-Anleihe

sowie einen Teilbetrag unter einem

Darlehen der HSH Nordbank übernehmen,

sondern erwirbt vorübergehend auch

die 75,1% der Anteile an der Rickmers Holding

AG – jedoch nur, um sie später an Investoren

weiterzuverkaufen.

Investoren gesucht

Bertram R.C. Rickmers

Ein von den Anleihegläubigern zu bestellender

gemeinsamer Vertreter soll ermächtigt

werden, den Erlös nach einem definierten

Verteilungsschlüssel an die HSH

Nordbank AG, die Anleihegläubiger und

eine weitere Bank auszuzahlen.

Ausgenommen von der Schuldübernahme

der Rickmers-Anleihe durch die Lux-

Co ist die Zahlung des Zinskupons am 11.

Juni 2017 in Höhe von 8,875% auf die Anleihe

in Höhe von insgesamt 275 Mio. €.

Die Zahlung soll noch vollständig von der

Rickmers Holding AG geleistet werden.

Im Juni 2018 müsste die Rickmers Holding

nach einer fünfjährigen Laufzeit die

in Frankfurt gelistete Anleihe zurückzahlen.

Die Anleihe war an der Frankfurter

Börse zuletzt für rund 8,5% des Nominalwerts

zu haben.

Das Sanierungskonzept sieht neben den

oben genannten Sanierungsbeiträgen des

Gesellschafters und der Zustimmung zur

Fotos: Rickmers

Schuldenübernahme durch die LuxCo

weitere Beiträge verschiedener Bankengläubiger

sowie durch eine Werft

vor, unter anderem in Form von Tilgungsstundungen,

einer Freigabe

verpfändeter Gelder und einer Verringerung

vereinbarter Zinsmargen.

In einem Gutachten im Auftrag

der Rickmers Holding sei eine Wirtschaftsprüfungsgesellschaft

zu dem

Schluss gekommen, dass die Rickmers

Gruppe sanierungsfähig sei. Eine »solvente

Fortführung« sei für die Anleihegläubiger

deutlich besser als ein Insolvenzszenario.

Die Flotte zählt derzeit 114 Einheiten. Neben

Containerfrachtern sind das Car Carrier,

Bulker und MPP-Schiffe.

Die Gremien der Gläubigerbanken und

vor allem die Anleihegläubiger müssen

dem Konzept noch zustimmen, heißt es.

Die Anleger wurden jetzt aufgefordert,

»ohne Versammlung« ihr Votum abzugeben.

Bei einer Ablehnung »würde die Sanierung

voraussichtlich scheitern«. Die

Folge wäre eine Insolvenz der gesamten

Unternehmensgruppe.

Noch vor zwei Jahren hatte die Unternehmensgruppe

einen Börsengang angepeilt.

Doch dann hatte die anhaltenden

Schifffahrtskrise alle Pläne durchkreuzt.

Gespräche mit der E.R. Schiffahrt von

Bertrams Bruder Erck Rickmers über einen

Zusammenlegung der beiden Reedereien

waren im vergangenen Jahr ergebnislos

abgebrochen worden.

M

Rickmers Trust

wird abgewickelt

Der Rickmers Maritime Trust (RMT)

wird endgültig abgewickelt. Mit den

Gläubigern sei keine Einigung über eine

Restrukturierung erzielt worden, teilte

das Unternehmen mit. Es fehle daher

an Liquidität, um das Geschäft fortzuführen.

Die Vermögenswerte (14 Schiffe) sollen

jetzt verkauft werden, um offene Forderungen

der Gläubiger zu bedienen. Es

gebe bereits Gespräche mit einem potenziellen

Käufer, teilte RMT mit. M

24 HANSA International Maritime Journal – 154. Jahrgang – 2017 – Nr. 5
---
Schifffahrt | Shipping

Gleich und gleich gesellt sich gern

Die Hamburger Reedereien Leonhardt & Blumberg und Buss Shipping fusionieren und

bündeln ihre Flotten von Feederschiffen. Es ist ein weiterer Schritt bei der Konsolidierung

in der deutschen Schifffahrt. Von Krischan Förster und Michael Meyer

Bislang waren sie im Feeder-Segment gegeneinander angetreten,

mit sehr ähnlichen Schiffen. Sowohl Leonhardt & Blumberg

(L&B), 1903 gegründet, als auch Buss Shipping, seit 2009 am

Markt aktiv. Künftig machen sie gemeinsame Sache und fusionieren

ihr Bereederungsgeschäft in der neuen Gesellschaft »Leonhardt

& Blumberg Shipmanagement«.

Ziel beider Partner sei es, mit dem Zusammenschluss größere

Synergieeffekte zu erzielen und die Marktposition im Wettbewerb

zu stärken, teilten die Reedereien mit. Die gemeinsame Flotte

zählt 55 Containerschiffe mit einem Durchschnittsalter von acht

Jahren, von denen der Großteil dem Feeder-Segment angehört.

Die Leitung übernehmen die bisherigen Geschäftsführer Christian

Rychly und Mathias Gaethje (beide L&B) sowie Torben Koelln

(Buss). Das Eigentum an den Schiffen bleibe vom Zusammenschluss

unberührt, teilten die Unternehmen mit.

Bis zur vollständigen Integration, die sich bis in den Sommer

hineinziehen soll, werden die beiden Reedereien zunächst weiter

eigenständig operieren. Alle Mitarbeiter werden in die neue Gesellschaft

überführt.

Leonhardt & Blumberg, in dritter Generation von Frank Leonhardt

geleitet, ist heute bereits der größte unabhängige Eigner

von Handysize-Containerschiffen mit 1.500 TEU, 1.700 TEU und

3.600 TEU –insgesamt sind es 36 Einheiten mit einem Gesamtwert

von fast 400 Mio. $. An Land und auf See werden rund 1.000 Mitarbeiter

beschäftigt.

2013 wurde eine Kooperation in der Befrachtung mit der Reederei

Laeisz geschlossen, die zur Gründung von Martini Chartering

führte. Eine enge Vernetzung in der Finanzierung und Bereederung

bestand über die Leonhardt & Blumberg Schiffahrtsgesellschaft

mbH & Co. KG auch zur Hansa-Treuhand-Gruppe von

Hermann Ebel, die im September 2016 für ihren Reedereibetrieb

Insolvenz anmelden musste.

Bereits zu Jahresbeginn hatte L&B-Geschäftsführer Christian

Rychly gegenüber der HANSA erklärt, dass man künftig einen

noch größeren Fokus auf das 1.700-TEU-Segment legen werde.

»Um sich in der Krise zu behaupten, gibt es nur zwei Wege: Über

die Größe oder indem man erfolgreiche eine Nische besetzt«, sagt

er. Dei Fusion erfüllt beide Kriterien.

Denn der neue Partner Buss Shipping liefert nun passende

Schiffe hinzu. Laut dem Unternehmen zählen derzeit 17 Containerfeeder

zwischen 880 und 2.800 TEU zur Flotte, darunter auch

vier Eco-Handysize-Designs der Wenchong Werft mit 1.700 TEU.

Zwei Neubauten dieser Größe werden noch dieses Jahr aus China

geliefert.

Hinzu kommen elf Feedermax-Schiffe mit 900, 1.000 und

1.100 TEU. Einzig die beiden 2.800er stören die Homogenität ein

wenig. VesselsValue gibt den Wert der gesamten Buss-Flotte mit

knapp 150 Mio. $.

Seit 2012 ist die Buss Gruppe zudem an der Schiffsmaklerei Walther

Möller & Co. (WMCO) beteiligt und seit 2015 deren alleiniger

Gesellschafter. WMCO ist auf die Befrachtung von zuletzt

rund 40 Container- und Mehrzweckfrachtschiffen spezialisiert

und agiert auch für Drittkunden.

INTERNATIONAL MARITIME JOURNAL

FORUM

SCHIFFFAHRT

FINANZIERUNG

Die »Hansa Cloppenburg« gehört zur Flotte von L & B

Die Fusion von Leonhardt & Blumberg und Buss Shipping ist

ein weiterer Schritt bei der Konsolidierung in der deutschen

Schifffahrt. Hier einige Beispiele:

• Die Hamburger Schifffahrtsunternehmen Komrowski und

Erck Rickmers bündeln Ende 2011 ihre Reedereiaktivitäten.

Es entsteht die neue Blue Star Holding mit damals

162 Schiffen.

• Die MPC-Gruppe übernimmt im April 2014 zusammen mit

Thien & Heyenga C.F. Ahrenkiel mit Reedereiaktivitäten in

Deutschland und Zypern.

• Im Januar 2016 wird die Reederei Buss aus Leer vom Bremer

Schifffahrtsunternehmen Liberty One übernommen.

• Im Mai 2016 übernimmt HCI Capital die Reederei Ernst

Russ im Zuge einer Kapitalerhöhung. Zuvor war bereits die

Fusion mit König & Cie. verkündet worden.

• Im November 2016 starten Marlow Navigation und Columbia

Shipmanagement Sondierungsgespräche für einen Zusammenschluss

beider Unternehmen, der im Laufe des Jahres

erfolgen soll.

• Im Dezember 2016 verkündet die Linnhoff Schiffahrt, dass

die beiden Schlepp-Reedereien URAG (Bremerhaven) und

Lütgens & Reimers an die spanische Boluda verkauft werden.

• Anfang Februar 2017 wird bekannt, dass die Bremer Zeaborn-Gruppe

die Rickmers-Linie aus Hamburg einschließlich

Nordana Projects übernimmt.

• Anfang März 2017 übernimmt Claus-Peter Offen die Conti

Unternehmensgruppe aus München mitsamt der Anteile

an der Bulker-Reederei BBG aus Bremen.

Mit der Reederei Aug. Bolten, als ein Hamburger Traditionsunternehmen

in der Bereederung und im Chartering von derzeit

35 Bulkern aktiv, hatte sich Buss bereits 1971 zusammengeschlossen

und hält bis heute 37 % der Anteile.

M

Foto: Thomas Wägener

HANSA International Maritime Journal – 154. Jahrgang – 2017 – Nr. 5 25
---
Schifffahrt | Shipping

LR2-Tanker dominieren Ablieferungen

Container- und Bulkschifffahrt haben in den letzten 20 Jahren eine enorme

Entwicklung bei den Schiffsgrößen durchgemacht. Auch die Analyse der seit

2000 abgelieferten Produktentanker zeigt eine tendenzielle Steigerung in

den Segmenten oberhalb von 20.000 dwt

INTERNATIONAL MARITIME JOURNAL

FORUM

SCHIFFFAHRT

FINANZIERUNG

Insgesamt umfasste die Flotte der Produktentanker

zum Anfang des Jahres

2017 5.181 Einheiten mit 98 Mio. dwt.

Grundsätzlich lassen sich in dieser Flotte

fünf Größensegmente erkennen: bis

zu etwa 12.000 dwt, Handytanker mit

Kapazitäten um 40.000 dwt und die »alten«

Panamaxfrachter mit Kapazitäten

um 75.000 dwt, die letzten beiden Segmente

sind Tanker mit Kapazitäten um

110.000 dwt bzw. 160.000 dwt. Für alle fünf

Größenbereiche lagen Anfang 2017 Bauaufträge

vor, die sich zu insgesamt 191 Einheiten

mit 11,6 Mio. dwt addieren.

Unterhalb 20.000 dwt

Im kleinsten Segment der Produktentankerflotte

fanden sich Anfang 2017 genau

3.972 Frachter mit einer Tragfähigkeit

unterhalb von 20.000 dwt. Davon wiesen

3.843 Einheiten eine Kapazität von weniger

als 12.000 dwt auf und stellten somit einerseits

den Löwenanteil der Produktentankerflotte

insgesamt und andererseits den

Großteil der Tankschiffe innerhalb des

kleinsten Segments.

Das Diagramm lässt erkennen, dass es

zwischen etwa 12.000 dwt und 45.000 dwt

bereits seit Jahren eine deutliche Lücke in

der Flottenstruktur gibt. Faktisch wird

diese Lücke durch rund 1.800 nochmals

vielseitigere aber eben auch entsprechend

teurere Chemikalientanker ein Stück weit

geschlossen.

Der vergleichsweise großen Flotte von

3.972 Schiffen bis 20.000 dwt stand Anfang

2017 ein Auftragsbestand von gerade

einmal 51 Einheiten gegenüber, der sich

im Wesentlichen auf das Jahr 2017 konzentrierte.

Danach fällt der Auftragsbestand

deutlich ab, was allerdings angesichts der

bei den kleinen Einheiten eher unproblematischen

kurzfristigen Auftragsvergabe

nicht weiter verwundert. Nachdem sich

um das Jahr 2010 herum einige Eigner

für Produktentanker mit Kapazitäten um

15.000 dwt interessiert hatten, beschränkte

sich das Investoreninteresse zuletzt wieder

auf Schiffe mit bis zu rund 12.000 dwt.

40.000 dwt

Bei den Handytankern zeigt sich ein typisches

Muster der Schiffsgrößenevolution,

dass auch in der Bulkerflotte zu beobachten

ist. Noch Anfang des Jahrtausends streuen

die Ablieferungen um etwa 40.000 dwt,

wobei der Mittelwert daraus resultiert, dass

einige Tanker Kapazitäten um 45.000 dwt

aufweisen und einige deutlich kleiner

(35.000 dwt) sind. Etwa seit der Finanzkrise

sind kaum noch Einheiten mit weniger

als 40.000 dwt in Fahrt gekommen, und die

Ablieferungs- und Ordertätigkeit hat sich

zuletzt auf Schiffe mit etwa 50.000 dwt verlagert.

Interessant ist, dass die letzte Einheit

hier im Jahr 2013 in Fahrt gegangen

ist. Somit klaff eine zeitliche Lücke zwischen

der letzten Ablieferung und der gemäß

Auftragsbestand unmittelbar bevorstehenden

Ablieferung weiterer Schiffe. Die

Neubauaufträge scheinen im Wesentlichen

von Eignern aus Fernost platziert worden

zu sein. Die Flotte von 20.000 dwt bis etwa

52.000 dwt umfasste Anfang 2017 insgesamt

553 Einheiten, der Auftragsbestand

belief sich dabei auf 44 Schiffe.

75.000 dwt

Das dritte Segment, die bisherigen

»Panamax«-Tanker, umfasste Anfang

2017 etwa 330 Einheiten mit Kapazitäten

von rund 52.000 dwt bis etwa 80.000 dwt.

Rund 300 Einheiten entfielen dabei auf den

Kernbereich von 67.000 dwt bis 80.000 dwt.

Hier zeigt sich im Zeitverlauf ebenfalls

eine von den Bulkern bekannte Entwicklung,

die Tragfähigkeit der Schiffsdesigns

wurde seit 2000 weiter ausgereizt.

Anfang des Jahrtausends verfügten die

abgelieferten Einheiten bei einer Breite von

knapp mehr als 32 m noch über eine Tragfähigkeit

von lediglich rund 71.000 dwt.

Bei gleicher Breite tasteten sich die Schiffseigner

bis zuletzt an Schiffe mit Tragfähigkeiten

knapp unter 77.000 dwt heran. Der

Flottenzulauf ist dabei 2014 und 2015 mit

Foto: Thomas Wägener

26 HANSA International Maritime Journal – 154. Jahrgang – 2017 – Nr. 5
---
40

20

Produktentankerablieferungen 2000-2016

Schifffahrt | Shipping

0

und Au9ragsbestand 2017ff nach dwt*

2000 2005 Stand Anfang 2010 2017 2015 2020

1.000 dwt

180

Flo,e Au0ragsbestand

Quelle: ISL 2017 auf Basis CRSL

* jeweils ohne exakte BerücksichLgung der unterjährigen Verteilung

160

140

120

100

80

60

40

20

0

2000 2005 2010 2015 2020

Quelle: ISL 2017 auf Basis CRSL

Flo,e

Au0ragsbestand

Quelle: ISL 2017 auf Basis CRSL

* jeweils ohne exakte BerücksichLgung der unterjährigen Verteilung

Produktentankerablieferungen 2000–2016 und Auftragsbestand 32017 ff nach dwt*

jeweils ohne exakte Berücksichtigung der unterjährigen Verteilung – Stand Anfang 2017

insgesamt lediglich sechs Schiffen fast zum

Erliegen gekommen.

Der Auftragsbestand (Anfang 2017:

48 Schiffe von 72.000 dwt bis 80.000 dwt)

weist eine durchschnittliche Tragfähigkeit

von rund 74.700 dwt auf. Nicht für alle Einheiten

ist dabei eine Breitenangabe vorhanden.

Überraschenderweise findet sich bei

knapp der Hälfte der bestellten Einheiten

mit bekannten Maßen die alte Panamaxbreite.

Diese Schiffe wurden zumeist

im Jahr 2015 geordert und damit eigentlich

im Bewusstsein der alsbald verfügbaren

größeren Schleusentore.

110.000 dwt

Das letzte, mit zahlreichen Einheiten besetzte

Segment sind die LR2-Produktentanker

mit einem Kernbereich von

105.000 dwt bis 119.000 dwt. Ein Großteil

(180) der insgesamt rund 280 Schiffe

des Kernbereichs wurde zwischen

2004 und 2013 abgeliefert. Nachdem sich

der Flottenzulauf 2013 und 2014 tendenziell

verlangsamt hatte, ging in den Jahren

2015 und 2016 jeweils wieder eine größere

Anzahl Tankschiffe in Fahrt. Auch

der Auftragsbestand ist hier mit 44 Einheiten

noch vergleichsweise gut bestückt.

Die fahrenden Schiffe streuen tendenziell

um eine Breite von 44 m. Bei den bestellten

Einheiten mit bekannten Ausmaßen

haben die Auftraggeber vor allem auf

eine Breite von 44 m gesetzt (bei Längen

um etwa 250 m).

160.000 dwt

Das größte Segment umfasste in der ISL-

Flottendatenbank (auf Basis von Clarksons-Daten)

Anfang 2017 14 Produktentanker

mit Kapazitäten von etwa 150.000 dwt

bis rund 164.000 dwt. Ergänzend lagen vier

Bauaufträge für Produktentanker mit jeweils

rund 158.000 dwt vor. Bis auf weiteres

scheint es so, dass diese Schiffe ihre Nischenrolle

beibehalten dürften.

Fokussierung bei Investoren

Die Investorennachfrage nach den einzelnen

Größensegmenten der Produktentankerflotte

hat in den letzten zehn Jahren

eine erkennbare Fokussierung aufgewiesen.

Die Evolution der Größenbereiche

scheint somit weniger eine radikale Verlagerung

oder Neuerfindung zu sein als vielmehr

eine Hinwendung zu den größten der

Abstract: LR2 tankers prevail in deliveries

bereits fahrenden Typen in den einzelnen

Segmenten oberhalb von 20.000 dwt.

Die LR2-Tanker waren oberhalb von

20.000 dwt in den letzten drei Jahren das

Segment mit den meisten Ablieferungen –

sowohl bezüglich der Tonnage als auch mit

Blick auf die Anzahl. Interessanterweise

scheint die Lücke zwischen den alten Panamax-Typen

und den LR2-Produktentankern

zunächst nicht durch Neubauten geschlossen

zu werden. Ebenfalls bemerkenswert ist

das belebte Interesse an den MR-Typen mit

Kapazitäten um 47.000 dwt nach dem faktischen

Ablieferungsstopp im Jahr 2013.

Die hier entstandene Ablieferungslücke hat

durchaus Seltenheitswert.

Autor: Michael Tasto

Institut für Seeverkehrswirtschaft und

Logistik (ISL)

tasto@isl.org

The analysis of product tankers delivered since 2000 shows an increase in the segments

above 20,000 dwt. For tankers below this capacity, vessels of less than 12,000 dwt

have the lion's share while chemical tankers compensate for the gap in the range up

to 45,000 dwt. Deliveries planned after 2017 are declining. Handysize tankers in the

40,000 dwt range have been ordered from the Far East lately while previous panmax

tankers have been optimized for more capacity. As for 105,000 dwt to 119,000 dwt

LR2 product tankers, fleet renewal has slowed down. The largest vessels (160,000 dwt),

some 14 product tankers still operate in a niche with four newbuildings ordered.

Further information: redaktion@hansa-online.de

HANSA International Maritime Journal – 154. Jahrgang – 2017 – Nr. 5 27
---
Schifffahrt | Shipping

INTERNATIONAL MARITIME JOURNAL

FORUM

SCHIFFFAHRT

FINANZIERUNG

Foto: BMWi

Harmonische Uneinigkeit an der Oberfläche

Bei der Nationalen Maritimen Konferenz in Hamburg üben Politik und Wirtschaft

den zukunftsorientierten Schulterschluss. Doch nicht nur Angela Merkels mahnende

Worte legen auch grundlegende Differenzen frei. Von Michael Meyer

Es gab lobende Worte, es gab optimistische

Worte, und es gab – wenn auch weniger –

kritische Worte. Weitgehend einig waren sich

Politik und Wirtschaft in der positiven Bewertung

des Potenzials innovativer Technologien

und der Digitalisierung, das Zauberwort

schlechthin, zumindest aus Sicht der Volkvertreter.

Unter der Oberfläche wurde aber auch

die Uneinigkeit in der Bewertung von kurzund

langfristigen Notwendigkeiten deutlich.

Die Regierungsvertreter versuchten klarzustellen,

dass man sehr viel für die Branche

tue und übten sich in Weitsicht. »Nur mit

modernen Produkten können wir bestehen.

Wir dürfen nicht nur den Standard halten,

sondern müssen ihn ausbauen. Genau das

adressiert die Maritime Agenda 2025«, sagte

Uwe Beckmeyer, als Maritime Koordinator

der Bundesregierung auf Abschiedstournee.

Wunderbar sei, dass man Politik, Wirtschaft

und Gewerkschaften bei der »Gemeinsamen

Erklärung« an einen Tisch bekommen

habe. Man wolle Vorreiter sein: »Wir sind

nicht mehr diejenigen, die den Finger in die

Luft halten und schauen, woher der Wind

kommt, sondern diejenigen, die den Propeller

selbst anwerfen.« Enak Ferlemann, Staatssekretär

im Bundesverkehrsministerium ergänzte,

er sei froh »über die gute Stimmung«

auf der NMK: »Damit schicken wir ein kraftvolles

Bild in die Gesellschaft

Auch Bundeskanzlerin Angela Merkel

hatte für die Schifffahrtsindustrie salbungsvolle

Worte mitgebracht. Zulieferindustrie,

Werften, Häfen – all diese Bereiche

sieht die deutsche Kanzlerin technologisch

gut aufgestellt. Damit das auch so bleibe,

habe die Regierung Einiges getan: »Ich

glaube, wir dürfen mit Fug und Recht sagen:

Die Bundesregierung, aber auch die

Bundesländer, unterstützen die Branche

»Wir sind nicht mehr

diejenigen, die den Finger

in die Luft halten und schauen,

woher der Wind kommt,

sondern diejenigen, die den

Propeller selbst anwerfen«

Uwe Beckmeyer

Maritimer Koordinator

der Bundesregierung

bei der Neuausrichtung«. Zu den wichtigsten

Instrumenten zählte die CDU-Politikerin

die »Maritime Agenda« – die allerdings

schon zu Jahresbeginn von den Verbänden

als nicht ausreichend kritisiert worden

war – die »Maritime Energiewende« und

die »Gemeinsame Erklärung« zur Standortsicherung.

Merkel ergänzte, dass angesichts

der schwierigen Rahmenbedingungen

und der ständigen Notwendigkeit der

Anpassung es auch Unsicherheiten bei den

Beschäftigten gebe. »Wir wollen helfen, ihnen

diese Unsicherheit zu nehmen. Denn

wenn die Fachkräfte einmal weg sind, ist

es schwer, sie zurückzubekommen«, so die

Regierungschefin weiter.

Deutschland genieße hohes Ansehen,

wenn es um innovative Technologien gehe.

Das sei auch gut so, Deutschland befürworte

verbindliche Klimaschutziele. »Wir

setzen uns dafür ein, dass die Schifffahrt

noch umweltfreundlicher wird. Und wir

schätzen Ihre Anstrengungen sehr«, sagte

die Kanzlerin.

Zuvor hatten bereits Verkehrsminister

Alexander Dobrindt und Wirtschaftsministerin

Brigitte Zypries die Errungenschaften

für die Branche hervorgehoben.

Die Industrie solle fit gemacht werden für

die digitale Revolution. »Die maritime

Wirtschaft steht mit der Digitalisierung

vor einer echten Effzienzrevolution. Jetzt

geht es darum, damit verbundene Potenziale

zu nutzen und unsere Wettbewerbsfähigkeit

digital zu behaupten. Dafür starten

wir ein umfangreiches Maßnahmenpaket

und investieren kräftig: Wir bauen die Gigabit-Netze

der Zukunft, investieren dafür

350 Mio. €, fördern die Digitalisierung der

Häfen im IHATEC-Programms und unterstützen

die Ideen von Startups für die

Schifffahrt 4.0.«, sagte der bayrische Politiker.

Darüber hinaus starte das Deutsche

Maritime Zentrum in Hamburg, um die

28 HANSA International Maritime Journal – 154. Jahrgang – 2017 – Nr. 5
---
Schifffahrt | Shipping

Kompetenzen von Bund, Ländern und Gewerkschaften

zu koordinieren.

Die deutschen Reeder sehen in der die

Digitalisierung ebenfalls großen Chancen.

Alfred Hartmann, Präsident des Verbandes

Deutscher Reeder (VDR) sagte, mithilfe

der Daten von Hunderten Sensoren an Bord

könnten Reedereien ihre Schiffe effzienter

einsetzen. Gleichzeitig monierte er allerdings

einen Nachholbedarf auf politischer

Seite: »Wir brauchen zuverlässiges Breitbandinternet.

Auch die öffentliche Verwaltung

braucht einen Digitalisierungsschub.«

Im Gegenzug fand die Kanzlerin auch

kritische Worte für die Reedereien: »Wir

wünschen uns, dass sich die Bedeutung

Deutschlands auch in der Beflaggung widerspiegelt

und dass wieder mehr Schiffe

deutscher Reeder unter deutscher Flagge

fahren.« Sie wisse, dass die Konkurrenz im

Weltmarkt sehr groß sei, aber: »Wir haben

den Reedern ein deutliches Zeichen gegeben

und erwarten, dass diese Reeder nun

entsprechend reagieren«, so Merkel.

Der Zentralverband der deutschen Seehafenbetriebe

(ZDS) zog ein erstes positives

Fazit. »Die klaren Aussagen der Bundeskanzlerin

und der Bundesminister – ob zu

IHATEC, Handelspolitik oder dem Digitalen

Testfeld Hafen – und die Erklärung zur Digitalisierung

bilden im Zusammenspiel mit

dem Nationalen Hafenkonzept, dem Bundesverkehrswegeplan

und der Maritimen Agenda

einen optimistisch stimmenden Rahmen

für das Arbeitsprogramm der nächsten Bundesregierung«,

teilte der Verband mit.

Ein Kernproblem der politischen Begleitung

ist jedoch der zeitliche Ansatz, wie sich

auch bei der NMK zeigte. Abgesehen vom

Hafengeschäft sind die Initiativen vor allem

mittel- bis langfristig wirksam. Die »Maritime

Agenda 2025« trägt einen der Mängel

bereits im Namen. Viele Zulieferer kämpfen

allerdings gegen ein eingebrochenes Orderbuch.

Nicht wenige fordern mittlerweile

konkrete politische Unterstützung, weil

Investitionen in die Zukunft, die eher mittel-,

wenn nicht sogar nur langfristig Abhilfe

schaffen könnten, angesichts der knappen

Kassen teilweise gar nicht möglich sind.

Entsprechend war die Stimmung bei einigen

der Wirtschaftsvertreter nicht so überschwenglich,

wie etwa bei Enak Ferlemann.

Das Verkehrsministerium setzt dennoch

auf Innovationen. Im Rahmen der Konferenz

startete er eine Initiative zur »maritimen

Energiewende« mit den Schiffau- und

Zulieferverbänden VSM und VDMA.

Deutlich kritischere Worte fanden fast

ausschließlich Oppositionspolitiker, vor

allem Valerie Wilms von den Grünen – sowohl

in Richtung Politik, als auch an die

»Ich hasse es,

wenn nur dann etwas

umgesetzt wird, wenn das

Füllhorn öffentlicher

Förderung sich öffnet«

Valerie Wilms

Bundestagsabgeordnete

Bündnis90/Die Grünen

Wirtschaft gerichtet: »Ich hasse es, wenn

nur dann etwas umgesetzt wird, wenn das

Füllhorn öffentlicher Förderung sich öffnet«,

so die Politikern weiter. »Warten

sie nicht auf die Politik, da können sie

manchmal lange warten.« Darüber hinaus

monierte sie die Unentschlossenheit

der Behörden. Die Politik betone

stets die Potentiale der LNG-Nutzung,

tue aber zu wenig: »Ich habe keinen

Bock mehr darauf, dass deutsche Behördenschiffe

mit Schweröl fahren.« Zustimmung

bekam sie vom SPD-Bundestagsabgeordneten

Johannes Kahrs: »Mich wundert,

dass das Verkehrsministerium nicht aus

dem Quark kommt.«

Ebenfalls sichtbar wurde der schmale Grat

zwischen Schulterschluss und direkter oder

indirekter Subventionspolitik. Prinzipiell

lehnt die Wirtschaft allzu tiefe Eingriffe ab.

An einigen Stellen wünscht sich so Mancher

aber ein stärkeres Engagement, sozusagen

als Anschub für die Umsetzung neuer

Technologien.

Ein Beispiel lieferte Rolf Habben Jansen,

CEO von Deutschlands größter Linienreederei

Hapag-Lloyd. Auf der NMK sprach

er über LNG in seiner Flotte. Noch sei das

kein guter »Business Case«, und das werde

auch noch einige Jahre so bleiben. Nach wie

vor gebe es ein gewisses finanzielles Risiko.

Auch mangele es an der Bunker-Infrastruktur

und an unterstützenden Rahmenbedingungen.

»Alles was unterstützen kann, hilft

uns, beispielsweise reduzierte Hafengebühren«,

so Habben Jansen.

Angela Merkel nahm auf der NMK

die deutschen Reeder in die Pflicht

MAN-Chef Uwe Lauber blies ebenfalls in

dieses Horn und forderte eine stärkere Förderung

umweltfreundlicherer Technologien.

Habben-Jansen sprach sich allerdings eindeutig

gegen nationale oder regionale »Sonderinitiativen«

aus. Die globale Politik müsse

über die Internationale Schifffahrtsorganisation

IMO den nötigen Rahmen setzen. Auf

Deutschland bezogen machte Beckmeyer

klare Grenzen deutlich. »Wir brauchen ein

einheitliches Regime, keine verschiedenen

Hafenordnungen.« Zudem könne der Staat

nicht für die Bunker-Infrastruktur sorgen:

»Da muss die Wirtschaft ran.«

Ansonsten wurden allzu kritische Töne

eher ausgespart, zumindest an der Oberfläche

der Konferenz. Im Hintergrund gab es

durchaus tiefergehende Gespräche, auch im

Vorfeld der NMK bei den Branchendialogen.

Dafür ist die NMK vielleicht auch nicht der

richtige Ort. Ob man dann ein solch großspuriges

Format wählen muss – auch mit

Blick auf die zum Teil sehr angespannte wirtschaftliche

Lage der Branche, ist eine andere

Frage. Die Grünen-Politikerin Wilms brachte

es auf den Punkt: »Wahlkampfreden können

wir machen ohne Ende, aber es kommt

darauf an, was rauskommt.«

M

Lesen Sie weitere Details zur NMK auf

www.hansa-online.de

Abstract: German National Maritime Conference between harmony & discordance

Politics and economic players sought common ground presenting harmony while differences

continue backstage, as a speech by chancellor Angela Merkel revealed. Politics and the

economy agreed on the vast potential of digitization, while politicians stressed the industry's

path towards innovation. Merkel said the industry's realignment was supported by

the government. In contrast, the common maritime agenda has been judged insuffcient

by leading industry associations prior to the event. Merkel called for more ships flying the

German flag in return. Subsidies were another big issue, also bunker infrastructure and

port fees.

Further information: redaktion@hansa-online.de

Foto: BMWi /

Maurice Weiss

HANSA International Maritime Journal – 154. Jahrgang – 2017 – Nr. 5 29
---
Schifffahrt | Shipping

Europe at risk of losing ground

INTERNATIONAL MARITIME JOURNAL

FORUM

SCHIFFFAHRT

FINANZIERUNG

The traditional shipping centres in in the EU are still a heavyweight in the

maritime world, but competition is catching up. Regulators have to review

EU policy as emerging shipping hot spots gain appeal for international owners and operators

While in general the EU offers a competitive

framework for shipping,

some specific policies are less competitive

compared to other leading shipping centres.

Monitor Deloitte, commissioned by

the European Community Shipowners'

Association, has compared the EU to Singapore,

Hong Kong, Dubai, Shanghai, and

Vancouver. The analysts have devised a set

of policy recommendations on how to improve

Europe as a shipping location.

In November 2016, EU28 and Norway

owned 36.5% of the gross world tonnage,

whereas 46.2% were operated from

the same countries. However, compared to

the international growth centres, the EU is

experiencing a slower growth in terms of

the tonnage operated and owned. In recent

years, the EU has just been able to keep up

an annual growth rate equal to the world

average, while the most important international

shipping centres outside the EU have

had strong annual growth rates.

To what extent do European policies

support the long-term global competitiveness

or are they in fact contributing to the

relocation of companies activities as well

as further de-flagging outside Europe? Monitor

Deloitte found a number of important

gaps where the EU offers less attractive

or consistent policies.

Taxation and fiscal incentives

The ease of relocation of activities in combination

with the aggressive fiscal incentives

that other international centres offer suggest

that effective taxation is a »sine qua non

condition« to maintain a sizeable market

share. The current regime facilitated

by the Community Guidelines

on State aid to maritime transport

(2004/C 13/03, SAGs) provides for a relatively

competitive European shipping sector.

But Monitor Deloitte's analysis reveals

that the EU framework is less competitive

with regard to several elements, including

eligibility criteria relating to the flag requirement

and the current ring-fencing

put in place by the European Commission.

The requirement of a flag link in the tonnage

tax regime is restricting the operational

freedom of owners and operators in the EU,

even though the SAGs contain a pragmatic

degree of flexibility regarding the use of EU

flags. In general, the choice of a flag is determined

by the standards practiced by the administration

as well as by costs and bureaucracy.

EU flags might not always provide the

most attractive commercial framework, and

requirements could lead to increased operating

costs or lack of market access.

Furthermore, the economic value of belonging

to a quality EU register for shipowners

has been eroded by the high level

of international harmonisation. Hence, by

insisting on a flag link eligibility requirement

for the special fiscal treatment, the

EU will lose attractiveness.

Economic and political factors

A significant gap has been identified, relating

to the application and legal status of

the SAGs. While in their current form they

provide a good framework, the freedom

of member states to tailor the framework

to their needs is restricted. The EU and

national interpretation of the SAGs is

based on legal grounds, but lacks flexibility,

whereas international centres

are often much more pragmatic

and business-friendly. This problem

is reinforced by the fact that

the SAGs are easily amenda-

?

30 HANSA International Maritime Journal – 154. Jahrgang – 2017 – Nr. 5
---
5 Fragen an …

Schifffahrt | Shipping

ble from a EU perspective and that there

are no explicit periods of applicability. For

long-term business decisions these factors

give rise to uncertainty due to a perceived

risk of interpretative policy change.

In some of the centres (Hong Kong and

Vancouver), rules governing fiscal treatment

are written in primary legislation,

and perceived policy risks are marginal.

Monitor Deloitte sees a need for a

comprehensive policy for shipping with

a focus on supporting the global competiveness

of the sector. While emphasising

the inherent global nature of shipping,

the current maritime transport

strategy focuses on waterborne transport

internal to the EU. The global challenge

to EU shipping requires a more

globally oriented policy that should cut

across policy fields like transport, taxation,

environment, etc. and thereby cover

the key competitiveness factors.

Professional services and skills

There is a marked difference between the

EU and the five benchmarked centres, except

Shanghai, at a more fundamental level

in the way that professional services are actively

included in policies. In four centres,

the core ambition is to support the development

of high value-added professional

service jobs around the core shipping operations

in order to develop the maritime

cluster and its competitiveness. The EU

does not have a similar policy in place.

There is no significant financial gap in

the EU regulatory framework for subsidies

to training or to the labour-related costs

such as provisions on exemption of seafarers'

income tax and exemption of social

contribution payments. However, there is

a gap regarding the scope of the training.

Within the EU, this is solely focused on EU

seafarers, whereas the scope in other centres

is wider and also includes upskilling

in the maritime professional services sector

and other onshore-based jobs.

Flag attractiveness

There are possible important policy gaps

that may affect competitiveness negatively

and possibly lead to relocation of

activities and de-flagging to outside the

EU. These are, among others, caused by

a problematic introduction of EU legislation

for international shipping and thereby

introduction of different standards for

EU flags and shipowners, causing additional

administrative and technical requirements.

Furthermore, some EU registers

still stipulate specific nationality

requirements and crewing restrictions

that also lead to increased economic and

administrative burdens. Lastly, there is a

lack of cross-member state digital solutions

that would allow EU shipping companies

to benefit specifically from being

registered under an EU flag.

Deloitte warns about the implementation

of regulations outside IMO/ILO as they increase

the operating costs relative to flag

states, such as Singapore. The city state has

strategies to ensure that the regulation does

not go beyond the international standards

or further restrict operations through additional

national requirements. This leads

to lower operational costs and higher flag

attractiveness.

Ease of doing business

Monitor Deloitte identified policy gaps

that relate to the lack of focus on ease

of doing business for shipping companies

involved in global activities. The

international centres provide examples

of an approach where the perspective is

global and as much on facilitating activities

from abroad as on facilitating only

internal activities. It also seems that a

customer-related approach such as a

one-stop shop, etc, is still missing rather

often within the EU and its member

states and the administrations involved.

Availability of finance

There is a number of policy gaps relating

to the focus on mainly intra-EU

investment support, the lack of transparency

surrounding EU financial offerings,

high administrative complexity

and the uncertainties surrounding the

new Basel regulations and their implications

on ship financing through EUbased

banks.

It is stressed that approximately 70% of

the EU fleet are private enterprises that

rely primarily on commercial bank financing.

The current regulatory framework

for bank financing is already restrictive,

and the Basel IV proposals will make

ship financing from banks even more

scarce. With regard to the proposed Basel

IV regulations, Monitor Deloitte sees

a need to include the consideration of the

repercussions in the EU, especially on

SME shipowners and operators who traditionally

rely heavily on bank loans. This

is in contrast to non-EU shipping companies

that have more options for financing

besides the traditional bank loans. ED

Carsten Gierga

Geschäftsführer

EuroFlag Services –

Agent für das Register Luxemburgs

»Wir brauchen ein level playing field«

Was sollte sich in der EU-Flaggenpolitik

ändern?

Carsten Gierga: Wir würden uns ein »level

playing field«, also einheitliche Standards

bei den Grundsatzfragen und deren einheitliche

Einhaltung wünschen. So gibt es beispielsweise

eine erhebliche Diskrepanz bei

der Verpflichtung zur Sozialversicherung.

Eine aktuelle Deloitte-Studie bemängelt

fehlende digitale Lösungen von EU-Flaggen.

Was ist Luxemburgs Antwort darauf?

Gierga: Über die Auswertung digitaler Positionsdaten

stellt Luxemburg unter anderem

ein spezifisches Vorbereitungsprogramm

für Hafenstaatskontrollen bereit.

Darüber hinaus können Zertifikate für Seeleute

komplett digital beantragt werden.

Länder wie Singapur achten darauf, dass

ihre Flaggen-Anforderungen nicht über

internationale Standards hinausgehen.

Wie ist es im Register Luxemburgs?

Gierga: Luxemburg begleitet den technischen

Zustand der Schiffe und die Einhaltung internationaler

Standards aktiv. Im Bereich der

Arbeitsbedingungen der Seeleute hat Luxemburg

MLC frühzeitig ratifiziert und wendet

europäisches Recht für die EU-Seeleute an.

Wie wichtig ist den Reedern das Argument

»Kosten« im Vergleich zum Service?

Gierga: Das Kostenargument wiegt aktuell

sehr schwer, aber auch hier ist Luxemburg

im EU-Vergleich durchaus konkurrenzfähig

und bietet weitreichenden Service.

Welche Entwicklung erwarten Sie?

Gierga: In den letzten lief es positiv, neue

Schiffe kamen zur Flotte hinzu, auch europäische.

Der Beginn des Jahres 2017 verlief

recht erfreulich, und gerade jüngst haben

einige Schiffe europäischer Eigner zur Flagge

Luxemburgs gewechselt, unter der aktuell

222 Schiffe fahren. Das Register wird

wohl keines der weltweit größten werden,

wer aber unter einer EU-Flagge fahren will

und Wert auf Service legt, findet in Luxemburg

ein konkurrenzfähiges Register mit

einem weltweiten Service-Netzwerk vor.

HANSA International Maritime Journal – 154. Jahrgang – 2017 – Nr. 5 31
---
Schifffahrt | Shipping

Herausforderung »LNG« im Chartervertrag

Insbesondere im Schiffsbetrieb ist der Einsatz von LNG trotz der

prinzipiellen Attraktivität als alternativer Kraftstoff immer noch eine

Herausforderung. Eine Reihe von technischen Besonderheiten müssen

auch in Chartern berücksichtigt werden. Es gibt einige Aspekte, die bei

der Verhandlung und der Gestaltung der Klauseln zu bedenken sind

INTERNATIONAL MARITIME JOURNAL

FORUM

SCHIFFFAHRT

FINANZIERUNG

Zeitchartern erfordern dabei besondere

Aufmerksamkeit, da hier die Verantwortung

für die »Infrastruktur« (beim Reeder)

sowie die Treibstoffeschaffung und

den kommerziellen Einsatz (jeweils beim

Charterer) genau zu regeln sind. Bei einer

Reisecharter hingegen stehen Einsatzgebiet

und Ladung schon weitgehend fest, während

der gesamte Schiffsbetrieb dem Reeder

obliegt. Hier gibt es also deutlich weniger

Schnittstellen mit Streitpotenzial.

Schon bei der Schiffsbeschreibung

ist in einer Zeitcharter

größte Sorgfalt geboten.

Ungenauigkeiten

oder Fehler

können später zu

erheblichen Aus-

Foto: VWAm Fot

wikimedia commons

einandersetzungen zwischen den Parteien

führen. Neben der Bezeichnung des LNG-

Tanktyps muss vor allem dessen Kapazität

benannt werden. Zusammen mit den

ebenfalls anzugebenden Verbrauchswerten

des Schiffes ergeben sich so dessen

Einsatzradius und damit eine wesentliche

Planungshilfe für den Charterer. Denn er

wird anhand dieser Daten zumindest in

Zeiten unterschiedlich guter Betankungsinfrastruktur

seine Reisen planen.

Bei der Beschreibung des LNG-

Tanktyps dürfte aus Sicht des Charterers

als demjenigen, der in der

Regel für die Bezahlung des Treibstoffes

verantwortlich ist, wichtig

sein, auch die nominale LNG

Boil-Off-Rate (die Gasverlustrate

aus dem

Tank) aufzunehmen.

Diese wird bei

doppelwandigen,

vakuumisolierten

Tanks regelmäßig

bei 0,1–0,3 %

pro Tag liegen. Es

sind Situationen

denkbar (bspw. ausschließliche

Nutzung

von HFO bei einem Dual-

Fuel-Schiff), in denen das Boil-Off-

Gas nicht genutzt wird. Liegt die

Rate dann über dem in der Schiffsbeschreibung

angegebenen Wert, kann

ein unzulässiger »Mehrverbrauch«

des Schiffes mit der Folge von Ersatzansprüchen

vorliegen.

Soweit es die Verbrauchswerte des

Motors angeht, sollten die Regeln aus

»herkömmlichen« Chartern übernommen

werden können. Zu denken ist also an die

genaue Festlegung der Strecken, zwischen

denen der Verbrauch gemessen wird (keine

Revierfahrt), Toleranzen (»about«), Einflüsse

von Strom, Welle und Wind. Genauso wie

mit »normalem« Kraftstoff, können Ungenauigkeiten

oder Fehler hier zu einer späteren

Haftung des Reeders führen.

Weiter dürfte eine Regelung zur Kraftstoffqualität

sinnvoll sein.

Die Zusammensetzung von LNG unterscheidet

sich je nach Provenienz insbesondere

in der Methanzahl und dem unteren

Heizwert, der direkten Einfluss auf den

Kraftstoffverbrauch hat. Gerade die Methanzahl

muss jedoch den Vorgaben des

Maschinenherstellers entsprechen, um eine

optimale Verbrennung des LNG zu gewährleisten.

Ob tatsächlich Verbrennungsprobleme

bei Verwendung verschiedener LNG-Zusammensetzungen

eintreten, scheint derzeit

noch unklar.

Problematisch ist an dieser Stelle auch,

dass ein Sampling des LNG beim Bunkern

nicht möglich ist und sich alle Parteien ausschließlich

auf das vom Lieferanten bereitgestellte

LNG-Zertifikat verlassen (müssen).

Es bietet sich daher an, zu vereinbaren, dass

die LNG-Qualität den Angaben des jeweiligen

Maschinenherstellers zu entsprechen

hat. Sollte es durch die Verwendung anderer,

ungeeigneter LNG-Qualitäten zu Schäden

an den Maschinen oder sonstigen Anlagen

des Schiffes kommen, stünden dem Reeder

Ersatzansprüche zu. Zumindest bei Dual-

Fuel-Schiffen wird außerdem auch eine

Qualitätsregelung für den Dieselkraftstoff

interessant sein. Dabei dürfte weniger

die Verwendung von Diesel als Pilotöl

eine Rolle spielen als vielmehr der ebenfalls

mögliche reine Dieselbetrieb.

Ein weiteres vertragsrelevantes Thema

sollte der Umgang mit Problemen

bei der Versorgung des Schiffes mit LNG

sein. Einheitliche Standards müssen sich

noch etablieren genauso wie eine allgemein

verfügbare gute Infrastruktur. Hier

wird es regelmäßig dem Zeitcharterer obliegen,

dem Lieferanten mitzuteilen, welches

Equipment und welche dazugehörige

Technik sich an Bord befinden.

Ebenfalls in diesen Problemkreis fällt

das Risiko von zu niedrigen Betankungsraten

wegen etwa eines zu geringen Tankrohrdurchmessers

oder des Anlaufens

eines Hafens, in dem die Betankungsmöglichkeiten

mit LNG nur rudimentär sind.

Es muss daher geregelt sein, wer welches

Risiko trägt, wobei dieses und die damit

einhergehenden zeitlichen Verzögerungen

32 HANSA International Maritime Journal – 154. Jahrgang – 2017 – Nr. 5
---
Schifffahrt | Shipping

Abstract: LNG, a challenge to charter contracts

LNG is still a challenge. A number of technical features have to be taken into consideration

in chartering. This affects the negotiation process and the design of clauses. Time charter

requires special attention. The charterer has to take care of the provision of bunker and

commercial operations while the shipowner is responsible for the infrastructure – thus a lot

has to clarified. Boil-off rate and unacceptably increased fuel consumption are key words

in this debate. In this respect, margins have to be defined. Otherwise, if rules from established

contracts are not amended for a concrete operational area, shipowners may be liable

for overconsumption. As for the quality of the bunker, all parties rely on the suppliers.

Here, new standards have to be found. Compensation for environmental friendly operations

is also worth considering.

Further information: redaktion@hansa-online.de

bzw. Mehrkosten bei der Bebunkerung mit

Marinediesel wohl zu Lasten des Charterers

gehen dürften. Schließlich ist dieser

auch für den Schiffsfahrplan verantwortlich

und muss daher für einen »betankungsfreundlichen«

Einsatz sorgen.

Aber auch bei der Charterrate ist Regelungsbedarf

denkbar. Neben den umweltrechtlichen

Anforderungen ist ein Anreiz

für einen LNG-Antrieb trotz höherer Bau-/

Umrüstungskosten die erwartete Kostenersparnis

im Betrieb. Dass ein Charterer allein

wegen der Antriebsart eine höhere Rate

bezahlt, ist unwahrscheinlich. Daher könnte

ein Reeder etwa für die Bestimmung der

Charterrate als zusätzliches Element einen

dynamischen Verteilungsschlüssel basierend

auf der Preisdifferenz zwischen LNG

und Marinediesel vorschlagen. So könnte

man vorsehen, dass die Charterrate in einem

bestimmten Verhältnis zur Preisdifferenz

ansteigt. So partizipieren beide Parteien

an fallenden Betriebskosten.

Viele Fragen sind also zu bedenken und

zu klären. Neben den genannten dürften

auch Themen wie Crew-Training, Fahrtgebietseinschränkungen

und vieles mehr regelungsbedürftig

sein. Gerade weil es bislang

noch an Erfahrung fehlt, muss auf

eine präzise Vertragsgestaltung geachtet

werden. Für die ersten »Anläufe« sollten

sich daher die Parteien Zeit für die Verhandlung

nehmen und – idealerweise –

eine Überprüfung der Praxistauglichkeit

der Charter nach einem bestimmten Zeitraum

vereinbaren. So wäre dem zu erwartenden

Lerneffekt beider Vertragsseiten

Rechnung getragen.

Autoren:

Rechtsanwältin Hendrikje Herrmann

Rechtsanwalt Tobias Eckardt

Rechtsanwalt Martin Rosenzweig

Ahlers & Vogel Rechtsanwälte PartG mbB

rosenzweig@ahlers-vogel.de

RESERVE YOUR STAND NOW!

OIL & GAS OFFSHORE SHIPBUILDING MARINE

45 COUNTRIES / 1,000 COMPANIES, 2,200 BOOTH

90 COUNTRIES / OVER 4,500 VISITORS

15 NATIONAL PAVILIONS

ORGANIZED BY

REED K. FAIRS LTD.

TEL 02-554-3010 FAX 02-556-9747

E-mail daeun.kim@reedkfairs.com

www.kormarine.com

PLATINUM SPONSER

HANSA International Maritime Journal – 154. Jahrgang – 2017 – Nr. 5 33
---
Nor-Shipping

Nor-Shipping enables a glimpse

at the future maritime universe

The upcoming leading maritime event will seek more for less –

more digital, more innovative and more forward-looking to ride

the various storms of crisis and competition by profound change.

By Sverre Gutschmidt

34 HANSA International Maritime Journal – 154. Jahrgang – 2017 – Nr. 5
---
Nor-Shipping

Exhibitors from more than 80 countries

will network at Nor-Shipping, one of

the world's leading maritime fairs from

30 May to 02 June. Oslo will be »the center

of the maritime universe again for a week,«

as an attendee says. The fair is expected to

attract 35,000 visitors. About 1,000 maritime

companies from all over the globe will

present products and services.

This year at the biannual event, the innovative

1.7 km Stad Ship Tunnel has become

a symbol for Norway's course on the peak

of shipping (see pages 46-47). Going forward

as a catalyst for change is what Nor-

Shipping will be about this year. In

2015 the fair celebrated its 50 th anniversary.

Since then, the mood in

the industry has changed. While

signs of crisis cloud many maritime

business areas, future opportunities

and smart operations will be

more pressing issues than before.

Birgit Liodden, the young Director

of Nor-Shipping, has chosen

the term »Disruptive Sustainability«

to rise to the challenges ahead.

She wants to trigger a new wave of

digital maritime solutions. Hall A

will be dedicated to this topic: »The

Disruptive Sustainability Hall will

be dark and immersive, creating

an »Enter the Ocean Space« experience

and feature an exciting

Disruptive Room dedicated to exploring

new insights,« says Project

Manager Sofia Fürstenberg.

Disruptive Talks will look into future

markets and technologies. Liodden

says, Nordic countries will

lead the way through heavy seas

which urge for transformational

change and see the potential as

»home of disruption«. This change

towards cleaner, more effcient operation

and the digital revolution

will be presented as intrinsically

tied to the development of shipping

as a global industry.

The exhibition will feature

theme parks in six halls which

group industry segments. Totalling

22,500 m2 the fair will address

the guiding theme Disruptive Sustainability,

but also IT and Navigation,

Safety and Rescue, Shipbuilding

and Repair, Maritime Services

& Logistics and the sixth hall will

showcase Propulsion and Machinery.

This time, 20 national pavilions

add to the experience.

The influence of a new digital

world will be traceable more than

in prior Nor-Shipping events: The industry

faces new applicants for an Uber of

shipping, big lines like Maersk accelerate

digitalisation while drones offer new markets

as a recent extensive contract between

Martec Marine and the European Safety

Agency shows. At the same time, Amazon

and Google steer a course into shipping

and give proof of the potential influence

from outside.

Looking at the trends in Oslo, additive

manufacturing also known as »3D printing«

is at the doorstep. Nor-Shipping will

investigate steps to reproduce components

instantly and provide spare parts aboard.

Forecasts show gas related shipping could

expect growth. Japan will send a high level

hydrogen delegation. »Clean maritime fuels

are the future and we, at Nor-Shipping,

want to play our part in realizing their

huge potential,« Liodden says. Cleantech

companies will be strongly represented in

hall A. Green ferry pioneer »Vision of the

Fjords« will be at the Festival Street Harbour

to provide a live experience in battery

powered drive technology. Nor-Shipping

aims at triggering a new green propulsion

era. Cleantech will be a top priority

HANSA International Maritime Journal – 154. Jahrgang – 2017 – Nr. 5 35
---
Nor-Shipping

for Energy majors: Shell and Total recently

announced to foster LNG as

a marine fuel. The SEA\LNG alliance

will be in Oslo and other

cross-industry alliances will

formulate goals.

This is why Nor-Shipping

is among the top maritime

networking events. To stay

in touch with latest sectoral

innovation, 200 different

conferences, seminars,

executive meetings

and social events are on the

agenda. Experts will discuss

»The Dry Bulk Market – On

a recovery track?« or »Green

Coastal Shipping«, where pilot

studies for a green future will be

on display. Ocean Opportunity Pitch

Sessions will add to the various seminar

offerings.

The regional focus of the program will

be on Africa, the Asian Belt and Brazil this

year. Brazilian energy and shipping industries

will be present, there will be a »Brazil

Podium & Roundtable Meeting« and correspondingly

an »Asian Belt Podium« and

an »Africa Podium«.

Next generation is invited

Inviting the »next generation« is part of the

strategy to renew the maritime world in

2017. The Opening Conference will debate

»Next Generation Shipping« with focus on

Fireworks – a traditional

element of Nor­Shipping

digitization and increased sustainability including

speakers from leading companies.

»Young professionals are an integral part of

the Nor-Shipping mix, and this is now visible

like never before during the event week,«

Nor-Shipping planners say. The key words

»sails, satellites, drones and data« dominate

the work of young entrepreneurs nominated

for the Young Entrepreneur Award 2017.

Generally, the United Nations' 17 Sustainable

Development Goals are always

in the Nor-Shipping background but

also immediate regulation urges

change. As the EU and the IMO

are at odds about the best way

to monitor CO2 emissions,

there is an ever-faster race

to comply. Technical solutions

to verify compliance

will be high on the agenda.

The new fuel regulations

also accelerate the scrubber

business.

Offshore petroleum and

new ocean industries will

be explored in the program,

too. Waves of change will be

felt everywhere in offshore at

the event. Solstad, Farstad and

Deep Sea Supply have effected a giant

merger some boards have already

approved. The tanker market's DHT-BWdeal

and moves at Frontline give proof of

consolidation. According to the regional

focus, the Brazilian economic outlook

and the transition of the maritime and

offshore industry there will find a podium

with high level experts.

Further highlights at the event will be

the proclamation »Ship of the Year 2017«

by Norwegian Minister of Trade and Industry,

Monica Mæland, cultural events

and receptions and the Future Friday with

seminars on circular economy, blockchain

and sustainable business models.

The Nor-Shipping Regatta with an After

Sail Party will close the event.

M

Photo: Ilja Hendel

LEADING THE WAY IN

MARINE SOLUTIONS

Visit ABS at Nor-Shipping

Stand D02-22

SAFETY | SERVICE | SOLUTIONS

www.eagle.org

© EvrenKalinbacak /iStock

36 HANSA International Maritime Journal – 154. Jahrgang – 2017 – Nr. 5
---
Nor-Shipping

Sicherheitspolitik · Streitkräfte · Rüstung · Wehrtechnik · Logistik · IT · Öffentliche Sicherheit

Europäische

Sicherheit & Technik

Die führende Monatszeitschrift

für Sicherheitspolitik und Wehrtechnik

ES&T

Österreich a 9,20 · Benelux a 9,30 · Schweiz sFr. 16,00

Europäische

Sicherheit

&Technik

8,30 a•D 6323 E

8/2016

E u r o p ä i s c h e S i c h e r h e i t · S t r a t e g i e & T e c h n i k

Überzeugen Sie sich von unserem

Informationsangebot und testen Sie

Europäische Sicherheit & Technik

Fordern Sie ein

kostenloses Probeheft an:

info@mittler-report.de · Fax: 0228 / 35 00 871

Korvetten

Klasse K130

NATO-Gipfel in Warschau

Antwort auf Sicherheitsherausforderungen

in unserer unmittelbaren Nachbarschaft

Taktischer Lufttransport

Reichen die jetzigen Kapazitäten auch für

künftige Aufgaben aus?

Im Interview: Hans-Peter Bartels,

Wehrbeauftragter des Deutschen Bundestages

Fähigkeitskonzept der Zukunft

Deutscher Beitrag zur Schnellen

NATO-Eingreiftruppe

Jahresabonnement E 78,00

zzgl. 11,50 € Versandkosten (Inland)

P o l i t i k · S t r e i t k r ä f t e · W i r t s c h a f t · T e c h n i k

Ermäßigtes Jahresabonnement E 58,00

(Angehörige und Dienststellen der Bundeswehr, Reservisten, Schüler, Studenten,

IDLw-, GSP- und DWT-Mitglieder) zzgl. 11,50 € Versandkosten (Inland)

Immer aktuell und

zuverlässig informiert!

Europäische Sicherheit & Technik (ES&T)

ist Anfang 2012 aus den traditionsreichen

Fachzeitschriften Europäische Sicherheit

(gegründet 1952) und Strategie & Technik

(gegründet 1958) hervorgegangen.

www.esut.de

MITTLER REPORT VERLAG GMBH

Baunscheidtstraße 11 · 53113 Bonn

Telefon 0228/35 00 870 · Fax 0228/35 00 871

info@mittler-report.de · www.mittler-report.de

INFORMATIONEN – HINTERGRÜNDE – MEINUNGEN

HANSA International Maritime Journal – 154. Jahrgang – 2017 – Nr. 5 37
---
Nor-Shipping

Norway's shipowners looking back and

Although the »fleet value position« could

fleet, Norway's shipowners association is

The outlook is not really much better

A gallery of hope and

Shipowners saw increasing revenues from 2010 to 2015.

This trend was dramatically reversed with a drop of 16%,

to 234 bn NOK, weaker than expected, as they predicted

only 3%

»We must not loose sight of the many

opportunities that lie ahead«

Short sea and deep sea shipowners together reported revenue

of 117 bn NOK. These segments combined now have

higher revenue than the offshore segments, for the first

time since 2008

Norwegian­controlled foreign­going fleet composition as of 1 January 2017

»We identify significant political risks. In an

unstable world, we need unifying leaders who

demonstrate integrity, calmness and wisdom,

who pursue common solutions and cooperation«

Trends and challenges impacting shipping: While the U.S.

turn more of their attention to domestic affairs, and Europe

devotes considerable energy to the Brexit-negotiations, China

appears increasingly more likely to assume a lead role.

»Offshore contractors expect a further decline of

43%. If this proves correct, they will see income

reduced by more than half in just two years«

50% of shipowning companies view access to capital as

tight or very tight in today's market. Unchanged from 2016

Development in additions and removals – Norwegian­controlled

foreign­going fleet 2007–2017

The Norwegian-controlled fleet is valued at 51 bn $, a decline

of 21%. The offshore segment has seen the greatest

decline with a drop of 29%

Total turnover for Norwegian shipowning companies in the period 2004–

2017 (including 2016 estimates and 201 prognosis)

Development in number of ships and mobile offshore units

in layup from 2015 to 2017

38 HANSA International Maritime Journal – 154. Jahrgang – 2017 – Nr. 5
---
ahead – both worried

be maintained and despite a modern

looking back to a miserable year 2016.

– due to macroeconomic upheavals.

sullen self-perceptions

Adverse trends and side effects

Nor-Shipping

• Nordea Bank forecast: Oil investments continue

to fall, but at a slower pace in 2017 and 2018

• Clarskons Research forecast:

− offshore market outlook remains

challenging despite improved sentiment

− OSV orderbook and lfeet are key but

uncertain issues

− 390 OSVs on order

Half of the shipowners expect weaker results. In short sea

and deep sea, a larger percentage anticipate improved results

»Shipowners are far more pessimistic and expect

a decline in turnover of 10%. If prognoses are

correct, the downward trend in revenues will

continue, though perhaps with less force«

Staff cuts by 8,300, divided relatively evenly between seafarers,

mobile rig crew and staff, and onshore employees. Largest reductions

were in offshore contractor and offshore service companies.

Deep sea and short sea companies had a net increase

Situation is most challenging for the offshore service fleet

and offshore contractors. The fleet comprises 550 OSVs,

of which 150 are in layup. 45% of the mobile offshore unit

fleet is in layup. Members predict no significant change

»Traditional segments of Norwegian shipping

have been burdened with weak demand

and tight margins. Now, offshore markets

have taken a severe and sudden turn

for the worse, brought about by the crash of

oil prices. This unfortunate situation

seems likely to persist«

Average age of the ship fleet dropped to 9.9 years. Orders

have fallen by half, both in volume and value

Income for offshore service shipowners has fallen by 21%.

Further decline of 11% expected

shipowners' expectations for operating results in 2016 and 2017, by segment

Development in the Norwegian­controlled foreign­going fleet 2007–2017

Norwegian­controlled foreign­going fleet by flag and

ship type as of 1 January 2017

Percentage change in Norwegian shipowners' turnover from the previous

year (including 2016 estimates and 201 prognosis)

Quotes and information taken from »Maritime Outlook Report 2017« by Norway's Shipowners Association

HANSA International Maritime Journal – 154. Jahrgang – 2017 – Nr. 5 39
---
Nor-Shipping

Industry News

HANSEATICSOFT

Lloyd's Register invests in ship management software

Lloyd's Register (LR), a global provider of

engineering and technology-centric professional

services, has made a huge investment

in Hamburg-based ship management

software provider Hanseaticsoft.

Hanseaticsoft provides fleet management

software solutions to optimise workflows

in shipping companies, offering new

perspectives on processes and increasing

business performance. The Cloud Fleet

Manager is a flexible and intuitive software

suite to manage and organise the entire

fleet, including inspections, crew management,

purchasing and more.

The investment underlines LR's strategy

to support clients through the digital

transformation of the marine and offshore

industries, building a portfolio of investments

and partnerships to tackle the challenges

and opportunities of Industry 4.0.

According to Hanseaticsoft LR recently

acquired the Seasafe portfolio of software

solutions, which specialises in real-time

data management of on board loading and

stability for vessels and offshore structures.

LR also brings expertise in maritime cyber

security through its collaboration with

QinetiQ, having recently launched its Cyber

Secure programme. LR's cyber security

specialists work with clients to identify the

specific risks posed to their people, assets

and business, and co-create a tailored cyber

security management plan. Recognising the

need to create valuable insights for clients

from the vast quantities of data created by

these digital solutions, LR has formed a strategic

partnership with QiO, a fast- growing

Industry 4.0 company, whose data platform

and cloud enabled solutions are transforming

how big data analytics improve clients'

operational effectiveness and reduce risks.

According to own information Hanseaticsoft

will remain an independent open

platform but will leverage LR's global network

to build its capability, with three new

sales offces in Athens, Copenhagen and

Singapore planned for 2017, and at least

five other branches are to follow in 2018.

The Hamburg-based company was advised

in this transaction by MCF Corporate Finance,

Christoph Stoecker.

Furthermore Hanseaticsoft has prepared

its Cloud Fleet Manager for the new MRV requirements

that come into force at 1. January

2018. Therefore the report section was added

with the relevant key figures. These are starting

port and port of destination including

date and time of departure and arrival, fuel

consumption and emissions factor per fuel

type, emitted CO2, covered distance, time at

sea, carried goods and transport work.

On this basis and becuase of the data

from the bunker and event reports, the

Cloud Fleet Manager provides an overview

of CO2 emission of each fleet by continuously

comparing the fuel used at the

beginning of the journey with the daily

consumption and other factors such as the

loaded goods. Thanks to a graphical timeline

view, the shipping company receives

an overview of the CO2 emissions of its

whole fleet at any time.

M

Photo: Hanseaticsoft

THE NEW PCP

CONTROLLABLE

Operated by water hydraulic

to save the environment

and your budget!

REGISTER NOW!

AND EXPLORE MORE AT:

HTTPS://VIMEO.COM/186394313

40 HANSA International Maritime Journal – 154. Jahrgang – 2017 – Nr. 5
---
Nor-Shipping

Shell Marine

YOU CAN RELY ON

SHELL MARINE TO HELP

OVERCOME CHALLENGES

n Emission control area

n Equipment reliability

n Cold corrosion

For more information visit www.shell.com/marine

or email shellmarine-info@shell.com

HANSA International Maritime Journal – 154. Jahrgang – 2017 – Nr. 5 41
---
Nor-Shipping

Centralization through regionalization

Short sea shipping services that are needed along the Norwegian coast are challenged by

low volumes, multiple port calls and competition from liner companies. Thus, the country

seeks a new port strategy for the future

Traditional port costs, with respect to

handling cargo, port dues and terminal

operations, often exceed 30% of total

door-to-door distribution costs. Consequently,

the Norwegian government

commissioned a report asking for recommendations

to the country's future port

strategy. Researchers of Molde University

College, Norway, and Edinburgh Napier

University, United Kingdom, presented

their findings at the 2016 IAME conference

in Hamburg, giving an insight into

the state of Norwegian port and cargo distribution

system.

The port of Oslo is by far the largest port

in terms of container throughput (2003–

2014), with over 210,000 TEU handled in

2014. In addition, there are several ports

that are serving Eastern Norway and the

greater Oslo region: Borg, Moss, Drammen,

Larvik and Grenland. Ships calling

these ports also call the southern port of

Kristiansand. Norway can be split into

Oslo, Oslo region, western and northern

ports, with a low share of container traffic

in the north. The ten biggest ports hold

85% of the country's container market.

Oslo alone has a market share of 29%, followed

by Larvik and Ålesund (9% each).

While there is a sharp increase in growth

for Oslo region ports in 2008, at the same

time there is a decrease for Oslo. Levels for

both fall distinctively in 2009 likely as a result

of the financial crisis. The same trend

shows again from 2012 and onwards. When

the Oslo region increases sharply, the port

of Oslo decreases and has stabilized at lower

levels. Therefore a key point to understand

is why the Oslo region ports are able

to win the competition with a much bigger

port and absorb the entire growth from

2012–2014. There is no capacity problem in

Oslo and indeed the port recently has commenced

a significant expansion of capacity

for containers.

At national level, there is a clear progression

towards port concentration from

2003 to 2008 and then a deconcentration towards

2014. This is also the case in the East

of the country. There is a different story in

Western Norway, with a continuing deconcentration

across the time period, starting

very slowly and then increasing in recent

years. Therefore, Norway conforms to the

predictions that port systems move towards

concentration then deconcentration.

To understand the dynamics of port

choice, a number of shipping companies

were interviewed. While transport time

is a key factor for port choice this seems

not to be the case for shipping lines serving

the Norwegian market. It is not time that

is critical, but frequency. Cargo volume is

a dominant port selection criterion. Even

small volumes can influence shipping lines

decisions in a feeder system. Generally, the

relatively low cargo volumes characterizing

these port systems also cause regional

markets to quickly reach their saturation

point. The degree of competition at a port is

an important factor evaluated by shipping

lines before deciding to call a port or not.

Several reasons can be found to why Oslo

region ports have grown at the expense of

the port of Oslo. First of all, there is the

trend of production and logistical hubs being

relocated to other areas in the region.

Other issues such as inadequate railway

connections and higher port charges may

also have had an influence. One important

aspect underlined by interviewed shipping

companies, is that bigger ports may not adjust

as easily to the requirements of shipping

lines in terms of flexibility and implementing

new customer-oriented solutions,

as they think secondary ports may not pose

a real threat. The port of Oslo is obviously a

The Port of Oslo is losing ground to smaller competitors in the region

Photo: Harald M. Valderhaug

42 HANSA International Maritime Journal – 154. Jahrgang – 2017 – Nr. 5
---
Nor-Shipping

case that shows

that any player operating

in a tough and competitive

market has to be vigilant, especially

in times when margins for shipping lines

are pressured.

Regarding obstacles to growth for Western

and Northern ports, volume and directional

imbalance emerge as a challenge.

Smaller cargo volumes destined for Western

Norway makes shippers unable to fully

utilize their capacity. The disproportion

of government subsidies in favor of railway

infrastructure, causes railway freight

rates to be so low that cargo destined for the

West and the North go through the Oslo region

ports. Specifically for ports in Northern

Norway weekly routes and high feeder

transshipment costs limit growth. Furthermore,

the road network from Eastern Norway

to the West and North has been considerably

upgraded making these markets

more accessible. On the contrary, the road

infrastructure in the West still awaits advancement.

Altogether, these factors put

constraints on a hub port in Western Norway

for the time being. However, the government

has stated that the road network

in the West will be free of ferry connections

within 20 years which will effectively

reduce the time of travel between the biggest

coastal cities

of Stavanger

and Bergen by 50%.

Upgraded road network accompanied

by population growth

in these cities should increase the likelihood

of a hub in the West.

A port concentration might impose costs

through extra cargo handling and longer

door-to-door distances which could not

be offset by economies of scale savings in

container handling. For shortsea operators

it also bears the risk of competition from

major shipping lines introducing their own

ships to Norwegian ports. Hub and spoke

principles have not really materialized in

the present Norwegian port system, the researchers

found. The obstacle seems to be

that all ports want to have direct connections

to Continental hubs. A crucial matter

is to invest into intermodal short sea-rail

services in order to prevent road transport

from capturing volume.

Need for concentration

The majority of shipping companies operating

in Norway see a need for port concentration.

A regionalized model (specialized

ports within natural regions under a

single governance structure) would probably

be the most feasible path since the focus

is turned away from closing ports into

a more constructive way of organizing the

port system. As a result, the likely scenario

would be benefits from economies of scale

through container handling and larger vessels,

which would attract more volume to

short sea shipping services, allowing higher

frequency of service, which in turn would

cause even more cargo flows to go through

ports. Attracting cargo is a crucial matter

for feeder systems such as the Norwegian.

Implementing a hub and spoke principles

to a feeder port system is diffcult. Since volumes

are thin, many ports feel the need of

offering a wide range of services in order to

stay in the competition. The lack of specialization

inflicts a cost which is held by the

shipping lines which in turn need to increase

the freight rate. The end of this cycle

is decreased competitiveness for the local

businesses as customers of short sea services

and short sea shipping as a transport mode.

The researchers propose a »centralization

through regionalization« model to

port concentration. For port systems similar

to the Norwegian, which primarily involve

public ownership, an alternative approach

to port concentration could be the

government taking a leading role, appointing

which ports should be hubs and which

to be spokes or simply reducing the number

of ports. However, that would imply a

path which would involve conflicts mentioned

above.

ED

Obstacles to growth

Marine and Offshore Doors – Made in Germany. Established in 1919

A-, B-, C- and

H-class doors …

Only the best

should be standard.

Hinged and sliding

doors with and

without glass.

Podszuck ® GmbH

Klausdorfer Weg 163 • 24148 Kiel

Germany • Tel. +49 (0) 431 6 6111-0

Fax +49 (0) 431 6 6111-28

E-mail: info@podszuck.eu

www.podszuck.eu

HANSA International Maritime Journal – 154. Jahrgang – 2017 – Nr. 5 43
---
Nor-Shipping

Starting over after a full stop

Norwegian shipyards that were primarily focused on vessels for the offshore service sector

have to reshuffe their portfolios. There are promising alternatives, but only time will tell if

they can make up for the loss of the offshore business. By Felix Selzer

Vard suffered from the offshore crisis

and looked for new segments, too

The downturn in the offshore oil and gas market has hit the

Norwegian economy hard. Rigs were shut down, workers

and vessels were laid off, shipowners feel huge pressure for consolidation,

and shipyards are suffering from a lack of new orders.

»The offshore market is practically non-existent at the moment,«

Ellen Kvalsund, spokeswoman of Kleven shipyard, tells HANSA.

For the last 20 years, almost all of the yard's newbuildings were for

the offshore industry and primarily for Norwegian shipowners.

Ulstein, another important shipyard that was also focused on the

Norwegian offshore platform supply and anchor handling vessel

market, found itself in the same situation.

»The offshore service sector has been suffering badly,« says

Vard's Holger Dilling, EVP, Investor Relations & Business Development

Asia, and he adds, »there is hardly any newbuilding

activity – not out of Norway and not from anywhere else.« In

fact, Vard has not sold any ship to the offshore industry since

the end of 2015. Before that, around 80% of Vard's deliveries

were to the offshore sector.

A look at the reference lists of the Norwegian offshore shipbuilders

like Vard, Ulstein, Kleven or Havyard, reveals how

heavily – some might say madly – companies such as Island

Offshore, Remøy Shipping, Rieber Shipping, Polarcus, Olympic

Shipping, Solstad, Farstad, Eidesvik Offshore, Siem Offshore

and others did order new vessels in the past. The lists also

show how the ordering of Platform Supply Vessels (PSV), Seismic

Vessels, Offshore Construction Vessels (OCV) and Anchor

Handling Tug Suppliers (AHTS) has almost come to a full stop.

International customers have stopped ordering new ships, too.

Offshore oil and gas is down everywhere, not only in Norway.

Source: Vard

Diversification and new segments

The shipbuilders had to look for alternatives, but where to turn

to, when there are not many segments worldwide performing

too well? Passenger shipbuilding is still going strong, the large

shipyards in Italy, France, Germany, and Finland have full order

books for the years to come as the cruise boom continues.

Besides the big vessels, smaller units for exclusive exploration

cruises are in demand – a profitable opportunity also for smaller

yards. At the same time, record high salmon prices, a growing

global demand for seafood and the need for fleet renewal make

the fishing and aqua-farming segments attractive markets. It requires

trawlers, Live Fish Carriers, Feed Carriers and installation

vessels. Vard is actually branching out with one of its smaller

yards in Norway to serve this segment.

For Vard, the exploration cruise segment has been a strong

driver. »This segment has surprisingly many similarities to

offshore shipbuilding,« says Dilling, meaning highly customized

and specialized high-tech vessels in a size-class of 100 to

200 m, partly constructed for operation in arctic areas. »These

are characteristics you see in both offshore and exploration

cruise.« As part of Italian shipbuilding giant Fincantieri Vard

has a strong partner when it comes to acquiring new contracts

44 HANSA International Maritime Journal – 154. Jahrgang – 2017 – Nr. 5
---
Nor-Shipping

and getting access to expertise and suppliers

in this segment.

At the end of 2016, Vard's order book

comprised twelve offshore vessels, two LPG

carriers, one fishing vessel and six exploration

cruise ships. A Letter of Intent for a seventh

cruiser was signed in early 2017 when

Vard also secured contracts for two ferries,

two fishing trawlers and one live fish transportation

vessel. And there still are opportunities

in the oil and gas market: For Dubai-based

Topaz Energy and Marine and

Kazakhstan's Kazmortransflot Vard will

build 20 Module Carriers (MCV) for the

Caspian Sea to serve remote onshore oil

fields in Kazakhstan. »This is an important

order, but it is a niche opportunity and not

necessarily a new market segment,« Dilling

explains. 17 vessels will be for Topaz, while

three will be for Kazmortransflot.

Ulstein, besides wind farm service

and cruise ships, has turned to the Ro-

Pax market. Currently, Ulstein's orderbook

includes an offshore-design yacht for

an undisclosed owner, due Q1 2018, and

a 3,500 dwt DP2 Construction Support

Vessel (CSV) for the Netherlands-based

Acta Marine, primarily aimed at the offshore

wind market, scheduled for delivery

in Q2 2018. A plug-in hybrid RoPax ferry

for operator Color Line at 4,000 dwt will be

delivered in Q2 2019. In Q2 2017 the refurbishing

of an exploration cruiser for Adventurers

Partner will be finished.

Havyard's order backlog at the end of

2016 included a Live Fish Carrier, a workboat

and three diesel-electric ferries for

Fjord 1. »All segments of the group need

new order intake to fill capacities in 2017,«

the shipyard says in its Q4 2016 report.

Kleven has the two cruise ferries for

Hurtigruten in its orderbook (plus options

for two more), scheduled for 2018 and 2019.

The announcement of the Rolls-Royce-designed

hybrid ice-class vessels has already

raised eyebrows. Kleven will also deliver

two ferries (2018), a Live Fish Carrier, a

trawler and a fish harvesting vessel.

panding our expertise and knowledge.« Ulstein

is confident to replace the offshore losses

if the company can manage to keep costs

down and to deliver cost effective solutions.

Vard started its strategy review two years

ago, when it became visible that the market

would stay down, and analysed its assets

and capabilities. »We saw what was coming,

but of course it did require changes in the

organization«, says Dilling. Vard operates

nine shipbuilding facilities worldwide, five

in Norway, two in Romania, one in Brazil

and one in Vietnam. As a consequence of

the dramatic downturn in production volumes,

the company had to let go close to

2,000 workers in their hull production facilities

in Romania. »Now we are expanding

again and hire and train people for our new

shipbuilding segments,« says Dilling.

No bright future for offshore

Ulstein is building a large

plug-in hybrid ferry for Color Line

Even if the offshore oil & gas market picks

up again und pulls the service shipping

sector up along, that will not immediately

change things for the ship builders, maybe

not even in the medium term. The order

and delivery boom of the recent past

has left the market with a huge supply of

now unemployed but new and state-of-theart

ships. Hundreds of offshore service vessels

are laid up worldwide, ports and berths

along the Norwegian coast are crowded

with 100–200 laid up platform suplliers.

An upswing in the oil and gas market

would certainly over time bring work

for these existing ships, but large numbers

of new orders are not to be expected anytime

soon.

Wind power is another interesting market

that can even use some of the offshore

designs with some changes like adding

walk-to-work gangways etc. »The market is

still small and young,« notes Dilling. »But

we are monitoring it carefully for opportunities.«

Other business areas might open up in

segments like subsea mining, cable laying

or offshore construction, oceanographic

research, but as many shipyards previously

focused on offshore are pushing into

the same markets, competition is tough. At

least the pressure might be a strong driver

for further innovation.

M

Source: Ulstein

Strategy under review

The shipyards did also restructure their

production to react to the downturn and to

meet new demands. Kleven has automated

and robotized its production process and has

moved a larger part of the hull production

back to Norway in recent years. »We have to

adjust to whatever market is available, but

it is challenging replacing the offshore market,«

Ellen Kvalsund says. »There is a wide

range of know-how needed that is specific

to the vessel type in question, so we are ex-

Kleven has two cruise ferries for Hurtigruten in its orderbook

Source: Kleven

HANSA International Maritime Journal – 154. Jahrgang – 2017 – Nr. 5 45
---
Nor-Shipping

Tunnel vision

The Stadhavet Sea is the most exposed, most dangerous area along the coast of Norway. Now the

country's Coastal Administration (Kystverket) is conducting feasibility studies for the world's first

full scale ship tunnel. This would enable ships to avoid the Stadhavet Sea. The »Stad Ship Tunnel« would

be 1.7 km long, 37 m high and 26.5 m wide (height between ground and ceiling 49 m, width between

tunnel walls 36 m), and able to allow ships the size of Coastal Steamer, e.g. Hurtigruten vessels, to navigate

more safely through the very exposed area.

Total costs are estimated at 2.3 bn NOK at a construction time of approximately three to four years.

The project is now embarking upon a feasibility study phase. When the feasibility study is complete it

will undergo external quality assurance, phase 2.

M

46 HANSA International Maritime Journal – 154. Jahrgang – 2017 – Nr. 5
---
Nor-Shipping

Source: Kystverket

HANSA International Maritime Journal – 154. Jahrgang – 2017 – Nr. 5 47
---
Nor-Shipping

Huge potential for Norwegian ports

The Norwegian government has announced major investments of more than 1 bn NOK

in port related infrastructure during the next twelve months. A number of Norwegian ports

have plans of their own to expand their business. By Thomas Wägener

The groundwork should be done to develop

safe and effcient shipping along

the Norwegian coast, said Ketil Solvik-Olsen,

Minister of Transport. A major part of

the 31.7 bn NOK that are reserved for the

maritime industry will be used to develop

and modernise the navigational infrastructure.

The backlog to quays and breakwaters

etc. will be fully reserved during the twelve

year period, the government informs.

Also Narvik, the second biggest port of

Norway, and Karmsund, the third biggest,

have plans for expansion. For Narvik the

export of iron ore is a key business. Capesize

bulk carriers coming from Narvik

bring iron ore to Hamburg's Hansaport on

a regular basis, amounting to approximately

2,5 mill. t. annually, informs Hansaport

Manager Ben Thurnwald. Therefore, Narvik

is an important port for Germany.

The bulk terminal in Narvik with a berth

for vessels of up to 180,000 dwt and a shiploader

type PL 100 manufactured by Sandvik,

is owned by LKAB Norge. The company

is a subsidiary of the Swedish LKAB

(Luossavaara-Kiirunavaara Aktiebolag)

which is focused on industrial minerals.

The iron ore is transported by train from

the Swedish iron ore pits in Gällivare and

Kiruna to Narvik. About 20 mill. t of the

raw material are handled in the Norwegian

port per year. But LKAB expects that

it will be about 34 mill. t a year by 2020.

Therefore, the company has big plans for

a new port located at the south side of the

Narvik peninsula (13 km). There the iron

ore specialist sees a possibility for a new

logistics hub where a new bulk terminal

could be combined with an industrial park

or a container port within the next five to

eight years. Two quays of 800 m and 600 m

length are planned. There are also plans to

supply LNG (liquefied natural gas) to the

regional market as well as for bunkering

of ships.

Karmsund is the third largest Norwegian

port in terms of cargo throughput.

The goal of the Karmsund Port Authority

is to become the most important maritime

logistics hub on the Norwegian west coast.

Thus, it will begin a major development of

the Husøy cargo port in Karmøy this year.

This represents an investment of roughly

300 mill. NOK. More than 700.000 m3 of

spoil are to be removed from sites associated

with the cargo terminal and used to

reclaim land from the sea. All in all, some

22 ha of new effective surface will be developed.

A future-oriented approach is being

taken to planning the development and the

port upgrade. The Karmsund Port Authority

aims to build a facility which is hightech,

effcient and environment-friendly.

Husøy terminal is located on the main

shipping channel along the Norwegian west

coast, meaning virtually zero deviation and

the potential for very effcient calls. In order

to fully exploit this advantage, the Port Authority

is planning to install vacuum-based

automated mooring delivered by Cavotec.

In addition, the Karmsund Port Authority

wants to make provisions for other

types of environment-friendly fuels.

Norlines, one of the port's current customers,

already calls Husøy on a regular basis

with its two LNG-fuelled ships, »Kvitbjørn«

and »Kvitnos«. According to the port

authority they use 18% less energy than the

vessels they have replaced. Carbon emissions

are reduced by 38% and nitrogen oxide

emissions by 90%, while sulphur oxide

and particle emissions have been completely

eliminated. An LNG tank which provides

bunkering for such vessels is planned

to be installed in the port.

Biofuels could be another option, especially

for older vessels. These include hydrotreated

vegetable oil (HVO), a relatively

new option. The HVO production process

yields a biofuel of very good quality which

can be used directly in existing engines. It

is made from various vegetable oils and abattoir

waste. The Karmsund Port Authority

wants to look into opportunities to also

offer bunkering of biofuels.

According to Statistics Norway, the ten

biggest Norwegian ports together handled

180,767 mill. t of goods in 2016, nearly one

third was shipped via Bergen, the biggest

port of the country. More than 300 cruise

vessels visit Bergen every year with about

550,000 passengers on board. Four to six

ships with a maximum length of 333 m

may berth at the same time. For the western

part of the country, Bergen also is an

important hub where all types of cargo are

handled. The nordic country's second largest

city is a supply base for offshore installations

in the North Sea. Other advantages

for Bergen are the lack of tidal restrictions

and ice free conditions even during winter.

Bergen is the largest port in Norway

48 HANSA International Maritime Journal – 154. Jahrgang – 2017 – Nr. 5
---
Nor-Shipping

According to Statistics Norway, in Q4 of

2016 the oil export rose to 8.6 mill. t. This

is nearly twice the figure of Q4 2015.

Located within the Bergen harbour district

are marine oil refineries, a number

of bunkering facilities and well-equipped

workshops including slipways, dry docks

and floating docks. The port privides

cranes with lifting capacities of up to 125 t.

In addition, ship agents like Greencarrier

Shipping & Logistics, Nor Lines, Kuehne &

Nagel, Bring Logistics, Sea Cargo Agencies

and Wilhelmsen Agencies, have access to a

wide range of equipment, including trucks

with a lifting capacity of up to 42 t, terminal

tractors and lorries.

Depending on port infrastructure

Norway has strong trade relations with the

EU. According to the German Ministry of

Foreign Affairs, more than 80% of the total

Norwegian exports go to EU member states.

On the other hand, EU member states account

for 65% of Norway's imports. The

largest foreign trade partners are Germany,

the UK, Sweden, the Netherlands, China

and the USA. Norway owns 42% of the

Western European conventional oil and gas

reserves. Oil and gas products total to more

than 60% of all Norwegian exports. Therefore,

it is also necessary for the coun try to

have a good port infrastructure.

The Port of Grenland is owned by the

municipalities of Bamble, Porsgrunn and

Skien, and is environmentally certified to

ISO 14001 standards. A wide range of cargo

were handled there, for example dry

bulk, wet bulk, general cargo, and containers,

totaling 10.8 mill. t per year. The

terminals have the capacity to host vessels

up to 150,000 dwt. More than 2,500 ships

call Grenland each year. At Tangen quay at

Brevik Terminal coal ships with a length

of 200 m can berth. The roro terminal has

a length of 180 m and includes two roro

Karmsund plans to become a logistc hub

ramps, each with a width of 32 m. Railway

tracks are located right down the quay. The

terminal company, North Sea Terminals,

operates the LoLo Breivik Terminal. According

to Port of Grenland, it is among

Norway's largest roro terminals. It features

facilities for lolo, roro and dry bulk handling.

From Langesund Ferry Terminal

Fjord Line has daily departures to Hirtshals,

Stavanger and Bergen.

The dry bulk quays at Portsgrunn include

the crane quay with a length of 230 m

at 6,70 m gauge, the deep water quay with a

length of 175 m and a depth of 9.70 m and

the 150 m long Tinfos quay at 6,70 m gauge.

At Skien Harbour Terminal general cargo

and dry bulk are handled. There is one

135 m quay with a depth of 9.5 m and another

with a length of 165 m with the same

depth. The roro ramp measures 30 m. In addition

the stone quay has a depth of 10 m.

Oslo is Norway's leading cargo and ferry

port. 50 to 70 cargo or passenger vessels

call this hub every week. In 2016, 81 cruise

ships have docked with 155,000 visitors

aboard. But this is a decrease compared

to 2015 when 102 vessels with nearly

200,000 passengers berthed. The cruise

traffc centre includes four piers with

lengths from 249 m to 345 m, all located

close to the city centre.

There are three daily ferry arrivals from

Denmark and Germany. Ferry operator

Color Line links the German port of

Kiel with the Norwegian capital city and

DFDS have a connection to Denmark. But

Oslo also has a container handling facility.

The Sjursøya Container Terminal is

the largest of the country. It is operated

by Yilport and has a throughput capacity

of 300,000 TEU. Cargo is handled with

two Konecranes gantry cranes with a liftig

capacity of 64t and an outreach of 40m,

that go across 15 rows of boxes. Kalmar

delivered two more cranes with a capacity

of 61t and an outreach for vessels with

up to 18 rows. Kalmar also supplied eight

RTGs with a lifting capacity of 50t each,

two reachstackers with 45t lifting capacity

and twelve terminal tractors. Two

Linde-C90 and three Nissan-DX30 complete

the terminal equipment. M

Photo: Port of Bergen

Source: Karmsund Port Authority

HANSA International Maritime Journal – 154. Jahrgang – 2017 – Nr. 5 49
---
Nor-Shipping

HANSADigital

www.hansa-online.de

Tägliche News

Märkte

Raten & Indizes

Orders & Sales

Auflieger

Havariechronik

Fixtures

50 HANSA International Maritime Journal – 154. Jahrgang – 2017 – Nr. 5
---
Nor-Shipping

Mehr wissen. Besser entscheiden.

Alle Inhalte der HANSA

seit 2009 online

HANSA-Archiv

HANSADigital im Abonnement

• Zugang zu allen Online-Inhalten

• Volltextsuche im HANSA-Archiv

• E-Paper zum Download

Maritime Termine

• Print-Ausgaben im Postversand inklusive Sonderbeilagen

• Ermäßigter Eintritt zu HANSA-Veranstaltungen

Direkt buchen auf: www.hansa-online.de/abo

19,50 €

im Monat

Kontakt: Dana Gottschalk | Tel. +49 (0)40 70 70 80-312 | d_gottschalk@hansa-online.de

HANSA International Maritime Journal – 154. Jahrgang – 2017 – Nr. 5 51
---
Finanzierung | Financing

Cautious optimism in (some) US markets

Despite the still existing threats and challenges shipping players in the US look slightly

more positive into the future. But there are still hurdles on the road to real recovery.

A snapshot by Barry Parker

INTERNATIONAL MARITIME JOURNAL

FORUM

SCHIFFFAHRT

FINANZIERUNG

Braemar ACM's shipping economist

Henry Curra for example sees vessel

oversupply continuing to exert a dampening

effect on rates for larger tankers well

into 2018 – intensified by vessels coming

out of »floating storage and congestion« as

oil markets put less of a premium on forward

pricing.

Speaking with Curra at the recent expert

conference of the Connecticut Maritime

Association (CMA), Basil Mavrolean

of C.R. Weber noted the vessel prices (referring

to VLCCs), in real terms, are quite

low, pointing to the continued newbuild

deliveries. Casey Scott, from Conoco Phillips

Global Marine focused on the impacts

from the upstream oil environment on the

crude oil tanker markets and suggested

that increased production

from the Mideast

would be a

positive for large

tankers, but less

so for other regions.

Shale oil production in the U.S.

was not seen as a positive for larger

tankers (though recent U.S. crude

oil exports in VLCCs did not feature

in this part of the discussion).

Bright spots inferred from the experts'

comments could also be in

the realm of smaller tankers – with

Mr. Scott pointing to refinery capacity

»creeping closer to the wellhead,«

boding positively for product

tankers in longer hauls (implicitly at

the expense of larger tankers moving

crude).

In the US listed shipowners community,

the question of consolidation (smaller

companies combining fleets) is an important

aspect. Ardmore Shipping's CEO,

Tony Gurnee looks at phases of consolidation

and then de-consolidation and, then,

talking about arguments for growing fleets

through business combinations, said »…

there's a better case to be made for access

to capital markets than to the operational/

Tony Gurnee,

CEO Ardmore Shipping

Photo: Chris Preovolos

commercial side …« Ms. Lois Zabrocky,

CEO of International Seaways (the now independent

international fleet of OSG) hinted

that the presence of financial investors,

a feature in recent years, may bring about

Renewed investor interest vs. doubts about industry's discipline

Investors have found a renewed interest

in drybulk shipping as hires have

turned upward; the sector is once again

on the agenda. Equities analysts are not yet

convinced of the newfound »strength« albeit

with hires still below full daily breakevens

for most owners. Speaking at the

Capital Link 11 th Annual International

Shipping Forum in New York drybulk

player were enthusiastic about the sector's

prospects. Hamish Norton, President

of Star Bulk Carriers emphasizes

the importance of controlling costs; John

Wobensmith, CEO of Genco Shipping &

Trading amplifies on this theme – suggesting

that listed companies should act defensively

and prepare themselves for lengthy

downturns by bolstering balance sheets

for a long ride down the »runway«. Mr.

Mats Berglund, the CEO of Pacific Basin

Shipping mentiones an idea that featured

across multiple panels, saying »Let cargo

drive the upturn.«

Representatives from banks suggest a renewed

importance of financing shipping

is part of a broader commodity chain. Pac

Basin's Mr. Berglund emphasizes that real

increases in demand were paramount as

drybulk climbs out of its long abyss. Several

players –more positive than the equity

analysts – emphasize that now is a time to

buy; Scorpio Bulk's CEO, Robert Bugbee, a

huge cheerleader for the industry, says that

companies that have maintained liquidity

are now in a good position to buy tonnage.

When discussing about lessons learned,

there is some divergence of opinion; Mr.

Wobensmith offers a hope that finance

providers (including private equity) had

learned not to support over-ordering. Mr.

Bugbee, with a lengthy career and sense of

industry history, expresses doubts about the

industry's discipline. On a positive note, Mr.

Bugbee notes that recent demand growth

was much stronger than anticipated by market

participants, expressing a view that drybulk

is heading for another upward cycle.

For the tanker industry Nikos Tsakos,

CEO of Tsakos Energy Navigation mentiones

another bright spot, saying: »A year

ago, we were sitting here terrorized by drop

in demand from China. A year later, they

kept up demand.« Euronav CEO Paddy

Rodgers reveals his company's in-house

view that demand has remained surprisingly

resilient – including additional ton

miles generated by changing trade patterns

AFTER the OPEC cutback. The major

concerns he voicead were on the supply

side, and what the ultimate disposition of

52 HANSA International Maritime Journal – 154. Jahrgang – 2017 – Nr. 5
---
4 Questions to …

Finanzierung | Financing

Ted Petrone says: »There's a lot

of oil coming from the Atlantic.

It's really a ton mile game.« In

spite of this optimistic tone, Mr.

Tsakos offers a cautionary note

as well, saying: »What is worrydifferent

motivations and drivers

than traditional shipping, with Mr.

Mavrolean saying: »There is motivation

from private equity (PE) investors

to grow companies …« Bart

Kelleher, Strategist at Chembulk

Tankers, draws the distinction that

not all PE is alike; some investors

have fueled industry over-building,

while referring to others such

as KKR which is Chembulk's largest

shareholder, he says »… they've

brought about capital discipline …«

through an analytical approach to

Lois Zabrocky,

CEO International Seaways

Photo: Chris Preovolos

building upon the company's existing

platform – »beyond just the

steel«. »In those instances,« he says,

»that's actually been better for the

shipping market«.

The tanker market operates within

the larger energy environment

with the oil price having an impact

over the next few years. Casey Scott,

from Conoco Phillips, cites the ability

for incremental oil production

to be brought on quickly (tamping

down the price), and says, »We

have clearly decided that we need to

Amid Mehrotra

Shipping Analyst,

Deutsche Bank

Photo: Capital Link

»Dry bulk asset values are still

well below mid-cycle levels«

This year, we've seen suprising strength in the

drybulk side of the market. What are the implications

for investors in shipping shares?

Amid Mehrotra: Equity values are discounting

a more benign outlook. To this point the dramatic

and sustained recovery in dry bulk equities

is more reflective of recovering asset values,

in our view, given we estimate a 1-to-3 relationship

between changes in gross asset prices and

net equity values (i.e. a 10% move in asset values

equates to a 30% change in equity, given

still-large net debt positions). In this sense we

still see potential for significant additional upside

in dry bulk shares, given our view that asset

values are still well below mid-cycle levels.

What about individual companies?

Mehrotra: From a stock standpoint our top

dry bulk pick is Star Bulk, given its significant

leverage to these recovering asset values. Its equity

value is up 2,200% over the last year on a

share count adjusted basis. This translates into

US $700M of additional shareholder value.

Tankers were the rage until early last year,

what about that sector?

Mehrotra: It's true that tanker rates are lackluster

and asset values continue to be relatively

weak – translating to tanker shares down 16%

on average over the last 1yr compared to +18%

for the S&P 500 index. But in Shipping, periods

of weakness are typically followed by periods

of strength (and vice versa). Increasing our

confidence in this view are balance sheets that

are marked-to-market, reflecting disciplined

capital allocation strategies in some cases (Euronav

and Ardmore Shipping, for example),

and painful actions in other instances (Scorpio

Tankers dividend cut).

shipyard berths in Korea might

be. All in all, he suggests that

2017 might see »range-bound«

hires, which makes a positive

contribution – so not a bad

thing. Navios Vice Chairman

The dry bulk panel at the Capital Link Forum

Photo: Capital Link

Do you have any tanker stock recommendations?

Mehrotra: We see strong potential for a Tanker

catch-up trade over the next 12 months,

with most upside potential at Scorpio Tankers,

reflecting that company's higher net debt

(we estimate 80% loan to value) – which gives

it more leverage to inflections in asset values.

We also see upside in shares of Euronav and

Ardmore Shipping, both of which we view as

well positioned to capitalize of the Shipping industry's

return to growth.

HANSA International Maritime Journal – 154. Jahrgang – 2017 – Nr. 5 53
---
Finanzierung | Financing

learn to make money in this $40 to $60 /

barrel range« – what he had earlier termed

»… a structural shift to a lower price band«.

Ms. Zabrocky, from International Seaways,

opines that oil in this price range »… is

good news for tankers … with the price

band … creating stability … and spurring

demand. I like that.«

Ed Waryas, Board Member of the provider

of shuttle tankers KNOT Offshore

Partners stresses the salutary effects of

low oil prices on shuttle vessels. »Offshore

pipelines will have a breakeven of at least

$80/barrel oil,« he says, so that planners

could look at delivering offshore oil into

coastal refineries using shuttle tanker solutions.

Fuel markets

The issues facing marine fuel markets

stem from the clock ticking towards January

1, 2020, when the sulfur content of

marine industry fuels will be capped at

0.5% versus 3.5% currently, in most geographies.

The central questions surround

likely availability of compliant low sulfur

fuels in 2020; it's unclear whether refiners

could produce the requisite incremental

amounts. Bunker industry veteran

Adrian Tolson, now running consultancy

20/20 Marine Energy, provides an insightful

look into the entire bunker supply ecosystem,

suggesting – also in a CMA

session, that the present situation is

one of »…Confusion, Delusion and

Inaction …« with an illustration

of a panicked »deer in the headlights«

to drive home his point.

With shipping companies struggling

financially, he asserts that:

»One of the pillars of the bunker

transaction is very shaky.« Looking

ahead, he explaines that with

uncertainty over how marine fuel

markets will develop through 2020,

traditional commodity finance banks

are taking a very cautious view of backing

marine fuel transactions.

Interestingly, he noted possible roles for

»fintech« as the bunker finance chain is

streamlined as transparency comes to this

part of the business, and even roles for venture

capital in financing technologies for

removing sulfur from fuels.

Supply Side

In discussions of shipping market development,

the tonnage supply side is always

considered. One must wonder whether

owners scrap ships in response to large expenses

of burning low sulfur fuel, whether

in buying fuel, or the capital expense,

perhaps, of scrubber installation? Mr. Tolson

suggests that answers will need to wait

Paddy Rogers,

CEO Euronav

Photo: Chris Preovolos

until 2020. In the context of Ballast Water

Treatment (BWT), which brings about

a hefty »Capex« (Capital Expense), Bart

Kelleher from Chembulk and Ed Waryas

both indicate that BWT expense must be

considered among numerous factors, such

as the likely hires going forward, and cost

structures.

Mr. Waryas is quick to point out that – in

the context of BWT, as ships are older, large

capital outlays loom larger. But the same

observation could certainly also be applied

to installation of an exhaust gas cleaning

system (»scrubber«).

M

ing us, though, are any moves towards towards

protectionism in world trade overall.«

Mr. Robert Burke, CEO of privately held

Ridgebury Tankers, says that he did worry

about demand. After referring to forecasts

of 9.5 MB/D oil production in the States,

he says »We are seeing more oil coming out

of the U.S. Gulf – we are hopeful, though,

about the next few years.«

Lois Zabrocky, CEO of International

Seaways, mentiones a new trend »reverse

lighterings« where U.S. oil is loaded into

Aframaxes that transfer cargo to VLCCs,

which are then bound for Asia. She says

»For all of us, we all want oil to move –

a price somewhere in the $50's is a good

place for oil to be. The forecast growth of

1.5 MB/D for world oil production increases

is also a big positive.«

Robert Bugbee,

CEO Scorpio Bulk

Photo: Chris Preovolos

Longer term, constrained industry

funding could tamp down

the tendencies towards over-supply

of tankers. Paddy Rodgers

expresses a hope that the industry

could to longer term financial

sustainability with less boom

and bust. But, still there are dark

clouds. Mr. Rodgers cautiones about

the »grey market in ship finance« in

the form of State-owned funds providers

and leasing companies in Asia.

For equity investors enjoying strong

stock markets, he notes that »At P/E multiples

of 18x, investors may think twice

about investing in shipping.« Bob Burke,

whose company is backed by PE, offeres

an impression that investors that he's talking

to are much better informed. Nevertheless,

in the words of Mr. Rodgers: »Equities

are over-priced, there is still some

risk on earnings forecasts … the story is

still being developed.« There is more to the

uncertainty … with Mr. Rodgers concluding

with: »And, by the way, politics is important.«

M

54 HANSA International Maritime Journal – 154. Jahrgang – 2017 – Nr. 5
---
KUNST IM CHAOS

DER HAMBURGER HAFEN

IN FOTOS VON HEINRICH HAMANN

1945–1947

Finanzierung | Financing

Hardcover • 28 x 28 cm • 128 Seiten • R (D) 29,95 • R (A) 30,80 • SFr* 41,90 • ISBN 978-3-7822-1288-5

Die Ausstellung KUNST IM CHAOS ist noch bis 24. Mai

im Internationalen Maritimen Museum Hamburg zu sehen.

WWW.IMM-HAMBURG.DE

............................................................................................................................................................................

HAMBURG • GENUSS • GESCHICHTE • KUNST • REISE • WERFTEN • REEDER • TECHNIK • KALENDER • REDUZIERTE AUSGABEN • E-BOOKS

............................................................................................................................................................................

koehler-books.de

HANSA International Maritime Journal – 154. Jahrgang – 2017 – Nr. 5 55
---
Finanzierung | Financing

Schiffsbanken in der Klemme

Altlasten in der Schiffsfinanzierung haben den deutschen Banken in diesem

Sektor zuletzt tiefrote Zahlen beschert. Einzig die HSH Nordbank kann sich dank der Ländergarantien

im Plus halten. Nun droht ein Rückzug auf breiter Front. Von Krischan Förster

Die schiffsfinanzierenden Banken in

Deutschland mussten in ihren Bilanzen

für das vergangene Jahr Milliardenverluste

verbuchen. Angesichts eines unvermindert

hohen Ausfallrisikos ist allerorten

ein radikaler Abbau des Kreditportfolios

vorgesehen. Neugeschäft findet dagegen

kaum noch statt.

Am deutlichsten wurde jüngst der Vorstandschef

der HSH Nordbank. »Unsere

Risikostandards sind so weit weg von

der Realität der Märkte, dass wir als Kreditgeber

für die Schifffahrt vorerst ausfallen«,

erklärte Stefan Ermisch bei der Vorstellung

der Bilanz für 2016.

Die Formel, die zur Erklärung dient, ist

simpel: Ratenverfall = sinkende Schiffswerte

= steigende Risikovorsorge. Die

Buchwerte liegen – auch heute noch –

häufig weit über den tatsächlichen Marktwerten.

Es ist den Banken nicht gelungen,

diese Differenzen bilanziell zu bereinigen.

Laut einer Studie von Moody's von Ende

2016 war die Summe der Schiffskredite bei

den deutschen Banken um bis zu

zwölf Mal höher als das hinterlegte

Eigenkapital.

Auf Druck der Eu-

Zent-

ropäischen

ralbank (EZB) als

Bankenaufsicht

wurde ganz offensichtlich

der

Abschreibungsbedarf

neu ermittelt.

Die Schiffsbewertung

erfolgte

dann in vielen Fällen

nicht mehr wie bisher

HSH Nordbank

nach dem »discounted

cash flow« einschließlich

einer unterstellten

Markterholung,

sondern zu den heute

aktuellen Marktpreisen.

Je nach

Schifffahrtssegment

und Alter der

Ergebnis 2016: . . . . .121 Mio. €

Risikovorsorge: . . . . . . -1,99 Mrd. €

Schiffskredit-Portfolio: . . . . 17 Mrd. €

Non-Performing

Exposure: . . . . . . . . . . . . . . . . . . 9,3 Mrd. €

Ziel-Portfolio: . . . . . 8-9 Mrd. €

Schiffe entspricht

dies im schlimmsten

Fall nur noch dem

Schrottwert, bilanziell als

Totalverlust zu werten.

Dieses Problem wurde exemplarisch

bei der Auslagerung von Problemkrediten

der HSH Nordbank an die eigens

gegründete Ländergesellschaft AöR

im Sommer 2016 überdeutlich. Ein Portfolio

im Wert von nominell 5 Mrd. € wurde

letztlich mit 2,4 Mrd. € bezahlt, die

Differenz aus der Ländergarantie ausgeglichen.

Doch schon im Dezember waren

angesichts des fortgesetzter Charterraten-Rückgangs

erneute Wertberichtigungen

in Höhe von

341 Mio. € nötig. Die Opposition

in Kiel befürchtet

sogar einen

»Totalausfall«.

Dass die HSH

Nordbank trotz

dieser dramatischen

Lage unterm

Strich ein

positives Jahresergebnis

(121 Mio. €) einfahren

konnte, liegt an

INTERNATIONAL MARITIME JOURNAL

FORUM

SCHIFFFAHRT

FINANZIERUNG

eben jenen Ländergarantien

in Höhe

von 10 Mrd. €, die

von den beiden

Gesellschafterländern

mit Billigung

der EU

gewährt werden

dürfen. Die Risikovorsorge

von

knapp 2 Mrd. €

wurde komplett ausgeglichen.

Dieses Glück haben

andere nicht. Bei der NordLB,

der zweiten große Landesbank in der

Schiffsfinanzierung, hatte sich die erforderliche

Risikovorsorge von 840 Mio. € (2015)

sogar auf 2,96 Mrd. € fast vervierfacht. Die

Folge: ein Jahresverlust von –1,9 Mrd. € für

2016. »Wir müssen und wir können dieses

Negativergebnis aus eigener Kraft verarbeiten«,

erklärte Vorstandschef Thomas Bürkle

bei der Bilanz-Verkündung.

Ein Großteil der Verluste geht auf das

Konto der Bremer Landesbank – und kostet

diese jetzt ihre Existenz als eigenständige

Schiffsbank. Schon im Sommer hatte

die NordLB alle restlichen Anteile den früheren

Mitgesellschafter, der Stadt Bremen

(41%) und der niedersächsischen Sparkassen

(4%), übernommen. Entgegen den ursprünglichen

Plänen werden beide Banken

nun doch vollständig fusioniert, um Doppelstrukturen

aufzulösen und damit Kosten

um 150 bis 200 Mio. € einzusparen. Schiffsfinanzierung

und Kapitalmarktgeschäft

werden komplett aus Bremen abgezogen

und in Hannover gebündelt.

NordLB (inklusive BLB)

Ergebnis 2016: . . . . . . . -1,9 Mrd. €

Risikovorsorge: . . . . . . . . .-2,96 Mrd. €

Schiffskredit-Portfolio: . . .16,8 Mrd. €

Non-Performing

Exposure: . . . . . . . . . . . . . . . . 9,4 Mrd. €

Ziel-Portfolio: 12-14 Mrd. €

CC

Continental Chartering

SHIPBROKERS

CHARTERING | SALES & PURCHASE | ANALYSIS & CONSULTANCY | VESSEL VALUATION

CONTINENTAL CHARTERING GMBH & CO. KG

Ballindamm 17 | 20095 Hamburg | Germany | Tel + 49 (40) 32 33 70 70 | Fax + 49 (40) 32 33 70 79 | office@continental-chartering.de

www.continental-chartering.de

56 HANSA International Maritime Journal – 154. Jahrgang – 2017 – Nr. 5
---
Finanzierung | Financing

Eine ähnliche Entwicklung hatte die

DVB Bank zu verzeichnen. Lange Jahre

war der Spezialanbieter für Tranport-,

Schiffs- und Offshore-Finanzierungen

vergleichsweise glimpflich durch die Krise

gekommen. Doch im vergangenen Jahr

musste auch die DVB Bank einen deutlichen

Rutsch in die roten Zahlen vermelden.

Der Verlust (Ergebnis

vor Steuern) lag

bei –135,3 Mio. €

gegenüber einem

Gewinn

von 46,1 Mio. €

im Vorjahr.

Die Risikovorsorge

stieg um

239,9 Mio. € auf

381,4 Mio. € – im

Wesentlichen für

den Altbestand im

Portfolio. Dass die

Lage nicht noch schlimmer

wurde, ist einem Ertragszuschuss

des Mutterkonzerns

DZ Bank in Höhe von 150 Mio. € zu

verdanken.

Neugeschäft kommt zum Erliegen

Die weiter ausstehende Bereinigung von

Portfolio und Bilanz und die verschärften

Regularien führt bei den schiffsfinanzierenden

Banken zu einer weiteren Konsequenz:

Das Neugeschäft kommt weitestgehend

zum Erliegen. Lediglich 300 Mio. €

hat die HSH Nordbank im vergangenen

Jahr noch für Neugeschäft ausgegeben –

gegenüber 800 Mio. € im Jahr 2015 und

mehr als 2 Mrd. € in früheren Jahren. Bei

der NordLB waren es nur 400 Mio. €, ausschließlich

in der Kreuzschifffahrt, für

Fähren und Spezialtonnage. Zum Vergleich:

2015 war es noch 1 Mrd. €.

Die DVB Bank war hingegen vergleichsweise

aktiv. Immerhin hat die Bank

73 neue Transaktionen mit einem Volumen

von 2,4 Mrd. € abgeschlossen. Ähnliches

ist von der KfW Ipex-Bank zu berichten,

die 2,4 Mrd. € im Bereich »Maritime

Industrie« neu vergeben hat. Der Förderbank

des Bundes kommt aber im Vergleich

zweifellos eine Sonderrolle zu.

Denn ansonsten stehen die Zeichen

künftig klar auf Abbau, quer durch die gesamte

Bankenlandschaft. Hier weitere Institute

im Überblick:

• Die Commerzbank nähert sich mit Riesenschritten

dem bereits 2012 verkündeten

Komplett-Ausstieg aus der Schiffsfinanzierung.

Seit 2008 wurden knapp

DVB Bank

Ergebnis 2016:. .-135,3 Mio. €

Risikovorsorge: . . . . . .-381,4 Mio. €

Schiffskredit-Portfolio: . . 11,9 Mrd. €

Non-Performing

Exposure: . . . . . . . . . . . . . . .rund 6 Mrd. €

Ziel-Portfolio: . . . . . . . . . . . . . k.A.

Abstract: Shipping lenders in a squeeze

Non-performing loans still put a severe strain on the balance sheets of traditonal German

lenders with shipping provisions having hit record highs in 2016. In view of the

unabated high default risk, a radical downsizing of the credit portfolio seems to be

the order of the day. The overall credit volume has already shrunk from 112 mill. € in

2008 to about 76 mill. € last year. Due to the persistent market distortions, new business

almost grounds to a standstill. Further information: redaktion@hansa-online.de

19 Mrd. € aus den Büchern

genommen

worden, übrig sind

noch 4,7 Mrd. €. Bis

2020 sollen die

Summe auf Null

sinken.

• Die Deutsche

Bank hat dem Vernehmen

nach ihr

Portfolio bereits auf

unter 5 Mrd. € gedrückt.

Konkrete Angaben

zum Bereich Shipping

werden nicht

mehr veröffentlicht.

• Die Helaba als Landesbank

Hessens und

Thüringens hat mit

einer Risikovorsorge

von 262 Mio. €

nach eigenen Angaben

»klar Schiff«

gemacht und das

Portfolio auf unter

1 Mrd. € reduziert.

• Bei der Deka sank der

Wert der Schiffskredite

von einst rund 3 Mrd. € auf

zuletzt 1,6 Mrd. €.

Die Kreditsumme der sieben größten deutschen

Schiffsbanken hat sich seit 2008 von

einst 112 Mrd. € um rund ein Drittel auf

gut 76 Mrd. € verringert. Allein die angekündigten

Abbau-Szenarien bei HSH

Nordbank, NordLB und Commerzbank

ergeben weitere 17 Mrd. €. Wobei die künftige

Rolle der HSH noch unklar ist.

Man werde auch im Zukunft der Schifffahrt

treu bleiben, hatte Vorstand Ermisch

beteuert. Doch ob dies nach einem möglichen

Verkauf, möglicher Weise in zwei Teilen,

auch noch gilt, bleibt abzuwarten. Das

Interessensbekundungsverfahren für den

von der EU vererordneten Verkauf wurde

inzwischen abgeschlossen. Dem Vernehmen

nach haben sich fünf Bieter gemeldet,

darunter zwei ernsthafte Bewerber.

Der chinesische Logistikkonzern HNA

greift nach der Kernbank, die als vergleichsweise

»gesund« und

damit als attraktiv gilt.

In deren Schiffsportfolio

von zuletzt

7,1 Mrd. €

stecken »nur«

700 Mio. € an

»non-performing

loans«.

Dagegen

steht die

Abbaubank

mit weiteren

9,9 Mrd. € und

einem sehr hohen

Ausfallrisiko

von 8,3 Mrd. € (84%).

Auf dieses Altlastenportfolio

soll der US-Finanzinvestor

Apollo ein Auge geworfen haben.

Die Länder müssen nun entscheiden, mit

welchen Bietern intensivere Verkaufsverhandlungen

geführt werden. Die Landesbank

soll bis Februar 2018 privatisiert werden

– gelingt dies nicht, wird abgewickelt.

Fortsetzung folgt …

M

KfW Ipex-Bank

Ergebnis 2016: . . . . . . . . 645 Mio. €

Risikovorsorge: . . . . . . . . . .-233 Mio. €

Schiffskredit-Portfolio: . . 16,2 Mrd. €

Non-Performing

Exposure: . . . . . . . . . . . . . . . . . . . . . .k.A.

Ziel-Portfolio: . . . . . . . .k.A.

INVESTORENKAPITAL

MPC geht mit 100 Mio. $ auf Einkaufstour

Die MPC Capital AG hat über eine neu gegründete Investmentgesellschaft 100 Mio. $

an Eigenkapital eingeworben. Im Fokus: Der Aufkauf von Containerschiffen zwischen

1.000 und 3.000 TEU. Im Rahmen einer Privatplatzierung sei das Eigenkapital bei internationalen

institutionellen Investoren und Family Offces in Norwegen und im angelsächsischen

Raum eingeworben worden. Für eine erste Flotte von Schiffen seien bereits

Vorverträge unterzeichnet worden, sagte ein Sprecher. Es handle sich dabei um »eine

Handvoll«. Nähere Einzelheiten sollen später bekannt gegeben werden.

M

HANSA International Maritime Journal – 154. Jahrgang – 2017 – Nr. 5 57
---
Schiffstechnik | Ship Technology

Möglicherweise ein künftiges

Mahnmal für mehr Sicherheit auf

See: das Wrack der »Sewol«

Ein Kraftakt

für das nationale

Gewissen

Die Fährkatastrophe hatte im April 2014 tiefe Wunden in die

südkoreanische Gesellschaft gerissen. Politiker mussten ihre Ämter

abgeben, Seeleute für Jahrzehnte ins Gefängnis. Jetzt ist die

»Sewol« nach langen Verzögerungen, vielen Diskussionen und

unter großer Anteilnahme geborgen worden. Von Michael Meyer

Fotos: South Korean Ministry of Ocean and Fisheries

58 HANSA International Maritime Journal – 154. Jahrgang – 2017 – Nr. 5
---
Schiffstechnik | Ship Technology

Nur 174 der 476 Menschen an Bord überlebten die Havarie der

seinerzeit 20 Jahre alten 6.580 BRZ-RoPax-Fähre, die nahe der

Insel Jindo im Gelben Meer kenterte. Weil unter den Passagieren

über 320 Schüler waren und der Kapitän sowie Teile der Besatzung

den Havaristen panisch verließen, anstatt Hilfe zu leisten, löste das

Unglück enorme Empörung und große Diskussionen in der südkoreanischen

Gesellschaft aus. Tage- und wochenlang wurde mit

169 Schiffen und Booten nach Toten und Überlebenden gesucht.

Die Behörden arbeiteten damals fieberhaft an einem Bergungskonzept.

Zunächst sollten Hebesäcke das noch zum Teil aus dem

Wasser ragende Wrack stabilisieren. Zusätzlich wurden drei

Schwimmkrane zur Unglücksstelle beordert. Doch all das nützte

nichts, der vollständige Untergang der »Sewol« auf rund 40 m

Tiefe konnte nicht verhindert werden.

Die Vorbereitungen für die Bergung begann 2015. Im Sommer

2016 machte man sich schließlich daran, 18 Hebearme am Wrack

anzubringen. Zuvor wurden 954 m3 ölverschmutztes Wasser abgepumpt

sowie Sicherheitsnetze an Fenstern und Türen angebracht.

Weil die Krängung und die Wirkungen der Wasserbewegung auf

das Schiff – in der für schwierige Bedingungen bekannten Region

– nicht ausreichend berücksichtigt wurden, musste das Projekt

immer wieder verschoben werden.

Daraufhin entwickelte man ein neues Konzept. Letztlich erhielt

das chinesische Unternehmen Shanghai Salvage den Bergungsauftrag.

Unter dem Wrack sollten Trossen und Kabel geführt und

die »Sewol« dann von zwei Bargen gehoben werden. Erst nach erfolgreichen

Tests wurde Mitte März dieses Jahres grünes Licht für

Aktion gegeben.

An 66 Trossen und 33 Hebearmen hängend, wurde die »Sewol«

zwischen zwei Pontons auf 13 m über die Wasseroberfläche gehoben.

Dabei kamen tiefe Kratzer sowie zwei mehrere Meter lange

Risse im Backbord-Vorschiff zum Vorschein. Sie stammten vom

Bergungsversuch in 2016, als die Strömung dafür sorgte, dass sich

Stahltrossen in den Rumpf »sägten«. Mit den eigens gebohrten

Löchern im Rumpf sollten Wasser und Schmutz entfernt werden

können, um das Eigengewicht des Schiffes zu reduzieren.

Es dauerte jedoch nicht lange, bis ein neues Problem »auftauchte«:

Eine der Laderampen der »Sewol« hing frei unter dem Rumpf.

Weil sie ein reibungsloses Absetzen auf dem dafür vorgesehenen

Dockschiff verhindert hätte, mussten kurzerhand Taucher noch

einmal Hand anlegen. Zudem erwiesen sich die Löcher im Rumpf

als weniger effektiv als erhoff, große Mengen Schlamm blieben

an Bord – das Eigengewicht betrug zwischenzeitlich nach unterschiedlichen

Berichten zwischen 14.500 t oder gar 17.000 t.

Das Wrack wurden mit der Steuerbordseite nach oben zwischen

den Bargen »Zhao Shang Zhong Gong 1« und "Zhao Shang Zhong

Gong 2« befestigt und Ballastwasser abgepumpt. Mit Hilfe von fünf

Schleppern wurde die »Sewol« zum bereitstehenden Halbtaucherschiff

»White Marlin« der Boskalis-Tochter Dockwise bugsiert. Das

dauerte allerdings länger als geplant, weil wiederum die Strömungsbedingungen

kleinere Kursänderungen erforderlich machten. An

Deck der »White Marlin« festgeschweißt kam die »Sewol« schließlich

nach Mokpo, wo in einem Trockendock die genaue Ursache der

Havarie geklärt und nach den übrigen Vermissten gesucht werden

soll. Dafür musste zunächst über mehrere Tage die Verschweißung

getrennt werden. Danach wurde das Wrack von 600 Modultransportern

mit jeweils 40 t Kapazität ins Dock gebracht. Eigentlich waren

nur 480 vorgesehen, angesichts der Schwierigkeiten entschied

man sich jedoch, weitere Einheiten hinzuzuziehen.

Am 9. April – über 1.000 Tage nach ihrem Untergang – konnte

die »Sewol« schließlich an Land gehoben werden. Vom ursprünglichen

Plan, sie für die folgenden Arbeiten besser zu positionieren,

wurde Abstand genommen, da die Schäden so groß waren, dass

man Sorge hatte, das Wrack könnte auseinanderbrechen.

Insgesamt kostete die Bergung rund 72 Mio.$ – nach Ansicht von

südkoreanischen Experten ist vermutlich noch nie zuvor ein komplettes

Schiff aus so einer Tiefe geborgen worden.

Südkoreas Regierung hat, auch auch Druck der Familien, ein

großes Experten-Team mit der Suche nach den Vermissten und

mit der Aufklärung der Unglücksursache beauftragt. Das war einer

der Hauptgründe dafür, dass man das Wrack überhaupt gehoben

hat, und zwar in einem Stück.

Was genau geschah, ist noch immer nicht restlos aufgeklärt. Angeblich

gab es zu viele schnelle Kursänderungen der unerfahrenen

dritten Offzierin, wodurch Ladung verrutschte und das Schiff

kenterte. Auch ein defektes Ruder wurde als möglicher Grund genannt.

Zudem stellte ein Gericht einen unzulässigen Umbau zur

Erhöhung der Ladefähigkeit fest. Die »Sewol« galt als regelmäßig

überladen und nicht zu wenig Ballastwasser ausgestattet. Den Behörden

wurden deswegen Versäumnisse und mangelnde Kontrolle

vorgeworfen. Premierminister Jung Hong-won war nach der Havarie

zurückgetreten. Das Amtsenthebungsverfahren gegen Staatspräsidentin

Park Geun Hye wird mit der langsamen Aufklärung in

Verbindung gebracht.

Kurz nach der Havarie war bereits die Besatzung festgenommen

worden. Der Reeder wollte sich zunächst ins Ausland absetzen,

später wurde seine Leiche gefunden. Der Kapitän wurde

zwar vom Mord-Vorwurf freigesprochen, erhielt jedoch letztlich

eine Haftstrafe von 36 Jahren. Weitere Crew-Mitglieder wurden

zu Strafen zwischen zwischen 15 und 30 Jahren verurteilt. Ihnen

wird unter anderem zur Last gelegt, dass sie Passagiere der

»Sewol« im Zuge der Havarie aufgefordert hatten, in ihre Kabinen

zu gehen. Die wenigen, die sich widersetzen, gehörten zu

den wenigen Überlebenden.

M

HANSA International Maritime Journal – 154. Jahrgang – 2017 – Nr. 5 59
---
Schiffstechnik | Ship Technology

»Wir bleiben profitabel im Schlepper-Bau«

Im harten Wettbewerb der Schlepper-Werften setzt die niederländische Damen-Gruppe

trotz Produktionsauslagerung nach Asien auf Qualität und grüne Technologien – auch

wenn die Rahmenbedingungen noch nicht passen. Von Michael Meyer

Zwischen 70 und 80 Schlepper produziert

die Gruppe pro Jahr. Damit sieht man

sich im globalen Wettbewerb sehr gut aufgestellt.

Die Konkurrenz sitzt vor allem in

der Türkei, in Singapur oder im restlichen

Asien, allerdings mit geringeren Fertigungsvolumen.

Dirk Degroote, Damens Produktmanager

»Tugs« verhehlt im Gespräch mit

der HANSA nicht, dass der Druck auf dem

Markt zunimmt. Ein Aspekt ist, dass immer

wieder auch neue Werften ihr Glück im

Schlepperbau suchen, etwa solche, die bisher

auf den Offshore-Markt fokussiert waren

und sich angesichts der dortigen Misere

seit einiger Zeit neue Geschäftsfelder suchen

(müssen). In der Türkei sticht vor allem Sanmar

Shipyard hervor, die beispielsweise mit

Svitzer einen wichtigen Kunden haben.

Ein Merkmal des heutigen Marktes ist

ein harter Preiskampf, zumal auch Teile der

Konkurrenz den Serienbau vorantreiben.

Allerdings glaubt Degroote, dass es auch

in Zukunft »nur eine relativ kleine Anzahl

an hochwertigen Schlepper-Werften« geben

wird. Seine Annahme stützt darauf, dass für

das Geschäft mit hoher Qualität viel Fachwissen

und Erfahrungen nötig seien. »Der

Schlepper ist mittlerweile zu einem ›Formel

1-Wagen‹ geworden«, betont er mit Blick auf

die technologische Weiterentwicklung.

Schleppreeder also potentielle Kunden

stehen selbst in harter Konkurrenz. Die

Branche kämpft mit den Auswirkungen und

Einsparmaßnahmen in der Handelsschifffahrt

– Stichwort Allianzen – und nicht selten

fehlt es an Investitionsmöglichkeiten.

Noch ist man dem Vernehmen nach bei Damen

ordentlich beschäftigt. Seit einigen Jahren

schon steigen die Erlöse im Schlepperge-

Damen in Zahlen (2015)

Erlöse: . . . . . . . . . . . . 2,1 Mrd. €

Werften weltweit. . . . . . . . . . 32

Niederlande: . . . . . . . . . . . . . . . 14

International: . . . . . . . . . . . . . . 18

Beschäftigte: . . . . . . . . . . .9.000

Niederlande: . . . . . . . . . . .3.000

International: . . . . . . . . . .6.000

Ablieferungen: . . . . . . . . . . 180

Schlepper/Work Boats: . 82

Offshore-Schiffe: . . . . . . . . . . . .8

High Speed/Fähren: . . . . . 62

Pontons/Barges: . . . . . . . . . . . 10

Bagger/Spezialschiffe: . . . 15

Marine/Yachten: . . . . . . . . . . . .3

Lager: . . . . . . . >200 Einheiten

60 HANSA International Maritime Journal – 154. Jahrgang – 2017 – Nr. 5
---
Schiffstechnik | Ship Technology

schäft, das rund 15% bei der Damen-Gruppe

ausmacht. Das dürfte sich fortsetzen, auch

wenn es zunehmend schwierig ist, profitabel

zu arbeiten. »Seit einigen Jahren steigen

unsere Umsätze im Schlepper-Bau und wir

erwarten, dass es so bleibt«, sagt Degroote.

Damen kann ein relativ gesundes Orderbuch

vorweisen, ist im Markt zu hören.

Allerdings hat sich der Akquiseprozess gewandelt:

Viele Kunden treffen nach Meinung

von Branchenkennern immer später

eine Investitionsentscheidung, die Lieferzeiten

werden also kürzer.

An dieser Stelle, wie des Öfteren im Gespräch

über die Einschätzung der eigenen

Position, kommt Degroote auf den Serienbau

zu sprechen, für den Damen weltweit bekannt

ist. Die Niederländer haben eine Reihe

von Typen entwickelt, die auf eine Serienproduktion

ausgelegt sind und die »auf Lager«

produziert werden können. So konnte

man sich ein großes Knowhow aneignen.

Dirk Degroote

Produktmanager Schlepper

Damen Shipyards

Fotos: Damen Shipyards

Abstract: Damen ready to »stay profitable in tug building«

Damen Group is heading for quality and green technology despite production shifts to Asia.

The framing conditions, however, still have to be improved. »For a number of years our sales

have been growing in tugs and we expect them to remain the same,« says Dirk Degroote,

Manager Design and Proposal Tugs. Damen has a relatively healthy order book. The yard

is well known for serial production. Thus, specific processes guarantee high quality in spite

of the diversity of global yard locations. Further information: redaktion@hansa-online.de

Ein Beispiel ist der »Azimuth Stern

Drive«-Typ, der sich offenbar großer Beliebtheit

erfreut. War das Verhältnis der

verkauften Neubauten zwischen ASD und

konventionellen Schleppern vor einigen

Jahren noch ausgeglichen, habe sich der

ASD mittlerweile zum neuen Standard-

Typ entwickelt. Degroote erklärt einen

aus Damen-Sicht wichtigen Pluspunkt des

Konzepts: »Ein Vorteil des Serienbaus ist,

dass wir viel Forschungsarbeit in alle Bereiche

stecken können, etwa in die Stabilität

oder die Winden, weil wir die Ausgaben auf

mehrere Serien verteilen können.«

Ganz sorgenfrei kann man in der Gruppe

allerdings nicht sein. Mindestens mittelfristig

will und muss man sich die wachsende

Konkurrenz mit Qualität und technischen

Innovationen vom Leib halten. Kernpunkt

der entsprechenden Strategie ist das in der

maritimen Welt ebenso oft angepriesene wie

als noch unrentabel verworfene, vermeintliche

Allheilmittel »Green Shipping«.

Auch bei Damen ist man von der Zukunft

umweltfreundlicherer Technologie in der gesamten

Schifffahrt überzeugt, also auch für

Schlepper. Damen selbst arbeitet etwa an Hybrid-

und Wasserstoff-Projekten. Bei Degroote

klingt jedoch noch Skepsis durch: »Wir

arbeiten an grünen Technologien weil sie

künftig immer wichtiger werden. Es ist eine

Herausforderung wenn man bedenkt, dass

die Technik zum Teil schon da ist, die Rahmenbedingungen

im Markt eine Realisierung

solcher Projekte heutzutage aber erschweren.«

Werften und Entwickler kämpfen seit

Jahren mit diesem Problem: Reedereien leiden

unter finanziellen Problemen, Umweltbewusstsein

spiegelt sich noch nicht in den

Raten wieder. Viele Industrievertreter sehen

die Politik in der Pflicht, um den Business

Case attraktiver zu machen. Sie monieren

fehlende Anreize zum Kauf ihrer Produkte,

sei es durch Förderinstrumente oder noch

strengerer Vorgaben.

Ein weiterer Aspekt, bei dem sich nach

Ansicht von Degroote neue Anforderungen

bemerkbar machen werden, ist die

Kraft von Schleppern. Dabei spielt sowohl

die Entwicklung der Handelsschifffahrt als

auch der Häfen eine wichtige Rolle. »Häfen

sind oft in ihren Ausbaumöglichkeiten

eingeschränkt, während die Größe der anlaufenden

Schiffe immer weiter zunimmt –

Hamburg ist ein Beispiel dafür. Für solche

Fälle sind kompakte und starke Schlepper

nötig«, meint der Damen-Manager. Um im

enger werdenden Raum manövrieren zu

können, braucht es nicht selten einen stärkeren

Pfahlzug als in der Vergangenheit.

Im Kampf um Marktanteile setzt die niederländische

Gruppe auf ein breites internationales

Netzwerk und die Auslagerung

in Länder mit geringeren Produktionskosten.

Damen fertigt seine Schlepper in Vietnam,

China und Rumänien. Während in

Galati Prototypen und speziellere Projekte

abgearbeitet werden, konzentriert man sich

in China auf kleinere Serien bis 24 m und in

Vietnam auf das Segment bis 32 m.

Vor allem die 2014 gestartete Werft Damen

Song Cam in Hai Phong City, ein Joint

Venture von Damen (70%) und Song Cam

Shipbuilding (30%), genießt bei Degroote

Ansehen: »Sie hat hochmoderne Anlagen.

Das, und der Umstand, dass wir überall großen

Wert auf die geübten Prozesse und die

Detailarbeit legen, stellt sicher, dass alle Neubauten

hohen Standards gerecht werden.«

Ziel sei es, auf der ganzen Welt die gleiche

Qualität abzuliefern.

Ob die globale Präsenz ausgebaut wird?

Zu möglichen Übernahmen äußert sich der

Konzern seit jeher nicht explizit. Degroote

sagt: »Man weiß nie, was passiert. Wir sind

ein starkes Unternehmen und haben gute

Voraussetzungen für Wachstum.«

Die Vergangenheit hat bereits gezeigt, dass

die Gruppe durchaus anorganisches Wachstum

vorantreibt. So wurde zuletzt etwa die

Übernahme einer Reparaturwerft in Curaçao

gemeldet, in den Vereinigten Arabischen

Emiraten wurde mit Albwardy ein neues Gemeinschaftsunternehmen

für den Bau kleiner

Einheiten aufgesetzt. Zudem gehörte

man eine Zeit lang zum Kreis der Interessenten

für die Übernahme der STX-Werft in

St. Nazaire.

Ein Arbeitsplatzabbau wie er für das Reparatursegment

bereits angekündigt wurde,

droht dem Schlepper-Bau dem Vernehmen

nach übrigens nicht.

M

HANSA International Maritime Journal – 154. Jahrgang – 2017 – Nr. 5 61
---
Schiffstechnik | Ship Technology

Neuer Schlepper-Player in Europa

Auf dem Markt der europäischen Schlepper-Werften wird es enger: Mit der italienischen

Cantiere Navale Vittoria wagt sich ein neuer Akteur an das umkämpfte Geschäft

Deutsche, niederländische oder türkische Werften müssen sich

auf einen weiteren Wettbewerber einstellen. Künftig dürften

Angebote für Schlepper-Neubauten auch aus dem italienischen

Adria – zwischen Venedig und Ravenna gelegen – kommen. Die

dort ansässige Werft Vittoria hat sich entschlossen, im Markt mitzumischen.

Dass es sich dabei nicht um Gedankenexperiment handelt, zeigt

die jüngste Veröffentlichung der Werft. Den Start in das Segment

markieren zwei konkrete Aufträge aus Russland und Algerien.

Für Vittoria seien die Bestellungen

für ASD-Schlepper »historisch«,

heißt seitens der Werft. Bislang war

das 1927 gegründete Familienunternehmen

vorrangig auf Militär- und

Arbeitsschiffe, wie Rettungseinheiten,

Service- und Passagierschiffe,

mit bis zu 100 m Länge fokussiert.

»Der Schlepper-Markt ist eine große

Herausforderung«, sagt Werft-Chef

Luigi Duo, der Vittoria aber dennoch

gut aufgestellt sieht. Man habe gute Rückmeldungen auf die Qualität

der bisherigen Ablieferungen bekommen.

Die beiden neuen Aufträge haben ein Volumen von insgesamt

15 Mio.€. Das russische Geschäft kam im Rahmen der Zusammenarbeit

zwischen Italien und Russland zur Verarbeitung radioaktiver

Stoffe zustande. Der vom Russian Maritime Register of

Shipping klassifizierte Schlepper soll bei der Verschrottung von

atombetriebenen U-Booten in der Barents-See eingesetzt werden.

Bei einer Länge von 32 m und einer Maximalgeschwindigkeit von

Die Vittoria­Werft war bislang auf Marine­ und

Arbeitsschiffe spezialisiert. Einer der Schlepper­

Neubauten soll sich in Russland an Abwrackprojekten

in der Flotte nuklear angetriebener U­Boote beteiligen

12 kn wird er einenPfahlzug von »über 60 t« haben, teilte Vittoria

mit.

Aus Algerien kam ein Auftrag von der Skikda Harbour Authority.

Bei der Ausschreibung setzten sich die Italiener nach eigenen

Angaben gegen 14 Konkurrenten aus dem eigenen Land sowie aus

Spanien, Frankreich, Indien, China, den Niederlanden und der

Türkei durch. Die von Bureau Veritas klassifizierte, 26 m lange

und 3,8 m tiefgehende Einheit wird nach der Ablieferung 2018 eine

Verdrängung von 508 t und einen Pfahlzug von 30 t haben. M

Quelle: Vittoria

2017

Check data of your SHIPYARD online

www.ship2yard. com/

ws

www.EQUIP4SHIP.com

www.SHIP2YARD.com

62 HANSA International Maritime Journal – 154. Jahrgang – 2017 – Nr. 5
---
Schiffstechnik | Ship Technology

Ulstein's biggest ship: »Island Venture«

Offshore Construction Vessel (OCV)

»Island Venture« is the biggest ship

Norwegian Ulstein Verft has delivered to

date. The stern was produced at Crist shipyard

in Poland, Ulstein Verft built the bow

and assembled both parts. The subsea vessel

of the SX165 type was designed by Ulstein

Design & Solutions. It features the

X-Bow that improves handling in rough

seas and reduces hydrodynamic drag. The

14.257 DWT ship was developed for Inspection,

Maintenance and Repair (IMR),

Remotely Operated Vehicle (ROV) services,

well intervention, drilling and handling

of well fluids. When equipped with a derrick

she can also perform riser-based intervention,

top-hole drilling and full plug

and abandonment operations.

The ABS-classed newbuilding was

originally ordered with a length of

147.5 m and a beam of 28 m. Later

it was decided to increase the

deck area and tank capacities. The vessel's

dimensions were extended to 159.8 m by

30 m with a deck area of 2,250 m2. A 400 t

crane for operations at 4,000 m depth as well

as a 140 t crane with 3,000 m of wire have

been installed. The vessel has three moon

pools – two for ROVs and one construction

moon pool of 12 m x 11.2 m.

Three separate engine rooms provide for

operational reliability. The vessel is constructed

with three completely segregated

redundancy zones according to DP3 Class.

ABB supplied the complete power and

diesel electric system package. »Island Venture«

features three

Schottel Combi

Drives of

type SCD

710 with an

Spotlight on

new ships

input power

of 3,300 kW

each. The propulsion

system also comprises

two 2,500 kW retractable azimuth

thrusters forward and two 2,200 kW tunnel

thrusters.

»Island Venture« is owned by Island

Ventures 5, a joint venture between USbased

Edison Chouest

Offshore and Island

Offshore of

Norway. M

Source: Ulstein

Length overall . . . . . . . . . . . . . . . . . . . . . . . . . . . . . . . . . . . . . . . 159.8 m

Breadth . . . . . . . . . . . . . . . . . . . . . . . . . . . . . . . . . . . . . . . . . . . . . . . . . . .30.0 m

Draught max. . . . . . . . . . . . . . . . . . . . . . . . . . . . . . . . . . . . . . . . . . . . .9.0 m

Trial speed . . . . . . . . . . . . . . . . . . . . . . . . . . . . . . . . . . . . . . . . . . . . . . . .14 kn

Deadweight at 9.0 m draught

(offshore crane installed) approx. . . . . . . . . . . . . . 13,800 t

Deck load approx. . . . . . . . . . . . . . . . . . . . . . . . . . . . . . . . . . . . . 9000 t

Accommodation . . . . . . . . . . . . . . . . . . . . . . . . . . . . . . 239 persons

Total power: . . . . . . . . . . . . . . . . . . . . . . . . . . . . . . . . . . . . . 19,400 ekW

4 main diesel generators, ea. . . . 3,640 ekW, 900 rpm

2 main diesel generators, ea. . . . 2,420 ekW, 900 rpm

3 main azimuth thrusters, ea. . . . . . . . . . . . . . . . . 3,300 kW

2 retractable azimuth thrusters, ea. . . . . . . . . 2,500 kW

Two tunnel thrusters, ea. . . . . . . . . . . . . . . . . . . . . . .2,200 kW

HANSA International Maritime Journal – 154. Jahrgang – 2017 – Nr. 5 63
---
Schiffstechnik | Ship Technology

Der Scrubber – ein Erfolg?

Mit den ab 2020 geltenden strengeren Schwefelemissionsgrenzwerten stehen

die Reeder vor der Wahl: MGO, Scrubber, LNG oder Verschrottung. Wie hat sich

der Markt der Abgasreinigungsanlagen entwickelt und welche Trends gibt es?

Ein Überblick von Claudia Behrend

Schätzungen zufolge sind etwa 70.000 Schiffe von den ab

2020 weltweit geltenden strengeren Schwefelemissionsgrenzwerten

von 0,5% der IMO (International Maritime Organization)

betroffen – vorbehaltlich der Ergebnisse einer Brennstoffverfügbarkeitsprüfung

2018. Für die Einhaltung haben die Reeder im

Wesentlichen vier Optionen: den Betrieb mit schwefelärmerem

Bunker wie MGO (Marine Gas Oil), den Einbau von Abgasreinigungsanlagen

(Scrubber), den Einsatz von LNG (Liquefied Natural

Gas) oder die Verschrottung.

Für 19 % der Reeder eine Option

Fest steht: Der Anteil gasbetriebener Schiffe ist viel langsamer gestiegen

als noch vor einiger Zeit erwartet. Befragt man die Reeder,

so ergibt sich folgendes Bild: Über 60% der Reeder von Containerschiffen,

Bulkern und Tankern planen zufolge einer im Januar

dieses Jahres veröffentlichten Umfrage der Schweizer Bank UBS,

ihre älteren Schiffe im Hinblick auf die IMO-Vorgaben zu verschrotten.

74%beabsichtigen, niedrigschwefelhaltigen Bunker einsetzen,

19% wollen ihre Schiffe mit Scrubbern ausrüsten und lediglich

5% setzen auf LNG. Unklar ist derzeit, wie sich die Preise

für MGO bis 2020 entwickeln. Abzuwarten bleibt auch, ob die zu

erwartende erhöhte Nachfrage nach MGO in vollem Umfang abgedeckt

werden kann.

Doch sieht beispielsweise die Reederei Maersk Line Abgasreinigungsanlagen

nicht als Option: »Unsere Erfahrung mit dem

Scrubber, den wir für einem Test bei einem Hilfsmotor eingebaut

haben, führt uns zu der Überzeugung, dass dies keine Technologie

ist, die wir auf den Hauptmotoren oder flottenweit installieren

möchten«, sagt Sprecher Michael Christian Storgaard. »Die

Installation eines Scrubbers würde die Komplexität des Schiffs,

den Treibstoffverbrauch und weitere Verbrauchs- und Wartungskosten

erhöhen.« Ein weiterer Grund sind die hohen Investitionen:

Maersk geht davon aus, dass die Installation eines Scrubbers

auf einem Großcontainerschiff mehr als 10 Mio. $ kosten

würde.

Auch die Reederei NSB aus Buxtehude hat bislang keins

ihrer derzeit 68 Schiffe mit Scrubbern aus- oder nachgerüstet.

Vor einigen Jahren sei man nach eingehender Analyse

zu dem Ergebnis gekommen, dass der Platzbedarf, die

Kosten und der Energiebedarf zu hoch seien, berichtet Jörg

Erdtman, Vice President Technical Management and Service.

Erneut beschäftigen werde man sich mit dem Thema

Scrubber erst 2018.

Ein anderes Bild zeigt sich indes bei den Kreuzfahrtreedern.

So hat der US-amerikanische Kreuzfahrtkonzern

Carnival Corporation inzwischen auf 60 seiner insgesamt

100 Kreuzfahrtschiffe Scrubber installiert. Auch die deutsche

Kreuzfahrtgesellschaft TUI Cruises setzt auf drei ihrer

derzeit fünf Kreuzfahrtschiffe diese Technik ein. »Wir

haben uns für Scrubber statt MGO entschieden, weil sie

uns im weltweiten Einsatz die höchste Flexibilität ermöglichen«,

erklärt die Umweltmanagerin Lucienne Damm.

Die Schiffe von TUI Cruises seien weltweit im Einsatz und

die MGO-Verfügbarkeit in Asien erst seit etwa ein bis zwei

Jahren gewährleistet, im Orient gebe es bisher kaum oder

gar kein MGO. Zudem seien Scrubber wirtschaftlich sinnvoll

und böten zudem gegenüber MGO Vorteile bei der Reduktion

von SO x, Partikeln und NO x .

Technik funktioniert

Auch andere Schifffahrtsunternehmen, die sich für Scrubber

entschieden haben, sind zufrieden. Ein Beispiel ist die

Lübecker Reederei TT-Linie mit den auf drei ihrer sechs

Fähren installierten Hybrid-Scrubbern. Die erreichten

Abgaswerte für SO x und Partikel beziehungsweise Feinstaub

lägen deutlich unter den lokalen und internationalen

Grenzwerten, heißt es.

64 HANSA International Maritime Journal – 154. Jahrgang – 2017 – Nr. 5
---
Schiffstechnik | Ship Technology

Die Hamburger Reederei Buss-

Shipping ließ 2016 mit der »Condor«

und der »Corsar« (jeweils 1.025 TEU)

ebenfalls zwei ihrer Feederschiffe mit

Hybrid-Scrubbern ausrüsten. Und es

sollen noch mehr werden: »Da unsere

Scrubber zufriedenstellend und zuverlässig

das Abgas der zwei Schiffe

reinigen und auch finanziell unsere

Erwartungen erfüllen, überlegen wir

derzeit, weitere fünf Feeder schiffe,

die in der Nord- und Ostsee verkehren,

mit Scrubbern auszurüsten«, sagt

Geschäftsführer Torben Koelln.

Abstract: Scrubbers – a success story?

How has the market for exhaust gas cleaning systems developed and what are the trends?

A survey by UBS Bank from January reveals that 60% of all container, bulker and tanker

owners asked plan to send their vessels to the scrap yard. Thus, 74% opt for low sulphur

bunker, 19% rely on scrubber technology and only 5% trust in LNG. Maersk rules out

scrubbers for main engines or for their entire fleet after tests. Shipowner NSB says scrubber

size ratio and energy consumption were to bad to discuss the topic prior to 2018. Cruise

operator TUI uses scrubbers, not MGO as the green technology is seen as more flexible.

The lack of MGO in Asia adds to this. Owner TT Line has made the experience that hybrid

scrubbers work fine aboard ferries. Yards, however, see little demand, yet.

Further information: redaktion@hansa-online.de

Über 360 Scrubber­Projekte bis 2020

»Es ist ordentlich Bewegung auf dem Markt«, berichtet auch Stine

Mundal, Head of Section Environmental Certification bei DNV

GL in Hamburg. »Von den Abgasreinigungsherstellern hören

wir, dass es sehr viele Anfragen gibt.« Die Klassifikationsgesellschaft

selbst hat inzwischen bereits 130 Installationen zertifiziert

und verzeichnet damit einen Marktanteil von knapp 40%. Rund

20 weitere Nachrüstungen seien geplant, so Mundal. Auch von

DNV GL zertifizierte Neubauten werden mit Scrubbern ausgerüstet:

13 waren es im vergangenen Jahr und im Orderbuch stehen

weitere 25. Insgesamt gibt es nach Angaben von DNV GL

bis 2020 mehr als 360 bestätigte Scrubber-Projekte. Dabei

wird ein Großteil der geplanten oder bereits installierten

Scrubber auf Kreuzfahrtschiffen, Fähren (42%) und RoRo-

Schiffen (24%) eingesetzt. Auf Bulker und General Cargo-

Schiffe entfallen jeweils neun, auf Containerschiffe sechs

und auf Tanker 4%.

Deutschland. »Derzeit halten sich Hybrid- und Open-Loop-Systeme

die Waage, allerdings werden aktuell vermehrt Hybrid-Scrubber

eingebaut – und dieser Trend wird sich aus unserer Sicht verstärken«,

berichtet Mundal. »Unter den Nass-Scrubbern sind

eindeutig die Hybridanlagen dominierend«, erklärt auch Becker.

Die Reeder, die überlegen, einen Scrubber zu installieren, sollten

für den Einbau und die Zertifizierung inklusive der Planungsphase

mindestens ein Jahr Zeit einplanen, sagt Mundal. »Richtung

2020 könnte sich die erforderliche Vorlaufzeit verlängern, da unter

Umständen die Werftkapazitäten knapp werden können.« M

Nachfrage bei Werften noch gering

Bei den deutschen Werften ist allerdings noch keine erhöhte

Nachfrage festzustellen. Bei Pella Sietas wurden nach

Angaben der Werft bisher vier Schiffe mit Scrubbern ausgerüstet,

alles Bulkcarrier mit einer BRZ von 25.000 bis

32.000. Weitere Installationen seien derzeit nicht geplant,

so COO Björn Pape. Bei German Dry Docks wurden neun

Abgaswäscher installiert. Scrubber blieben ein Thema und

man führe derzeit Gespräche, berichtet Conrad Schmidt,

Projektmanager für Nachrüstungen. Allerdings erwartet

auch er derzeit lediglich etwa ein Projekt pro Jahr. Dies

würde sich erst dann ändern, wenn die Treibstoffpreise

steigen und die IMO-Vorgaben gälten.

Hybrid­Scrubber setzen sich durch

Zum Einsatz kommt sehr unterschiedlicher Technik:

Die Reederei Rörd Braren, die 2015 eine der ersten war,

ihre Schiffe nachzurüsten, entschied sich bei der »Timbus«

und der »Cellus« für Dry-Scrubber, da das Verhältnis

von Kosten und Nutzen am besten gewesen sei, so der

Managing Rörd Braren. Anfängliche Probleme seien inzwischen

gelöst.

Durchgesetzt hat sich diese Technik dennoch nicht. »Es

kann festgehalten werden, dass Trocken-Scrubber im maritimen

Umfeld nicht einsatzfähig sind«, sagt Matthias

Becker, General Manager Marine Solutions bei Wärtsilä

Grafik: TUI Cruises

HANSA International Maritime Journal – 154. Jahrgang – 2017 – Nr. 5 65
---
Schiffstechnik | Ship Technology

Get smart! Autonomy now!

The 16th Conference on Computer and IT Applications in

the Maritime Industries (COMPIT) will be held 15–17 May

in Cardiff/UK. A preview by organizer Volker Bertram

of Tutech Innovation and DNV GL

Source: Siemens

66 HANSA International Maritime Journal – 154. Jahrgang – 2017 – Nr. 5
---
Schiffstechnik | Ship Technology

Over the past two decades, COMPIT

has established itself as a key conference

in information technology (IT) for

the maritime industries, bringing together

software developers and users. Most participants

come from the industry, reflecting

the practical relevance of the event.

This year, the main trends in IT for the

maritime industry are:

• Integrated design environments. Standalone

solutions for simulation-based

design give way to integrated solutions.

»Simulation centres« handle data import,

smart and user-friendly model generation

and intuitive result display for

design decisions.

• Shipyard 4.0. Yards

get smart, too. The Internet

of Things (IoT)

and smart decision

support systems play a

key role here.

• Virtual Reality

spreads. We have to

thank our kids – the

video game industry

has provided cost-effective

software and

hardware solutions for

Virtual Reality (VR)

and Augmented Reality

(AR). From training

to hull inspection,

from preparing nautical offcers to

shopfloor support in shipyards. VR and

AR have arrived in our industry and

flourish.

Best­of­breed solutions with

common user interface

Despite numerous attempts, there is no

single monolithic software program that

is optimal for all tasks. However, design

frameworks (a.k.a. simulation centres)

evolve. These group dedicated software

codes in a larger framework with a common

»same look and feel« user interface.

The integration may be »hardwired« for a

single vendor, but may also via a common

integration surface, calling different codes

from different vendors, supporting the popular

»best of breed« approach in design

software. Data exchange in such frameworks

is largely or fully automated, reducing

both training time and project time.

The framework trend is demonstrated in

a variety of papers by several well-known

vendors, many coming from joint industry

projects.

Mergers and alliances consolidate the

software market and support the development

towards larger and more comprehensive

design environments. The acquisition

of CD-Adapco (CFD) and LMS (noise & vibration,

fatigue strength and kinematics)

by Siemens is a classic example of the general

trend. Bundling assorted simulation

competence under the Siemens umbrella is

likely to lead to a new super-heavyweight

in the maritime software market. Radosavljevic

and Cardoen (Siemens) describe

Siemens PLM Software's new solution for

cross domain and multi-physics simulation

in »Simcenter – Enabling Predictive

Engineering Analytics«, giving assorted

simulation and optimization applications.

Get smart & connected at COMPIT 2017

Day 1: »Layout Design«, »Design Frameworks« »Integrated

Simulation-based Design«, and »Smart Yards«

Day 2: »Autonomy I & II«, »Smart Wireless Ships«,

and »Virtual & Augmented«

Day 3: »Big Data as Game Changer«, »Smart Ship Operation«,

»Routing 2.0«, and »Smart Communication«

www.compit.info

Registration to Volker.Bertram@dnvgl.com

Pawling et al. (UCL) point out the trend

towards »Expanding the Scope of Early

Stage Computer Aided Ship Design«. Design,

particularly for complex ship types,

incorporates increasingly a wider range

of aspects than straightforward numerical

performance analyses. A whole session

is dedicated to layout design, using

an inside-out approach known as Design

Building Block approach, where UCL, TU

Delft and the University of Michigan have

evolved as key technology drivers. Pawling

et al. also look into some interesting

new developments adapting techniques

from other industries to ship design. One

example is »real options theory«, a technique

from financial market assessment

which can be used for handling uncertainty

in complex scenarios.

Korbetis et al. (BETA CAE Systems)

present »EPILYSIS – A New Solver for Finite

Element Analysis«, which streamlines

the processes further in CAE workflow of

structural analyses. The paper illustrates

how in mature simulation techniques

(strength and vibration, stability and CFD)

the focus lies increasing on reducing time

spent on model generation and data transfer

between different software interfaces.

The quest is not per se for new applications,

but rather for new users, shifting simulations

from dedicated simulation experts to

the designer.

The key is then making the software user-friendly

and affordable. The solution is

not rocket science, but common good engineering

sense: re-use models wherever

possible, offer macros for frequently performed

operations, make the user interface

more graphical and intuitive.

Grümmer et al. (aXatlantic, Friendship

Systems, TU Berlin) are cross domains

with their »Optimization of a Self-Righting

Hull Design and Thruster Unit for an Autonomous

Surface Vehicle«.

The project uses the

German design framework

CAESES for hull

generation and optimization

process management

with MAXSURF

Stability for volume and

stability calculations to

maximize the stability

of a solar-powered,

self-righting drone. The

aXatlantic project aims

for a world record for

the first solar-powered

and autonomous ocean

crossing. Which brings

us to a theme that dominates

the central day of COMPIT 2017: Autonomous

ship technology.

Autonomy now – or maybe

a little later?

Autonomous means independent – systems

perform some tasks independently

that so far has been performed by humans.

There are various levels of autonomy, e.g.

independently coming up with a suggested

path for collision avoidance is a lower level

than independently performing the collision

avoidance manoeuvre. Smart usually

indicates large amounts of (sensor) data

being processed typically with some local

processing intelligence. Unmanned means

no crew on board, but could refer to a remotely

controlled ship.

A key task in more or less autonomous

navigation is path planning and execution

of collision avoidance manoeuvres. The first

field tests and commercial decision support

systems date back to the 1990s, but work

continues on higher autonomy, refined algorithms

and preparation for an era where

unmanned (and highly autonomous) ships

may operate side by side in congested traffic

with manned (and more or less auton-

HANSA International Maritime Journal – 154. Jahrgang – 2017 – Nr. 5 67
---
Schiffstechnik | Ship Technology

Source: aXatlantic

omous/

automated)

ships –

think fleets of

Google cars mixing

with many »conventional«

drivers in tomorrow's traffc on

our streets. This era may come faster

than some of us think. Various groups

around the world are working on it. Daltry

& Tripp (ASV Global) present »The Path

to Real World Autonomy for ASVs«, using

a hierarchy of autonomous systems to

plan effciently and (hopefully) safely collision

avoidance. Mediavilla et al. (Lloyd's

Register, Rolls-Royce, et al.) work on the

»MAXCMAS Project – Autonomous COL-

REGS Compliant Navigation«. The MAX-

CMAS (MAchine eXecutable Collision

regulations for Marine Autonomous Systems)

project develops a COLREGs compliant

path planner for autonomous vessel

guidance and control. The explicit and

deterministic rules of the collision avoidance

rules (COLREGs) are the easy part,

but some COLREGs involve personal judgment,

e.g. when to initiate emergency collision

avoidance when the counterpart does

not give way. Then rules for an expert system

can be determined by observing human

experts in similar situations, typically

employing nautical simulators. Again,

we see the power of combining advanced

IT techniques (simulation, Augmented Reality,

autonomous/robotic technology and

Artificial Intelligence in this case). Totem

Plus in Israel already offers a commercial

collision avoidance system for unmanned

ships without radio contact, as described

in Levy's »Totem Autonomous Navigation

System«.

Key technologies for future ship operation

– whether smart, autonomous or

unmanned – are Big Data and the Internet

of Things (IoT). Mary Etienne (Dell

EMC) sees »IoT: Maritime's Next Wave«

already transforming the maritime industries,

from design to operation. As sensors

become smaller, more robust and cheaper

to acquire, we predict that they will be

»everywhere,« in the hull, main engine,

and auxiliary machinery and even small

equipment items, gathering and collecting

data for

analysis.

Whether ships

and the equipment

on them are operated locally

or by remote control, operational

decisions will be data driven.

Patrick Müller's (Siemens) »Marine 4.0:

Condition Monitoring for the Future« illustrates

the role of IoT and Big Data for

Augmented Reality offers intuitive

instructions on the spot for assembly

and retrofit

Source: AVEVA

the case of engine maintenance seeing major

cost savings in adopting the technologies.

Another example of the power of Big

Data is given by Deverill & Bakharevski

(Genscape Vesseltracker) in »Big Data –

Processing Global AIS in Real Time to

Produce Unique Market Insight«. Genscape

Vesseltracker processes 500 mill.

daily AIS messages in real time, filtering

for all types of ship events, merging the

information with a detailed geographical

database of maritime locations and facilities,

and filtering against databases of

ship, terminal and company information

to provide market insight. However,

all these technologies are based

on connected wireless IT systems.

And these come with

increased cyber risks. Patterson

& Barton (Babcock)

look in »Secure

Wireless Options in

the Smart Ship« at cyber-security,

another

hot topic in the maritime

industries. They

assess personal and local

area wireless communication

technologies,

particularly with

respect to their potential

utility in ships. They recommend

operational and

design considerations to limit

exposure to threats.

Virtual reality – it's a different

game now!

»Virtual Reality (VR) has gone from being

science fiction, to being realized in the

research lab, to being treated as a toy, to

being used in practical applications, including

shipbuilding,« says Denis Morais

(CTO of major ship CAD vendor SSI). SSI's

state-of-the art description »The Evolution

of Virtual Reality in Shipbuilding« gives

a perfect introduction to the topic. It also

predicts the future of VR by analysing the

forces that have either hindered or promoted

the implementation of Virtual Reality

in ship design and construction. The diversity

of applications is as fascinating as the

level of realism achieved by CGI (computer

generated imagery). Bertram & Plowman

(DNV GL) review »Maritime Training in

the 21st Century« seeing also maritime

training becoming more and more digital.

As an example, they describe a VR based

training tool for ship surveying, where

trainees can practice finding various deficiencies

simulated in the virtual environment.

Cabos & Wolf (DNV GL) see VR playing

a key role in actual surveys of the future.

Upcoming inspection techniques

such as drones and self-localizing cameras

may enable full visual mapping of tank

condition on a 3D ship model. Their paper

»Virtual Reality Aided Remote Hull

Inspection« explores in how far this could

allow structural condition assessment to

be performed remotely, making surveys

faster, smarter and safer.

68 HANSA International Maritime Journal – 154. Jahrgang – 2017 – Nr. 5
---
Schiffstechnik | Ship Technology

Source: DNV GL

Virtual Reality to train surveyors is more than just a game at DNV GL

Sounds like Science Fiction? Maybe,

but the future has already started. Virtual

and Augmented Reality will play on centre

stage. VR is the complete modelling of

virtual worlds in the computer, while Augmented

Reality (AR) overlays computer

information over real-world views (think

Pokémon Go). Helle et al. (University of

Turku) give an overview of »Virtual and

Augmented Reality Solutions to Industrial

Applications« in Finland. While some industrial

solutions have already been taken

into actual use, attitudes towards the

new tools vary widely in the industry as

the authors found in user interviews. Procee

(NHL Hogeschool) gives us a glimpse

of Captain Picard on future ships in »Effect

of Augmented Reality on Human Performance

in a Ship's Bridge Simulator«. In

his studies, AR helps the navigator in detecting

dangerous targets by the overlay of

a synthetic image, thus providing a visual

cue over the real world outside the bridge

window. A head mounted display is used to

project the augmented image. The prototype

system was tested in the controlled

environment of a nautical simulator. The

paper presents first results of a larger program

of empirical tests into the usability of

AR in ships navigation.

M

STAR-CCM+: Discover

better designs, faster.

Raum für Innovationen - simulieren Sie

maßstabsgetreu unter realen Betriebsbedingungen

siemens.com/mdx

HANSA International Maritime Journal – 154. Jahrgang – 2017 – Nr. 5 69
---
Schiffstechnik | Ship Technology

»No easy problems left to solve«

For the 25th time, simulation experts met at STAR Global Conference, discussing

how they use STAR-CCM+, STAR-CD and HEEDS. Dejan Radosavljevic, Director Marine,

Siemens PLM Software, speaks about trends, topics, problems and visions

What were the main marine trends at

STAR Global conference?

Dejan Radosavljevic: As with the general

industry trend towards designing more

effcient ships everyone is focusing on utilizing

latest technology advances to maximize

vessel performance while minimizing

fuel consumption, and implicitly

reducing vessel impact on the environment.

Part of this trend, and arguably a

trend of its own, is the move towards simulations

at full scale and under simulated

conditions that are closer to reality, such as

ship performance in waves. Out of twelve

presentations within the marine track, if

we exclude the two general ones dealing

with best practices in simulation, nine out

of the remaining ten included simulations

at full scale and five were looking at some

aspects of performance in a sea state. This

move towards more complex simulations

(which brings them closer to reality) included

one utilizing the fully coupled FSI

(Fluid Structure Interaction) solver within

STAR-CCM+ to simultaneously look at

propulsive performance and stresses within

blades of a large propeller.

And looking at Siemens' vision, where

the fully automated design exploration

becomes the standard method to achieve

best designs, it was good to already see a

number of presentations adopting this approach

showing companies are recognizing

the value this can bring to simulation.

Where is the CFD market heading, is

there a next »big thing« on the horizon?

Radosavljevic: A lot of research is continuing

in the background to find better, more accurate,

more effcient numerical methods that

would speed up the moves towards the »full

scale under real operating conditions« goal.

Everyone is hoping for a method that will significantly

speed up simulations, but I am not

aware of anything on the horizon showing

promise to be successfully commercialized

in the near term.

For me personally, the next »big thing«

would be for the industry as a whole, including

ship owners and the IMO, to accept

that today you can achieve much better

vessel designs if you focus on full scale

simulations, and apply automated design

exploration. For the same cost of running

one set of tests on a single design in a towing

tank at model scale it would be possible

to run hundreds or even thousands of

design variants, at full scale, guaranteeing

to end up with a better design.

What does the integration of CD-adapco

into Siemens mean for the industry?

Source: Siemens

Radosavljevic: An uncomfortable truth

about modern engineering is that there really

are no easy problems left to solve. In order

to meet the demands of the industry, it is no

longer good enough to do »a bit of CFD« or

»some stress analysis«. Complex industrial

problems require solutions that span a multitude

of physical phenomena, which often can

only be solved using simulation techniques

that cross several engineering disciplines.

Siemens' acquisition of CD-adapco means

that tools such as STAR-CCM+ become part

of a much wider ecosystem of predictive engineering

analytics tools (the Simcenter Portfolio),

based around the vision of producing a

»Digital Twin«, a fully functional digital prototype

that simulates all aspects of the real

life physical performance or a design.

To improve the design software, you need

validation data and advocate an open

approach …

Radosavljevic: Unfortunately there are several

facets to this issue, which is why it is

proving diffcult to crack. For data to be usable

for software validation it has to be detailed,

fully compatible, and of good quality.

We need to first start with detailed geometry

of ship hull and appendages, including the

propeller. This is already a sticking point as

most of the shipyards or specialist designers

view such information as their intellectual

property and are not willing to share it. Then

there is the issue of acquiring high-quality

data under acceptable environmental conditions.

This usually means contracting highly

reputable companies to instrument vessels

and spend (potentially considerable) time on

board trying to achieve good measurements.

Not to mention the costs.

And while these measurements happen

regularly, the party that invested

in them has done so for their own

reasons. So, finding all the above-mentioned

elements and parties coming together

with common consent has proven

to be close to impossible, so far. Some data

was generated through closed Joint Industry

Projects where partners would share

the cost in order to gain access to data, but

the industry as a whole is finding it diffcult

to access good quality data for validation

at full scale. Thankfully, this has final-

70 HANSA International Maritime Journal – 154. Jahrgang – 2017 – Nr. 5
---
Schiffstechnik | Ship Technology

ly changed a couple of months ago, when

Lloyd's Register held a full scale CFD validation

workshop. Perhaps this will help

change the minds of other stakeholders

as the results of the LR workshop clearly

showed maturity of CFD.

Last year you said, shipowners were

still too conservative to accept full

scale CFD. Has that changed already?

Radosavljevic: With over 150 years of

tradition in how you design ships any

change will always be slow. And it is painfully

so. Shipyards and designers have already

recognised benefits of CFD and want

to move much more towards modern simulation

technology, but claim shipowners

still demand, and only trust, towing tank

tests. Owners tend to justify this by the lack

of confidence in CFD. A couple of other

things could also contribute to those views

such as a certain level of misunderstanding

of fundamental physics, lack of communication

and perception of risk.

Yet accuracy of CFD is well understood

and when CFD is applied properly it can

Dejan Radosavljevic

Director Marine, Siemens PLM Software

Photo: Siemens

match accuracy of measurements (which

also, by the way, could yield completely

wrong data if not done properly). Automotive

and aerospace industries have been relying

on CFD simulations for much longer

than marine and today could not function

without it. It is fully trusted and embedded

within design process in those industries,

yet, the same fundamental physics but different

industry, the level of trust among those

impacting the process is low.

The recent workshop hosted by Lloyd's

Register offered data for blind testing

of CFD simulations of a self-propelled

vessel at full scale under three

different speeds. It was the industry's

first blind test of this kind and exactly

what was missing as already discussed

earlier. 22 simulation sets were submitted

from 15 different countries, different

people using different CFD codes. And the

outcome? The full report and the data sets

are available for public access at LR website,

but I'll just mention that the standard

deviation for ship speed calculation, across

all three speeds and all simulations, was

3%. And now, with the availability of this

data companies can fine-tune their processes

and best practices and make it better.

Once the majority of shipowners lend

their full support to simulation-based approach

to ship design it will truly open the

doors to innovation.

Interview: Felix Selzer

HANSA International Maritime Journal – 154. Jahrgang – 2017 – Nr. 5 71
---
Schiffstechnik | Ship Technology

How to optimize the propeller

performance was the central discussion

Photo: Thomas Wägener

Next step for better hull performances

At this year's second Hull Performance & Insight Conference (HullPIC 2.0) in Ulrichshusen

from 27 to 29 March more than 100 attendees discussed ways to make the ships hull more

effcient. HANSA informs on the main results

Many fuel-saving technologies (such

as advanced coatings or energy saving

devices) are not adopted, because the

industry does not trust the promises or

because contracts fail to create win-win

situations. »Ship owners maintain a degree

of skepticism around fuel and CO2 saving

predictions. The lack of accurate and transparent

supporting data underpinning statistics

quoted has contributed to this mindset,«

confirmed Barry Kidd (Akzonobel).

ISO 19030 is expected to bring major improvements

in this respect. The standard

on hull and propeller performance for

fleet in service was published in November

2016, moving the discussion from the

smaller circle of experts in the working

group to the wider public.

HullPIC 2.0 brought developers and

ship operators together to exchange experiences

in the still evolving field of performance

management, especially in the light

of ISO 19030. The topic apparently strikes a

nerve in the industry. »Since the beginning

of the ISO 19030 development, many shipping

companies and operators have taken

interest in the standard,« said Beom Jin

Park (KRISO). Despite the complex, technical

challenges involved, the response to

the conference was impressive. For those

who could not attend, the proceedings of

the conference can be downloaded free of

charge from www.hullpic.info. References

and quotes given below are all from Hull-

PIC 2017.

While there is wide consensus that performance

monitoring is necessary and

good, there remains controversy over the

ISO 19030 standard approach. Is it too

complicated and costly? Is it too simplistic

and inaccurate? »ISO 19030 delivered on

its stated aims, but that does not prevent us

from having ideas for further work,« concluded

Geir Axel Oftedahl (Jotun), secretary

of the ISO 19030 working group. »[The

ISO 19030] methods are […] not so easy

to implement for ship operators. […] the

accuracy of measurements [is lower than]

considered in ISO 19030. [… And] even

with built-in filters and long time span of

evaluation and reference periods, continuous

analysis of performance does not show

much consistency,« said Park et al. (KRI-

SO). In the open spirit of HullPIC, common

ground was found between these positions.

»More discussion is needed« was

frequently used and might have been the

unoffcial theme of the conference.

What's your baseline?

From a distance, performance monitoring

looks quite simple: You monitor how

the power needed for a given speed increases

over time due to fouling. »However,

there are numerous challenges and

pitfalls when discussing the absolute level

of hull and propeller performance,« elaborated

Andreas Krapp (Jotun). Raw data

need to be corrected (»normalized« in expert

jargon) for varying operational and

ambient conditions. In essence, we need to

make numbers comparable, correcting for

differences to a standard reference condition.

This task requires a model to determine

for example differences in power requirements

for different draft or different

wind conditions. The model used in the

evaluation of the performance data can be

built on physical models (white box), derived

directly from observed data (black

box) or a combination of both (grey box),

said Dafni Sofiadi et al. (ABS). Depending

on the approach, models have largely varying

accuracy.

The problems start at the very core of performance

monitoring: the speed-power relation

or »baseline«. While measuring the

72 HANSA International Maritime Journal – 154. Jahrgang – 2017 – Nr. 5
---
Average Axial Velocity

(normalized by w/o Fin)

1.000 0.983 0.982 Schiffstechnik

0.961

| Ship Technology

Nominal Wake Gain (%) base 1.7% 1.8% 3.9%

Looking from aft

Hull

Looking from aft

Hull

st

1 st fin

nd

2 nd fin

Propeller

plane

1 st fin

2 nd fin

Propeller

plane

Comparison of axial velocity distribution at propeller plane (left – black: w/o­fins, red: with­fins, right – difference of axial velocity)

Source: Japan Marine United

shaft power is relatively straightforward,

the notorious speed through water (STW)

remains an Achilles' heel for performance

monitoring. »We find two main categories

of quality issues. First, the [speed] logs

are often miscalibrated, i.e. the measured

[speed] is constantly too large or two small

in certain speed ranges. Second, sometimes

[speed] logs will provide noisy and clearly

erroneous measurements.« Eric Giesberg

(NSWC-CD) contributed a scientific

study on the (in)accuracy of logs, finding

acoustic Doppler current profiler reliable

and accurate, while electro-magnetic logs

was found to have issues beyond calibration

offsets. His work reopened the discussion

on using GPS speed over ground data as input

data for performance monitoring. Mi-

HANSA International Maritime Journal – 154. Jahrgang – 2017 – Nr. 5 73
---
Schiffstechnik | Ship Technology

Model tests in wind tunnel

chael Haranen (Napa) also questioned the

ISO 19030 approach relying solely on speedlog

data asking whether it is »better to use

speed log signal or should we calculate the

ship speed through water from the speed

over ground and ocean currents forecast

data«. More discussion is needed, I guess.

Hull roughness and resistance

Performance monitoring and the Hull-

PIC conference seemed to follow Albert

Einstein's adage: »The more I learn, the

more I realize how much I don't know.«

The discussion around performance monitoring

has brought to light that we don't

know enough about the basic correlation

between hull roughness and resistance.

Now, some fundamental studies shed at

least some more light on the topic. Bercelay

Niebles and Valery Chernoray (Chalmers

Technical University) used advanced

CFD (Computational Fluid Dynamics) to

obtain the roughness function of any arbitrary

rough surface. The approach »is considerably

cheaper in terms of resources and

time when compared with experimental

approaches«. The roughness functions obtained

can then be used in simulations for

ships, mimicking marine coatings with different

roughness. Various groups contributed

similar insight on the effect of different

coatings with different roughnesses, using

simulations (Tom Goedicke, MMG, Abel

Vargas and Hua Shan, NSWC-CD), experiments

in model basins (Rhena Klose and

Reinhard Schulze, SVA Potsdam), or both

(Kourosh Koushan et al., Sintef Ocean).

Baselines refer to the ship in calm water,

typically for design condition and sea-trial

condition. But most ships operate in off-design

conditions in actual service. Speed-power

curves depend on the loading condition

(draft and trim). Popular schemes interpolating

from baseline curves are unable to reflect

the complex nonlinearities of hull resistance

at intermediate drafts and varying

trim. Instead, using loading condition specific

speed-power curves is recommended.

This was shown for container ships last year.

Now Andreas Krapp and Daniel Schmode

(Jotun and DNV GL) have extended the study

to a variety of cargo ships, showing CFDbased

interpolation to be clearly superior.

The findings are not only of interest for hull

and propeller performance, but impact also

speed-trial analysis procedures and EEDI

calculations.

Effects that change consumption

Photo: Newcastle University

Ambient conditions change power consumption:

sea state (significant height, distribution,

direction), wind (speed and direction),

water temperature, water depth

and current (speed and direction). Here,

Volker Bertram (DNV GL) added »some

heretic thoughts on ISO 19030« to raise

awareness of some sources of inaccuracies

in the standard procedure. »Water

temperature affects viscosity and thus resistance.

Variations of 2–3% of calm-water

resistance in design condition may result.

Wind force corrections are simple and cheap.

In turn, they […] have large errors. […].

Current speed plays a role because it varies

over depth. A filtering condition for significant

current speed should be used, rather

than a correction.«

Yuan Zeng et al. (TU Delft) discussed

very shallow water effects with a recommendation

for a modified friction line. For

most ships in usual operation, water depth

can be neglected as factor.

Performance monitoring starts with accurate

data acquisition. If the sensors give

wrong or no data then performance monitoring

is doomed from the beginning. »It

is very well known that data collected onboard

ship may be inaccurate and biased«,

said Haranen (Napa).

The standard ISO 19030 approach requires

high-frequency data logging. This

requirement has been a matter of discussion

from the very beginning as it means

additional hardware installation and investment

for most ship operators. »Traditional

high-fidelity data acquisition techniques

are typically expensive since they

require cabling and integration into the

vessel's automation system. Especially

on small to moderately sized or chartered

vessels, the high cost makes such

solutions unfeasible,« Stratos Staboulis

(Eniram) pointed out. On the other hand,

there are »problems typical to the traditional

noon-report based approach such

as crew over-reporting weather conditions

and other inaccuracies preventing rigorous

physical modeling.« Higher data frequency

is useful in many cases, but is it necessary?

There are still opposing opinions on

this matter. And does »much data« equal

»much insight«? In the words of Bjarte

Lund and Carlos Gonzalez (Kyma): »The

challenge with the Big Data concept is,

however, to convert this huge amount of

real-time data into smart data.«

»Errors can be random [noise] or systematic

[bias],« elaborated Schmode. Noise

averages out over a large number of measurements.

What is »large« depends on the

standard deviation, i.e. fluctuation. Thus

both sample size and inherent accuracy

of data recording influence the accuracy

of the performance monitoring. Schmode

classified various uncertainty sources into

noise and bias, listing possible measures

to reduce their effect on the uncertainty

of hull performance prediction. Sofiadi

et al. described how integrating data

collection with the vessel's control and

monitoring systems can reduce crew burden

and simplify the process of qualifying

and analyzing condition and performance

data. They pointed out that data should

be validated before being analyzed. Ideally,

data is checked at the source for outliers

and faulty sensors, allowing immediate

correction. Cross-checking automatically

logged data with noon reports improves

data quality and gives added insight.

As expected, neither faction could

convince the other on the issue of whether

high-frequency, automatic logging is necessary

or not. More discussion is needed …

Elizabeth Haslbeck and Christian Råe

Holm (US Navy) posed the key question

in their title: »So your ship is not operating

effciently (due to biofouling) – now what?«

74 HANSA International Maritime Journal – 154. Jahrgang – 2017 – Nr. 5
---
Schiffstechnik | Ship Technology

The most common and obvious solutions

are likely to change the coating, the cleaning

procedures, or both. But coating, cleaning

strategy and operational profile are

closely linked and cannot be considered

separately. There is no »one size fits them

all« recommendation to be made. And yesterday's

wisdom may be tomorrow's nonsense

if changing markets lead to changing

operational profiles.

The main application of performance

monitoring following ISO 19030 is to guide

decisions in selecting hull coatings and

maintenance schemes, as e.g. described

by Hasan Göler and Kemal Bozkurt (UN

Ro-Ro) for a fleet of RoRo vessels. However,

since the early beginnings of the ISO

19030 draft, applications to monitoring

the impact of retrofits over a longer period

(and thus a representative operational

profile rather than an artificial sea trial

condition) have been foreseen in the

standard. Such applications were presented

by Eric van Ballegooijen et al. (VAF) for

a propeller and bow retrofit and both Jan

Wienke (DNV GL) and Tomofumi Inoue

Daniel Schmode, DNV GL

Photo: Thomas Wägener

(JMUC) for energy saving devices. Initially,

performance monitoring was intended to

guide the industry towards better business

practice, specifically more energy effcient

ship operation. However, once proper systems

and procedures are in place, performance

monitoring may also solve assorted

headaches with respect to the coming EU

MRV (monitoring, reporting and verification)

and IMO DCS (Data Collection System)

requirements. »The mandatory MRV

[and DCS] requirements can be handled

with minimum extra effort if good monitoring

tools are already in place (e.g. for performance

monitoring),« was the good news

from Torsten Büssow and Jarle Blomhoff

(DNV GL), confirming similar findings of

Wojciech Gorski (Enamor).

More discussion is needed

Despite all controversial opinions, the response

to the HullPIC conference itself

gives a clear message. Both developers and

users of performance monitoring systems

benefit from the dialog.

The third HullPIC conference will be in

Darlington, UK, from 12–14 March 2018.

There the dialogue should be continued because

»more discussion is needed.«

Author: Volker Bertram

DNV GL

E-Mail: volker.bertram@dnvgl.com

MRV made easy.

Capture all relevant information with this new

Cloud Fleet Manager module and keep up to date

with all reports of your fleet at any time. With

Cloud MRV we offer a intuitive and lightweight

solution that can be set-up with minimal effort.

12g / mt

Monitoring, Reporting and Verification –

Minimal effort, maximal outcome. It's that easy!

HANSA International Maritime Journal – 154. Jahrgang – 2017 – Nr. 5 75

For more information visit www.hanseaticsoft.com/cloud-mrv
---
Schiffstechnik | Ship Technology

Ship operators

and developers

collaborate

76 HANSA International Maritime Journal – 154. Jahrgang – 2017 – Nr. 5
---
Schiffstechnik | Ship Technology

At recent HullPIC conference users and developers of hull performance

monitoring software discussed how to include the future technology to do

a more effective job. By Volker Bertram and Thomas Wägener

Volker Bertram (DNV GL),

co-organizer of the event, rates

the conference as a success. The

number of participants rose by 35%

compared to the premiere event last

year in Marorka, Italy, he says. At

this year's HullPIC in Ulrichshusen,

Germany, about 110 international

maritime experts from all over the

world discussed how a ship's hull

can be further improved. »The high

number of participants shows that

the topics that we talked about are

interesting for the maritime industry,«

Bertram reasons.

Many of the participants ccoming

from about 20 different countries

were from Scandinavia, but also

from the Netherlands, Asia, Singapore

and the USA. For nearly all of

them the network character of the

event was at least as important as the

topics that were discussed. For Søren

Hattel (Force Technology) it was interesting

to see »that other companies

have the same issues as us.« For

Bjarte Lund (Kyma) it was also good

to see »what the competitors are doing«.

Furthermore he points out the

great diversity of topics that were

discussed at HullPIC.

The conference ended with a forum

discussion that had – somewhat

cheekily – been given the title

»Operators and Developers – Galaxies

apart?« To make it short, the

answer to this question appears to

be »no«. On most points, the operator

representatives (Rory Kennedy

from cruise ship operator Royal Caribbean

and Mike Servos from Tsakos

Columbia Shipmanagement, operating

oil tankers, bulkers and containerships)

agreed with the developer

representatives (Manolis Levantis

of Jotun using a simulation-based

approach and Matti Antola from

Eniram using a machine-learning

approach). Moderator Michael vom

Baur (HANSA) tried to sound out

differences using pointed remarks,

but the panelists just wouldn't bite

– they remained true to the atmosphere

of HullPIC where sober assessment

of factual diffculties

was the rule leaving little space for

catch phrasing. Still, a clearer picture

evolved and also the forum was

unanimously seen as a success.

The forum discussed first the key

question that was on the mind of

probably most of the HullPIC participants:

Where are we with ISO

19030? More specifically, vom Baur

prodded the operators: In view of all

the uncertainties presented at the

conference (and there were many),

how useful is performance monitoring?

Mike Servos brought it to a

point: »Five years ago we had nothing,

now we have at least something.«

Rory Kennedy agreed, taking a positive

angle on the state of the standard

and performance monitoring in

the industry. RCCL has started with

performance monitoring some years

ago and made already some impressive

progress with double-digit savings.

It is a process that will continue,

both on the development and on the

implementation. So – surprise – the

users think better than the developers

and the maritime world in general

would have thought.

Is machine learning the way forward

or is it simulation? Perhaps it

was gentlemen behavior, perhaps

simple realization of the intricacies of

performance monitoring: The developers

of the more simulation-based

approach recalled the importance of

calibrating models against in-service

experience and the developers

of the more machine-learning based

approach mentioned the usefulness

of virtual sensors and good hydrodynamic

models. As in HullPIC 2016,

the maritime industry was once

more reminded that all systems on

the market are »grey«, using hydrodynamic

modelling with some system

identification.

The discussion then turned towards

a theme that had woven like a red

thread through the conference: sensors,

human input and how we can

reduce errors in the input data for

performance monitoring. »With all

the discussions about speed logs,

torque meters, ambient conditions,

etc. – should we focus on getting

black boxes or should we focus on

the ›human factor‹?« And touching

on autonomous technology, should

machines do the job (of collecting

and monitoring) or humans?

On this point, all panelists and

quite a few members of the audience

commented, but the positions were

surprisingly close again. The consensus

was that it was not a question of

»either – or«, but »both« played a vital

role. All operators agreed that having

transparent and timely feedback

to the crew improved motivation and

data quality. But data frequency and

good algorithms are important, too.

Daniel Schmode (DNV GL) expanded

on the theme of his paper on how

to reduce errors in performance monitoring:

The crew is key to get bias

(= systematic errors) down; data frequency

is key to get noise (= random

errors and scatter) down. In the end,

you need both for good performance

monitoring.

For this point, the discussion went

naturally to »Big Data«. It is coming,

but as such nobody seemed to be overly

impressed. »A lot of data still does

not equal a lot of insight« received a

lot of agreeing nods both from the operators

and the developers. But using

smart filters to automatically identify

wrong data was seen as a likely way

performance monitoring will evolve.

Information fusion combining various

sensors, on-line services (e.g. for

weather conditions or AIS speed and

course data) and human data reporting

is on horizon.

In summary, the forum discussion

took a rather positive view of the ISO

19030 and the state of performance

monitoring. Both the standard and

the implementation in the industry

are deemed to be work in progress.

The way forward is cooperative sharing

of experience.

M

Photo: Jotun

HANSA International Maritime Journal – 154. Jahrgang – 2017 – Nr. 5 77
---
Buyer's Guide

Buyer's Guide

Dreh scheibe von Herstellern, Dienst leis tern, Experten und Zulieferern

Schiffahrts-Verlag »Hansa« GmbH & Co. KG

Ballindamm 17 | 20095 Hamburg | Postfach 10 57 23 | 20039 Hamburg

Tel. +49 (0)40-70 70 80-225 | Fax -208 | anzeigen@hansa-online.de | www.hansa-online.de

Ihre Ansprechpartner im Außendienst

Deutschland, Schweiz und Österreich

Verlagsbüro ID GmbH & Co.KG

Tel. +49 (0) 511 61 65 95 - 0 | Fax - 55

info@id-medienservice.de

Niederlande

Mark Meelker

Tel. +31 71-8886708, M: 06 515 84086

hansa@numij.nl

Skandinavien, England, Portugal, Spanien, Frankreich

Emannuela Castagnetti-Gillberg

Tel. +33 619 371 987

emannuela.hansainternational@gmail.com

USA

Detlef Fox,

Tel. +1 212 896 3881

detleffox@comcast.net

Rubriken

1 Werften

2 Antriebsanlagen

3 Motorkomponenten

4 Schiffsbetrieb

5 Korrosionsschutz

6 Schiffsausrüstung

7 Hydraulik | Pneumatik

8 Bordnetze

9 Mess- | Regeltechnik

10 Navigation | Kommunikation

11 Konstruktion | Consulting

12 Umschlagtechnik

13 Container

14 Hafenbau

15 Finanzen

16 Makler

17 Reedereien

18 Datenverarbeitung

19 Hardware | Software

20 Spedition | Lagerei

21 Versicherungen

22 Wasserbau

23 Seerecht

24 Dienstleistungen

25 Schiffsregister | Flaggen

1 Werften

n Neubau

n Reparaturen Umbauten

n Arbeits- Behördenfahrzeuge

n Werftausrüstungen

2 Antriebsanlagen

n Motoren

n Getriebe

n Kupplungen Bremsen

n Wellen Wellenanlagen

n Propeller

n Ruder Ruderanlagen

n Manövrierhilfen

n Spezialantriebe

n Wasserstrahlantriebe

n Dieselservice Ersatzteile

3 Motorenkomponenten

n Abgasanlagen

n Wärmetauscher

n Kolben Laufbuchsen

n Kolbenstangen Stopfbuchsen

n Anlasser

n Turbolader

n Filter

n Separatoren

n Brennstoffsysteme

n Vorwärmer

n Kessel Brenner

n Indikatoren

4 Schiffsbetrieb

n Kraftstoffe

n Schmieröle

5 Korrosionsschutz

n Farben Beschichtungen

n Oberflächenbehandlung

n Kathodenschutz Anodenschutz

6 Schiffsausrüstung

n Lukenabdeckungen

n Anker Zubehör

n Tankreinigungssysteme

n Platten Profile

n Isoliertechnik

n Kälte Klima Lüftung

n Sanitäreinrichtungen

n Küchen Stores

n Möbel Inneneinrichtung

n Fußbodensysteme -beläge

n Schiffstüren Fenster

n Versorgung

n Entsorgung

n Entöler

n Ballastwassermanagement

n Yachtausrüstung

n Mess- Prüfgeräte

n Fendersysteme

n Seezeichen

7 Hydraulik Pneumatik

n Pumpen

n Kompressoren

n Hydraulikanlagen

n Armaturen

n Rohrleitungssysteme

n Dichtungssysteme

8 Bordnetze

n Bordaggregate

n Transformatoren

n Schalttafeln Steuerpulte

n E-Installation

n Kabel- Rohrdurchführungen

n Beleuchtungsanlagen

9 Mess- Regeltechnik

n Drehzahlmessung

n Druckmessung

n Temperaturmessung

n Füllstandsmessgeräte

n Durchflussmessung

n Automatisierungssysteme

n Ölstandsüberwachung

n Schiffsmangement-Systeme

n Kalibrierungsgeräte

10 Navigation Kommunikation

n Radaranlagen

n Satelliten Funkanlagen

n Telefonanlagen

n Navigationssysteme

11 Konstruktion Consulting

n Ingenieurbüros

n Versuchsanstalten

n Klassifikationsgesellschaften

12 Umschlagtechnik

n Flurförderfahrzeuge

n Krane

n Greifer

n Schiffsentlader

13 Container

n Container-Zellgerüste

14 Hafenbau

n Hafen- Wasserbau

15 Häfen

n Hafenbetrieb

n Umschlag

n Logistik

16 Finanzen

n Banken

n Emissionshäuser

n Vertrieb

17 Makler

n Makler

18 Reedereien

n Reedereien

n Logistik

19 Datenverarbeitung

n Datenverarbeitung

20 Hardware Software

n Hardware Software

21 Spedition Lagerei

n Spedition Lagerei

22 Versicherungen

n Versicherungen

23 Wasserbau

n Wasserbau

24 Seerecht

n Seerecht

25 Dienstleistungen

n ………………………………………

78 HANSA International Maritime Journal – 154. Jahrgang – 2017 – Nr. 5
---
Buyer's Guide

1

Kupplungen Bremsen

Clutches Brakes

Hochelastische Kupplungen

für Schiffshaupt- und

Schiffsnebenantriebe

4

WERFTEN

YARDS

Reparatur Umbau

Repair Conversion

2

KNAACK & JAHN

Marine Piping Systems and Fire Protection

www.k-j.de

+49 40 781 293 0

pipingsystems@k-j.de

Uffelnsweg 10 20539 Hamburg

NEW BUILDING,

CONVERSION, REPAIR

ANTRIEBSANLAGEN

PROPULSION

Motoren

Engines

CENTA Antriebe Kirschey GmbH

Bergische Str. 7 | 42781 Haan/Deutschland

Tel. +49-2129-912-0 | Fax +49-2129-2790 | info@centa.de

Wellen Wellenanlagen

Shafts Shaft Systems

www.centa.info

Otto Piening GmbH

Am Altendeich 83 D-25348 Glückstadt

Tel.: +49 (4124) 9168 - 0 Fax: +49 (4124) 3716

E-Mail: info@piening-propeller.de

www.piening-propeller.de

specialist plant for propellers

and stern gears

Propeller

Propellers

SCHOTTEL GmbH

Mainzer Str. 99

56322 Spay/Rhein

Tel.: + 49 (0) 26 28 / 6 10

Fax: + 49 (0) 26 28 / 6 13 00

info@schottel.de · www.schottel.deScrew

YOUR PROPULSION EXPERTS

SCHIFFSBETRIEB

SHIP OPERATION

Krängungsausgleichsanlagen

Anti-Heeling Systems

• Fluid Management

• Motion Control

• Ship Performance

www.hoppe-marine.com

Best Maritime Technology

Brands of Hoppe Marine

Rolldämpfungsanlagen

Roll Damping Systems

• Fluid Management

• Motion Control

• Ship Performance

www.hoppe-marine.com

Best Maritime Technology

Brands of Hoppe Marine

Volvo Penta

Central Europe GmbH

Am Kielkanal 1 · 24106 Kiel

Tel. (0431) 39 94 0 · Fax (0431) 39 67 74

E-mail juergen.kuehn@volvo.com

www.volvopenta.com

Motoren für Schiffshauptantriebe, Generatoranlagen, Bugstrahlruder

Service und Reparatur

Service and repair

Sein Einsatz ist

unbezahlbar.

Deshalb braucht

er Ihre Spende.

Technologie und Service

für Motoren und Antriebe

Aggregate

Motoren

Getriebe

Dieselservice

Reparaturen

Kolben

Anlasser

Turbolader

Filter

Brenn stoff-

August Storm GmbH & Co. KG

August-Storm-Str. 6 | 48480 Spelle

systeme T 05977 73246 | F 05977 73261

Instandhaltung Indikatoren von Diesel-

Pumpen

und Gasmotorenwww.a-storm.com

Volvo Penta

Central Europe GmbH

Am Kielkanal 1 · 24106 Kiel

Tel. (0431) 39 94 0 · Fax (0431) 39 67 74

E-mail juergen.kuehn@volvo.com

www.volvopenta.com

Motoren für Schiffshauptantriebe, Generatoranlagen, Bugstrahlruder

www.seenotretter.de

Mechanische Bearbeitung

und Fertigung

Motoren- und

Ersatzteile

Spelle

Hannover

Kiel

Hamburg

Delmenhorst

Berlin

Schwerin

HANSA International Maritime Journal – 154. Jahrgang – 2017 – Nr. 5 79
---
Buyer's Guide

6

SCHIFFSAUSRÜSTUNG

SHIPS EQUIPMENT

Möbel Inneneinrichtung

Interiors Furniture

G.SchwepperBeschlagGmbH&Co.

G.SchwepperBeschlagGmbH&Co.

GmbH & KG

VelberterStraße83

VelberterStraße83

D42579Heiligenhaus

D42579Heiligenhaus

Tel.+49205658-55-0

Tel.+49205658-55-0

Fax+49205658-55-41

Fax+49205658-55-41

e-mail:schwepper@schwepper.com

e-mail:schwepper@schwepper.com

www.schwepper.com

www.schwepper.com

LockandHardwareConcepts

LockandHardwareConcepts

forShip&Yachtbuilders

forShip&Yachtbuilders

Wärmeübertragung

Heat Transfer

Wärmeübertragung, Separation und Fluid

Handling: Die Mehrheit aller Schiffe weltweit

hat Ausrüstungen von Alfa Laval an Bord.

Ballastwasser

Ballast Water

KNAACK & JAHN

Marine Piping Systems and Fire Protection

www.k-j.de

+49 40 781 293 0

ballastwater@k-j.de

Uffelnsweg 10 20539 Hamburg

BALLAST WATER TREATMENT

Ballastwasser

Ballast Water

Wärmeübertragung, Separation und Fluid

Handling: Die Mehrheit aller Schiffe weltweit

hat Ausrüstungen von Alfa Laval an Bord.

Schiffstüren Fenster

Doors Windows

Marine and Offshore Doors

Established in 1919

®

Podszuck ® GmbH

Klausdorfer Weg 163 | 24148 Kiel • Germany

Tel. +49 (0) 431/6 6111-0 | Fax +49 (0) 431/6 6111-28

E-Mail: info@podszuck.eu | www.podszuck.eu

A-, B-, C- and H-class doors

Mess- Prüfgeräte

Measuring Testing Technology

Pumps

Hochpräzise Durchflussmessgeräte für

Ship Performance Monitoring Systeme.

Kraftstoffverbrauchs- und Zylinderschmierölmessung

für Dieselmotoren.

KRAL AG, 6890 Lustenau, Austria

Tel.: +43 / 55 77 / 8 66 44 - 0, kral@kral.at, www.kral.at

Brandschutz

Fire protection

Brandschutz

Fire protection

KNAACK & JAHN

Marine Piping Systems and Fire Protection

®

www.kj-fireoff.com

+49 40 781 293 0

fireprotection@k-j.de

Uffelnsweg 10 20539 Hamburg

FIRE PROTECTION:

WATER, GAS, FOAM

Kälte Klima Lüftung

Refrigeration Climate Ventilation

KNAACK & JAHN

Marine Piping Systems and Fire Protection

Sicherheitsausrüstung

Safety Equipment

Disposition

Halbjährlich (für 6 Ausgaben)

oder bis auf Widerruf;

Buchung jederzeit möglich.

Die Berechnung erfolgt

im Voraus. Sie erhalten jeweils

eine Gesamtrechnung.

www.k-j.de

+49 40 31 979 277 0

climatecontrol@k-j.de

Stenzelring 39 21107 Hamburg

AIR CONDITIONING

AND REFRIGERATION

Buyer's Guide monatlich neu:

Buchen Sie die nächsten 6 Ausgaben schon ab 495,- €

Rubrik

6 Schaltungen, 4c

30mm/

1spaltig

40mm/

1spaltig

1 Rubrik € 495,–* € 680,–*

2 Rubriken € 940,–* € 1.290,–*

3 Rubriken € 1.335,–* € 1.835,–*

4 Rubriken € 1.680,–* € 2.245,–*

5 Rubriken € 1.980,–* € 2.720,–*

6 Rubriken € 2.225,–* € 3.060,–*

*zzgl. MwSt.

80 HANSA International Maritime Journal – 154. Jahrgang – 2017 – Nr. 5
---
Buyer's Guide

7

9

Ventilsteuerungen

Valve Remote Control

Best Maritime Technology

HYDRAULIK PNEUMATIK

HYDRAULICS PNEUMATICS

Pumpen

Pumps

MESS- REGELTECHNIK

MEASURING CONTROL DEVICES

Tankinhaltsmessung

Tank Content Measuring

Best Maritime Technology

• Fluid Management

• Motion Control

• Ship Performance

www.hoppe-marine.com

Brands of Hoppe Marine

Trimm- und Bewegungsmessung

Dynamic Floating Monitoring

Best Maritime Technology

Hochqualitative Schraubenspindelpumpen

für Kraftstoffe.Hermetisch dichte Pumpen

mit Magnetkupplung für MDO und HFO.

KRAL AG, 6890 Lustenau, Austria

Tel.: +43 / 55 77 / 8 66 44 - 0, kral@kral.at, www.kral.at

Kompressoren

Compressors

• Fluid Management

• Motion Control

• Ship Performance

www.hoppe-marine.com

Brands of Hoppe Marine

Leistungsmessung

Performance Monitoring

Best Maritime Technology

• Fluid Management

• Motion Control

• Ship Performance

www.hoppe-marine.com

Brands of Hoppe Marine

Mess- Regeltechnik

Measuring | Control Devices

Neuenhauser Kompressorenbau GmbH

Hans-Voshaar-Strasse 5 · 49828 Neuenhaus · Germany

Phone +49 (0) 59 41/ 604-0 · Fax +49 (0) 59 41/ 604-202

E-Mail: nk@neuenhauser.de · www.nk-air.com

Air and water cooled compressors,

Air receivers with valve head, Bulkhead penetrations

www.hansa-online.de

• Fluid Management

• Motion Control

• Ship Performance

www.hoppe-marine.com

Brands of Hoppe Marine

W. Ludolph GmbH & Co. KG

Seeborg 5 | 27572 Bremerhaven | Germany

Fon +49 471 94408-22 | Fax +49 471 45030

bernd.wecker@ludolph.de | www.ludolph.de

Online

Bannerwerbung

Sub page

1 Leaderboard 1.190 €

728 x 90 Pixel

2 Large Rectangle 950 €

325 x 500 Pixel

3 Rectangle 650 €

325 x 250 Pixel

4 Mini Rectangle 450 €

325 x 125 Pixel

5 Fullsize Banner 350 €

696 x90 Pixel

(nur auf der Startseite)

6 Layer Ad 1.490 €

780 x 180 Pixel

7 Content-ad 120 €

728 x 90 Pixel

(in einem redaktionellen Beitrag,

weitere Beiträge sind möglich)

3

3

8 Section Sponsoring 250 €

325 x 125 Pixel

Schifffahrt

LOGO 8

Start page

1

1

2

7

2

4

5

4

6

www.hansa-online.de

10

NAVIGATION KOMMUNIKATION

NAVIGATION COMMUNICATION

Gerhard D. Wempe KG

Geschäftsbereich Chronometerwerke

Steinstraße 23 · 20095 Hamburg

Tel.: +49 (0)40 334 48-899

Fax: +49 (0)40 334 48-676

E-Mail: chrono@wempe.de

www.chronometerwerke-maritim.de

Manufacturer of finest

marine chrono meters, clocks and

electrical clock systems

HANSA International Maritime Journal – 154. Jahrgang – 2017 – Nr. 5 81
---
Buyer's Guide

Navigation | Kommunikation

Navigation Communication

IHR SPEZIALIST FÜR

INFRAROT- / WÄRMEBILDKAMERAS

»Bei Nacht sehen

wie am Tag.«

Mobil + 49 (0)1 78 . 34 13 178 | Telefon + 49 (0) 47 46 . 93 17 22

www.trauthoff.de | info@trauthoff.de

11

KONSTRUKTION CONSULTING

CONSTRUCTION CONSULTING

Ingenieurbüro

Engineer's office

SHIP DESIGN & CONSULT

Naval architects

Marine engineers

info@shipdesign.de · www.shipdesign.de · Hamburg

Design – Construction – Consultancy

Stability calculation – Project management

Klassifikationsgesellschaften

Classification Societies

Bureau Veritas

day and night Marine Service

+49 (0) 40 - 23625-0

24

DIENSTLEISTUNGEN

SERVICES

Seewetter

Postfach 301190 – 20304 Hamburg

Tel. +49 69 8062 6181

E-Mail: seeschifffahrt@dwd.de

Luftaufnahmen

Aerial photos

• Technology Consulting

(e.g. Ballast Water Treatment, LNG Bunker)

• Policy-, Strategy-, Development-

+ PR Consulting (incl. EU Affairs)

• Industrial Expertise for Investors,

Interim + Project Management

contact us:

info@mvb-euroconsult.eu

phone +49-170-7671302

www.mvb-euroconsult.eu

HANSADigital -

More than just news.

New!

Am Sandtorpark 4 • D 20457 Hamburg

Tel +49 40 284 193 550 • Fax +49 40 284 193 551

E-Mail hamburg.office@rina.org • www.rina.org

16

Together for excellence

MAKLER

SHIP BROKERS

Der FOTOSPEZIALIST

für Luftaufnahmen

aus allen Bereichen der Schifffahrt

HERO LANG

Dieselstr. 17 . 27574 Bremerhaven

Telefon 0471-310 63 . Fax 31065

Ihr Einsatz

ist unbezahlbar. Deshalb

braucht sie Ihre Spende.

www.seenotretter.de

+

www.hansa-online.de

CC

shipbrokers

CONTINENTAL CHARTERING GMBH & CO. KG

Ballindamm 17 | 20095 Hamburg

Tel + 49 (40) 32 33 70 70 | Fax + 49 (40) 32 33 70 79

office@continental-chartering.de

www.continental-chartering.de

82 HANSA International Maritime Journal – 154. Jahrgang – 2017 – Nr. 5
---
Häfen | Ports

Durchwachsenes Jahr für

deutsche Terminalbetreiber

Die großen deutschen Terminalbetreiber Eurogate, BLG und

HHLA haben für 2016 gemischte Bilanzen verbucht. Gemein

ist ihnen der Ausblick auf »herausforderndes« Jahr 2017

Die neue HHLA-Chefin Angela Titzrath,

die zum 1. Januar 2017 das Amt

von Klaus-Dieter Peters übernommen hat,

steht gleich in ihrem ersten Jahr an der Spitze

des Konzerns vor einer Reihe von Herausforderungen.

Während die Hamburger Hafen

und Logistik AG die Umsatzerlöse um

3,1% auf 1,177 Mrd. € steigern konnte, und

sich auch das EBIT um 4,8% auf 164 Mio. €

erhöhte, prognostiziert der Konzern für das

laufende Jahr einen Rückgang des operativen

Gewinns. Man rechne mit einem EBIT in einer

Spanne zwischen 130 und 160 Mio. €, so

Titzrath. Grund dafür seien die unsicheren

Rahmenbedingungen. Zum einen sei

das weltweite Wachstum mit nur noch 1,3%

verhalten, zum anderen gebe es große Unsicherheiten

durch die Entwicklungen in den

USA und den angekündigten »Brexit«. Ferner

sei davon auszugehen, dass das Geschäft

mit Russland schwierig bleibe. Beim Containerumschlag

hat die HHLA 2016 ein leichtes

Plus um 1,5% auf 6.658.000 TEU erzielt.

6.375.000 (+1,1%) Boxen gingen in Hamburg

über die Kaikanten, in Odessa erhöhte sich

die Zahl um 10,6% auf 283.000 TEU. Nach

Ansicht der HHLA wird sich 2017 auf demselben

Niveau bewegen. Titzrath schließt

nicht aus, dass man sich an Terminals außerhalb

Hamburgs beteiligen könnte.

Die in Bremen ansässige BLG Logistics

konnte 2016 den Umsatz um 11% auf

1,046 Mrd. € steigern. Der Vorsteuergewinn

(EBT) wuchs um 4% auf 30,8 Mio. €. Es sei gelungen,

in allen drei Geschäftsbereichen zuzulegen,

erklärt Vorstandschef Frank Dreeke.

Die Ergebnisse lägen genau im Zielkorridor.

Die wirtschaftliche Lage der BLG sei »stabil,

aber noch steigerungsfähig«. Stärkster Geschäftsbereich

war die »Kontraktlogistik«

(+20%, 574,5Mio. €), gefolgt von »Automobile«

(+2,6%, 473,7Mio. €) und Containern. Der

BLG-Anteil am Umsatz der Terminalgruppe

Eurogate, dem Joint Venture mit Eurokai, lag

bei 319,7Mio. €. Das Ergebnis vor Steuern und

Zinsen (EBIT) stieg von 43,4 auf 47,2Mio. €.

Der Containerumschlag in der gesamten Eurogate-Gruppe

lag bei 14,6Mio. TEU. Davon

entfielen 5,5Mio. TEU auf Bremerhaven und

2,3Mio. TEU auf Hamburg. Am Jade-Weser-

Port in Wilhelmshaven wurde ein Zuwachs

von 5,6% auf 482.000 TEU erzielt. Die italienische

Tochter Contship kam auf 5Mio. TEU.

Im Automobilbereich gab es dagegen erhebliche

Einbußen. Hyundai-Kia sei selbst

im Markt aktiv geworden, Mercedes habe

ein Kontingent von etwa 100.000 Fahrzeugen

in den Adria-Hafen Koper verlegt, der

Auto-Umschlag in Bremerhaven sei zudem

um 200.000 Einheiten zurückgegangen,

lautet die Begründung. Dabei habe

auch der VW-Dieselskandal eine Rolle gespielt.

An Land (Bahn, Lkw, Binnenschiff)

seien zudem rund 700.000 weniger Einheiten

transportiert worden. Negative Ergebnisse

lieferten auch die Bereiche Windenergie,

Stückgut und High&Heavy. Dennoch

fällt der Ausblick auf 2017 optimistisch aus:

»Die Lage wird nicht leichter«, so Dreeke,

»aber wir sind gut gestartet und wollen das

2016 noch einmal übertreffen«.

Eurogate selbst hat das Bilanzjahr

2016 ebenfalls positiv abgeschlossen. Angesichts

der Neuordnung in der Linienschifffahrt

erwartet der Konzern einige Herausforderungen,

sieht sich aber gut aufgestellt.

»Die Containerbranche bringt in diesem

Jahr viele Veränderungen mit sich. Man

werde das Marktgeschehen und die Folgen

aus den Entwicklungen in der Weltpolitik,

die mit einigen protektionistischen Tendenzen

in der Weltwirtschaft für Beunruhigung

sorgen, aufmerksam beobachten. Den Angaben

zufolge konnte die Unternehmensgruppe

das Betriebsergebnis (EBIT) um

11,6% auf 101,6 Mio. € und den Überschuss

um 3,3% auf 75,9 Mio. € steigern. Michael

Blach, Vorsitzender der Gruppengeschäftsführung,

sieht in der Entwicklung der Allianzen

eine große Chance, denn mit Bremerhaven,

Hamburg und Wilhelmshaven biete

man viele Möglichkeiten – auch für Schiffe

mit über 20.000 TEU.

Eurogate sieht sich mit seinen verschiedenen

Standorten gut aufgestellt. Um negative

Effekte durch die verzögerten Weser-

und Elbvertiefungen zu reduzieren,

versucht man schon jetzt, die Häfen besser

zu vernetzen. So wurde kürzlich ein Zugshuttle

vom JadeWeserPort nach Hamburg

Foto: BLG

und Bremen angekündigt. Positiv sei, dass

ab sofort zwei Großallianzen mit acht Reedereien

Wilhelmshaven anlaufen würden. Bereits

2016 hatte sich das Terminal mit einem

Wachstum von 12,9% auf 481.720 TEU positiv

entwickelt.

An den anderen deutschen Standorten

gingen die Umschlagmengen hingegen leicht

zurück. In Bremerhaven – wo es Kooperationen

mit Maersk und MSC gibt – wurden

5.487.198 TEU umgeschlagen (-0,6%), in

Hamburg 2.265.439 TEU (-0,9%). Sehr zufrieden

zeigt sich der Konzern mit der Entwicklung

im Ausland. Die Terminals in Italien

– durch die Beteiligung Contship Italia

– steigerten sich um 4,6% auf 5 Mio. TEU.

Hervorzuheben sei das Wachstum in Gioia

Tauro. Nach einigen schwierigen Jahren

schlug das Terminal 2,7 Mio. TEU um, fast

10% mehr als im Vorjahr. Jüngster Neuzugang

im Portfolio ist Limassol auf Zypern.

Das Terminal hat eine Kapazität von

500.000 TEU. MM

HANSA International Maritime Journal – 154. Jahrgang – 2017 – Nr. 5 83
---
Häfen | Ports

Foto: Alex Schelbert

München wird zum Mekka der Logistik

Alle zwei Jahre kommen die Akteure des weltweiten Güterverkehrs nach München.

Die transport logistic ist als weltweit anerkannte Leitmesse ein Pflichttermin im Kalender

Abstract: »transport logistic« to discover new markets

In der Logistik wachsen die Anforderungen

an die Verkehrsinfrastruktur in

Ballungsräumen und damit auch an die

Verkehrspolitik. Die beiden Megatrends

bleiben die digitale Transformation und

die Etablierung von einheitlichen Standards.

Die Aussteller der transport logistic,

die vom 9. bis 12. Mai auf dem Münchner

Messegelände stattfindet, präsentieren

ihre Ideen und Innovationen.

Die Logistikbranche ist gemessen am

Umsatz gemeinsam mit dem Maschinenbau

die drittgrößte Branche in Deutschland,

direkt hinter der Automobilindustrie

und der Pharmaindustrie. Der

Wirtschaftszweig hat Schätzungen der

Bundesvereinigung Logistik (BVL) zufolge

im Jahr 2011 rund 220 Mrd. € erwirtschaftet

und damit das bisherige Rekordniveau

von 2008 übertroffen (218 Mrd. €).

Knapp die Hälfte des Umsatzes der derzeit

rund 2,8 Mio. Beschäftigten entfällt dabei

auf externe Dienstleister, die andere Hälfte

setzen unternehmenseigene Logistiker um.

Know-how-Transfer findet zudem in insgesamt

48 Konferenzveranstaltungen statt.

Alle Facetten der Logistik, Mobilität, IT

und des Supply Chain Managements werden

im Rahmenprogramm, zu dem mehr

als 200 Fachexperten nach München kommen

werden, diskutiert. Eröffnet wird die

transport logistic 2017 durch den Bundesminister

für Verkehr und digitale Infrastruktur,

Alexander Dobrindt.

Robert Schönberger, Projektgruppenleiter

bei der Messe München, freut sich: »Die

Where are the markets of the future in logistics? This is just one of many questions that

will be discussed at the next »transport logistic« at the Messe München trade-fair center

from May 9 to 12, 2017. This year, four regions will play a special role at the 16 th edition

of the International Exhibition for Logistics, Mobility and Supply Chain Management

– with China, India being prime candidates for growth markets. One of the major

driving forces behind growth is online trade. Poland, Iran, USA and South Africa

are also in the spotlight. Tapping new markets calls for partnerships between trade,

industry and logistics service providers. A trade show like this year's »transport logistic«

is a chance to make new contacts and intensify existing partnerships.

Further information: redaktion@hansa-online.de

transport logistic schaff es wie keine andere

Veranstaltung, Logistik, Industrie und

Handel zusammenzubringen, um die aktuellen

Trends zu diskutieren und, um die

Zukunft zu gestalten.«

Auf 115.000 m2 Ausstellungsfläche – das

entspricht rund 15 Fußballfeldern – werden

über 2.000 Aussteller aus 60 Ländern

die gesamte Bandbreite der Logistik präsentieren.

Mit den Messe-eigenen Gleisen

verwandelt sich ein Teil des Freigeländes in

einen Bahnhof, auf dem namenhafte Unternehmen

ihre Lokomotiven und Waggons

ausstellen.

Zur kommenden transport logistic gibt

es zudem so viele Gemeinschaftsstände

wie noch nie – sowohl aus dem Inland,

wie aus dem Ausland. Mit Länderpavillons

dabei sind unter anderem Bahrain, Belgien

(Flandern/Wallonien), China, Estland,

Frankreich, Griechenland, Kroatien, Lettland,

Luxemburg, Marokko, Österreich,

Portugal, die Slowakei, Slowenien, Spanien

und die Tschechische Republik. Darüber

hinaus präsentieren Aussteller im Rahmen

von Häfen-Gemeinschaftsständen aus

Italien, Finnland, Niederlande, Norwegen

und Spanien ihre Dienstleistungen und Innovationen.

Aber auch Deutschland ist auf der transport

logistic wieder breit vertreten: Baden-Württemberg,

Bayern, Berlin-Brandenburg,

Bremen, Hamburg, Hessen,

84 HANSA International Maritime Journal – 154. Jahrgang – 2017 – Nr. 5
---
Häfen | Ports

UM-

SCHLAG-

BAR

Die Containerterminals der Hamburger Hafen und Logistik AG (HHLA) sind

Knotenpunkte eines Netzwerks, das Häfen mit Wirtschaftsregionen im Binnenland

verbindet. Als führender europäischer Hafen- und Transportlogistiker bietet

die HHLA hocheffizienten Containerumschlag für die größten Schiffe der Welt

und leistungsfähige Containertransporte aus einer Hand – in Hamburg, Odessa,

in Mittel- und Osteuropa, zwischen Nordsee, Ostsee und Mittelmeer.

Besuchen

Sie uns auf der

transport logistic

in der Halle B3,

Stand 209/310, und

im Freigelände

702/1.

HANSA International Maritime Journal – 154. Jahrgang – 2017 – Nr. 5 85
---
Häfen | Ports

Mecklenburg-Vorpommern, Niedersachsen, Nordreinwestfahlen,

Sachsen-Anhalt sowie das Saarland sind mit

Gemeinschaftsbeteiligungen vor Ort.

Unsere Häfen.

Ihre Zukunft.

info@nports.de

www.nports.de

Neue Märkte

Um neue Märkte zu erschließen, braucht es Partnerschaften

von Industrie, Handel und Logistikdienstleistern. Eine

Messe wie die transport logistic ist die Gelegenheit, neue

Kontakte zu knüpfen oder bestehende Partnerschaften zu

intensivieren.

Peter Kauschke, Director Transportation & Logistics beim

Beratungsunternehmen PwC, weiß: »Wachstumsmärkte für

die Logistik sind grundsätzlich solche mit großem Wirtschaftswachstum.«

Neben den »Klassikern« China, Indien

oder Russland stehen vier der wichtigsten Wachstumsmärkte

besonders im Blickpunkt.

Bereits am Eröffnungstag geht es im Forum IV der Halle

B2 ab 13:30 Uhr um »Polens Chancen und Herausforderungen

als Logistikhub im europäischen Hinterland«.

Immerhin ist Polen einer der größten Märkte innerhalb der

Europäischen Union, der nach wie vor zahlreiche Wachstumschancen

bietet. Die Bundesvereinigung Logistik (BVL)

organisiert am Mittwoch, den 10. Mai, im Forum I der Halle

A6 ab 12:00 Uhr ein Länder-Special zum Iran, mit besonderem

Augenmerk auf den spezifischen Chancen und Spielregeln

auf diesem sehr interessanten Markt. Im Iran gibt es

logistischen Nachholbedarf, daher bietet das Land wie kein

anderer Standort Wachstumsmöglichkeiten für internationale

Dienstleister.

Impulse aus dem Silicon Valley

Besuchen Sie uns auf der

transport logistic

München

am Stand 313/414

in Halle B4

Ebenfalls am 10. Mai lädt die Logistics Alliance Germany

(LAG) ins Forum I der Halle A6 zum »Länderspecial USA:

Impulse aus dem Silicon Valley für Logistiklösungen aus

Deutschland«. Im April 2018 findet in Atlanta die neue Messe

Transportation & Logistics Americas (TLA) statt – organisiert

von der Messe München parallel zur Intralogistikmesse

Modex.

Am Donnerstag, den 11. Mai, gibt es ab 16:00 Uhr im Forum

I der Halle A6 die Sequenz »Logistik im südlichen Afrika

– Chancen und Herausforderungen«. Für Aussteller,

Besucher und Messeveranstalter zweifelsfrei auch ein Markt

mit enormen Potenzial, bietet die wirtschaftliche Boomregion

im südlichen Afrika doch Entwicklungschancen für

die Logistik.

Auch für die Hafenwirtschaft, Reeder, Verlader und

Spediteure ist die transport logistic alle zwei Jahre der

Höhepunkt. Alle wichtigen Seehäfen von Niedersachsen

Ports über Bremen bis Hamburg sind in München präsent.

Aber auch die großen Terminalbetreiber und Hinterlandtransporteure

zeigen ihr Leistungsspektrum. Imperial

International ebenso wie Contargo (Rhenus) oder

auch Am Zehnhoff Söns. Der Bundesverband der Öffentlichen

Binnenhäfen (BÖB) hat einen Gemeinschaftsstand

organsiert, der für die zahlreichen Häfen wie die

Sächsischen Binnenhäfen (SBORheinCargo, Elbe- und

Havelport oder Rhein-Umschlag mit UHH und ihre

Kunden nicht nur einen zentralen Anlaufpunkt schaff,

sondern auch zum Schauplatz einer Reihe von Vorträgen

und Symposien wird.

M

86 HANSA International Maritime Journal – 154. Jahrgang – 2017 – Nr. 5
---
Häfen | Ports

PORT NEWS

Meldungen aus den Häfen der Welt

INTERNATIONAL: Nach Recherchen

von Alphaliner hat das Boxenaufkommen

in den 100 größten Containerhäfen

der Welt im vergangenen Jahr um

1,8% auf 555,6 Mio. TEU zugenommen.

Zu den Gewinnern mit zweistelligen Zuwächsen

zählen Port Kelang (+10,8%),

Colombo (+10,6%), Manila (+11,3%), Piräus

(+10,4%), Mundra (+18,7%), Salalah

(+29,4%), Incheon (+12,6%), Fuzhou

(+10,0 %), Chittagong (+15,9 %), Barcelona

(+14,5%), Bandar Abbas (+ 23,6%) und

Cai Mep (+35,3%). Rückgänge gab es etwa

in (-5,2%), Tanjung Pelepas (-9,2%), Jakarta

(-6,5%), Felixstowe (-8,5%), Santos (-

5,7%), Port Said (-11,9%), Balboa (- 8,0%),

Ambarli (-9,2%), Durban (-5,4%), Cartagena

(-10,6%), Manzanillo (-7,3%), Dammam

(-9,6%) und Zeebrügge (-10,8%).

KOLUMBIEN: International Container

Terminal Services (Manila) und PSA International

(Singapur) haben offziell die

erste Bauphase des 550-Mio.-$-Projektes

Puerto Aguadulce, eines Joint Ventures im

Hafen von Buenaventura, abgeschlossen.

Betriebsgesellschaft ist das Gemeinschaftsunternehmen

Sociedad Puerto Industrial

de Aguadulce. An der Anlage können sowohl

Containerschiffe mit Stellplatzkapazitäten

bis 18.000 TEU als auch Schiffe mit

Breakbulk-Ladungen abgefertigt werden.

Die beiden Liegeplätze für Containerschiffe

können zusammen bis zu 550.000 TEU

jährlich bewältigen, der Bulkterminal hat

eine Jahreskapazität von 2 Mio.t.

MEXIKO: Präsident Enrique Pena Nieto

hat den Tuxpan Port Terminal (TPT) offziell

eröffnet. Die 375-Mio.-$-Anlage ist für

einen Jahresumschlag von 710.000 TEU

ausgelegt. Sie ist eine Tochtergesellschaft

von SSA International in Seattle und von

einiger Bedeutung auch für den Autoumschlag.

De facto hat der Betrieb von TPT

mit einer Kaistrecke von 556 m an 15 m

Wassertiefe bereits im vergangenen Juli begonnen.

TPT ist der einzige Terminal am

Golf von Mexiko, an dem Schiffe mit bis

zu 14.000 TEU Stellplatzkapazität bedient

werden können.

PANAMA: Die Panamakanal-Verwaltung

hat gemeldet, dass mit der »MSC Anzu«

(9.008 TEU) neun Monate nach seiner Erweiterung

das tausendste Neopanamax-

Schiff die Schleusen passiert hat. Für den

Februar wird als bisheriger Rekord die Passage

von 1.180 Schiffen aller Größenklassen

mit 1,8 Mio. Panama Canal tons PC/

UMS) gemeldet, nach 35,4 Mio. PC/UMS

im Januar und 36,1 Mio. PC/UMS im Dezember.

PHILIPPINEN: International Container

Terminal Inc. (ICTIS) will sein »Flaggschiff«,

den Terminal am Firmensitz in

Manila, ausbauen, um ihn für die Abfertigung

von Containerschiffen bis zu

13.000 TEU fit zu machen. Beabsichtigt ist

neben dem Bau eines weiteren Liegeplatzes

die Beschaffung von fünf Post-Panamax-

Brücken und zehn gummibereiften Gantry-Kranen.

Die Beschaffung des Großgerätes

trotz der Containerkrise wird mit

den Anforderungen der wachsenden Wirtschaft

des Landes begründet. Die Installation

der Großgeräte soll in den Jahren

2018/2019 erfolgen.

SCHWEDEN: Hutchison Ports hat mit

dem Port of Stockholm eine Vereinbarung

über den Betrieb des im Bau befindlichen

Containerterminals in Novik Port getroffen.

Es ist der einzige Tiefwasserhafen an

der Ostküste Schwedens. Der neue Terminal,

dessen Inbetriebnahme für 2020 geplant

ist, bietet eine Kaistrecke von 450 m

Länge an 16,5 m Wassertiefe. Er soll eine

Umschlagkapazität von 450.000 TEU p.a.

erreichen. Hutchison Port hat in Stockholm

bereits seit 2009 den mehr innerstädtisch

gelegenen Terminal Frihamnen betrieben.

Sein Gelände soll, wenn der neue

Terminal fertiggestellt ist, für den Wohnungsbau

und für Freizeitanlagen genutzt

werden.

APM Terminals (APMT) will den Containerterminal

in Göteborg mit Investitionen

von fast 30 Mio. $ ausbauen und

modernisieren. Vor allem soll leistungsfähigeres

Equipment beschaff werden, darunter

zwei Super-Postpanamax-Brücken.

APMT hat die Konzession für den Betrieb

des Skandia Container Terminals im Oktober

2011 gewonnen und den Betrieb im

Januar 2012 mit damaligen Investitionsplänen

in Höhe von 780 Mio. SEK aufgenommen.

GRIECHENLAND: Die seitens der internationalen

Geldgeber geforderten Privatisierungsanstrengungen

haben das gewünschte

Ziel bei weitem verfehlt. Eines

der »Highlight« ist die Übernahme der

Kontrolle der Piräus Port Authority durch

Chinas Cosco Shipping. Piräus konnte mit

167,7% nach Berichten aus England die

höchsten Zuwachsraten aller europäischen

Häfen in der Dekade 2007 bis 2016 erreichen.

Allein 2016 gingen mit 3,7 Mio. TEU

über die Kaikanten. Verglichen mit den

3,3 Mio. TEU in 2015 gab es 2016 einen Zuwachs

um 11,7%. Nach Informationen von

Cosco hat es auch 2017 einen guten Start

gegeben: Im Januar wurden auf den drei

Terminals in Piräus 282.000 TEU umgeschlagen,

das sind 12% mehr als im Januar

des Vorjahres.

HJW

Hero Lang

Der FOTOSPEZIALIST für Luftaufnahmen

aus allen Bereichen der Schifffahrt

Dieselstr. 17 . 27574 Bremerhaven | Telefon 0471-310 63 . Fax 31065

HANSA International Maritime Journal – 154. Jahrgang – 2017 – Nr. 5 87
---
Offshore

Häfen rüsten sich für größere Anlagen

Die Offshore-Häfen an der deutschen Nord- und Ostseeküste bauen ihre Kapazitäten

für größere Schiffe und Windkraftanlagen aus. Es werden zusätzliche Liegeplätze und

Lagerflächen geschaffen, um größere Windkraftanlagen zu installieren

Die bisher in der Nord- und Ostsee

installierte Leistung der Offshore-

Windparks liegt bei etwa 4.000 MW. Diesen

Wert veröffentlichte die Stiftung Offshore-Windenergie.

Demnach sind weitere

Anlagen mit einer Gesamtleistung von

knapp 1.200 MW bereits im Bau und für

zusätzliche 1.200 MW hat es schon Investitionsentscheidungen

gegeben. Bis zum

Jahr 2020 sollen die Windenergieanlagen

auf der Nord- und Ostsee nach Maßgabe

der Bunderegierung insgesamt rund

6,5 GW an Leistung erzeugen. Allerdings

sollen bis zum Jahr 2030 weniger Anlagen

installiert werden als ursprünglich geplant.

Insgesamt ist jetzt von etwa 15.000 MW

die Rede. Dennoch verdeutlicht dies, dass

die Zahl der Offshore-Windparks bzw.

die Zahl der Offshore-Windkraftanlagen

in den kommenden Jahren weiter steigen

wird.

Für zahlreiche Häfen an der deutschen

Nord- und Ostseeküste ist die Offshore-

Windindustrie deshalb ein wichtiges

Standbein. Der Zentralverband der deutschen

Seehafenbetriebe (ZDS) ordnet sie

in drei Kategorien ein. Zum einen gibt es

die sogenannten Großkomponentenhäfen,

zu denen Produktionshäfen mit Fertigungsstätten,

aber auch Installations- und

Basishäfen für die Vormontage, Importund

Exporthäfen für den Umschlag sowie

Schutzhäfen zählen. Zum anderen gibt es

Service- und Wartungshäfen, von denen

aus Reparatureinsätze aber auch allgemeine

Service- und Wartungsarbeiten geregelt

werden. In die dritte Kategorie fallen Forschungshäfen,

also Standorte mit Flächen

Abstract: Ports get ready for larger components

Offshore ports along the German North and Baltic Sea coats expand their capacities

to accommodate larger vessels and to handle bigger components of wind turbines. This

means additional berthing space and storage facilities. The installed power of German

offshore wind farms totals to 4,000 MW by now, turbines with a total of 1,200 MW are

under construction and investment decisions for another 1,200 MW have already been

made. The island of Helgoland, cetrally located in the German North Sea, is an ideal

location for a service base that is already being expanded. Siemens has high hopes for

Cuxhaven where the company recently built a wind turbine factory that brings potential

for more seaborne transportation of components. And there are more promising

projects under way.

Further information: redaktion@hansa-online.de

für Offshore-Prototypen und Testanlagen

sowie Schulungs- und Trainingseinrichtungen.

Durch ihre Lage inmitten der Nordsee

eignet sich die Insel Helgoland besonders

gut als Servicehafen für den Betrieb und

die Wartung von Windparks. Der Südhafen

und Teile des Vorhafens werden derzeit

zu einer Service- und Betriebsstation

mit Werk- und Lagerhallen ausgebaut. Das

Projekt besteht aus der Hafenprojekt-Gesellschaft

Helgoland, e.on, HC Hagemann,

innogy SE und WindMW. Von Helgoland

aus werden die Offshore-Windparks Amrum

Bank West, Nordsee Ost, und Meerwind

bedient.

Siemens setzt große Hoffnungen in den

Standort Cuxhaven. Deshalb hat sich das

Unternehmen entschieden, in der Stadt

an der Elbmündung für rund 200 Mio. €

auf einer Fläche von rund 170.000 m2 eine

56.000 m2 große Produktionshalle zu errichten.

Ab Mitte des Jahres soll dort die

Herstellung von Maschinenhäusern für

die neue Windenergiegeneration D7 beginnen.

Dies beinhalte die Endmontage

von Generatoren, Naben und Gondelteilen,

so das Unternehmen. Die D7-Plattform

demnach Offshore-Windenergieanlagen

mit Direct Drive und einer Nennleistung

von 6,0 MW und 7,0 MW, die somit stärker

sind, als die, die in der Anfangszeit produzieren

Anlagen.

71 dieser neuen STW-7.0-Anlagen sind

für das Offshore-Windprojekt vorgesehen,

dass Siemens Wind Power zusammen mit

EnBW 90 km nördlich der Insel Borkum

errichtet. Die Rotorblätter haben eine Länge

von 75 m und sollen in den Werken im

britischen Hull und in Aalborg, Dänemark

gefertigt werden. Die Inbetriebnahme des

neuen Offshore-Windparks ist im dritten

Quartal 2019 vorgesehen.

Durch die günstige Lage des Standorts

ließen sich teure Landtransporte vermeiden,

da schwere Komponenten direkt auf

Transportschiffe geladen werden könnten,

so Siemens über die Beweggründe sich für

Cuxhaven als Standort zu entscheiden.

Der Ausbau des Liegeplatzes 4 soll zusätzliche

Offshore-Kapazitäten bringen.

Deshalb ist er direkt an eine Schwerlaststraße

angebunden, über die die schweren

Offshore-Komponenten transportiert

werden können. 240 m Kaianlage sowie

8,5 ha nachgelagerte Kaiflächen werden

geschaffen. Der neue Umschlagplatz, der

im Sommer dieses Jahres eröffnet werden

soll, sei dann für Schiffe mit einem maximalen

Tiefgang von 14,30 m geeignet, so

das Land Niedersachsen.

In Emden hat Unterdessen im März

dieses Jahres der Umschlag von Großkomponenten

begonnen. Dafür wurde die

Landemole Knock am Rysumer Nacken

ertüchtigt. Das Emder Unternehmen Off-

Shore Wind Solutions (OWS) nutzt derzeit

den »Port Knock« und die angrenzenden

Flächen der AG Ems für den Umbau

von zwei Windenergieanlagen. »Der Port

Knock wird künftig vor allem als Servicehafen

für bestehende Offshore-Windparks

dienen und stellt dafür Liegeplätze, Hafenund

Freiflächen zur Verfügung. Die Ansiedlung

von Service-Firmen bietet sich

unmittelbar an«, sagt Knud Gerdes, Geschäftsführer

der EMS Maritime Offshore

(EMO), einem Tochterunternehmen der

AG Ems.

Vom Hafen Sassnitz-Mukran aus wird

der Ostseewindpark Wikinger errichtet.

Für das 132 m lange und 39 m breite Errichterschiff

»Brave Tern« der Reederei

Fred Olsen auf musste extra der Liegeplatz

3a am Offshore-Terminal ausgebaut

werden. Mit einem maximalen Lasteneintrag

von 7.000 t pro Hubbein hat das Schiff

nach Auskunft des Hafens beim Anheben

aus dem Wasser, dem sogenannten »Jackup«-Vorgang,

eine maximale Bodenpressung

von 65 t/m2 pro im Hafenbecken des

88 HANSA International Maritime Journal – 154. Jahrgang – 2017 – Nr. 5
---
Offshore

Windparks und ihre Versorgungshäfen in der Nord­ und Ostsee

Quelle: Stiftung Offshore-Windenergie

Mukran Port erreicht. Im Bereich der Anlegestelle

seien daher vorab Maßnahmen

zur Befestigung des Seegrunds getroffen

worden, die in enger Zusammenarbeit

mit Projektpartnern aus der Region umgesetzt

worden seien. Etwa ein Jahr nahmen

Planung und Durchführung der komplexen

Seebodenertüchtigungsmaßnahme

nach Angaben des Hafens in Anspruch,

bevor diese pünktlich vor dem Einlaufen

der »Brave Tern« abgeschlossen wurden

konnte. Als beratende Ingenieure waren

die Baugrund Stralsund Ingenieursgesellschaft

und die AIU Architekten- und Ingenieurunion

Stralsund tätig. Die bauliche

Umsetzung übernahm Colcrete – von Essen

Wasserbau.

Einen Rückschlag gab es indes für Bremerhaven,

denn das Oberverwaltungsgericht

(OVG) Bremen hat entschieden,

dass der Planfeststellungsbeschluss für

den neuen Offshore-Terminal Bremerhaven

(OTB) weiterhin nicht erfolgen darf. Es

zog sogar in Zweifel, ob es in Bremerhaven

überhaupt einen Bedarf für einen Schwerlasthafen

gibt. Gegen den Planfeststellungsbeschluss

von November 2015 hatte der

BUND seinerzeit Klage erhoben.

Das Verfahren geht jetzt zurück an das

Verwaltungsgericht, das über die Klage des

BUND endgültig entscheiden muss. Bis es

zum Bau des 180-Mio.-€-Projekts kommt,

könnten nun noch Jahre vergehen. Auf

dem 25 ha großen Terminal an der Weser

sollen Windkraftanlagen montiert und

umgeschlagen werden.

Seit Beginn der Planung für den Hafen

im Jahr 2009 habe es gravierende Veränderungen

in der Offshore-Windenergieindustrie

gegeben, argumentierte das

Gericht. Gutachten zu Umschlagzahlen

und Auslastung seien nicht nachvollziehbar.

Aktuelle Entwicklungen in der Offshore-Windindustrie

seien nur unzureichend

berücksichtigt. Das Gericht bezieht

sich dabei vor allem auf das novellierte

Erneuerbare-Energien-Gesetz (EEG), in

dem die Ausbauziele für Offshore-Windenergie

deutlich nach unten korrigiert

wurden.

»Auch mit diesen Hinweisen werden

wir uns intensiv auseinandersetzen«, so

Günthner. Der OTB bleibe das zentrale Infrastrukturprojekt

des Landes und werde

den Hafenstandort Bremerhaven mit der

Anbindung von rund 250 ha Gewerbefläche

nachhaltig stärken.

M

Das erfahrene und engagierte

OFFSHORE-WIND-Team bei

LEBUHN & PUCHTA berät in

allen Fragen des maritimen

Wirtschafts-, Versicherungsund

Schadensrechts

LEBUHN & PUCHTA

Partnerschaft von Rechtsanwälten

und Solicitor mbB

Am Sandtorpark 2

20457 Hamburg

T +49 (0)40 37 47 78 - 0

F +49 (0)40 36 46 50

www.lebuhn.de

HANSA International Maritime Journal – 154. Jahrgang – 2017 – Nr. 5 89
---
Offshore

»Wir werden uns neu strukturieren«

Beim Ausbau der Offshore-Windenergie kommt dem Bundesamt für Seeschifffahrt

und Hydrographie (BSH) künftig eine noch zentralere Rolle zu als bisher schon.

BSH-Präsidentin Monika Breuch-Moritz sprach mit der HANSA über die kommenden

Aufgaben und die damit verbundene Umstrukturierung der Behörde

Welche Bedeutung hat die Offshore-

Windenergie für das BSH?

Monika Breuch-Moritz: Die Bedeutung

der Offshore-Windenergie hat in den letzten

Jahren enorm zugenommen. Als es um

die Jahrtausendwende losging mit den allerersten

Überlegungen und dem Antrag

für den Forschungswindpark »alpha ventus«,

haben das hier ein oder zwei Bearbeiter

gemacht. Dann kamen die Aufgaben

Offshore-Genehmigungen und Raumplanung

zum BSH und das Ganze wurde auf

etwa zehn Dienstposten aufgestockt. Nach

dem Unfall in Fukushima 2011 bekam das

Thema einen enormen Drive, dadurch wurde

der Bereich immer größer und die Bedeutung

ist weiter gewachsen. Aktuell haben

wir ungefähr 45 Mitarbeiter, die sich

mit Offshore-Windenergie befassen. Durch

die neuen Aufgaben, die uns das Windenergie-auf-See-Gesetz

zuweist, kommen

in den nächsten anderthalb Jahren sukzessive

noch einmal 35 neue Stellen dazu.

Was sind das für neue Aufgaben?

Breuch-Moritz: An den Genehmigungsverfahren

ändert sich im Prinzip nichts,

und auch die Aufgabe »Raumordnungsplan

für die Nord- und Ostsee« bleibt bestehen.

Vor einiger Zeit haben wir den Bundesfachplan

Offshore erstellt, der die Entwicklung

der Offshore-Windparks mit der Entwicklung

der Stromnetze koppelt und die Trassen

festlegt. Er wird nun ersetzt durch einen

Flächenentwicklungsplan: Das ist eine

Weiterentwicklung der schon vorhandenen

Aufgabe mit neuen Komponenten. Und was

ganz neu hinzukommt, ist die Flächenvoruntersuchung.

Bisher mussten die Firmen,

Abstract: Coping with new tasks

wenn sie einen Genehmigungsantrag

gestellt haben, dazu Unterlagen beispielsweise

zur Bodenbeschaffenheit

und zu Umweltfragen nach bestimmten

Standards einreichen.

Die wurden bei uns geprüft und

ausgewertet. In Zukunft soll diese

Aufgabe eine staatliche Stelle übernehmen,

und das ist eben das BSH.

Wir werden also selbst Datenpakete

herstellen, mit deren Hilfe ein potenzieller

Windparkbetreiber einschätzen

kann, was auf ihn zukommt.

Lässt sich das in den vorhandenen Strukturen

regeln?

Breuch-Moritz: Nein, wir werden uns neu

strukturieren. Ich wollte das schon länger,

aber durch den Umfang der neuen Aufgaben

ist es jetzt an der Zeit, eine eigene Abteilung

zu gründen. Bisher haben wir die Offshore-

Windenergie im Referat M5 »Ordnung des

Meeres« innerhalb der Abteilung M »Meereskunde«

bearbeitet. Jetzt machen wir daraus

eine eigene Abteilung mit dem Namen

O »Ordnung des Meeres«, die eigene Referate

für die Flächenvoruntersuchung, den

Flächenentwicklungsplan und die Genehmigungsverfahren

haben wird. Das ist angesichts

der Bedeutung der Aufgaben auch

absolut angemessen. Politisch stehen diese

Aufgaben noch mehr im Fokus als bisher,

und für meine Kollegen ist das auch eine

enorme finanzielle Verantwortung.

Over the nex few years, the Federal Maritime and Hydrographic Agency will be taking

on an even more decisive role in the development of offshore wind energy projects,

says President Monika Breuch-Moritz in an interview with HANSA. The BSH

is going to prepare a new development planning and to define suitable project zones.

In order to cope with these new tasks, the agency will hire 35 new employees and reorganize

with new structures.

Further information: redaktion@hansa-online.de

Monika Breuch­Moritz

Foto: BSH

Wann nimmt die Abteilung ihre Arbeit auf?

Breuch-Moritz: Das hängt davon ab, wann

wir die ersten Stellen und vor allem die Abteilungsleiterstelle

besetzt haben. Irgendwann

gibt es dann einen Tag X. Ich rechne

damit, dass das in wenigen Monaten passieren

wird.

Wie ist bei Ihnen im Haus die Stimmung

mit Blick auf das, was da kommt?

Breuch-Moritz: Es ist eine große Chance,

darum nehme ich die Stimmung insgesamt

als positiv wahr. Wir haben schon

so viel Energie in die Offshore-Windenergie

gesteckt, und das gibt noch einmal neuen

Schwung. Es wird hier auch anerkannt,

dass diese Aufgabe jetzt eine angemessene

Würdigung erfährt. Es sind ja auch fast alle

Abteilungen daran beteiligt: So bekommt

zum Beispiel unsere Abteilung N »Nautische

Hydrographie« eine deutlich wichtigere

Bedeutung, weil ihre Messungen nicht

mehr nur in die Seekarten eingehen, sondern

künftig auch Grundlage für Flächenvoruntersuchung

und Flächenentwicklungsplan

sein werden. Es müssen jetzt fast

alle bei einer Veränderung mitmachen und

da kommt einiges in Bewegung. Aber die

spannende Entwicklung, die das BSH dadurch

nimmt, und auch die Aufwertung

ganz vieler Aufgaben im Haus – das finden

die meisten schon toll, glaube ich.

Können Sie garantieren, dass die anderen

Aufgaben des BSH nicht unter den neuen

leiden werden?

Breuch-Moritz: Wir werden die neuen Aufgaben

so integrieren und aufbauen, dass die

90 HANSA International Maritime Journal – 154. Jahrgang – 2017 – Nr. 5
---
Offshore

Paukenschlag bei erster Offshore-Auktion

Mit sinkenden Preisen hatte die Branche gerechnet, aber das hatte wohl niemand erwartet:

Bei der ersten deutschen Auktion für die Vergütung von Offshore-Windparks

hat die Bundesnetzagentur (BNetzA) gleich drei Gebote von 0,00 ct/kWh bezuschlagt.

Der Energieversorger EnBW geht davon aus, dass er sein 900-Megawatt-Projekt "He

Dreiht" komplett subventionslos umsetzen und betreiben kann. Gleiches gilt für die

beiden Nordsee-Windparks "OWP West" (240 MW) und "Borkum Riffgrund West

2" (240 MW) des dänischen Energiekonzerns Dong Energy, der mit einem Gebot von

6,00 ct/kWh für das Projekt "Gode Wind 3" (110 MW) darüber hinaus auch den vierten

von insgesamt vier Zuschlägen bei der Premieren-Ausschreibung erhalten hat. Damit

werden weltweit erstmals Meereswindparks ohne staatliche Förderung gebaut. "Es

ist allerdings offen, ob sich so niedrige Zuschlagswerte in der nächsten Ausschreibung

wiederholen werden", kommentierte BNetzA-Präsident Jochen Homann. aw

anderen Bereiche so wenig wie möglich gestört

werden, das ist klar. Aber generell wird

es intern natürlich Veränderungen geben,

auch weil der neue Bereich teilweise durchaus

mit attraktiven Stellen unterlegt ist. Um

diese werden sich vorhandene Leute auch

aus anderen Bereichen des BSH bewerben.

Die dadurch frei werdenden Stellen schreiben

wir dann natürlich sofort wieder aus.

Das dauert. Deswegen kann ich nicht ausschließen,

dass an der einen oder anderen

Stelle Verzögerungen vorkommen werden.

Wir optimieren das soweit es geht.

Trotz der gedrosselten Ausbauziele stehen

immer mehr Windparks in der Nord- und

Ostsee. Sehen Sie zum Beispiel mit Blick

auf den Schiffsverkehr die Gefahr, dass es

irgendwann eng werden könnte?

Breuch-Moritz: Bereits der jetzt bestehende

Raumordnungsplan hat die Belange des

Schiffsverkehrs berücksichtigt und die vorhandenen

und erwarteten Schifffahrtsrouten

eingeplant. Dort wurden grundsätzliche

Eignungsgebiete für Windparks

schon ausgewiesen, und die ändern sich

auch nicht. Jedes Verfahren wird mit der

Wasser- und Schifffahrtsverwaltung abgestimmt.

Darum wird sich für den Schiffsverkehr

über die bestehenden Planungen

hinaus nichts ändern. Es ist unsere Aufgabe,

die Interessen aller Spieler auf See zu

wahren – neben der Schifffahrt und der

Offshore-Windenergie sind das auch die

Marine, die Umwelt- und Naturschutzbehörden

und die Fischerei. Alle wollen gehört

werden, alle müssen mitwirken. Und

diesen Prozess beherrschen meine Kolleginnen

und Kollegen hervorragend. Da

habe ich schon viel Lob gehört.

In der Vergangenheit musste sich die Offshore-Windbranche

schon mehrfach mit

komplett neuen gesetzlichen Rahmenbedingungen

arrangieren. Wie bewerten Sie

diesen erneuten Systemwechsel?

Breuch-Moritz: Ein Systemwechsel bedeutet

für die Wirtschaft immer den Verlust von

Planungssicherheit, und das ist generell ein

Problem. Deshalb wünscht man sich, dass

ein Gesetz mal etwas länger hält, sonst kann

die Wirtschaft nicht damit arbeiten. Für

eine Behörde bedeutet so ein Systemwechsel

natürlich ebenso den Verlust einer gewissen

Planungssicherheit, aber wir haben ja ohnehin

jährliche Haushalte und können alles,

was wir verändern wollen, erst übernächstes

Jahr in den Haushalt stellen. Für uns ist

das eine relativ typische Nachsteuerung, die

mal im größeren und mal im kleineren Umfang

passiert. Ob wir für das eine Gesetz arbeiten

oder für das andere, ist für uns ein

Zeitverteilungsproblem, aber kein Existenzproblem.

Für die Wirtschaft ist es eine existenzielle

Herausforderung. Die ganz Potenten

können mitmachen, für Kleinere wird

es schwierig. Aber diese Entwicklung hat

schon in den vergangenen Jahren begonnen.

Welche Zukunft sehen Sie für die Offshore-Windenergie

in Deutschland?

Breuch-Moritz: Ich halte die Offshore-

Windenergie für eine grandiose Chance,

den Energiebedarf Deutschlands auf lange

Sicht mit umweltfreundlicher Energie zu

decken. Und sie ist effzient, denn es gibt

da draußen immer Wind. Es hat sich jetzt

schon gezeigt, dass die Meereswindparks

mehr Strom liefern, als man vorher berechnet

hatte. Natürlich muss es Vernetzungen

geben – mit den Nachbarländern, mit anderen

Energieformen: Stichwort »smarte

Netze«. Das ist notwendig. Aber insgesamt

sehe ich sehr große Chancen für die

Offshore-Windenergie. Wenn sie nicht in

politischen Querelen zerredet wird, wird

sie eine tolle Zukunft haben. Und wir vom

BSH wollen dazu beitragen, dass daraus etwas

wird.

Interview: Anne-Katrin Wehrmann

Neue Rechtslage

Seit dem 1. Januar dieses Jahres regelt das Windenergie-auf-See-Gesetz den weiteren Ausbau der Offshore-Windenergie in Deutschland.

Demnach werden die Fördersätze für auf See erzeugten Strom künftig in einem wettbewerblichen Ausschreibungsverfahren

am Markt ermittelt. Nach zwei Übergangsauktionen für bereits genehmigte und in der Planung weit fortgeschrittene Offshore-

Projekte in diesem und im kommenden Jahr (HANSA 04/2017) erfolgt für Meereswindparks, die nach dem 1. Januar 2026 den

Betrieb aufnehmen, ein weiterer Systemwechsel: Für diese Projekte soll das BSH geeignete Flächen voruntersuchen und vorab einen

Flächenentwicklungsplan erstellen.

Die Ausschreibungsteilnehmer bieten anschließend auf die voruntersuchten Flächen. Eine erste Auktion in diesem sogenannten

zentralen System ist für das Jahr 2021 geplant. Um die neuen Aufgaben bewältigen zu können, sind dem BSH 35 zusätzliche Stellen

bewilligt worden. Insgesamt beschäftigt die Behörde derzeit rund 850 Mitarbeiter, die sich auf knapp 800 Stellen an den Standorten

Hamburg und Rostock sowie auf fünf Forschungs- und Vermessungsschiffen aufteilen. Die Baugrund- und Umweltuntersuchungen,

die im Rahmen der Flächenvoruntersuchung anfallen, sollen an externe Dienstleister vergeben werden. Hierfür steht

dem BSH ein Budget von rund 17 Mio. € pro Jahr zur Verfügung.

Foto: Hero Lang

HANSA International Maritime Journal – 154. Jahrgang – 2017 – Nr. 5 91
---
Offshore

Offshore-Industrie setzt jetzt auf Service

Bei der Offshore-Windenergie in Deutschland gewinnt die möglichst hohe Verfügbarkeit

der Anlagen und damit ein zuverlässiger Service eine immer größere Bedeutung. das

Branchentreffen Windforce versammelt den geballten Sachverstand in Bremerhaven

Drehte sich auf der 10. Windforce im

Jahr 2014 noch alles um den Bau von

Windenergieanlagen auf See, gewinnt auf

der 13. Windforce, dem Branchentreffen

für die Offshore-Windindustrie vom 9. bis

zum 11. Mai 2017 in Bremerhaven, die eigentliche

Betriebsphase an Bedeutung.

In der deutschen Nord- und Ostsee sind

inzwischen gut 16 Offshore-Parks mit insgesamt

947 Anlagen und einer Gesamtleistung

von mehr als 4.100 MW installiert.

Eine möglichst hohe Verfügbarkeit der

Anlagen wird daher immer wichtiger. In

den Branchen-Fokus rücken nun auch die

Service-Stützpunkte oder Service-Basishäfen

nahe der Offshore-Windparks, mit deren

Hilfe effziente Servicedienstleistungen

angeboten werden können. »Hier sind die

Erfahrungen und daraus resultierende optimierte

Betriebs- und Servicekonzepte der

Schlüssel zu künftigen Kostensenkungen«,

sagt Andreas Wellbrock, Geschäftsführer

des Windenergie-Netzwerkes WAB.

Künftig gehe es darum, die Kosten der

Offshore-Windkraft über die Betriebszeit

hinweg zu minimieren und die erhoffte

Einspeisung an produziertem Strom

zu erreichen. Die Mitgliedsunternehmen

würden Einblicke in optimierte logistische

Lösungen und neue innovative Wartungskonzepte

bieten.

»Die Windindustrie an Land und auf See

wird einen immer schneller wachsenden

Anteil zur nationalen und europäischen

Versorgungssicherheit beitragen und kann

das auch leisten«, ist sich Wellbrock sicher.

Zahlen, die vom Netzbetreiber Tennet

jüngst vorgelegt wurden, geben ihm recht.

Alle installierten Windkraftanlagen zusammen

haben im vergangenen Jahr mehr

als zwölf Terawattstunden (TWh) auf hoher

See erzeugt und ins Netz eingespeist,

zu gut 90% in der Nordsee. Eine Steigerung

um 47% gegenüber dem Vorjahr.

Rein rechnerisch könnten also die fast

6 Mio. Einwohner in Berlin, Hamburg und

Bremen komplett mit Offshore-Strom versorgt

werden. Tendenz: steigend.

Es droht ein »Fadenriss«

Die WAB beziffert den geplanten Ausbau

für das Jahr 2017 auf etwa 1.400 MW und

für 2018 und 2019 auf je weitere 1. 000 MW.

92 HANSA International Maritime Journal – 154. Jahrgang – 2017 – Nr. 5
---
Offshore

Doch dann droht ein »Fadenriss« durch die Novelle des

Erneuerbaren-Energien-Gesetzes. Der Zubau neuer Anlagen

ist künftig auf je 500 MW pro Jahr gedeckelt. »Die

Dynamik wird gebremst, industriepolitische Chancen

werden vergeben«, sagt WAB-Geschäftsführer Andreas

Wellbrock.

Die WAB, das führende Unternehmensnetzwerk der

Windindustrie in der Nordwest-Region und bundesweiter

Ansprechpartner bei allen Offshore-Themen, macht sich

auch für einen schnelleren Ausbau der Übertragungsnetze

und der Speichertechnologie stark, um den Ausbau auf

See beschleunigen und so zur Erreichung der Klimaziele

beizutragen. Daher werden die aktuelle Ausschreibung

sowie Netz- und Speichertechnologie zwei weitere Sessions

mit Diskussionen und Fachbeiträgen sein. »Wir sind

begeistert, dass wir einige bedeutende Industrievertreter

und Experten für die Konferenz gewinnen konnten«, sagt

Wellbrock.

M

Foto: 350NH

HANSA International Maritime Journal – 154. Jahrgang – 2017 – Nr. 5 93
---
Termine

freight & trade events

worldwide conferences | exhibitions | seminars for shipping commodities finance

Marine + Offshore

07.-12.05. BALI

30 th IAPH World Port Conference

www.iaphbali2017.com

09.-11.05. BREMERHAVEN

Windforce 2017

windforce.info/de/

09.-11.05. KOPENHAGEN

Crew Connect Europe

Contact: maritimecustserv@informa.com

09.-10.05. SHANGHAI

Marine Money China Ship Finance

www.marinemoney.com

10.-11.05. HAMBURG

39. Motorship Propulsion & Emission Conf.

www.propulsionconference.com

15.-17.05. WALES

Compit 2017

www.compit.info

16.-17.05. PIIKKIÖ

Back from Black Scrubber Seminar

Julia Sjöström, julia.sjostrom@langh.fi

17.-18.05. ROTTERDAM

Platts 8 th Annual European Bunker

Fuel Conference

www.platts.com/events/emea/European-

Bunker-Fuel/index

23.-24.05. LONDON

UK Ports Conference 2017

www.waterfrontconferencecompany.com/

25.-27.05. IMABARI

Bari Ship 2017

www.bariship.com

30.05.-02.06. OSLO

Nor-Shipping 2017

www.nor-shipping.com

30.05. / 31.05. HAMBURG/LEER

5. VDR/Mariko Ballast Water-Symposium

www.reederverband.de /

www.mariko-leer.de

06.-08.06. AMSTERDAM

electric & hybrid 2017

www. electricandhybridmarineworldexpo.com

13.-15.06. SOUTHAMPTON

Seawork 2017

www.seawork.com

14.06. ATHEN

Tradewinds Shipowners Forum

www.tradewindsevents.com

20.-23.06. MACAE

Brazil Offshore 2017

www.brasiloffshore.com

06.-08.06. AMSTERDAM

Marine Maintenance World Expo

www.marinemaintenanceworldconference.

com/english/

20.-21.06. SINGAPUR

Floating LNG World Congress

https://flngworldcongress.iqpc.sg/

25.-28.07. SINGAPUR

Bunkering Week 2017

www.bunkeringweek.com/

06.-08.09. HAMBURG

Seatrade Europe

www.seatrade-europe.com

11.-13.09. ZEVENWACHT

HIPER

www.hiper-conf.info

19.-22.09. StT: PETERSBURG

Neva 2017

www.tradefairdates.com

24.-27.10. BUSAN

Kormarine

www.kormarine.net

07.-11.10. SPLIT

42nd Annual Interferry Conference

www.interferry.com

01.-03.11. Baoshan District/Shanghai

Seatrade Cruise Pacific

www.seatradecruiseevents.com

02.11. HAMBURG

SOWOS 11

www. pia.rwth-aachen.de

07.-10.11 ROTTERDAM

Europort

www.europort.nl

15.-17.11 HAMBURG

Gas-fuelled ships conference

www.motorship.com

05.-08.12. SCHANGHAI

Marintec China 2017

www.marintecchina.com

Shipping + Logistics

09.-12.05. MÜNCHEN

Transport Logistic

www.transportlogistic.de/index.html

16.-17.05. HAMBURG

Global Liner Shipping

https://maritime.knect365.com/

global-liner-shipping

18.-19.05. BATUMI

Black Sea Ports & Shipping 2017

www.transportevents.com

01.-02.06. BARCELONA

ESPO European Seaports Organisation Conference

2017

www.espo-conference.com./

01.-02.06. HAMBURG

Multimodal 2017

www.via-consult.com

06.-08.06. BONN

Automotive Logistics Europe

automotivelogistics.media/events

07.-09.06 AMSTERDAM

Terminal Management – Logistics for Traders

www. oilterminalmanagement.com

13.-15.06. LONDON

LNG Shipping

https://energy.knect365.com/lng-shipping/

20.-21.06. SIEGBURG

Kooperation zwischen Speditionen und

Eisenbahnen

Kontakt: Georg Lennarz, VDV, lennarz@vdv.de

22.-23.06. BONN

Container Forum 2017 (Ladungssicherung

chemische Produkte)

hlash.de/download/container-forum-

2017-pdf/

27.-29.06. AMSTERDAM

TOC Europe 2017

www.tocevents-europe.com

07.-08.09 TRELLEBORG

Baltic Ports Conference

www.bports.com

02.-05.10. KUALA LUMPUR

TFS Global Forwarders Meeting

www.thefreightsummit.com

03.-04.10. LAS PALMAS

ICHCA 2017 Conference

International Cargo Handling Coordination

Association

ichca.com/

26.02.2018 FRANKFURT/MAIN

BME Global Pharma Supply Chain Congress

www.bme.de

Commodities + Energy

07.-09.05. KUALA LUMPUR

19 th Asia Oil & Gas Conference

aogc.com.my/

08.-10.05. HOUSTON

Argus North American Natural Gas Markets

www.argusmedia.com

14.-16.05. BALI

23rd Coaltrans Asia

www.coaltrans.com/Home

15.-17.05. DUBAI

Global Grain Middle East & North Africa 2017

www.globalgrainevents.com/eventcalendar.html

16.-18.05. VANCOUVER

LNG Conference & Exhibition

www.canadalngevent.com/executive-advisory-board/

17.-18.05. ROSTOCK

Zukunftskonferenz Wind & Maritim 2017

www.wind-energy-network.de

22.-23.05. NIZZA

IHS Energy 16 th Annual European

Coal Outlook 2017

www.ihs.com/products/energy-coalindustry-conferences-events.html

22.-24.05. HONG KONG

World Recycling Convention & Exhibition

www.bir.org/conventionwebsite/hongkong2017/exhibition/

06.06. LONDON

IGC Grains 2017 Conference

www.igc.int/en/conference/

confhome.aspx

06.-07.06. PRAG

23rd International Iron Ore Symposium

www.metalbulletin.com/events/event-calendar.html

11.-13.09. BÜRGENSTOCK

38 th Bürgenstock Meeting by Internatinal

Commodities & Derivatives Association (ICDA)

www.incoda.org/

12.15.09. HUSUM

Husum Wind

www.husumwind.com

21.-22.09. DÜSSELDORF

Deutscher Obst- und Gemüsekongress 2017

www.fruchthandel.de/dogk/

27.-29.09. LONDON

Global EPC Project Management Forum

opex-project-management.com/

94 HANSA International Maritime Journal – 154. Jahrgang – 2017 – Nr. 5
---
HANSA International Maritime Journal – 154. Jahrgang – 2017 – Nr. 5 95

Termine
---
Forum HTG

16. 05. 2017

HTG-Baustellentag

07. 06. 2017

»Mit BIM in die Zukunft« -

Veranstaltet von der Jungen HTG

Im März fand die erste Veranstaltung unter

dem Motto »Impulse und Netzwerke«

in Hamburg statt. Daran wird schon im

Mai angeknüpft.

Wir laden Sie herzlich zum zweiten

Termin in Hamburg am Dienstag, den

16. Mai 2017 um 18:00 Uhr bei WTM Engineers,

Johannisbollwerk 6 - 8, 20459 Hamburg

ein.

»Mit BIM in die Zukunft« – so lautet das

zukunftsweisende Thema dieser Veranstaltung.

Ziel ist ein interdisziplinärer Erfahrungsaustausch

sowie eine kontroverse Diskussion

zur Anwendung von Building Information

Modeling.

In Kürze werden nähere Informationen zu

Vortragenden und Inhalten auf der Homepage

der HTG (www.htg-online.de) sowie

in der XING-Gruppe »Junge HTG« veröffentlicht.

Der Ausklang zum Netzwerken wird wie

gewohnt mit Snacks und Getränken unterstützt.

Unser Dank gilt im Voraus allen Vortragenden

sowie der WTM Engineers GmbH.

Die Anzahl der Teilnehmer ist auf 25 Personen

beschränkt.

Die Teilnahme ist für HTG-Mitglieder

kostenlos. Weitere Interessierte sind bei

einem Teilnahmebeitrag von 10,- € herzlich

willkommen.

Die Anmeldung erfolgt ausschließlich online

unter http://com.htg-online.de vom

2. bis zum 12. Mai 2017.

HTG-Mitglieder: kostenlos

HTG-Nichtmitglieder: 10,- €

Veranstaltungsübersicht 2017

16. 05. Forum HTG in Hamburg

07.06. HTG-Baustellentag

Kattwykbrücke

in Hamburg

15.06. Junge HTG Working

Group in Hamburg

17./18.08. Junge HTG Fachexkursion

Bunker

Valentin Bremen

13.-15.09. HTG-Kongress 2017 und

Mitgliederversammlung

in Duisburg

07.11. HTG-Workshop Korrosionsschutz

in Hamburg

Weitere interessante Veranstaltungen

(wie z.B. PIANC, BfG, BAW etc.) welche

die Aufgabenfelder der HTG berühren,

finden Sie auf unserer Internetseite unter

www.htg-online.de/Veranstaltungen

i

Projekt in Hamburg »Neue Bahnbrücke

Kattwyk« – Neu bau einer der größten

Hubbrücken der Welt

Die Kattwykbrücke ist eine der größten

Hubbrücken der Welt – aber sie ist noch

viel mehr. Als eine von drei Querungen

über die Süderelbe ist die 1973 erbaute

Brücke eine zentrale Verkehrsader und

ein strategischer Knotenpunkt im Hamburger

Hafen. Für die Hafenbahn ist die

Kattwykbrücke die wichtigste Verbindung

zwischen den westlichen und östlichen

Hafenbereichen. Der Straßenverkehr

nutzt die Brücke als günstige Querung

nach Wilhelmsburg oder als Fernverbindung

zur Autobahn A7.

Zu den Baumaßnahmen gehören neben

dem Neubau der Eisenbahnhubbrücke,

die Herstellung der Landseitigen Anbindungen

auf der West- und der Ostseite der

Süderelbe, der Neubau einer Richtfeuerlinie

und der Bau von zwei Betriebsgebäuden.

Die 700 m lange Hochbrücke auf der

Ostseite der Kattwykbrücke wurde bereits

fertiggestellt und für den Verkehr freigegeben.

Die Gründung der Strompfeiler und

der Brückenwiderlager für die Hubbrücke

sowie die Landseitige Anbindung Ost und

West befinden sich derzeit in der Ausführung.

Im Rahmen des HTG-Baustellentages am

07.06.2017 in Hamburg, werden den Besuchern

während einer Barkassenfahrt durch

den Hamburger Hafen zunächst die einzelnen

Vergabeeinheiten in einem interessanten

Vortragsprogramm mit den dabei zu

beachtenden ingenieurtechnischen Herausforderungen

vorgestellt. Nach dem Mittagessen

auf der Barkasse werden die aktuellen

Baumaßnahmen aus der Nähe betrachtet

bzw. geführt, besichtigt und erläutert.

Anmeldemodalitäten

Die angegebenen Preise gelten bei Onlineanmeldung. Bei schriftlicher Anmeldung über die HTG-Geschäftsstelle wird eine

Bearbeitungsgebühr von 10,00 € berechnet. Jede Anmeldung gilt als verbindlich. Schriftliche Abmeldungen sind kostenfrei möglich

bis zum Datum des Anmeldeschlusses. Danach wird die Gebühr vollständig fällig. Jeder Teilnehmer erhält nach Anmeldung

eine Rechnung die gleichzeitig Anmeldebestätigung ist. Zahlungsfrist und Bankverbindung entnehmen Sie Ihrer Rechnung.

Bitte melden Sie sich rechtzeitig an. Bei Erreichen der maximalen Teilnehmerzahl schließt das Anmeldeportal automatisch. Für

HTG-Jungmitglieder kann eine Förderung aus dem Spendenfonds Goedhart erfolgen. Das Antragsformular kann über die HTG-

Geschäftsstelle angefordert werden. Ansprechpartner: Bettina Blaume, Telefon: 040/428 47-21 78, E-Mail: service@htg-online.de

96 HANSA International Maritime Journal – 154. Jahrgang – 2017 – Nr. 5
---
HTG mit neuer Homepage – besuchen Sie uns online!

www.htg-online.de

Programm

Treffpunkt: HADAG-Anleger »Sandtorhöft«,

Nähe U-Bahnstation U3 »Baumwall«

Anmeldung und Boarding ab 09:30Uhr!

• Vortragsprogramm auf Barkasse

• Barkassenfahrt durch den Hafen

zum Anleger »Kattwyk-Brücke«

• Baustellenbesichtigung

• Rückfahrt mit der Barkasse

zum Anleger »Sandtorhöft«,

Nähe U-Bahnstation U3 »Baumwall«

Zeitplan

9:30 Anmeldung und Boarding am

HADAG-Anleger »Sandtorhöft«

10:00 Begrüßung durch die HTG

10:10 Einführung in das Projekt:

Die Neue Bahnbrücke Kattwyk

im politischen Raum (Strategie,

Ziele und Inhalte)

10:30 Technische Speziallösungen:

Herstellung der Unterbauten der

Hubbrücke im Senkkastenverfahren

10:50 Komplexität beherrschen: Professionelles

Projektmanagement als Erfolgsfaktor

11:10 Herausforderungen meistern:

Risikomanagement im Baugeschehen

am Beispiel der Shell-Pipeline

11:30 Organisatorisches zur Baustellenbegehung

und Sicherheitsbelehrung

11:45 Mittagessen an Bord und parallel

Barkassenrundfahrt durch

den Hamburger Hafen zum Baustellenanleger

»Neue Bahnbrücke

Kattwyk«

ab

13:30 Baustellenbesichtigung

in Kleingruppen

In Abhängigkeit der Teilnehmerzahl werden

Kleingruppen gebildet und den Besuchern

vor Ort im Rotationsprinzip interessante

Einblicke in das Projekt gegeben.

16:00–16:30 Barkassenfahrt zurück

zum Anleger »Sandtorhöft«

Teilnahmegebühr bei Online-Anmeldung

unter http://com.htg-online.de

HTG-Mitglieder: 90,– €

HTG-Nichtmitglieder: 100,– €

Anmeldeschluss: 24.05.2017

Hinweise: Es handelt sich um eine Baustellenbesichtigung.

Eine persönliche Sicherheitsausrüstung,

insbesondere Sicherheitsschuhe

und Helm sind von den

Teilnehmern mitzubringen. Den Anweisungen

des Baustellenpersonals ist zwingend

Folge zu leisten.

Geschäftsstelle: Neuer Wandrahm 4, 20457 Hamburg, www.htg-online.de Vorsitzender: Reinhard Klingen, service@htg-online.de

Geschäfts führung: Felix Scholz, Tel. 040/428 47-21 73, Meike Schubert, - 27 09 Schriftleitung: Dr.-Ing. Manuela Oster thun,

General direktion Wasserstraßen u. Schifffahrt – Außen stelle Mitte, Tel. 0511/ 91 15-31 88, manuela.osterthun@wsv.bund.de

Sekretariat: Bettina Blaume, Tel. 040/428 47-21 78, service@htg-online.de

HANSA International Maritime Journal – 154. Jahrgang – 2017 – Nr. 5 97
---
Impressum

Ihr Einsatz ist

unbezahlbar.

Deshalb braucht

sie Ihre Spende.

www.seenotretter.de

Inserentenverzeichnis | Index of Advertisers

ABS Europe Division .....................................................36

Andritz Hydro GmbH ....................................................71

Blohm+Voss Repair GmbH ................................................9

brand MARINE CONSULTANTS GMBH ............................59

Clarksons 1/2 hoch in ....................................................19

ClassNK - NIPPON KAIJI KYOKAI ...................................35

Continental Chartering GmbH & Co. KG .............................56

DNV GL SE ..................................................................3

FURUNO DEUTSCHLAND GmbH .....................................4

GROMEX GmbH ...........................................................8

Hanseaticsoft GmbH .....................................................75

HHLA Container-Terminal .............................................85

Internationales Maritimes Museum Hamburg .......................22

Koehlers Verlagsgesellschaft mbH ......................................53

Kormarine .................................................................33

LEBUHN & PUCHTA Rechtsanwälte .................................89

LINK ........................................................................62

MAN Diesel & Turbo .......................................................7

Metalships & Docks ......................................................73

Mittler Report Verlag GmbH ...........................................37

Niedersachsen Ports GmbH & Co. KG .................................86

Otto Piening GmbH ......................................................40

Podszuck GmbH ..........................................................43

RINA Germany GmbH ....................................................5

Shell Eastern Trading (PTE) Ltd ........................................39

Schiffahrts-Verlag »Hansa« GmbH & Co. KG .....................23, 50

Siemens Industry Software GmbH .....................................69

Volvo Penta Central Europe GmbH ....................................93

Wärtsilä Finland Oy, Ship Power .....................................Titel

Windenergie-Agentur Bremerhaven/

Bremen e.V. (WAB) .......................................................13

Das Anzeigenverzeichnis dient der Leserorientierung. Es ist kein Bestandteil

des An zeigen auftrags. Der Verlag übernimmt keine Gewähr für Richtigkeit und

Vollständigkeit.

Herausgeber

Prof. Peter Tamm †

Geschäftsführung

Peter Tamm, Thomas Bantle

Redaktion

Chefredakteur: Krischan Förster (KF)

Tel. +49 (0)40-70 70 80-206 | k_foerster@hansa-online.de

Verantwortl. Redakteur: Michael Meyer (MM)

Tel. +49 (0)40-70 70 80-212 | m_meyer@hansa-online.de

Redakteur: Felix Selzer (fs)

Tel. +49 (0) 40-70 70 80-210 | f_selzer@hansa-online.de

Redakteur: Thomas Wägener (TWG)

Tel. +49 (0)40-70 70 80-209 | t_waegener@hansa-online.de

Korrespondenten

Schiffau, Schiffsmaschinenbau, Schiffstechnik:

Dr. Hans G. Payer, Dipl.-Ing. Michael vom Baur (MvB)

Offshore: Anne-Katrin Wehrmann (aw)

Märkte und Versicherungen: Michael Hollmann (mph)

Häfen und Wasserstraßen: Dr.-Ing. Manuela Osterthun

Director for Greater China: Dr.-Ing. Tao Jiang

Asien: Zeng Xiaolin

Amerika: Barry Parker

Großbritannien: Samantha Fisk

Layout

Sylke Hasse, Tel. +49 (0)40-70 70 80-207, s_hasse@hansa-online.de

Events | Layout

Sylvia Schmidt, Tel. +49 (0)40-70 70 80-211 | Fax -214 | s_schmidt@hansa-online.de

Verlag und Redaktion

Schiffahrts-Verlag »Hansa« GmbH & Co. KG, Ballindamm 17, 20095 Hamburg

Postfach 10 57 23, 20039 Hamburg, Tel.: +49 (0)40-70 70 80-02, Fax -214,

www.hansa-online.de

Vertriebs- und Anzeigenleitung

Dana Gottschalk, Tel. +49 (0)40-70 70 80-312 | Fax -208, d_gottschalk@hansa-online.de

Anzeigenverwaltung

Sandra Winter, Tel. +49 (0)40-70 70 80-225 | Fax -208 | s_winter@hansa-online.de

Verlagsvertretung für Deutschland

Verlagsbüro ID GmbH & Co. KG | Tel. +49 (0) 511 61 65 95-0 | kontakt@verlagsbuero-id.de

Australien: Michael Warneke, Permarinus – Maritime Consultancy Pty Ltd., Fremantle

WA 6100 Australia, Mobile: +61 418 452 560, michael.warneke@permarinus.com.au

GB, Frankreich, Spanien, Portugal, Skandinavien: Emanuela Castagnetti-Gillberg,

Tel. +33 619 371 987, emanuela.hansainternational@gmail.com

USA: Detlef Fox, D.A. Fox Advertising Sales Inc., 5 Penn Plaza, 19th Floor,

NY 10001 New York, USA, detleffox@comcast.net

Niederlande: Numij Media, Mark Meelker, Telderskade 53, 2321 TR Leiden,

Postfach 4, 2300 AA Leiden, Tel. +31 71-8886708, M: 06 515 84086, hansa@numij.nl

Polen: LINK, Maciej Wedzinski, Wegornik 2/2, 72-004 Tanowo, Poland,

Tel./Fax +48 91-462 34 14, acc@maritime.com.pl

Abonnentenbetreuung/Vertrieb

PressUp GmbH, Erste Agentur für Fachpresse-Vertrieb und -Marketing, Wandsbeker Allee 1,

22041 Hamburg, Tel. +49 (0)40-38 66 66-318, Fax -299, hansa@pressup.de

Der Auftraggeber von Anzeigen trägt die volle Verantwortung für den Inhalt der Anzeigen.

Der Verlag lehnt jede Haftung ab. Untersagt ist die Verwendung von Anzeigenausschnitten

oder -inhaltsteilen für die Werbung.

Alle Zuschriften sind an den genannten Verlag zu richten. Rücksendung unaufgefordert

eingesandter Manuskripte erfolgt nur, wenn Rückporto beigefügt wurde. Alle Rechte, insbesondere

das Recht der Vervielfältigung und Verbreitung sowie der Übersetzung, vorbehalten.

Kein Teil der Zeitschrift darf in irgend einer Form (durch Fotokopie, Mikrofilm oder

ein anderes Verfahren) ohne Genehmigung des Verlages reproduziert wer den. Namentlich

gekennzeichnete Beiträge geben nicht unbedingt die Meinung der Redaktion wieder. Die

Redaktion behält sich Änderungen an den Manuskripten vor.

Die HANSA erscheint monatlich. Abonnementspreis Inland: jährlich EUR 180,00 inkl.

Versandkosten und MwSt. Ausland: jährlich EUR 212,– (EU ohne VAT-Nr.) und EUR 192,–

(EU mit VAT-Nr. und Nicht-EU-Staaten) inkl. Versandkos ten. Einzelpreis: EUR 14,80 inkl.

Versandkosten und MwSt. Versand per Luftpost innerhalb Europas und nach Übersee auf

Anfrage. Die HANSA als E-Paper: EUR 180,00 inkl. MwSt. Abo-Plus (Print + E-Paper): EUR

199,– inkl. MwSt./Versand. Mitglieder der HTG erhalten die Zeitschrift im Rahmen ihrer

Mitgliedschaft. Der Abonnementspreis ist im Voraus fällig und zahlbar innerhalb 14 Tagen

nach Rech nungs eingang. Abonnementskündigungen sind nur mit einer Frist von sechs Wochen

zum Ende der Bezugszeit schriftlich beim Verlag möglich. – Anzeigenpreisliste Nr. 58

– Höhere Gewalt entbindet den Verlag von jeder Lieferverpflichtung. Erfüllungsort und Gerichtsstand

ist Hamburg.

Druck: Lehmann Offsetdruck GmbH, Norderstedt

HANSA-Auflage

kontrolliert

Die HANSA ist Organ für:

Verband für Schiffau und Meerestechnik e. V. (VSM) | AG Schiffau-/

Offshore-Zulieferindustrie (VDMA) | Schiffautechnische Gesellschaft e. V. (STG) |

DNV GL | Normenstelle Schiffs- und Meerestechnik (NSMT) im DIN | Deutsches

Komitee für Meeresforschung und Meerestechnik e. V. | Seeverkehrsbeirat des Bundesministers

für Verkehr | IMO-Berichterstattung (Bundesverkehrs ministerium,

Abt. Seeverkehr) | Deutscher Nautischer Verein (DNV) | Deutsche Gesellschaft für

Ortung und Navigation (DGON) | Schutzverein

–

Deutscher Rheder V. a. G. | Hafentech

nische Gesellschaft e. V. (HTG) | The World Association for Waterborne Transport

Infrastructure (PIANC) | Zentralverband der deutschen Seehafenbetriebe e. V.

(ZDS) | Berufsbildungsstelle Seeschiffahrt | Deutscher Hochseefischerei-Verband e.V. |

Deutsche Gesellschaft zur Rettung Schiffrüchiger (DGzRS)

98 HANSA International Maritime Journal – 154. Jahrgang – 2017 – Nr. 5
---
Letzte Seite

Aus der

Seekiste ...

»Manitou«: Schiff des Jahres

1986 noch immer in Fahrt

Der deutsche Schiffau stand und steht

noch immer für hohe Qualität. Ein

Beispiel ist der Tanker »Manitou«, der, vor

über 30 Jahren in Kiel für einen deutschen

Kunden gefertigt, eine wechselvolle Geschichte

hat.

Am 29. Mai 1985 übernahm die Atlantic-Rhederei

F. & W. Joch aus Hamburg

von der Kieler Werft Lindenau den Produkten-Chemikalien-Tanker

»Manitou«.

Die Baunummer 218 der Werft war der

vierte Neubau einer 6.400-tdw-Klasse, die

besonders energiesparend konzipiert worden

war.

Aufgrund technischer Neuerungen erhielt

die »Manitou« 1986 von der amerikanischen

Zeitschrift »Maritime Reporter«

sogar das Prädikat »Schiff des Jahres«. Zu

diesen Innovationen gehörte etwa ein am

Heck angeordnetes Freifall-Rettungsboot

der Firma Ernst Hattecke, ein 5-t-Kran

mittschiffs, um bei Lade- und Löscharbeiten

Schläuche besser handhaben zu

können, sowie eine gegenüber den Vorgängereinheiten

größer dimensionierte

Schiffsschraube. Diese drehte statt mit

175 Umdrehungen pro Minute wie bisher

nur noch mit 125 U/min.

Zusammen mit dem Lindenau-Bugund

Heckwulst ergab dies bei höherer Geschwindigkeit

einen geringeren Treibstoffverbrauch.

Ein Wellengenerator und ein

Abgaskessel sorgten darüber hinaus für

eine optimierte Nutzung des Brennstoffvorrats.

Bei einer Geschwindigkeit von

13 kn konnte die »Manitou« 10.400 Seemeilen

zurücklegen.

Das Schiff erhielt einen selbstpolierenden

Anstrich; auf diese Weise wurden die

teuren Dockintervalle verlängert. Die Bauweise

mit Doppelhülle versprach neben

dem Sicherheitsaspekt auch eine konstantere

Temperatur der Ladung in den zwölf,

zusammen 6.570 m3 fassenden, spezialbeschichteten

Tanks. Somit war der Produktentanker

ein Fahrzeug, das verschiedene

schiffautechnische Neuerungen auf

gelungene Art und Weise verband. Werft

und Reederei waren stolz auf ihr Schiff,

und die erhaltene Ehrung löste bei beiden,

so die Lindenau-Werftchronik, »besondere

Freude« aus.

Die »Manitou«, laut der Werft der »20.

Indianer« für die Atlantic-Rhederei Joch,

wurde im Januar 1994 als »Ottoman« an

Gungen Denizcilik ve Ticaret, Istanbul,

verkauft. Ab Juli 1998 unter dem Namen

»Vinga Helena« (Rederi Swedia), Donsö,

registriert, ist das Schiff seit 2008 als »Alfa

Karadeniz« wieder für türkische Eigner

unterwegs.

Internationales Maritimes Museum

Hamburg

HANSA International Maritime Journal – 154. Jahrgang – 2017 – Nr. 5 99
---
THE LEADING MARITIME EVENT WEEK

DISRUPTIVE SUSTAINABILITY HALL

ENTER THE OCEAN SPACE

OCEAN

ENERGY

OWNERS

SHAPERS

TECH

ENTRE-

PRENEURS

INVESTORS

Organizer:

Leading sponsors:

Partner:

Main sponsor: