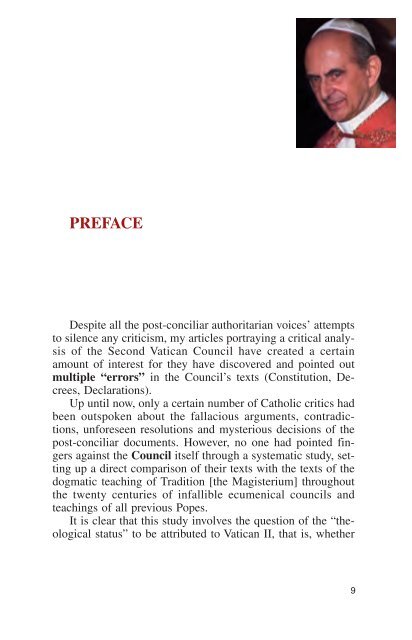 Vatican II ABOUT FACE! - Chiesa viva
Vatican II ABOUT FACE! - Chiesa viva
Vatican II ABOUT FACE! - Chiesa viva
SHOW MORE
SHOW LESS
Do you know the secret to free website traffic?
Use this trick to increase the number of new potential customers.
PREFACE

Despite all the post-conciliar authoritarian voices' attempts

to silence any criticism, my articles portraying a critical analysis

of the Second Vatican Council have created a certain

amount of interest for they have discovered and pointed out

multiple "errors" in the Council's texts (Constitution, Decrees,

Declarations).

Up until now, only a certain number of Catholic critics had

been outspoken about the fallacious arguments, contradictions,

unforeseen resolutions and mysterious decisions of the

post-conciliar documents. However, no one had pointed fingers

against the Council itself through a systematic study, setting

up a direct comparison of their texts with the texts of the

dogmatic teaching of Tradition [the Magisterium] throughout

the twenty centuries of infallible ecumenical councils and

teachings of all previous Popes.

It is clear that this study involves the question of the "theological

status" to be attributed to Vatican II, that is, whether

9