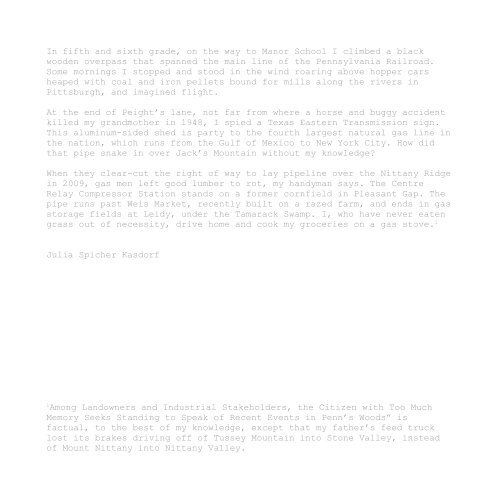 Yumpu_Catalogue_Peacemaking
Do you know the secret to free website traffic?
Use this trick to increase the number of new potential customers.
In fifth and sixth grade, on the way to Manor School I climbed a black

wooden overpass that spanned the main line of the Pennsylvania Railroad.

Some mornings I stopped and stood in the wind roaring above hopper cars

heaped with coal and iron pellets bound for mills along the rivers in

Pittsburgh, and imagined flight.

At the end of Peight's lane, not far from where a horse and buggy accident

killed my grandmother in 1948, I spied a Texas Eastern Transmission sign.

This aluminum-sided shed is party to the fourth largest natural gas line in

the nation, which runs from the Gulf of Mexico to New York City. How did

that pipe snake in over Jack's Mountain without my knowledge?

When they clear-cut the right of way to lay pipeline over the Nittany Ridge

in 2009, gas men left good lumber to rot, my handyman says. The Centre

Relay Compressor Station stands on a former cornfield in Pleasant Gap. The

pipe runs past Weis Market, recently built on a razed farm, and ends in gas

storage fields at Leidy, under the Tamarack Swamp. I, who have never eaten

grass out of necessity, drive home and cook my groceries on a gas stove. 1

Julia Spicher Kasdorf

1

Among Landowners and Industrial Stakeholders, the Citizen with Too Much

Memory Seeks Standing to Speak of Recent Events in Penn's Woods" is

factual, to the best of my knowledge, except that my father's feed truck

lost its brakes driving off of Tussey Mountain into Stone Valley, instead

of Mount Nittany into Nittany Valley.