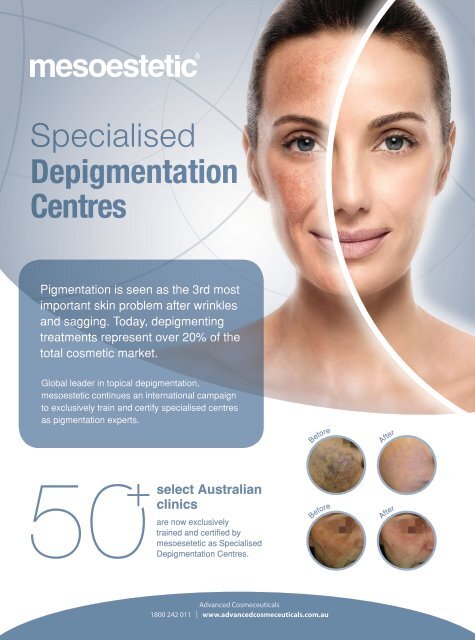 CosBeauty Magazine #85
CosBeauty is the #BeautyAddict's guide to lifestyle, health and beauty in Australia.
In this issue:
- The Breast Report - your guide to augmentation
- Put an end to bad hair days
- 24 hour makeup, products that last
- Sex appeal - do you have it?
Specialised

Depigmentation

Centres

Pigmentation is seen as the 3rd most

important skin problem after wrinkles

and sagging. Today, depigmenting

treatments represent over 20% of the

total cosmetic market.

Global leader in topical depigmentation,

mesoestetic continues an international campaign

to exclusively train and certify specialised centres

as pigmentation experts.

Before

After

+

select Australian

clinics

are now exclusively

trained and certified by

mesoesetetic as Specialised

Depigmentation Centres.

Before

After

Advanced Cosmeceuticals

1800 242 011 | www.advancedcosmeceuticals.com.au
More magazines by this user