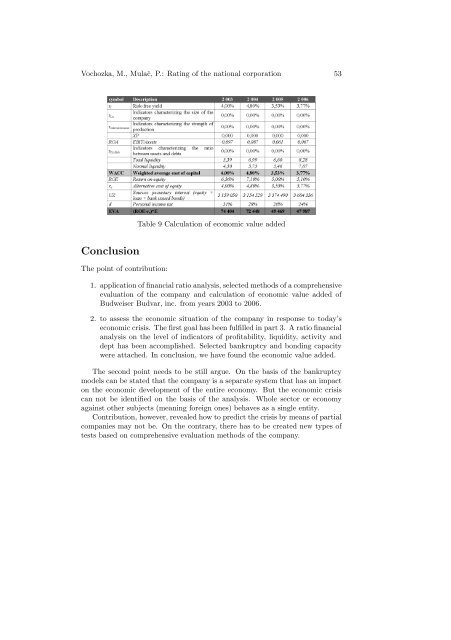 Untitled - Vysoká škola technická a ekonomická v Českých ... Untitled - Vysoká škola technická a ekonomická v Českých ...
Vochozka, M., Mulač, P.: Rating of the national corporation 53Table 9 Calculation of economic value addedConclusionThe point of contribution:1. application of financial ratio analysis, selected methods of a comprehensiveevaluation of the company and calculation of economic value added ofBudweiser Budvar, inc. from years 2003 to 2006.2. to assess the economic situation of the company in response to today'seconomic crisis. The first goal has been fulfilled in part 3. A ratio financialanalysis on the level of indicators of profitability, liquidity, activity anddept has been accomplished. Selected bankruptcy and bonding capacitywere attached. In conclusion, we have found the economic value added.The second point needs to be still argue. On the basis of the bankruptcymodels can be stated that the company is a separate system that has an impacton the economic development of the entire economy. But the economic crisiscan not be identified on the basis of the analysis. Whole sector or economyagainst other subjects (meaning foreign ones) behaves as a single entity.Contribution, however, revealed how to predict the crisis by means of partialcompanies may not be. On the contrary, there has to be created new types oftests based on comprehensive evaluation methods of the company.
More magazines by this user